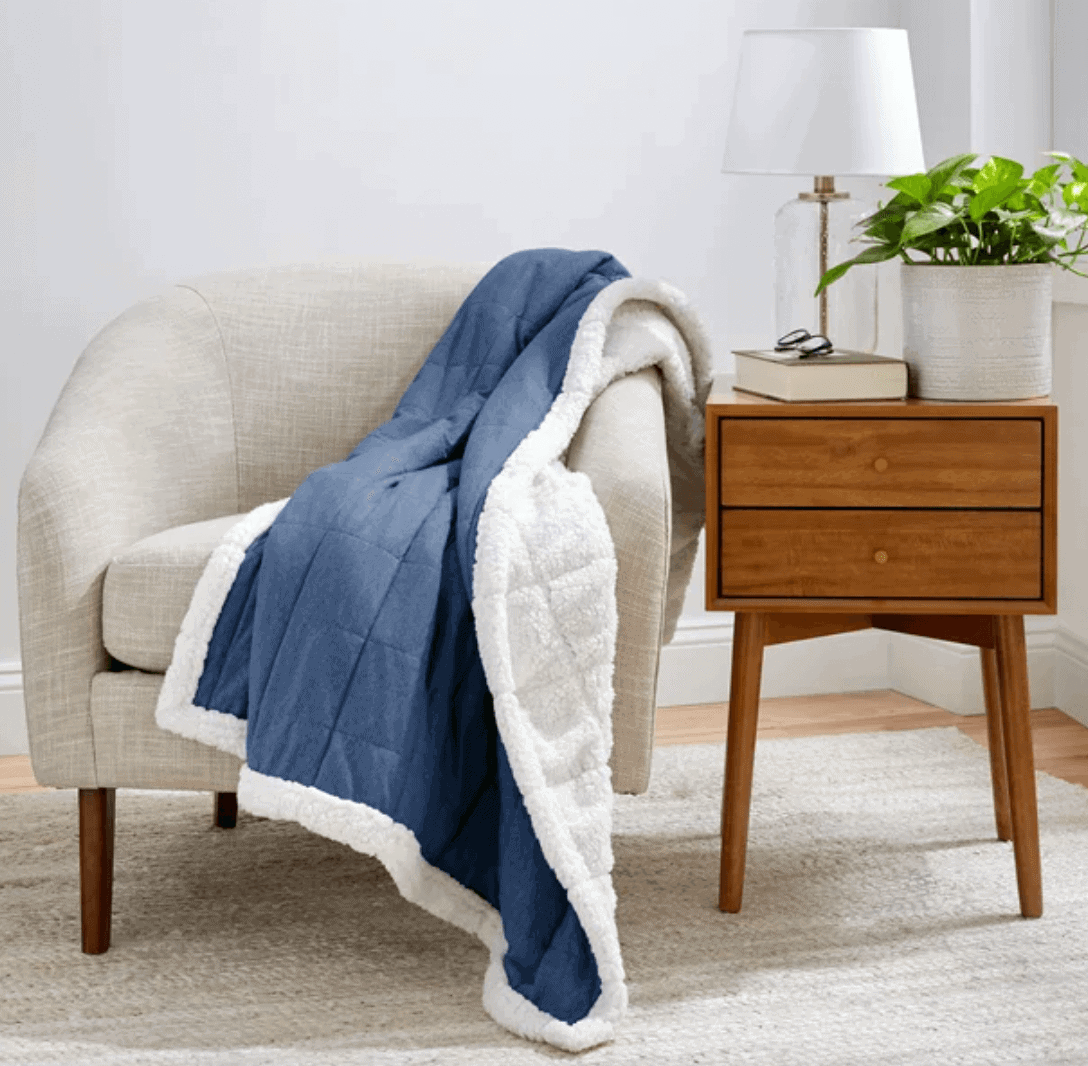 Awhile back, I shared the incredible Gap Home bedding I got from Walmart that we like even better than more expensive brands. The quilt, in particular, is a great alternative to a popular Pottery Barn quilt, for a fraction of the price.
They've continued expanding their collection and there are so many amazing finds for your kitchen, pets, and home. I thought it would be fun to check them all out and ended up creating a little graphic of some of my favorites from the collection.
The prices here are unbelievable and the quality is great. Walmart has really been upping their game, that's for sure, and Gap brought it with this home collection. Here are some of the items on my wishlist:
9 Best Gap Home at Walmart Finds:
Gap Home 6-Piece Nesting Stonewear Set – Available in a cranberry red, navy blue and cornflower blue color. I need this for the holidays. What a great set.
Gap Home 16-piece Matte Stonewear Dinnerwear Set – Available in 5 gorgeous colors: black, red, blue, green, and white. Our dishes are starting to get really old and this looks like a fab replacement.
Gap Home Quilted Jersey Organic Throw Blanket – So soft and dreamy. Love this. Available in three colors: blue, gray, and red. Makes a great and affordable Christmas gift or to take as a thank you gift when staying with friends/family. Everybody loves a cozy blanket. I need this.
Gap Home Ceramic Mug Set – Set of 4 17-oz. ceramic mugs. Perfect for your morning (and afternoon) tea or coffee. Comes in two more colors. Also makes a great gift! Matching appetizer plates and bowls are also available.
Gap Home Stonewear Mixing Bowl Set – Another great kitchen set that everybody can use. Comes in three beautiful colors: navy, red, and a lighter blue. So affordable for stonewear, too.
Gap Home Midcentury Modern 3-Leg Side Table – I feel like I could use this in every room of my house. Love the navy color, but also comes in white and a walnut color is out of stock.
Gap Home 3-Piece Ombre Bath Set – You won't believe this is under $20! Available in this pretty blue and a black option.
Gap Home Tie Dye Organic Shower Curtain – Love this with the ombre bath set! Get this for under $10? What!! Also available in a pretty pinkish red.
Gap Home Dog Cuddler Bed – I'm ordering these right now. Available in 11 colors and 3 sizes, I cannot believe the prices on these. I usually drive across town to Homegoods for affordable dog beds and these are even cheaper than that. Amazing.
*Affiliate links are used here, which means at no cost to you, I may receive a commission if you purchase through my links. Thank you!
The Best Gap Home Bedding/PB Dupe:
If you didn't see my post with the Gap bedding we love, here's a picture of it. We are still using it and love it.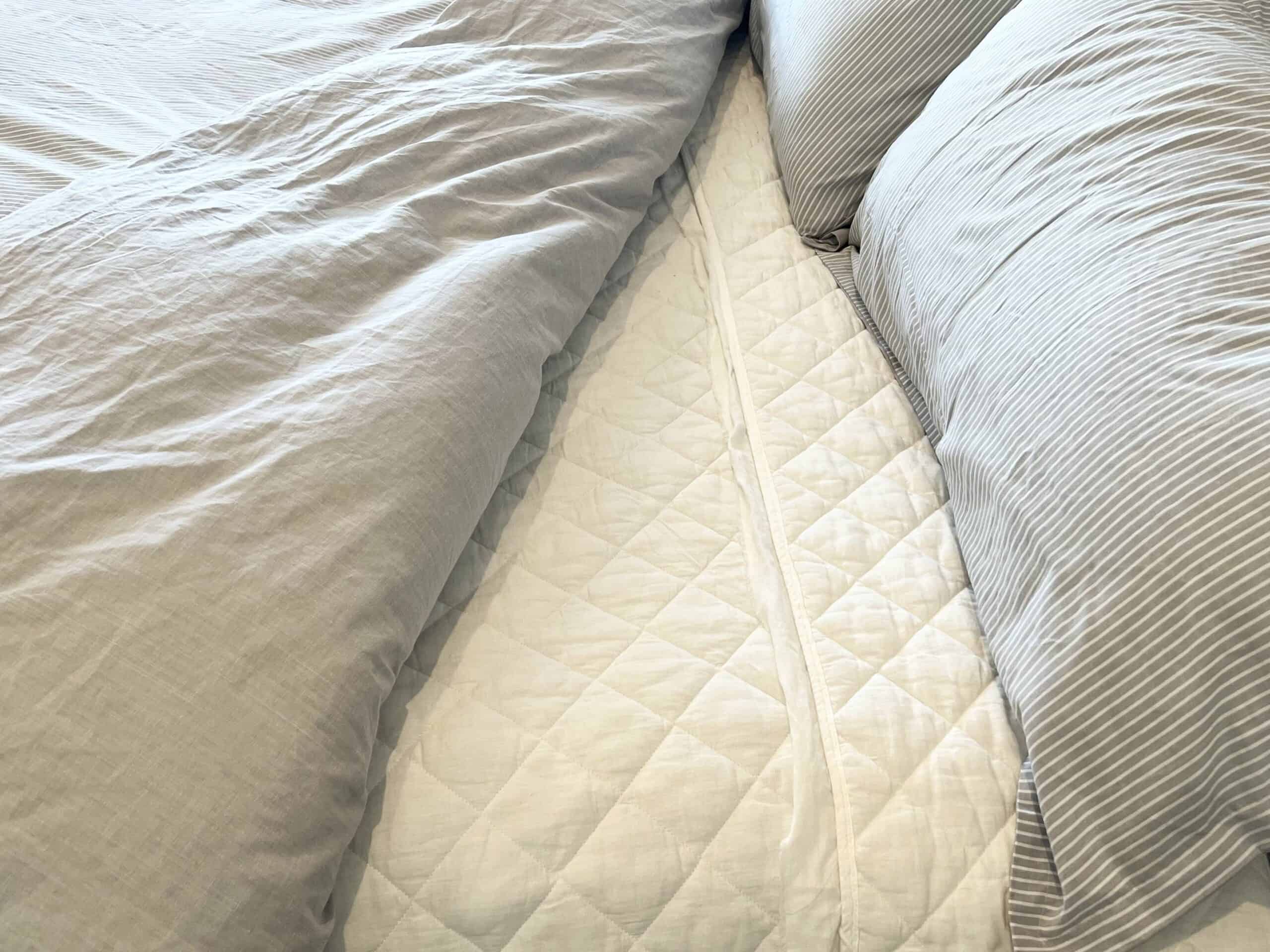 This quilt has features from both the Pottery Barn Belgian Flax Linen Diamond Quilt and the frayed edge quilt.
While the PB versions are available in many colors, the price is around $349 for a king size, with shams costing an additional $139-$159 per sham. Ouch!
The Gap Home version is available in 8 colors, including white, light pink, light gray, dark gray, navy blue, chambray blue, mustard and ivory. It's super soft, looks great, washes well and is only going to set you back $59.98 for a king, with shams an additional $19.99 – $24.98 each. SCORE.
We love it paired with the reversible organic cotton duvet.
*****
What do you think? Have you noticed the Gap Home at Walmart collection? If you're nervous about spending a lot, especially in a season of life when you have lots of little hands, feet and furry friends running around – check out the Gap Home collection. It has exceeded our expectations and for a super affordable price.
For more great Walmart finds, check out my favorites from The Home Edit organizer collection!
Have a fabulous day,
E