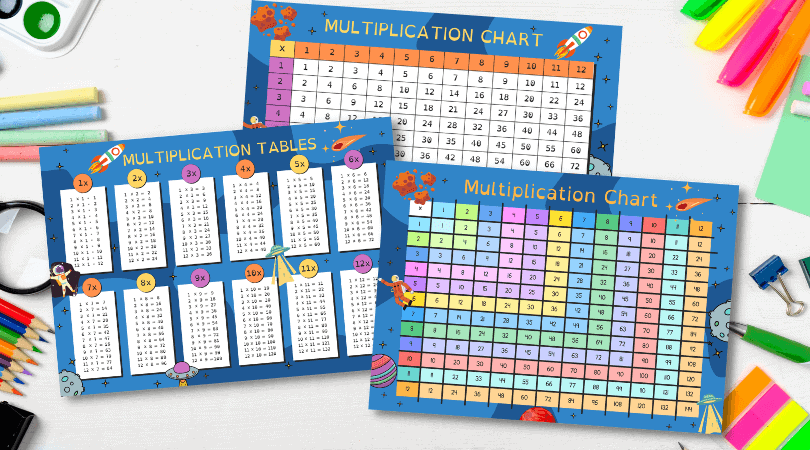 It's so funny when my kids start learning something that I don't remember learning, like multiplication tables. I certainly know them, so I memorized them at some point, but I can't really remember the process that got me there.
So, as I was looking for ways to make learning multiplication tables a little more fun and memorable, I started seeing these multiplication charts online. Most of them are black and white and a little boring (perfect for black and white printers at schools), but since I just needed this at home – I could do something a little more fun and these space-themed multiplication charts were born.
I made a couple different versions to have options and mix things up. Every kid learns a little differently and I like to have options to see what works best. And, of course, like most of the things I come up with, I end up sharing them here on the blog in case they can benefit you, too!
Free Multiplication Chart Printables:
These charts cover the multiplication tables for numbers 1-12. You'll need a color printer to print these or you can get them printed at a place like Office Depot. I laminated mine using my little at-home laminator *(yes, I have a laminator…former teacher here). It just makes them easy to clean and use. Kids can even write on them with Expo markers, too, and you can wipe it off.
These are perfect for use at home or homeschool – or even in the classroom if you wanted to make a class set that you can laminate and reuse. For even more fun ways to teach multiplication and math, check out my blog post with our favorite math games.
*This is an affiliate link. I bought this with my own money and love it. If you decide to make a purchase though my link, I may receive a commission at no cost to you.
1. Multiplication Tables 1-12: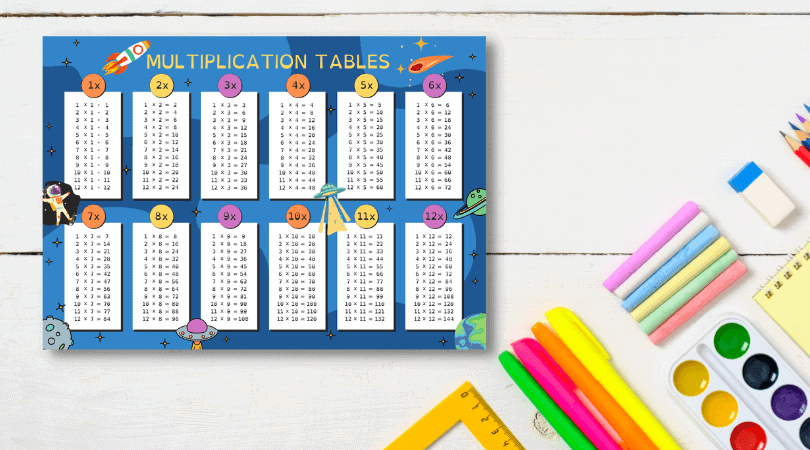 While we were studying the multiplication tables (one per week), I kept writing them down on little pieces of paper that then would get misplaced and I would have to write it again. I realized, I really should come up with a better way to do this. So, this adorable space-themed multiplication table printable was born.
You can either print the whole thing or even print it and cut out the little individual tables. Either way, it's a nice way to see it all on one page.
2. Multiplication Chart 1-12: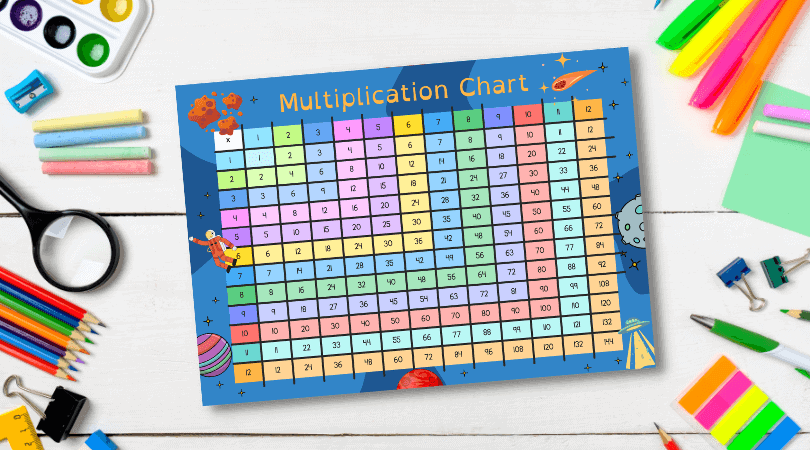 I started seeing these color coded multiplication charts out there, too, and loved how the colors help draw the eyes to the different rows,
The black and white ones are a little blinding and it can be easy (at least for me) to lose track of which row I'm on. This version helps both of us make sure we're looking at the right number.
3. Multiplication Chart 1-12: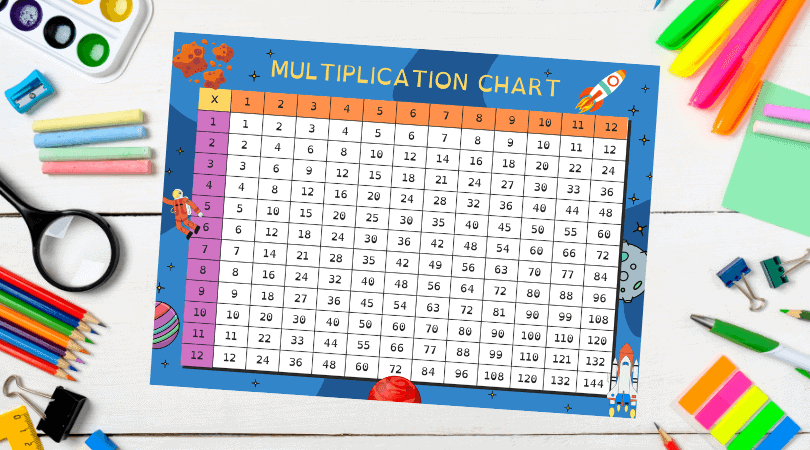 I also made a white version in case the colors were too overwhelming. You never know what is going to work, because what really resonates with one student might not be what works best for another. Options are key!
Plus, over time, you may want to remove the dependency on the colors in the process of phasing them out of using charts, so this could be the next step up as well.
More Free Printables for Kids:
Looking for even more free learning activities you can print and use? Check these ones out (and there's even more on the blog, too):
*****
Last year, when I homeschooled my kid, we tried out all kinds of fun games, especially for math, and I ended up finding a lot of math games that were awesome. I rounded up our favorite math games in this post, so check it out. I really think that playing these games made math accessible and easier for him to understand, so when he went back to school, he was way ahead in both his perspective and abilities.
Hope some of this helps or inspires you to make learning fun!
Have a fabulous day,
E