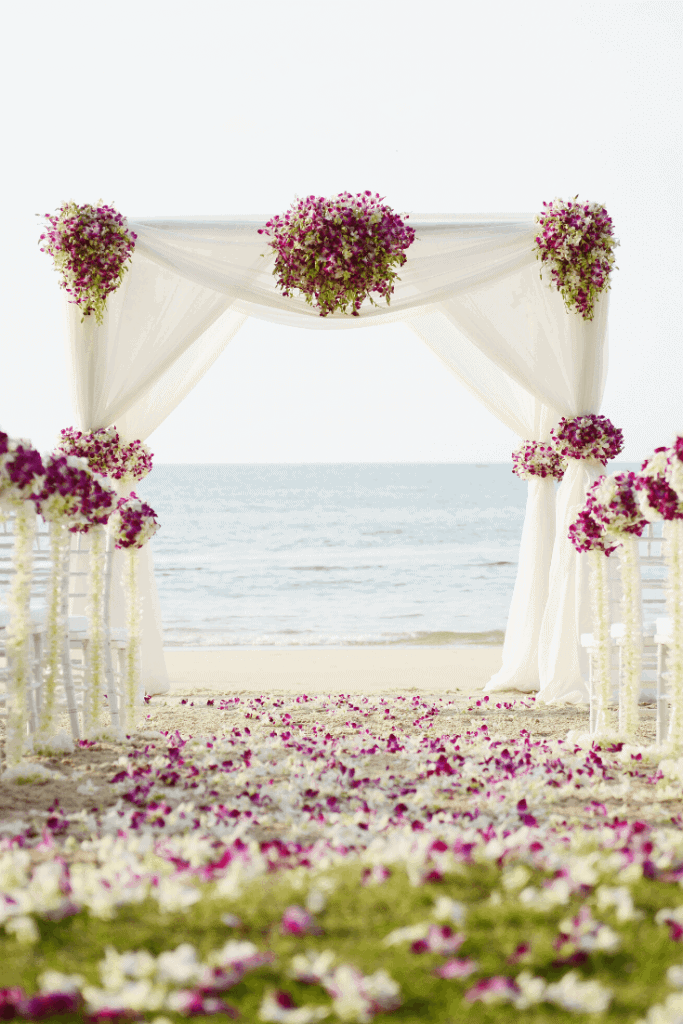 There are many reasons why a couple might want to have a destination wedding.
Of course, only one reason really matters: if it's what you want, go for it.
I know it was the perfect decision for my husband I who really wanted to do something different, something small, something more relaxed, and something near the ocean.
But aren't destination weddings expensive?
Luckily, long gone are the days of having to pay to schlep your entire social circle to an abandoned island.
It is well-within etiquette to expect your guests to buy their own way.
Plus, since less people are likely to attend, you'll save a lot of money paying for guests who are just coming out of obligation.
And, island vendors are usually more affordable and happy to negotiate. For many destinations, weddings and events are a huge source of income for them.
I know for us, the budget we had would've equaled either a very modest affair on the mainland or something truly exquisite elsewhere.
Easy decision 😉
Just make sure to follow these 10 Commandments for having a destination wedding to make sure that both you and your guests have a wonderful time.
1. Thou Shalt Hire a Wedding Planner
This is absolutely non-negotiable. Luckily, many of the venus will give you one, but you will pay a surcharge.
Don't even look at it, just write the check.
You need this person desperately.
They are going to be your liaison, your best friend, throughout the entire wedding planning process.
They know the vendors, they know the weather, they know the venue, they know everything.
Pay what they ask and thank your lucky stars you have them in your life.
2. Thou Shalt Consider The Season
Weather patterns in different places are not the same as where you live.
I know you know this – but when you're planning your wedding it is very easy to only think about the month or season that is best for you, your job, your schedule, etc. You get the idea.
However, when you are planning a destination wedding, the last thing you want to do is truck a whole bunch of your favorite people to an island that is actually in the throes of hurricane season.
Not exactly swimsuit weather.
3. Thou Shalt Do A Test Run
It is highly encouraged that you fly out to your chosen destination, at least once, to sit down with your wedding planner and meet your potential vendors.
For our situation, our wedding planner arranged for our top 2-3 vendors in each category to do a run-through with us on the same weekend.
We flew out for 3 days, met everyone, tasted all the food, ate all the cake, saw all the pictures, walked the site, and made all of our decisions.
After that, it was smooth sailing.
Fly out, see it with your own eyes, meet your potential vendors. They will also work harder once they have that relationship with you and they won't be meeting you for the first time.
Plus, you'll be surprised how this will change things. I thought I was sure who I was working with for desserts and photography. In person, my mind completely changed.
4. Thou Shalt Shrink Your Wedding Party
If you're already asking people to pay their own way to your wedding, consider not having a bridal party or a very small one.
Better yet, let them wear whatever they want or give them a color palette.
For us, we had only flower girls and I purchased their dresses for them.
It's a small gesture to thank your guests for the high cost of attending your wedding.
Plus, it makes it easier on everyone to wear something they are comfortable with.

5. Thou Shalt Use Your Rehearsal Dinner Wisely
Now that you're all in somewhere truly special, consider your rehearsal dinner as another opportunity for your guests to get a local experience.
Many of your guests will not be staying long and have come there just for you, so make sure they get to have some authentic experiences.
For example, if you're planning a destination wedding in Hawaii, book the best luau for the rehearsal dinner.
If you're in Italy, be sure to get them the most authentic Italian restaurant with a view of the coast or the best wine.
Be more thoughtful than ever when planning these events and think of how to make it special.
6. Thou Shalt Help With Travel Plans
While you aren't expected to pay for them, it sure is nice to offer ideas to simplify the process for your guests.
Not everyone enjoys planning a trip, so if you can offer them some highly rated hotels in various price points, as well as recommendations on best airline carriers and when to book flights, they'll be so grateful.
You can always have a travel agent put together a travel package for them, as well, and usually at no cost to you.
Or, ask your wedding planner on site if they have someone on staff who can help with this.
Whatever you can do to ease the burden of the trip is something your guests will appreciate.
7. Thou Shalt Be Flexible
The reality of travel is that things go wrong. Unexpected things happen. Cultural norms in other places are different than where you are from.
For us, this meant that a couple of our vendors did not deliver what was necessarily agreed. Since these companies know that you word of mouth doesn't mean much (you don't live there) and vendors in each niche are limited, mistakes don't cost them.
For example, our videographer fell over in the middle of filming our ceremony. Camera crashed. They didn't bother to edit it out. They came highly recommended, too.
Another example, our cutting cake was the wrong flavor. We asked for guava and it was carrot.
See the bigger picture. Enjoy your day. Let it go.
If you get rained on during your reception, laugh and take pictures dancing in the rain.
It's a great metaphor for your future and life together.
8. Thou Shalt Pack Wisely
You will have much more going out than you will coming back. Pack smart.
Yes, you have to pack for a wedding and a honeymoon in one, but you can do it.
Often, the airline will put your wedding attire in the front for you so it can hang.
Also, consider asking relative to use an extra suitcase they aren't going to be taking to take things for you.
Buy a vacuum sealer to squish things down as much as possible.
Pack it down and make it work.
Buy whatever you can once you're there, to eliminate additions, too.
For us, we even sold some of our decor to the location, since we wouldn't need 40 throw pillows at home.
Be creative.
9. Thou Shalt Plan To Relax
We decided to island hop a day after our wedding to have privacy and eliminate feeling obligated to hang out with everyone for a week.
For the days up to the wedding and right after, we were all in spending time with everyone. Then, we island hopped to be able to relax,
But, we made the mistake of booking a bunch of "don't miss" activities before we left home. Paid in full and scheduled to the nines.
One we got to our honeymoon, we were so exhausted, we didn't want to do anything.
But, we had already paid for these activities and didn't want to waste the money.
My best advice to you is don't plan anything for your honeymoon. Once you are there, and you see how you feel, you can always add in activities that you want to do.
If this means you might miss that one sunset dinner snorkeling cruise that you just have to do, it'll be okay.
Trust me, we took the cruise and it was horrible. Everyone was getting sick and there were no fish.
Not everything is as it seems. Give yourselves time to breathe.
10. Thou Shalt Watch Your Expenses
Not everyone is as financially minded as places in the U.S.
Regularly ask to see a breakdown of all vendors and all costs. Go through it with a fine tooth comb.
We were getting invoices and writing checks and then realized, the invoices were not current and the expenses were not accurate.
Keeping a close eye on the numbers could literally save you thousands.
This is especially true if there is an exchange rate that is complicating things.
Keep your own records and compare notes. You'll be glad you did.
****
There you have it! The 10 Commandments for Planning a Destination Wedding.
I hope these help you as you design a truly memorable and beautiful event that you will remember forever.
Bonus points of a destination wedding is that you now have this lovely place you can visit and reminisce all about your big day. Vacationing there again will take on a whole new, special meaning.
Do you have any tips for planning a destination wedding? Leave them in the comments below!
Oh, and don't miss the other posts in this wedding series:
To chic weddings,
Erica