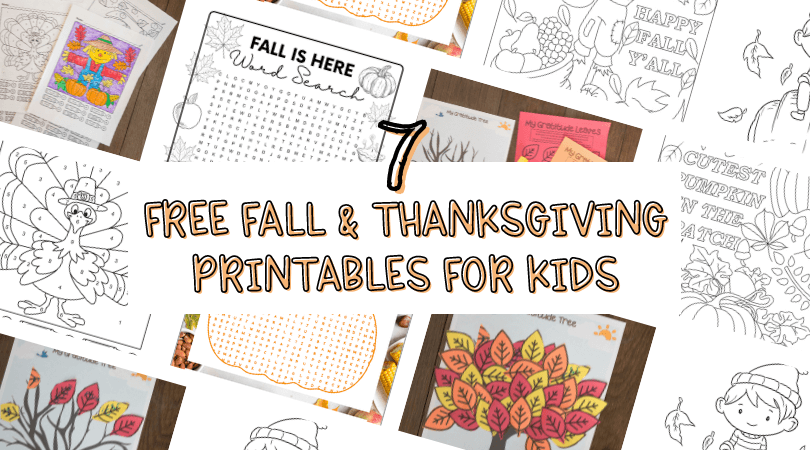 Thanksgiving is almost here! I don't know about you, but our school district is out for the entire week of Thanksgiving now. Long gone are the days of kids being in school until the middle of the day on Wednesday. While this is great for traveling families, it's not so great for those of us that are hosting and have a ton to do before people come over for the big feast.
Plus, if the flu is sweeping your house like it is mine, you've got some kiddos with loads of energy and others who are down for the count. This means you're not leaving the house very much. I feel you.
That's why easy entertainment for the kids is key. All of these Thanksgiving and fall themed printables are available to download free here on the blog! Just print at home, bust out those crayons and let the kids have fun. Most of these are pretty self explanatory, too, so you'll be able to make another coffee and pretend to supervise. You're welcome.
7 Free Thanksgiving Printables for Kids: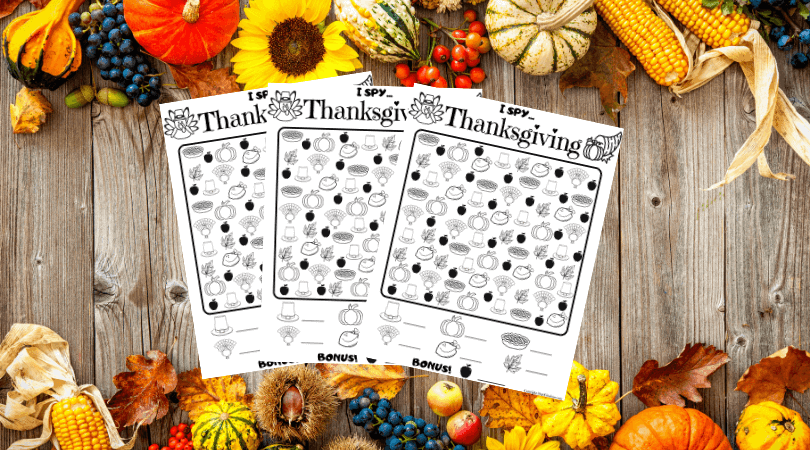 One of my favorites, this adorable I Spy is Thanksgiving themed. Kids can find the objects, color them, count them, or just use this as a coloring page for littles.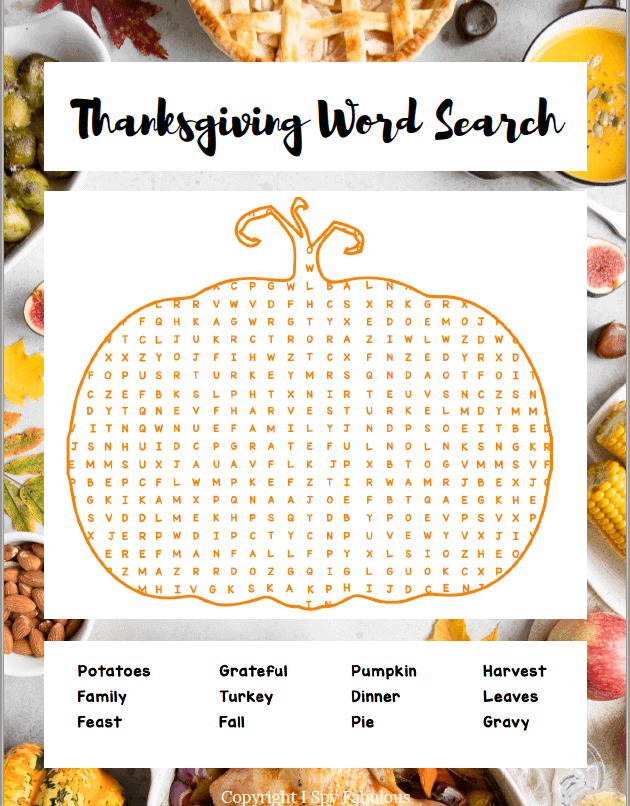 A fun pumpkin themed word search to print and use for Thanksgiving. This one does use color, so if you're looking for black and white, keep scrolling, because I have one for you.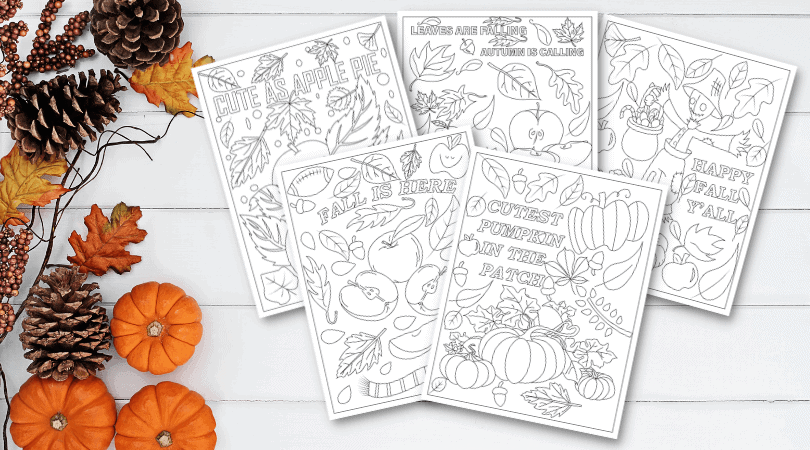 With festive designs and fun phrases, these free Thanksgiving coloring pages are print and go. Super easy. If you're finding your kids are cooling on the coloring idea, consider adding a new pack of crayons to your Target pickup order. Grab some of the neon crayons or the glittery ones. Just any pack that you don't already have and you'll find their desire to color re-energized. One of the easiest activities ever.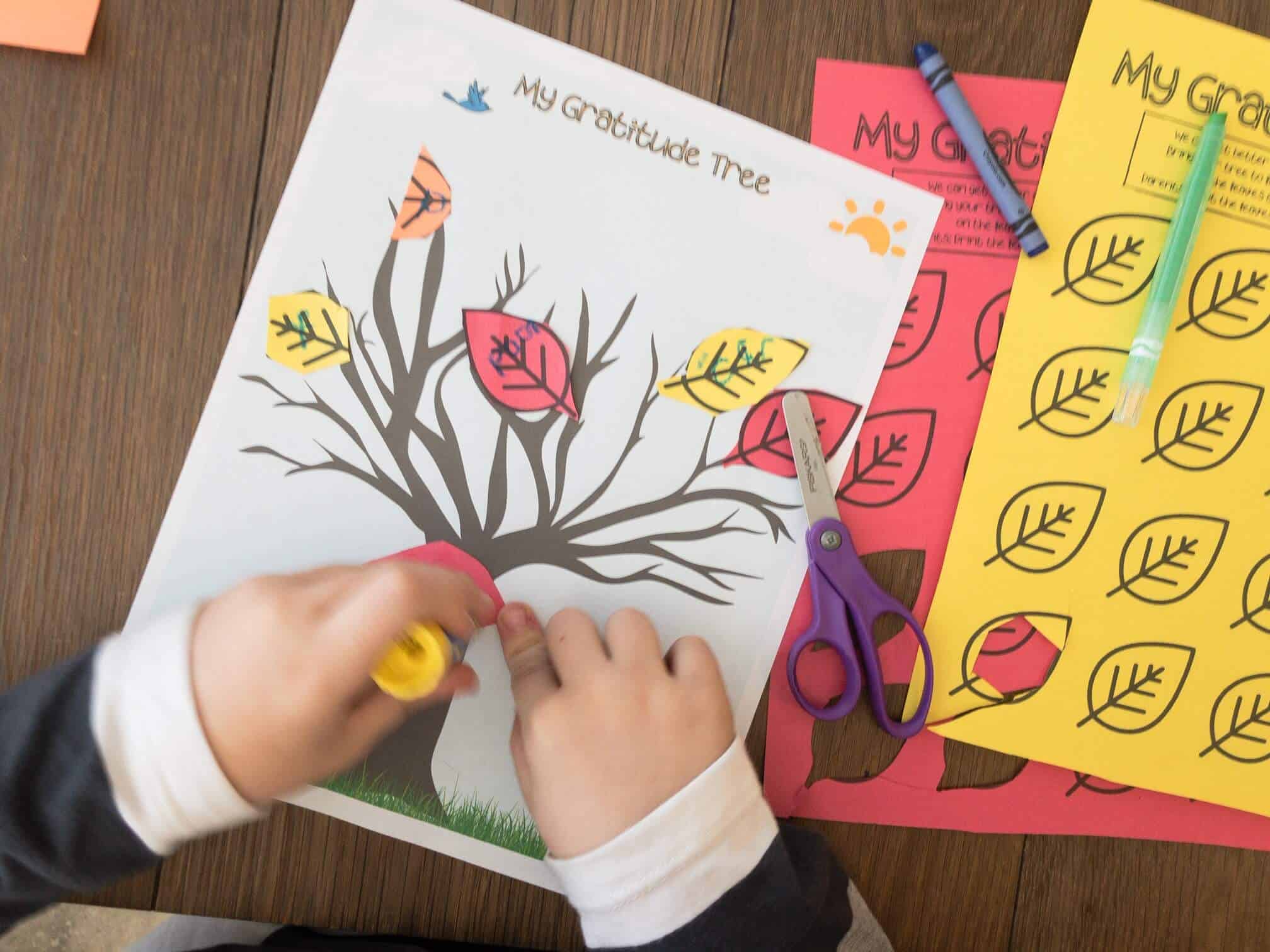 Have the energy for a more detailed craft? For this one, kids write down something their thankful for on the leaves, then cut them out and glue them to the tree. When I designed it, we tried to do one leaf a day for a couple weeks leading up to Thanksgiving, but honestly, it's easier to just do it all at once. Have fun with it and you can even display for them for a bit to remind everyone what they're grateful for.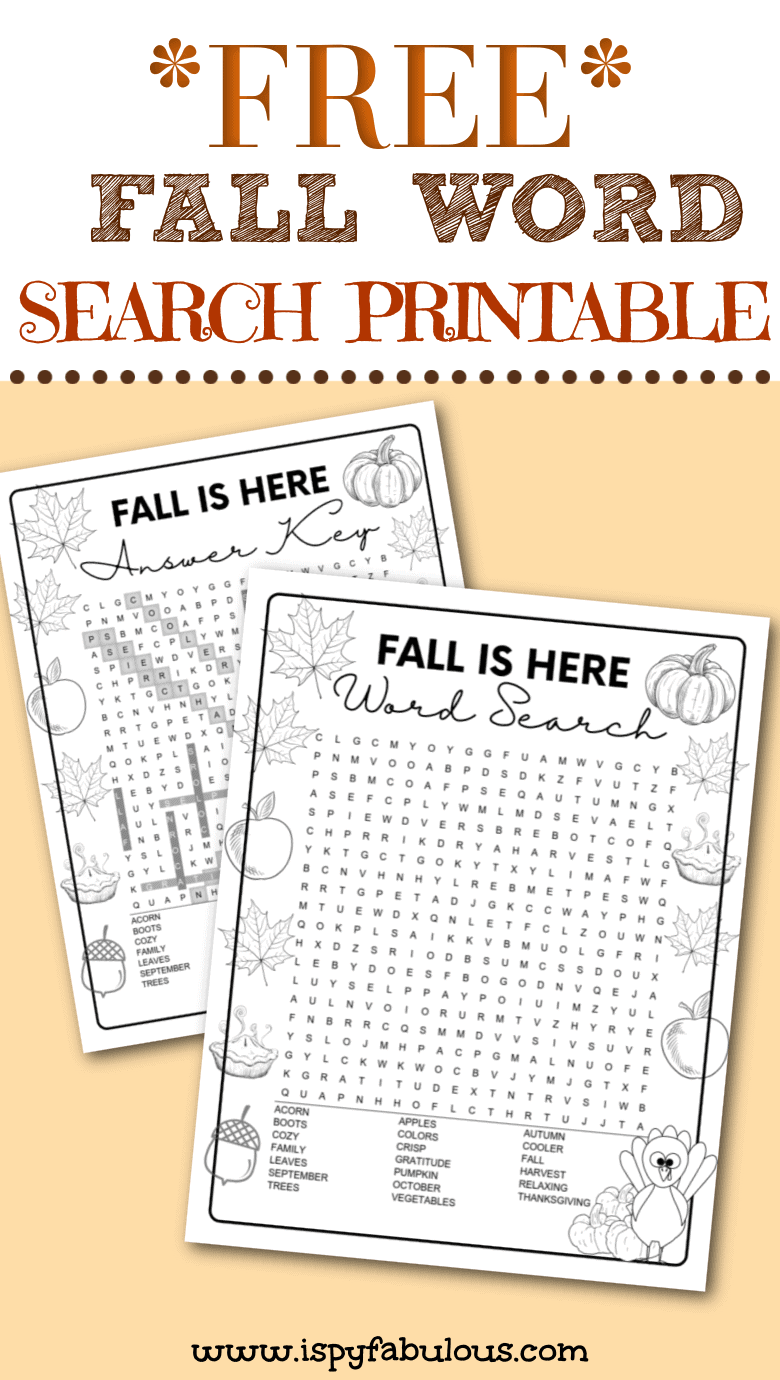 I love black and white word searches, because they can double as coloring pages. Kids love to color the images or even use different color crayons to find the words. Plus, let's face it, it's cheaper to print them than pages with color ink.
This is so easy and pretty self-explanatory, although it is going to be better for slightly older kiddos.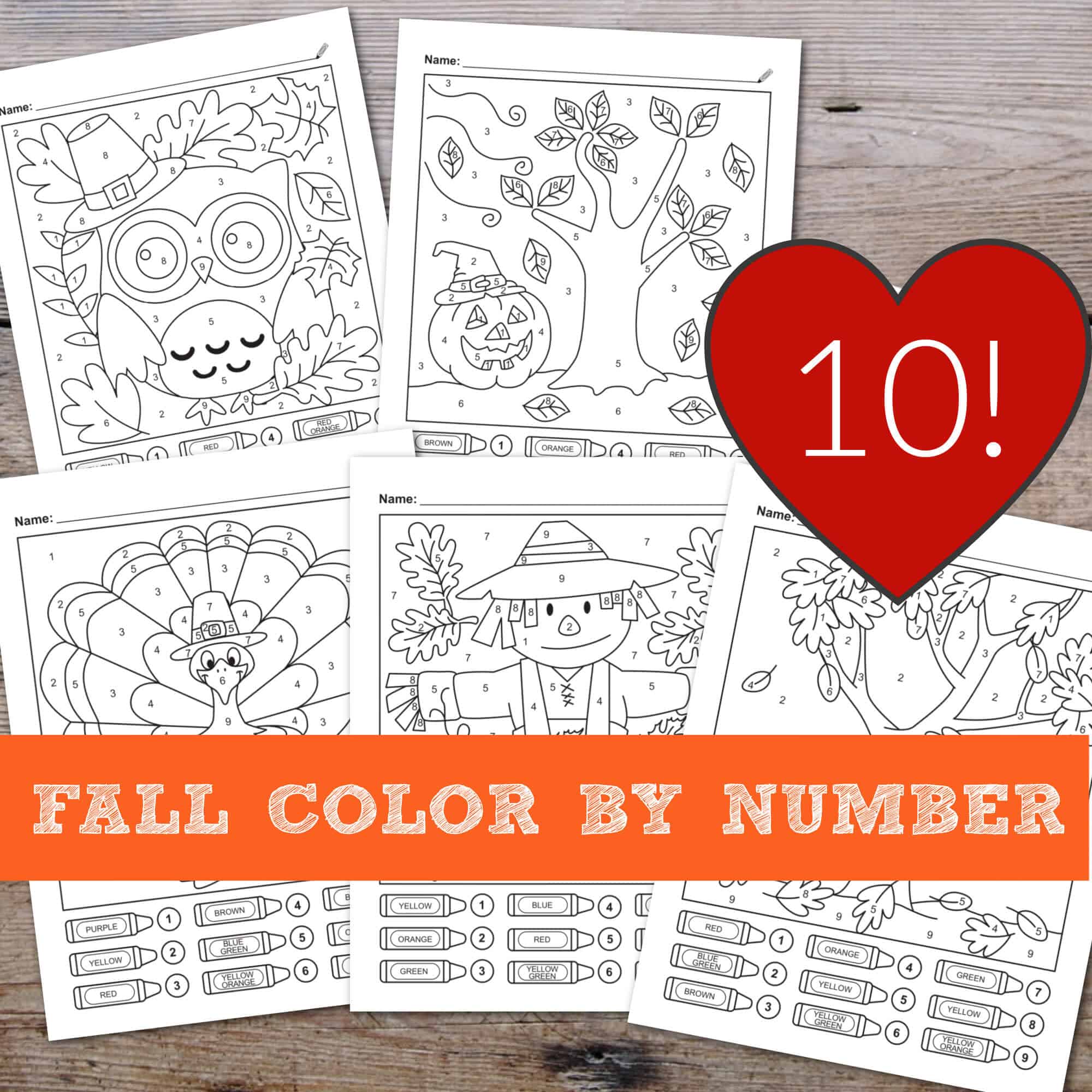 This pack of 10 color by number printable are so cute and perfect for at home or even in the classroom. I give you one for free in the post, but you can pick up the entire set of 10 for just $5.00.
The free one is actually the turkey, which is totally perfect for a Thanksgiving kids table!
To download the free color by number or check out the pack of 10, go to this post here.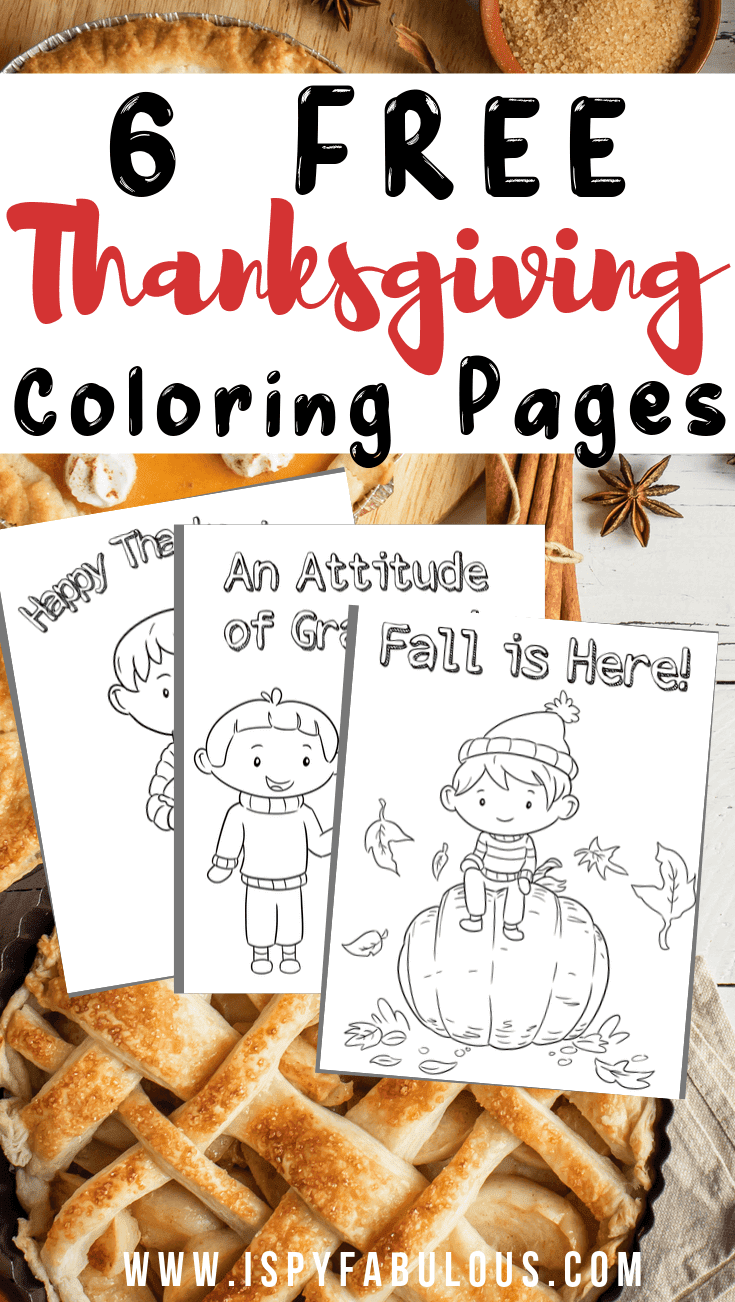 Looking for great coloring pages for super young kiddos? This is the pack for you! These 6 designs are so cute. They are the first Thanksgiving post I put up years ago when I started the blog. I had created them for my own toddlers to give them something to do to entertain them while the rest of us ate our dinner. If you've ever tried to eat Thanksgiving dinner with littles, they are finished fast and get super bored, so I wanted something fun to keep them entertained.
You can print and use these as many times as you want!
To download the free Thanksgiving coloring pages for kids, go to this post here.
******
I hope you found something, or a few things, free and fun for your kids this week or even for your classroom when you all get back from break and are exhausted.
I'd love to hear which one is your favorite.
Have a fabulous day,
E