I absolutely love this mommy or daddy baby shower game. Basically, guests try to guess which item on the list is more likely to refer to the mommy or daddy once baby arrives.
This is such a fun one to look back on months later and see if everyone's predictions were right! Parenthood often changes us in ways even we didn't expect.
Plus, I love this beautiful greenery design with the little lips and mustache for mommy and daddy!
How To Play Mommy or Daddy:
This game is so easy. Just print and give one to each guest.
Share answers and see what everyone says!
You can either have mommy fill out one of her own to use as the answer key or just use it as a conversation starter or icebreaker.
To download the free game, just click on the image below to open it in a new window.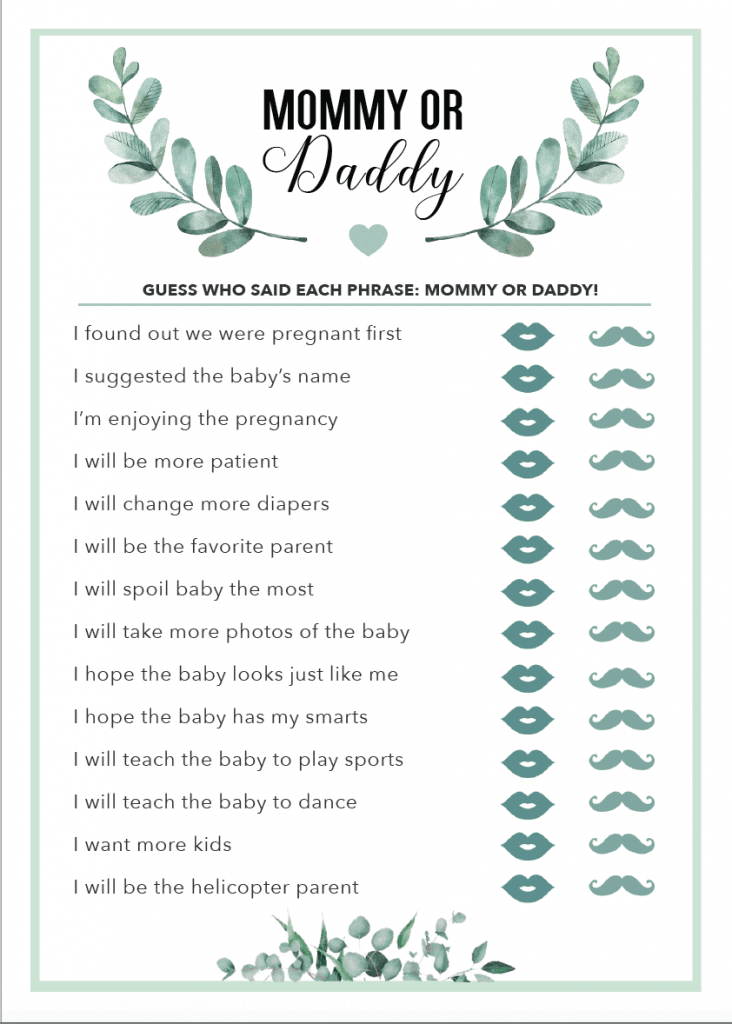 That's all! Make sure to go over the answer key and see who won!
More Free Baby Shower Games:
This is one game in a set of 7 matching baby shower games – all free with this greenery, gender neutral design. To find them, you can just click on the links below to check them out or go to this post to find links to all 7:
I hope your shower is a fun time! If I were planning a greenery shower, here are a few things I would grab on Amazon (affiliate links used):


Make sure to come back and tell me how the shower went!
Have a fabulous day,
E