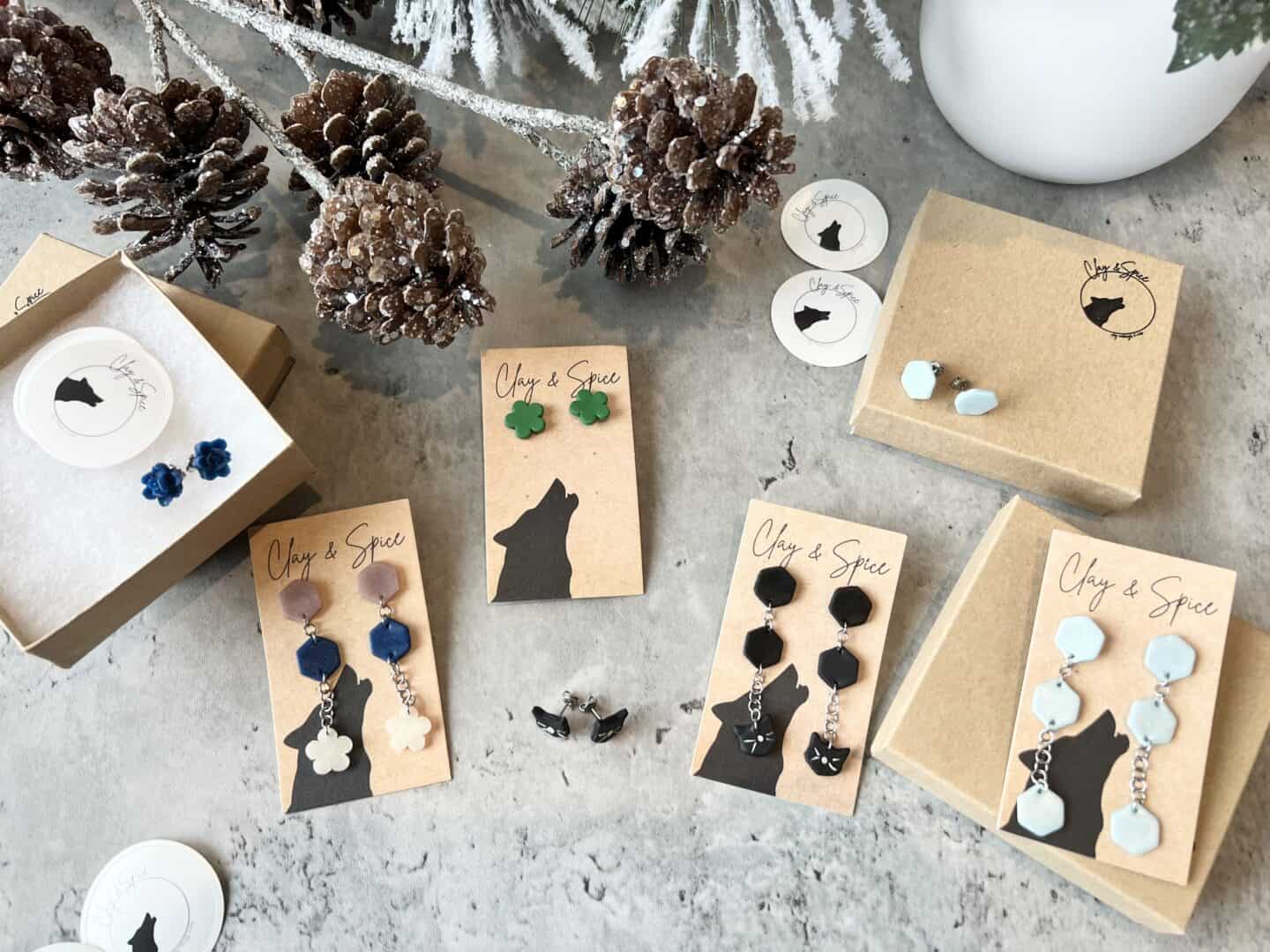 Growing up, I had a friend who always had the best earrings. Her collection was second to none. She would mix and match the wildest earrings with different outfits and I was also inspired by how her earring choice elevated her outfits. While I really wanted to create my own earring and outfit combinations like she did, whenever I wore earrings, I would end up with itchy, red, swollen ears. The older I got, the faster my ears would flare up.
So, despite my desire to be the girl with the gorgeous earrings, I eventually gave up on wearing them and turned towards other accessories that didn't cause me pain – until recently. Clay & Spice creates handmade, limited edition earrings that are completely, 100% nickel-free, super lightweight and hypoallergenic. Even the long, dangly earrings feel like you're wearing nothing at all.
I've been wearing these earrings out for date nights and have been amazed at how my ears have no reaction to them. It's been so fun to accessorize my outfits with various earrings from the seasonal collections. So, if you're struggling with itchy ears whenever you try to wear earrings, I have good news for you. Clay & Spice might be the solution.
Clay & Spice: Lightweight & Nickel Free Earrings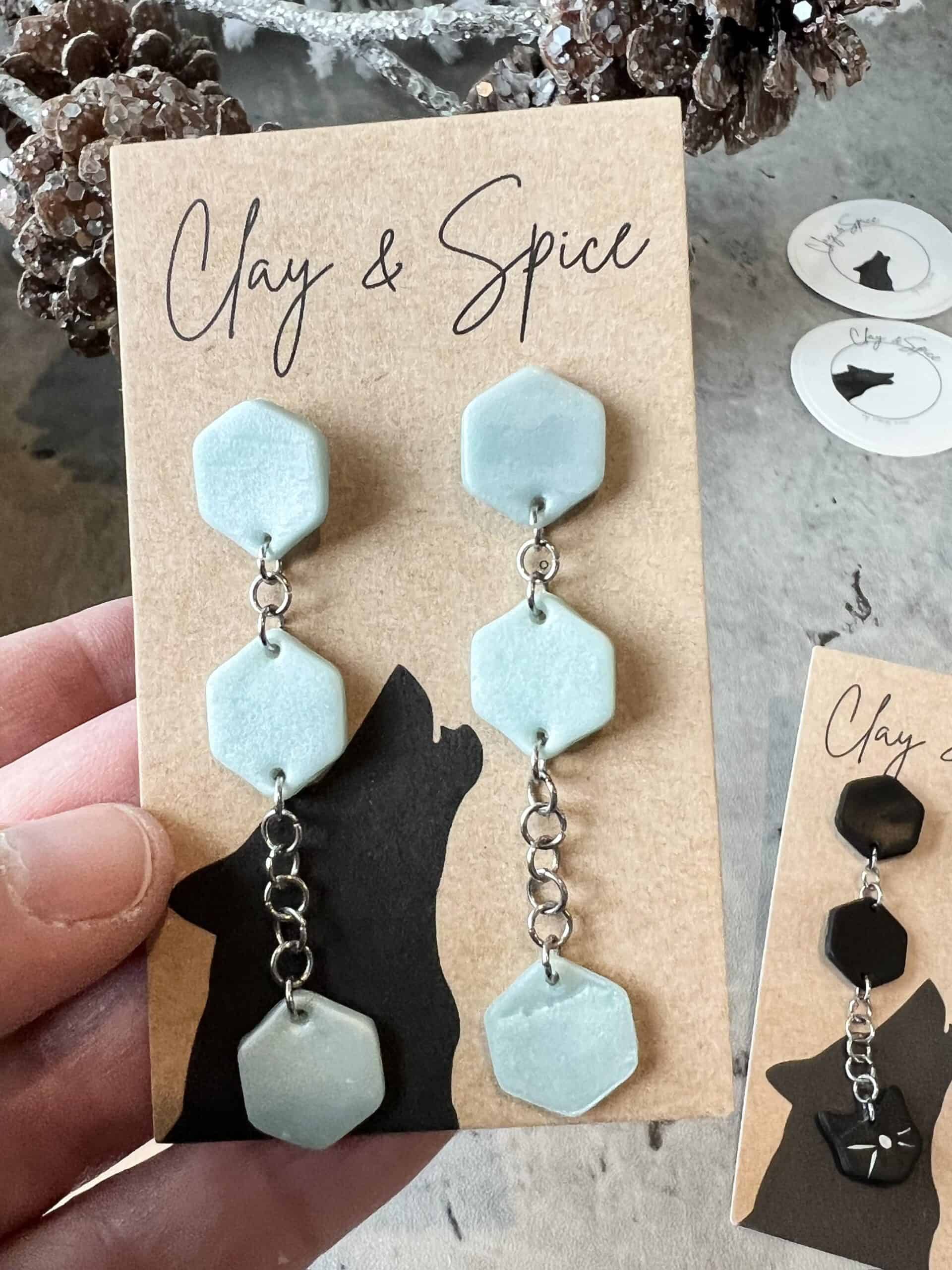 These are some of my favorites from the collection, although the selection does change seasonally and some designs never come back. While these designs may not be available, if you click through my links, you'll see what designs are being made right now.
Personally, my favorites are the hexagon shaped earrings. I'm a huge fan of hexagons and the gray clay has a light shimmer to them. The photos really do not do them justice. Whenever I wear these ones, people stop and ask me where I got them. Plus, I love that there's a matching stud option for my daughter to wear. She's big into matching and I am going to take advantage of that for as long as I can.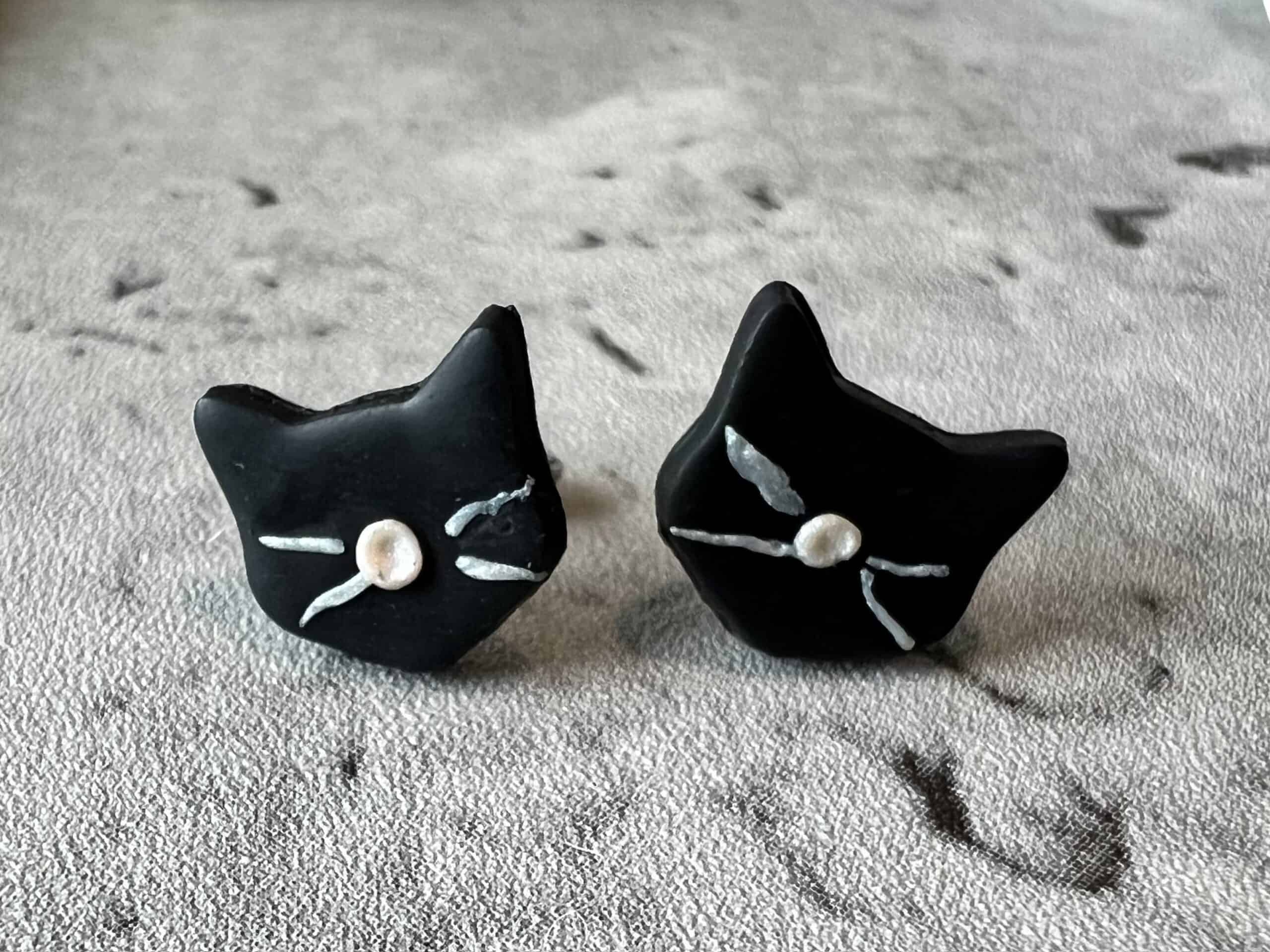 My other favorites are the cats. I got these from the Halloween collection and they are absolutely adorable. Worn with a cute Halloween t-shirt and a cardigan, I looked pulled together with almost no effort at all.
When you see the cat faces up close, you can see the unique hand painted designs, so every pair is completely different.
All of the designs I have from Clay & Spice are so unique, but they have one thing in common: they don't inflame my sensitive ears.
Give The Gift of Nickel-Free Earrings: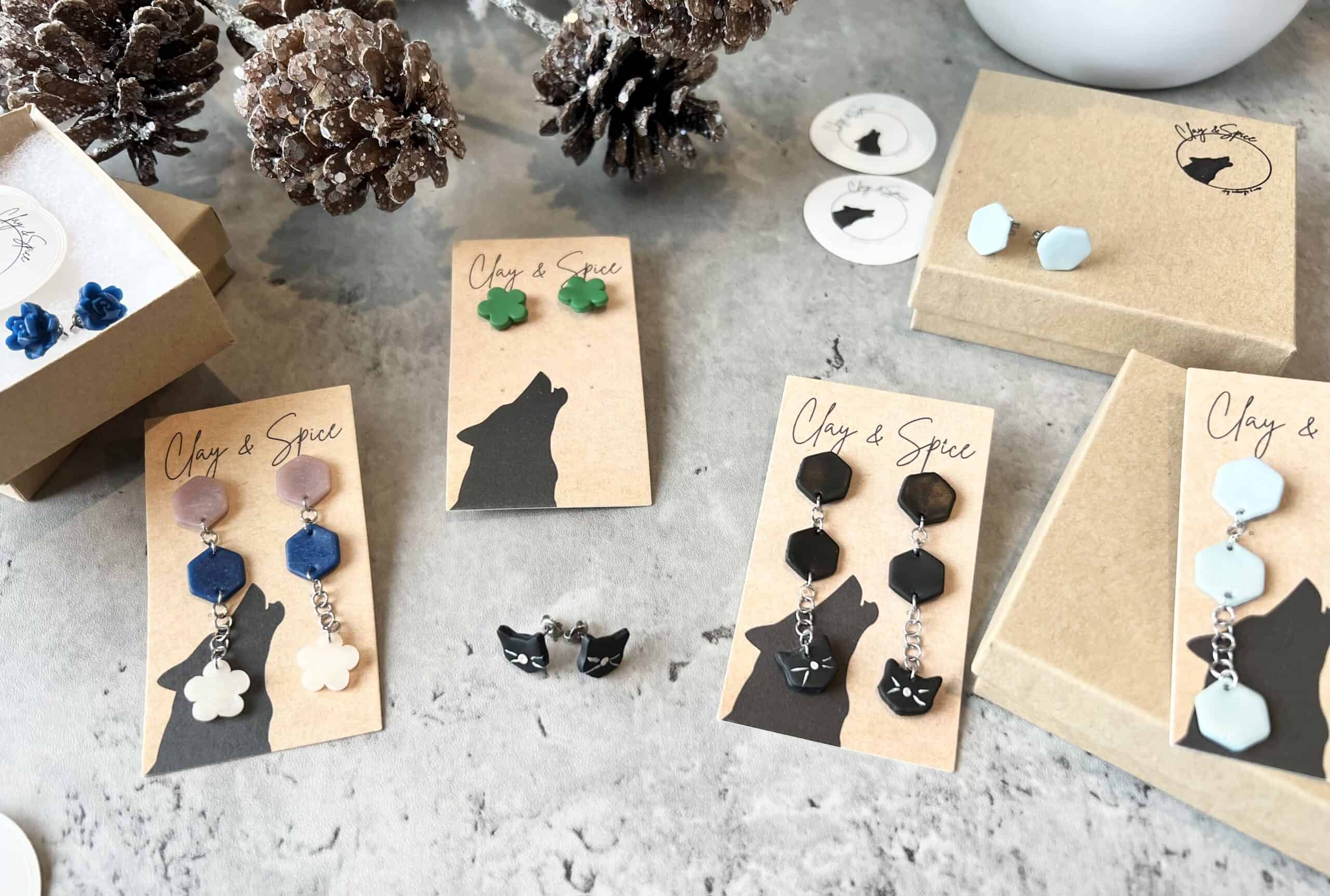 Are you looking for the perfect gift or stocking stuffer this Christmas? Give your loved one the gift of earrings that won't hurt their ears. Plus, every pair is handmade, so you'll know you're giving a gift unique gift they can't get anywhere else! To learn more about how Clay & Spice makes their earrings, check out their Instagram. Here's a cute behind the scenes video to give you an idea:
View this post on Instagram
*****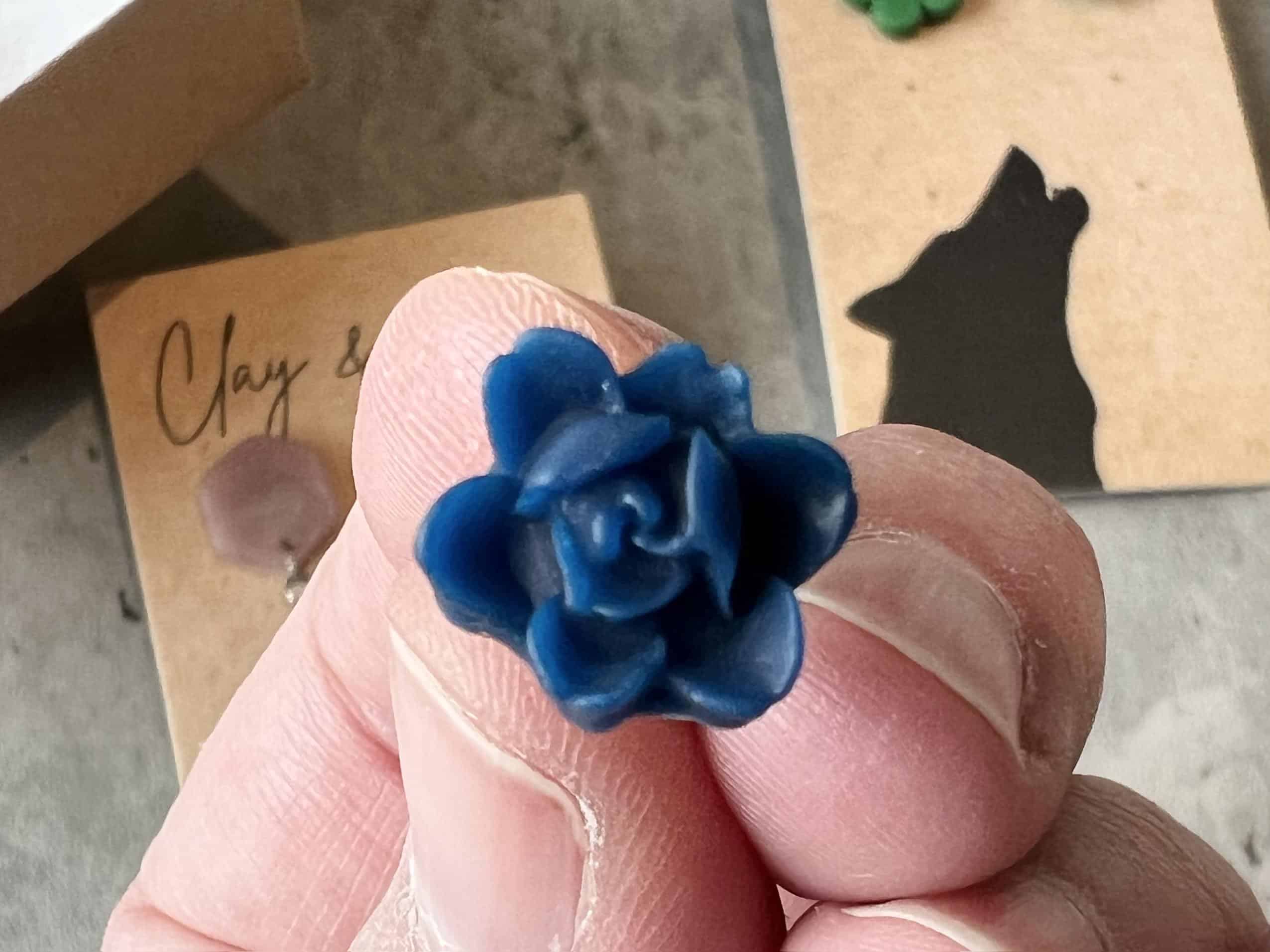 I love sharing brands that are doing something different and giving back. Clay & Spice also donates a portion of their proceeds towards helping animals. As a mom to a rescue pup, this is right up my alley.
I hope you a new gift idea for yourself or someone else this holiday season that is different and not mass produced. I love shopping small and helping small businesses whenever I can.
If you try these earrings, I'd love to hear what you think! Tag me on social @ispyfabulous.com.
Have a fabulous day,
E