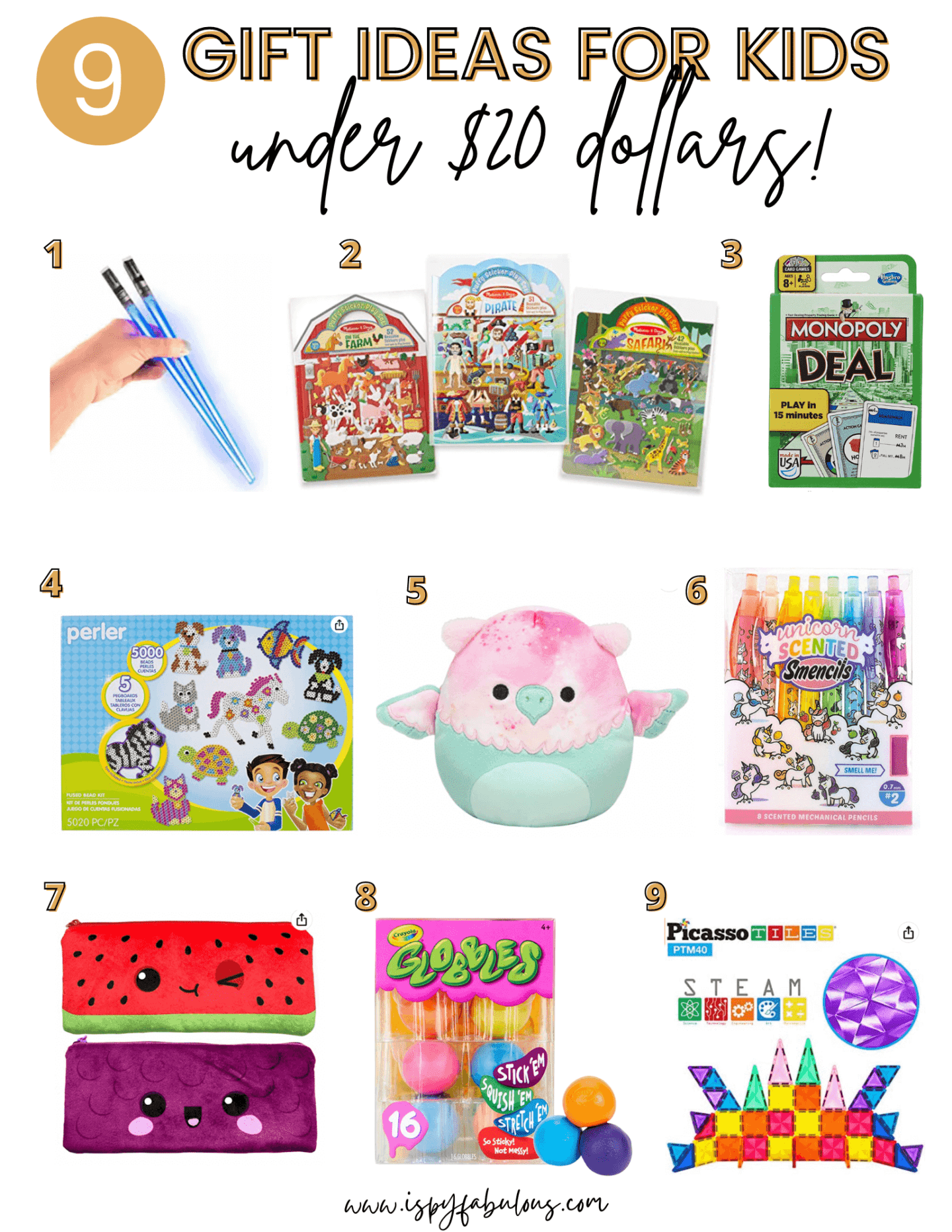 Christmas is expensive, yo. There comes a point for most of us (or maybe we even start the season this way) where we need to get creative with gift ideas. You really don't have to spend a ton of money to give someone a thoughtful gift they'll love.
In fact, if White Elephant Christmas gift exchange games have taught me anything – its that the gift everyone wants usually has nothing to do with how expensive it is. But, gift buying fatigue is real. I definitely start to feel the creative juices running low as Christmas gets closer.
That's why I like to have some easy lists of gift ideas handy that I can pull from if needed. Here are 9 of my favorite creative gift ideas for kids that are under $20. They have all been met with rave reviews from kiddos in the past and I'll be giving some of them again this year, too.
So, if you're looking for affordable, but creative gift ideas for kids of all ages, maybe try out some of these ideas this year and then tag me on Instagram @ispyfabulous to tell me what they thought!
9 Creative Gift Ideas for Kids Under $20:
Available in a bunch of colors, these light up chopsticks are so cool. Kids really enjoy using them for all types of food and because they're thicker than traditional chopsticks, they're also easier to use. These would also make a great stocking stuffer, too, if you're looking for things that are small, but won't just get broken and thrown away.
This set of 3 comes in a few options and all of them have reusable stickers they can place on the various scenes. When kids get these, they immediately want to open them and get started. My daughter will sit and move the stickers around for an hour. Easy win, for sure.
One of our favorite card games. It's the best parts of Monopoly made faster and more fun. You can play a whole round in 15-20 minutes, sometimes faster. My 9-year-old has been playing it for about a year and really loves it. For even younger kids, there's tons of Monopoly game options. We have a few different ones and kids love them. Another gift idea that would fit into a stocking.
Here's another one that kids will sit and play with for hours. Make sure the family has an iron they can use to melt the beads, otherwise they won't be able to finish the craft. Mine play with theirs so much, I bought a mini iron that I keep in the bin with the beads, so I don't have to keep going and getting the other one.
There are so many different options here for Squishmallows and kids love them all. These are the softest, squishiest little pillow stuffed animals ever. The second kids feel them, their eyes light up. These are especially great for kiddos who have sensory issues or are on the spectrum. But, I've yet to meet a kid that doesn't love these. I picked a burrito themed one for my son this Christmas and he's going to love it.
Buying for a kid that loves to write or draw? These scented pencils smell amazing and are very comfortable to write with. They have two versions, one is more gender neutral and the other is unicorns. We have them both and the kids love them. One pack is well under $20, but pair it with the next gift idea for an even cooler gift they'll never guess was $20. A great stocking stuffer idea, too.
These zipper pouches come in a pack of two and smell so good. You could get a pack of smelly pencils and a smelly pencil case for around $15. Amazing. Then, give the other smelly case with another gift inside or pack of markers. These are so soft and cute, too.
These squishy globs stick to any surface you throw them on, without leaving a residue behind. My kids love throwing them all over the place and then peeling them off to do it again. If they can get them on the ceiling, they have to wait a little bit until they fall back down and it's very exciting. If they get dirty, just rinse them, dry them, and then they are ready to play again. So fun.
If you haven't picked up these magnetic tiles yet, grab this starter kit as a gift and watch their reaction. I like the Picasso tiles, because they're filled out shapes, versus other brands where it's empty in the middle. This makes them look a bit cooler when built and also easier to work with IMO. This mini set has 40 tiles and can be used for lots of ideas. Just be warned, they'll want more!
****
There you go! 9 of my go to gift ideas for affordable, but creative gift ideas for kids that they always love. I hope you found something here to help you finish your shopping.
For more gift guides, you may like some of these posts:
Happy shopping!
Have a fabulous day,
E