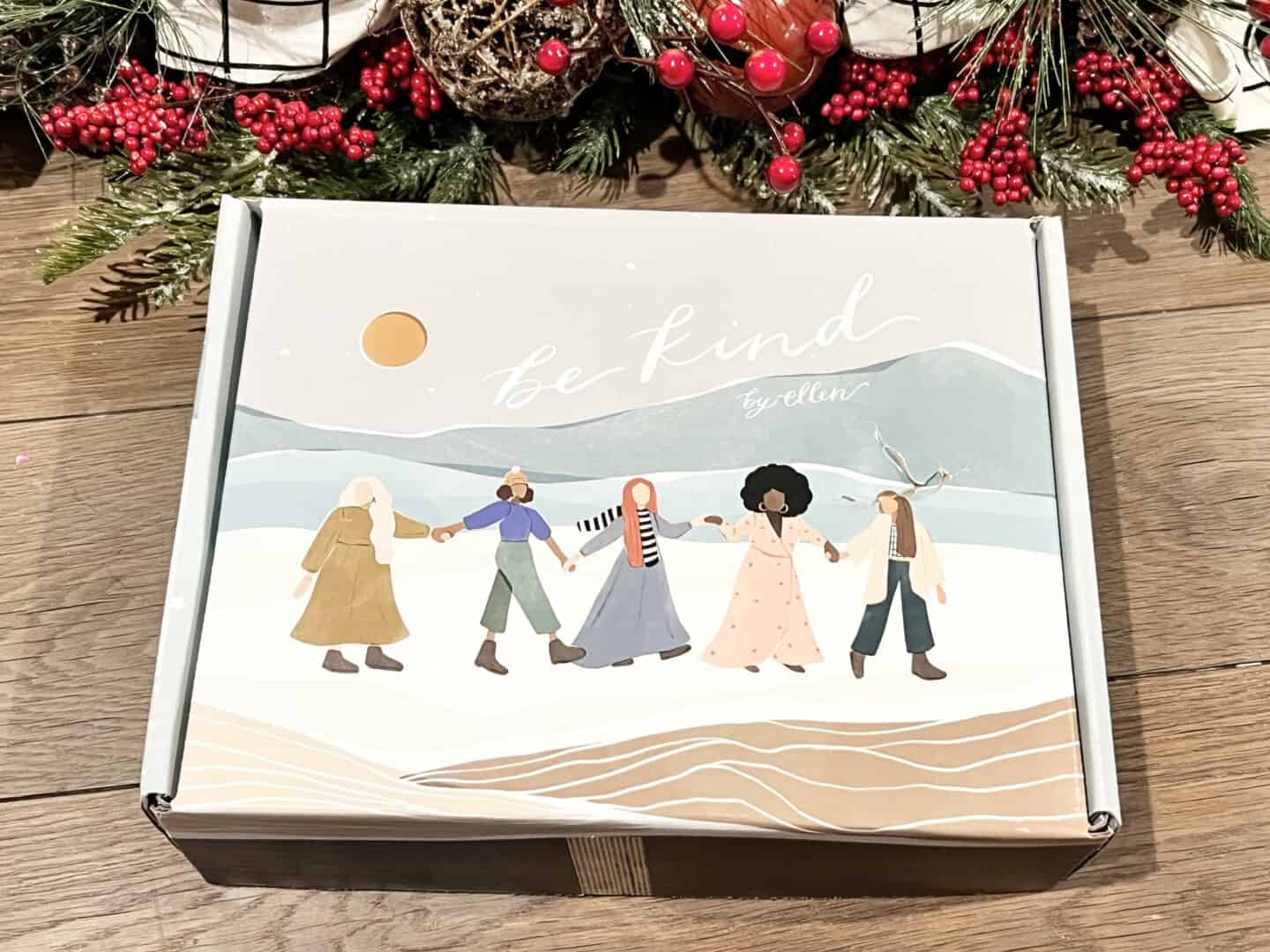 I really look forward to getting my Be Kind box by Ellen. I love seeing all of the carefully selected items and reading about how the companies are using their products to give back and do good. There's always something I've never tried and end up loving. Plus, I'm a huge fan of all things winter and ice skating, so the whole theme of this box was definitely my jam.
If you're new to the Be Kind by Ellen box, let me share a little bit about how this subscription box works and what you can expect. If you're just here for the spoilers, keep scrolling and I share everything in the box with you below.
What is the Be Kind box by Ellen?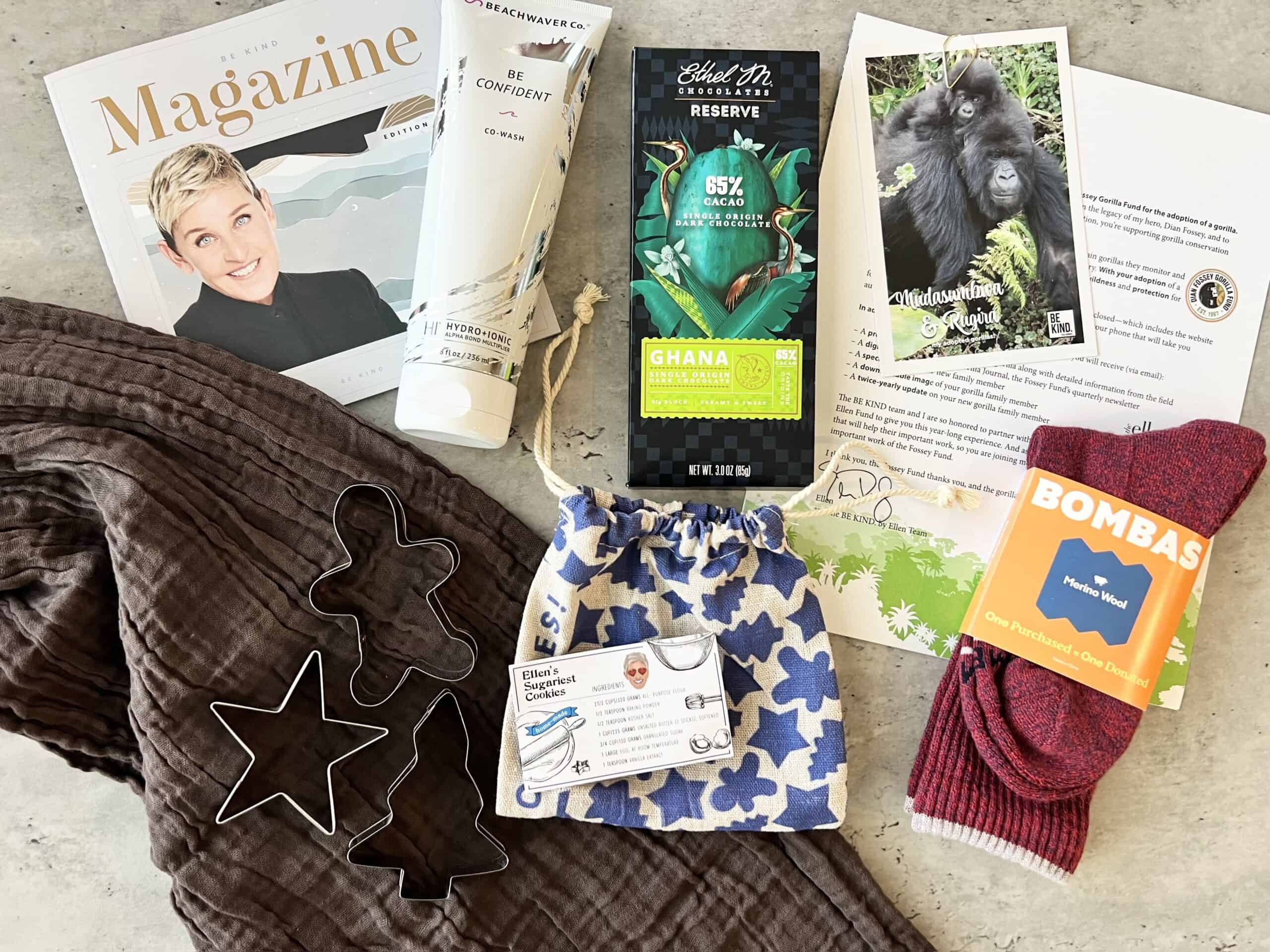 Be Kind is a quarterly subscription box curated by Ellen Degeneres. She chooses 6 products with a purpose and they are delivered 4 times a year. This one is being sold for $54.99. The box has an estimated value of $500 or more. You can cancel anytime and shipping is free in the US. They are currently running a promotion to BUY ONE/GET ONE, so you can get a box for yourself AND get an extra box to wrap and give as a gift, bringing the box price down even further. Amazing.
Also, I love the transparency of this box – you see what you're getting in each box, with no surprises, so you know what you're investing in. If you've ever bought a subscription box because of a couple spoilers that got you excited about, only to find a whole box full of stuff you'd never actually buy (or worse, repeats from items in an earlier box) then you will love the Be Kind box, because every single one has unique items and you always know exactly what you're getting.
Let's take a look at all of the items in this box! Some of these items I will be using as Christmas gifts and/or stocking stuffers this year, which is always a good thing. Also, know that the links in this post are affiliate links, which means at no cost to you, I may receive a commission if you make a purchase through my links.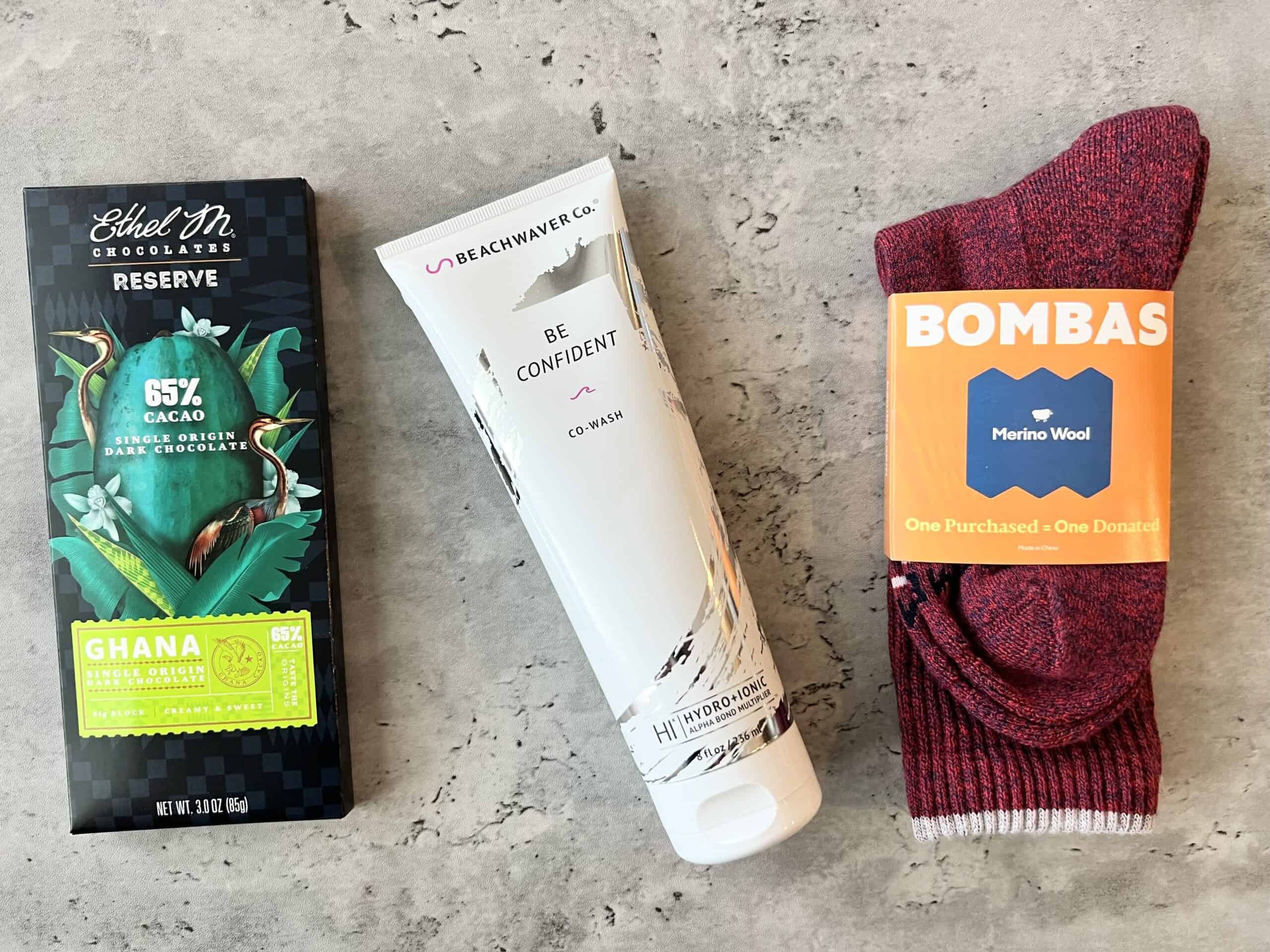 Here are the three of the items in the winter box:
1. Ethel M. Chocolates bar:
Made in small batches with just 4 ingredients, each bar has a unique flavor due to the origin of the chocolate. Our bar is from Ghana and is a single origin dark chocolate with 65% cacao. The brand has a commitment to minimize its impact on the environment, which includes powering their factory during daylight hours with their solar garden and more.
Original Price: $8
2. Beachwaver Be Confident Co-Wash:
Beachwaver c0-wash is short for "conditioner-only washing" and means there is a gentle cleanser included that adds the moisturizing and strengthening benefits with active ingredients. Their carefully crafted formulas are paraben free, vegan, sulfate free, petrolatum free, benzophenone free, cruelty-free, phthalate free, and formaldehyde free.
Original Price: $20
3. Bombas Merino Wool Socks:
You've probably heard of Bombas and their mission to create the softest socks on the planet and also help to ensure that every person has comfy socks. Their buy one/give one program has resulted in more than 75 million items being donated to people in need. Incredible. These socks are made with super strong natural fiber that is super soft, while also keeping your feet very warm. Merino wool is also naturally moisture-wicking, so they're great for the summer, too.
Original Price: $20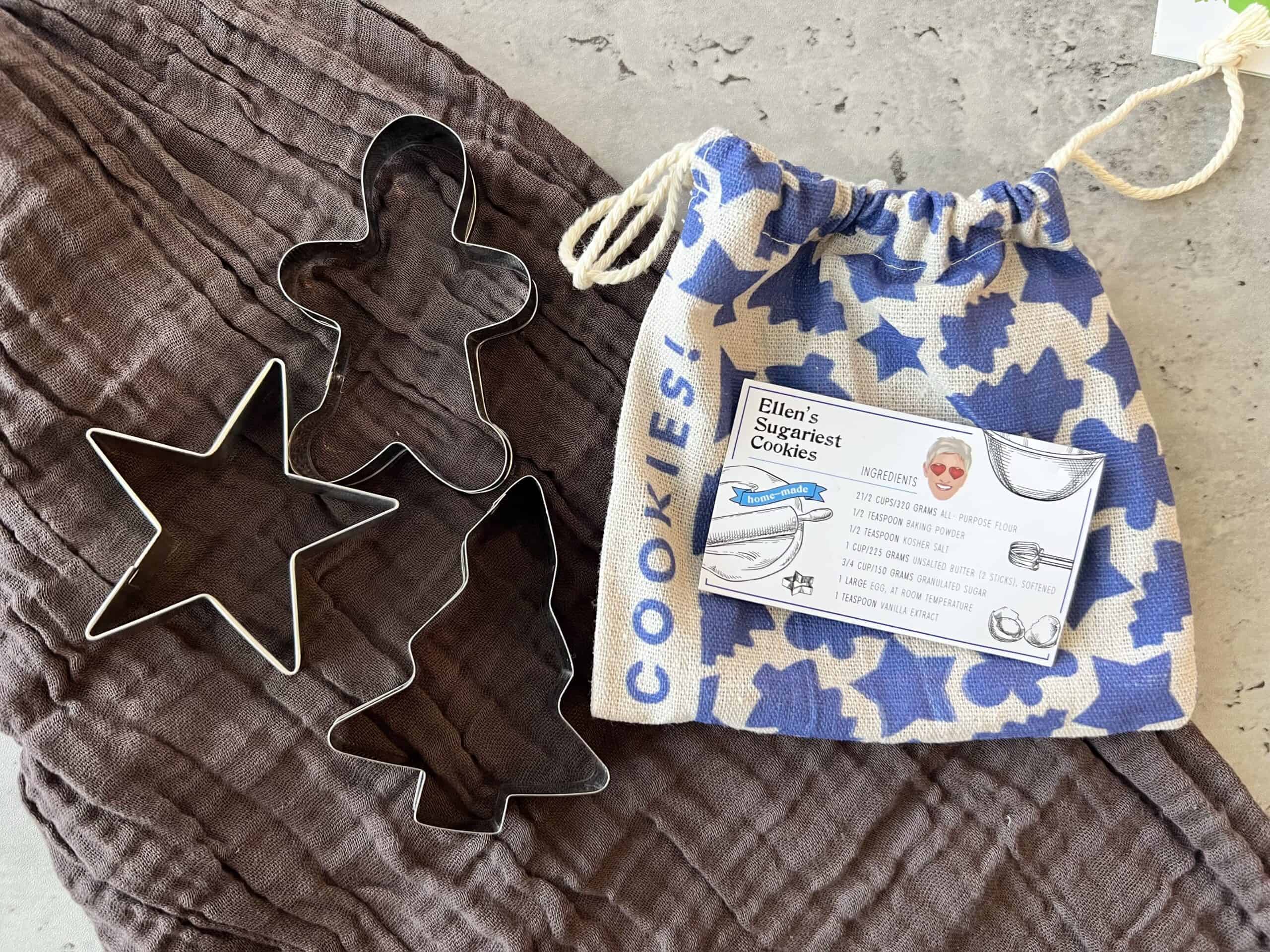 Two more items in the box include this super soft scarf and adorable sugar cookie kit:
4. Laude the Label Carob Bubble Gauze Scarf:
This scarf is so insanely soft, you immediately want to wrap it around yourself. The deep, chocolate brown color is perfect for the holidays and you'll love that it's made from responsibly dyed organic cotton. Each piece from their collection is ethically-crafted by empowered makers in India and utilizes processes that reduce water, energy and fabric consumption.
Original Price: $120
5. Ellen's Sugar Cookie Kit:
Who isn't making sugar cookies this time of year? My kids adore helping me make sugar cookies, cutting out fun shapes with cookie cutters and then enjoying colorful frosting and sprinkle toppings. This kit will make our annual sugar cookie baking even easier and more fun. Each kit comes with three shaped cookie cutters: a star, tree and gingerbread person. Plus, Ellen's favorite sugar cookie recipe is included. Can't wait to try this one out!
Original Price: 25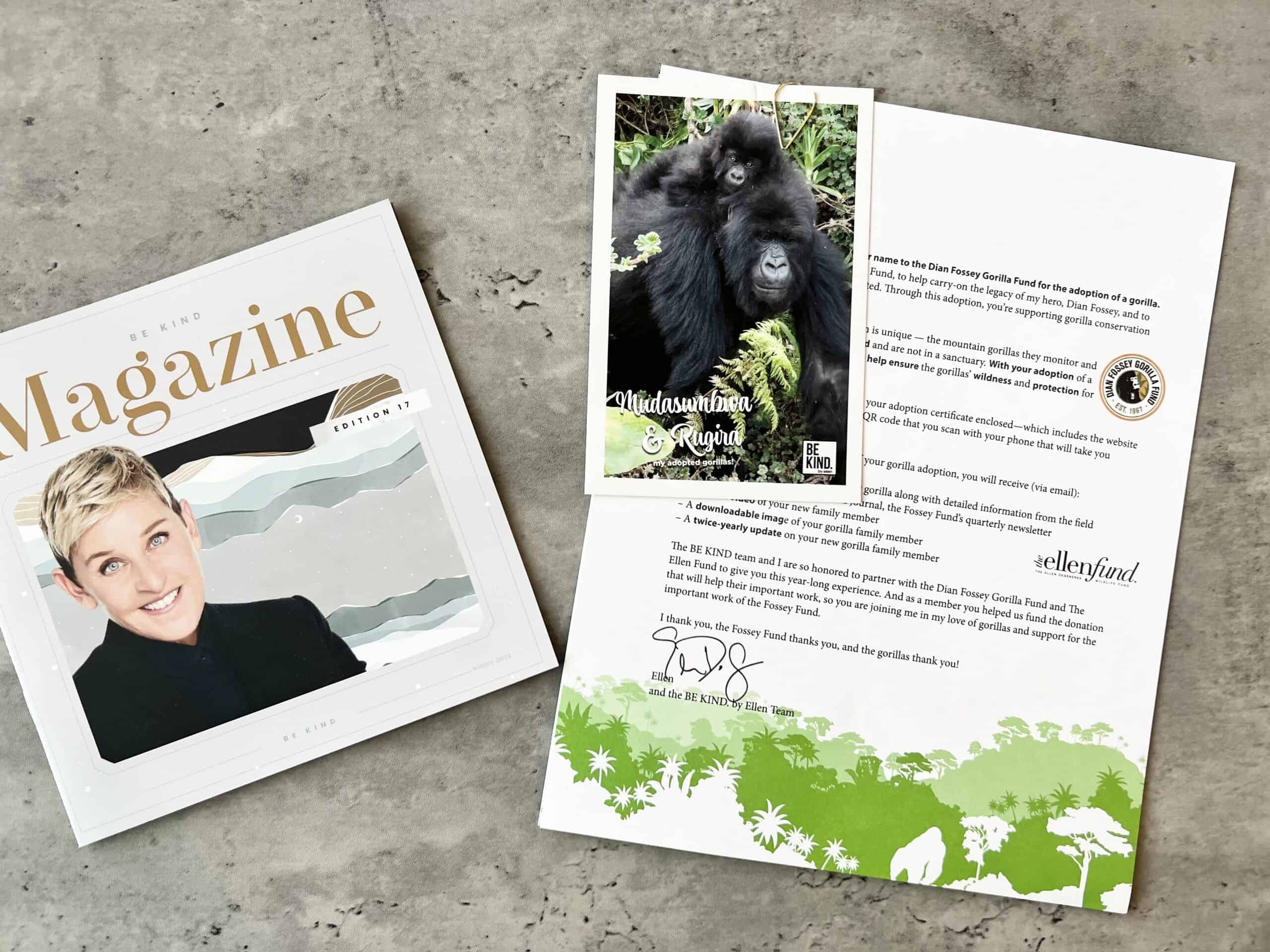 Each box also comes with Ellen's magazine, which includes lots of information on each item, as well as coupon codes to save more money on things you want to buy.
6. Dian Fossey Gorilla Fund:
In addition to the other items, you also receive a letter that shares you've adopted a gorilla! You'll get photos of your gorilla, stories about how they are doing, and learn ways that your contribution has helped continue protecting and saving the vulnerable gorilla population. You can learn more about this at gorillafund.org.
Original Price: $75-$100
I love the combination of personal and commercial items in each box. The sugar cookie kit and gorilla adoption are heart-warming additions that feel personal and special. The scarf and wool socks will add coziness to the crisp weather. The co-wash and chocolate are useful items that we will enjoy trying out. Overall, a great collection of items for an affordable price.
If you'd like to check out this or future Be Kind boxes, check the link here.
More Subscription Boxes:
Do you love trying new subscription boxes too? I have found that they are a great way to restock on beauty products or try new items at a great discount. The clothes subscription boxes are a staple around here for refreshing my kids' closets, too.
Here are just a few more of my favorites:
Here are some more subscription boxes that I love and have also reviewed:
*****
Have you tried the Be Kind by Ellen box? I'd love to know your thoughts!
Have a fabulous day,
E