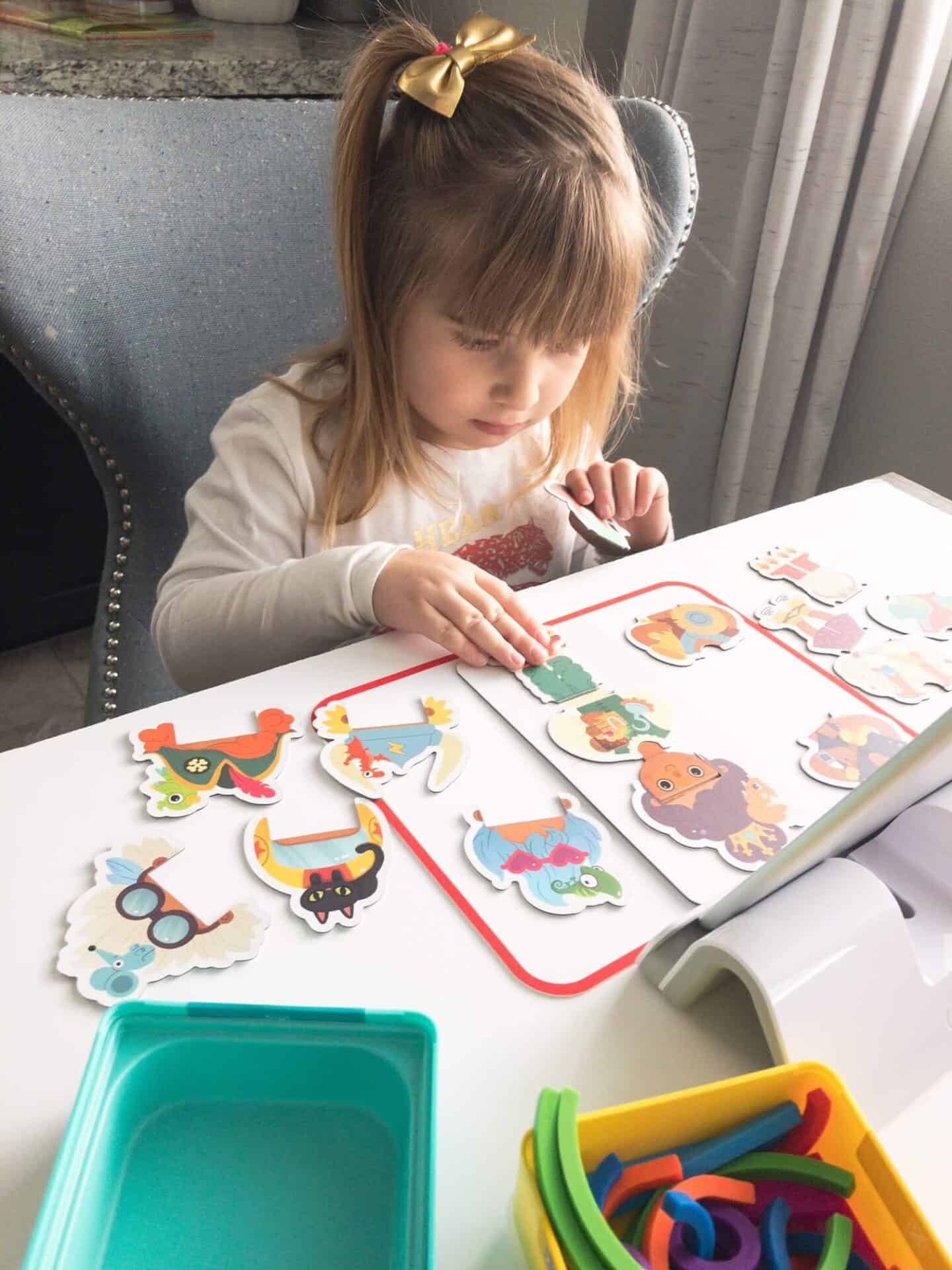 I'll admit, I get so focused with homeschooling my son, that sometimes I forget my daughter was supposed to start preschool this fall and couldn't (thanks Covid).
We're all waiting for the world to go back to normal, and when it does, I want my kids to feel as prepared as possible – my daughter included.
That's why I was so excited to give her the Osmo Little Genius Starter Kit, designed for 3-5-year-olds! With two game piece sets that can be used with at least 4 different Osmo games, a play mat and a base, it's like preschool in a box! Little Genius is a fun, engaging way to practice preschool standards like the ABCs, shapes, fine motor skills, and more, while letting preschoolers gain confidence with technology and learning (without even realizing they're learning!).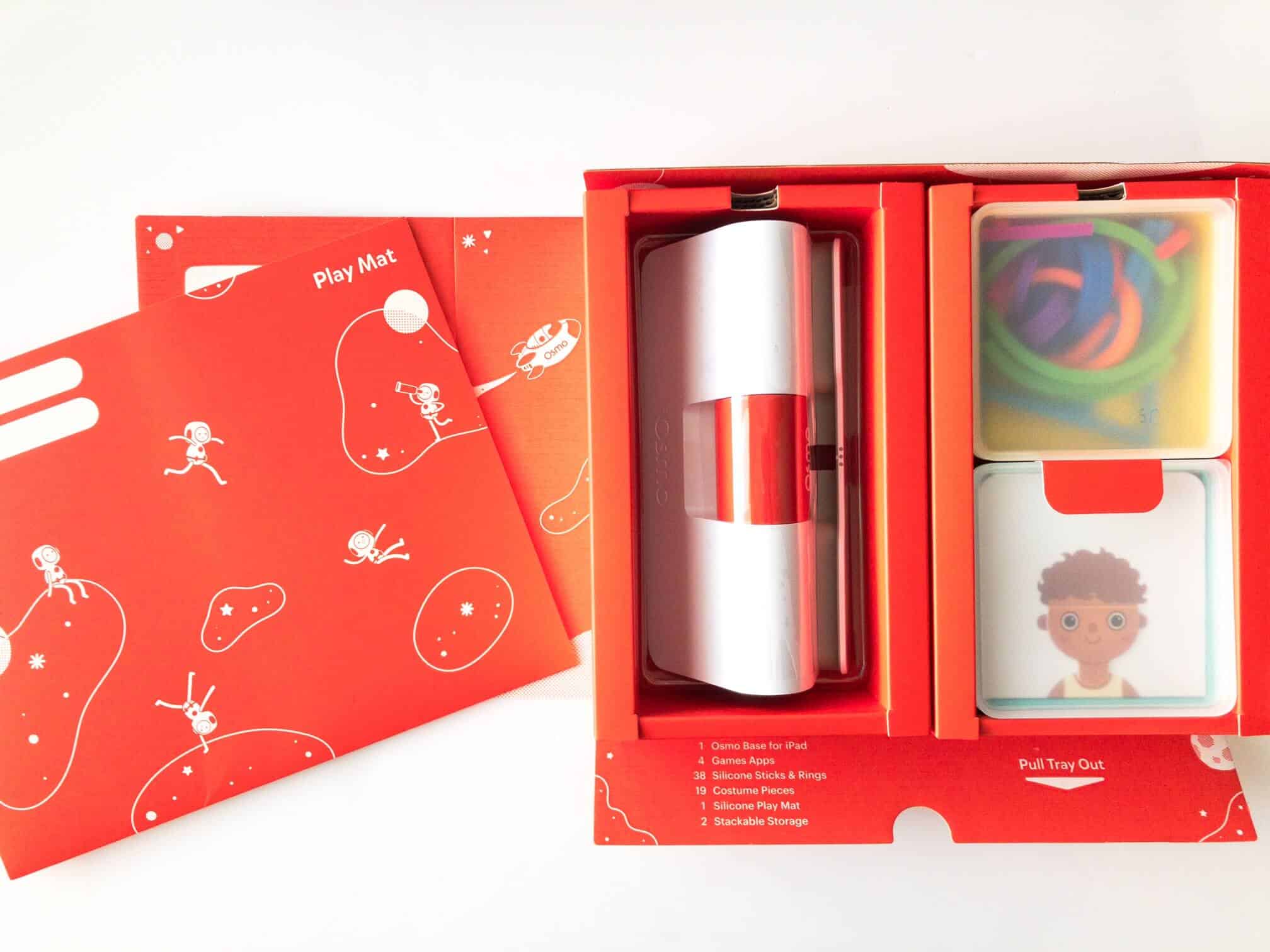 Let's look at what comes in the Little Genius Starter Kit! Also, affiliate links are used, which means at no cost to you, I'll receive a small commission if you purchase through my link.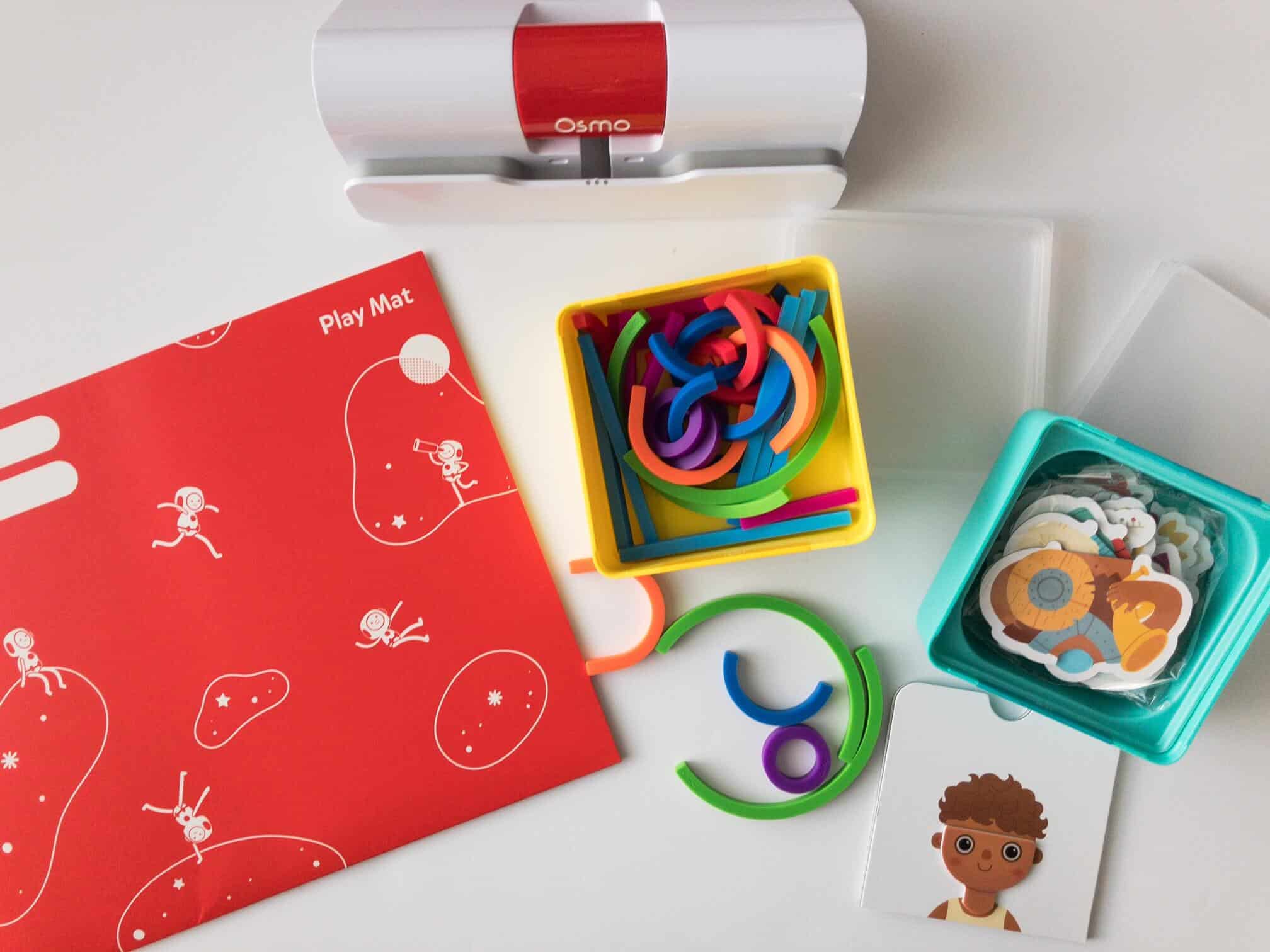 She has been so sweet as she's watched her brother get gifts from Osmo, like the Detective Agency, Osmo Math Wizard and Osmo Monster. Being able to give her her very own Osmo set was so fun and she was very excited to check it out.
We tried this out with 4 of the coordinating games, but I'm sure Osmo will come up with even more ways to use these sets:

Little Genius Costume Party and Stories:
The first game she reached for was Costume Party, of course, and I don't blame her. Osmo did such a great job bringing classic doll dress-up games to life with tons of different hats, shirts, and pants that appear on the character in real time as soon as you put them on the play mat.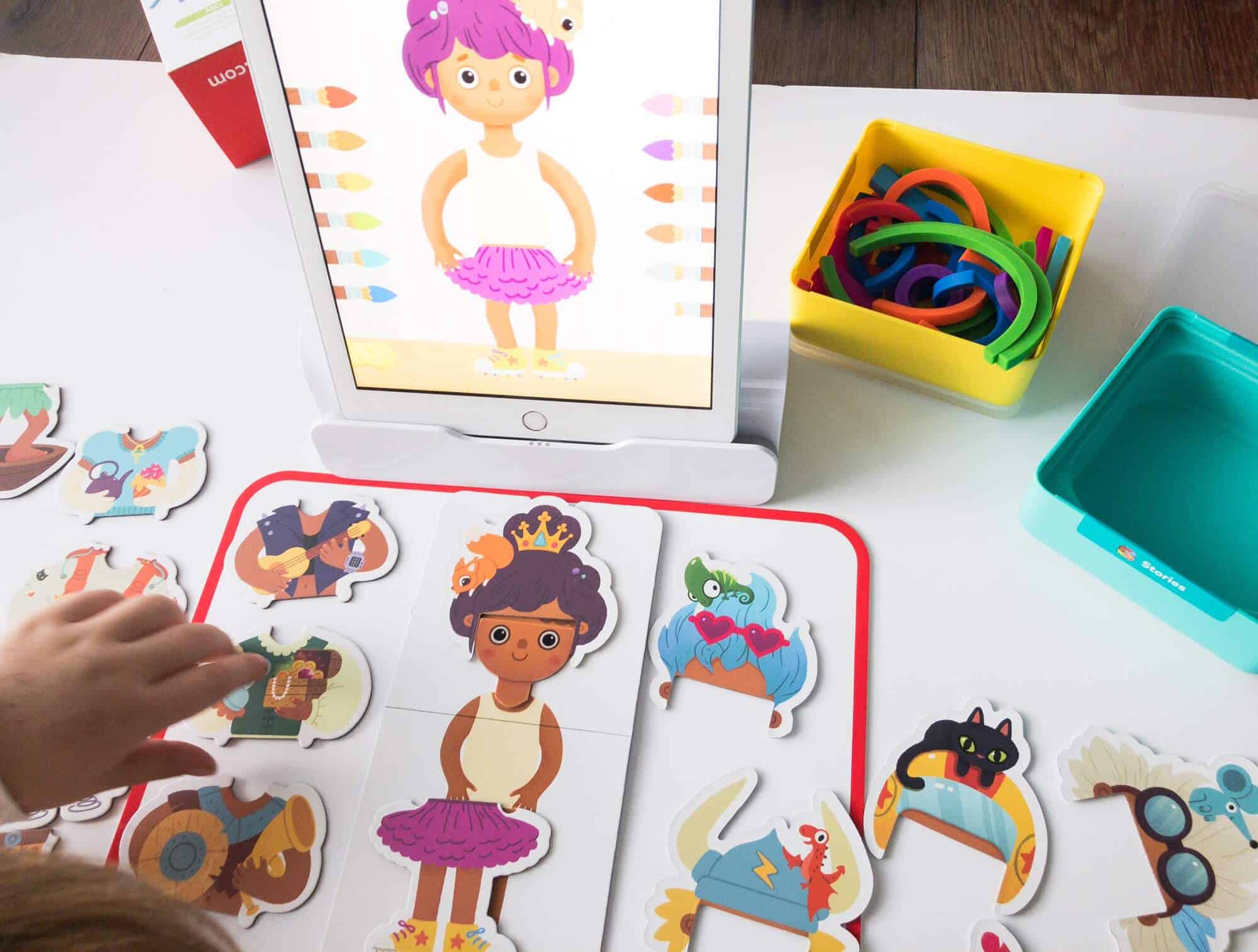 Then, of course, Osmo kicks it up a notch with a color customizer that allows you to change the colors of the outfits on the screen and watch the character react to your creation.
It's such a cute game that preschoolers can master quickly and then get creative with.
They can also use the costume party pieces with Stories, an adorable game where they design costumes for the characters in stories in order to help them navigate their adventures. By changing out the different pieces, they see the characters change and interact with them on the screen.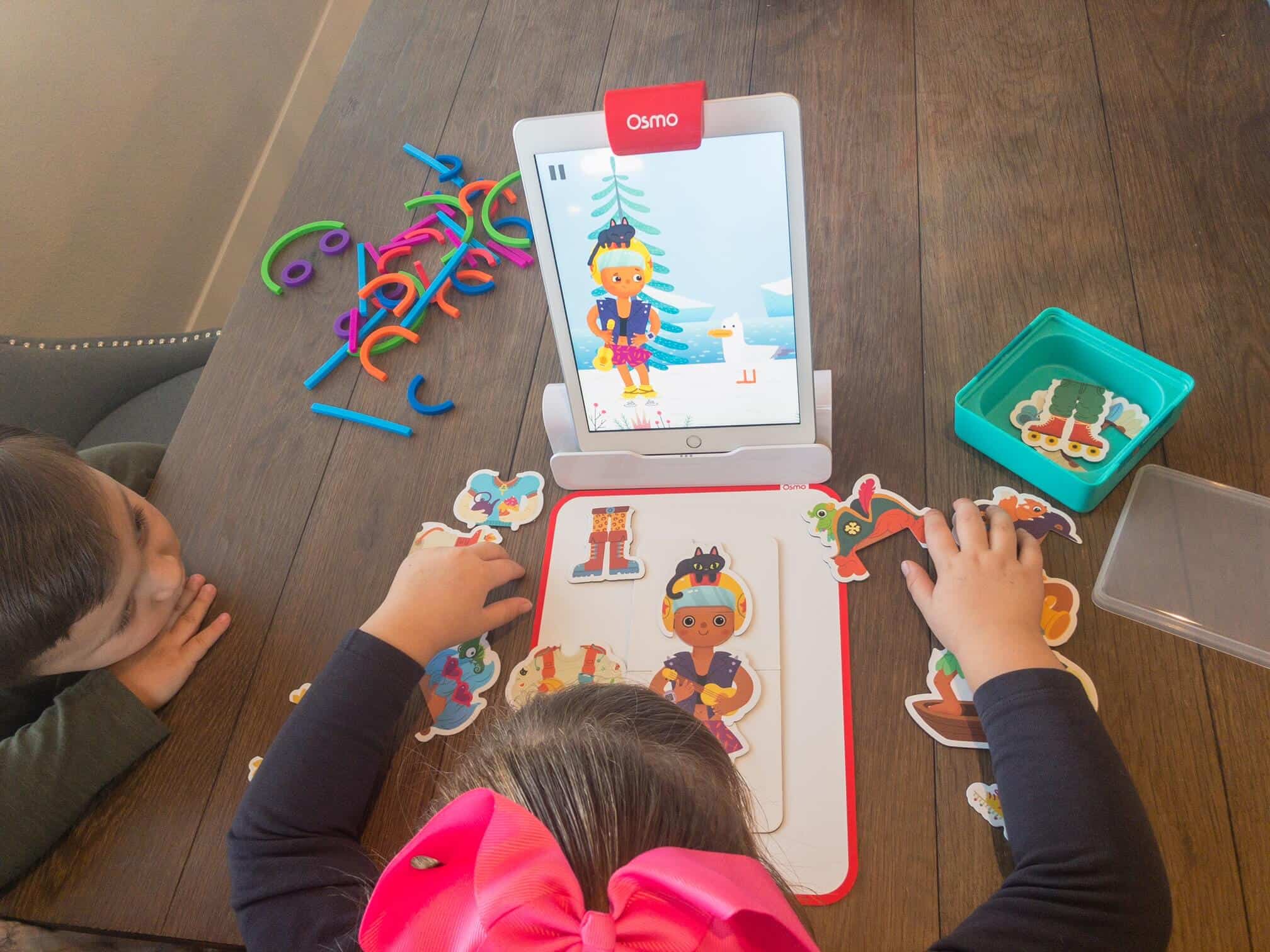 It's truly unbelievable to watch. Older and younger ages get involved as they all problem solve how to get the character through challenges, such as what outfit to wear in colder weather or how to release the cat from the hat to protect them from another animal. I don't know how Osmo does it; they're geniuses.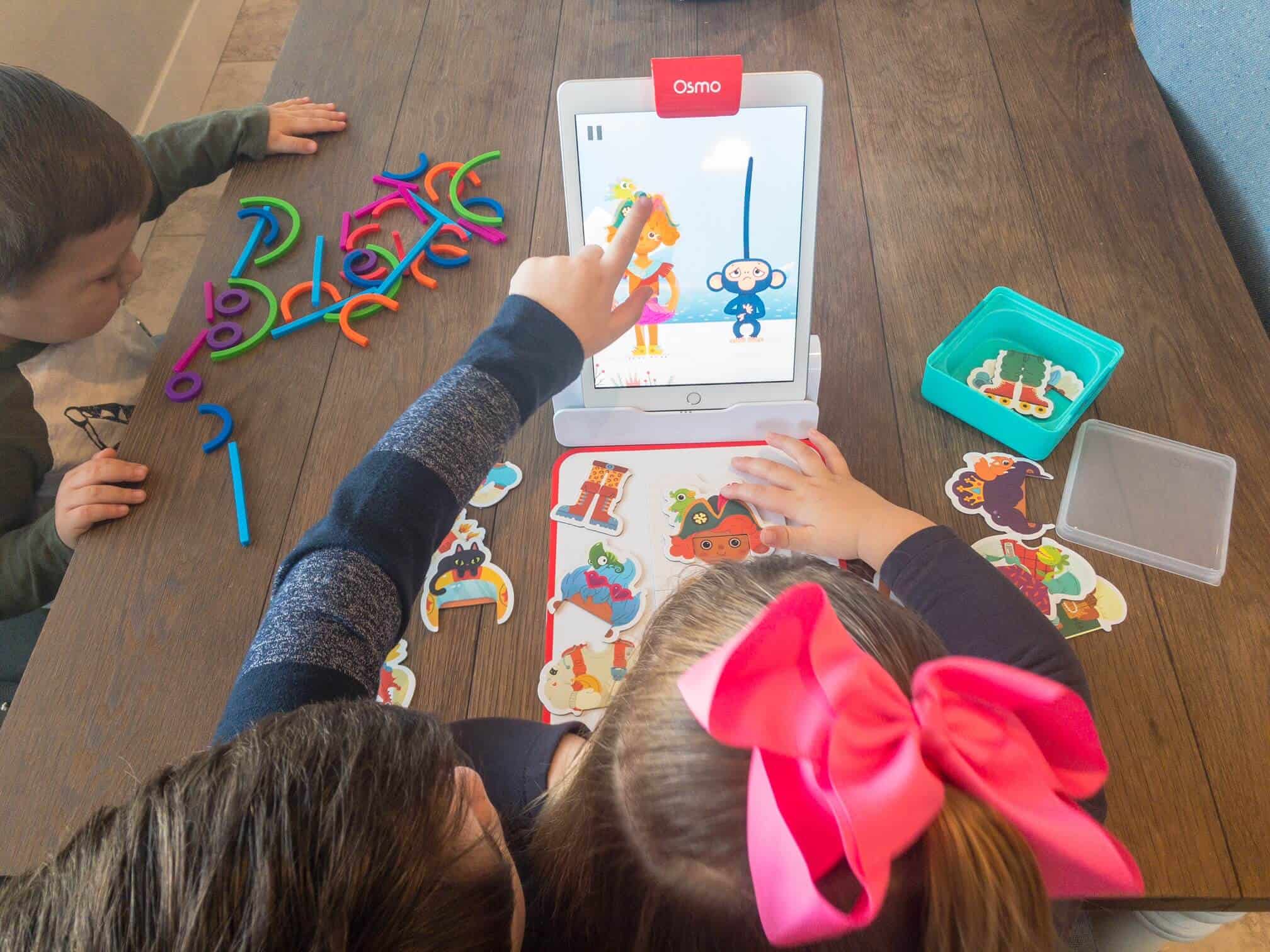 Stories reminds me of those choose your own adventure books we had as kids, but brought to life and made even cooler with costume party pieces and an interactive game.
Little Genius Squiggle Magic: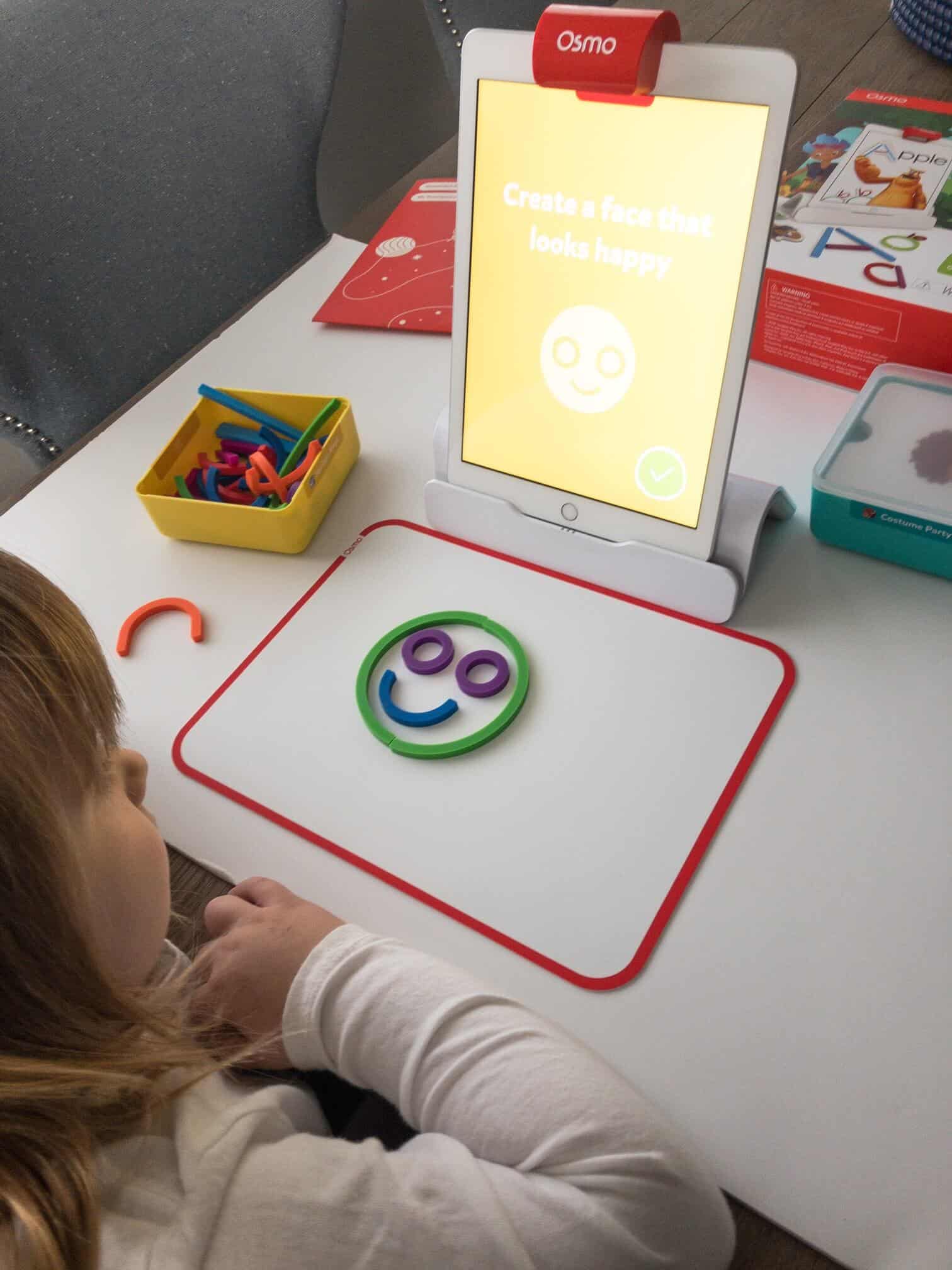 Squiggle Magic is such a creative way to let preschoolers practice making shapes, pictures, art and the alphabet! The little shaped pieces are color coded, which makes it easy for young ones to figure out which pieces they need to create the shapes.
Then, in true Osmo style, they come to life on the screen and put on a little show.
The Squiggle Magic pieces can also be used with the ABCs game, where they use the pieces to form different letters, learn over 300 words, and practice pre-reading skills.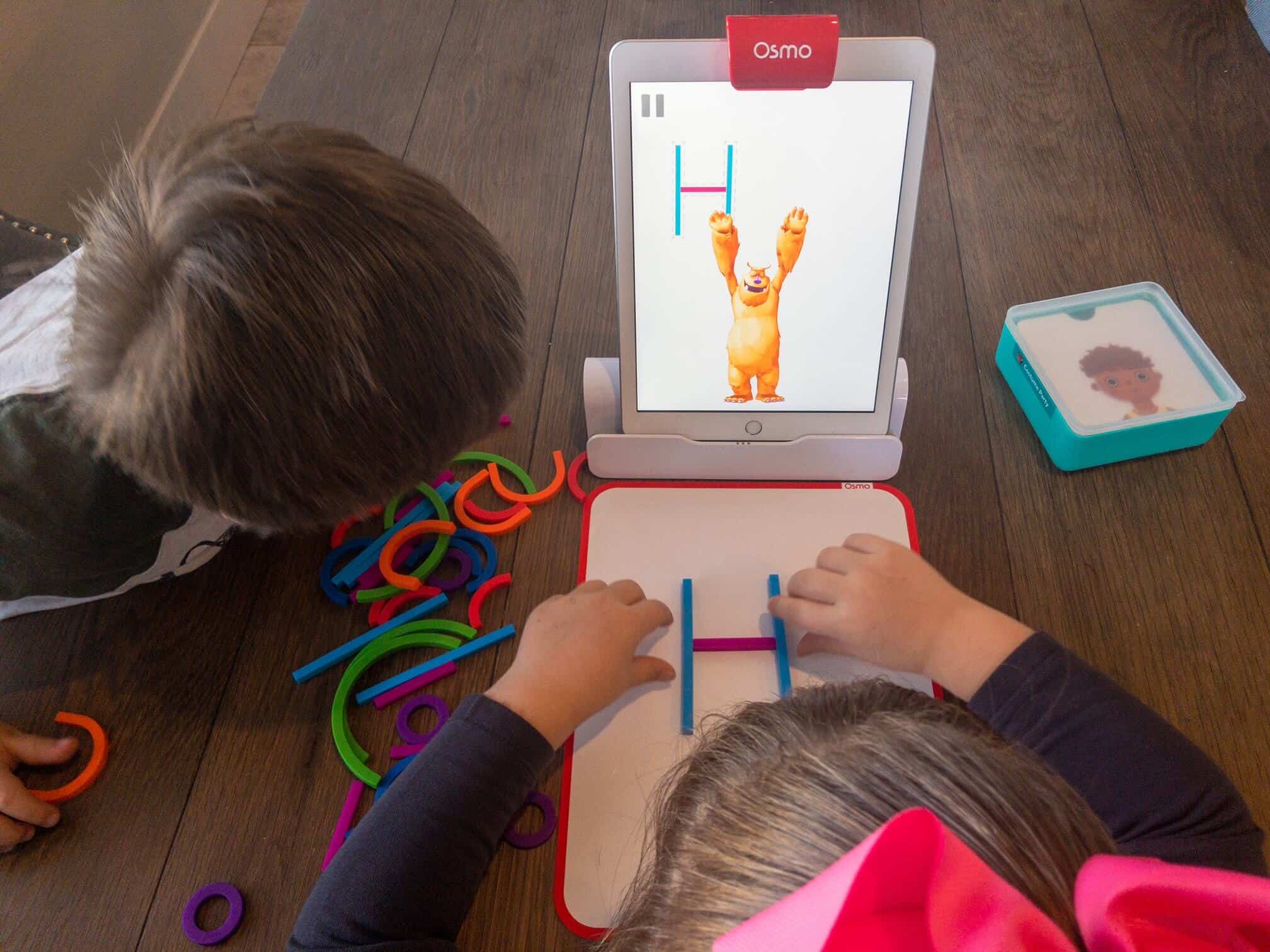 Talk about a lot more fun than a workbook, you know what I mean?
What I love about watching her use the ABC game is how Mo the Monster expertly prompts her. With littles, it can be tough to get them to understand to stop moving things or leave the pieces long enough for the camera to pick them up. Mo will say things like, "HANDS UP!" to get her to stop tinkering with the pieces.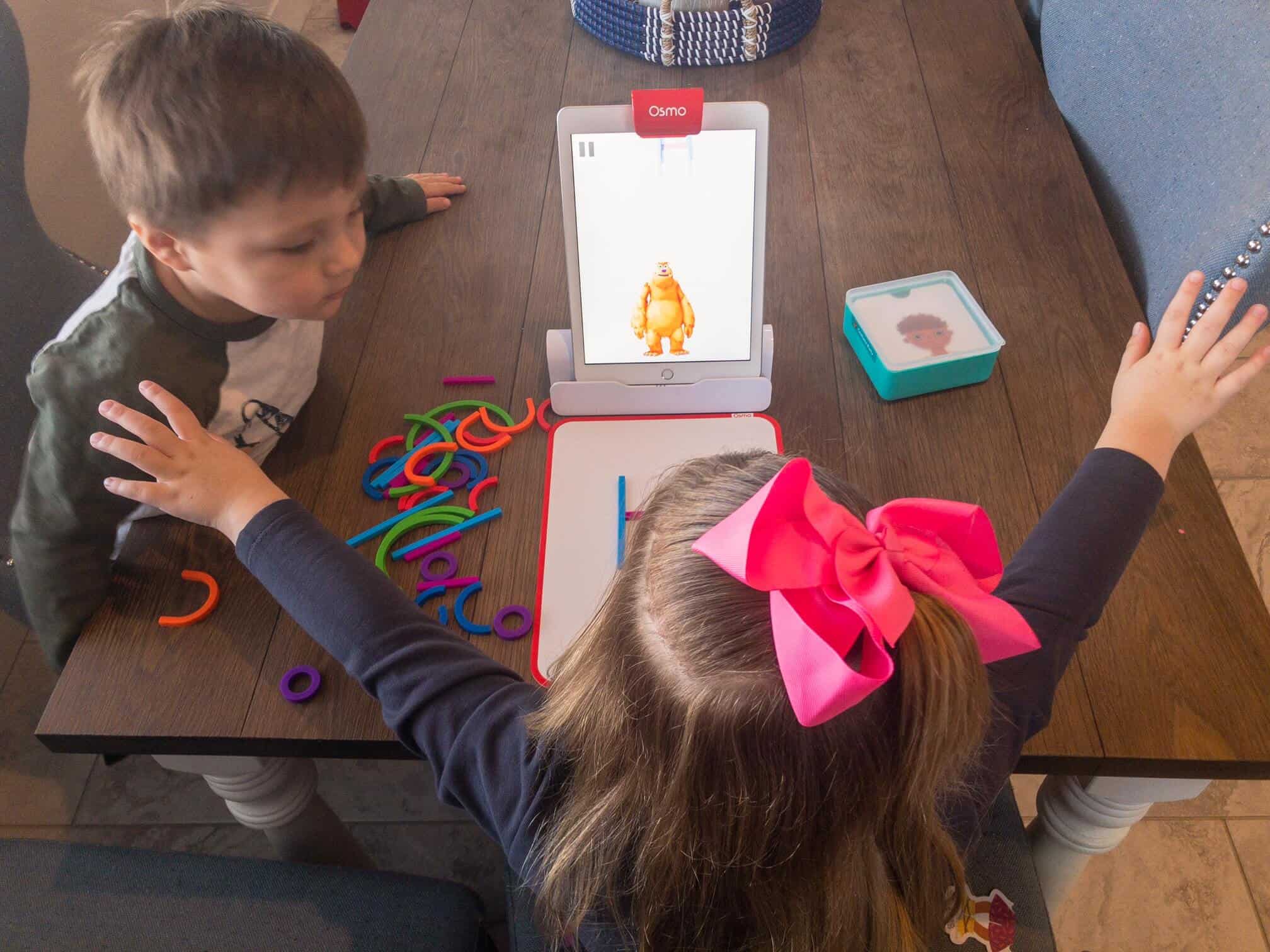 Squiggle Magic and ABCs are perfect for the wiggly preschooler or little learner. Thanks to Little Genius, I can now get my daughter set up with her preschool activities, while working with my son and not feel like I'm totally dropping the ball on everything.
******
I love how Osmo harnesses the captivating power of technology and merges it with truly unique, creative, learning games that kids can quickly learn how to do and enjoy.
They are an awesome addition to your stay-at-home activity arsenal and definitely combat the technology fatigue that so many kids are experiencing right now.
Plus, the narration does a phenomenal job of praising their efforts and saying things like, "Perfect!" and "Awesome!" In fact, Mo was so positive, my 2-year-old said, "AWESOME!" for the first time today.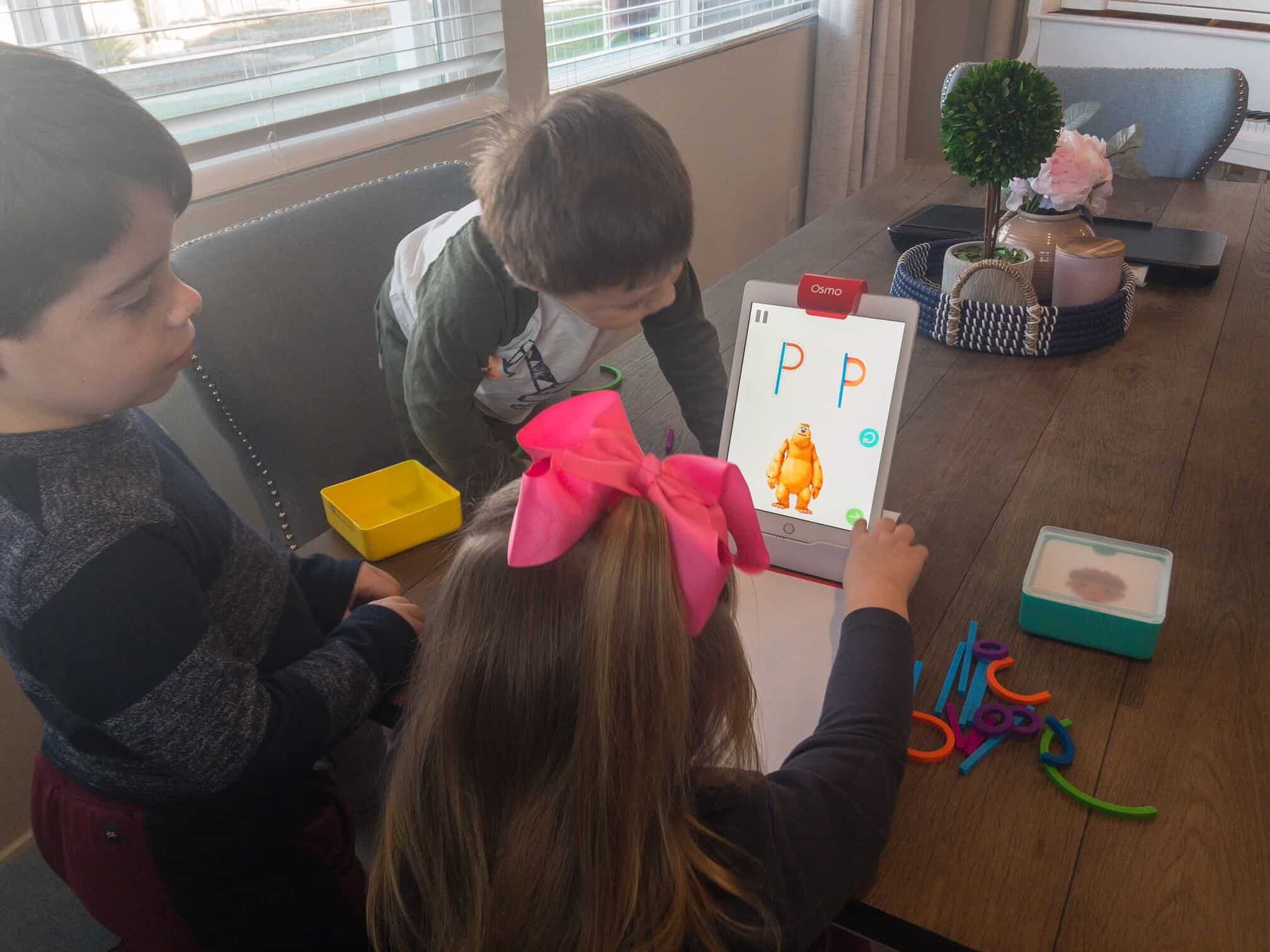 And, let's be honest, anything that keeps the attention of all THREE of my kids at the same time can just take my money. Take it, take it all.
Have you tried any Osmo games? If you haven't, they make amazing gifts. Christmas is around the corner, y'all. Time to get ready.
If you'd like to check out Little Genius Starter Kit – click here or you can drool over the entire suite of incredible Osmo games here.
Have a fabulous day,
E