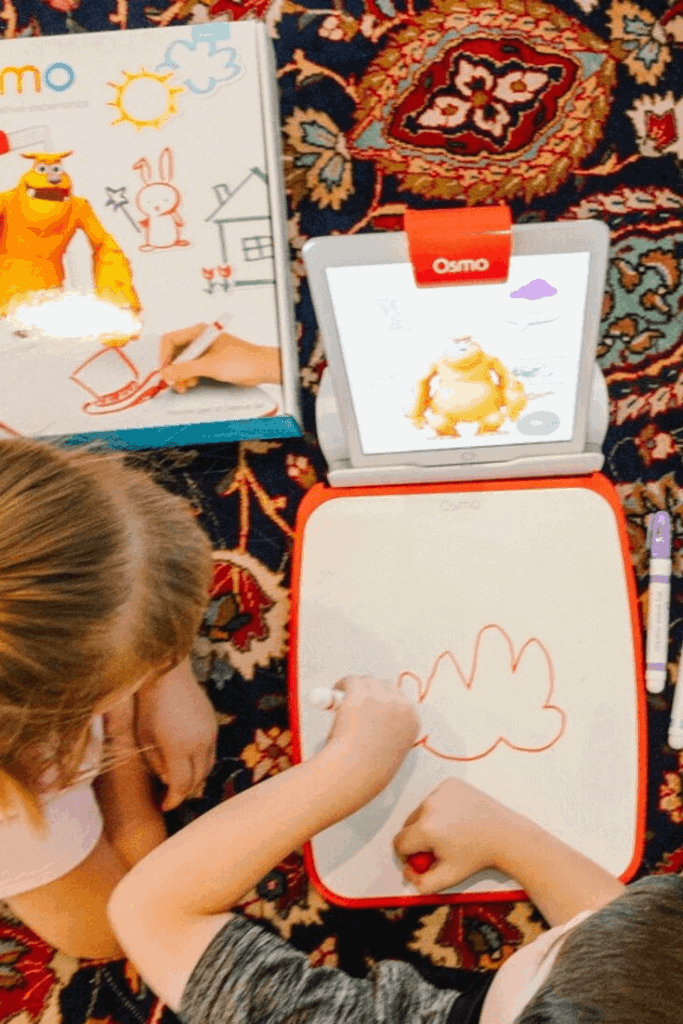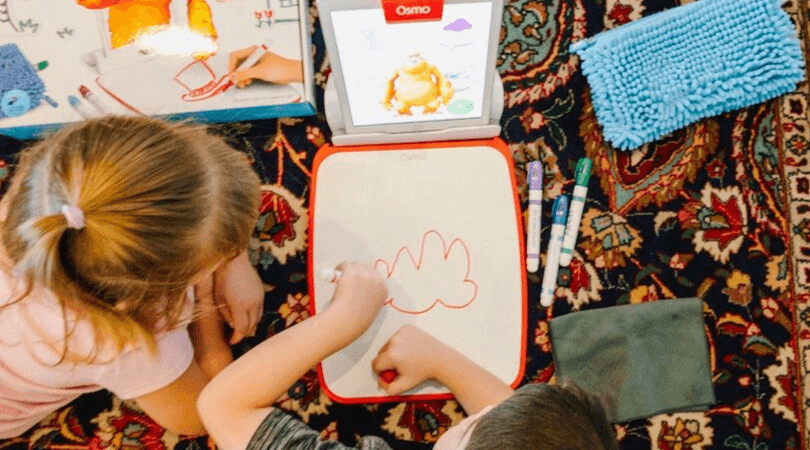 I wouldn't say we are minimalists when it comes to our kids.
In fact, we've been teased that our house looks like Toys 'R Us.
But, even with so many toys, the simple activities like coloring or painting are still family favorites.
That's why I love finding new ways to encourage them to create and explore their artistic side.
When we were totally floored by the Coding With Awbie and Coding Jam by Osmo, which transform your tablets into incredible interactive learning games, we knew we had to try some more of Osmo's genius inventions.
That's why when I was offered an opportunity to try their Osmo Monster game, which brings your child's art to life in real time, I was HERE. FOR. IT.
I thought Monster Party would be cool, but in action, it's actually amazing.
Full disclosure, affiliate links are used. I only share products we use and love, like Osmo.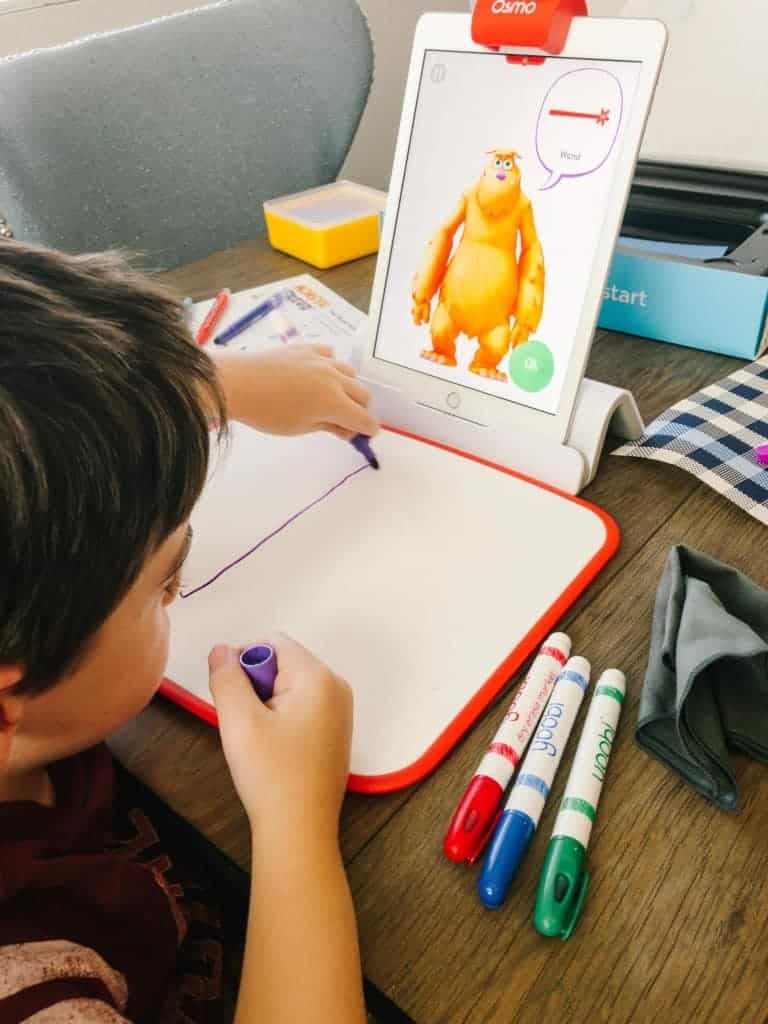 In Osmo's Monster game, Mo, the monster, takes artists through 3 types of adventures, where the artist draws pictures recommended by Mo, or creates their own, and the art is brought to life on screen, in real time.
So, when Mo asks you to draw a magic wand, whatever magic wand you draw shows up on screen in Mo's hand, and he uses it while the videos continue.
Mo is a funny, friendly monster who takes users on a magical adventure full of art, dancing, and make believe.
The absolute awe on my kids' faces when they see their art appear on screen with Mo is what it's all about.
That look is why our house looks like Toys 'R Us, people.
#SorryNotSorry
It's simple.
You put your tablet on the Osmo base (sold separately, unless you get the Monster game WITH the Osmo base like in this set here). Put the drawing board in front of it, start the game on your tablet, and start drawing.
Literally takes a few seconds to have the game up and running.
Then, Mo takes it from there.
He prompts the artist through a series of steps and drawings, while still giving them plenty of free choice to decide where they want to take the adventures.
While some of the scenes have repeated now that we have played it quite a few times, there are many different versions, so it is never exactly the same. Plus, your child will also change their selections each time, giving the game a seemingly infinite number of possibilities.
In fact, it kind of reminds me of those "choose your adventure" books that were so popular. Remember those?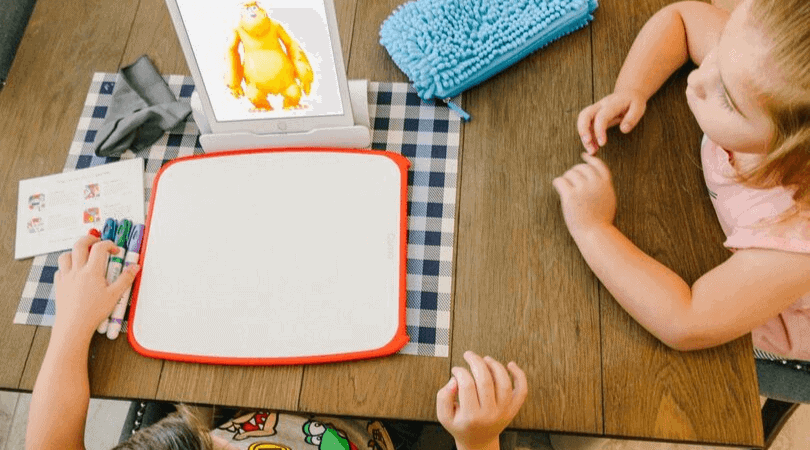 This game comes with a drawing pad, 4 whiteboard markers by Yoobie, a zipper carrying case and a wipe.
I loved that the Yoobie markers are something I can replace easily by taking a trip to my local Target.
You will need to have a tablet – make sure it's compatible with this game (check the description when you purchase) and the Osmo base, which is used for all of the Osmo games. So, it's a one time purchase you can use over and over. You can also get the Monster game AND a base in this bundle here.
Or,
#WORTHIT
Ready For a Free Printable?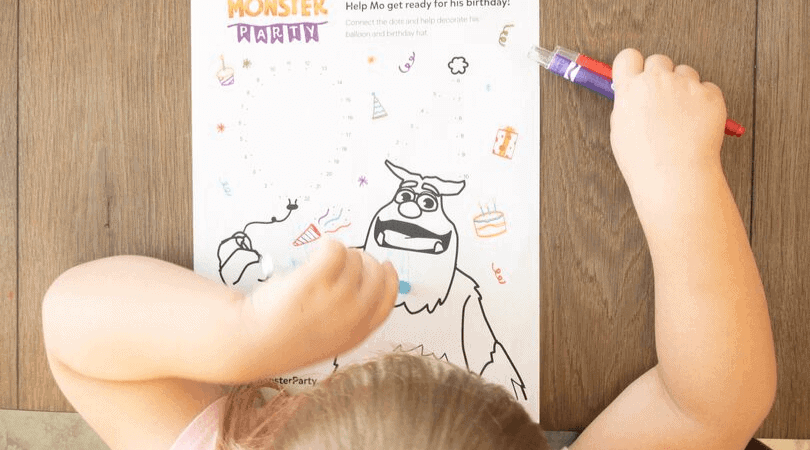 My friends at Osmo kindly sent an exclusive Mo the Monster printable for your kids to enjoy – no purchase required!
Just download here or click on the picture: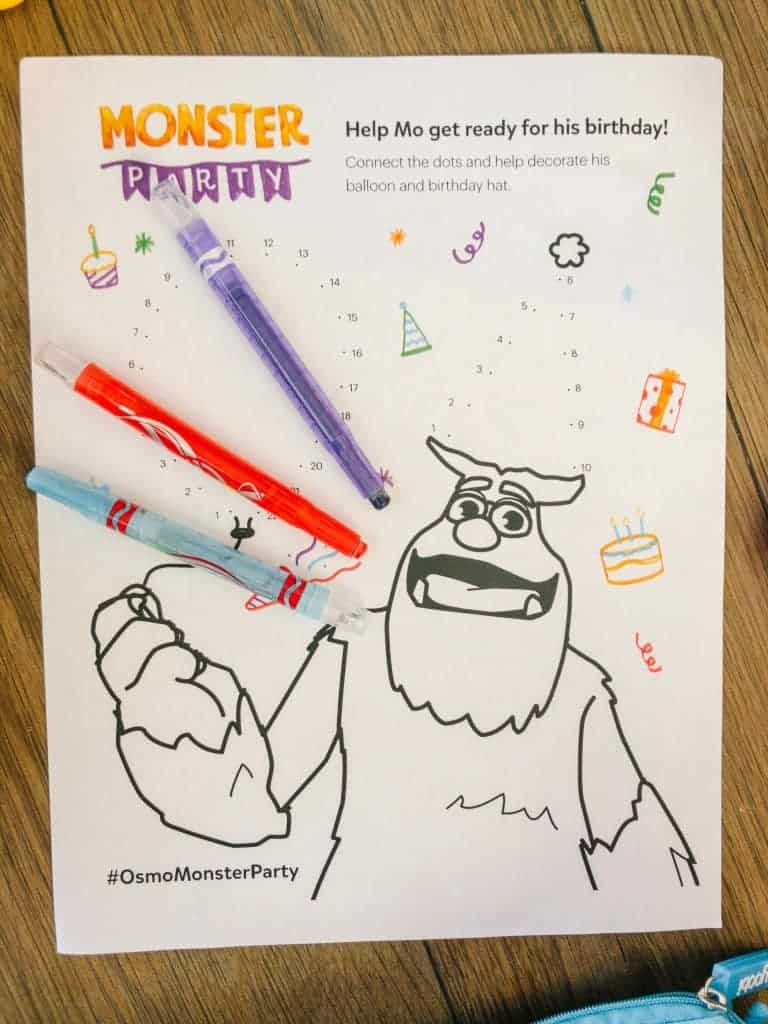 How cute is that, right?
Get Ready For a Discount!
If you're looking to pick this up, I would recommend buying from the Osmo site – especially right now.
At time of posting, they are running a special 15% discount on Osmo Monster in honor of Mo the Monster's birthday!
You can grab the game and discount here.
I think this game would make an incredible gift for your own child or a family member. Think birthdays, holidays, Christmas – or even a random Saturday.
No? Just me?
#GUILTY
****
The Osmo Monster game is one of the most incredible interactive art games for kids I have ever seen.
If your child, or a child you know, loves to draw and be creative, but gets sucked in to staring at a tablet like a tablet zombie, Osmo Monster game might be exactly what they need to come back to life.
Or, read my other reviews on other Osmo games we love:
Have you tried anything by Osmo? Tell me your favorite in the comments below!
Have a fabulous day,
E