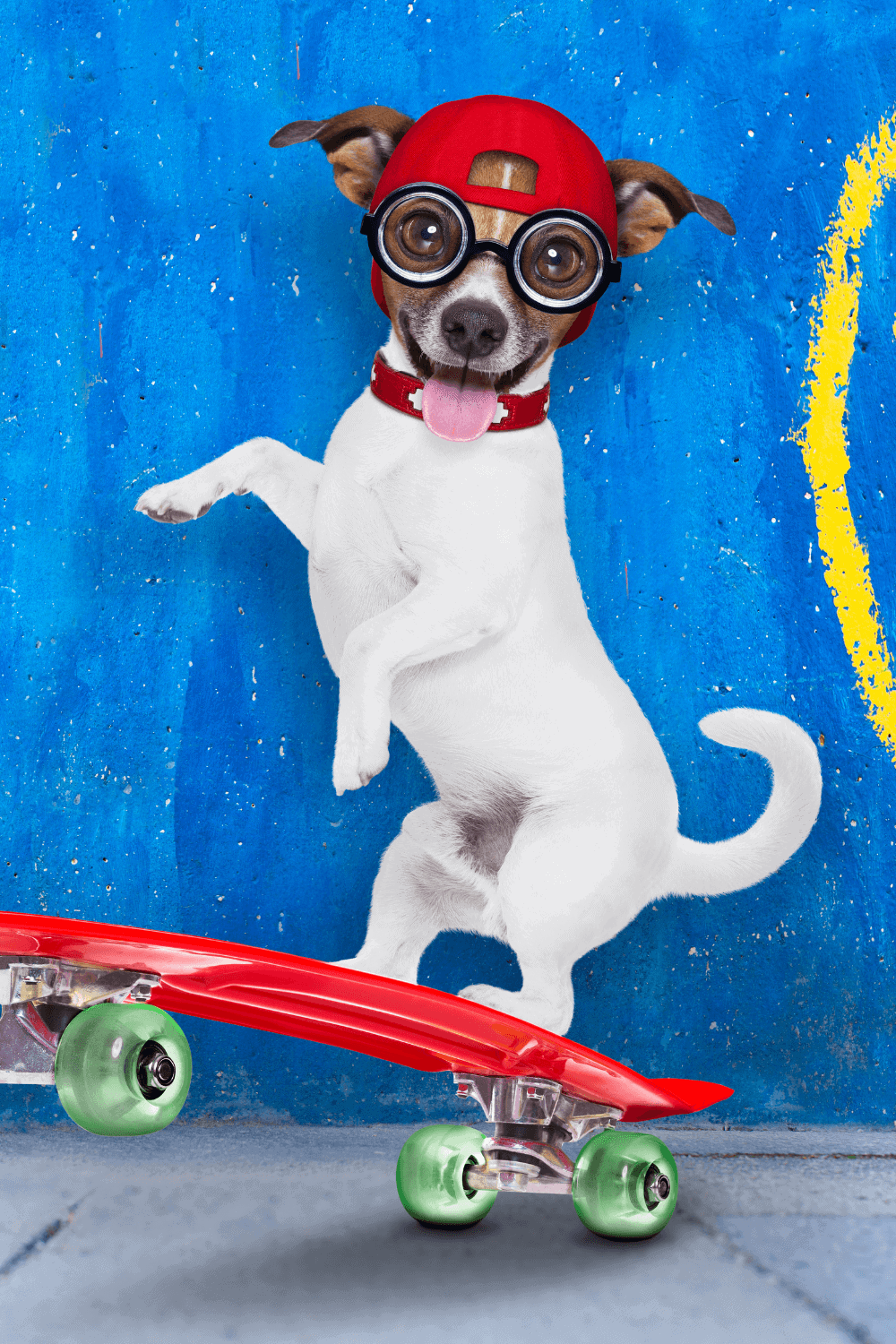 Naming a dog can be a challenge! If you are sharing the task with other family members, you'll inevitably run into the issue that someone will want a non-name name, like Barker, Chicken or Sugar, while others will want a human name, like Sophie and Brad.
Merging this wide range of opinions is no easy task. Luckily for you, I've decided to round up 231 of the best boy dog names, with lots of options to inspire the name of your next male furbaby.
After all, once I saw that you loved dog names as much as baby names when I published this post on the 101 most popular girl dog names, I knew I had no choice but to follow it with one for our little boy pups.
4 Quick Tips for Naming a Boy Dog: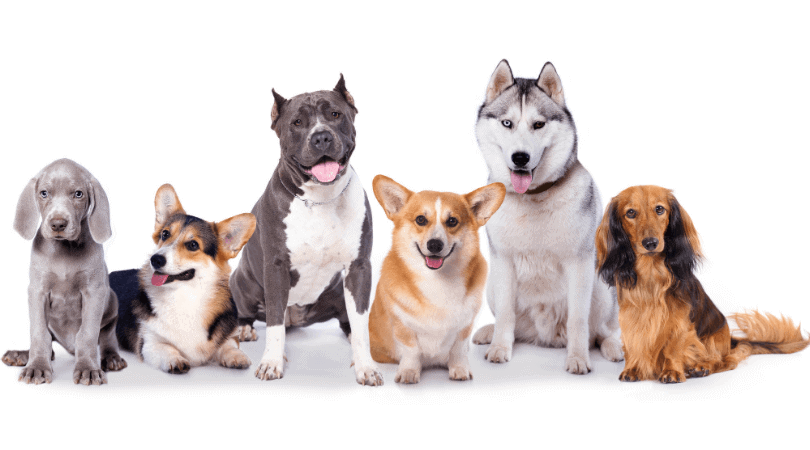 When thinking about dog names, here a couple of fun tips to consider:
1. Shorter is Better –
Some say that 3 syllables or less is idea for a dog. Any longer and they may not recognize it as their own name. Of course, you're welcome to give them a nice long, distinguished name, like Sir William Furgison Barker, with the intent that you'll usually just call him Barker, but if you really did want to rattle off that whole name every time – expect training to be extra difficult.
2. Avoid Family Names –
It's cute to name your baby after your grandma, but if you name your dog a family name, or something very similar, you could run into some confusion. Dogs can't distinguish when you're referring to them or not – and neither can small children.
I knew someone who's sister named her dog her daughter's nickname. Both dog and baby were very confused when they were all together and it's a big reason why we ended up going with a different name for our daughter. Not long before she was born, my sister in law told me the name of their new pup and it was too similar for my comfort zone.
3. Keep it Easy –
A dog name that is easy to pronounce is helpful when training, since the dog will begin to recognize their name from anyone who says it.
A name that is a challenge to say correctly will be frustrating for everyone involved, except maybe the dog, who will have no idea you're even talking to them.
4. Have Fun –
This is your chance to get really creative! Name that dog after a favorite TV character or superhero (Thor). Name them after a place you love to go (Maui) or something you love to eat or drink (Mocha).
You can get as creative or literal as you want, without the same stress and potential regret when naming a human.
Let's take a look at some fun names for your boy dog to get you excited!
231 Best Boy Dog Names:
I sure wish I had this list when I was naming our black lab, Zoey! I've combined all types of names here, from famous figures to fun food names to give you as much variety as possible! If you know you're getting a black dog, find over 100 black dog names in this post!
And, if you're looking for some tips on the best dog supplies – check out my post with 10 must-have dog supplies!
Boy Dog Names Starting with A:
Ace
Ajax
Apollo
Astro
Achilles
Archie
Atlas – Great name – also on our list of 180 cute boy dog names!
Atticus
Axel
Boy Dog Names Starting with B:
Bandit
Baxter
Barker
Bailey
Basil
Bingo
Blaze
Boomer
Buddy
Butter – food names can be so funny. Check out this post for 118 more funny dog names.
Bolt
Brick
Buzz
Bucky
Boy Dog Names Starting with C:
Casper
Champ
Chase
Chewy
Charlie
Chips
Chief
Chex
Cooper
Coconus
Cosmo
Chance
Boy Dog Names Starting with D:
Dane
Denali
Denver
Diesel
Doc
Domino
Dusty
Boy Dog Names Starting with E:
Elvis
Ender
Elton
Eddie
Ernie
Extra
Boy Dog Names Starting with F:
Frankie
Fabio
Felix
Fido
Flash
Feta
Fluffy
Fable
Boy Dog Names Starting with G:
Gizmo
Gunner
Goose
Ghost
Grover
Gatsby
Gandalf
Gibson
Goalie
Griffin
Boy Dog Names Starting with H:
Hank
Hawkeye
Harvey
Homer
Huck
Hunter
Hudson
Harry
Human
Honey
Hamlet
Handsome
Boy Dog Names Starting with I & J:
Iggy
Igor
Jack
Jagger
Jazz
Jinx
Judge
Juju
Jasper
Jax
Jet
Juno
Boy Dog Names Starting with K:
Kaiser
Kale
Koda
Kona
King
Kobe
Kool-aid
Kong
Boy Dog Names Starting with L:
Lambo
Levi
Loki
Lion
Luigi
Luther
Licorice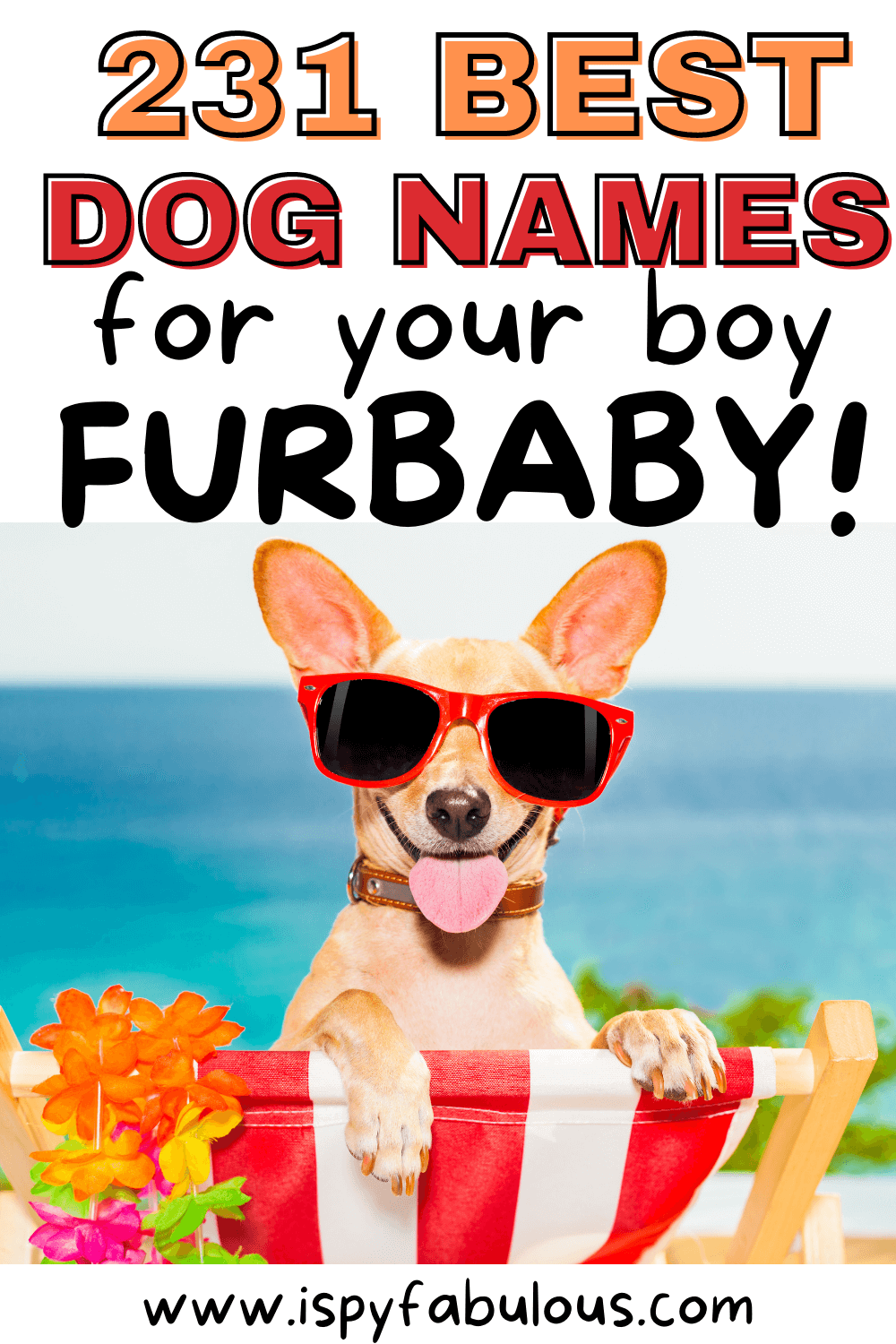 Boy Dog Names Starting with M:
Matcha
Mocha
Moki
Marley
Midnight
Moose
Murphy
Major
Mario
Maverick
Marshmallow
Mojo
Miles
Meatball
Milo
Mozart
Boy Dog Names Starting with N & O:
Nacho
Newton
Nico
Nero
Nitro
Odin
Oreo
Oscar
Otto
Ozzy
Boy Dog Names Starting with P:
Peanut
Prince
Pablo
Percy
Piglet
Poe
Pepper
Pesto
Pogo
Piper
Pooch
Boy Dog Names Starting with Q and R:
Quincy
Quinn
Queue
Rocco
Romeo
Rescue
Rufus
Rusty
Rebel
Radar
Rambo
Reuben
Rascal
Reese
Remy
Rider
Ringo
Rex
Rocky
Rockwell
Rusty
Ranger
Boy Dog Names Staring with S:
Snacks
Spirit
Samson
Scooter
Scout
Sparky
Shadow
Simba
Sawyer
Spike
Sigmund
Smokey
Socks
Spot
Stitch
Sarge
Storm
Snowball
Smudge
Spider
Boy Dog Names Starting with T:
Taco
Tank
Titan
Thor
Tesla
Tucker
Tyson
Tobin
Truman
Boy Dog Names Starting with U & V:
Ulysses
Usman
Uno
Ultra
Utah
Uncle
Vader
Vinnie
Virgil
Volt
Voodoo
Valor
Victory
Boy Dog Names Starting with W & X:
Walter
Waldo
Winston
Woody
Wolfie
Wiggles
Whopper
Whiskey
Warrior
Xavier
Xerxes
Boy Dog Names Starting with Y & Z:
Yeti
Yoda
Yogi
Yoshi
Yankee
Yatzi
Yapper
Zeus
Zorro
Zest
Ziggy
Zulu
Zing
Zappo
Zero
Zuma
*****
WOW! Are you still with me? There are SO many fun names on this list! I just love it! Which one is your favorite? Have you used any of these names? I'd love to hear about it in the comments below.
Track your favorite dog names with the free printable in this post!
Also, if you're looking for a great gift idea for a dog, cat or animal lover in your life, check out this new gift guide!
More Pet Name Ideas:
If you are looking for more fun pet content, check these out:
Have a fabulous day,
E