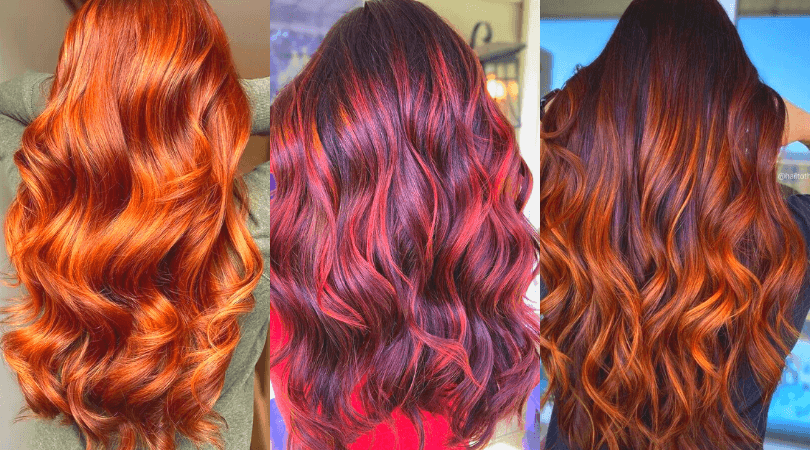 Ready to warm it up? I feel you. Temps are rising and everyone is cooling down their hair color, but I'm thinking – it's time for a little fire and spice! There's something about shimmery coppers, warm reds and strawberry blondes that scream confidence and power. After all, with serious celebrity inspo, from Lucille Ball to Isla Fisher, there is no denying that a redhead commands attention!
So, if you're swerving away from the blonde balayage (or even brown balayage) and are ready for a change, you're going to love this red balayage inspo!
Sit back, relax, pop some popcorn, and get ready to feel fired up by these gorgeous redheads!
Red Balayage Hair Color:
Before you say, "but doesn't red fade so fast?" I just want to say – I've been almost every color of the rainbow and your hair color is going to change and fade over time regardless. There are definitely some things you can do to keep your red looking bright and gorgeous for as long as possible. Here are some of my favorite tips:
That's it! Easy! Sure, your dark reds might start to lighten and right before you head back to the chair for a touch-up, it'll be more on the copper side, but just wait until you see these red balayage looks, because you might find that copper is just fine with you after all.
Plus, part of the benefits of balayage is how long it lasts. If you're new to balayage, you'll love my guide to balayage, where I answer all your burning questions about balayage here!
20 Hot Red Balayage Looks:
Are you ready to see some stunning hair? While I wish I could take credit for this hair color, alas, I am a hair enthusiast and not a cosmetologist. Please see each photo for credits of the creator, so that you can go and follow them on Instagram, drool over their talent and check out the notes for the posts. Many of these hair artists give you incredible tips – for free – including formulas and how they achieved the look! I love the sharing in the hair community!
1. Warm Auburn Red Balayage by @tabetha_and_co: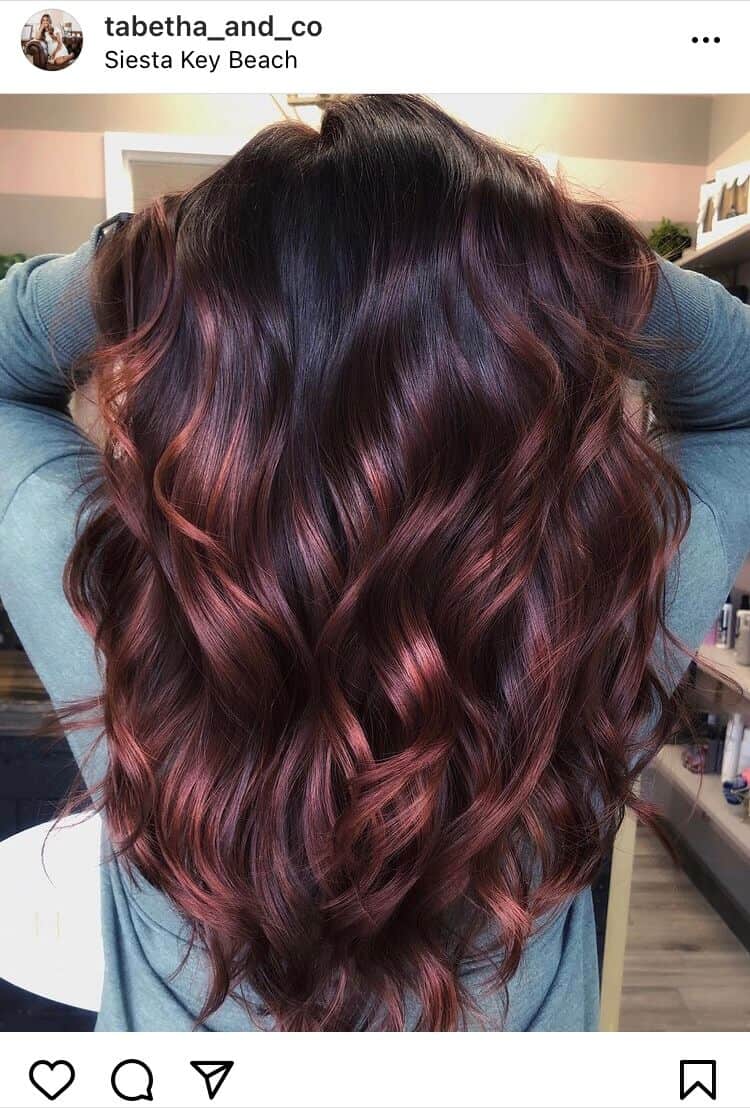 WOW! Dark, deep reds contrasted with warm auburn ribbons for an absolute showstopping look! I am a huge fan of Tabetha's work and absolutely love sharing it in my hair posts.
If you're a hair stylist, she's a must follow on Instagram! She shares a ton of tips, even shares her formulas for color, plus she actually does teach classes, too, that I can only assume are the bomb.
2. Brown with Copper Balayage by @hair.bykimberly: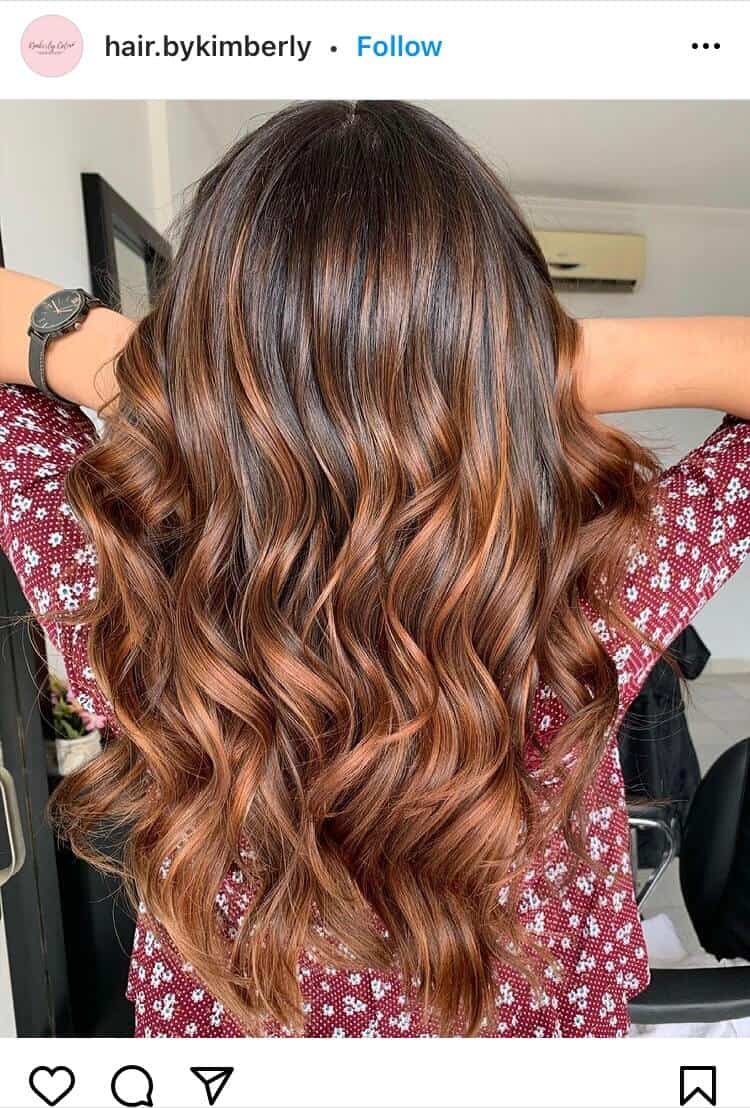 This one stopped me in my tracks. The color melt on this one is stunning! I absolutely love how the dark brown roots fade down to a shimmery copper for the perfect cinnamon spice color!
3. Red Balayage Hair Transformation by @smash_styles: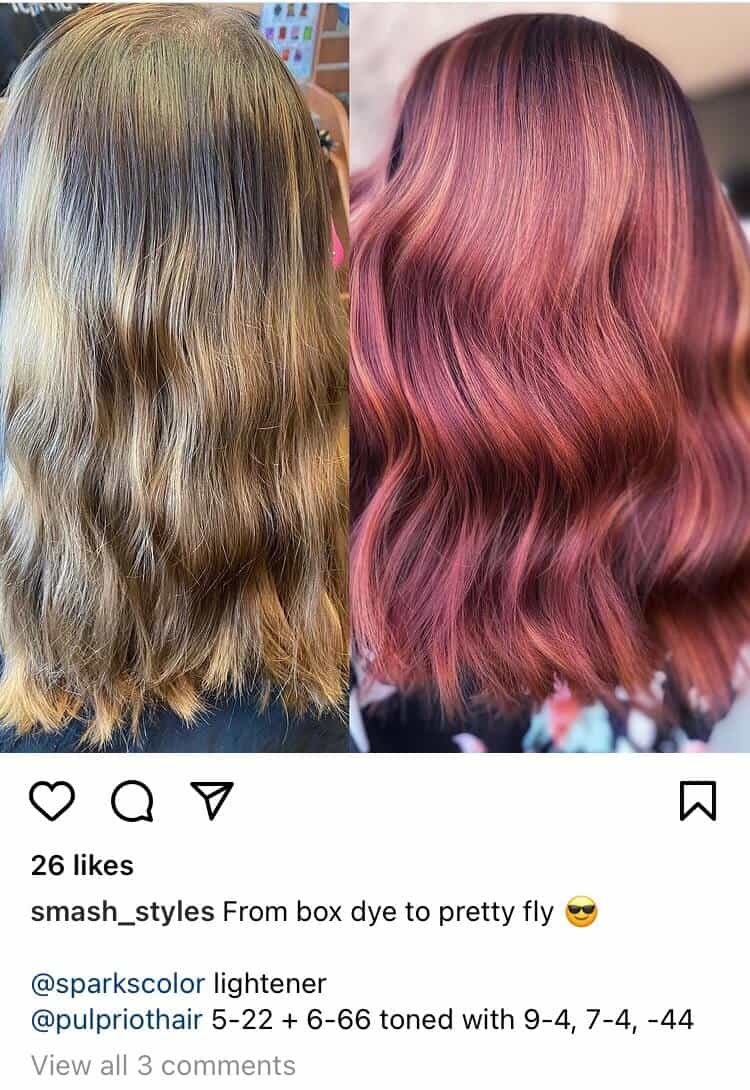 WOW! This one blows my mind! Sometimes, I think we can think that lightening up is going to be the best look for everyone, but that is not always the case. In fact, I think warmer tones can be far more flattering for most skin tones!
Look at this deep red with rose gold balayage! Gorgeous!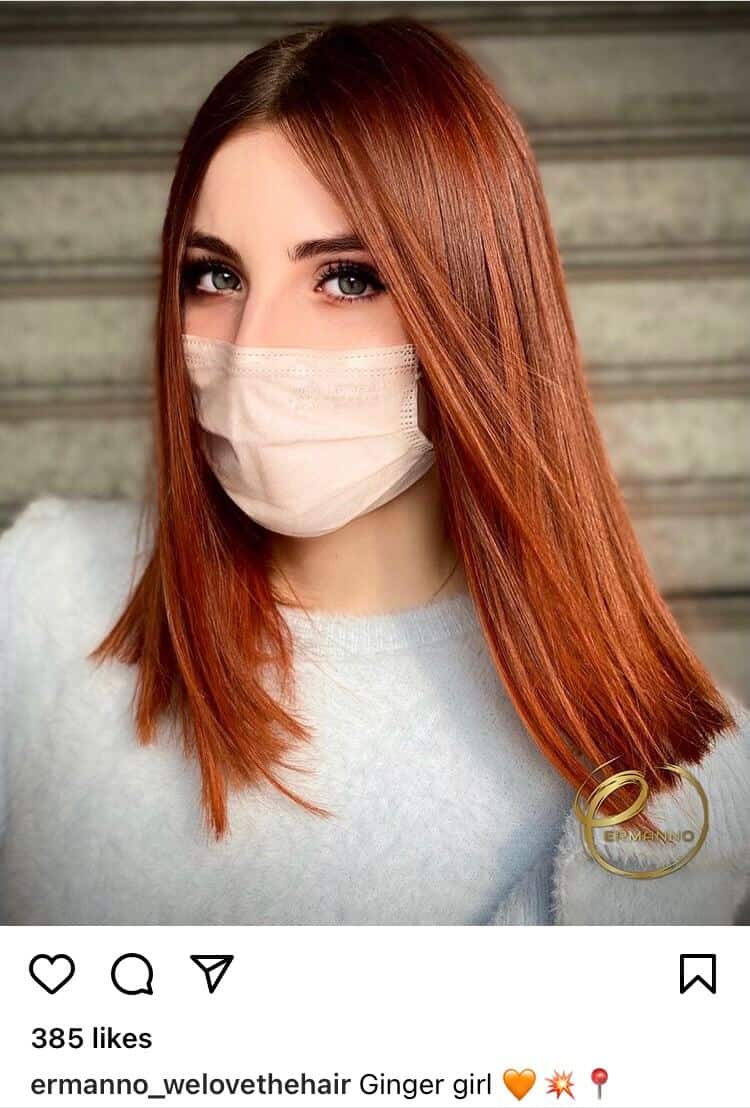 Okay, hold the phone. WHAT?! From the all over spicy ginger to the deep blue eyes, put a fork in me – I'm done. This color looks amazing on her neutral skin tone, too, proving once again that more people can play with the reds than they might think!
5. Strawberry Blonde Balayage by @hair_senpai: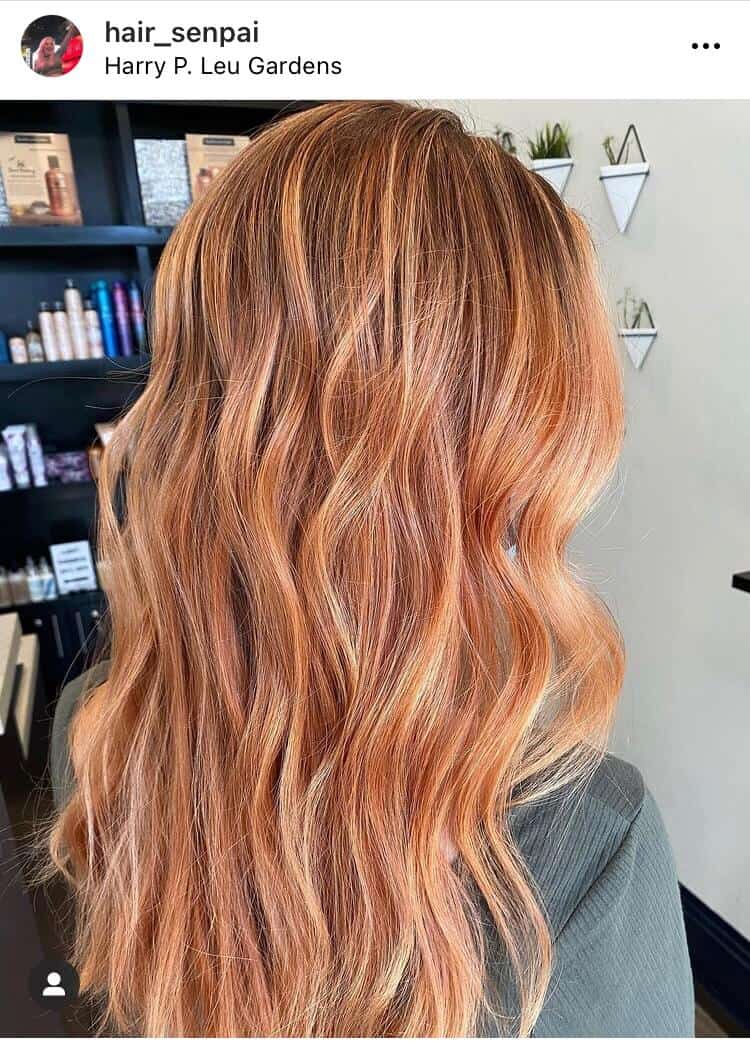 Absolutely gorgeous strawberry blonde verging on ginger with this multi-faceted balayage color.
I love the depth at the root that really makes those different layers of color pop!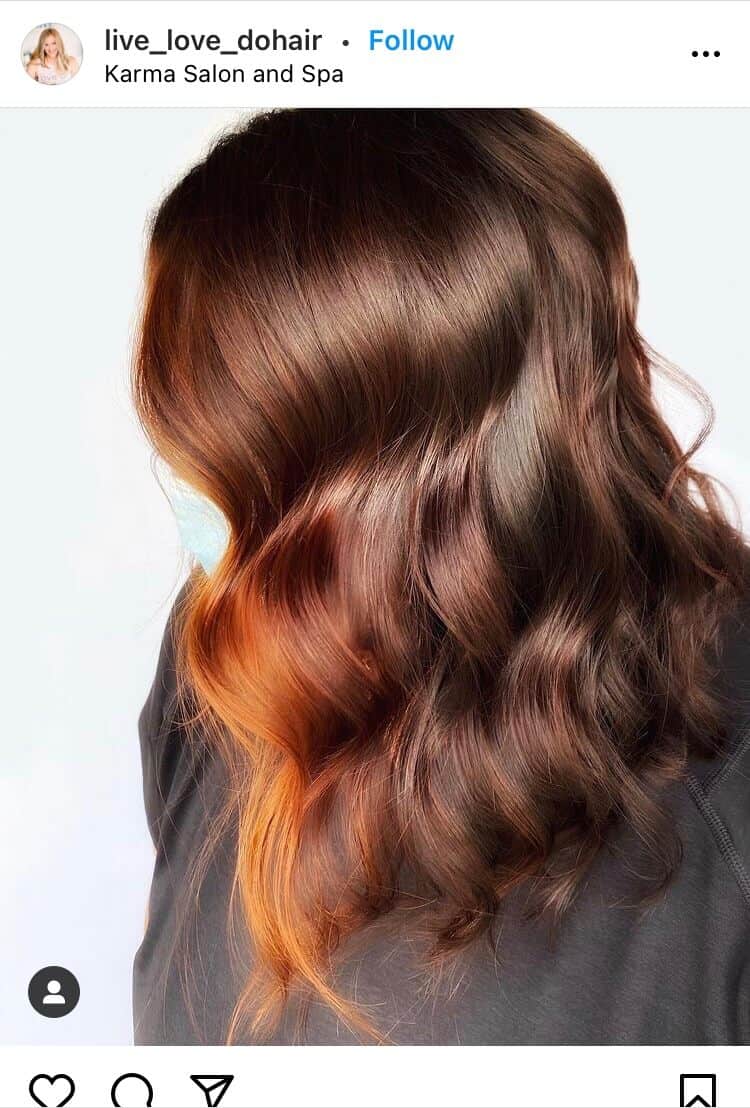 This look literally looks like they set her gorgeous warm reddish brown hair on fire – and I am HERE FOR IT.
This isn't hair – this is an absolute work of art. Sign me UP.
7. Deep Red with Copper Balayage by @hailtothehair:
Yup, I'll hail to the hair with this killer combo. The deep red fades to a fiery copper on the tips, set ablaze with a wavy curl that gives it so much movement.
I die. I'm dead. Revive me in time for number 8, though.
8. Copper Hair Transformation by @joanie_beauty: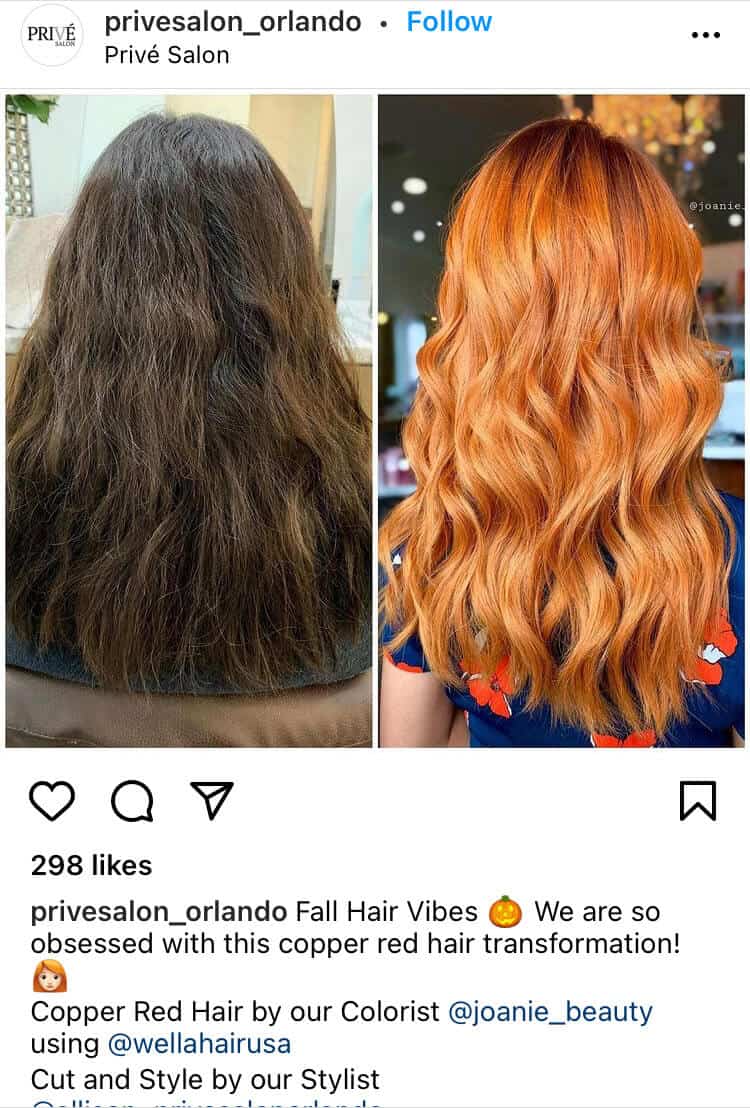 Holy moly. I've never loved pumpkins more than when I saw this pumpkin-colored hair transformation!
They took her dud brown color and brought it back to life with this glowing copper masterpiece.
9. Auburn Red Balayage by @hairbyamybee: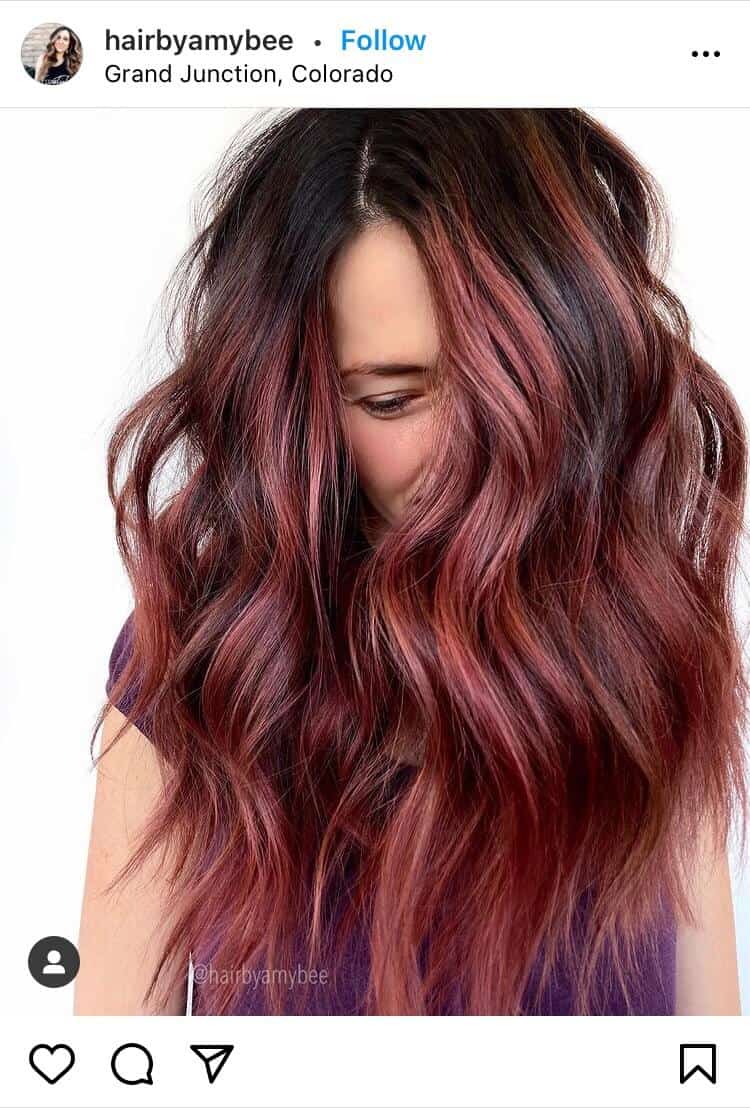 I would be laughing, too, if these gorgeous hairs were on my head. Yes, girl, keep laughing. You are ROCKING that auburn red and I am FEELING it!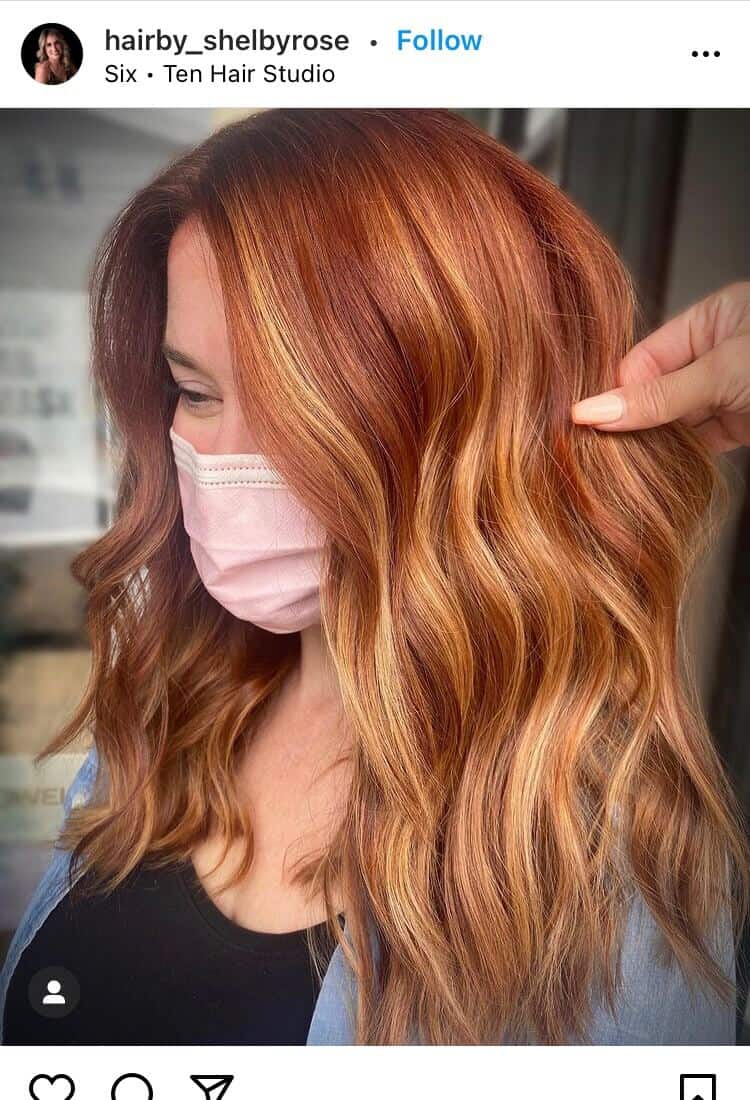 Who says copper and ginger can't play nice? This is like a ginger spice. These two colors act like lowlights and highlights in this fabulous color melt.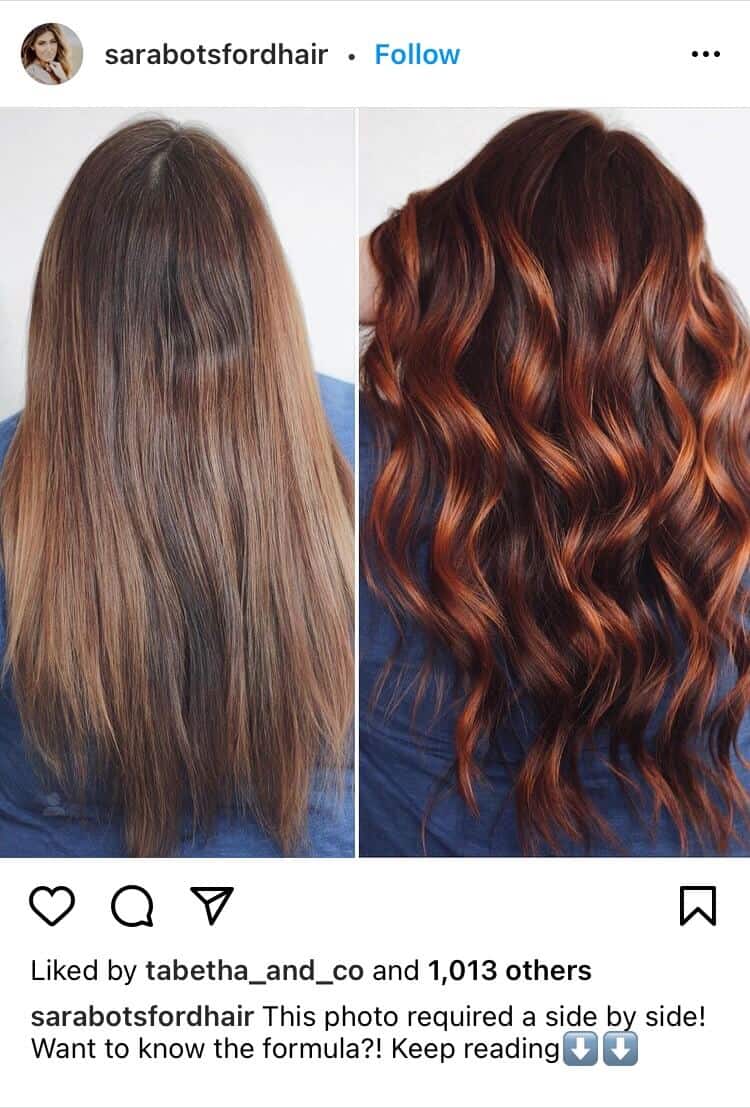 Oh, how I love a good before and after. Plus, if you wanted to recreate this look, she's kind enough to give you the formula! Sharing is caring! Race on over to her Instagram post to get all the deets on this smokin' hot red transformation!
12. Warm Red with Copper Tendrils by @capellibymegs: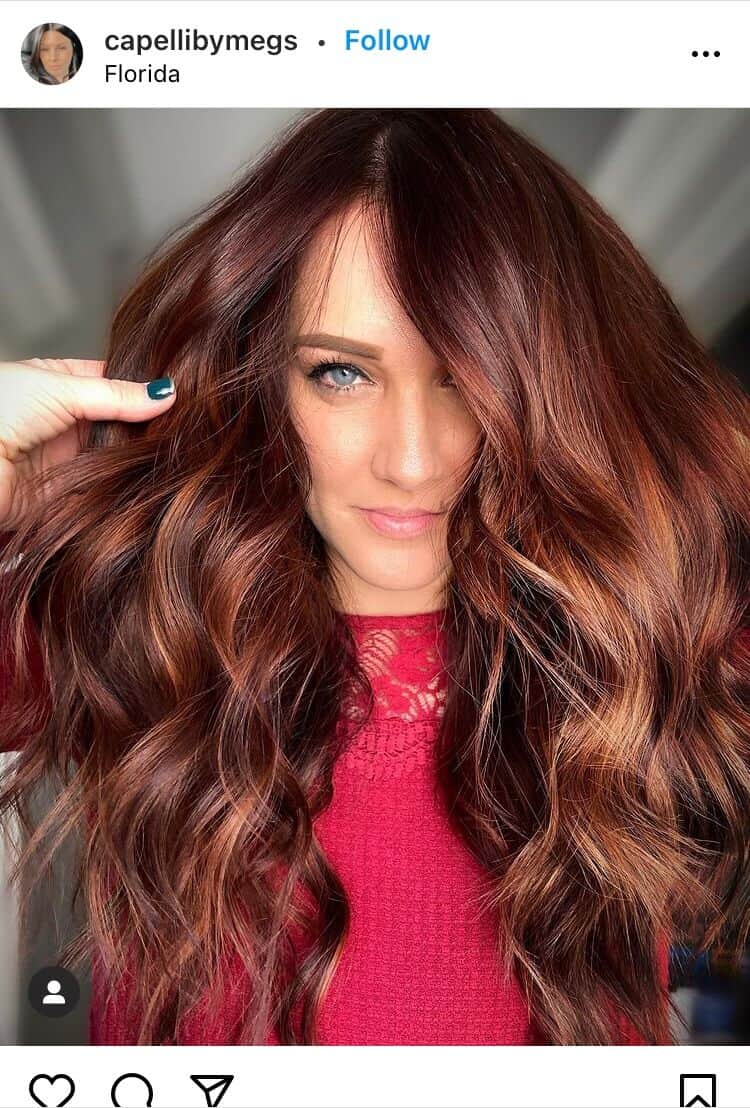 I hate to play favorites, but I think this might be my favorite. Okay, I love them all, how could I choose just one? But this, this one ain't playin' around. This girl looks ready to take the world by storm and her fiery red hair will clear the way.
13. Glistening Chestnut by @tressandco:
Auburn red melting into glistening chestnut brings these luscious locks to life. Something about reds that I like is how they aren't as damaging as blondes, which make them great recovery colors – that might be so beautiful, you'll just never go back.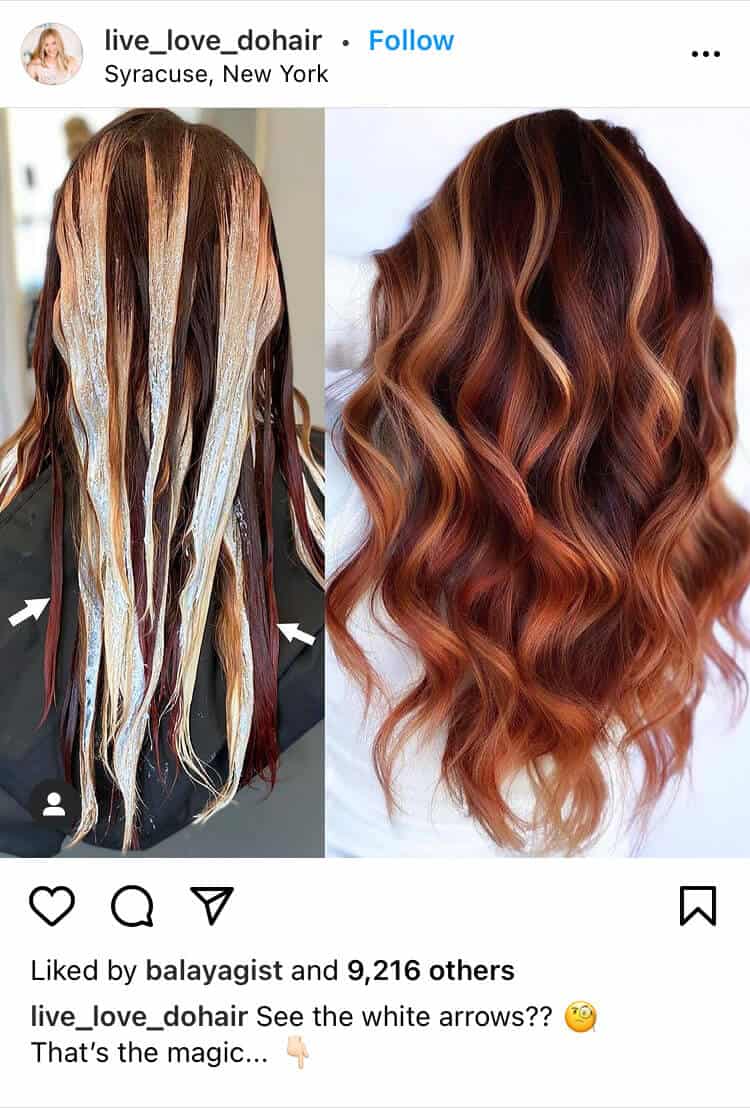 Another one from @live_love_dohair, because this is beautiful! Plus, as someone sitting in the chair who doesn't get to see all the details of what's happening – I love seeing the placement and learning more about the "magic".
15. Chestnut to Copper Balayage by @gingerlemonhair: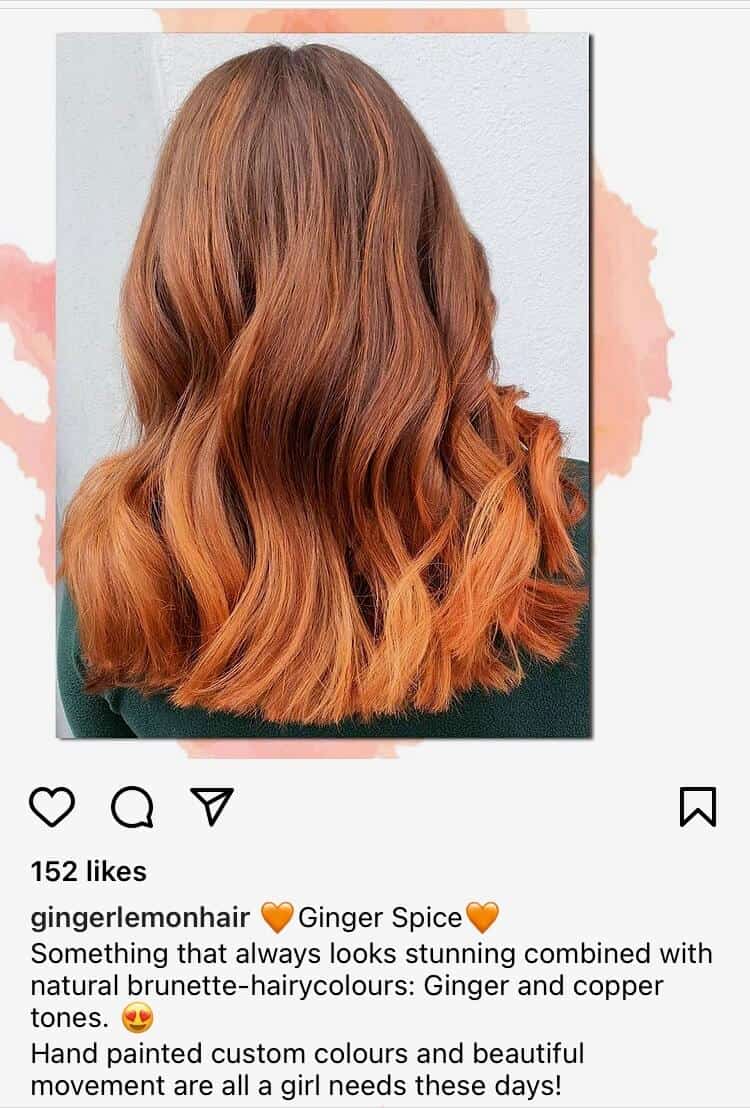 The fade from ginger to copper is so good here.
16. Warm Brown to Strawberry Blonde by @capellibymegs: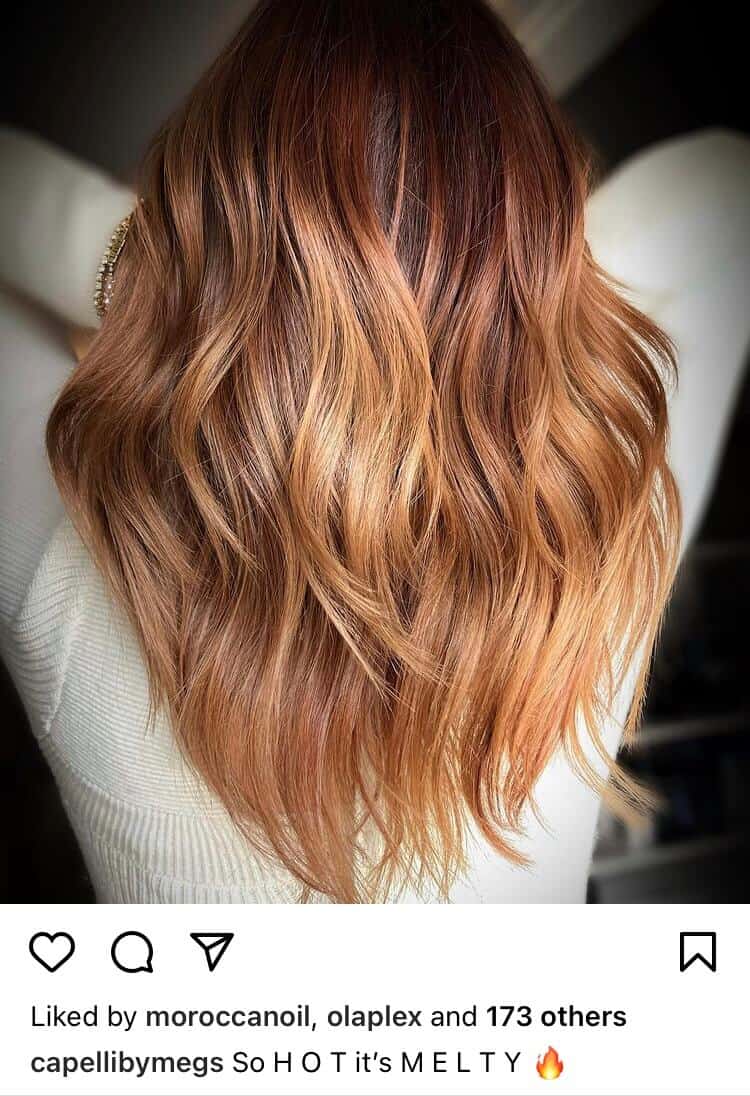 I love the caption on this one – So HOT it's MELTY! This one really is fire.
17. Brown To Red Balayage Transformation by @sammiejones_hair: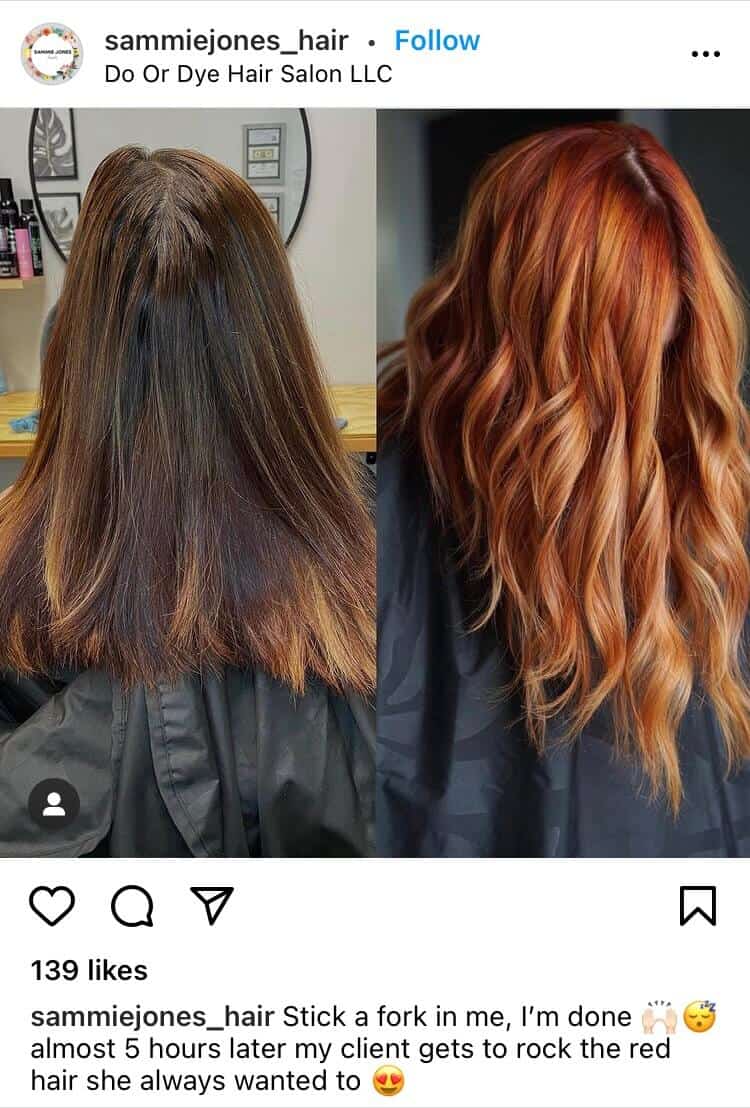 I always like when the stylist shares a little behind the scenes on the process and even how long it took. I feel like this really helps people get a sense for the big picture. This look is incredible and it took 5 hours to get her uneven brown color to this red to copper fade and it was WORTH. IT.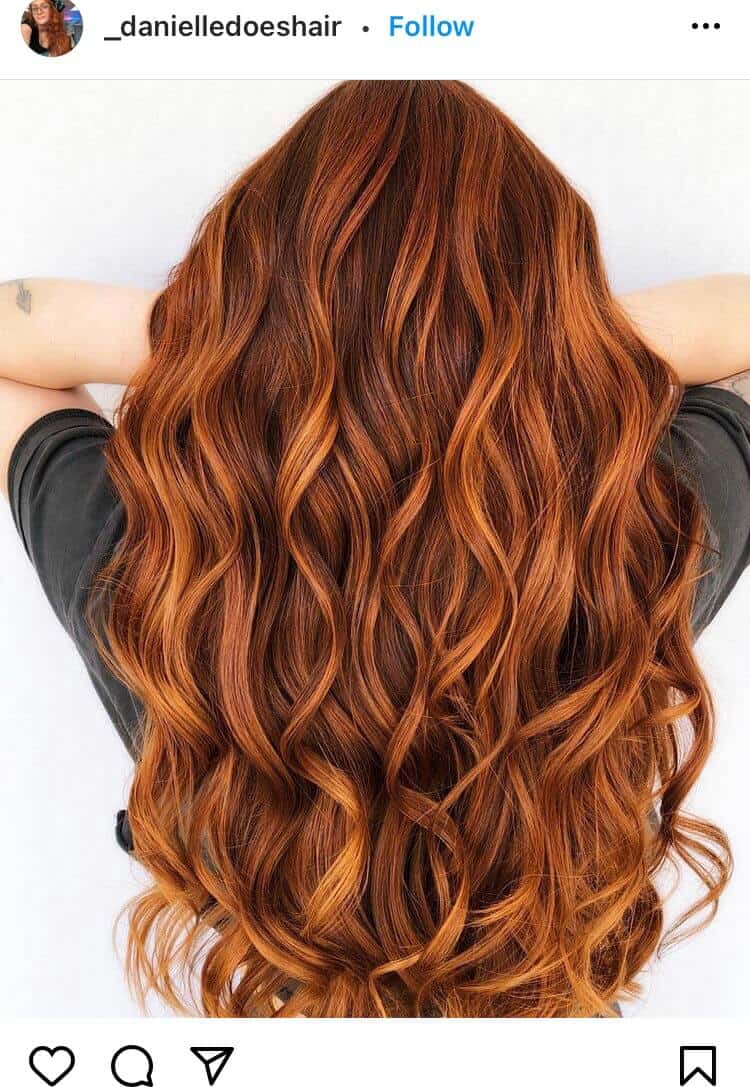 Absolutely love this subtle fade with serious impact.
19. High Contrast Auburn Balayage by @live_love_dohair:
Love the contrast between the darker auburn and the strawberry blonde in this less subtle, still stunning balayage color.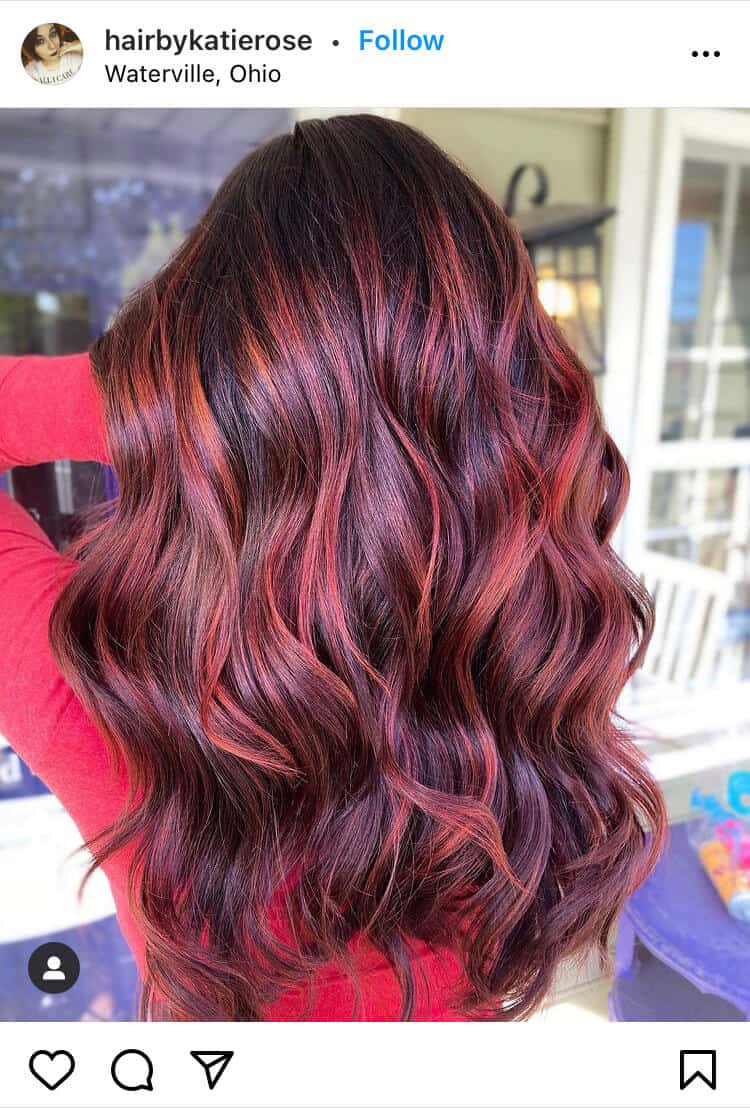 Deep red and claret collide in this ultra-red, beyond beautiful look that is sure to turn heads and break hearts.
******
I wish I could have all 20 of these looks. Perhaps I should consider wigs. I think I could really get on board with being able to totally transform my look every day.
MORE BALAYAGE HAIR COLOR:
Looking for even more stunning balayage hair color? You might like these posts:
More Hair Content:
Hair is important; find a stylist you love and who knows how to achieve the look you want. If you love reading about hair, check out some of my other posts on hair products and hairstyles:
Hairstyles:
Products:
…. and more!
Have a fabulous day,
E