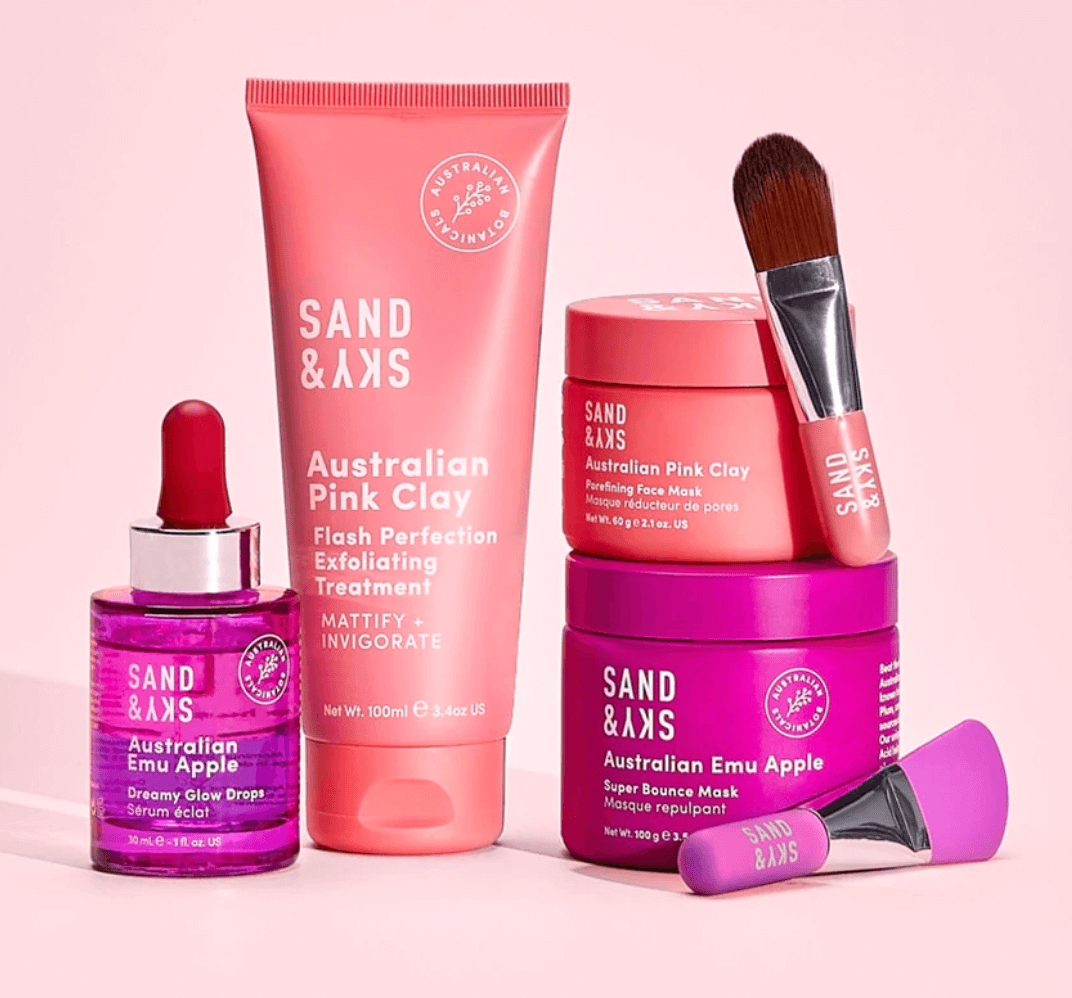 Thank god for good skin care. I'm serious. It's a lifesaver – especially lately – because things have been a little crazy over here.
We spent most of January passing the super cold around to each other (somehow, I got it twice!) and then our bathroom remodel went sideways. We didn't think replacing counters and the backsplash could take so long, but the first counter was installed with these tiny sinks. Seriously, these are the tiniest little sinks I've ever seen in my life. I think they're smaller than the sinks in airplane bathrooms.
Luckily, the company was more than willing to recut the counter and replace it, but when we ordered new sinks, they kept getting delivered broken. We had to reorder them (and return the broken ones) FOUR TIMES before we got a set of sinks that weren't broken.
Now that we have sinks, we wait until the counter people can come back and install the new counter and sinks. After that, plumbing comes back to reattach the hardware and then we can bring in a tiler to put in the backsplash.
Why am I telling you all this? Well, because all of this has been super stressful – and stress can really take a toll on our skin. Luckily, I've had these absolutely delicious Australian skin care products from Sand & Sky keeping my skin juicy, bouncy and hydrated.
So, today I get to share these with you – because if your skin feels like it's taking a hit from all the things – maybe you need some seriously good skin care in your life, too.
*Affiliate links are used in this post, which means at no cost to you, I may receive a commission if you make a purchase through my link!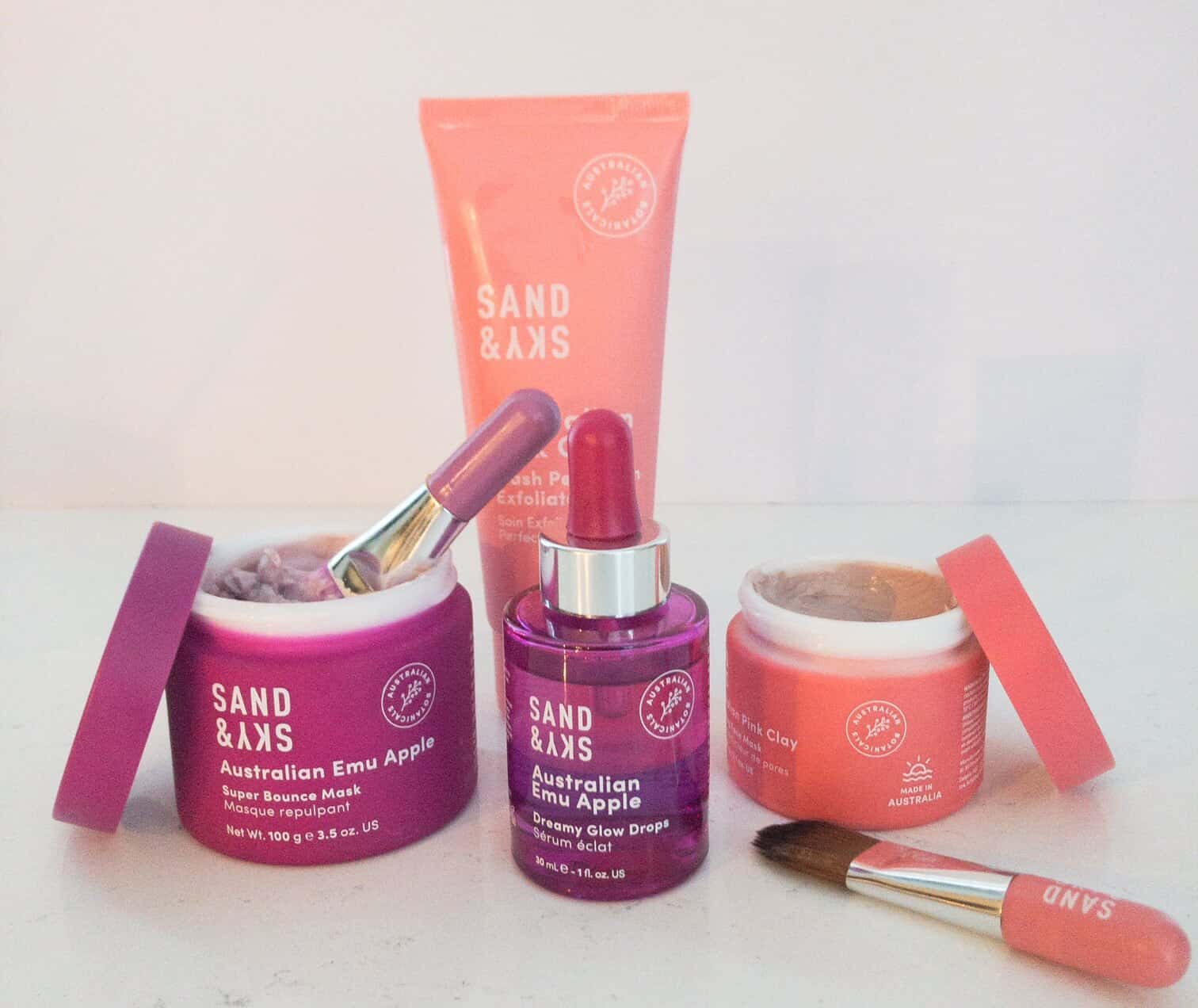 I was so excited to get this detox and glow kit. It arrived before all of the above starting crashing down on me, so even though I thought I needed to detox and glow after the holidays – I needed it even more in January.
This is the largest value set available by Sand & Sky and it's packed full of four products that will get your skin glowing in no time. All four of these products are so good and I'm going to give you the skinny on each one, what's in them and how to use them to bring tired skin back to life.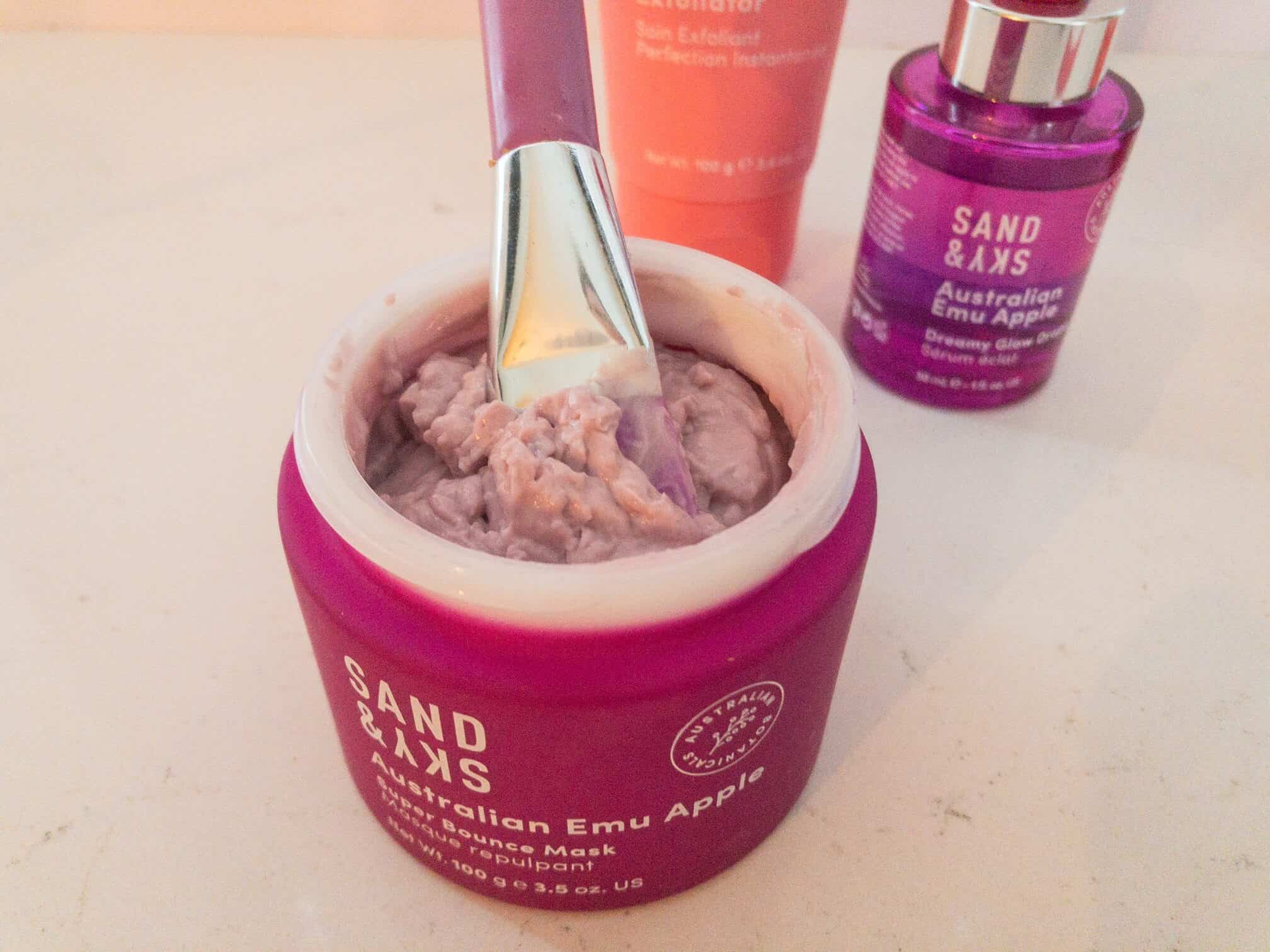 This is the first product I tried. I literally couldn't even finish getting the first set of pictures before I was rubbing it on my face with the little spatula applicator. It is cooling, comforting, and bursting with ingredients to give you hydrated, bouncy skin like:
Australian Emu Apple – Powerful antioxidant boosts brightness and actives hyaluronic acid production for super hydrated skin
5-Type Hyaluronic Acid complex – Y'all know how much I love HA, because it WORKS, and this mask is PACKED with 5 types that will seriously improve fine lines and improve elasticity
Kakadu Plum – Gimme all the Australian ingredients, like the world's richest source of Vitamin C, an Aussie superfruit that breaks down dark spots for brighter, more even skin – YAAAASSSS
Jojoba Oil – Super lightweight, nourishing oil to hydrate, soften and smooth skin without clogging pores and causing breakouts.
Listen, this mask is so good. My skin looked happier and perkier right after I used it, too, thanks to some serious TLC from the hyaluronic acid, hydrators and vitamin C.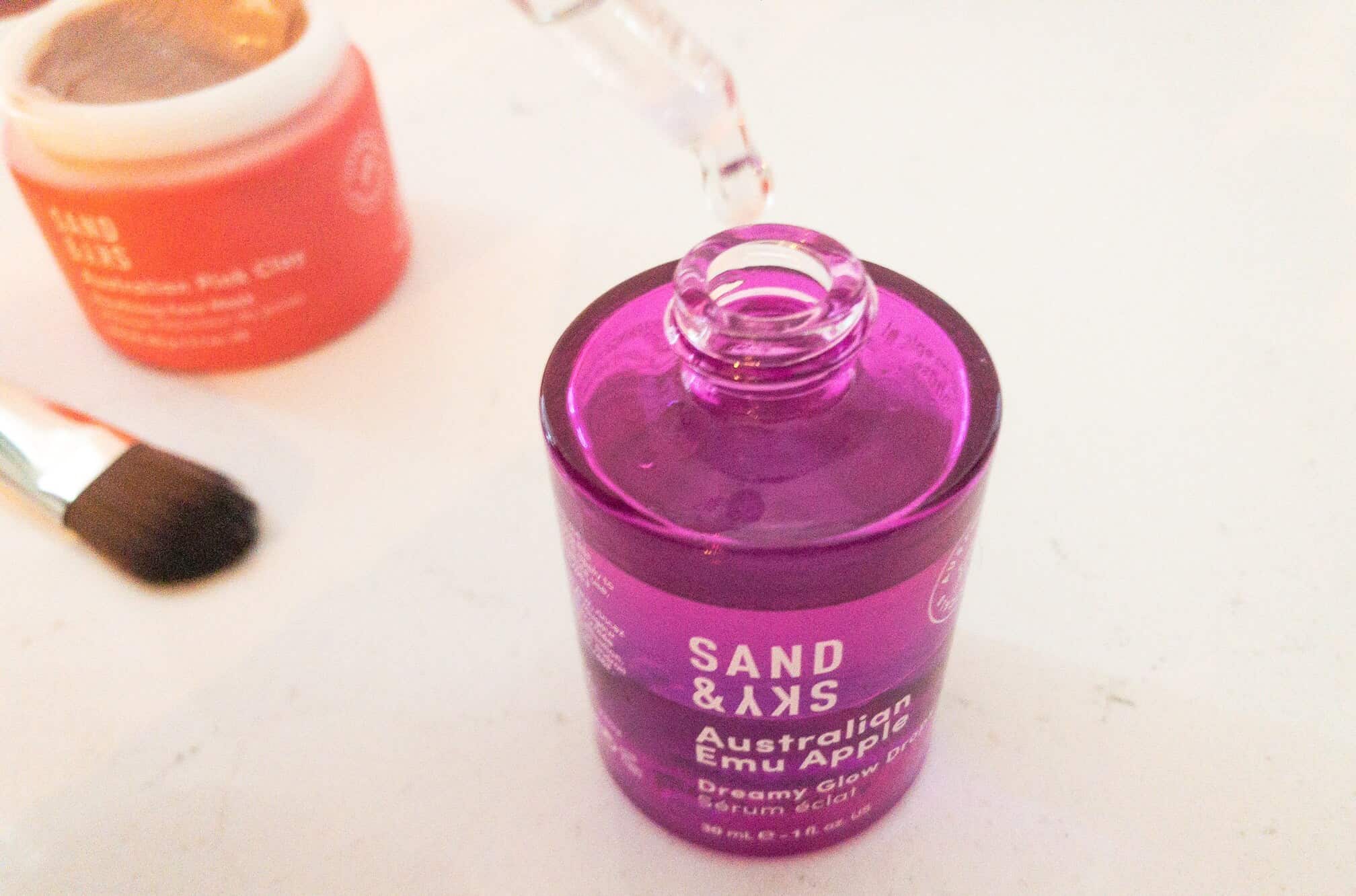 My skin has just been more tired than normal. Stress + less sleep + sick + house under construction = skin that just won't give an inch. So, I mask at night and then I add these dreamy drops to my skin in the morning, before moisturizing, and suddenly – BAM, back to life.
These drops do for your skin what coffee does for you body. They give you an instant glow up. There's a similar ingredient profile to the mask that makes the magic happen – here's what makes these drops so good:
Australian Emu Apple
5-Type Hyaluronic Acid complex:
Kakadu Plum
Hemi-squalane oil blend: A power combo of jojoba, almond and olive oils lock in moisture for a silky smooth finish.
I love how this just melts into my skin, gives a boost to those pesky fine lines and disguises the fact that I need to sleep for like 27 straight days.
Some days, I even do an ice roller for a few minutes before I put these on and then – wow – it's fake it until I can make it at its finest.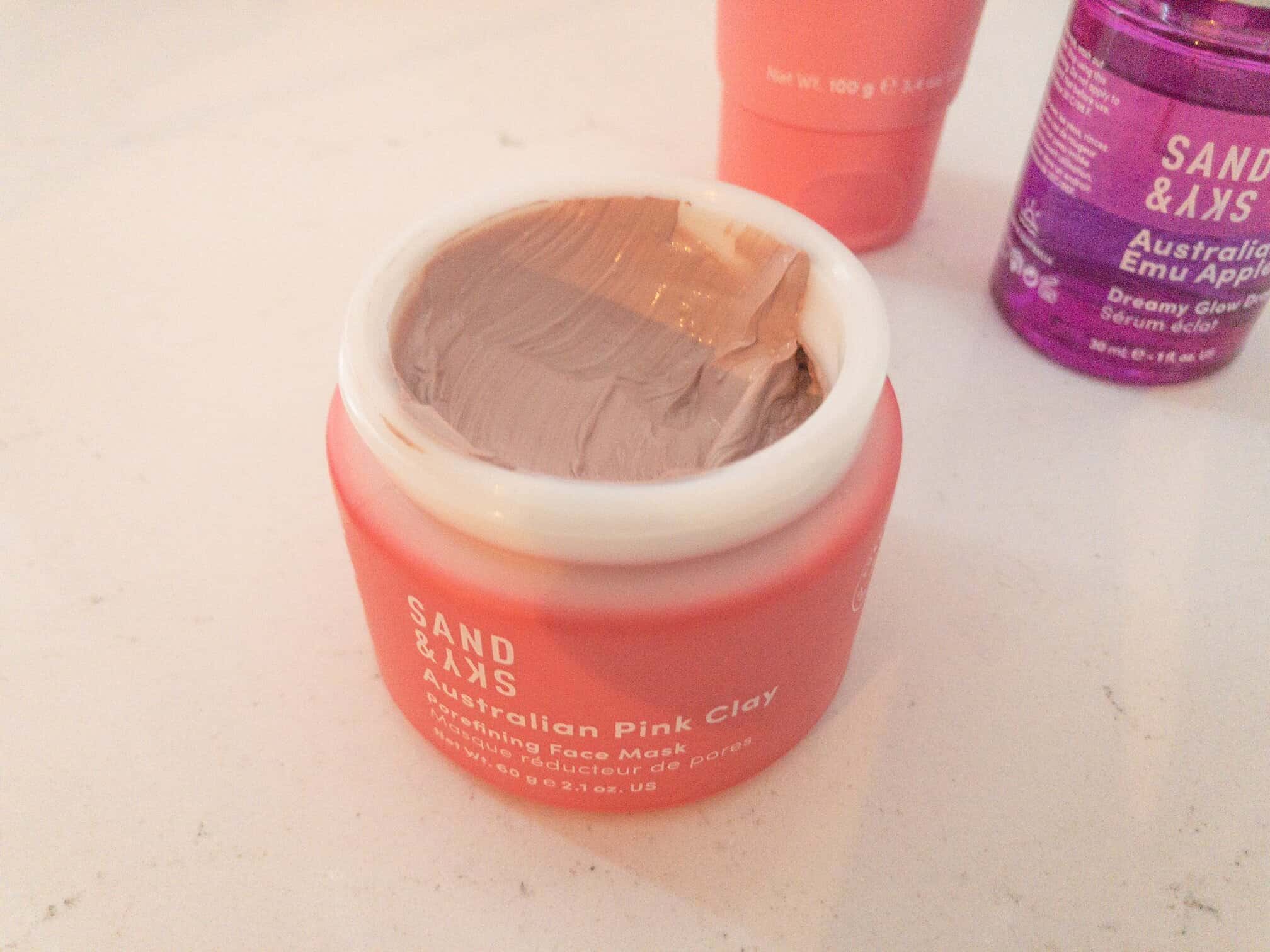 Alright, it's time to talk exfoliation. Simply plumping your skin is just not enough – at least not at my age. I have found that I need to use some kind of exfoliator almost every day at this point.
This mask is really powerful. I was not expecting this to give my skin such a refresh. It's so easy to use, too, because this one also comes with a little brush so you can just sweep it on, let it dry, and then it washes off clean.
I'm new to Australian Pink Clay and now I'm hooked. It's effective, yet gentle, at seriously clearing congested skin, exfoliating to encourage cell turnover and leave skin brighter and clearer, and breaking down pigmentation for more even skin.
Here are the power players in this porerefining mask:
Australian Pink Clay – Magnet for toxins and breakout destroyer, pink clay deeply cleanses skin.
Kelp & Witch Hazel – Natural astringents that refine pores and speed up skin repair.
Mangosteen & Pomegranate – Antioxidant rich fruits that encourage cell turnover for brighter, more youthful school
Kakadu Plum – Yup, it's back! Can't get enough Vitamin C!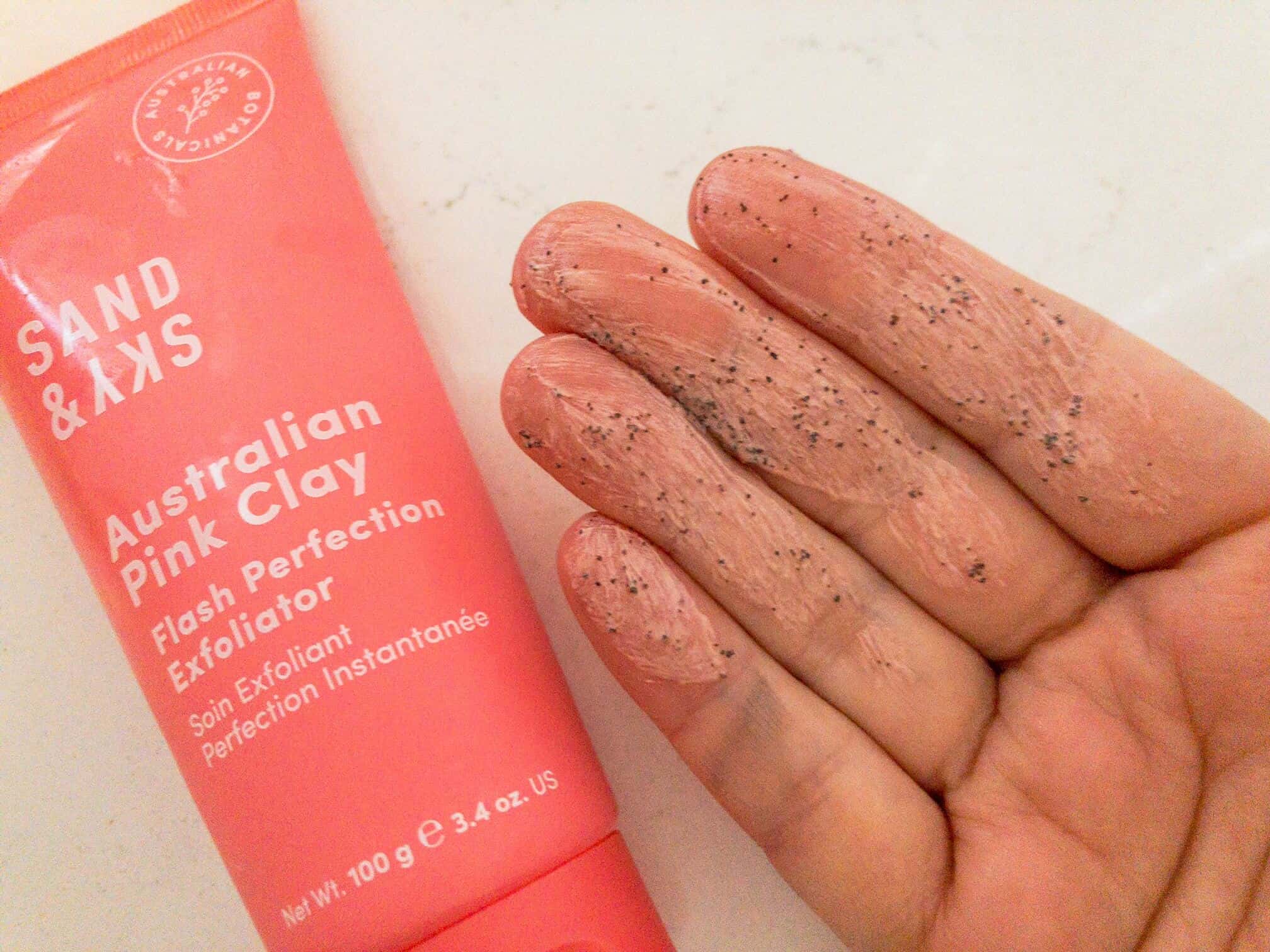 The fourth product in this set is another exfoliator – a quicker, more aggressive option – for when you are short on time, but really need to glow. I put this one on while I was organizing my bathroom things that are now spread all over my closet floor.
You never really realize how much stuff you have until you have to move it, you know? Anyway, this one is serious. The texture is definitely designed to exfoliate and I just put it on my face and didn't massage it. Then, I let it dry for about 10 minutes and was ready to get it off my face.
The directions say to massage gently, but I honestly don't think you really need to – especially if you have sensitive skin. I also would not use this one on the same day as the other pink clay exfoliating mask.
Here's what makes this mask the ultimate flash exfoliator:
Australian Pink Clay – Magnet for toxins and breakout destroyer, pink clay deeply cleanses skin
Bamboo & Macadamia – Gentle physical exfoliation
Finger Lime Extract – Gently sloughs of dead skin cells
Rosehip, Grapeseed & Olive Oils – Antioxidant-rich oils nourish the skin and restore radiance
*****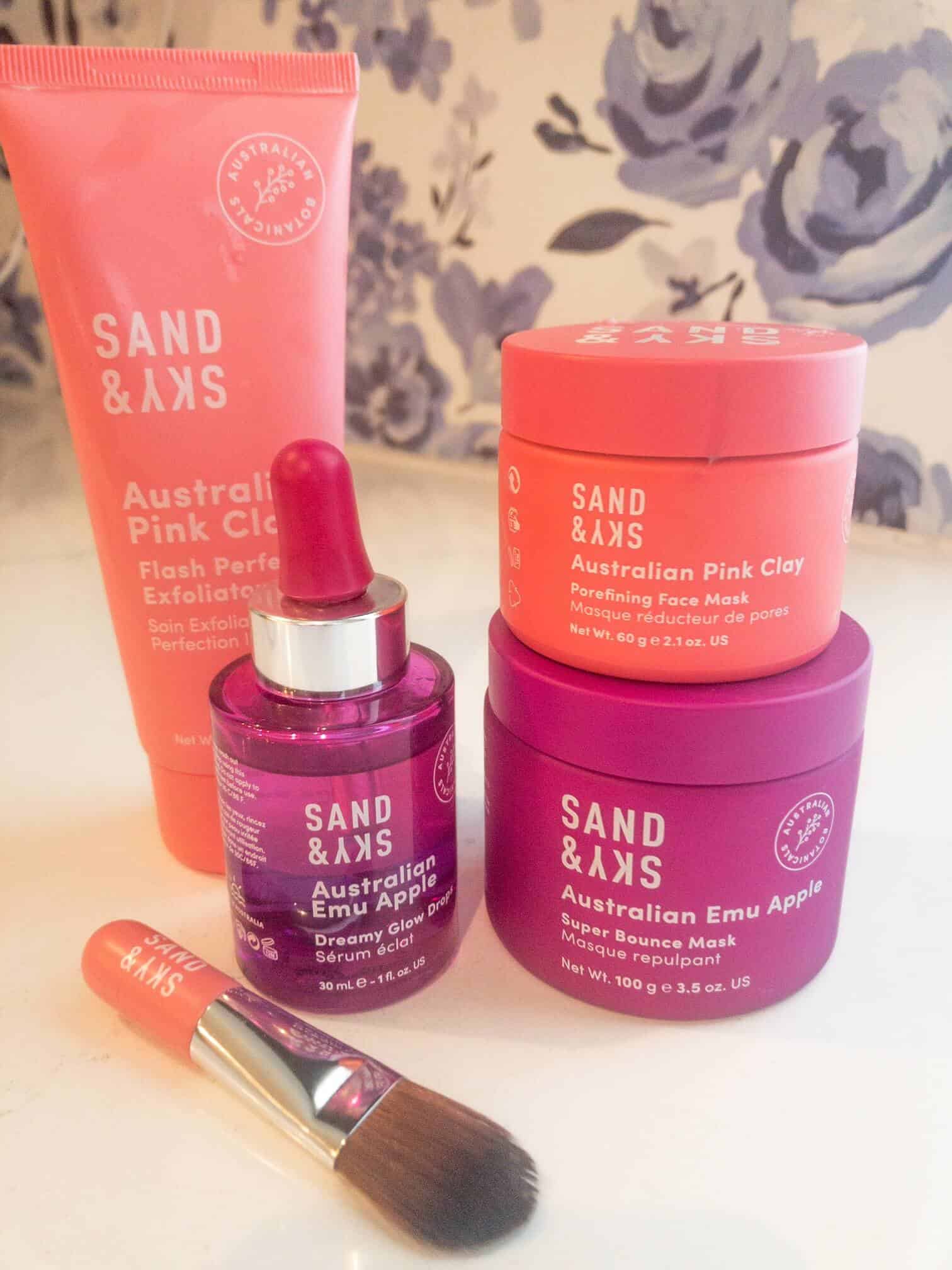 I have absolutely been loving having these products around. I really like alternating between the masks (one a day) and using the drops in the morning before my moisturizer.
If you're in need of a major skin reset – the Detox & Glow kit might be exactly what your skin needs.
Have you tried skin care by Sand & Sky? I'd love to hear what you think.
Have a fabulous day,
E
Sand & Sky Affiliate: