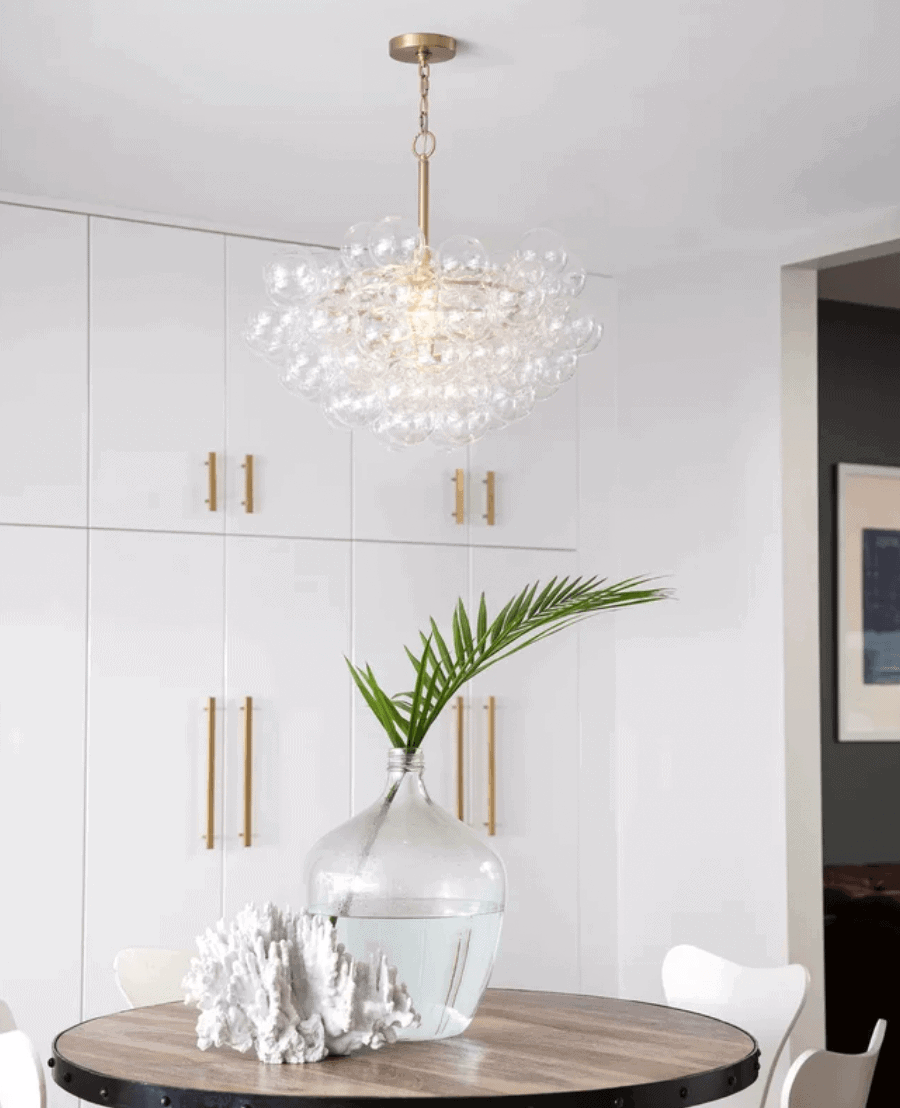 Obsessed with the new bubble chandelier trend? The Visual Comfort Talia Chandelier designed by Julie Neill has been popping up all over Instagram and enchanting us with its unique bubble silhouette. The little circular glass balls create a whimsical effect, while the lightness of the design keeps it from overwhelming spaces.
But, what if you love the look – but not the price? Good news! I've found a couple of alternatives today that will give you the look and feel of the bubble chandelier for less.
Let's check out the original first!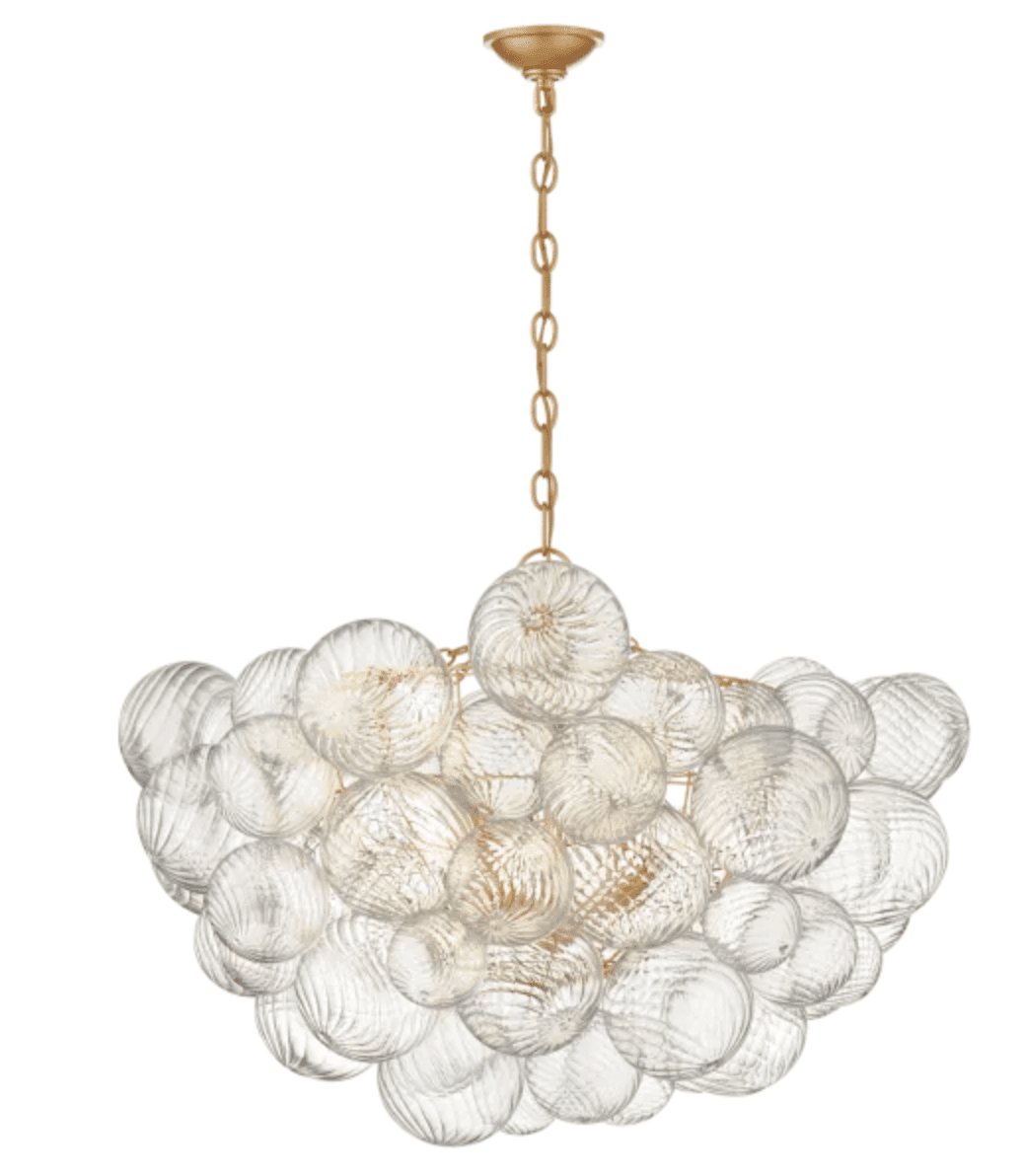 She's quite the charmer. The Talia diffuses light through a collection of blown glass balls. I've never seen anything quite like it!
It kind of reminds me of the capiz chandeliers I shared in an earlier post, where the shells diffuse the light in a moody, dramatic way. But, with the bubble chandelier, the glass orbs don't alter the look of the light the way that the shells do – they simply soften it.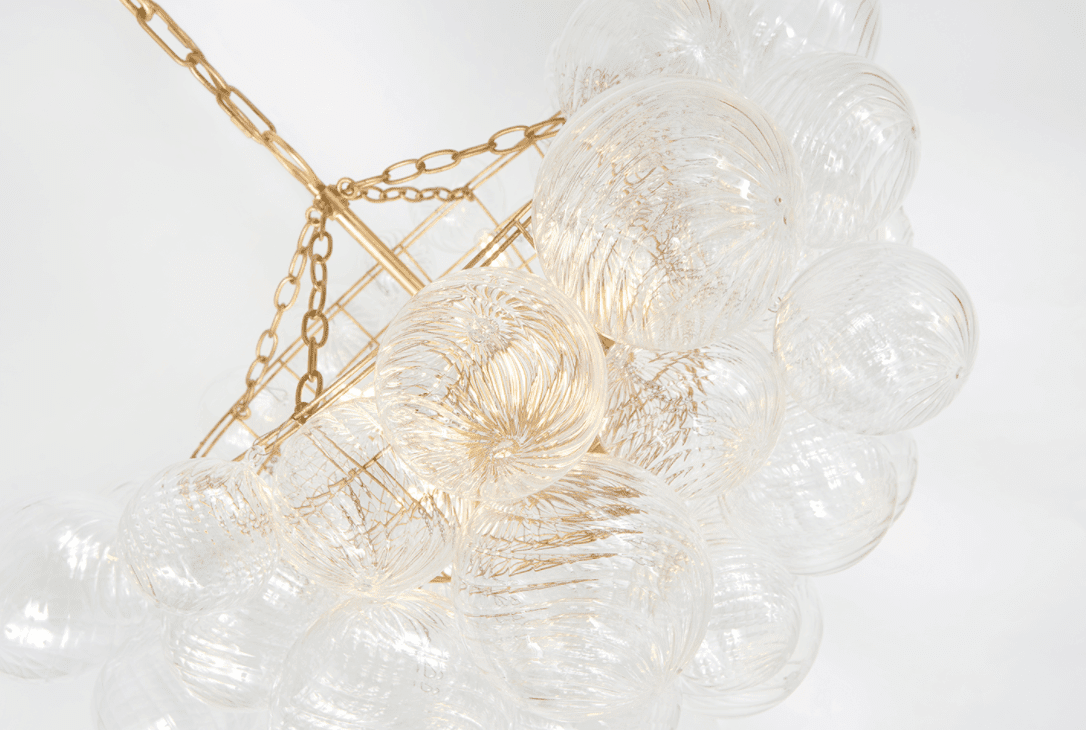 I can imagine this design looking great in a children's playroom, over a dining table, or even in a darker entryway to create contrast.
Priced at $3035 and currently on sale for $2529, it's a pricey light. Don't let that stop you if you love it and it's in your wheelhouse, but stick around if you'd like to see how you can save $1000 or more on a similar look.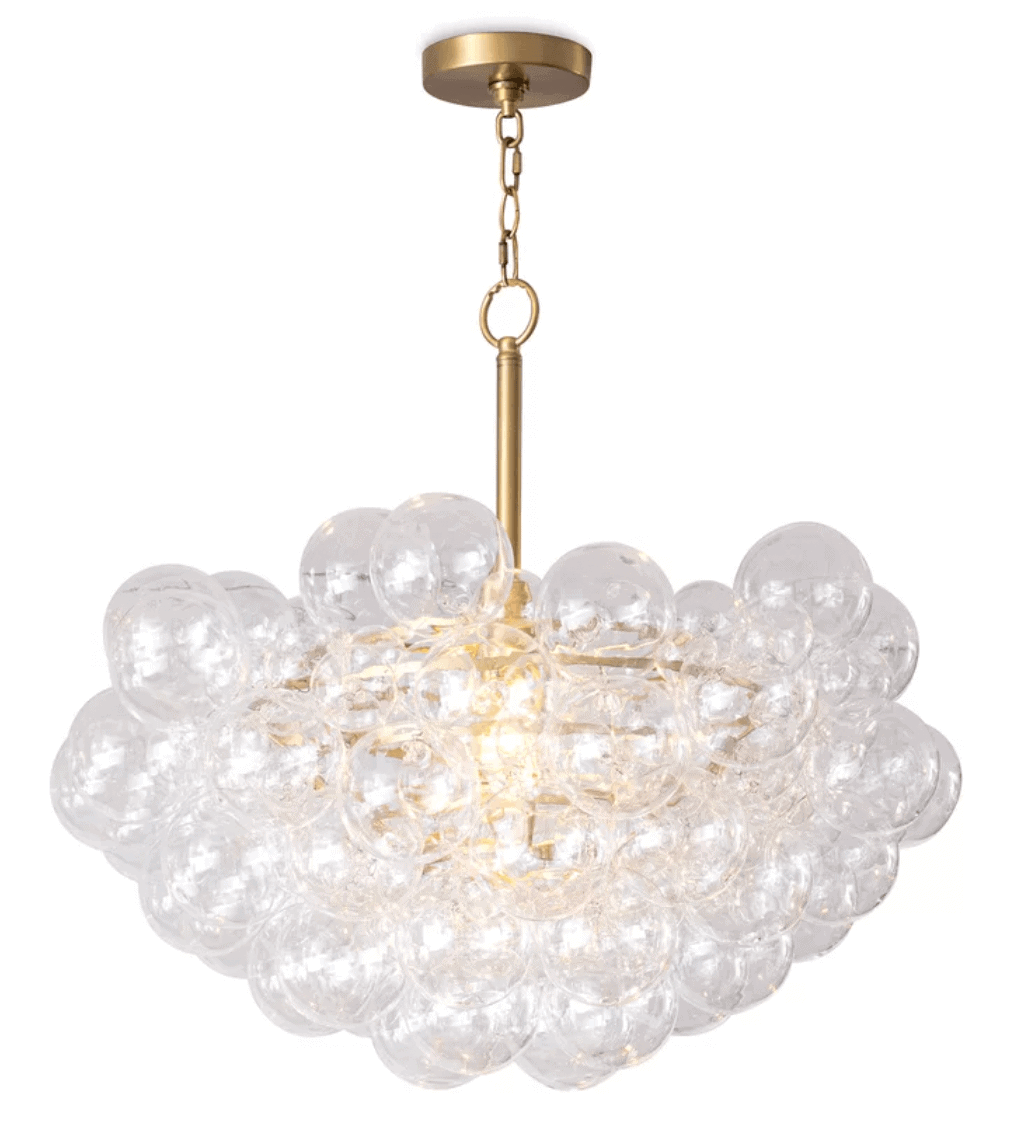 This Regina Andrews Bubbles Chandelier also uses glass balls to create a bubble effect. Just as light and airy as the Talia, but also lighter on your wallet, since this one is priced at $1437.
The brass metal frame is also very similar to the Talia, too. In fact, I prefer the blown glass look of the Bubbles version, because it keeps it a bit more modern.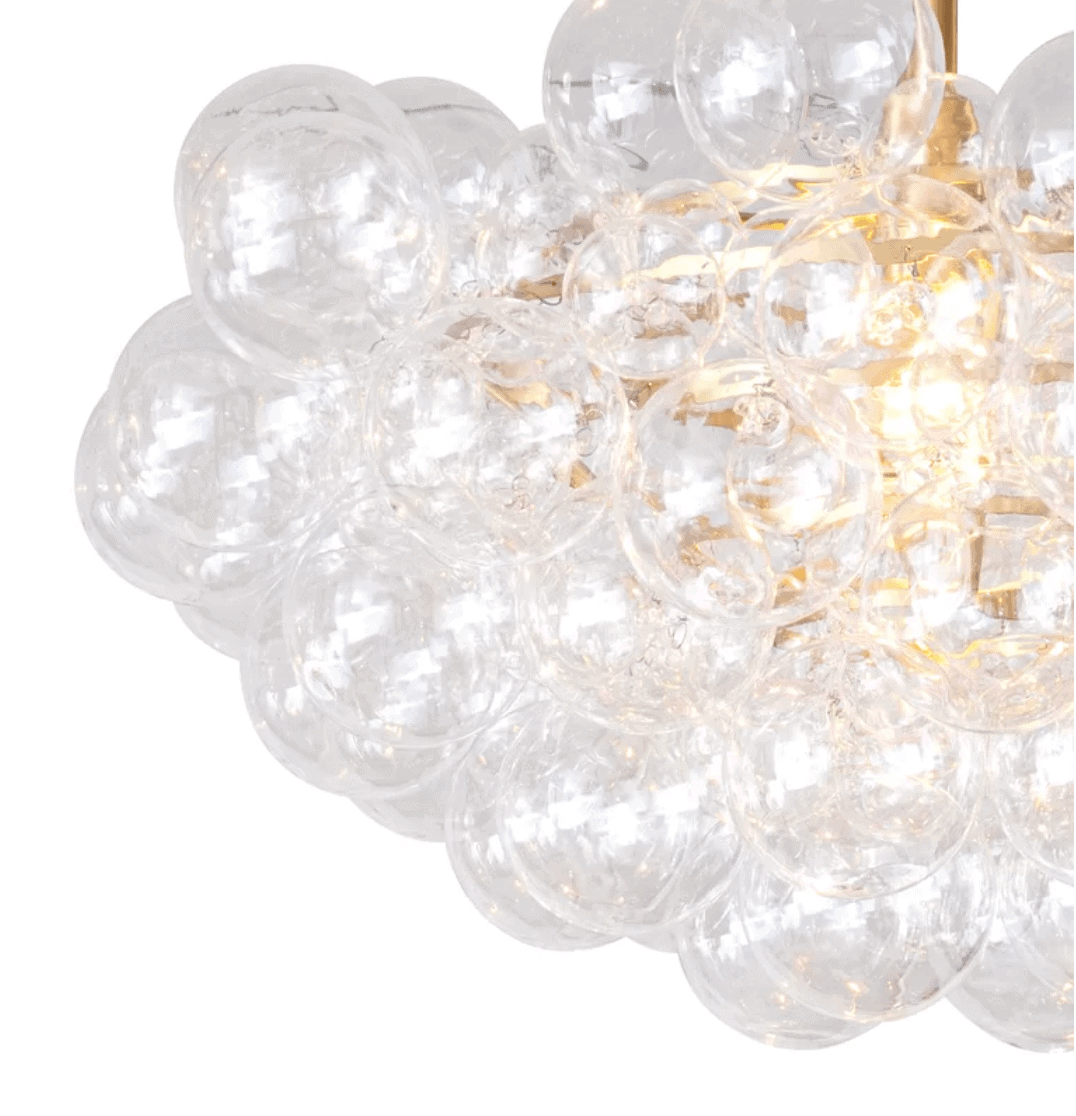 It's a pretty close lookalike, don't you think?
*The light is backordered pretty much everywhere, but you can also look for it here.
More Bubble Chandeliers:
If you're looking for something similar, but maybe a little smaller or less overwhelming, here's a couple more options with the bubble look for more affordable prices.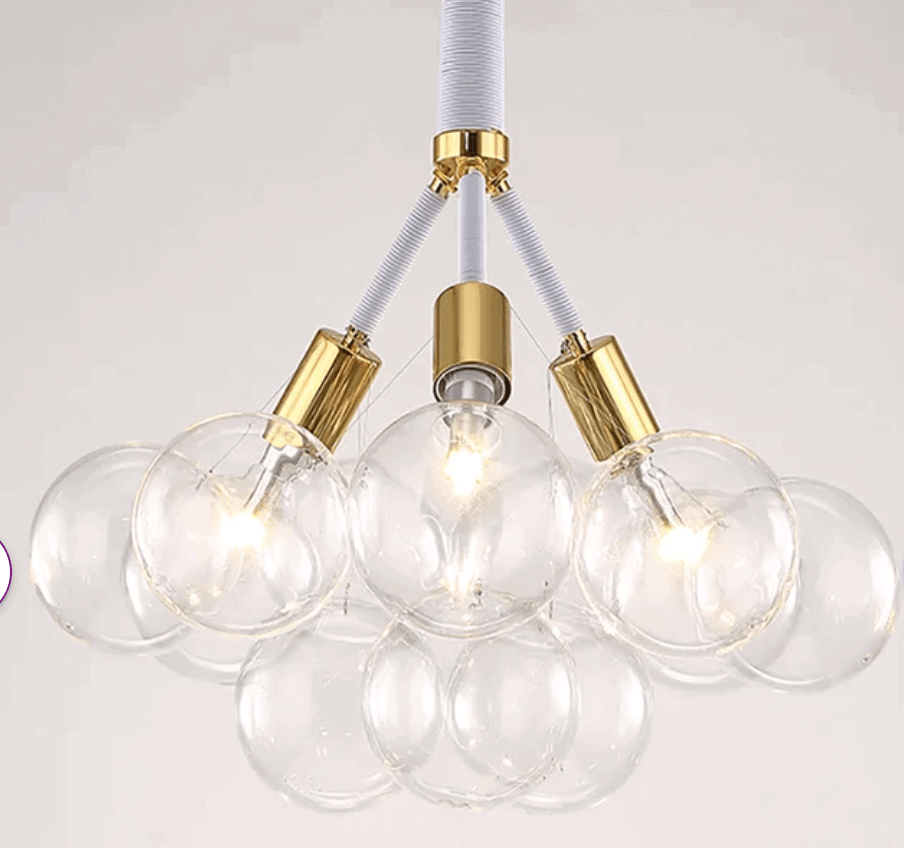 This one is smaller, has a choice of a white or black cord and both have gold hardware. The white and gold version looks like a smaller version of the more expensive designs and would be so cute in a small area or even hung 2 or 3 in a row over an island or long table.
Priced at $339.99, it's definitely more affordable. Shop it here.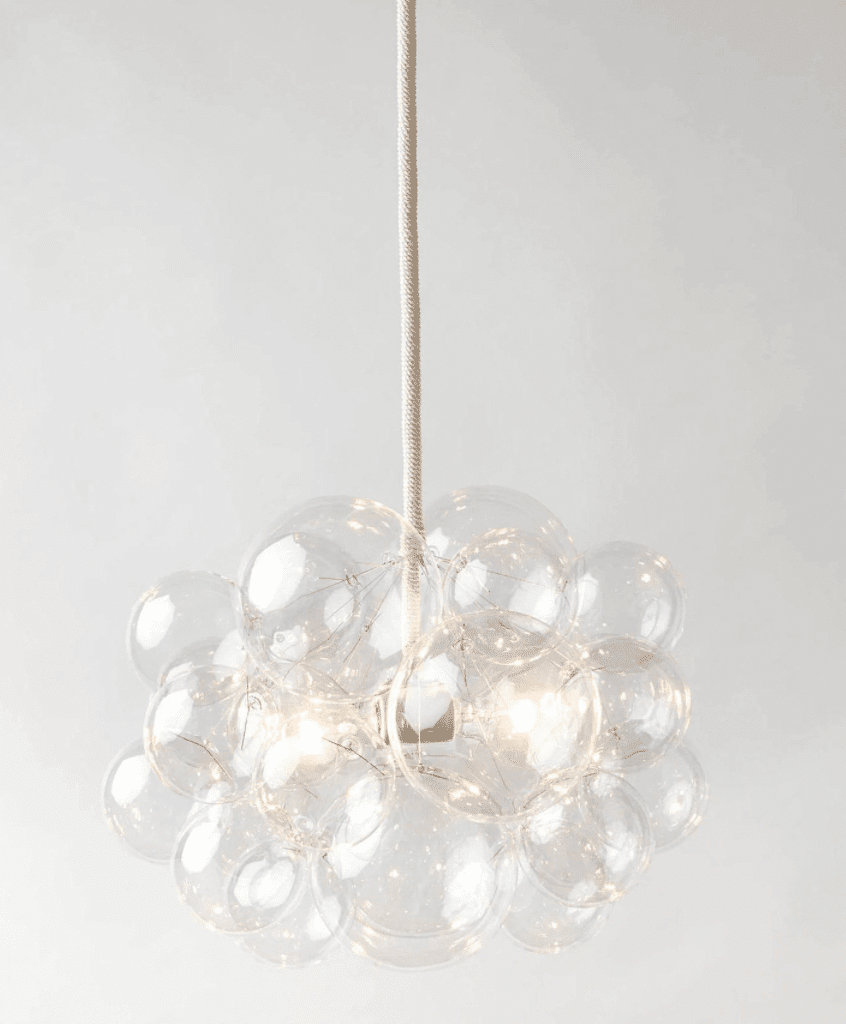 Customize your bubble chandelier and choose from several options to match it to you space with The Light Factory. This 31 bubble version can be customized with your choice of cord color and hardware.
Big enough to make a statement and small enough to use multiples in larger spaces or for high impact.
Such a cool light, priced at $1399. Shop it here.
Save Even More on Your Bubble Chandelier:
Another way to save on your bubble chandelier – and all your online purchases – is by using Rakuten. I love it and I got over $500 cash back just last year using Rakuten for all of our online purchases. If you're decorating a home, renovating, or just shopping online, you can (and should) get cash back on those purchases. Check out Rakuten here if you aren't already using it. New signups are getting $30 cash back on their first purchase of $30 of more – which this light would certainly qualify for.
*****
Do you like the bubble chandelier trend? It seems like it has staying power! I'm a big fan of fun lighting. It's an easy way to update a space. There are tons of great light deals on the blog – feel free to check them out!
Have a fabulous day,
E