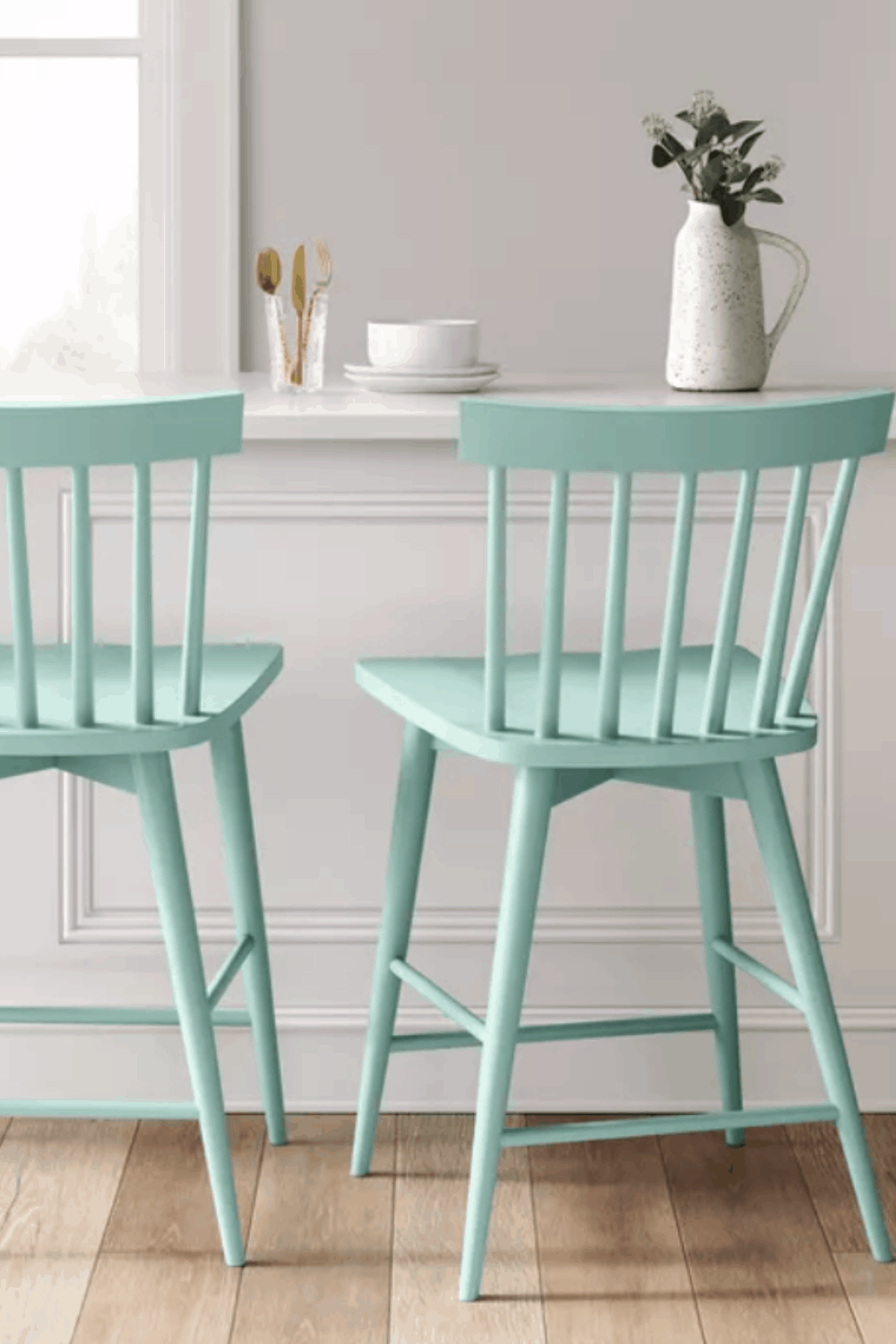 When I first saw the glorious, large island in the middle of our new kitchen – I immediately envisioned the stunning upholstered and rattan barstools I'd been drooling of for years.
Yes, a person can drool over barstools. Don't judge.
Anyway, as soon as we moved in and I started seeing how my kids preferred to eat at the island, those dreams were shattered. No, a bunch of food stuck in gorgeous rattan was not what I had in mind.
That's when I knew that I needed a new dream while small kids were here 24/7. My rattan barstools would just have to wait. Luckily, there are plenty of kid-friendly, easy to clean counter stools that are still cute.
The Best Counter Stools with Backs for Kids:
I learned a valuable lesson when it comes to barstools and counter stools (there's a difference, I'll explain later). In my opinion, the best counter stools for families with kids should check off a few boxes:
Easy To Clean: This means no nooks or crannies where food and crumbs can hide. Let's keep life simple, shall we?
Sturdy: Strong legs and base support is essential. The ones we ended up getting even have non-slip pads and bucket seats for added security.
Backs: In my opinion, a back is necessary to keep those kids on that stool securely. Bonus points for arms, but it's not required.
No Swivel: Perhaps this is the teacher in me, but if something spins – its never going to stop spinning. The thoughts of my little ones spinning and spinning on the stools was enough for me to make a NO SWIVEL rule. Non-swivel barstools only, please and thank you.
Armed with this list in hand, I was easily able to navigate the options and come up with 10 affordable, adorable counter stool choices.
And, turns out, I'm not the only one looking for these. I've sent these ideas to several friends, so I thought it was high time I shared it on the blog for all the families looking for the perfect barstool.
Easy To Clean Counter Stools for Kids!
I'd like to mention one thing, stools are not exactly super safe for kids. There have been a lot of injuries from kids on stools, so if you are staunchly in the – NO STOOLS FOR KIDS club – I 100% respect that. I certainly want to caution anyone who does buy stools for their kitchen or home to still be present when children are using them to help prevent injury. Also, affiliate links are used below, which means if you purchase from my links, I may receive a small commission at no additional cost to you!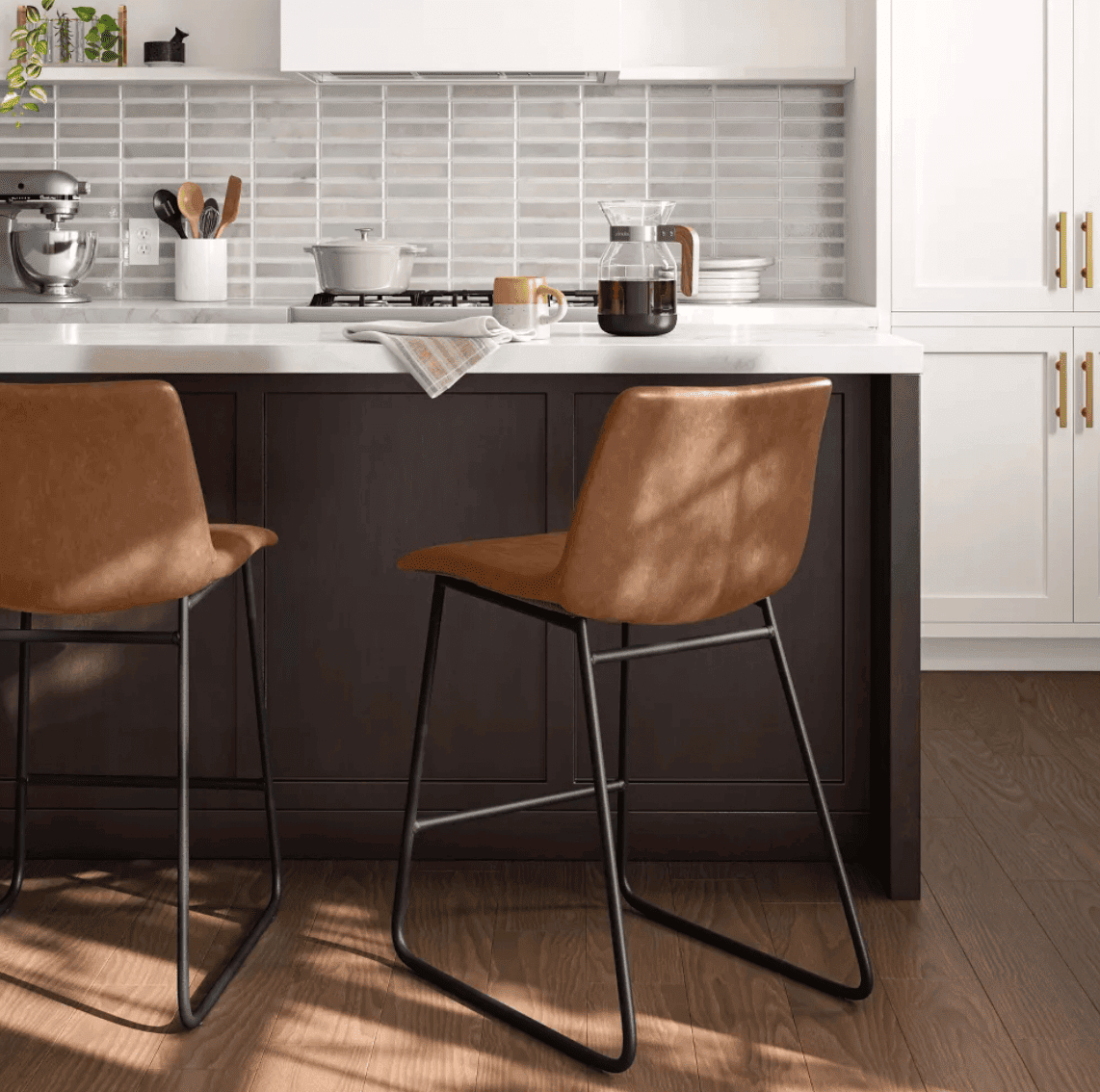 This is the style of counter stool that we have now and we love them. The base is super secure and doesn't slip around, the seat is padded and comfortable with a bit of a bucket seat to keep little kids in place, and I can wipe the whole thing down when needed. There's nowhere for crumbs to hide!
The price is also awesome – you can grab 4 of these for under $400! And, there's a bunch of different color options, too.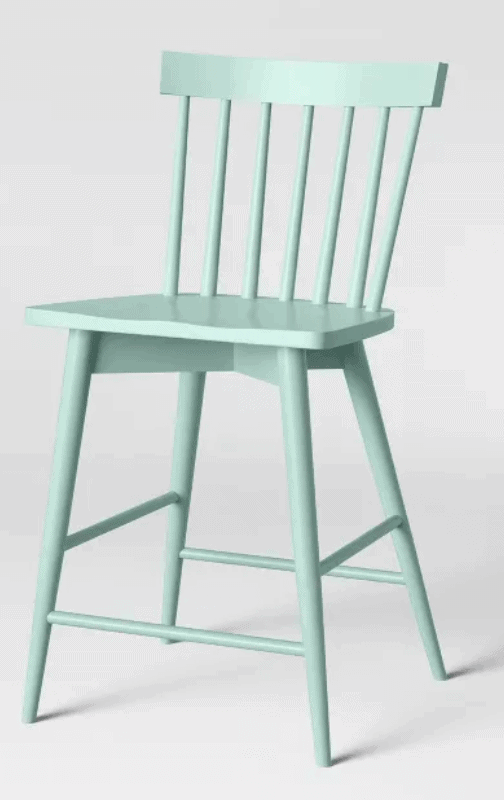 I ADORE these! These are the counter height version of the dinner table chairs we got at Target years ago (but in red). We had those at our old house for years! The only reason we didn't bring them over is because they stopped selling the red and we needed 2 or 3 more.
This minty greenish blue is such a pretty color that would be so fun, but there's a bunch of colors available if you're looking for something else.
If you are looking for something with more of a wishbone shape – check out this post with 4 incredible wishbone counter stool designs inspired by the coveted McGee & Co. Jasper stool.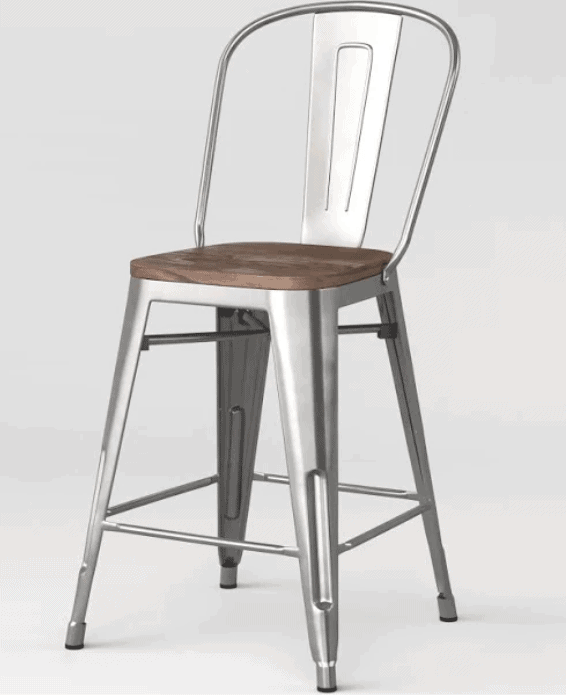 This is another great design that my friend is grabbing for her kitchen. I love the combination of metal and the wood seat. It's a bit farmhouse, a bit retro diner, a lot of awesome.
The price point is great, as well as the reviews, and they look like they'll hold up to the attention of children, too.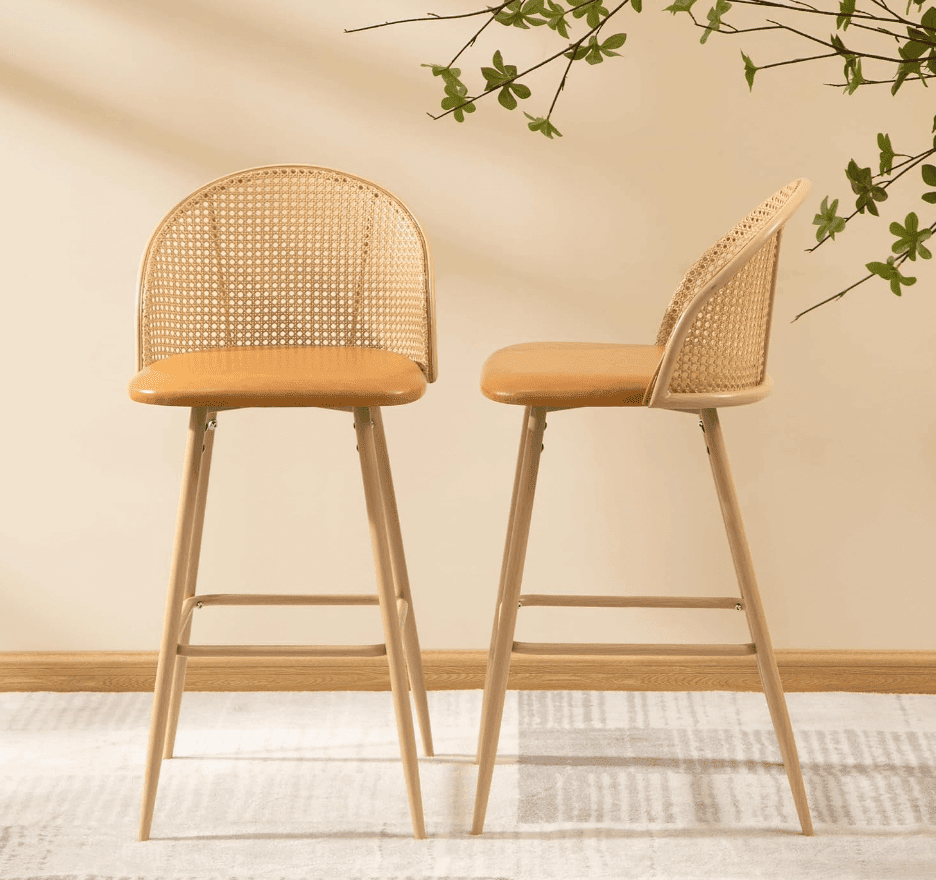 Get the best of both worlds, with these rattan backed stools with leather seats. A set of four is so affordable, you'll be glad the curved back will keep you from falling off the chair when you see it.
Plus, unless the kids are turning around and intentionally shoving food into the rattan holes (which, let's face it, could happen), then these are going to be pretty easy to clean, thanks to the leather.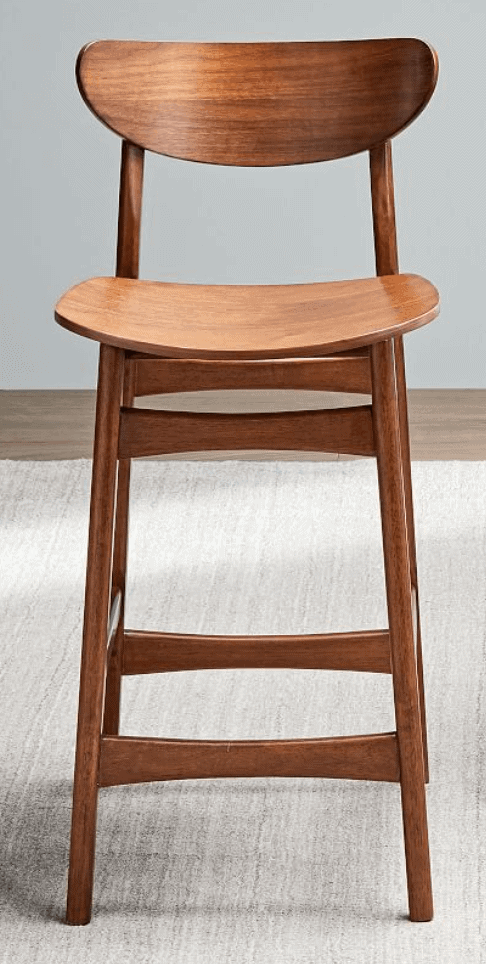 Oh yes, these are so, so good. These were not an option when I was picking or these would probably be in my house!
I just love the whole design of these ones, the strong, sturdy base, the color of the wood, the design – bingo! See more wood bar and counter stools like this in my post with 9 of the best wood stools here.
Before you say – "White? What are you thinking?" Let me tell you: these are faux leather, friends. But, they also come in 4 other colors if you don't want to deal with a white/cream.
I LOVE THESE! I think they would be perfect for kids, but not compromise on style. The faux leather is going to be so easy to maintain, so if you're a fan of lighter furniture, but don't want to walk around with a bottle of Scotch Guard in your hands at all times – faux leather is for you.
This one also appears in my post with 9 gorgeous leather bar and counter stools.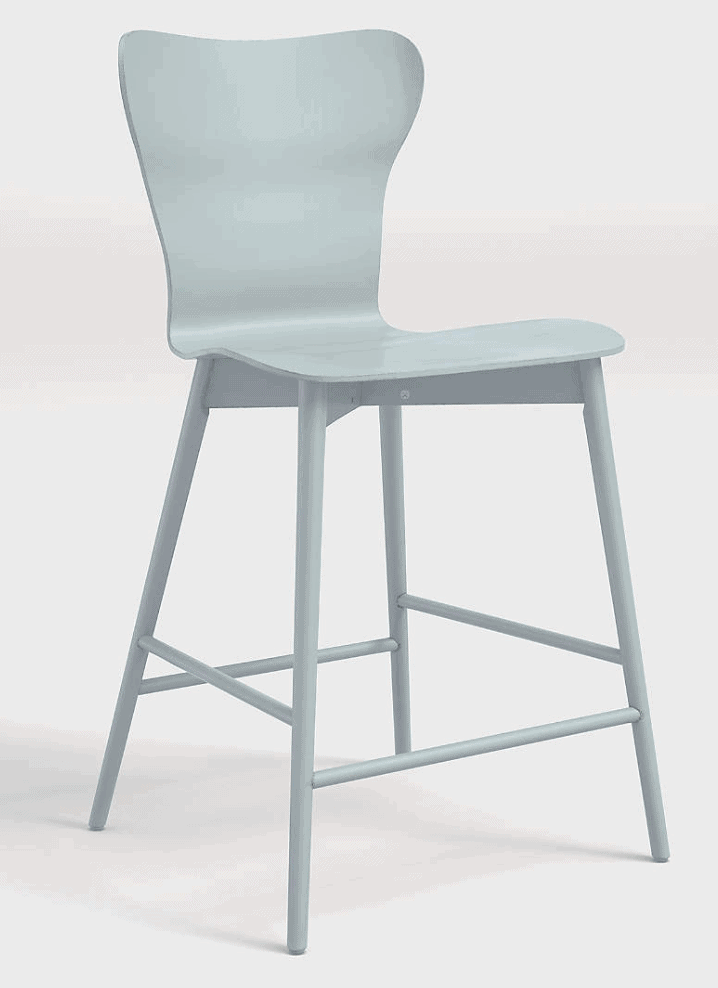 These are such a beautiful, soft pastel color with a fun design. I love adding color in something like a barstool, especially if your kitchen is a bit monochromatic. Like small counter appliances, this allows us to add in pops of color in small quantities to break up the color, without it being overwhelming or too permanent.
The soft grey blue is a breath of fresh air and the one piece design will make them a breeze to clean.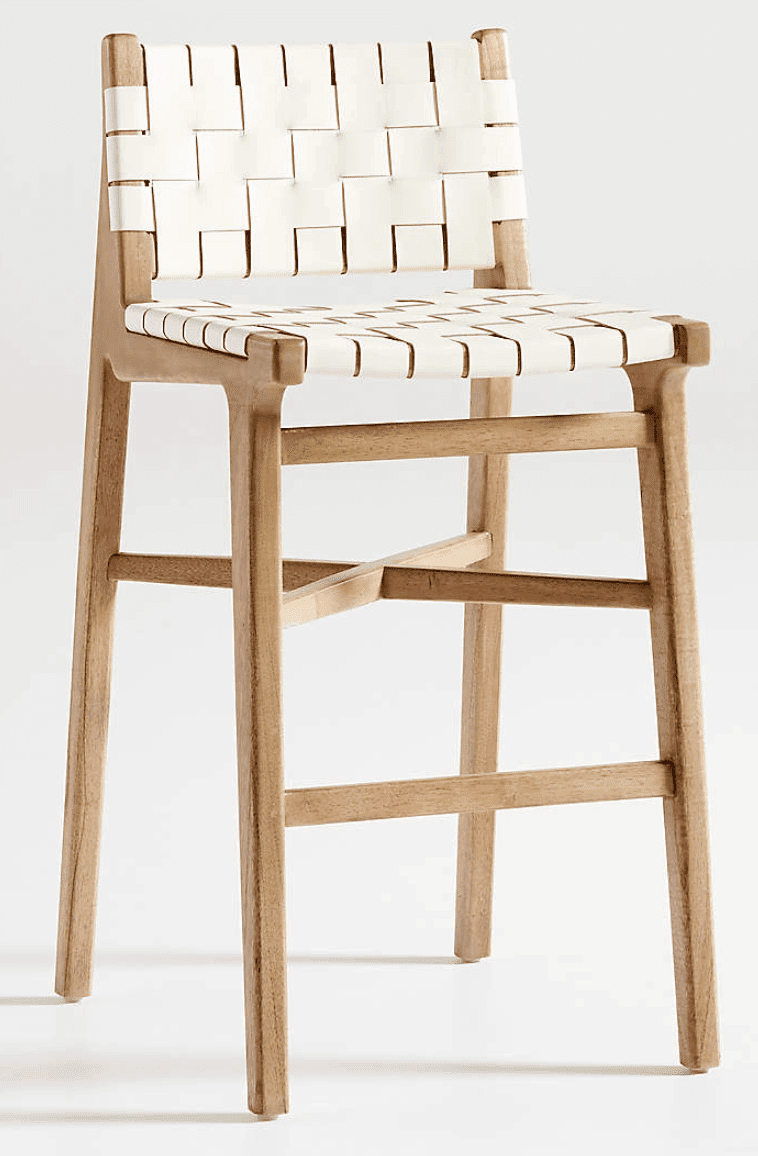 I love the way the leather straps are softened by the white color and the design. This gives you the comfort, longevity, and ease of leather, while not being heavy or too masculine. The wood tone is also a beautiful neutral that would some texture and coastal charm to a space.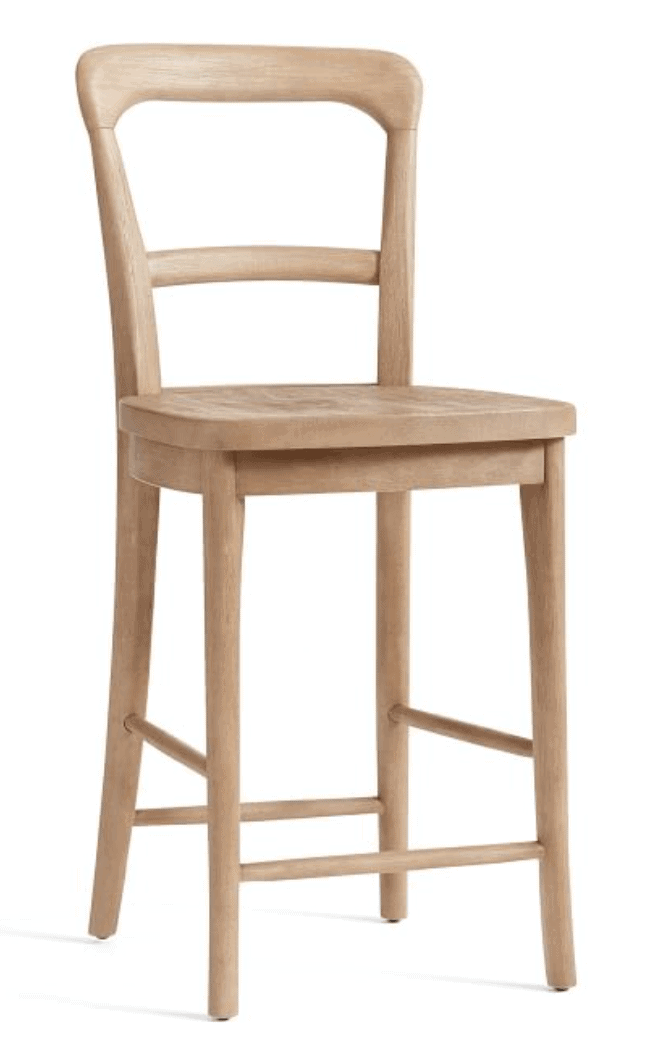 Totally adore the weather grey version of this popular barstool from Pottery Barn. This also comes in a classic black and a fresh white. You'll love the customer photos, too, of what these look like all lined up along an island.
These would be great for a family that has kids a bit older. I get nervous thinking about toddlers or too young of kids sitting against that back without much support. But, if your kids are all school-aged, these could be perfect for you!
I really love how secure the base of the stool looks and the minimalistic design! Really let's the kitchen shine.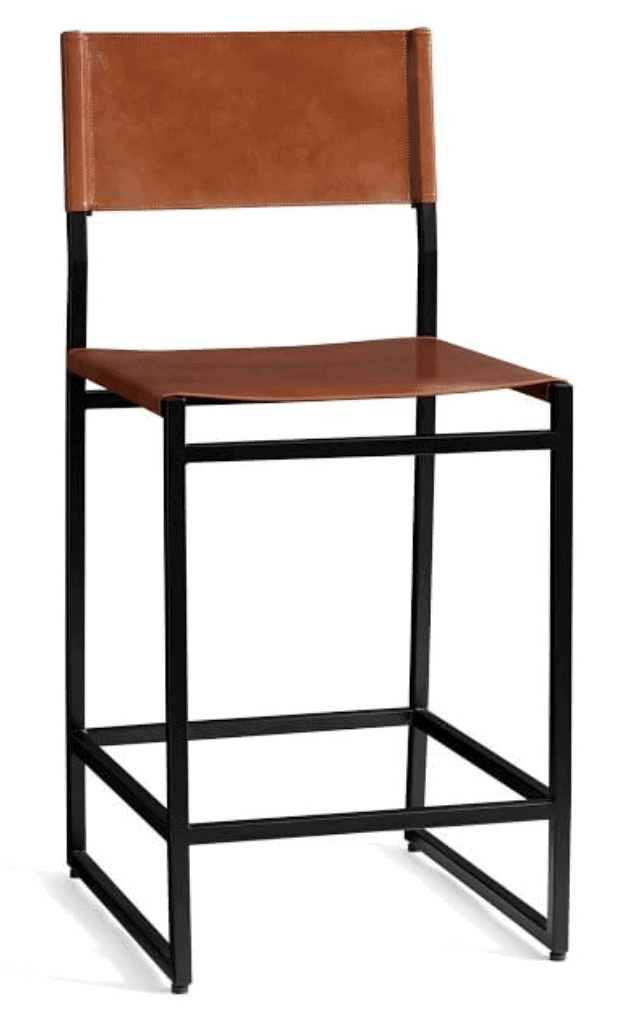 This bestseller is just gorgeous. A little bit of hard from the squared off metal frame and a little bit of soft from the leather. Plus, it's available in 4 colors, all white, all black, black with gray leather and black with honey leather as shown here. You can get a totally different look and vibe with each combination – giving this stool so many design possibilities!
This one is also fair trade certified, which is awesome, and a bit minimalistic in the design, so it'll flow nicely with a lot of home decor styles. And the reinforced base is going to mean these are sturdy, durable, and go the long haul for you. Score.
These are just so, so good.
Counter vs. Barstool: What's the Diff?
If you're looking at these and wondering what the difference is between a counter and barstool height, it's just the height of the seat.
Most kitchen islands are counter height, so you'll need counter stools instead. Sometimes, this is not the case, so you'll want to measure from the floor to the bottom of the island and then check the legs of the barstools you like to make sure there is enough space to sit on the chair without smashing your legs or jamming the seat into the bottom of the counter.
Even with counter stools, you'll see some variance in how close the seat is to the floor, so just measure twice and make sure it'll work.
Worst case scenario, most of these places have exceptional exchange policies and you should be able to get something that will work.
How To Save More Money on Home Decor:
No doubt about it: decorating a home is expensive. One way I save money on almost every purchase I make is by using Rakuten. I've gotten over $500 cash back in just the last year on purchases I was going to make anyway. So, don't forget to use Rakuten if you're making purchases online. They also run deals for new referrals where you can get $30 cash back after making your first purchase of $30 or more, so you can save even more if you're new to using them. Sign up here.
****
Do you have stools at your house? What do you think? Any tips? I'd love to hear it in the comments below.
Have a fabulous day,
E