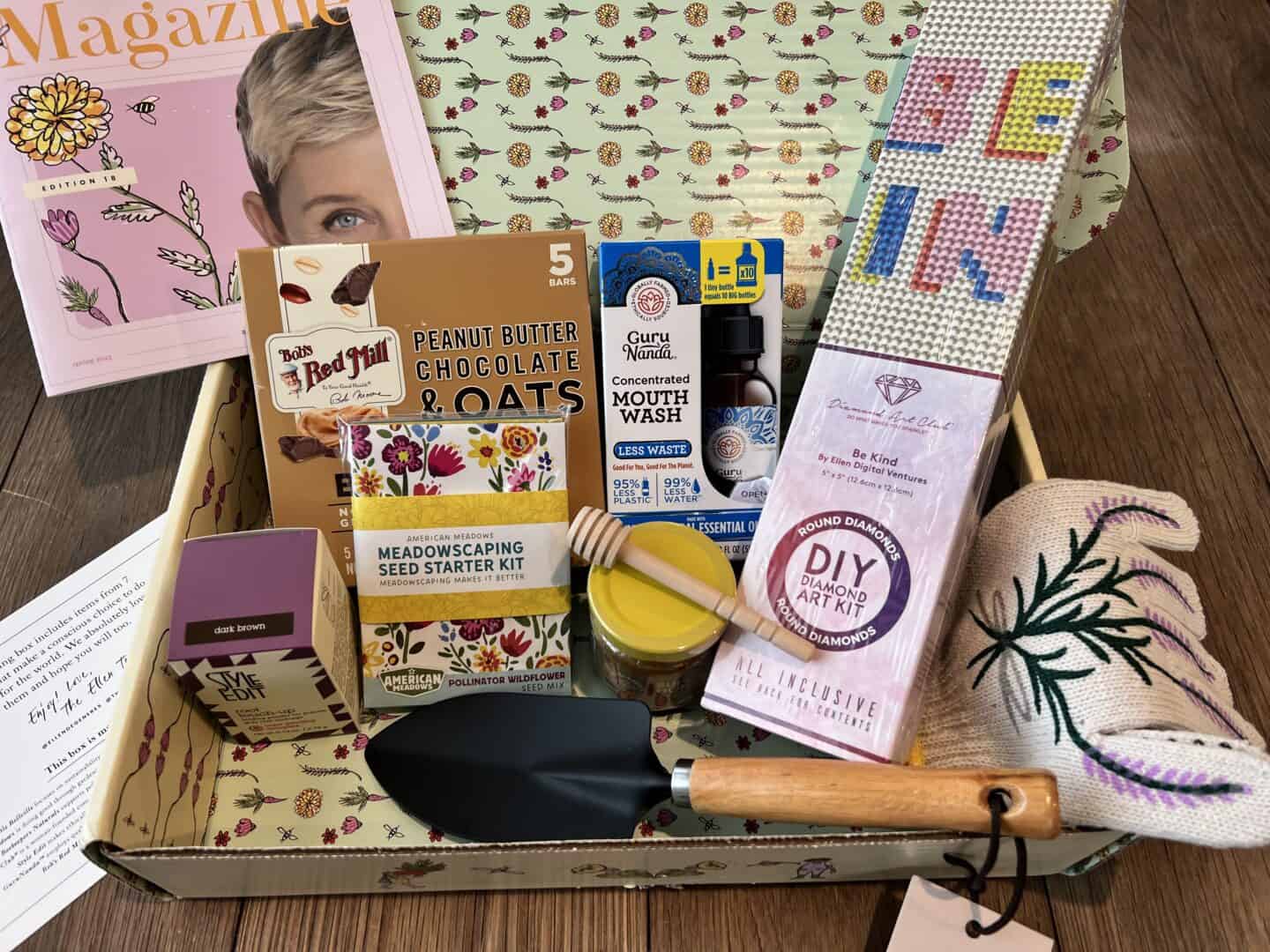 I was so excited to open my door and see the seasonal Be Kind by Ellen box on my doorstep. The spring box has a beautiful design that just makes me ready for blooming flowers and happier weather. Plus, I'm always a fan of products from companies that are doing their part to give back and do good.
This box, in particular, was a big win for me, because last summer we planted a bunch of new flowers and shrubs in the backyard. It took me forever to research different plans that thrive in our area and get them all arranged in the right places, but then once they were in–I had no idea how to take care of them. This box has great gardening tools I actually really needed and they'll be a big help to me this season when I start to prune and garden again.
What is the Be kind by Ellen Subscription Box?
If you're new to the Be Kind by Ellen box, let me share a little bit about how this subscription box works and what you can expect. If you're just here for the spoilers, keep scrolling and I share everything in the box with you below.
Be Kind is a quarterly subscription box curated by Ellen Degeneres. She chooses 6 products with a purpose and they are delivered 4 times a year. This one is being sold for $54.99. The box has an estimated value of $200 or more. You can cancel anytime and shipping is free in the US.
Also, I love the transparency of this box – you see what you're getting in each box, with no surprises, so you know what you're investing in. If you've ever bought a subscription box because of a couple spoilers that got you excited about, only to find a whole box full of stuff you'd never actually buy (or worse, repeats from items in an earlier box) then you will love the Be Kind box, because every single one has unique items and you always know exactly what you're getting.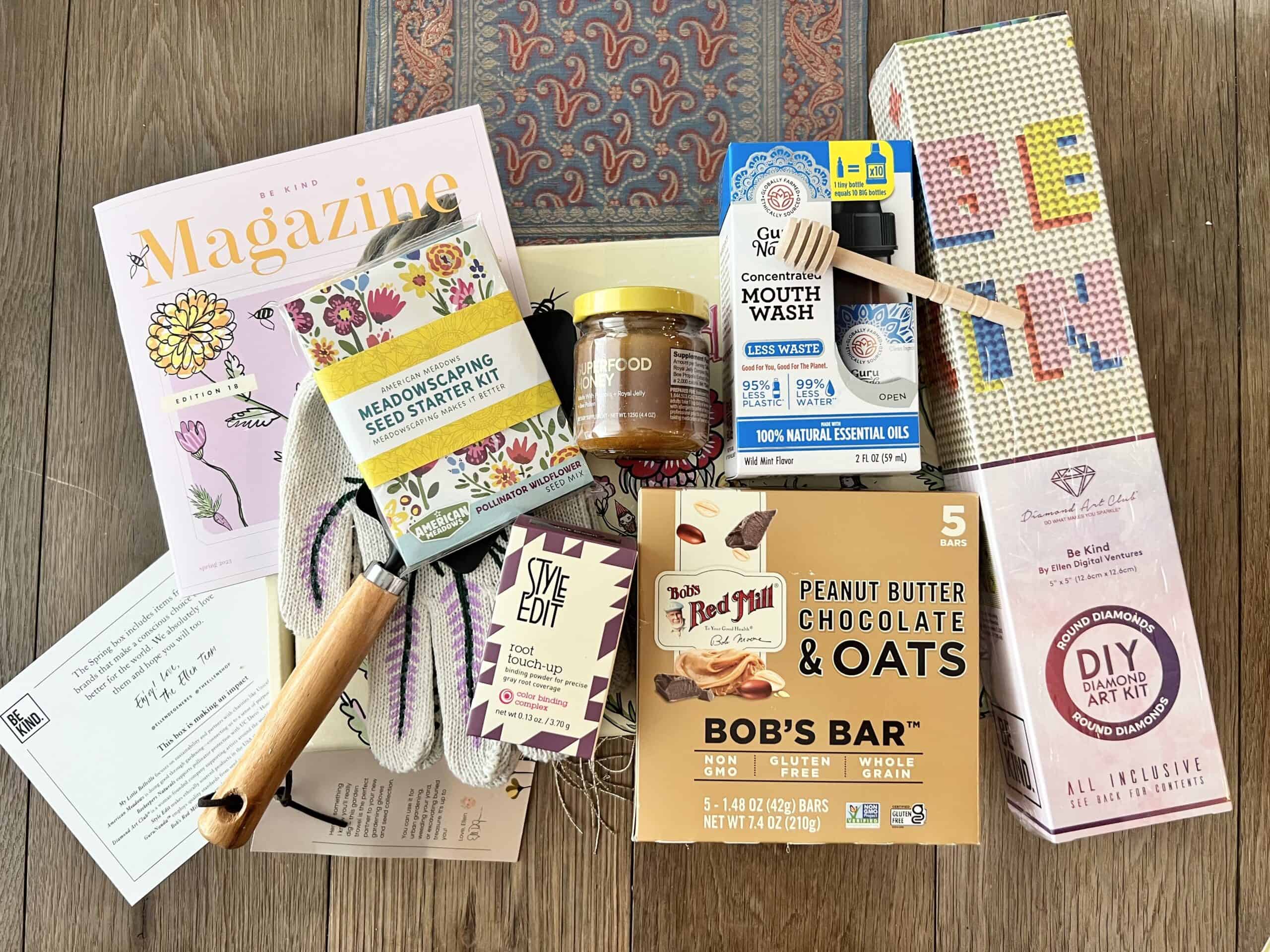 Let's take a look at all of the items in this box! Also, know that the links in this post are affiliate links, which means at no cost to you, I may receive a commission if you make a purchase through my links.
I made an Instagram reel to show you each of the items in the box, so take a peek at this to get insider info and then scroll down for a little more information on each product:
View this post on Instagram
1. Meadowscaping Seed Starter Kit – $14.75
This kit includes 5 pure wildflower seed packets and a guide to get started, plus two of them are exclusive mixes and three are single species. American Meadows believes in transforming the land and becoming a force for good. There are so many health benefits to being surrounded by flowers and nature, plus gardening itself packs a ton of mood and health boosters. So, I'm super excited to plant these this year.
2. My Little Belleville Bumble Bee and Lavender Gardening Gloves – $28
I can tell you what happened when I started pruning last year without gloves on. Yup, it was not fun. Very excited to have these this year from a woman-owned, small business that uses sustainable materials and locally sourced materials with chemical-free inks.
3. "You Dig It" Gardening Trowel – $35
This adorable gardening trowel will be a big help for me this season when I start planting my meadowscaping starter kit. I love the wooden handle, it's comfortable to hold, and the trowel looks well made and solid. Hopefully, it doesn't start bending on me like the one I used last year and had to toss.
4. Beekeeper's Naturals Superfood Honey – $16.99 and $6.95
I'm very familiar with this brand and their products which are medicinal-grade, immune-supporting honey-based products that can improve energy levels, support immune health, and enhance cognitive functions. They also support the leading bee research institutions to help protect pollinators. We love honey here and this one is perfect, especially with the included wooden honey dipper stick.
5. Be Kind Jewel Diamond Painting Kit – $45
I love the little art kits that are often included in these boxes. They are so great for zoning out, putting on some music and just having some me-time. This diamond kit doesn't require any mess or painting, because you just place the diamonds by color on the color coded grid. Diamond Art Club is a woman-founded company that supports artists around the world and ethically source their artwork from a variety of artists and properly license their designs.
6. Style Edit Root Touch-Up Powder – $35.99
This one is hilarious timing, because I've started spacing out my hair appointments more than normal, just because I'm honestly getting tired of the time and cost required to get my touch-ups. Maybe I'm getting older and just am not as worried about it as I used to be, but there are patches where the roots growing out bother me a little (hello gray hair!) so this root touch-up is going to be fun to try. It takes just a few seconds and the powder is supposed to look natural, not chalky or sticky, and should be rain and sweat resistant. Style Edit creates their products in the USA and never uses animal products, byproducts or animal testing.
7. Guru Nanda Concentrated Mouth Wash – $15.99
I don't use mouthwash very often, but someone in my house uses it every day and they use one that has been linked to oral issues down the road. I was very excited to hand this one off to them, because it not only creates less waste and uses less water, but it uses 100% essential oils from plants and flowers to clean and freshen your mouth and breath. One of these bottles equals 300 uses, which is incredible. I'm a big fan of Ayurveda, an ancient healing science in India, and Guru Nanda harnesses that natural power in this product.
8. Bob's Red Mill Peanut Butter and Chocolate Oat Bars – $6
I love Bob's products and use a lot of them at home, so I was excited to see these peanut butter and chocolate oat snack bars. I'm trucking kids around and all over the place and try to eat healthy as often as I can. Sometimes, you just need a snack and these are easy to take in my purse and have on hand for myself and the kids. They taste really good, too, and the ingredient list is short and clean. I also like that Bob's is 100% employee owned, one of 8,000 companies in the US that has achieved that feat.
*****
I loved this box! It was a great collection of products and an incredible value for around $50. If you'd like to check out the box and get more info, you can find it here.
Have you tried the Be Kind by Ellen box?
Have a fabulous day,
E