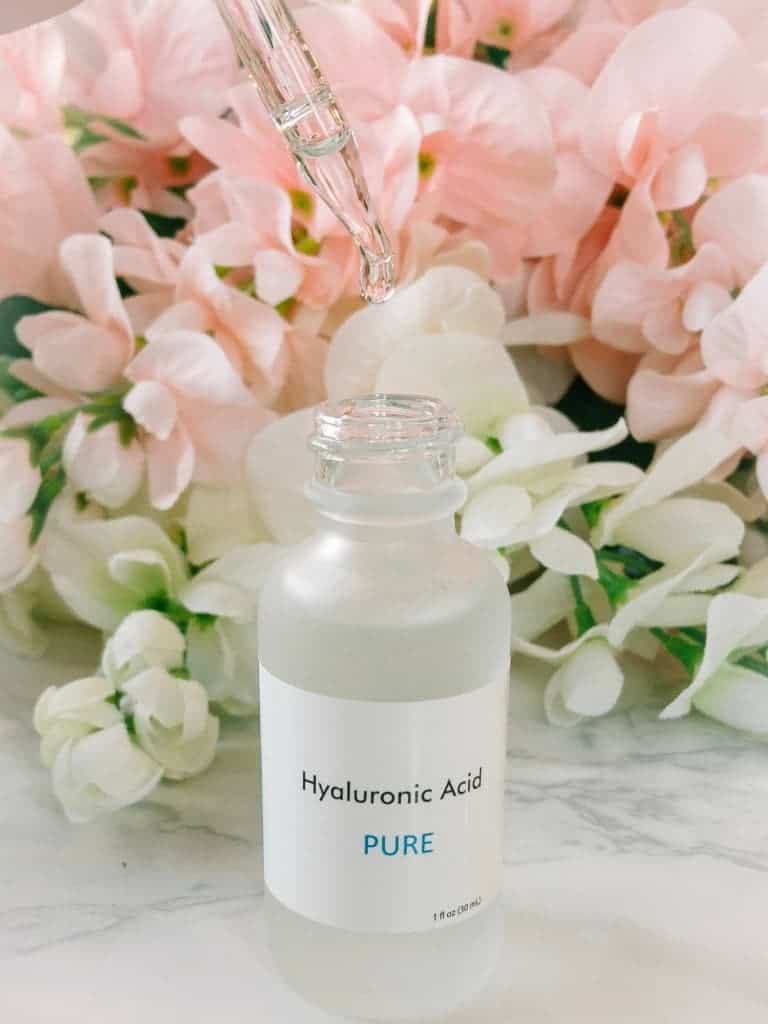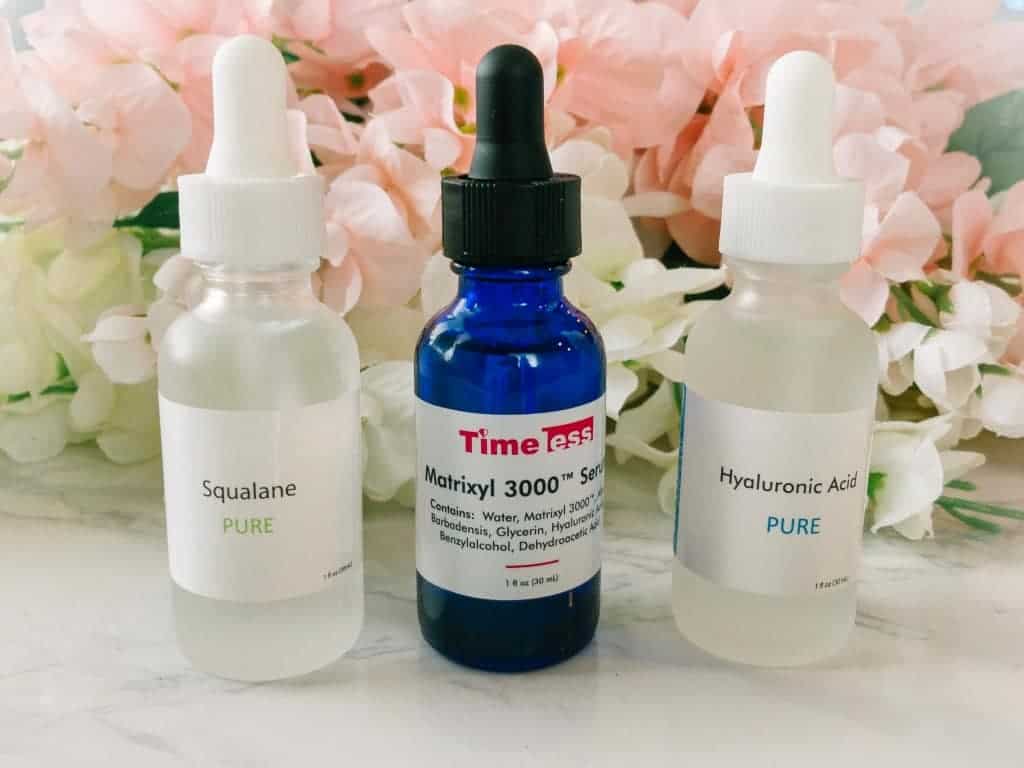 I love trying new skin care products.
I know, I know.
I do it for you 😉
Just call me your skin care guinea pig.
But, skin care can get expensive, yo.
Not only do I need to keep it affordable, but I like my products as clean as I can get them and I also need them TO WORK.
You know what I'm sayin'?
Is it a lot to ask from your skin care?
I don't think so.
One way I have found to do this is to mix a few products to create my own skin care routine.
You can get the same results or better from an affordable cream with some high quality additions as you do an $80 cream with all of those things (and probably a lot of fillers, too) already in it.
I call this my skin care cocktail. And, if you're curious what the right order is to put on you skin care, check out this post where I break it all down for you.
Where To Find Affordable Skin Care that WORKS: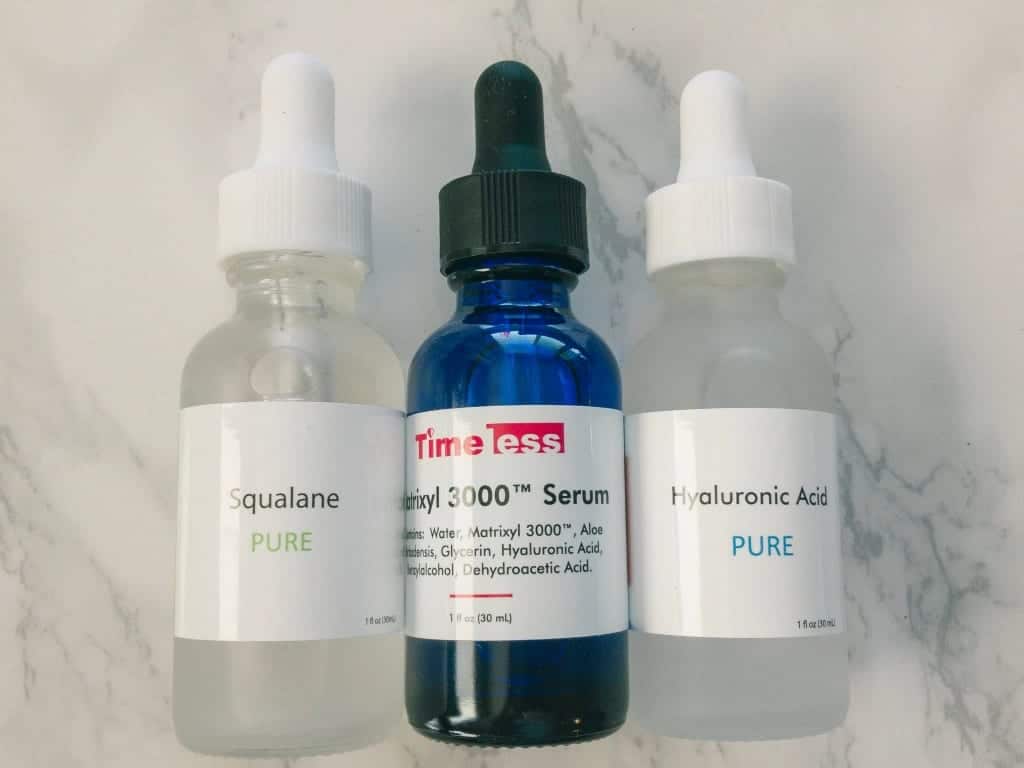 I love finding super affordable, high quality skin care lines that let you have your cake and eat it, too.
So, when I found Timeless Skin Care, which is only available online, I was excited to try it.
Timeless uses a much higher concentration of active ingredients that actually work, in clean formulas, and offers them to you at a super affordable price.
Yes, that's right.
Literally checks all the boxes:
Clean
Effective
Affordable
#BOOM
Wait, What Kind of Active Ingredients?
Y'all know my deep, lasting love for hyaluronic acid. It's such a powerhouse for plumping and hydrating skin.
I've also shared the benefits of products with ingredients like argan oil, vitamin c, rose water, squalane oil and so much more.
But, in a lot of cases, high quality products packed with enough of these ingredients to actually make a difference in your skin are marked way up. Especially if those products are paying huge cuts to big retailers.
That's why I was so excited to find Timeless and share it with you. And, they actually sent me a few products to try for myself – which I always try to do before recommending anything to you.
Seeing is believing, friends.
Let's Talk About Hyaluronic Acid: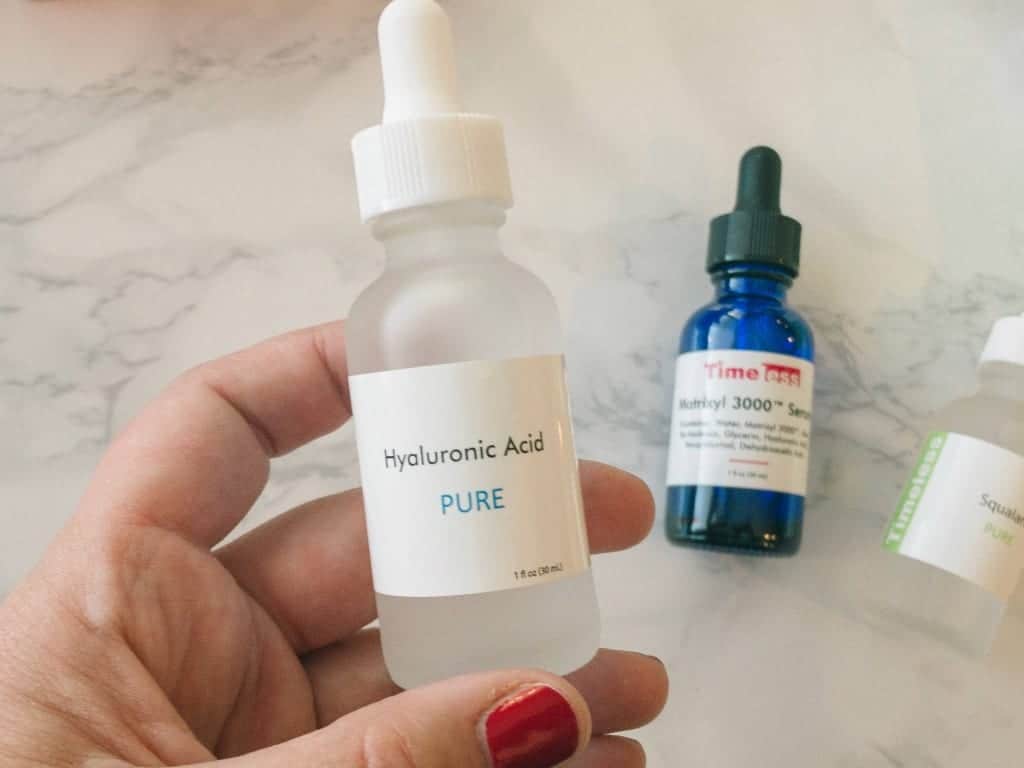 Hyaluronic Acid is having a major moment. Most of the night creams I've been buying have it in them, because I see such great results when I use it.
But, you know what works even better than a moisturizer with a bunch of other ingredients and a little bit of hyaluronic acid?
PURE hyaluronic acid.
I honestly didn't even know you could buy a bottle of pure hyaluronic acid and add it to your moisturizer on your own. But it's a real thing, friend. And it's good.
You can get a generous sized bottle of the best hyaluronic acid serum for under $10.
Then, just put a few drops of this into an affordable, clean day or night lotion and easily, quickly elevate your drugstore lotion into a plumping, moisturizing powerhouse.
#BAM
Super Dry Skin Got You Down?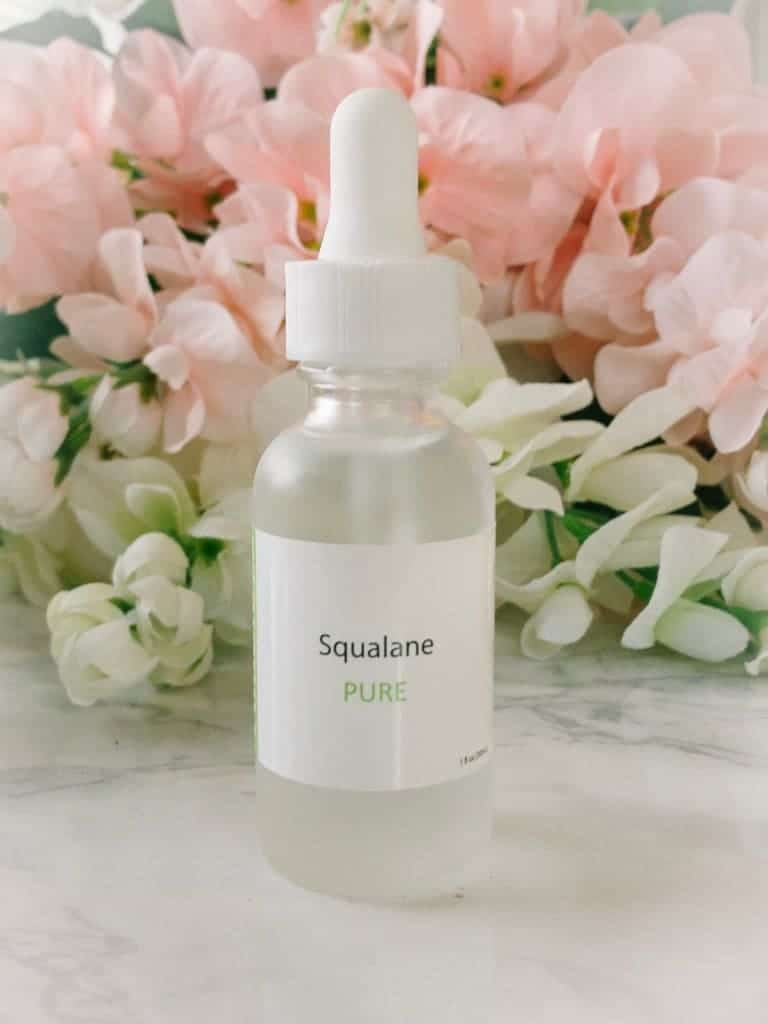 If the cold weather is drying your skin out like crazy (#HOLLA!), you need to up your oil game.
If you're like me, just rubbing oil all over your face is going to make you break out like a hormonal teenager, so you need to fix yourself another little skin care cocktail.
Just add a few drops of the pure squalane oil to your night cream, mix it up, and apply.
No Time for That?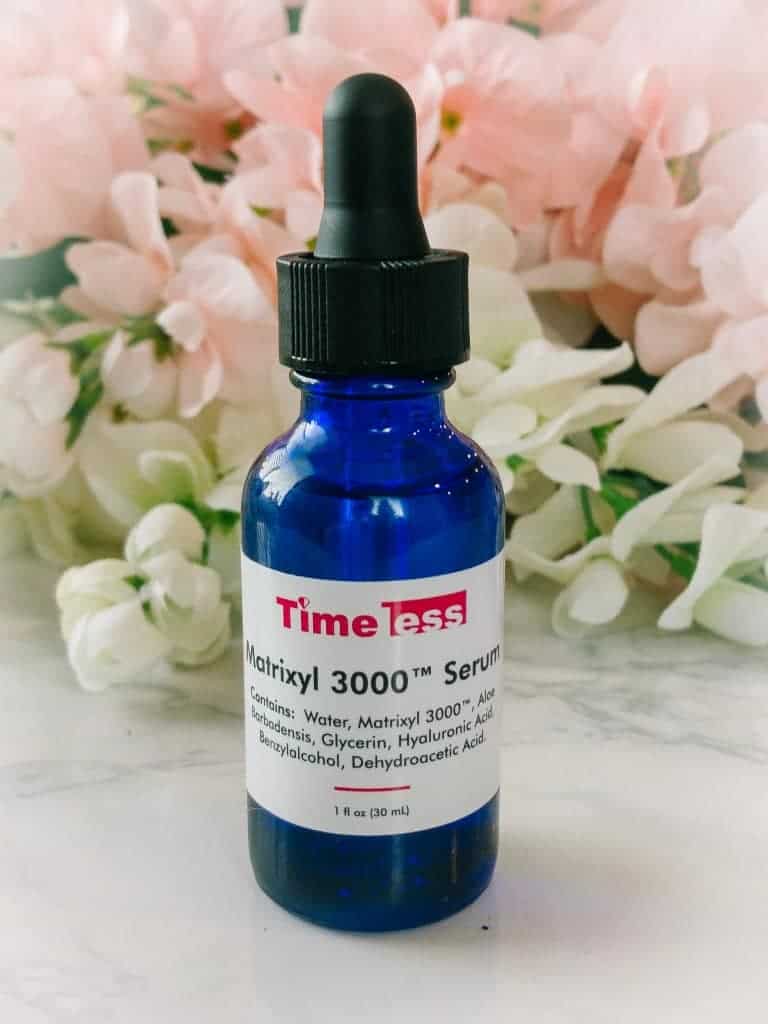 If you're really looking for a fast fix – you need a do-it-all-for-you serum that you can just put on and get results.
But, some of the best serums out there can be close to $100.
Not this one.
The Timeless serum, Matrixyl 3000, has just 7 ingredients designed to powerfully zap fine lines and signs of aging, while hydrating and improving skin texture.
I don't know about you – but I like all those things.
In fact, I dare you to flip over one of your skin are products and count the ingredients in it.
Then, take a look at the ingredient list for this Timeless serum:
Water, Matrixyl 3000™, Aloe Barbadensis, Glycerin, Hyaluronic Acid, Benzylalcohol, Dehydroacetic Acid.
That's it.
And it's under $25.
I'm not even kidding.
A Simple Skin Care Routine: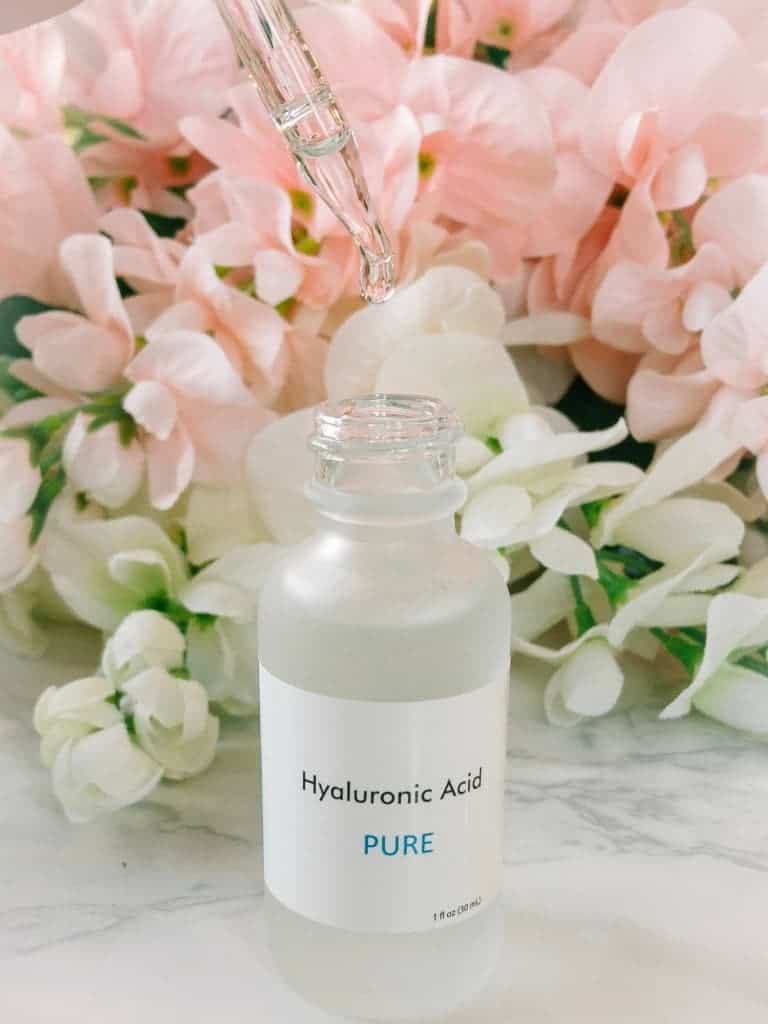 Having great skin shouldn't be too hard. If you're not getting results with what you are using, or you're not happy with the price you are paying, there are incredible options out there that will give you the results you want without the chemicals and hefty price tag.
You can check out Timeless Skin Care here or check out my other clean beauty posts for even more affordable ideas!
Do you have a favorite clean skin care product? Tell us in the comments below!
Have a fabulous day,
E