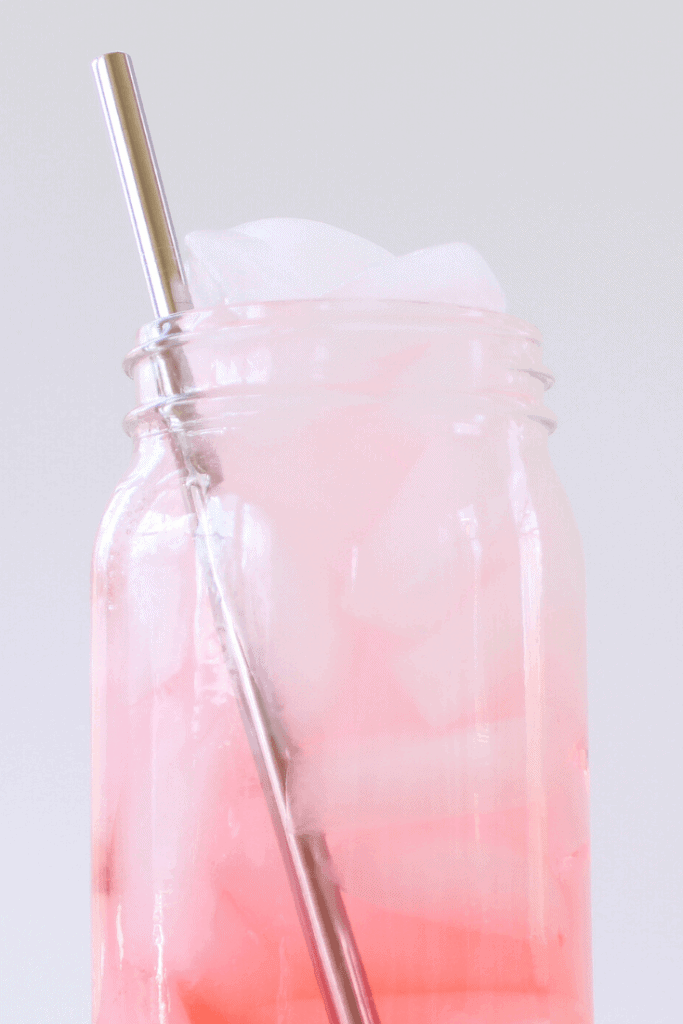 Have you gone down the zero waste rabbithole yet?
Once I started reading about how much trash and money we can save by using zero waste products, I wanted to replace everything disposable in my house right away.
I tend to be an all or nothing kind of person.
But, I learned years ago, when I started transitioning to non-toxic home and beauty products, that small, sustainable changes are easier, more cost effective, and tend to stick over time.
That's why I've been slowly working through our kitchen products to replace disposable things with zero waste items that we actually like more than the disposable ones we used to rely on!
Who knew!
So, let's take a look at the best zero waste products for your kitchen that will save you money, make shopping quicker and easier, and reduce the toxic burden from some disposable products. Also, affiliate links are used. I only recommend products and companies I trust.
My Favorite Zero Waste Products for the Kitchen: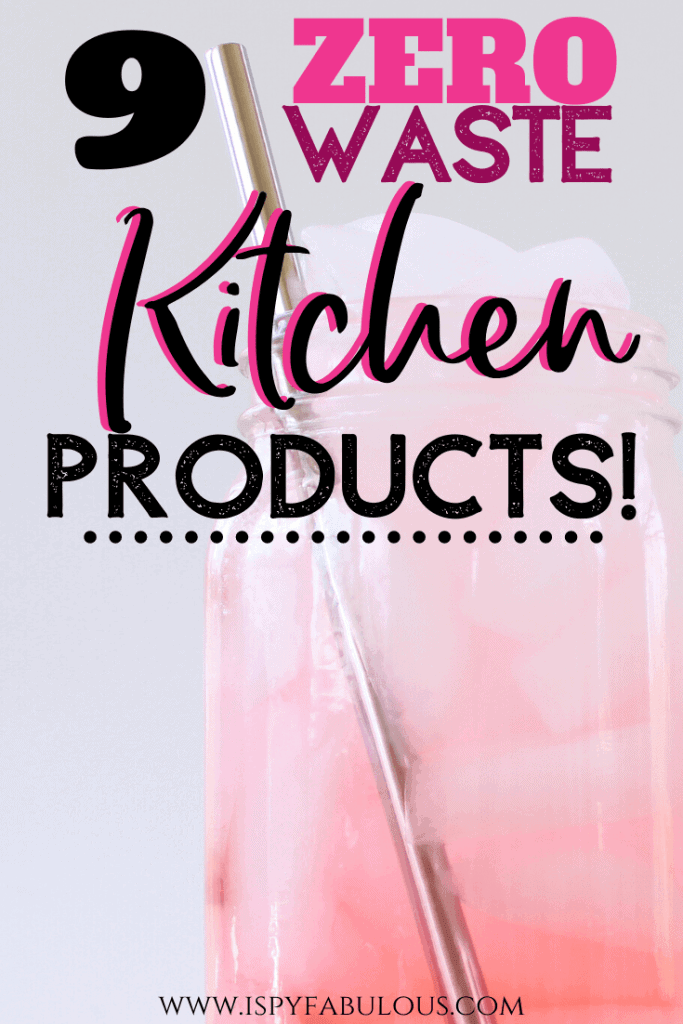 Probably the most used zero waste product in our kitchen are these glass food containers.
They last a really long time and are dishwasher and microwave safe.
Because they are thick and solid, they don't break easily. In fact, we have small kids around and I can't recall a time when one of these has been shattered.
If you think about all the disposable supplies we used to use to store food, it starts to add up:
Cling Wrap: One box is around $3-4
Plastic Food Containers: $20 for a set that might last a little while before getting stained or starting to pick up smells from food.
The cost was around $25 for a system that might last a month or a few months at best, plus there's the potential for the chemicals in plastic to leach into your food.
#NoThanks
A set of glass storage containers that will last much longer, is safer for your food and body, will cost around $25-$50 depending on the set you choose.
#WINNING
There are times when you need to wrap some food and don't want to use a separate glass container. For example, wrapping a sandwich or putting cling wrap over a bowl of food after a meal.
Bee's Wrap is just one of the many brands that now make reusable, food safe wrap that will cling to the top of a bowl or container, or safely wrap food, and then just wipe clean to be used again.
This set of three retails under $20 at the time of posting, and will last months and months.
You'll very quickly get your money's worth if you consider the price of the average cling wrap.
While Bee's Wrap is the brand I started using, there are lots of different brands you can find on Amazon and they have a lot of cute patterns.
I find I stick with something if it's cute.
#JustSayin'
I've tried a few types of these before finding the ones that we like.
The first ones had a fabric exterior and took too long to dry. The second set had these plastic sliders that went across the top that were just a pain to clean and keep track of (and use!).
We needed something that was easy to clean, didn't leak or get gross, and were easy enough for even our kids to use.
That's when we found these and now we love them.
They are made out of a 100% eco-friendly PEVA material that is PVC free.
It may sound ridiculous to buy reusable snack bags, but here's why we made the switch:
Price: A single box of ziploc bags costs around $7-8
Decompose: Plastic bags can take up to 1,000 years to decompose!
Pollution: Plastic pollution is a serious issue. Reducing our plastic use is one way we can help!
Chemicals: I don't want plastic anywhere near our food whenever I can help it!
So, for us, the small task of rinsing out a snack bag here and there is no big deal. You'll find you use them less anyway when you have glass storage containers and the next item on this list…
We love our bento boxes! There are a lot of different options in various price points, so you can find what works for you.
For us, we only need them for the kids
and so we looked for something leakproof, with multiple compartments, that was easy to use for kids.
The straight stainless steel bento boxes are more affordable and are fantastic for teens and adults, too.

What I love about these is that they keep the food fresh, they won't spill or make a mess in their bags, and if you refrigerate them all night, they'll keep the food pretty cold for awhile.
Also, they clean easily and last a really long time.
These are a great invention. Rather than putting your fresh produce in plastic bags that are single use and just go in the garbage (and then sit in landfills), you can grab this reusable set of produce bags one time and it'll last a long time.
They are double-stitched for strength and won't increase the price of your product.
Plus, with 9 bags and a lifetime warranty, you won't have to worry about having to replace them again and again.
6. Reusable, Refillable Cleaning Products:
I've been using reusable, refillable cleaning products for years. I started with Honest Co. and then moved to Branch Basics, both great companies.
But, my absolute favorite one is the new refillable cleaning products by Grove Collaborative.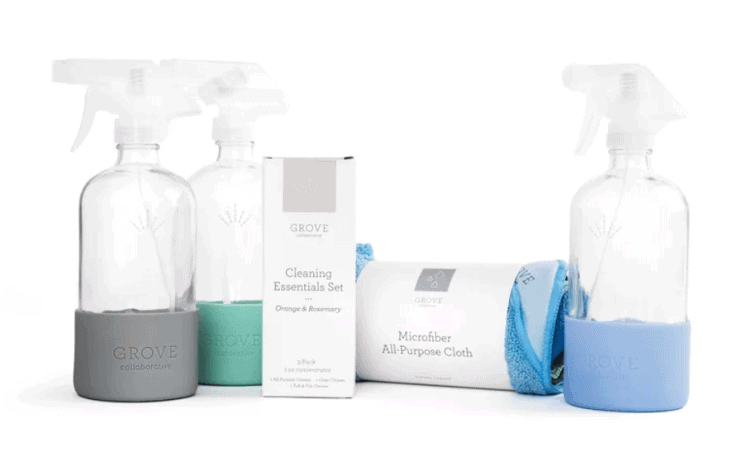 The super thick glass bottles come with a silicone sleeve so they don't tip over, slip on wet surfaces or break easily.
The cleaning solutions are fragranced only with essential oils and work really well.
Plus, they have the coolest laundry detergent dispenser that is refillable with a laundry detergent refill that uses 60% less plastic than a typical laundry detergent bottle. Plus, they'll send you a free shipping label to ship the empty package back to them, so they can reuse or recycle it for you. YAS.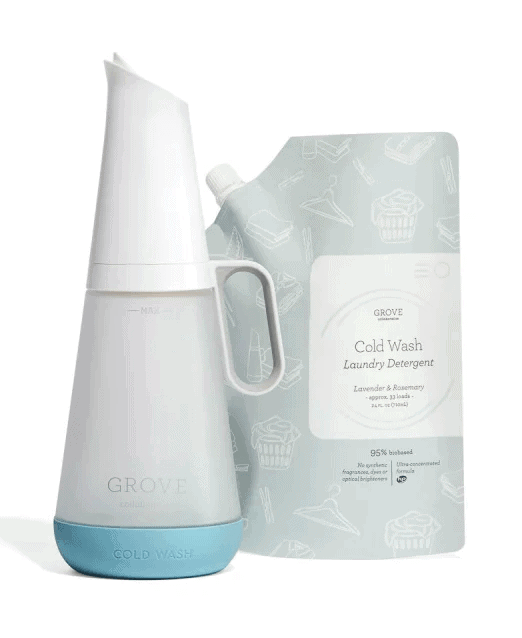 The fact that I can get all of these refills from the same place makes it my favorite by far.
And, I LOVE that the laundry dispenser has a valve that dispenses just the right amount. I am definitely a heavy pourer when it comes to laundry, so I absolutely feel this helps it last longer.
Grove has a subscription service that you can customize to the time frame and dates you need. You can shop products for home, kids, pets, skin care, vitamins, first aid, and so much more. And, they also regularly add free gifts to your orders, because they're cool like that.
Shop Grove today and receive a 5-piece Rooted & Grove Collaborative gift set for FREE with your 1st purchase of $20+.
Big fan of free.
7. Reusable Grocery Bags:
Our town went BYOB pretty early on in the movement. At first, I'll admit, I was annoyed, because we used all those bags to line small trash cans and other things.
But, as I learned more about why this was happening, I got fully on board and started having some fun grabbing reusable grocery bags!
There are so many fun prints and designs you can get that will make the BYOB experience more fun for you.
From larger, collapsible reusable bags like this:


To smaller bags that can be easily packed:
And then, check this one out. If you have a small car or just like to live minimalistically, you can grab this bag podz which packs 10 reusable bags inside that each hold up to 50lbs!


I think this would be a brilliant gift idea for a mom who already carries a diaper bag to a store or a college kid who needs to keep things as small as possible! Adorable!
8. Reusable Straws:
There are several kinds of reusable straws now that make it easy to have your straw without adding to the straw epidemic in landfills.
I tried bamboo and didn't care for the taste, so I generally stick with stainless steel, glass, or the BPA free straws that come with some of the reusable cups I buy.
Here are some of my favorites:
Stainless Steel Straw Set:

Personally, this is my preference. I like that the stainless steel straws get nice and cold when I drink iced coffee.
This comes in 4 colors, too. Adorbs.
I have had people tell me that they don't like using this kind without the silicone tips, because they occasionally jam the roof of their mouth with them.
This has literally never happened to me, but if you're concerned about it, here are more options.
Silicone Straw Set:
Nice and soft, high quality silicone, and cute colors, too!
Soft enough for kids.
Reusable Glass Straw Set:
I like glass, too. I don't let my kids use them. It's unlikely they could bite through it, but you know, just in case.
Collapsible Reusable Straws:
Want to take your favorite straw on the go? These collapsible straws are perfect for diaper bags, traveling, sticking in a pocket or a small purse, leaving in your car – you get the idea.
And, makes a great small gift for smaller holidays or stockings. Comes in a ton of colors.


I know most of us are using reusable water bottles by now, but since plastic, disposable water bottles are still big business – I feel it's worth mentioning.
A single plastic water bottle can take 450-1000 years to decompose.
That's kind of terrifying when you see all those cases of water at the store.
So, whenever possible, use a reusable water container. You'll get the added benefit of temperature control, saving money on disposable products, and also reducing any potential chemicals from going into your water. Here is my favorite reusable water bottle: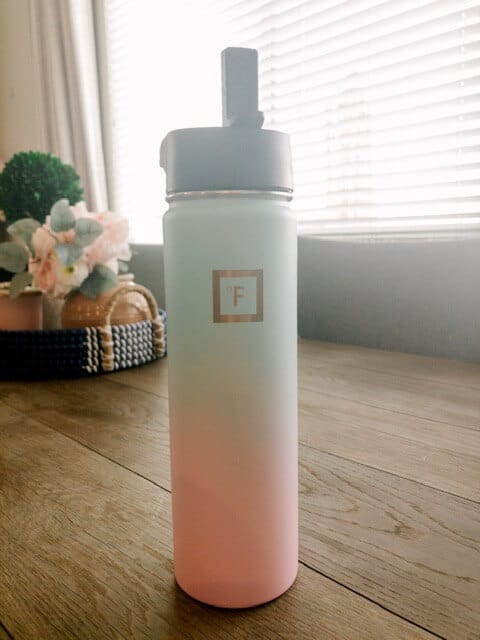 This is the 22oz. Iron Flask in cotton candy – my fave. Highly recommend. I use these for everything from smoothies to iced coffee, too, so think beyond just using them for water. They come with three lids, so you have all the options without having to pick and choose which kind you want. Plus, there are lots of sizes, colors and designs. You can learn more about what makes the Iron Flask different here.
#YAS
The Benefits of Zero Waste Kitchen Products:
It might seem obvious, but there are several key benefits to switching over from single use or disposable products to zero waste items.
Cost: With single use, you'll initially spend less, but over time, you will spend way more than if you bought something that you could use over and over again.
Chemicals: Many disposable products are using materials like tin foil, plastic, chemically treated paper, and more, to create those super affordable, easy to throw away materials. That means a percentage of those toxins are going into our bodies, either through leaching into the foods we use them with or through our skin. We have learned over the years that we do absorb more from what our skin comes in contact than we thought even a few decades ago. The percentage does fluctuate based on what the product is, but in my opinion, any contact with chemicals is too much. I already have 2 autoimmune diseases diagnosis, I don't need any more!
Landfills: What is easy to throw away for us does not mean it is quick to decompose in a landfill. Something like a hair spray bottle can take 200-500 years to decompose! Check out this quick post on how long everyday items take to decompose.
I know for me, I see those things in the garbage going to the landfill and I think, "That will become my kids and grandkids problem."
I work too hard to give them the best possible life and future – so I see switching to zero waste products as another way that I can protect their future, too.
Going Zero Waste:
If you are interested in learning more about transitioning from disposable to zero waste products, stay tuned! I want to write more posts about the ways that I incorporate zero waste ideas in other areas of our home and I'll take you along for the ride!
Now, if you're ordering online and thinking about all the waste that comes from packages and the packaging of products, just try to recycle what you can and give away boxes and packaging to someone who is moving or can use it. We just try out best to make changes and accept that progress is more important than perfection.
For the kitchen enthusiast, you might also love my post on the 22 kitchen must-have items (great for registry lists!) and the 5 best meal box kits for families!
Or, if you want to check the safety of your beauty and home products, read my post on how to check ingredients on the EWG site.
Have a fabulous day,
E