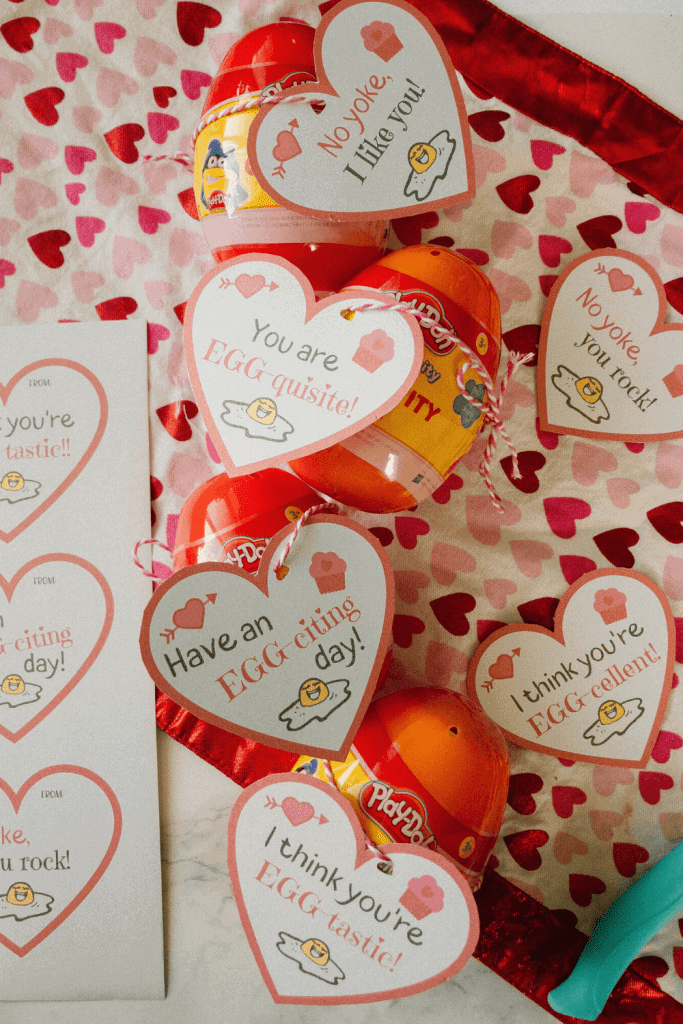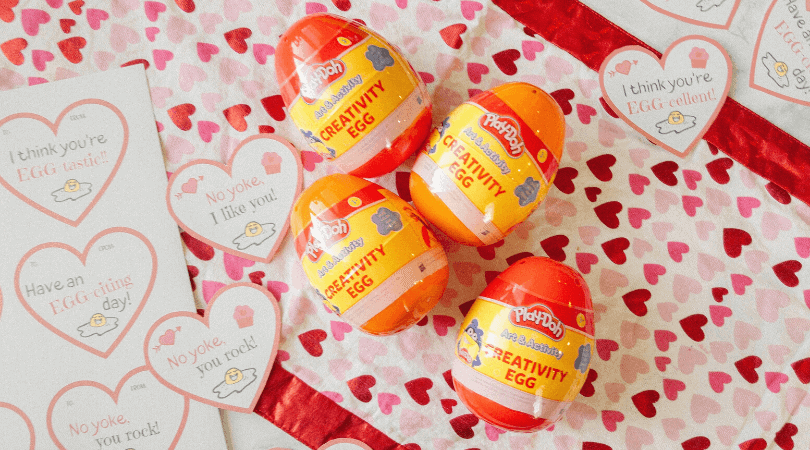 Before we dive into this easy DIY for adorable, play-doh egg themed Valentines, I just want to say one thing: I never set out to be the mom that makes their kids' Valentines.
If you knew me outside the blog, you'd know that while I am creative, I am not particularly crafty.
But, my son has a slight obsession with Easter and Easter egg hunts at the moment, so when we talked over Valentine ideas, he just kept saying he wanted to do eggs.
It's possible he's confusing Valentine's Day and Easter.
Easy Egg-Themed DIY Valentines for Kids: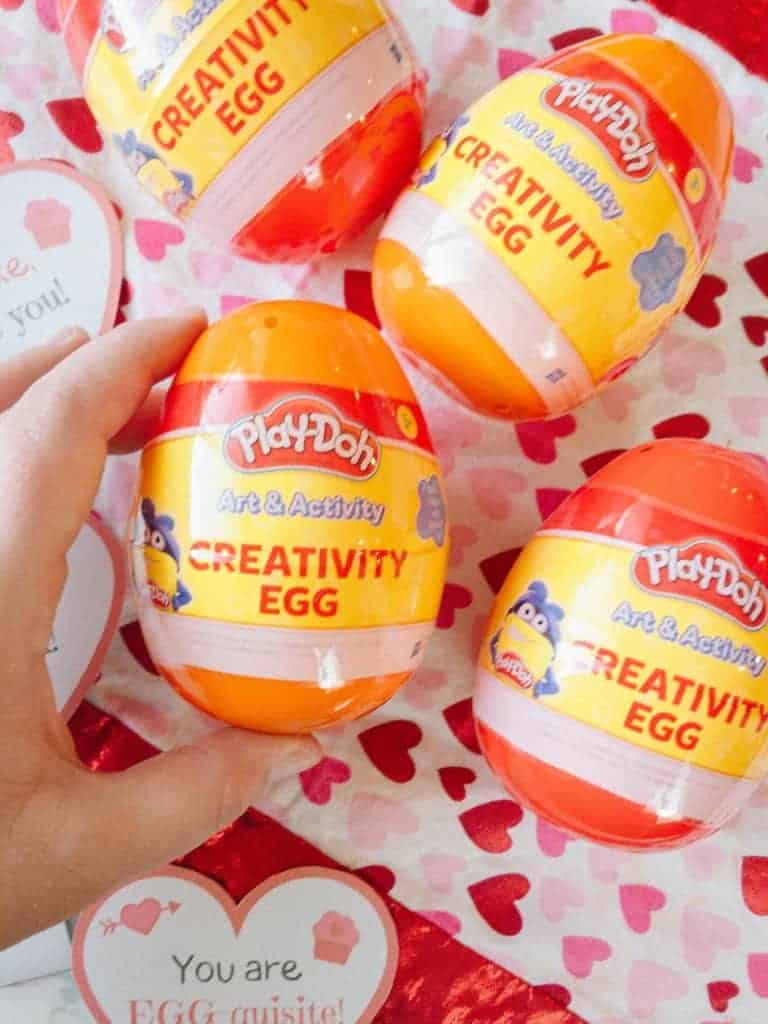 When we saw these Play-doh activity eggs, he got so excited – I figured I could make it work.
And, for the record, Play-Doh did NOT sponsor this post – I really bought these with my own money.
But, Play-Doh, if you're reading this –
So, let's talk about this super duper easy homemade Valentine option your egg-obsessed kid might love, too.
How To Make These Valentines for Kids: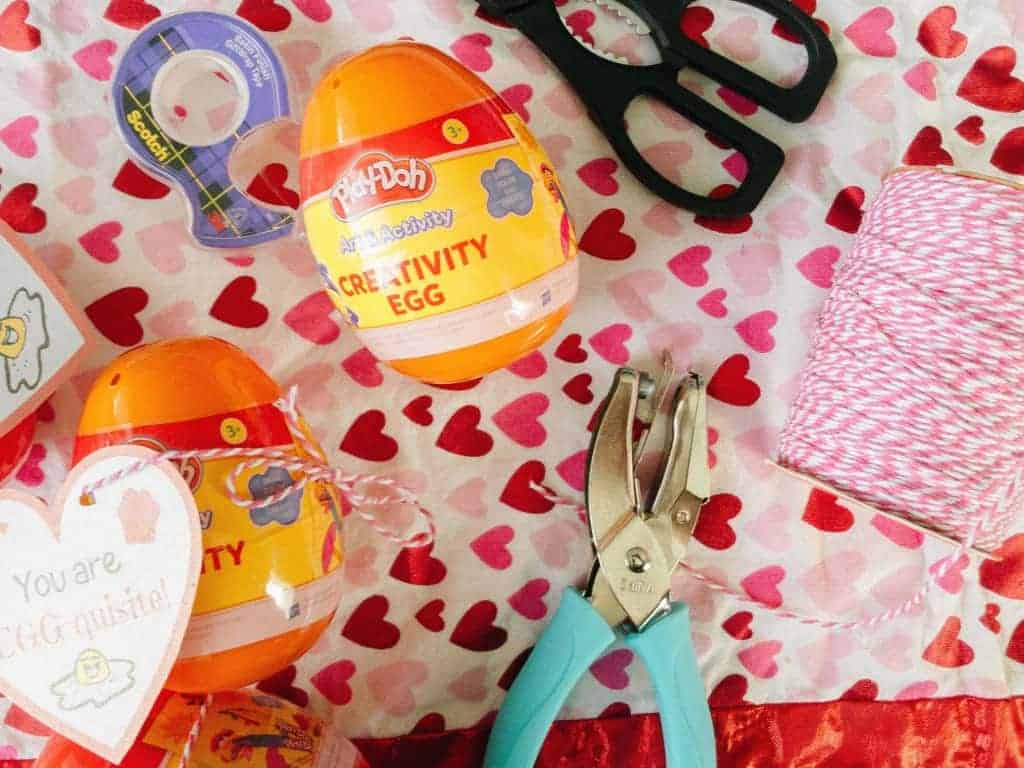 It's super simple. This is what you need. You probably have most of it at home. Some of these are affiliate links for products I used and recommend:
I used a shimmery cardstock for the hearts that I just love. I have used it for quite a few things since buying it and it's been fun to use.
Then, you need some kind of regular sized hole punch. I actually didn't have one, so when I saw this cute heart-shaped hole punch, I thought it would be perfect for the day of love.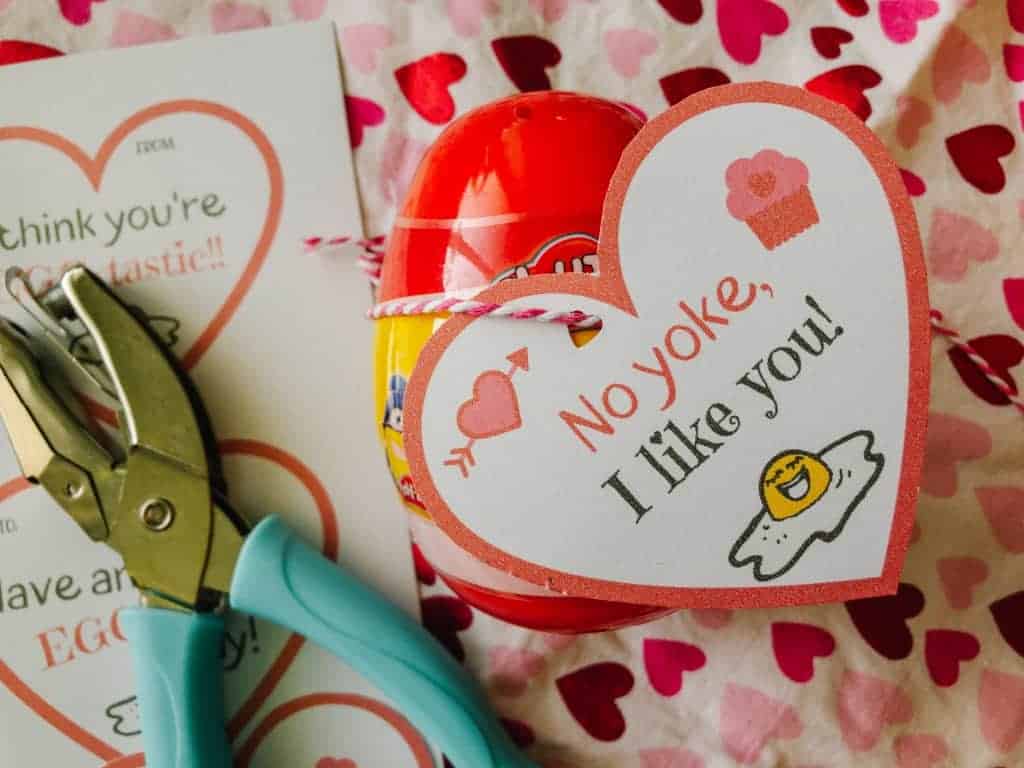 Then, just print the free printables here and get to work.
Cut out the hearts
Punch a hole for the string
Tie it around the egg and voila!
You just made your own valentines, people.
I did have to tape the string down on the sides to keep it from falling off the egg.
Not a big deal.
Free Heart-Shaped Valentines Printable: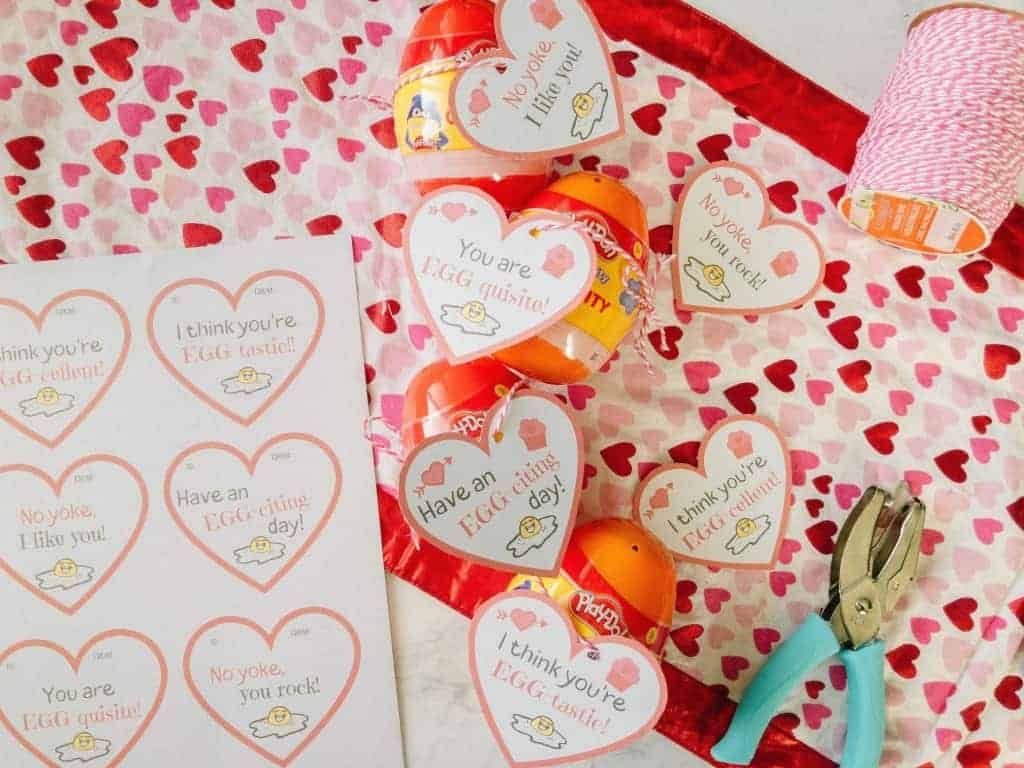 I made two versions of these, one with room to write "To" and "From", if you're into that sort of thing.
My son's class just dumps them in bags without really knowing who they are for, so it isn't important.
For the version without names, I filled the space with some pictures like a heart and a cupcake.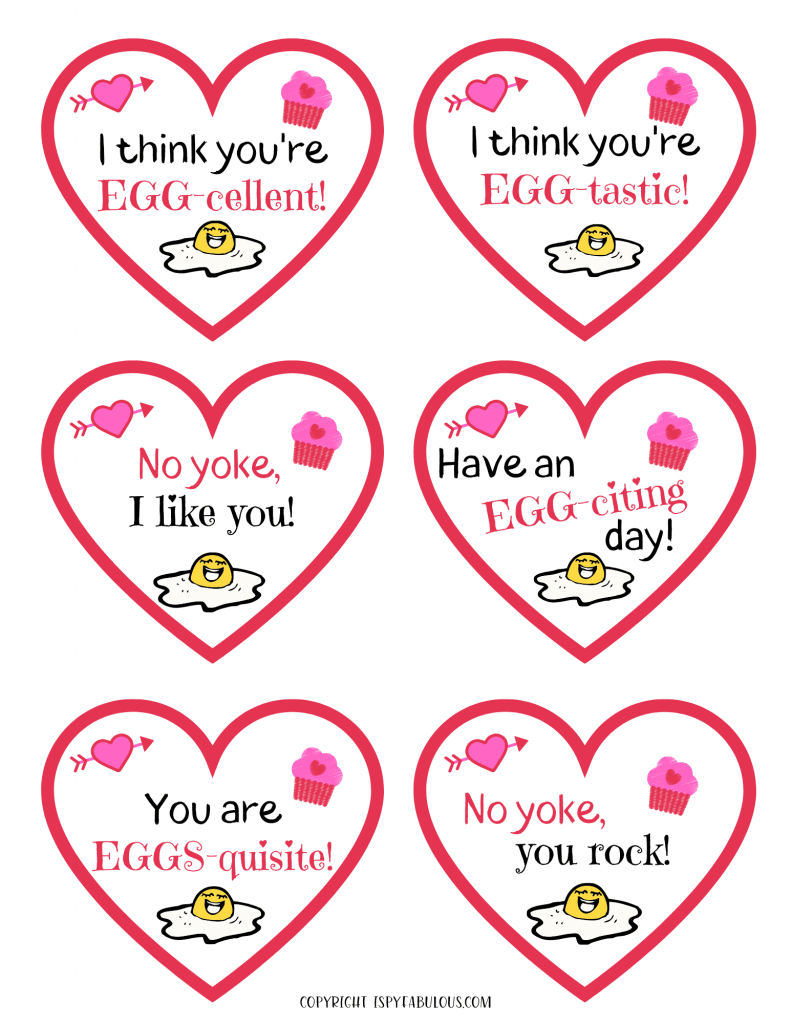 Great. Now I want a cupcake.
More Free Valentine's Day Printables: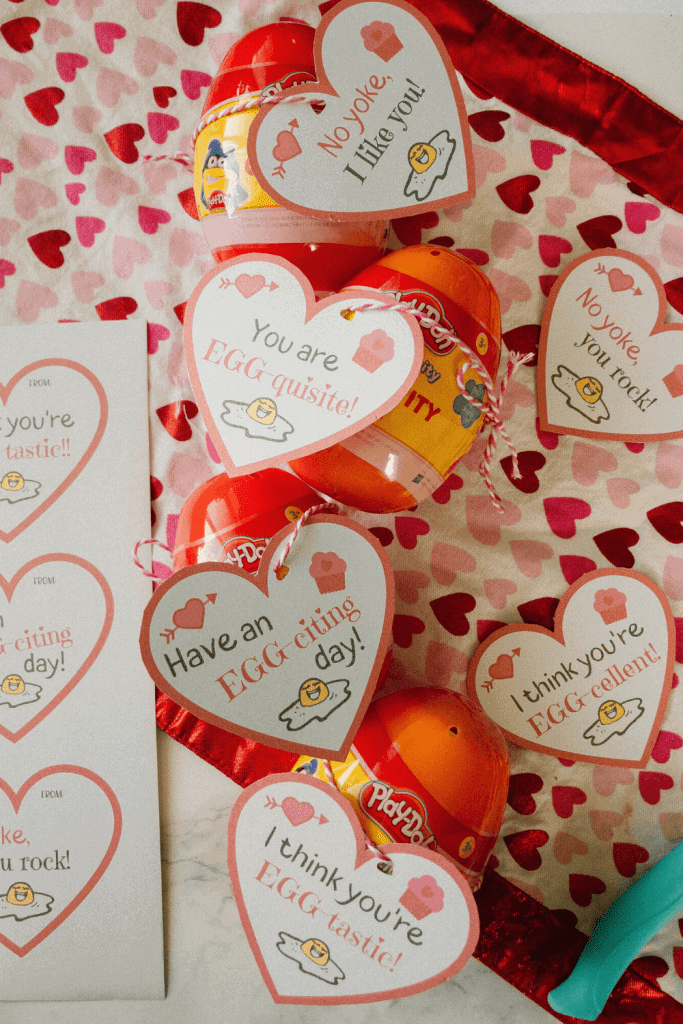 There's a lot more free printable fun around here, if you're interested.
I have 2 different printables that you can download for free, a Valentine's Day Word Search and a really cute 24-Day Valentine's Kindness Countdown, with daily acts of kindness kids can do on their own.
Also, I wrote a post that rounded up 18 different free Valentine's Day games, coloring pages, worksheets, activities and more that are great for home or to use in a classroom.
So, check them out. Print all the free things. Go live your best life this Valentine's Day and enjoy.
Have a fabulous day,
E