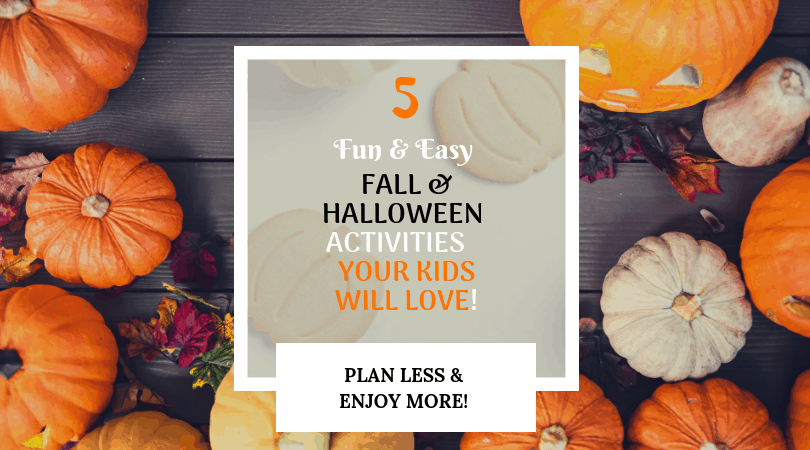 Growing up, Halloween wasn't a big thing for my family. We might make an appearance at a Harvest Festival or something, but that was really it.
Then, I married a guy who's actual birthday is Halloween. Seriously.
So, you best believe that we are all about fall & Halloween in this house. Plus, he does so much for us, that he's an easy guy to want to celebrate.
That's why I want to share our top 5 kid and parent approved fall & Halloween traditions with you. Maybe these holiday hacks will give you some new ideas, or revive old forgotten ones, so you can have a less stressed and more blessed start to the holiday season.
1. Pumpkin Painting: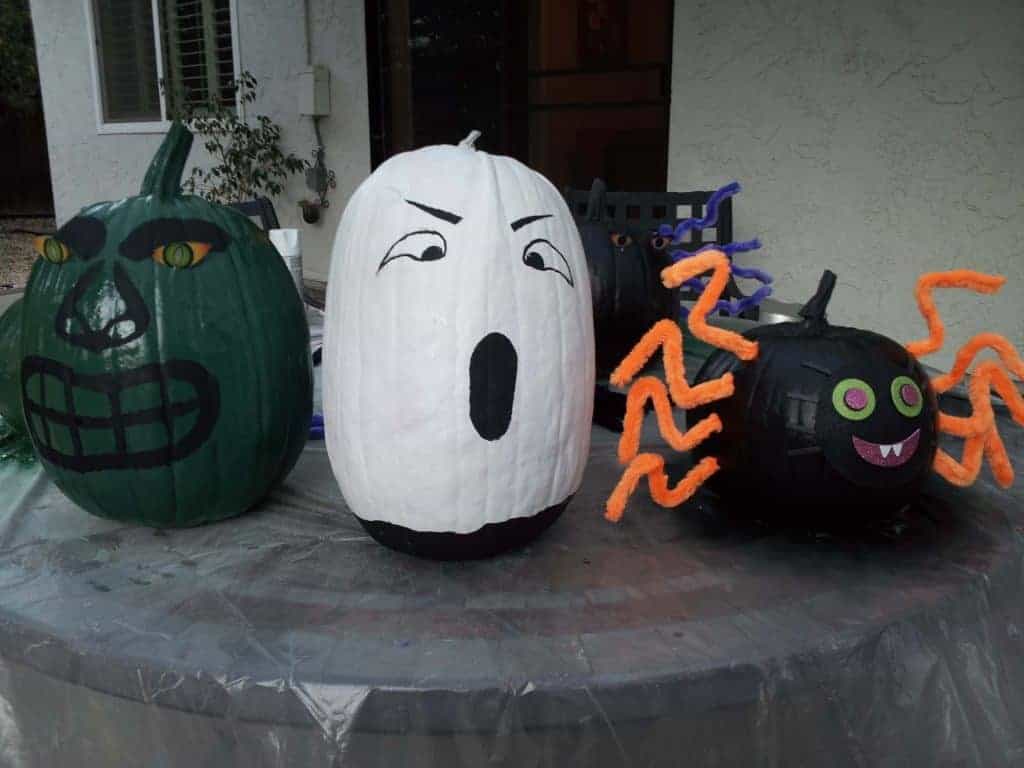 The last time I carved a pumpkin was 7 years ago.
Even though we didn't have kids yet, we decided to buy that cute little "child safety carving kit" – you know – just to be safe.
And trying to carve my masterpiece- I slipped and that mofo carved MY HAND instead.
Lesson learned.
Now, we enjoy pumpkin painting – which, I have to tell you, I like better anyway. There are so many adorable kits you can buy to give you inspiration, too. Here are some to get you started.
Or, you can dig out whatever paints you already have and go to town! One of my favorite bloggers, A Thoughtful Place, wrote a how-to for painting a plaid pumpkin. *SWOON*.
Plus, I've noticed this year that pumpkin painting is all the rage – and with one quick search on Pinterest, you can find dozens of adorable tutorials on how to glam up your pumpkins. Personally, I'm not sure that I want to spend hours hot gluing sequins to a pumpkin that is going to die in a week, but hey – you do you, booboo.
2. Pumpkin Patch Trips: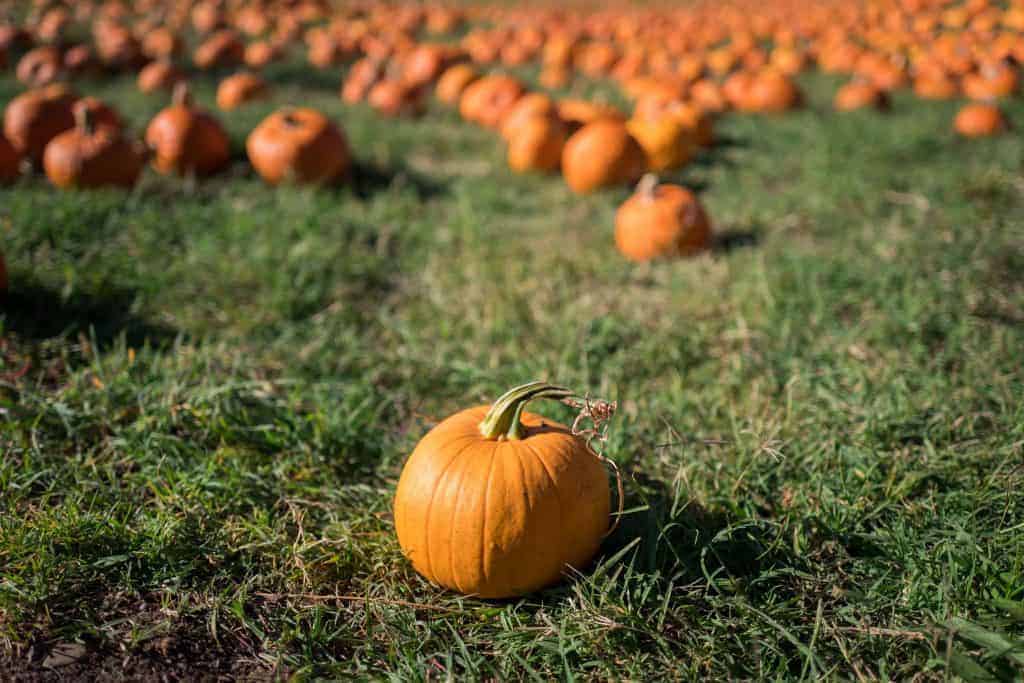 Pumpkin patches are thriving this time of year. But, I'm not talking about the little corners of the parking lot that existed when I was a kid. Pumpkin patches have come a long way, baby.
A quick Google search and you'll probably be able to find a really cool pumpkin patch within driving distance. These pumpkin patches have train rides, corn mazes, pumpkin blasters, carousels, photo opportunities, booths with locally sourced treats and snacks, playgrounds, and more.
So, basically, just cash out you retirement and get ready to have the BEST. DAY. EVER.
Just try not to go on the weekend. Unless you're in to that sort of thing.
3. Apple Picking: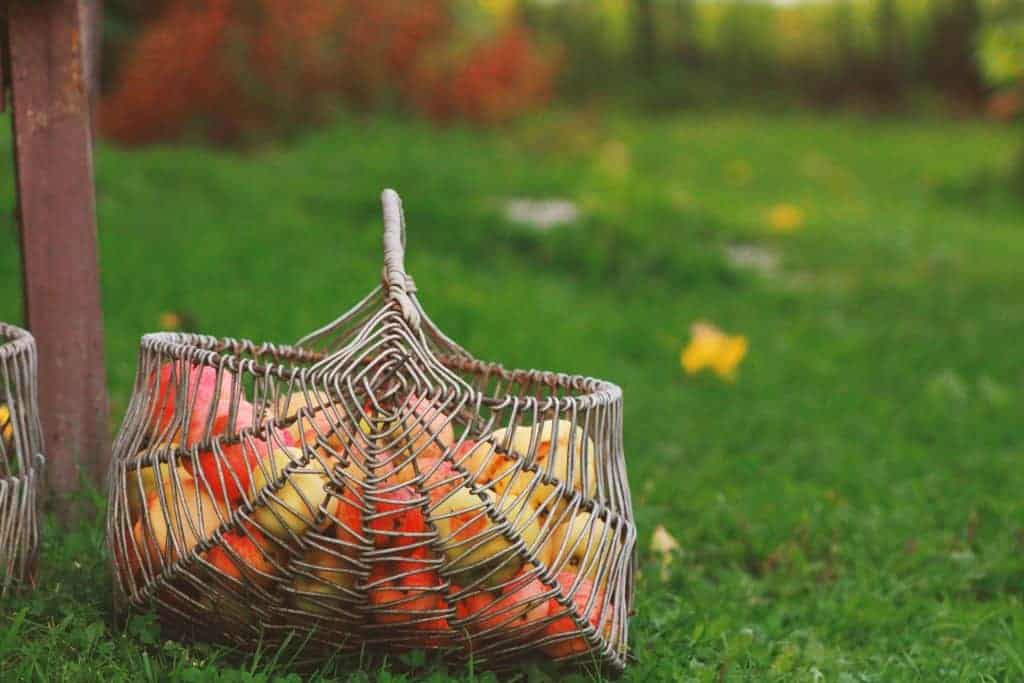 If pumpkins aren't for you, consider finding an apple farm nearby.
Apple farms are also at their peek this time of year. They are surprisingly enjoyable, too. Trees are blooming, apples are crisp and delicious, and if it moves you, you can skip happily amongst the rows of apple trees like little red riding hood.
For a small fee – you and your children can take your bushels of apples home and enjoy them in a variety of different recipes, from apple butter, apple pie, apple crisp, applesauce, and everything else apple your little heart desires. My kids love homemade applesauce and it's surprisingly easy to make (trust me, if I'm making it – it's easy.)
Plus, if you are close enough to a really cool apple farm, they'll offer all sorts of apple-themed snacks *some of them alcoholic, just sayin'* and will also have activities, playgrounds, booths, and other types of entertainment.
It's ALL. DAY. APPLE. FUN.
And there won't be a pumpkin in sight.
4. Fall & Halloween Themed Crafts:
Former teacher in the HOUSE. I'm always looking for ways to inject fun, structured, learning activities into our lives. I know, I know, I'm a hoot.
Seriously, though, kids love them, and if you grab a few fun craft kits at your nearest Michaels, or online at www.michaels.com/seasonal/halloween, you can score a few different sets that will last you until well after Halloween.
Their Creatology line offers these adorable little foam crafts, themed to holidays throughout the year, and with Michael's constant coupons and discounts, I usually can get 4 or more of these for $20 or less. Sometimes, way less. I do this around other holidays during the year, too, because it's so nice to be able to reach into a cabinet and pull out a little craft that has everything you need ready to go. It'll entertain your kids for awhile and create some little decorations for the season. They're typically very low mess, kid-safe for toddler and up, and pretty self-explanatory.
Cheap. Easy. Kid-Approved. Everybody's Happy.
As Michael Scott would say, "WIN. WIN. WIN. WIN."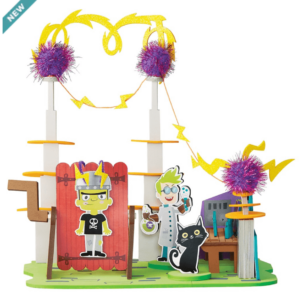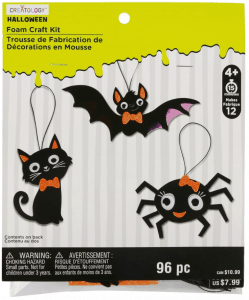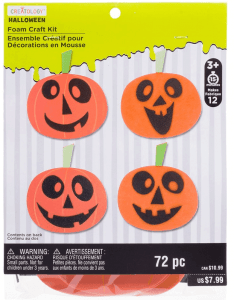 5. Themed Food:
I'll just be frank – I'm no chef. I won't be writing a blog anytime soon on my culinary prowess.
So, if I'm telling you a recipe is easy – it means your child could probably make it. Without help.
You'd be surprised how much they love to cook when the recipe is themed, too.
That's why I try to incorporate some of these cooking activities around the holidays. But, we are talking about taking things you are already making and just giving them a little dash of something fun to infuse the holiday spirit.
Mummy dogs. Spider cinnamon rolls. Dirt pudding. You get the idea here?
Here are some fun sites to get you started with very easy, kid-friendly recipes:
1. Pillsbury Halloween Recipes
2. Food Network Halloween Kids Recipes
3. Parent.com Halloween Recipes for kids
4. The Novice Chef Blog Halloween Recipes – This blogger is really inventive and uses normal, easy-to-find ingredients to create delicious, festive treats. She also has small children – so you know it's a win in that department.
****
So, there you have it. 5 easy, kid-approved, Fall & Halloween activities that you can incorporate into your traditions! Use what works for you and your kids and your lifestyle. This is a no pressure situation. The holidays are supposed to be fun.
But, if you try one, let me know how it goes. Or, share one of your family favorites in the comments below!
Have a fabulous day,
E