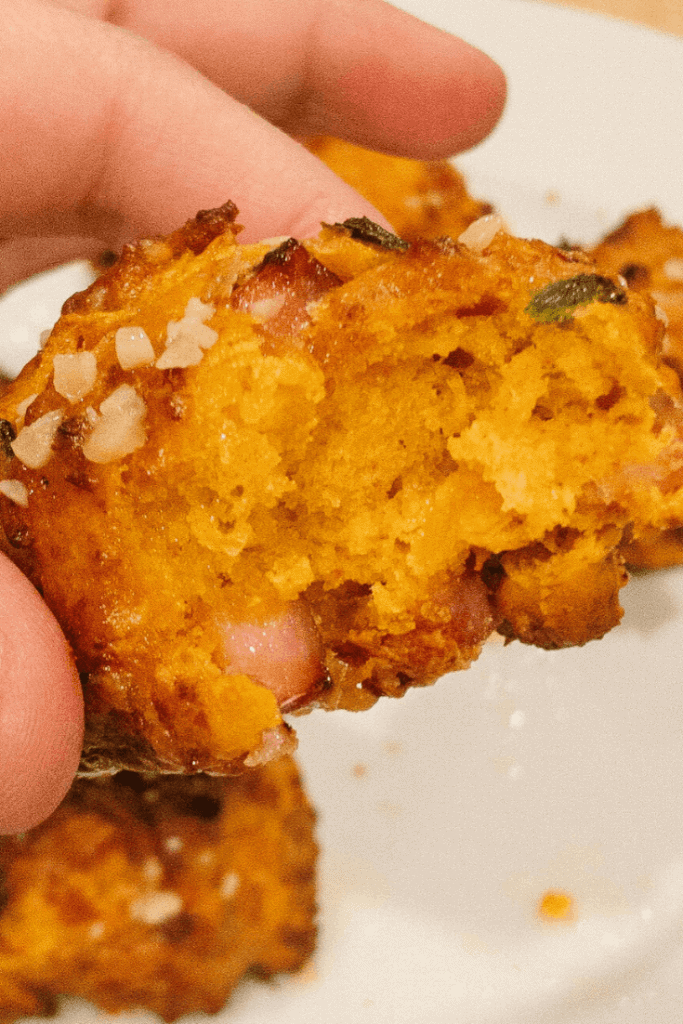 Affiliate links are used in this post. This means I'll receive a small commission at no cost to you.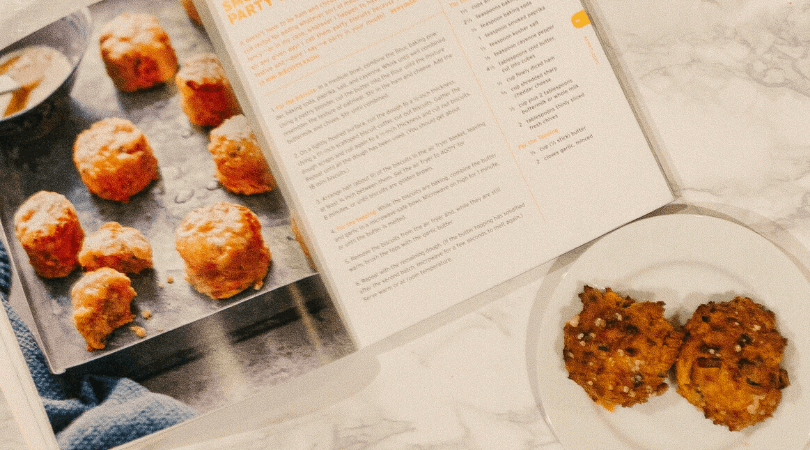 A year ago, I bought my guy this fancy air fryer.
He's used it exactly one time. To make french fries.
Since he's the better cook in the house, I thought he would love the ease and speed of an air frier.
Turns out, neither of us had a clue how to use it.
So, when I had the opportunity to try out this new cookbook with all air fryer recipes, I was so excited.
And the first thing we were going to make was not going to be french fries.
Here's the fancy air fryer we bought. But, it's no longer available, so I've switched out the links to one of the most highly rated Ninja Air Fryer's on the market. We have several Ninja products we love and fully endorse, so I feel very comfortable recommending the Ninja Air Fryer!
An air fryer offers a number of great benefits, such as:
Low-fat cooking, since you won't need things like cooking oils and butter
Easy clean-up
Hot air circulation cooks food 360 degrees, eliminating the need for cooking oils or having to flip food
Cooks very quickly
So, if you were to pan fry or bake something, you could get a quicker, healthier version in the air fryer.
The downside is that you can only do one at a time in the fryer and it holds less than a baking sheet, so if you need large quantities of food done at the same time, you wouldn't want to exclusively use the air fryer.
But, it is a great way to make a side dish while you cook the other food or to prepare some appetizers for a party.
Ham & Cheese Biscuits in the Air Fryer: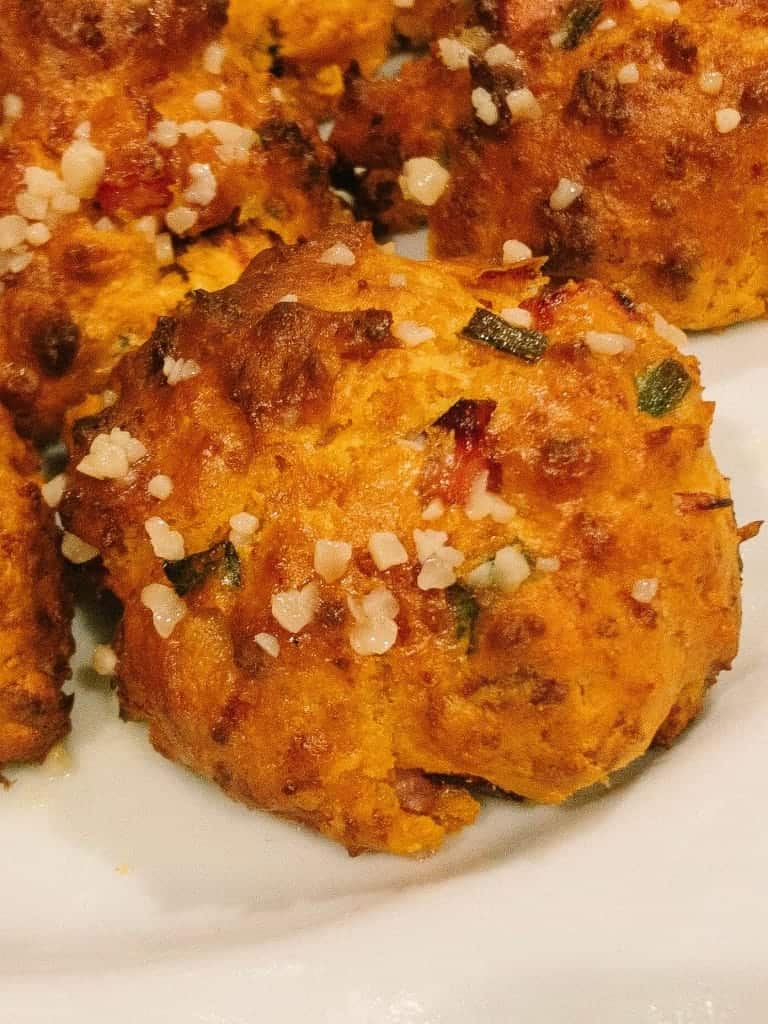 I'll admit, I thought of the air fryer as a way to cook foods that are typically fried.
But, you can even make dishes like biscuits in the air fryer!
Urvashi Pitre's new book, Air Fryer Revolution: 100 Crispy, Healthy, Fast & Fresh Recipes, has so many creative ways to use your air fryer! It was a difficult decision to pick what we were going to make first.
But, we started with these delicious Smoky Ham and Cheese Party Biscuits.
Yum.
Prep was pretty easy – just a little bit of chopping.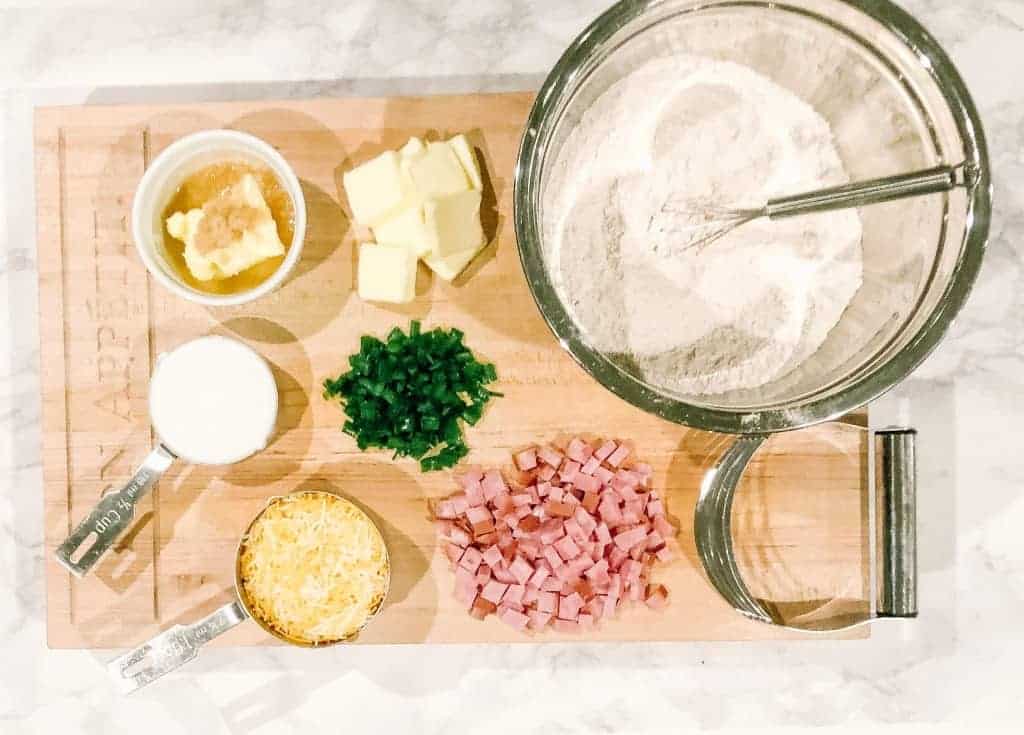 Then, mix, shape into biscuits and put them in the air fryer!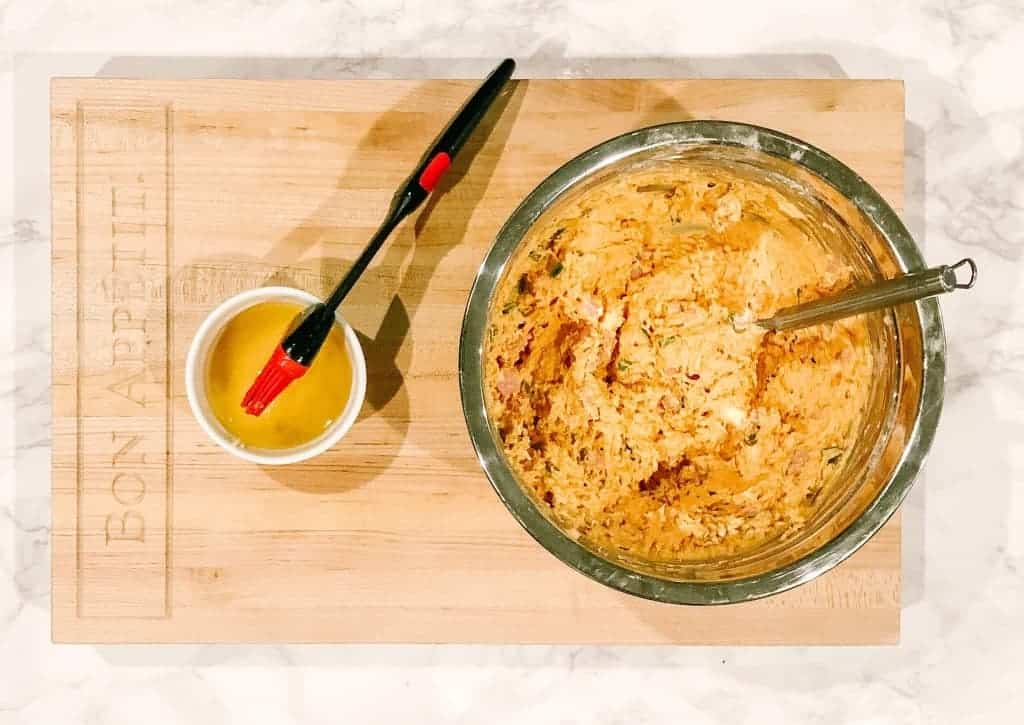 Easy!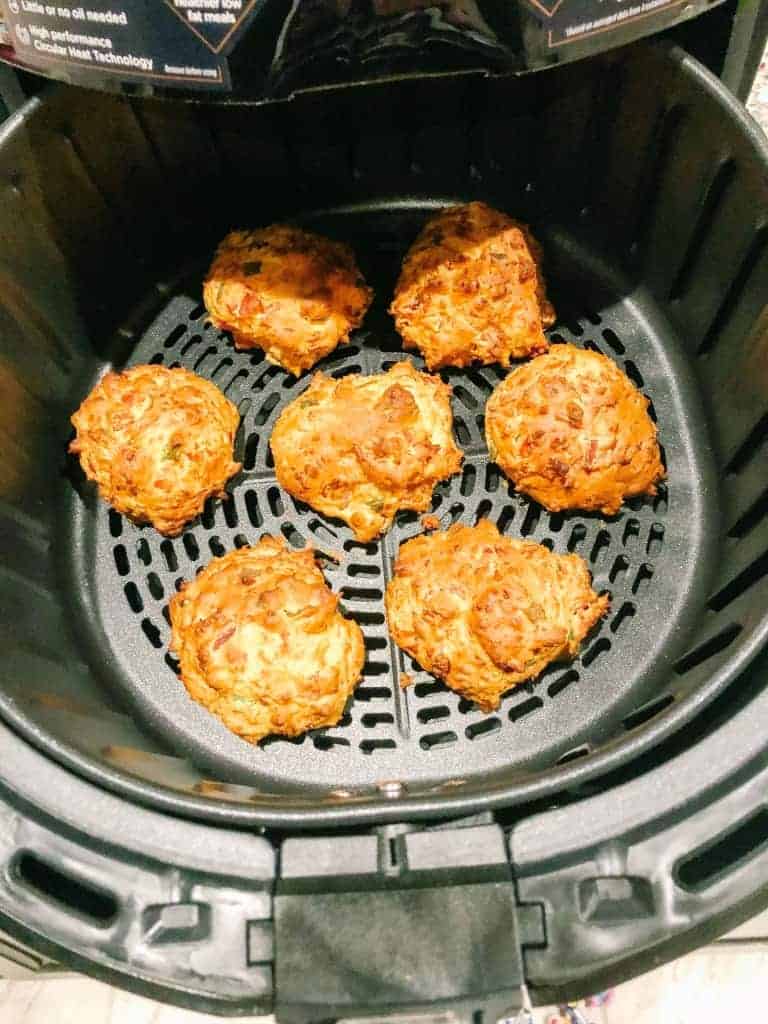 After that, we cooked them and they came out perfectly cooked all the way through and so fluffy, they fall apart in your mouth.
The flavor profile here is wam bam. Just a serious kapow of flavor.
Definitely different than any other biscuit I have ever had.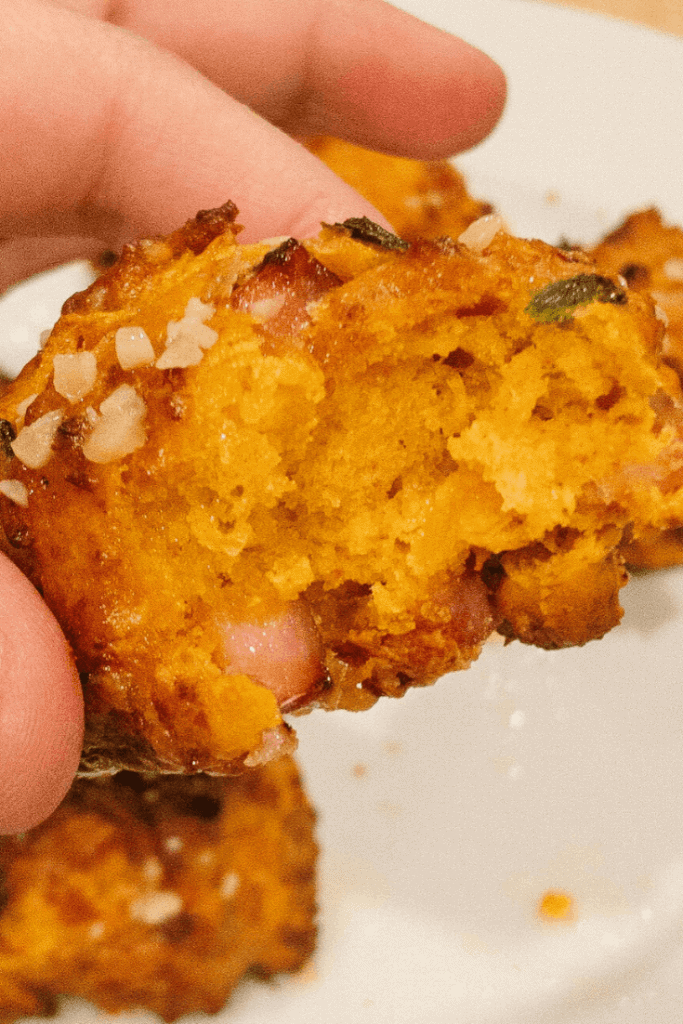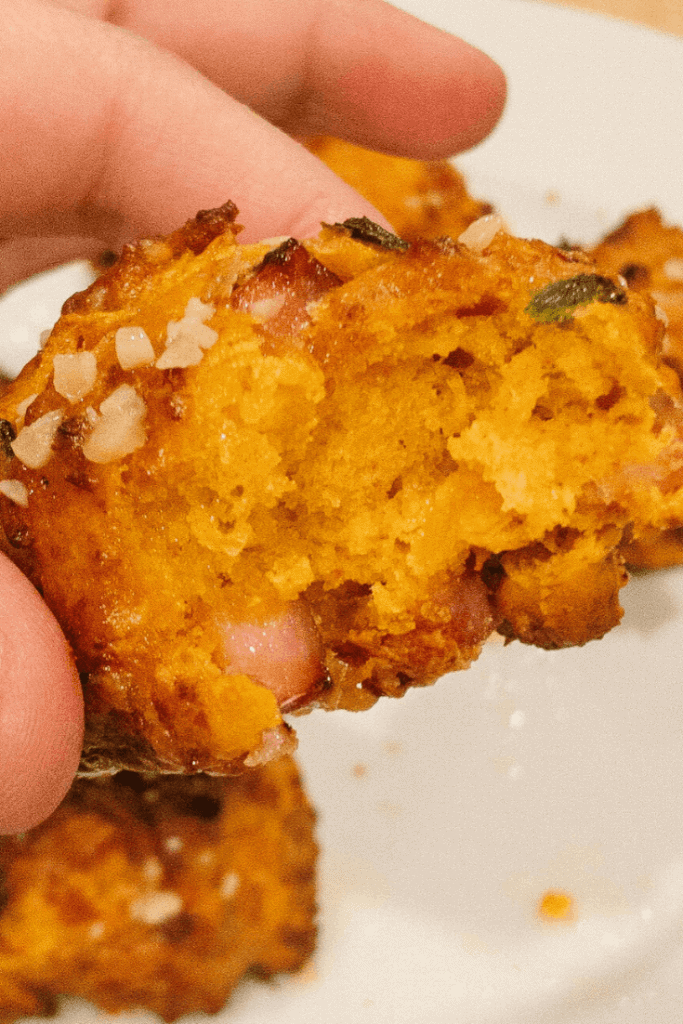 Ours are shaped by hand and we didn't use a biscuit cutter, but you could easily get the perfect shape from the cookbook by using one of these.
Other than that, a super easy, mega delicious biscuit recipe that anyone could whip up quickly.
Smoky Ham & Cheese Party Biscuits Recipe: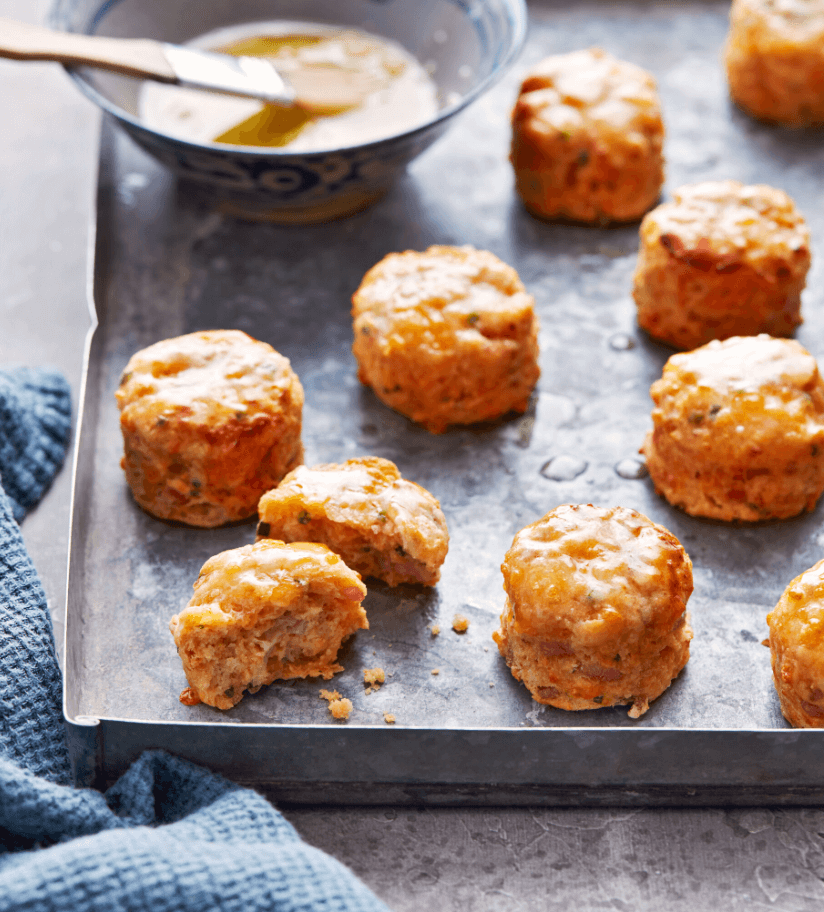 Smoky Ham & Cheese Party Biscuits is excerpted from Air Fryer Revolution: 100 Crispy, Healthy, Fast & Fresh Recipes © 2019 by Urvashi Pitre. Photography ©2019 by Ghazalle Badiozamani. Reproduced by permission of Houghton Mifflin Harcourt. All rights reserved.
SERVINGS: 6 (3 MINI BISCUITS EACH)
For the Biscuits:
1 ½ cups all-purpose flour
2 ¼ teaspoons baking powder
¼ teaspoon baking soda
1 teaspoon smoked paprika
½ teaspoon kosher salt
⅛teaspoon cayenne pepper
4 ½ tablespoons cold butter, cut into cubes
½ cup finely diced ham
¾ cup shredded sharp cheddar cheese
½ cup plus 2 tablespoons buttermilk or whole milk
2 tablespoons thinly sliced fresh chives
For the Topping:
¼ cup (½ stick) butter
2 cloves garlic, minced
For the Biscuits:
1. In a medium bowl, combine the flour, baking powder, baking soda, paprika, salt, and cayenne. Whisk until well combined.
2. Using a pastry blender, cut the butter into the flour until the mixture resembles the texture of oatmeal. Stir in the ham and cheese. Add the buttermilk and chives. Stir until combined.
3. On a lightly floured surface, roll the dough to a ½-inch thickness. Using a 1½-inch scalloped biscuit cutter, cut out biscuits. Gather the dough scraps and roll again to a ½-inch thickness and cut out biscuits. Repeat until all the dough has been used. (You should get about 18 mini biscuits.)
4. Arrange half (about 9) of the biscuits in the air fryer basket, leaving at least ¾ inch between them. Set the air fryer to 400°F for 8 minutes, or until biscuits are golden brown.
5. For the topping: While the biscuits are baking, combine the butter and garlic in a microwave-safe bowl. Microwave on high for 1 minute, or until the butter is melted.
6. Remove the biscuits from the air fryer and, while they are still warm, brush the tops with the garlic butter.6.Repeat with the remaining dough. (If the butter topping has solidified after the second batch, microwave for a few seconds to melt again.)
Serve warm or at room temperature.
Egg-Free, Nut-Free, Soy-Free
Prep Time: 20 Minutes
Cook Time: 8 Minutes Per Batch
Active Time: 25 Minutes
Total Time: 40 Minutes
Cook Temperature: 400°F
****
We've been watching a lot of Dora episodes lately, so these are – as my son would say, "Delicioso!"
Have you tried using your air fryer for appetizers? Highly recommend.
And, if you need more air fryer recipe ideas, check out this delicious air fryer recipe book.
Have a fabulous day,
E