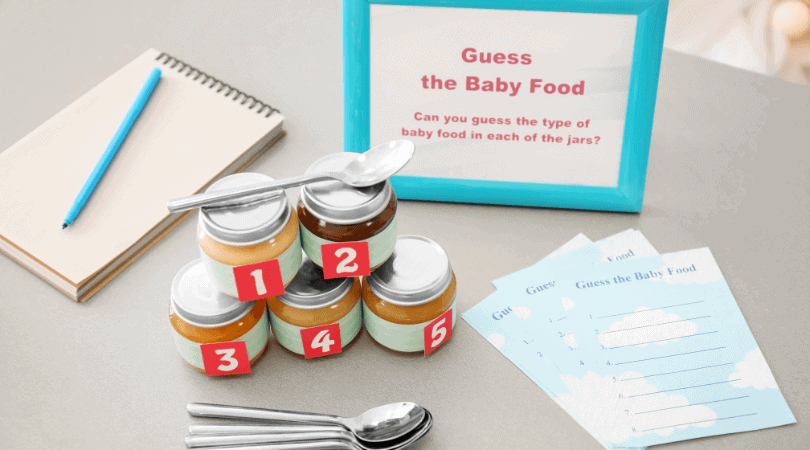 I've planned more than my fair share of baby showers and I'm sure I have many more in the future. Personally, I love baby showers – probably because I love babies! There are so many fun games that you can play at a baby shower that will get everyone talking and laughing together.
Plus, with tons of options for games, you can easily find some that fit the style and mood of the shower you're planning, from sophisticated to super creative.
So, today I'm sharing 35 fun baby shower game ideas that you can choose from to create the perfect baby shower for you (or the preggo you're planning it for!).
How many baby shower games should you plan?
This is really a personal decision when you think about the guest list that you have coming. Usually, having 3-5 games planned and a couple of stations set up with more activities is plenty. When choosing the games, consider length and make sure to only pick 1 or 2 games that take longer and then fill the rest of the time with shorter games.
If you have a group that is really close and all know each other, you could get away with less. If you have a group of people that are less familiar, games and activity stations will give them all something to do if they're feeling uncomfortable and it'll jumpstart conversations between strangers.
How to plan games for a virtual baby shower?
If you're hoping to have a virtual baby shower via Zoom or you're looking to do a hybrid, where people can join by Zoom and in person, you'll want to make some adjustments to your plan. Take a look at my post specifically designed for planning a Zoom or virtual baby shower here.
35 Best Baby Shower Game Ideas:
There are so many types of games that you can use to make your baby shower extra special. Below, I am sharing ideas for these categories:
Printable baby shower games
Diaper themed baby shower games
Food themed baby shower games
Baby themed baby shower games
Scratch-off baby shower games
Sweet baby shower games
Crafty baby shower games
Also, know that affiliate links are used below, which means at no cost to you, I may receive a commission if you purchase through my links. Cheers to that!
Printable Baby Shower Games: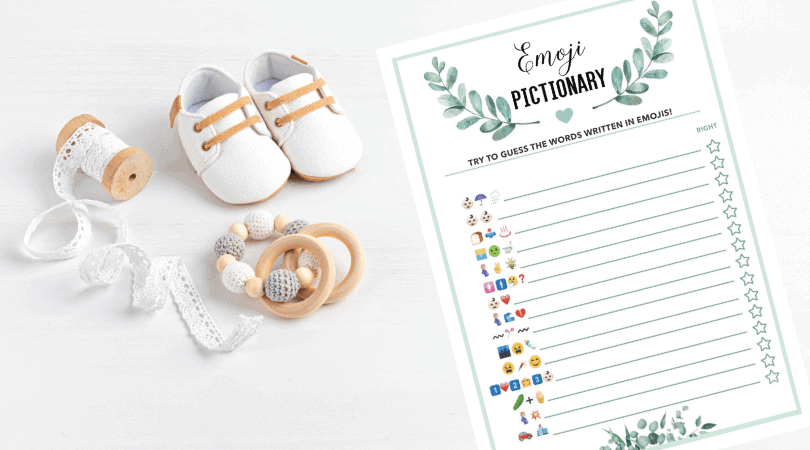 This fun game has taken baby showers by storm. Using the popularity of emojis, guests try to figure out what each set of emojis means when it comes to baby showers and babies!
For example, the answer to the first one is – baby shower!
I've also made a free video of this game that you can play in real time, using the printable for them to record their answers. This makes it PERFECT for a Zoom baby shower! Check it out here:
Learn more about Emoji Pictionary here.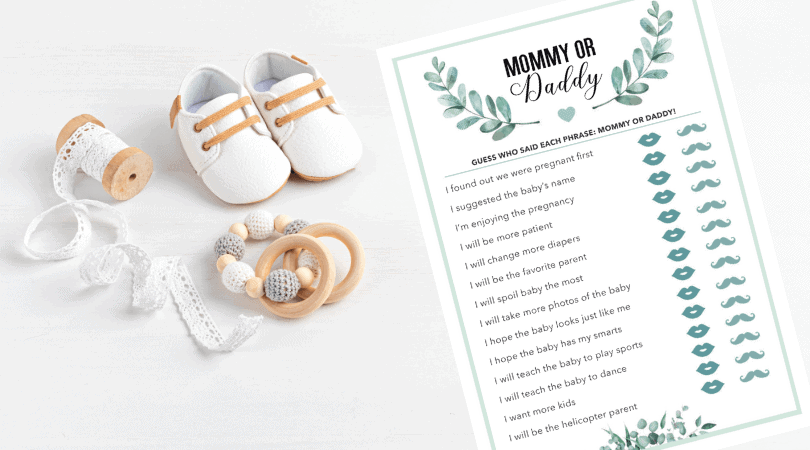 In this game, guests try to decide which parent will be most likely to do the item on the list.
For example, mommy might change more diapers, but daddy will be the helicopter parents!
Learn more about this game here.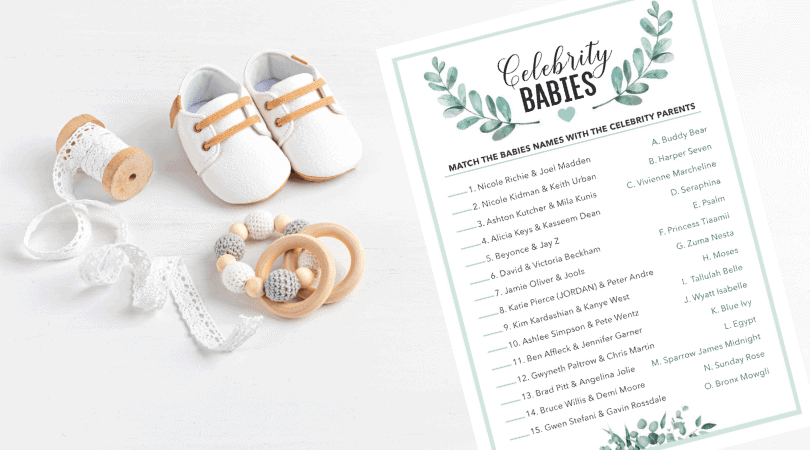 You all know I love me some celebrity baby names! I've written two posts on the unique and weird names that celebrities choose for their babies!
In this game, guests are tested on their pop culture knowledge by having to match the celebrity parent with their baby name!
This is such a fun game and would be fun to play with a PowerPoint that puts the famous parents pictures up. Check out this game here.

In this sweet game, you match the mommy animal with the name of her baby. For example, the mama kangaroo is matched with her joey!
I love this one so much, I created a video for this one, too, making it a great game to play with a group or for a Zoom baby shower!
Check out the printable game here.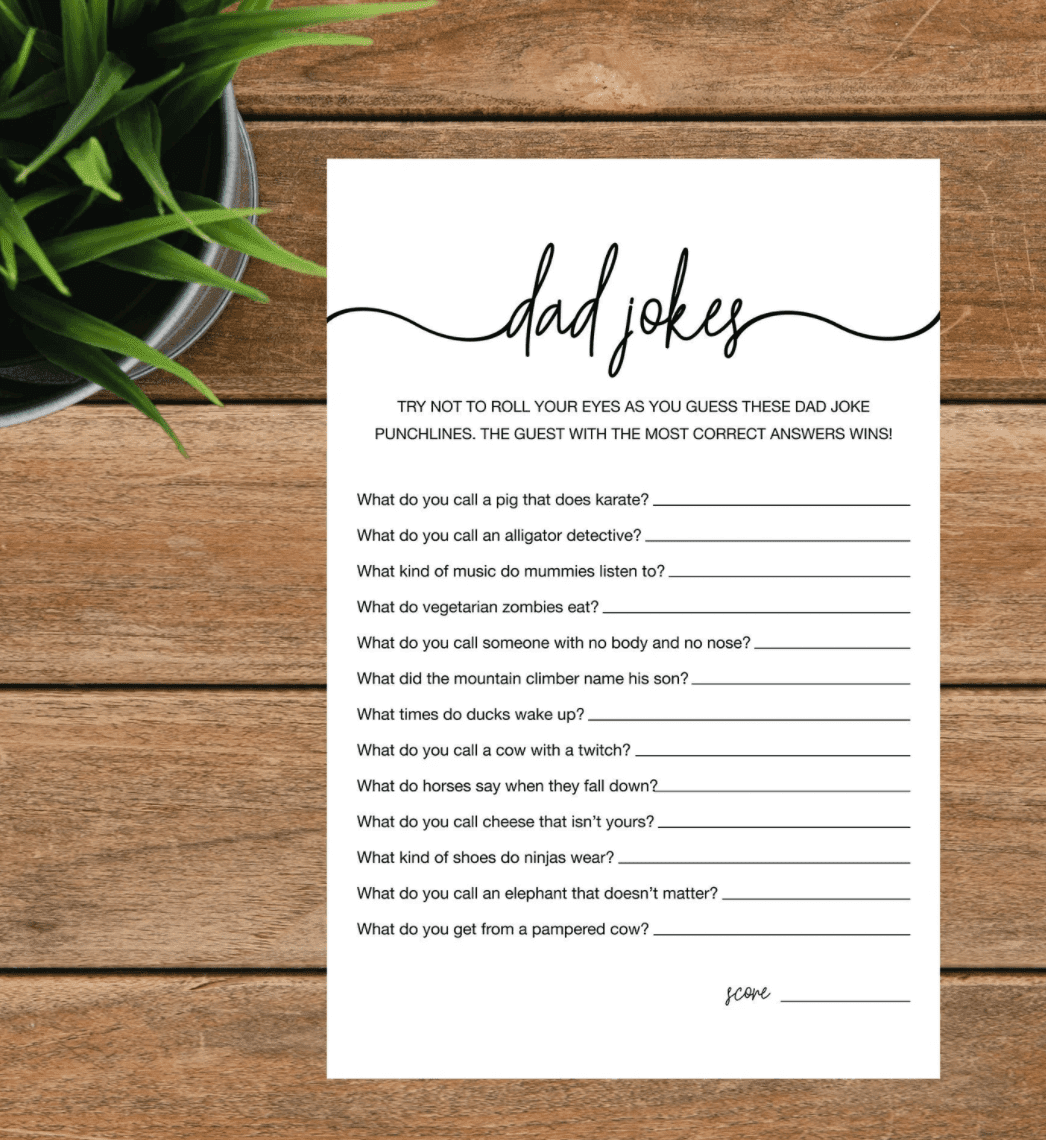 Who doesn't love a good (bad) dad joke? This printable brings them to life with a list of dad jokes for your guests to solve.
6. Disney Baby Trivia:
Are the parents Disney lovers? Get a printable baby game that has Disney parents on one side and space for their baby's name on the right or has multiple choice options to help them out.
For example, Elastigirl has a son named Jack Jack!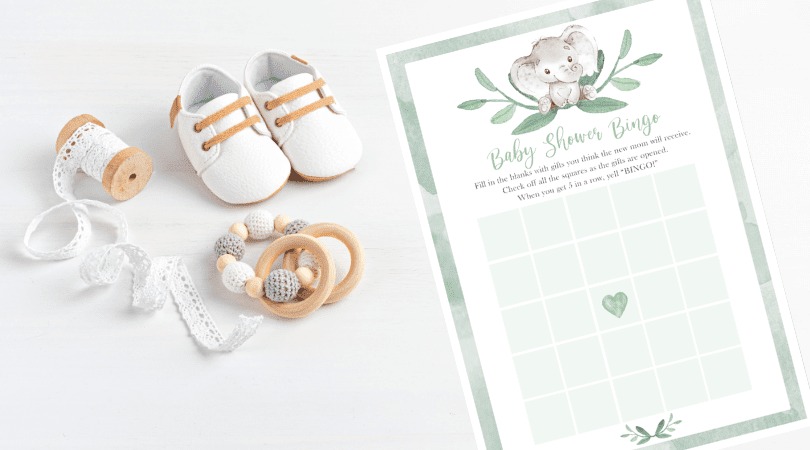 Pick up a pack of Baby Shower Bingo cards with items already added or blanks where guests can write in different baby items. Then, call them out and the first person to get 5 in a row wins!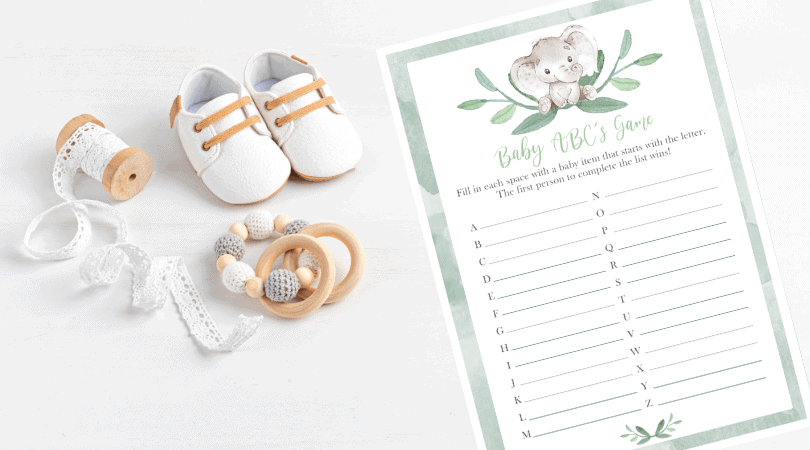 I think I've played this at almost every baby shower ever. Use a printable that has the letters of the alphabet from A-Z and then guests write a baby item that goes with each letter. For example, B could be bottle!
8 Diaper Themed Baby Shower:
There's no doubt the new parents have a lot of diapers in their future. Luckily, you can play on this idea with lots of diaper game ideas at the shower. Some of these are for more adventurous baby shower guests!
1. Don't Spill the Sprinkles:
Fill diapers with sprinkles and lay them out on a table with some dolls or stuffed animals. Put directions in a frame that explain how they are to change the baby's diaper without losing any of the sprinkles!
2. Funny Note Diapers: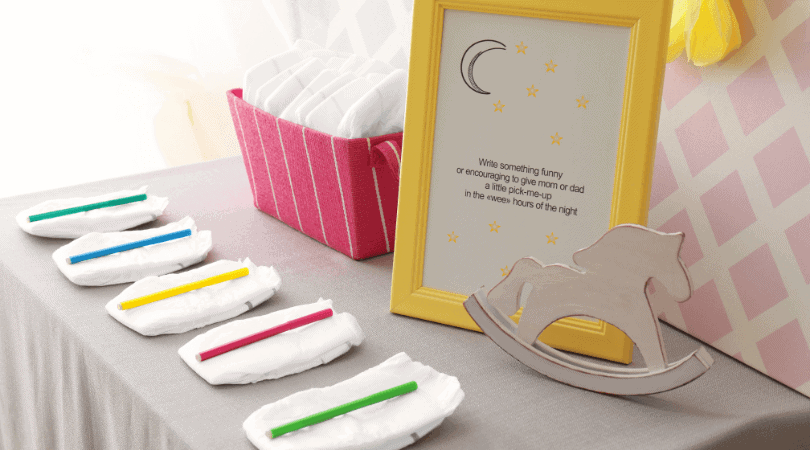 This one is so cute. Put out colored Sharpie markers or other markers that won't bleed and small, plain white diapers. Put a sign that lets them know to write a funny note on the outside of the diaper and then put all the diapers in a bag for the new parents. The funny notes will give them a chuckle when they're totally exhausted.
3. Candy Diapers:
Okay, this one is either going to be a big hit or not popular with your group. Choose wisely Take different candy bars and candies and melt them in the microwave for a few seconds before smashing them into a diaper. Lay the diapers on a table with some pens and papers and ask guests to guess what candy has been smashed in the diapers.
Just make sure to write down what candy you put in each diaper for the answer key!
4. Blindfolded Diaper Changing: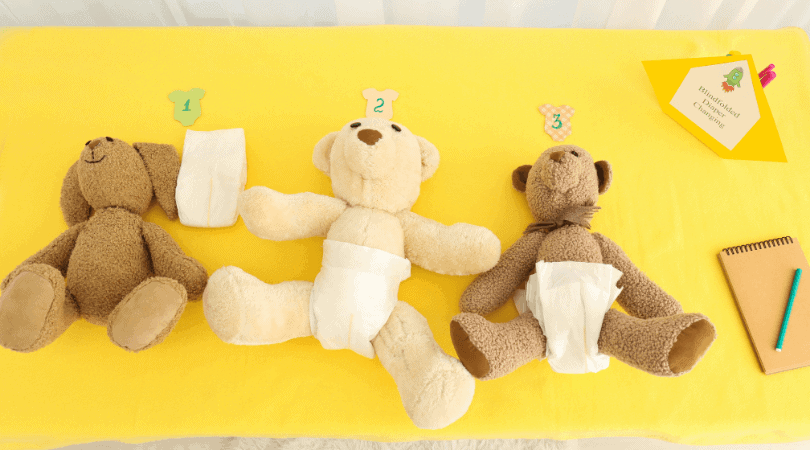 This one is especially great for a co-ed baby shower. Put dolls or stuffed animals on a table with diapers. Blindfold your guests and have them go and try to change a diaper blindfolded. Then, once they are done, they can look at their work. If you have a big group, make it a competition between volunteers – usually the soon-to-be dad and his friends is a great choice.
5. Did You Poop?
This easy to play game comes ready to go. Just hand out the diapers and tell guests when to check if they've pooped. The person who has a little piece of chocolate candy in their diaper wins! Or, you can buy pre-made sets that use felt poop and are ready to go like this onehttps://amzn.to/3eICd4g.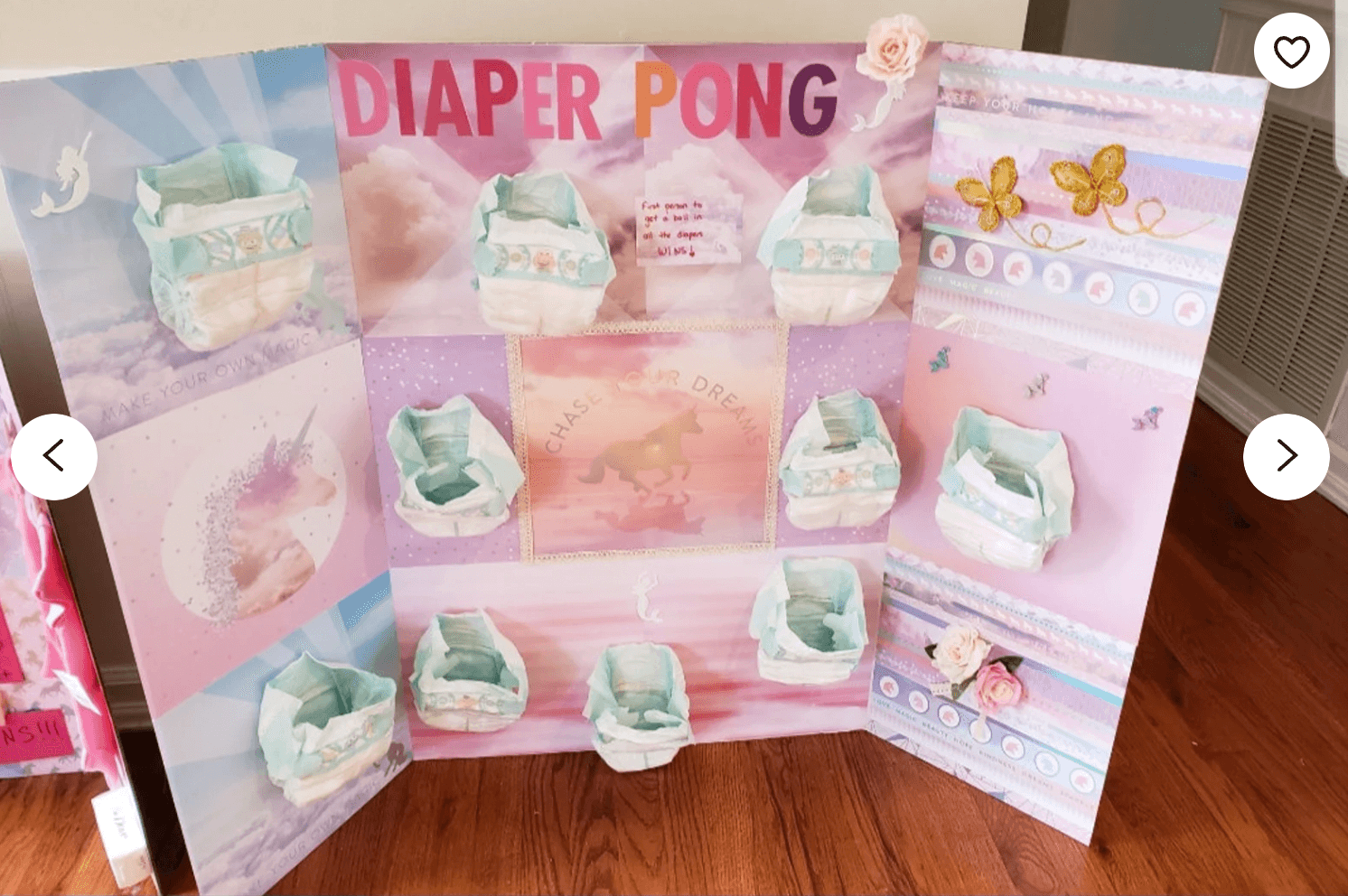 This fun game combines ping pong and diapers for a total baby shower hit. You can get custom diaper pong games like this one. Add ping pong balls and see how many your guests can get in the diapers!
7. Diaper Bag Psychic:
Have a packed diaper bag on display. Have guests write down everything they think is in the diaper bag. Then, take out each item one by one. For every write answer, they get a point. See who got the most points!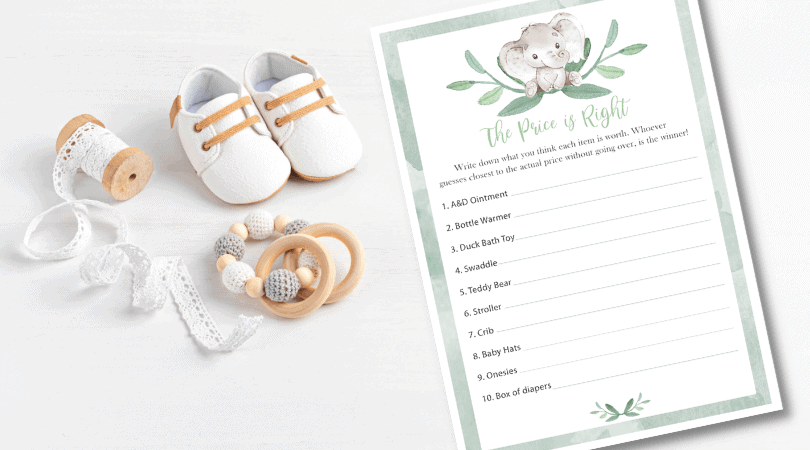 You remember the popular show, right? Set up a series of necessary baby items, like a pack of diapers, diaper cream, pack of wipes, diaper bag, etc. Then, put the price in an envelope by each item. Pass out a printable that has the items on the table and a space for people to guess what they think it cost. It's hilarious to see what people who don't have children or had children decades ago think the answers are.
3 Food Themed Baby Shower Games:
Why not use food themed games at your baby shower? It can be a fun way to get everyone engaged.
This might be my favorite baby shower game ever. I just think it's so funny and love watching all the guests shake their drinks to get the ice to melt faster. Freeze little tiny plastic babies in an ice cube tray and use them in the first drink that you hand to guests. Let them know that the first person who's water breaks (and the baby is freed) wins! This one is so easy and creates so much fun conversations.
Grab the ready to go set here.
2. Baby Food Tester: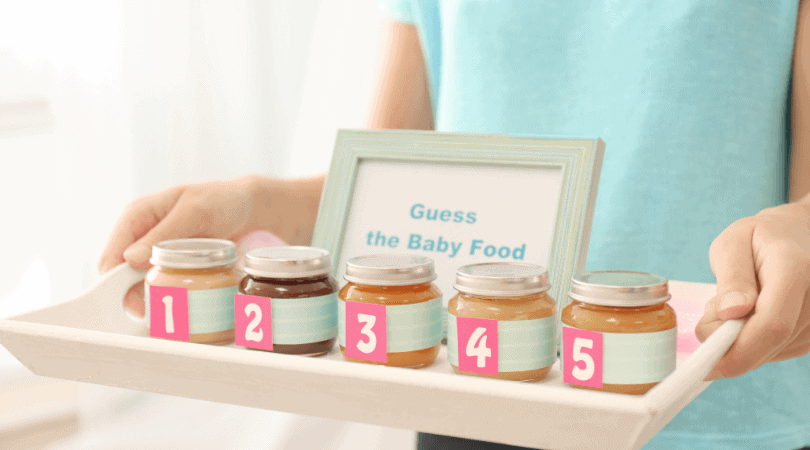 All those baby food jars may not taste exactly like what they say they are. Cover the labels and line them up. Have some baby spoons available and let people try the food and guess what they are. To make it even more fun. Have people pair up, take turns being blindfolded and being spoon fed the food by their partner. This game can be really hilarious! Just don't choose baby food that has too many ingredients or they'll never guess!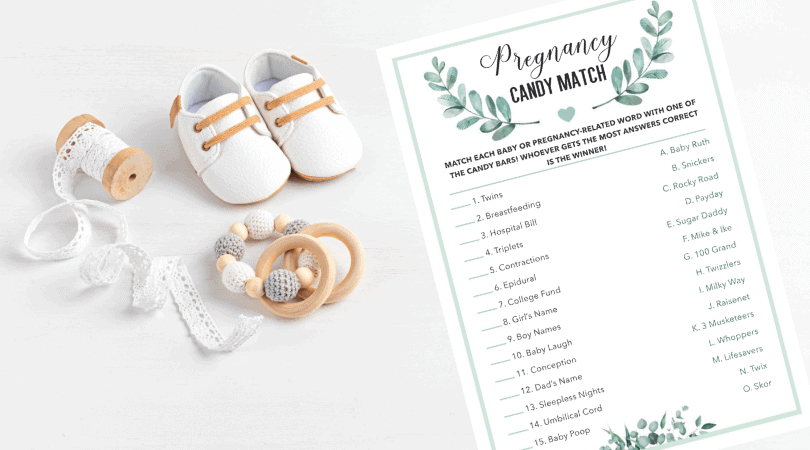 I wish this had been around when I was having a baby shower, because it is so funny! You match the pregnancy related word to the right candy bar.
For example, "Twins" is matched with "Mike & Ike!"
A hilarious game for all to play! This is a much easier, cleaner version of a popular baby shower game including real candy (keep reading for that one).
Check out the printable game here.
5 Baby Themed Shower Games:
1. Who's That Baby:
Gather baby pictures for various people at the baby shower and pin them up on a board. Have guests guess which baby goes with which guest and see who gets the most right!
2. Baby Sketch Artists:
Put your guests' drawing skills to the test by playing this fun game where they are asked to draw a picture of a baby on a paper plate – but the plate is on their head! The results are hilarious.
3. Drink Up Baby: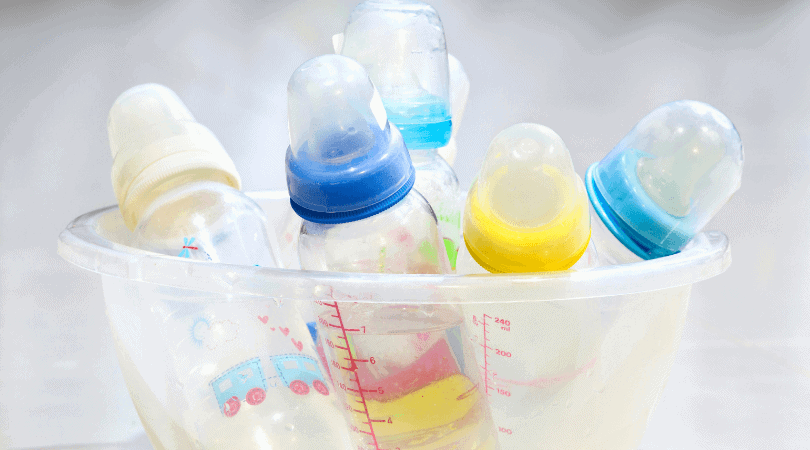 It's no secret that babies drink out of bottles. Fill some small bottles with something like apple juice and have guests race to drink the bottle first. It's harder than you might think!
4. Feed The Baby: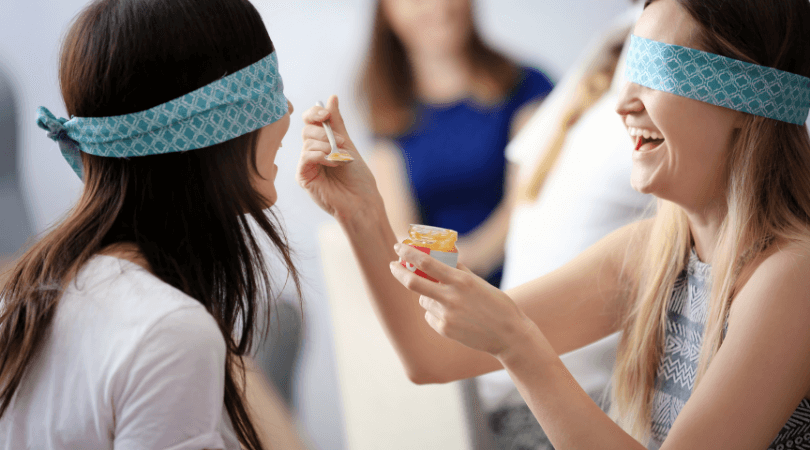 This is a hilarious game for a lively group. Separate guests into pairs and give everyone a bib and a blindfold. Then, each group gets a small bowl of apple sauce and two spoons. Ask them to feed each other the apple sauce at the same time until all of it is gone. Time the groups and the fastest group wins! You can have each group go individually or have everyone go at once to save time.
5. Babycakes:
Bake cupcakes and core one of them and put a plastic baby inside. Decorate the cupcakes so guests won't know. When everyone is enjoying dessert, wait for someone to eat the cupcake with the baby inside. Their surprise at finding a baby inside is usually hilarious!
3 Scratch Off Baby Shower Games:
Scratchers are so easy and fun. They are great filler activities that can be used to keep things moving or as door prizes as something people can do right when they walk in the door. There are so many cute scratcher games you can buy now that weren't around when I had my baby showers (boo!).

This set is so funny. I will definitely be using these next time I plan a baby shower. This set comes with scratcher stickers and stickers for 36 celebrity dads. 3 cards are blank and can be customized with a picture of the dad or just write "WINNER" on them. Cover the faces with the scratcher stickers and you are ready to go. Give one to each guest up on entry and then when everyone has arrived, have them scratch them for a great conversation starter and find the winner.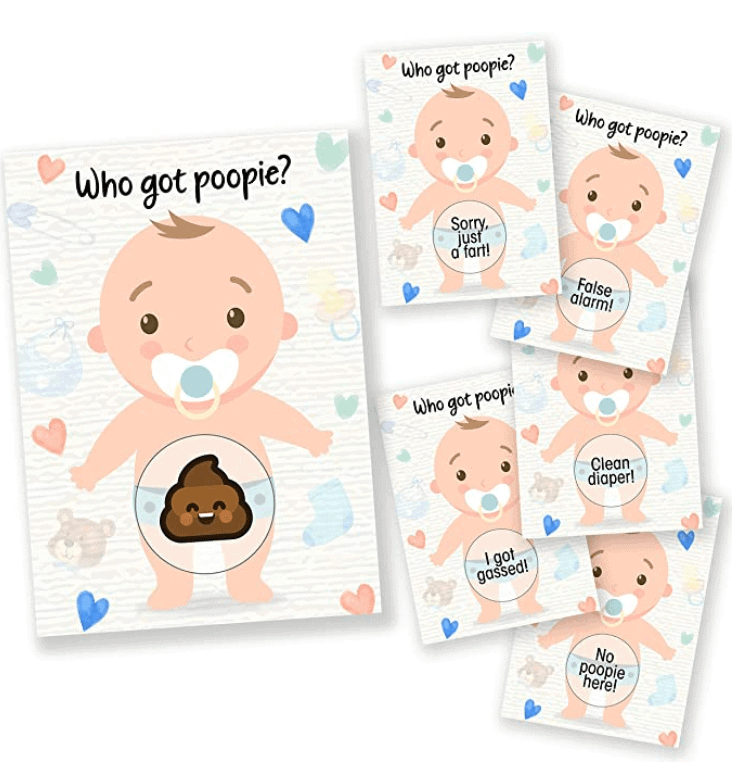 These cute cards are ready to go – no work required. There are 3 winners in the set and the rest have funny phrases like "false alarm" and "just a fart". Such a cute game to put out at each table setting or to give when people arrive.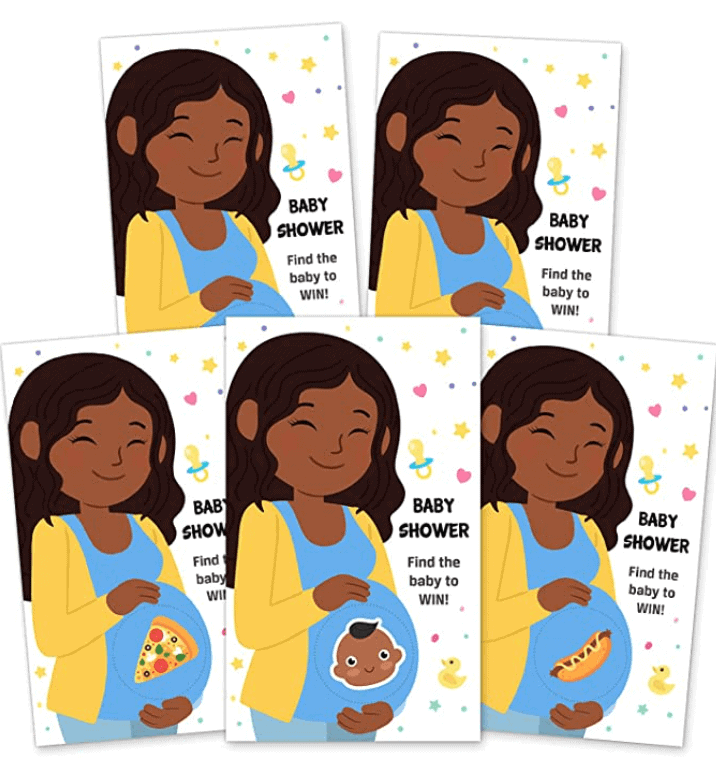 In this easy scratcher game, only 4 of the cards have a baby. Others will find a hot dog, pizza and other pregnancy cravings. Find different versions for parents expecting a girl, etc.
3 Sweet Baby Shower Game Ideas:
There are lots of ways to create memories that the parents-to-be will cherish for many years to come. Here are just a few:
1. Name That Baby: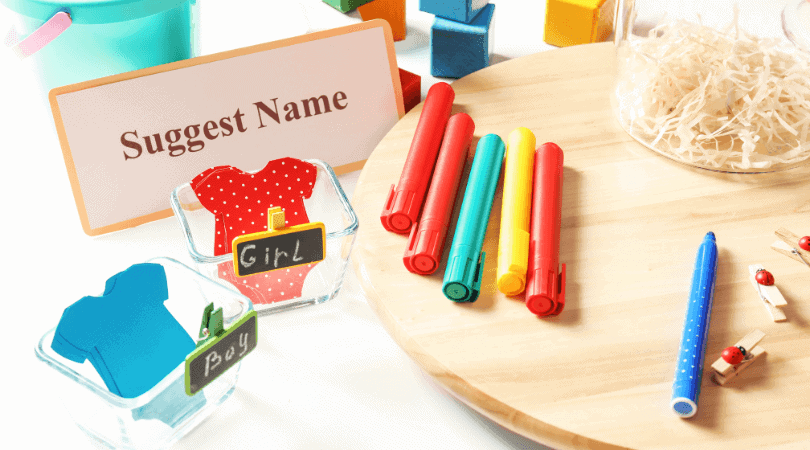 People love to talk about baby names, so give them an outlet to share their favorites! Put out pens and cute onesie shaped papers for people to write their suggestions.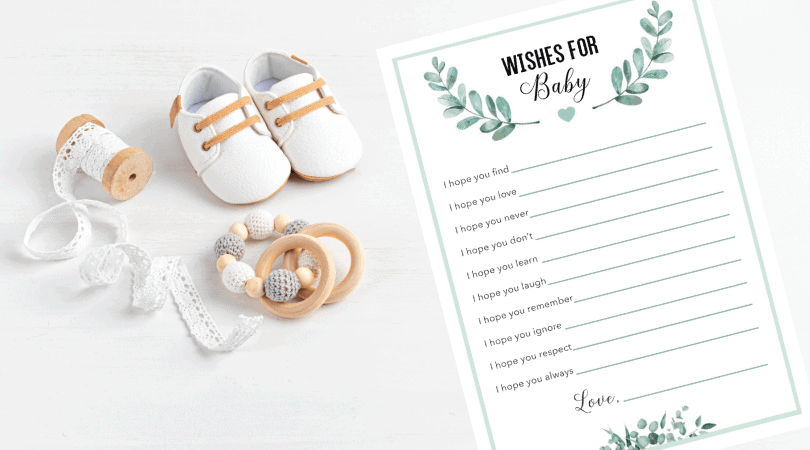 In this sweet game, guests give wishes for the baby and their future. This one comes with a full page and a 2-per-page option for your choice on size.
These are perfect to put into a scrapbook and save for the baby to read as they get older.
If you'll be cutting them, consider grabbing a paper cutter. I use mine more often than I thought for parties and other crafts.
Check out the printable game here.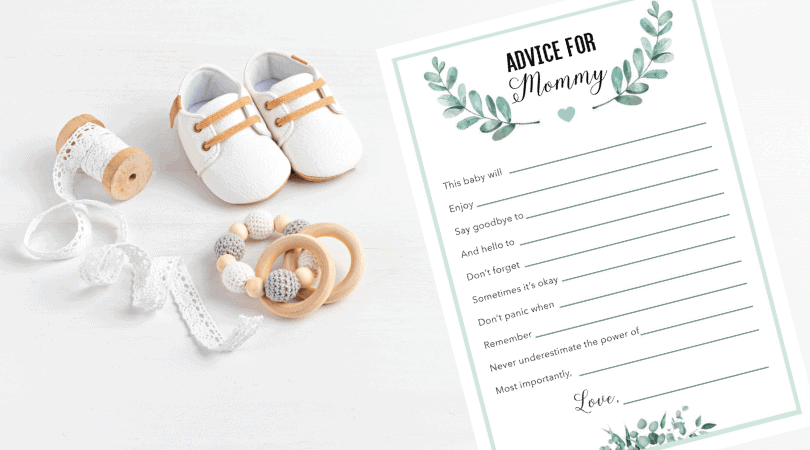 Another game with 2 options, with a full size and 2-per-page printable included, your guests cna give advice for mommy to inspire her on her transformation to mom.
These are so sweet to send to guests that cannot make it to the party, along with the wishes for baby, so they can send in their thoughts and participate without physically attending.
Check out the printable game here.
5 Crafty Baby Shower Games:
Do you have a creative group? Use these activities to keep them engaged, while also creating something that the parents and new baby will enjoy.
1. Bow or Bow Tie Station: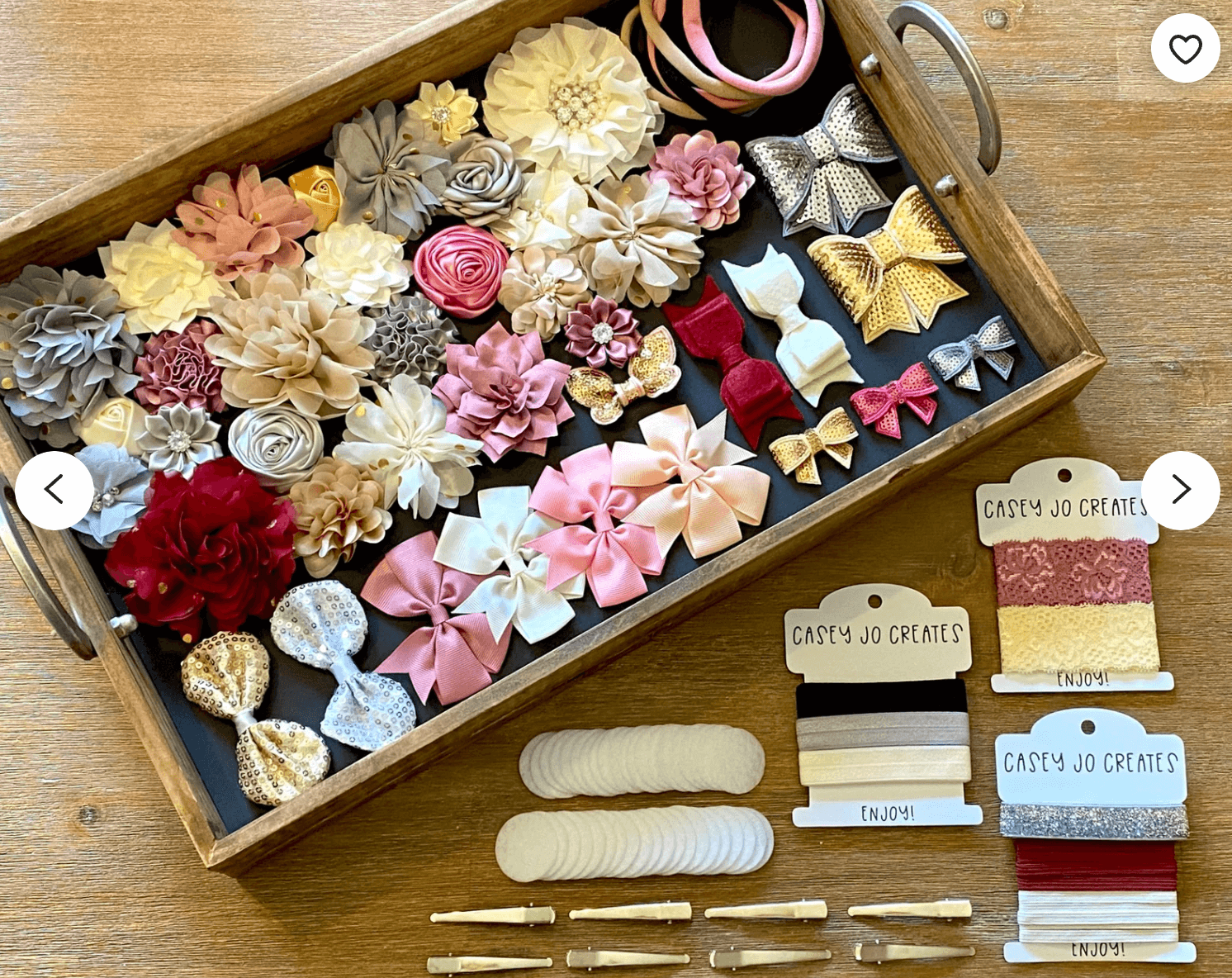 Photo courtesy of CaseyJo Creates.
Get supplies to create beautiful baby girl bows or headbands or bow ties for boys. Let everyone spend some time creating one for the new baby.
Check out this cute bow making set.
2. Onesie Station: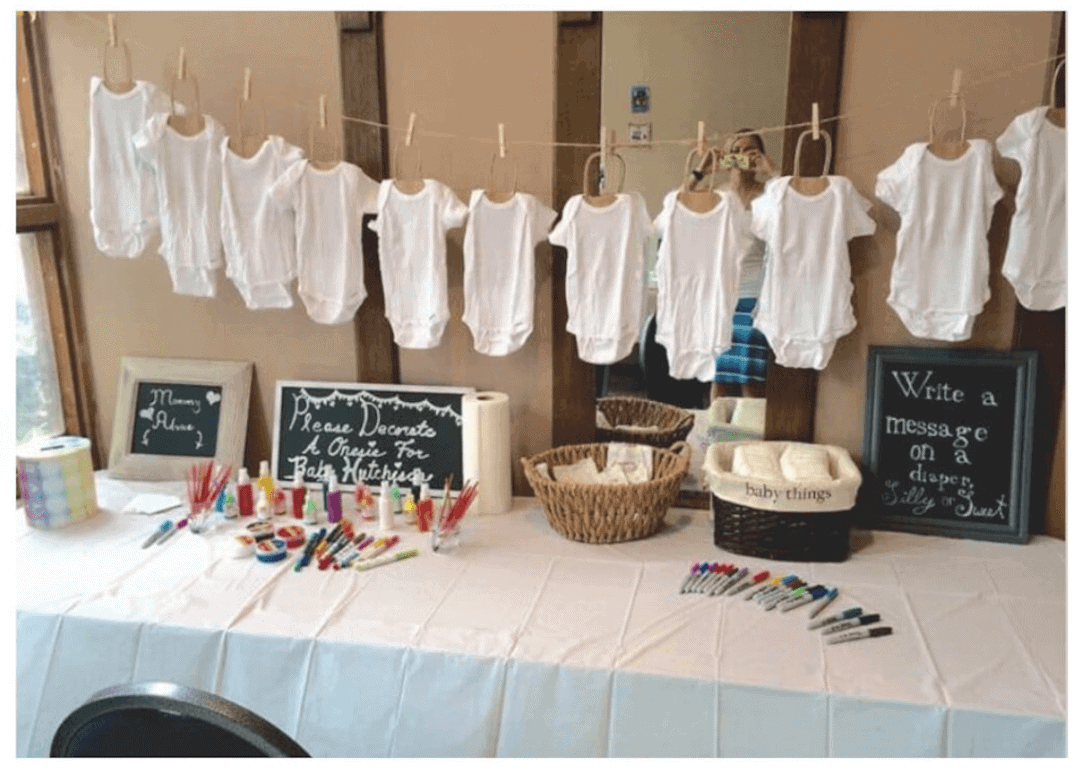 Photo courtesy of Balia Designs Shop.
Get enough plain white onesies for every guest and decorations for them to apply to the onesies. They'll be able to craft one-of-a-kind onesies that will also give the parents plenty of options for when baby has spit up on all their clothes.
Check out this adorable baby shower onesie making kit here.
3. Baby Hat Station:
Get plain baby hats and lots of cute decorations. Use hot glue guns to attach cute touches to the baby hats. Such a cute way to keep baby nice and warm.
4. Letter Painting Station:
Get wooden letters for the baby's full name and if that isn't enough for all your guests, pick up some wooden decor that goes with the nursery theme. Have each guests spend time painting one piece that can be used to decorate baby's nursery.
5. Scrapbook Page:
Scrapbooking takes a lot of time and with all the feeding and diapering the parents will be doing, they may not have time to create beautiful scrapbook pages for their baby's memory book. Have a station where guests can create a scrapbook page with paper, stickers, and all the supplies. Slip each one into a scrapbook that is ready for pictures when the baby comes.
10 Baby Shower Prize Ideas:
Looking for ideas for what to do for the winners of each game? Keep it cute and simple! I like to buy sets that I can break up into individual prizes. Here are some ideas to get you thinking:
Coffee gift card
Cute pen
Small succulent – Trader Joe's has great small pre-potted plants and succulents
*****
I hope you found some fun baby shower games here that you can use to make some fun memories you and your guests will always remember.
Have a fabulous day,
E