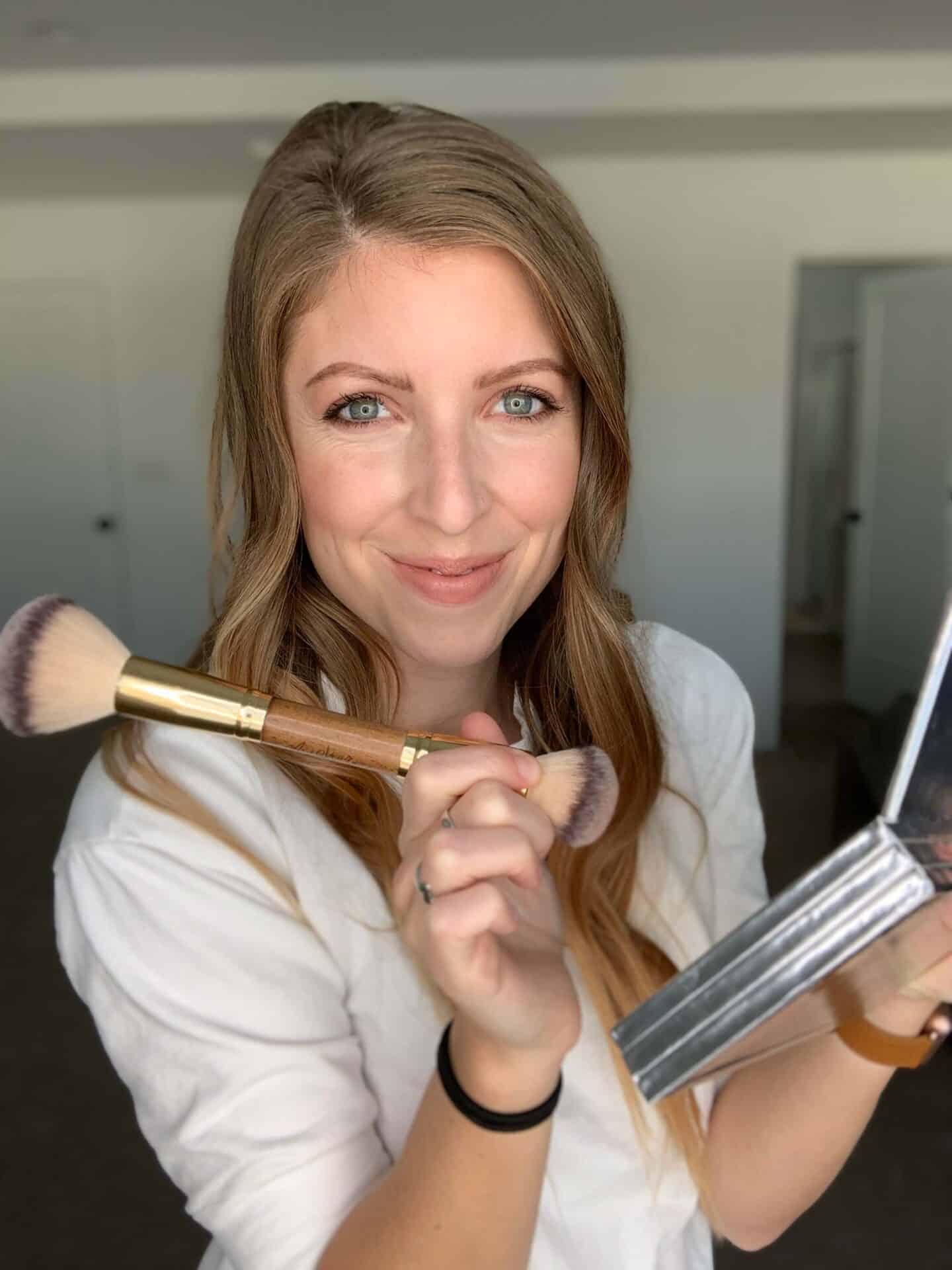 No doubt you've heard of Seint makeup. Their highly instagrammable compacts are splashed all over social media. Of course, I first heard about their HAC (highlight and contour) compacts in a Real Simple magazine when they were still called Maskcara Beauty. The HAC method is not new – but Seint palettes simplified the application and streamlined your products so that pretty much any person could do it and experience the benefits of accentuating their natural bone structure.
It was years later, though, before I would try one of the compacts and brushes myself. When my friend, Annie, started working with them as a beauty artist, I was ready to get color matched and see for myself.
So, if you've heard about Seint makeup and wondered what it's all about, how to use it, and why they use beauty artists, this post is for you. We're going to answer all your beauty questions about Seint, including the most important one: Is Seint makeup worth it?
Before we dive in, a big thank you to Annie for helping me with this post today. She's also allowed me to use her beautiful face in the videos, which will guide you through all of these answers as well. Annie is an incredible makeup artist and we've collaborated on several makeup tutorials already, such as the uber-popular skeleton makeup tutorial, which all feature the Seint makeup palettes.
What is Seint makeup?
If you're new to Seint, it's a cosmetic company that sells through artists or online only. The best way to shop is to work with an artist who will help color match you and select products that are right for you. Even with my background with makeup, I found having an artist much more helpful than browsing the dozens of colors online, because the way that Seint does foundation is quite unique. I work with Annie and she's fabulous – her Instagram is packed full of great makeup and life tips and tricks, too.
What makes Seint makeup different?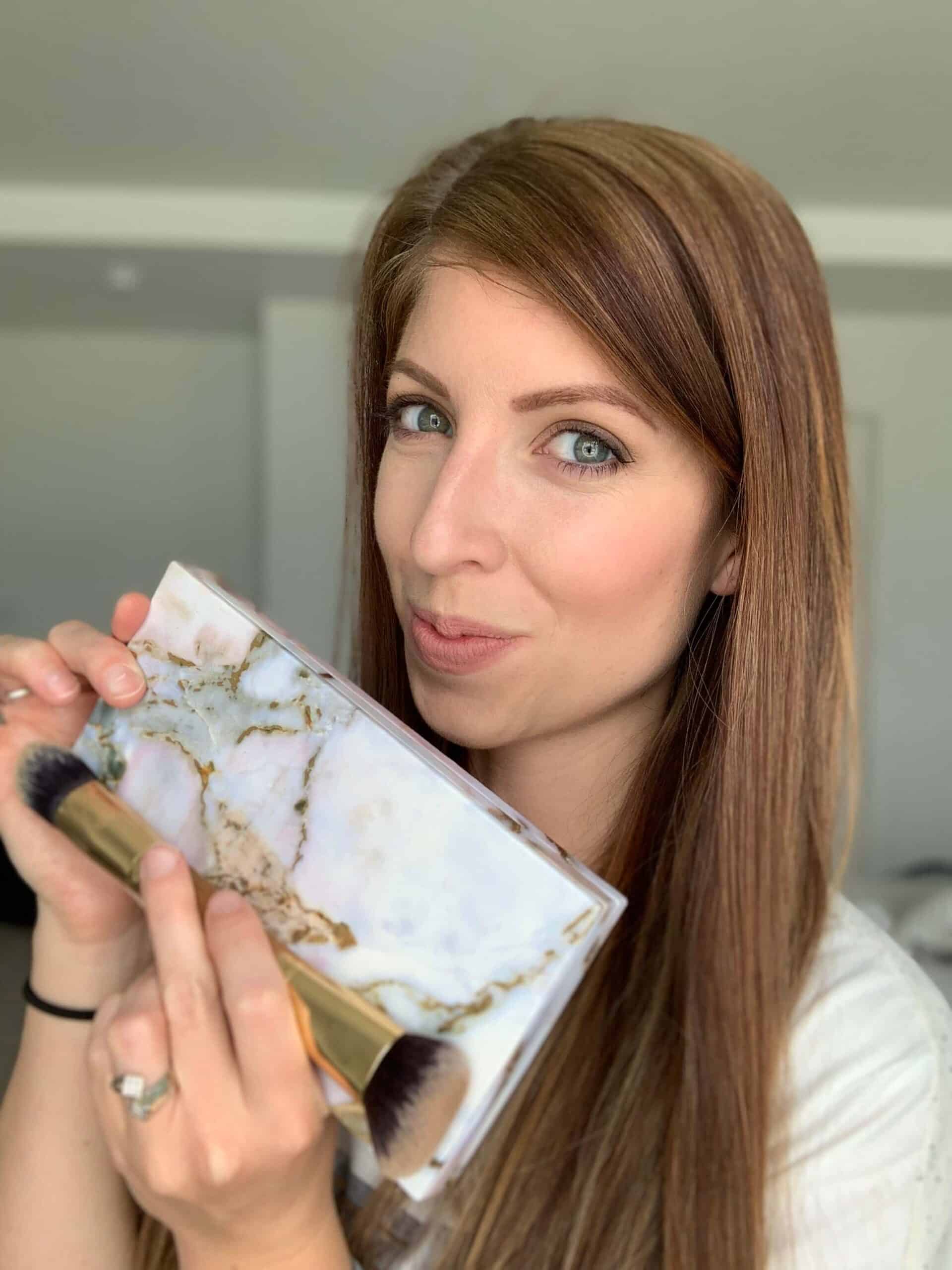 Unlike other foundations where you select one base color that you use to get a blank canvas on your skin (removing all natural coloring) before adding on a bronzer, highlighter and blush on top of that, Seint only uses the highlight and contour colors to create your foundation. This means less product on your face, less makeup to settle into fine lines and clog pores, and more focus on contouring the face. The makeup does have enough coverage, and can be layered, to cover imperfections, blemishes, etc., but you can control where you add more and don't – for a totally customized foundation that is 100% unique to your face.
So, if you're using a bag full of products to contour your face to perfection, you might just love how streamlined and simplified Seint makeup will make your routine. And, the compacts have room for your eyeshadows, which I found to be highly pigmented with minimal drop, blush, and even lip gloss. Traveling with these palettes is a breeze, since you just need your palette, some brushes, and mascara. If you use a dark eyeshadow for eyeliner, you won't even need an eyeliner.
What is the HAC method and compact features?
HACing allows you to accentuate your natural features, and look like you're walking around with perfect lighting at all time. It draws attention to eyes (make your eyes look bigger with this tutorial), sculpts cheekbones, brightens key areas, slims noses and gives dimension to your face instead of ghosting it with one all over color and then adding it back on in multiple layers. It equals less makeup in the end, too, with the same high impact (or more) than you're used to.
The compact system allows you to only buy what you need, when you need it, and it's completely customized to your skin tones and preferences. You can move and change out tiles when you are done with them or to switch out seasonally as your skin changes. You're never stuck with a palette full of colors you hate, because there's one color you love.
This also means there's less waste. The minimalistic design equals no more rifling through makeup bags and having 6 tubes/bottles. Plus, all products are multifunctional – the contour doubles as eyeliner and brow filler, etc.
Plus, the system allows even the most novice of makeup users to feel comfortable, and learn basic makeup application in a simple way. And, you have an artist who is there for you (free to you) to help you each step of the way.
And, aesthetics matter, which is why you'll love the packaging, which is regularly rotated with new designs.
Why does Seint use cream foundation instead of liquid or powder?
Cream makeup is the most like skin that you will ever see. It has the most skin-like properties of any medium and therefore looks the most natural. Cream foundation keeps that natural luminance that our skin has due to the natural oils we produce, plus it moves easily with our skin, so it never looks mask-like.
It is not cakey and thick, does not show a completely different texture than our natural skin, and you can customize where you use more and where you use less.
Liquid foundations and powder foundations can be extremely drying to the skin, which is why many of them are loaded with skin care ingredients now that will put back in (temporarily) all the moisture that they are stripping from the skin. Many of them are also suffocating your pores, which can contribute to breakouts and skin inflammation.
Cream locks in moisture, as it has moisture in it, and allows skin to breathe during the day, which is necessary for healthy happy skin.
Which Seint beauty products should you start with?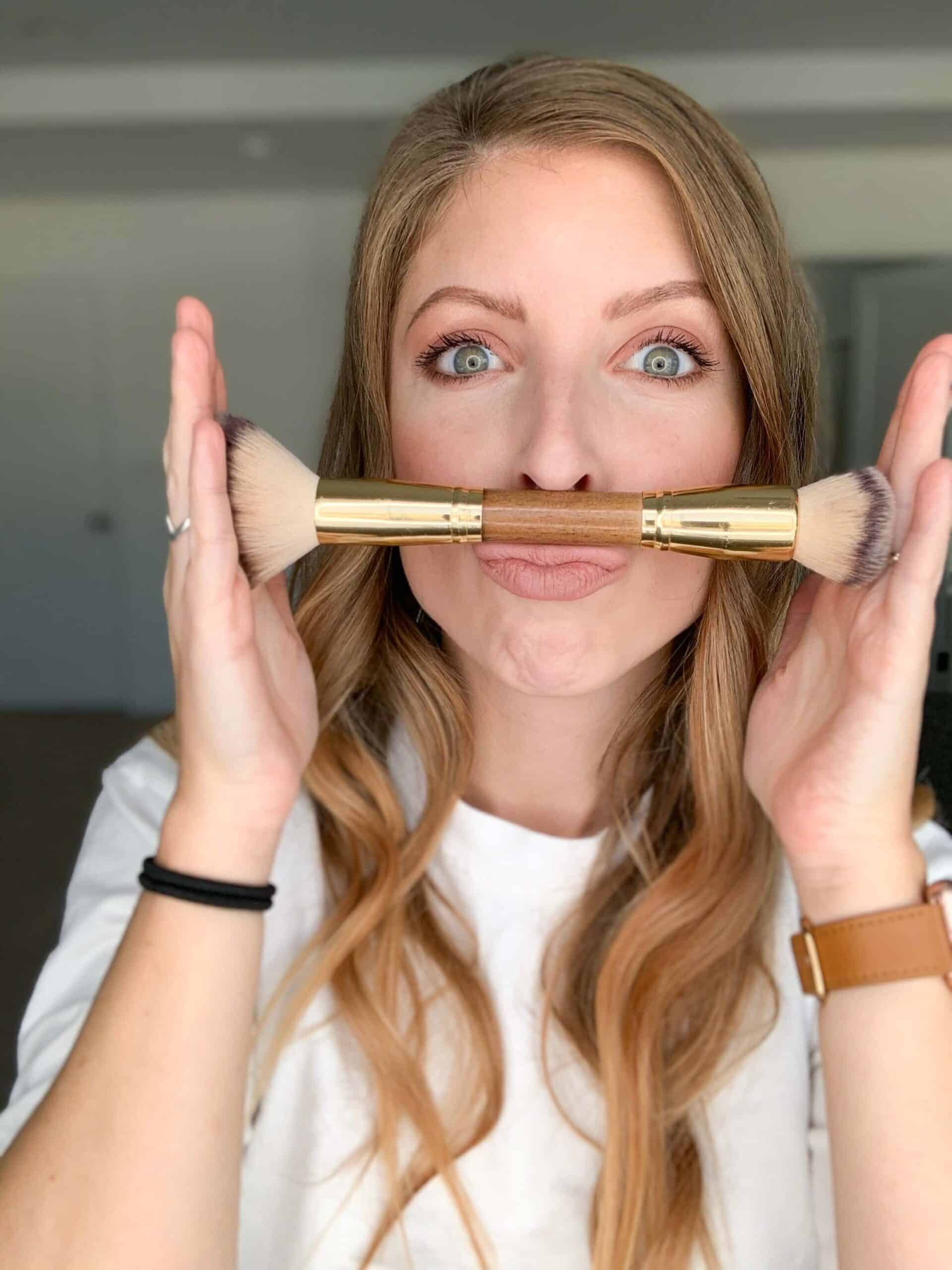 When getting started with Seint, the ideal place to begin is the palette 12 or palette 18 – which gives you enough room for your starter items AND room to grow, without needing to purchase another palette.
When beginning, you NEED to have properly matched highlight and contour, a lightbulb shade of highlight, 1-2 lip + cheek options, an illuminator, and 1-2 of the double ended brushes made specifically for cream makeup. You can use your own brushes, if you have them, but picking up at least one of the double-ended brushes designed for the makeup will make it easier to apply.
If you tend to have somewhat oily skin, you'll also want to add our Vanilla Dust setting powder.
If you love to be Bronzed no matter the season, add in a Bronzer bundle – which includes the incredible blush + bronzer brush with a cream bronzer for only $40.
You may also want to grab the brush cleanser to keep everything sanitary, prevent breakouts and bacteria buildup, and to condition your brushes, as well as a perfector sponge to easily blend the makeup and remove any excess product.
If you add eyeshadows and brow filler to your starter kit, you'll really feel the luxury of having everything in one single place! WORTH IT.
Good news, though, you can build your collection over time. If you just want to try the HAC method, you can, by adding highlight, contour and blush to your compact. Use an artist, though, to identify your colors. I've been doing makeup for a longtime and Annie recommended colors I would not have picked up on my own and they were perfect.
Can makeup novices do the HAC method?
The beautiful thing about cream makeup is how user friendly it is. It is extremely easy to blend and forgiving! Got a little extra? Blend it out. Need a little more? Add it in!
No where else you shop will give you personalized assistance once you're home to make sure you know how and where to apply it, and make sure the colors you need fit for you all year long.
Having an artist at your disposal is priceless! (and it really is, priceless. No extra fee to have an artist assist you.) Plus, many of them – like Annie – are posting regular tutorial videos, for free, on Instagram, where you can go, watch them use the makeup in real time and learn ways to use the products on yourself. These are real people, not models and trained makeup artists with many years of experience, so you're seeing something very accessible that you can do at home.
In fact, many people terrified by the overwhelming amount of products at their local makeup store find this method to be much simpler and easier to do. Once you get it down, it really only takes about 5-10 minutes to do it. There's a little bit of a learning curve, but it's much faster and simpler than learning how to do foundation, contour, highlight, blush, and eyeshadow with traditional products.
Is Seint makeup clean and non-toxic?
Seint is cruelty-free, paraben-free and gluten-free. It is not vegan, due to some of our products containing beeswax. It has an extremely low rating on the EWG scale.
While they do not claim titles of "toxin free or hypoallergenic" because those terms are completely unregulated, all of the makeup ingredients are cleanly sourced and highly refined.
They do not have SPF in their products, because often SPF causes what is called "flashback" in photos and shows up as an extreme glare. I always use a moisturizer with SPF as a base underneath my makeup, anyway, because makeup with SPF is often thicker or can be blotchy. Plus, you'd have to cake the makeup on in order to get enough SPF protection.
I have very sensitive skin and am prone to breakouts and inflammation. I didn't have any issues using the makeup. While one product is never going to work for every person, I tend to have more of a reaction than most, so if my skin can hang with it – you're probably okay.
Does Seint beauty work for oily skin?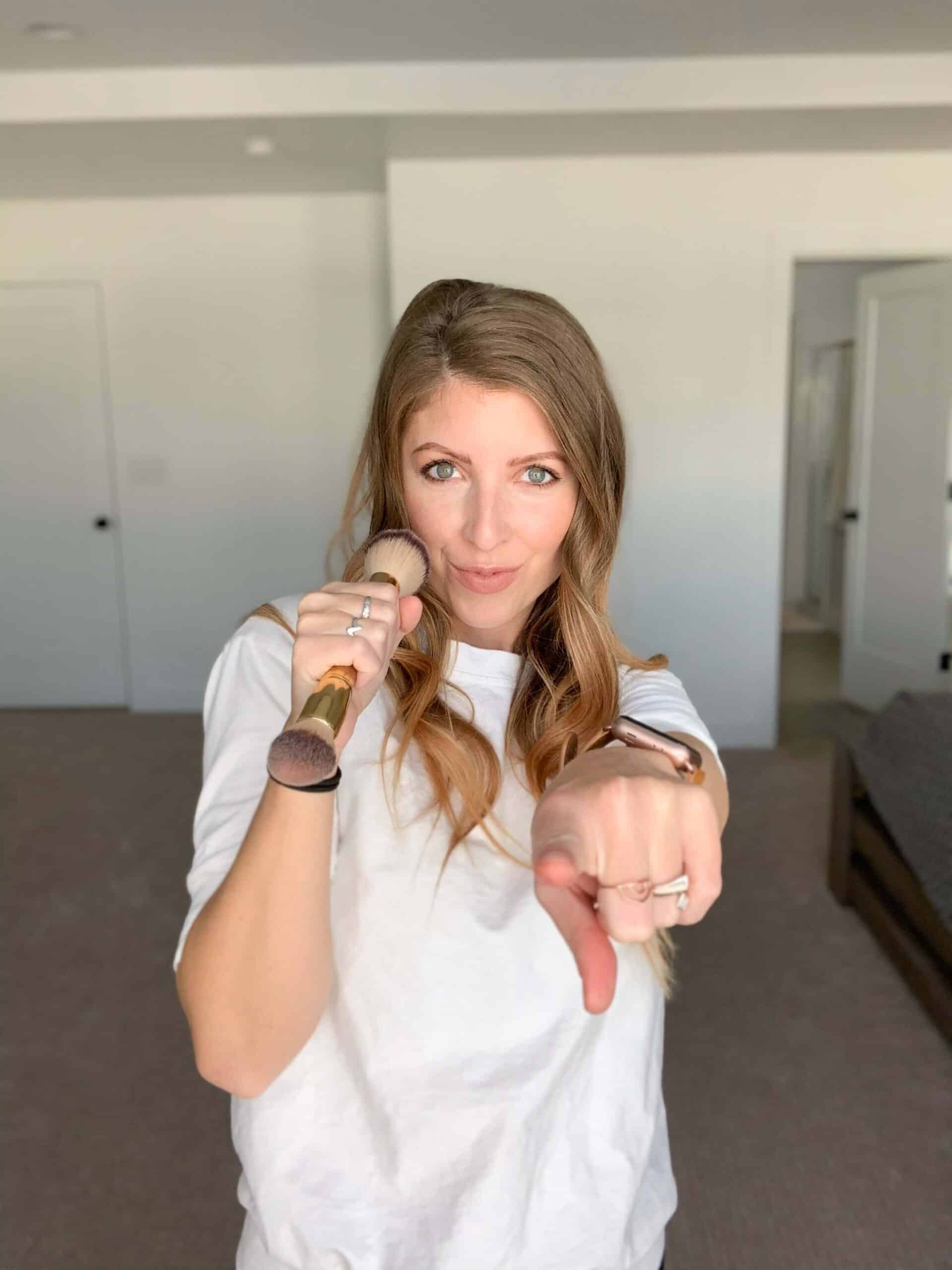 YES. First, make sure you have the correct shade of makeup. If it's too dark/yellow/orange or too light, doesn't last all day or give enough coverage, you need a different shade.
Oily skin may require a couple more steps but still receive the benefits of HACing + the Seint system + creams.
Make sure you're providing your skin enough moisture + drinking enough water. Sometimes skin overcompensates for not having enough moisture by producing extra oil. If you've ever tried the oil cleanser method, you already know this. Seems counterintuitive to put more oil on oily skin, but it works.
You can also use a silicon-free primer before applying makeup. Illamasque is a good one. Always set your makeup with a setting powder, such as the vanilla dust. Finish with a light setting spray to lock your look.
Does the Seint beauty cream foundation settle into fine lines?
Fact is, anything is going to settle into fine lines, powder foundations most of all, if you're not properly setting skin up before application. Using a primer is key to filling in those lines, so foundation can sit on top of this. Also, less is more. Caking on makeup to cover fine lines will do the opposite, no matter what product you're using.
I've seen powder applied to 19-year-old models age them decades, because of the way powder settles over time. Cream is always going to be your best bet when trying to hydrate, fill in and camouflage fine lines.
I am not as young as Annie and many of the beautiful artists, so I'm going to get real with you: if I didn't apply my moisturizer with SPF, then a primer, I did see the cream foundation settle into fine lines. This isn't any different than other products I use, but I did see it here as well. You have to prep your skin when you're of a certain age if you want to prevent makeup from settling. A finishing spray is going to help it last. Also, something else I love to do: wet a beauty blender sponge, squeeze out excess water, and then dab it all over your finished foundation, pressing lightly into the skin (not rubbing). This will really melt it into your skin for the longest wear.
Does Seint makeup last all day?
Sure does! In hot + humid weather, you may want extra hold – use setting spray, setting powder and or primer! Having the correct color is key to long wear. Signs of the incorrect color are: not lasting all day, not enough coverage, showing texture/dryness after application, looking too yellow/orangey, or difficult to blend out.
While it is not waterproof (which is good because waterproof makeup can do some damage to healthy skin!) I've found it is somewhat water resistant – meaning if I go swimming with my kids and don't rub my face – just pat- it stays on actually impressively well.
I'll always remember Annie's pictures after having her child. Her makeup was flawless, despite her natural birth. I couldn't believe it. If this stuff stays put through that? Yeah – it'll stay put.
Does Seint beauty transfer or rub off?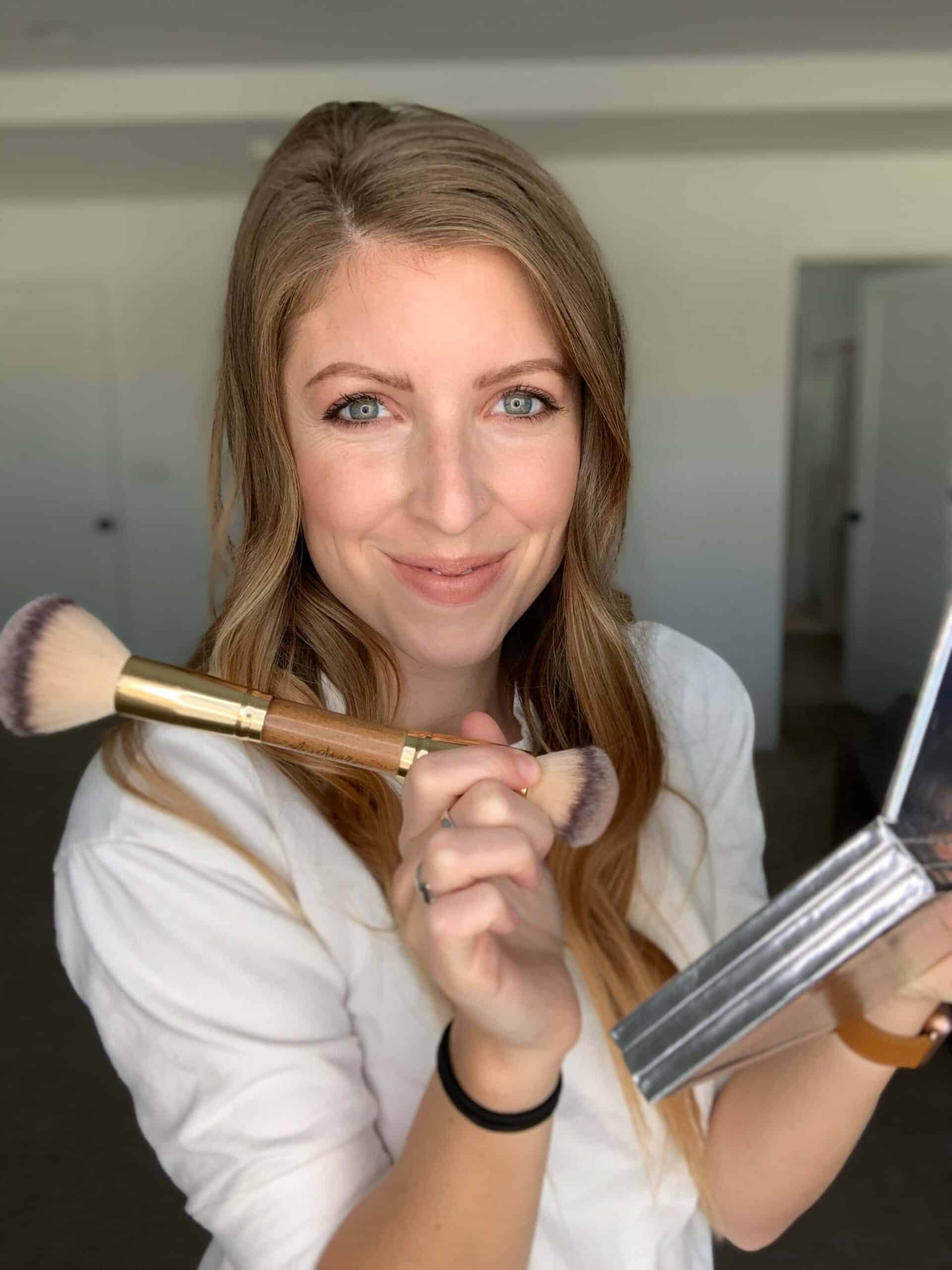 You really need very little product – so it should not transfer. If you have a profession where face coverings are necessary – use setting powder/spray to assist with that rubbing on your face all day.
My kids are up in my face ALL day and it does not transfer to them, but it will transfer to a bright white shirt or a lightly colored hat.
How to apply Seint for aging skin + mature skin tips:
Cream makeup was MADE for mature skin. It's a dream for this age group because cream allows skin to BREATHE, and adds moisture to the skin that dries out as we age. Liquid and powder foundations dry out our skin even more, and decrease the natural luminance produced by oils in our skin that makes us look glowy and young. Creams bring that luminance back and help lock in moisture.
Most often, mature skin needs darker shades of highlight – this both increases coverage for age/sun spots + brings back warmth that fades as our skin ages
Use very little product. The more product, the more settling into fine lines it will do. When applying to less firm skin, pat or stipple the product on instead of swiping it on.
Use a little bit of a warmer contour than normal to add that warmth again. For glasses wearers, brighten up the under eyes to counteract the dark shadows from glasses with a lightbulb shade. Frame they glasses with filled/shaped brows
Always remember, beautiful skin starts on the inside. Eat healthy foods that will bring out your natural radiance. Moisturize, moisturize, moisturize + drink that water.
Is Seint beauty good for teens?
I don't know any parents that want their young daughter to look older and beyond her years. Cream makeup is a dream for teens because it looks completely natural and not overly makeup-y.
They can also have very light/natural coverage, so they'll never look overly cakey or heavy. The makeup will allow for their warm glow to shine through. Plus, contouring is optional; they could just use highlight for coverage. And, they can spot treat only certain areas they want coverage as opposed to other foundations that need to be applied all over.
Also, there's a huge range of lip + cheek shades to fit their preferences. The compact is small and easy to throw in their bag and get ready on the go, too.
If you're anxious about a teen hiding in the bathroom for two hours to get ready, you'll love that it does not take much time at all. The company stands for enhancing natural beauty, not "needing" makeup to cover up what you have or hiding behind it. Empowering message of confidence and natural beauty within each person.
How do I get color matched?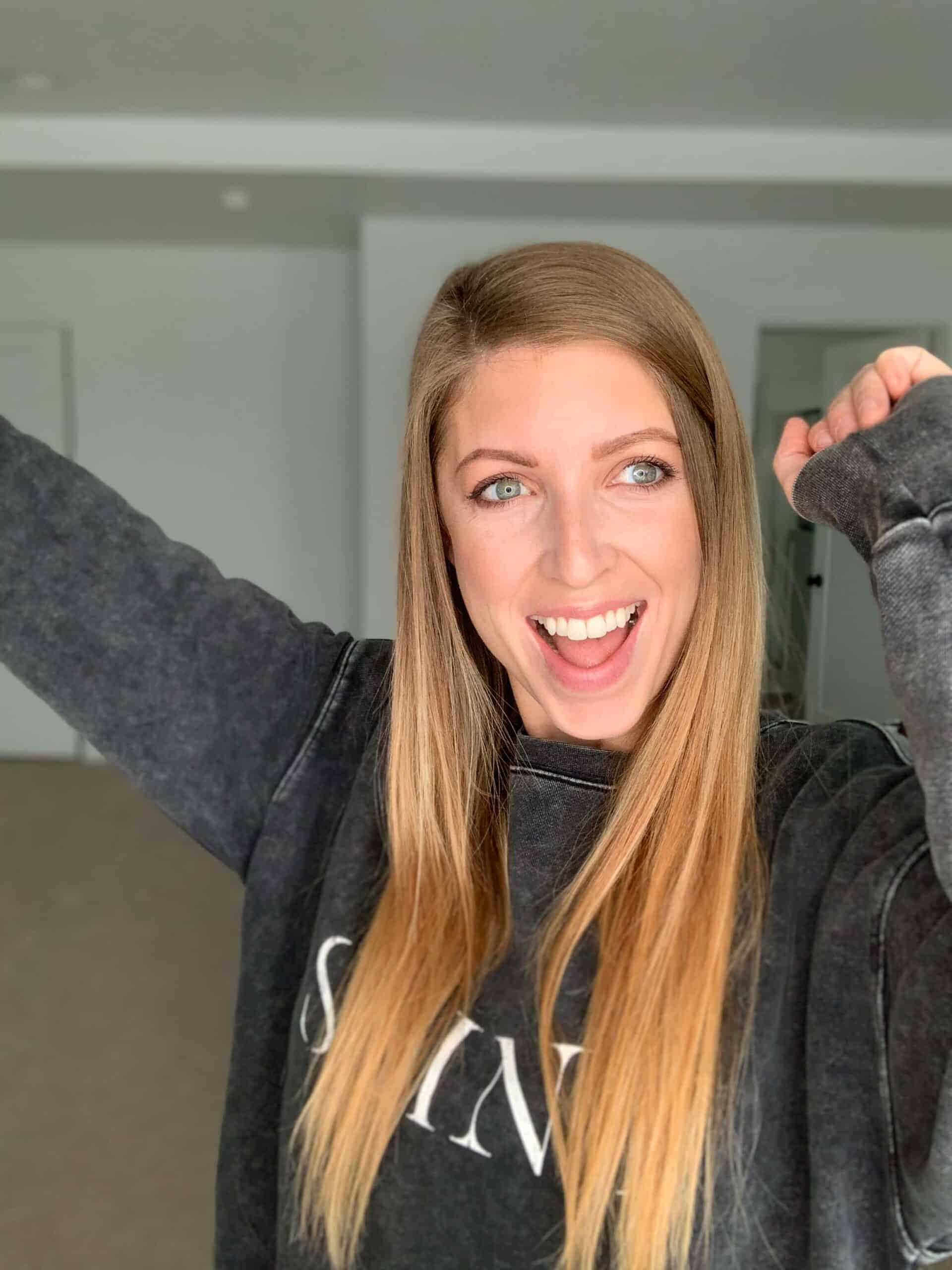 This is the fun part. Get rid of the guess work with other brands and get color matched by an artist! I love working with Annie (find her here), but you can use another artist that you know.
You'll start by taking a selfie following these instructions:
Makeup free skin
During the day, near a window that does not have direct sunlight
Face the window, 3-4 feet away
Turn off lights behind you and around you
Raise your arm to shoulder height and take a photo from shoulders up
Send to your artist via their CM form
Your artist will review your preferences and skin tones, and provide their recommendations for you.
If your makeup arrives and is either too yellow/orange, doesn't last long, does not blend easily, looks textured or dry after application – THIS IS A SHADE MATCH ISSUE. It sounds crazy, I know, but that's the way the cream-makeup cookie crumbles.
All of these issues can be corrected by having the right shades! I've seen it over and over again and its the truth, I promise. Contact your artist about this and they'll point you to the direction fo the exchange form and what to exchange for.
What if my color match is off?
You'll know it's time for a different shade/your match is off if:
Your makeup looks dry or textured after applying, it appears too orange/yellowy, is not giving you enough coverage or lasting all day, is difficult to blend.
If so – easy fix! Seint has a shade swap program where you send back the shade you don't need and it's refunded to you. You order the correct one and it will be sent to your door EVEN if the makeup has been used.
You have 30 days to exchange or return!
What about Seint Skincare?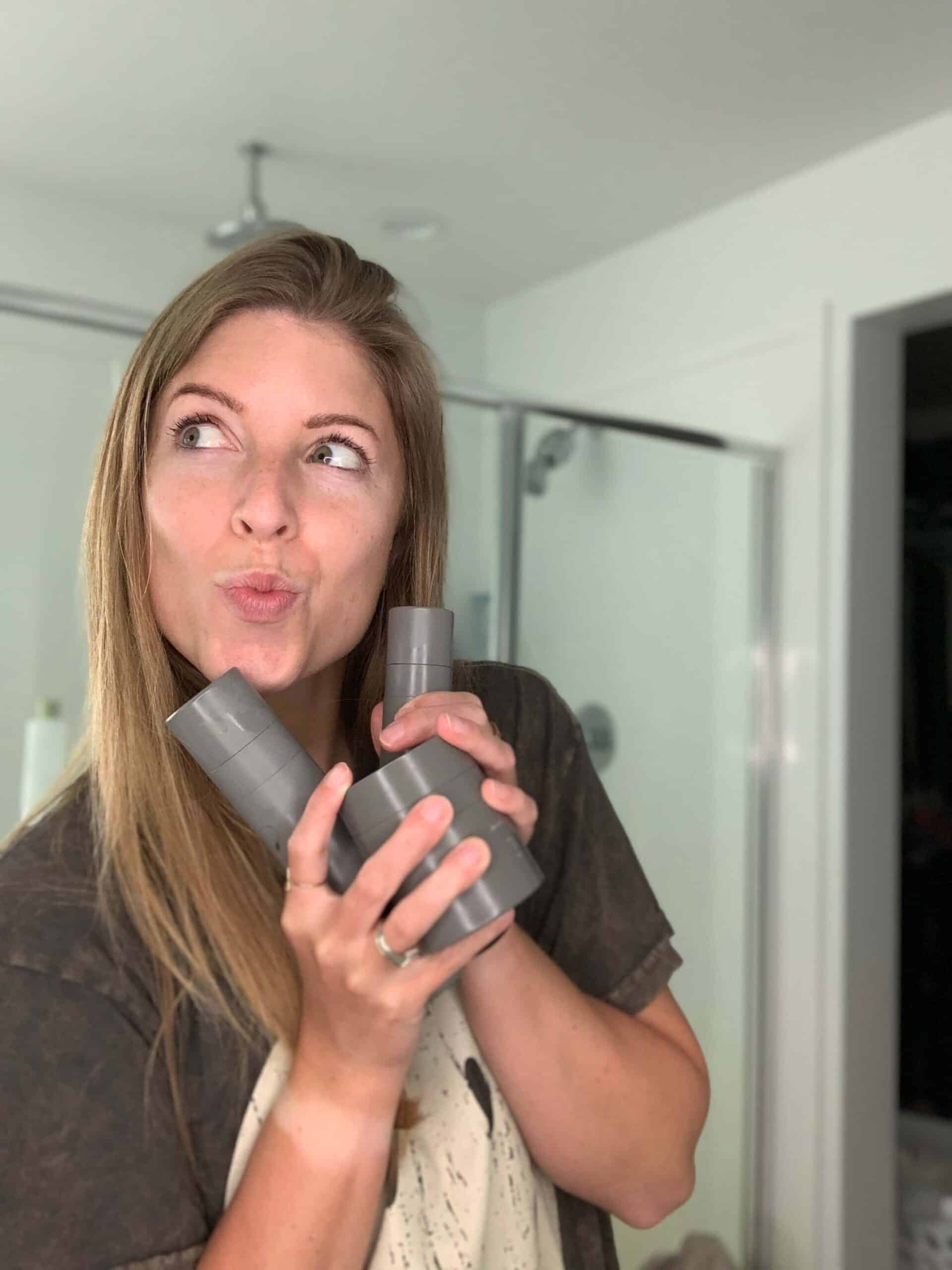 No makeup is going to cover up skin that isn't being taken care of. If you are looking for a super simple, effective routine that works for ALL skin types, check out our full review of the 3-step Seint skincare line in this post. Annie bravely shows her skincare journey with before and after photos, so you can see how she has personally seen results with this system.
What is a Seint Beauty Artist?
Seint uses a beauty artist to spread the word and provide support for new orders, because the makeup is unique and takes a different approach from typical foundation and HAC.
Seint artists are personal assistants to help you fall in love with makeup again. They go through special training to become experts about Seint makeup and hone in skills to be of most service to you. They can recommend products that will make your life easier and simpler and make sure you have the perfect shades for your skin tone (it can be hard to tell from the site – they've been matching faces for years and have it down!)
They can help you as your skin changes from season to season + know what shades will work best for you next. They can help with tutorials on how to apply the makeup and show you which eyeshadows would really complement your eyes and make them pop like crazy!
They can also share the opportunity to be an artist with others, too, if you'd like to help others, bring in some extra money for your family and feel connected to a sisterhood.
Do you have to buy through an artist? No, you may purchase directly through Seint, but you won't have the personalized attention, color match, troubleshooting, recommendations and assistance an artist can provide. By using an artist you have an opportunity to support a woman working towards goals, providing for her family, or fulfilling a much needed hobby. You'll make someone's day, that's for sure, while getting free support. The price of the makeup is the same whether you use an artist or not!
Reach out to Annie if you have any more questions!
Tips for making your Seint palettes last longer: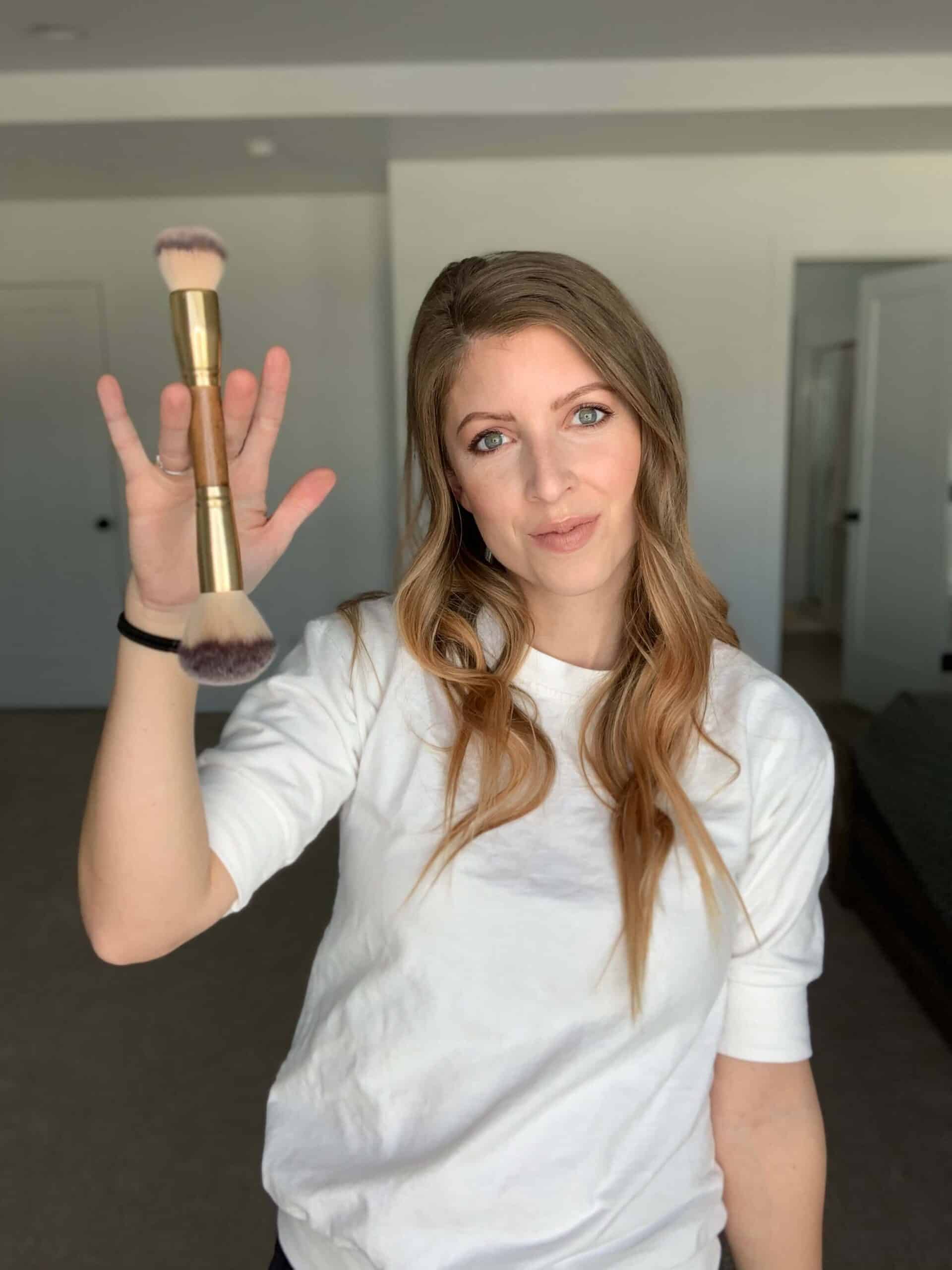 First, the products are concentrated and highly pigmented, so a little bit goes a long way! Start with applying less, first. You can always add if you need to.
Second, clean your brushes! Unclean brushes pick up more product and therefore use more, faster. Clean brushes apply very little product in a smooth, minimalistic swipe.
Third, melt down your tins to get it out of the corners! USE EXTREME CAUTION AND DO NOT TAKE YOUR EYES OFF OF IT IF YOU CHOOSE THIS METHOD. Always use low heat, and watch it closely so it doesn't burn. This should only be done with highlights and contours, not blushes or illuminators.
Fourth, try using makeup only in areas you actually need the coverage. Sometimes we slap it everywhere just because that's what we've seen done – but many areas on our faces do not even need it. And with creams applied lightly, it blends into the skin so you can't even tell that some areas don't have makeup while others do.
Fifth, on average, highlights and contours last between 2-4 months, depending on your coverage level and how often it is used. Lip + cheek colors and illuminators will last closer to 6-12 months. Eyeshadows will last 6-12 months as well – they are highly pigmented so a little bit goes a long, way, and so buttery smooth the blend easily. Our eyeshadows are nearly double the size of most other eyeshadows sold by other popular brands.
How to store the double-sided brushes:
Double ended brushes = less clutter and more bang for your buck! 2 for 1! Seint brushes are also unmatched in quality and are a MUST when using the cream makeup – they are the correct density and size to get quick, smooth, gentle application without wasting product. They also use synthetic fibers so allergies are not a worry!
Double sided brushes should be stored flat whenever possible, in order to prevent wild bristles
Tips for storing include storing in a:
case (clutch container)

pencil/makeup bag

Department store makeup divider

Seint brush holder, easy for travel

Glass box (target)
The Verdict: Is Seint makeup worth it?
I've used a looooot of makeup and a lot more brands than the average person. I found Seint makeup to be very high quality, highly pigmented and innovative in its approach. I really liked that I had less makeup on my skin, especially in summer, when my skin feels like it's melting off my face.
Being of a certain age, I found that I did need to work it into my skin more to keep it from accentuating signs of aging. I did this by moisturizing, applying a primer, applying the HAC foundation, using a wet beauty blender to press it into my skin and then setting with a spray. This may sound like a lot, but I do all of these things with regular foundation, too, and then also have to apply bronzer, blush and highlighter separately. So, the HAC method IS faster and uses less products.
The only downside for me was how much brushing you need to do. I typically apply foundation with a blender sponge or my fingers, which works it in pretty quickly. With the brushes, you do need to blend, blend, blend, which can take a little practice at first, otherwise the contour can be more noticeable than you might like.
Overall, I think it's a lot of fun to use and if I didn't need to work through so many products as part of my job, I would use it more. For the makeup minimalist, it's a great choice.
More Seint Makeup Tutorials:
See Seint in action! Check out Annie's instagram for tons of videos or check out these posts using Seint makeup on the blog as well:
****
Thanks for reading! Annie and I hope this answered all your questions about Seint, but if it didn't – please leave them in the comments below and we'll add them to the post!
Remember, if you're looking for an artist to color match you – reach out to Annie here. She's phenomenal and she shares tons of great tips and hacks on her Instagram, in addition to Seint tutorials, so you don't want to miss out!
Have a fabulous day,
E