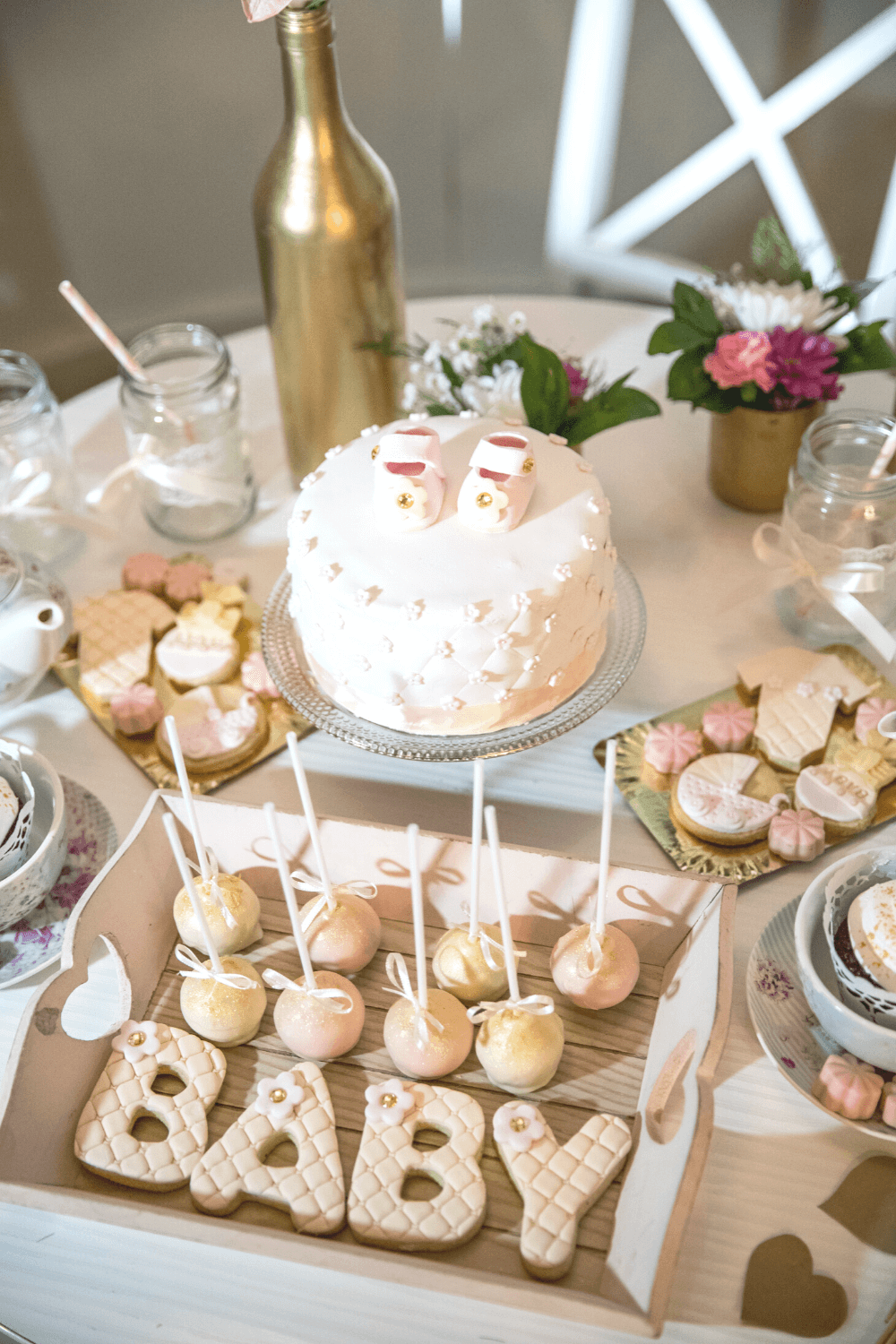 Is there anything more wonderful than celebrating new life? I love baby showers – probably because I love, love babies! They're adorable and cute and all of the new baby gear is just the coolest.
But, if you're planning a virtual baby shower – you may be stumped on what to do. Technology has changed our lives – in both good and bad ways. But, one thing I love is how much easier it makes it to stay connected and see each other's faces in real time, even if we are far apart.
There are definitely some challenges to planning a virtual baby shower, but with some creative ideas, it can be just as sweet and helpful to the mom and her new baby as an in-person baby shower. Let's take a look at some easy tips that will make your virtual baby shower the best one yet.
Tips for Throwing a Virtual Baby Shower:
For our example shower below, I'll be sticking with a greenery, eucalyptus baby shower theme. I love it because it's gender neutral, sophisticated, and works anytime of the year. Plus, the YouTube videos I have created that you can use for free are a greenery theme, so everything will match and be ready to go for you! Before we dive into the tips, please know that some of these may be affiliate links or link to products I have created myself.
1. Send an Invitation: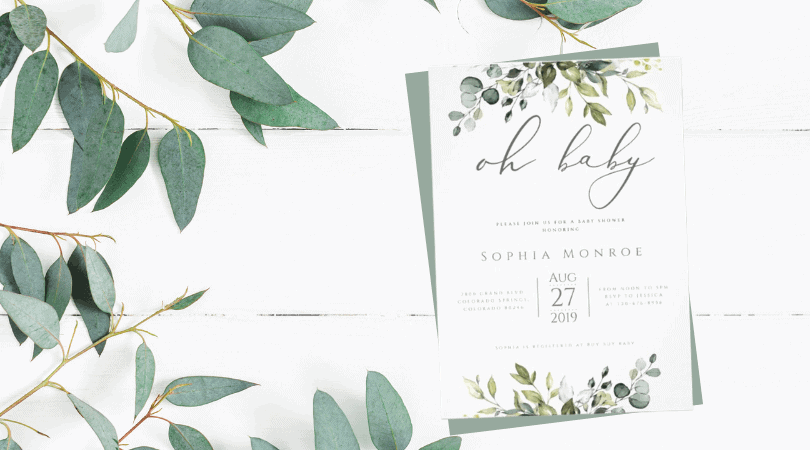 Why not set the tone for your super virtual event with an electronic invitation that spells out all of the details? Or, grab a paper version, too – these ones are gorgeous! There are a ton of other greenery inspired invites you can choose from, too.
You can either have a 100% virtual event or give people people the option to attend virtually or physically. Either way, you'll want to make sure to include all of the details for where and when they should tune in on the invitation. A software like Zoom makes it really easy for everyone to join in the fun wherever they are in the world.
If you're doing a combo party – with in person and virtual guests – you'll want to specify a certain time when cameras go on and everybody can participate together. Save things like games and gift opening for when the cameras are on!
2. Use Video Versions of Baby Shower Games:
If you're using a software like Zoom, you can do screen-sharing and play games as a group. Use video versions of baby shower games, like the ones below, and broadcast them on the screen for all of your friends and family to play together!
I created two adorable and free baby shower video games that you can find here or on YouTube to use at your event:
Emoji Baby Shower Pictionary:
For each trivia question, your guests will have 10 seconds to write down their answer before the answer is shared. See how many emoji baby shower questions you and your guests can get right!
Who's Your Mama Baby Shower Game:
Who's My Mama is such a sweet and easy baby shower game that everyone will enjoy. In this game, individuals or teams try to name the baby animal that pairs with the picture of the mama animal. You might know the name for a baby cat or a baby kangaroo – but some of these might stump even the zoologist in the group!
3. Send or Email Printed Games in Advance: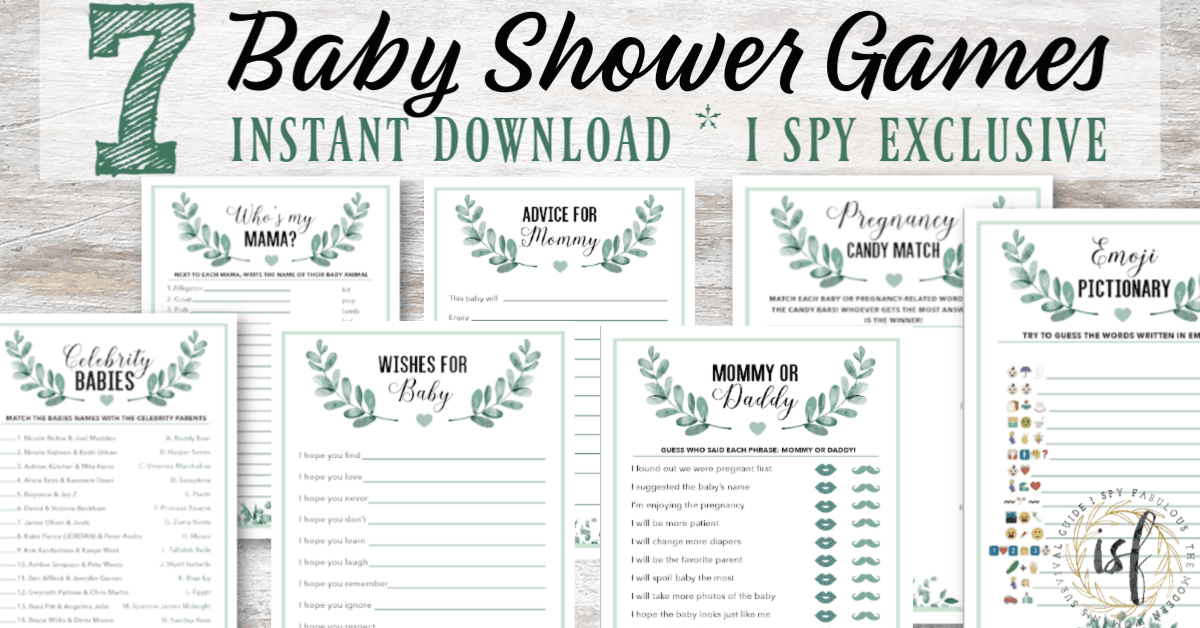 Another easy idea is to include the baby shower game printables with the invitation when mailing or include a link to download the PDF on the virtual invite!
Or, an even easier option, when people RSVP, ask them for their email and then just email them the PDF of baby shower games. They can print the games at home easily and then be ready to participate when it's game time!
This is especially sweet for games like Wishes for Baby and Advice for Mom. Something I have done before is include a self-addressed stamped envelope for guests to mail the Wishes for Baby and Advice for Mom cards to the mom-to-be, so I could put them in a little scrapbook for her. These cards are such a sweet way for people to handwrite their messages and they can be saved and cherished for years to come.
If you're interested, I created a matching baby shower game set that goes with the two YouTube videos for a suite that works perfectly together! I'll be adding more YouTube versions of the games over time and I'll add links when they are ready, too.
Find the baby shower game set linked here.
4. Decorate Where the Camera Will Be:
Plan in advance where you'll place the camera or computer when filming and make sure that you can see a large enough area. Then, be sure to decorate that space just like you would for an in-person shower!
Just make sure to test out different spaces to find the one that has the best light and the most space to create an adorable backdrop for mom-to-be to sit and engage with her guests.
These greenery themed decorations are too cute!
This one would be the perfect backdrop kit: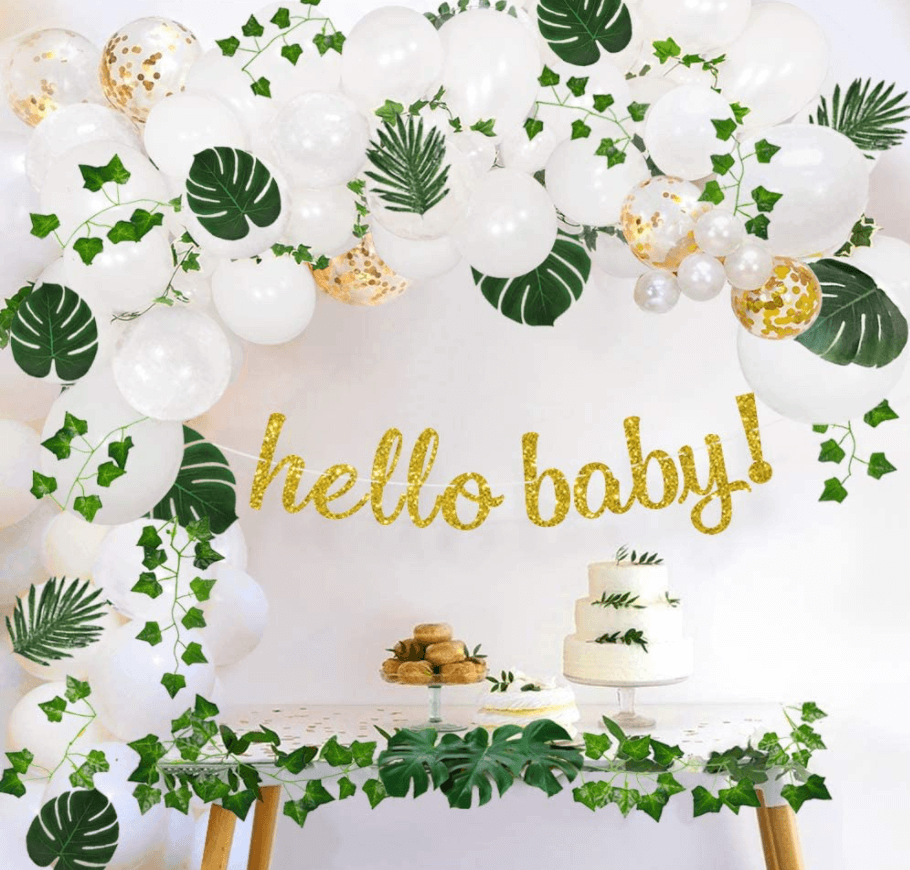 Love the "Oh Baby!" in this one: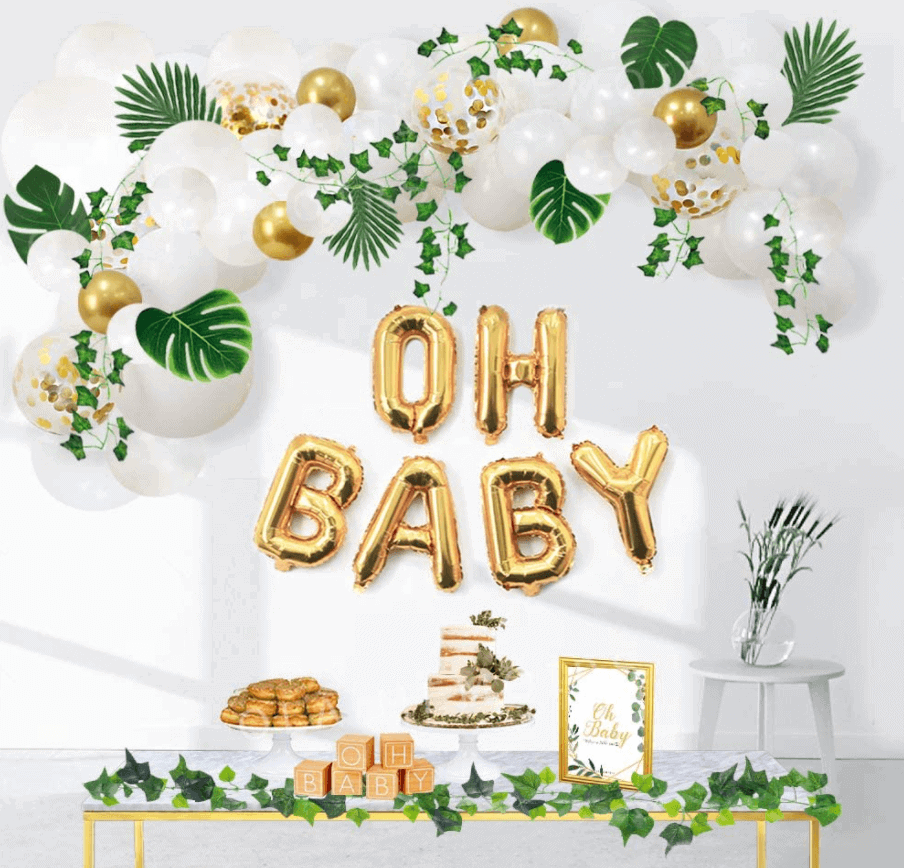 5. Email, Text or Send Prizes:
Since you can't hand out prizes in person to the game winners, use virtual prizes! It's so easy to send someone a gift card for a coffee now.
Starbucks: You can email people a coffee gift card – and even choose what the card looks like – from the Starbucks website or even the app on your phone! Just make a list of the prize winners and spend a few minutes sending each of them a $5 gift card for a coffee to celebrate their participation and game win!
Gyft: Apps like Gyft allow you to quickly send a gift card via text message. Easy!
Amazon: Or, you can just plan to send each winner a small thank you gift from Amazon, which offers free shipping if you are a Prime member! A fun reusable wine tumbler like this or even a fun pink and blue bath bomb like this would be so fun.
6. Open Gifts Online:
Everybody loves to see those teeny tiny little clothes and cool new baby gadgets. Make sure to do an unwrapping or unboxing of all gifts that have been received a head of time and show off all those goodies.
If you or the new mama needs some tips on what to register for, don't miss my post with the 10 coolest new baby products and also my ultimate baby list registry suggestions.
Oh, and share the free hospital bag checklist with the mom-to-be as well!
7. Do a Toast:
Make sure to have some time set aside to do a mocktail toast where every person gets a chance to say something to the mom-to-be. They would have these opportunities privately at a gathering, so make sure everyone has the floor for a few minutes online, too.
Not everyone is going to yell above the noise to be heard. Allocating time for each person to have a few minutes will make the day special for everyone.
*****
What do you think, would you plan a virtual baby shower? Hopefully, with these tips, you'll be able to celebrate every mama to be in your group, even if everyone can't be together in person.
If you use my free YouTube videos, make sure to subscribe to my channel! It helps me know what videos my subscribers are watching, so I can create more that you'll use and love.
Don't forget to check out my new post with 35 awesome baby shower games that everyone loves!
Have a fabulous day,
E