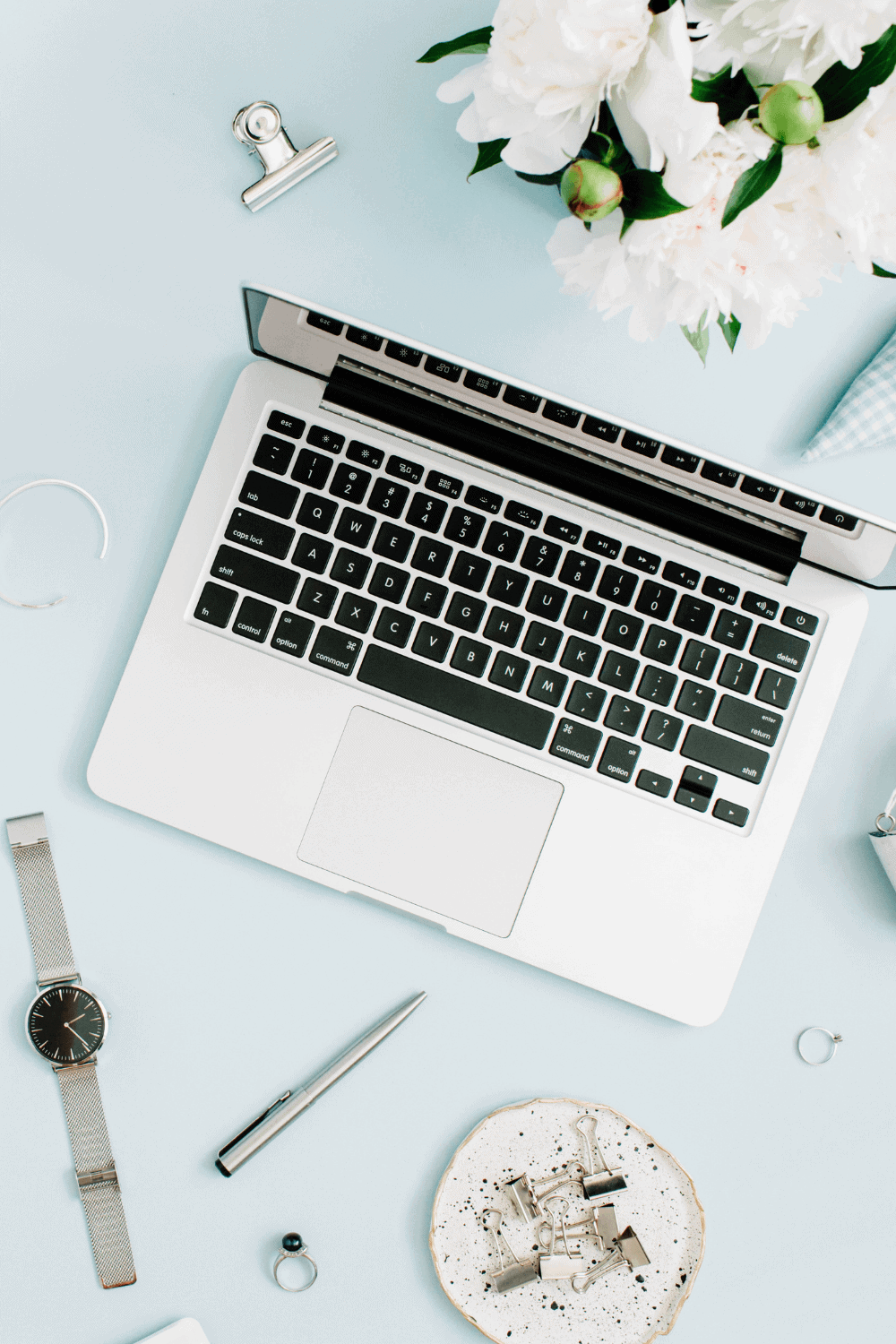 When I started my blog two-years-ago, I had no idea what hosting was or why I even needed it. I most certainly didn't know which hosts were trustworthy, had great customer service and less downtime.
Luckily, after a short blip where I started my site on Weebly (great for a business site, not as great for a blog), I switched over to WordPress and had some guidance on which hosting platform to choose. If you're new to this – hosting is simply the company that owns the servers that power your site and store your site data. Without hosting, your site would crash if you had a lot of visitors at once (which we all want!). And, after some researching and asking around, the answer was simple: Bluehost, BigScoots or Siteground.
Fast forward two years and I've learned a lot more about what to look for in a hosting service and I've experienced each of these from the inside as a blogger. I'm going to give you the inside scoop so you can make the best choice for you and your blog or business.
This is invaluable info, my friend, so let's get to it. Know that affiliate links are used.
What To Look For in a Host:
Your list might look different based on what stage you're in. For example, if you're a seasoned blogger, you might be past the shared hosting plans and looking for the best managed hosting you can find.
Whatever it is, we can all agree that any host company you work with needs to have the following things:
24/7 Great customer service – Nobody wants to deal with a customer service bot when your site has crashed and you need answers NOW. Plus, most of my blogging power outages and problems happened after traditional business hours. If I had a host that switched over to an international customer service center after 5pm, I think it would've been a much bigger hassle when I needed help STAT. I only work with hosts who have 24/7 customer service with people who can actually help.
Reliable network – You don't want your site crashing when a hot post goes viral or during peek hours. While there are going to be small blips and bloops along the way, you want a host that is actively managing their servers, hopefully prepared for any possible outages and has a fast action plan in place if there are any unforeseen issues with a server.
Regular Backups – Things happen. Sometimes you might accidentally delete your own site. Twice. You need a host with daily or very regular backups. Then, make sure to run your own with a WordPress plugin. The scariest words a blogger can hear are, "Your site hasn't been backed up."
Scalability – You will probably start on the cheapest plan. I did, too. Then, you want a host that can grow with you – at an affordable price. You don't want to start over with a new host because your site is growing and that cheap price just shot through the roof. What a headache.
A WordPress Hosting Service You Can Trust:
With all of these features in mind, I am confident in recommending the following three options. Beyond just the initial shared hosting package price, make sure to look at the other packages after – because your blog will grow and you will need more coverage for that traffic.
Also, while I share what comes with each of these hosting services – know that I have used all three and they are pretty similar in most of these areas. If these links take you to the main page, make sure to navigate to the shared hosting plans – that's where you're going to find these plans for the new site/blogger.
The most affordable to start, so they are popular with new bloggers. But, they don't treat you like it – because they know that your blog is going to grow and they want to win your long-term service. Take a look at how the pricing scales with their shared hosting plans, which is plenty to get you going for awhile: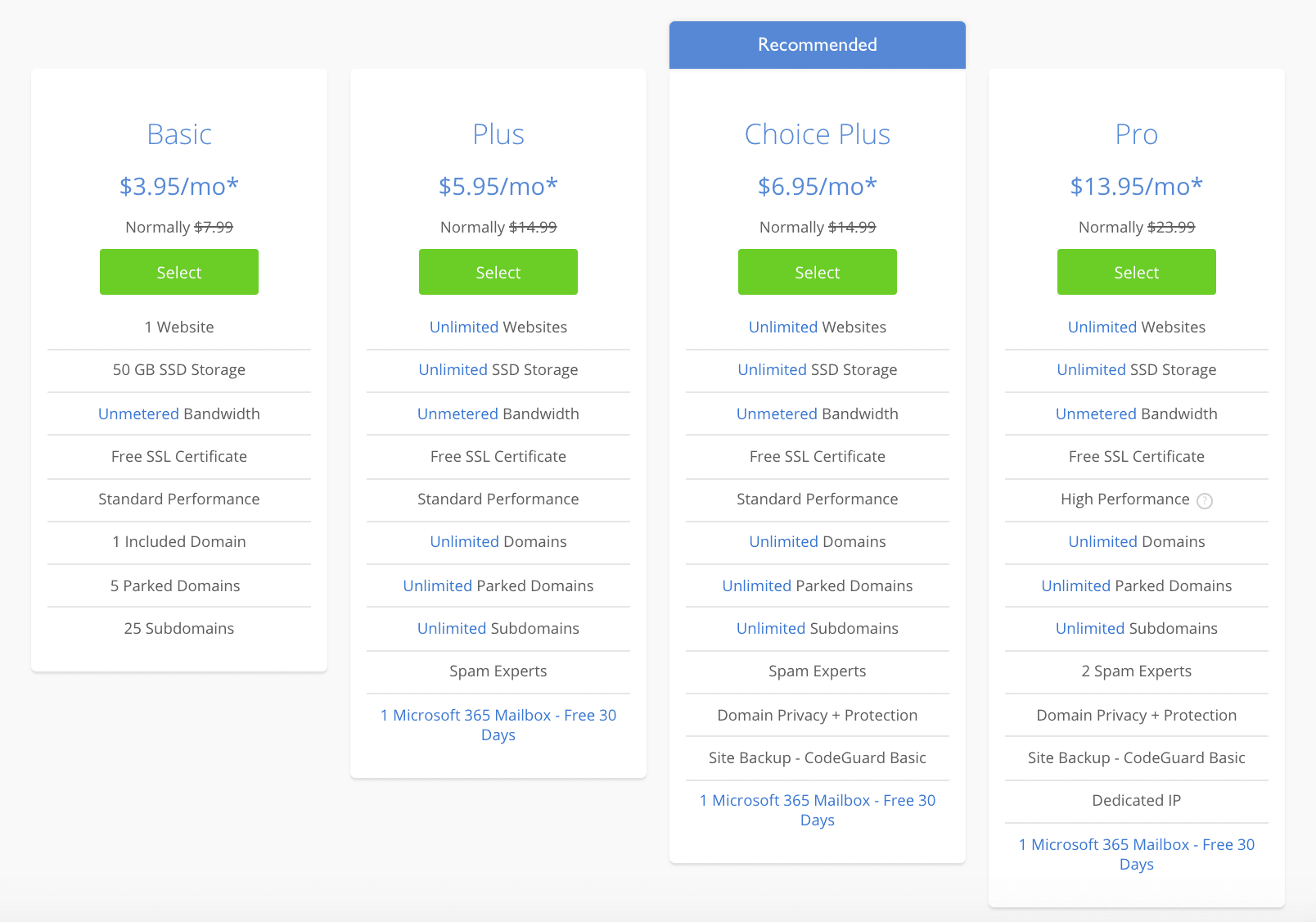 Their dashboard for managing your account is sleek and easy to use, too. You can't discount how important this is when you are new and have no idea what you are looking at. Their program is feature rich as well, here are some of the features they are most proud of:

Bluehost is a solid way to go. You can get that blog up and running for less than the price of your fancy coffee. That's not a bad deal. Plus, you'll get hosting from a company that really understands bloggers and works with a lot of new bloggers. Since hosting is used for any URL or website – this is a really important distinction. You need a host that understands what you are doing.
Now, there is more to blogging than hosting. You will fork out cash for other things – so beware of the blogger who blogs about blogging and tells you how cheap it is to blog. Especially as your blog grows – the expenses will climb. Check out my detailed free guide on how to start a money-making blog.
I Spy Fabulous has been hosted with BigScoots since the very beginning. I started on their lowest starter plan for shared hosting and I'm now on their managed WordPress program.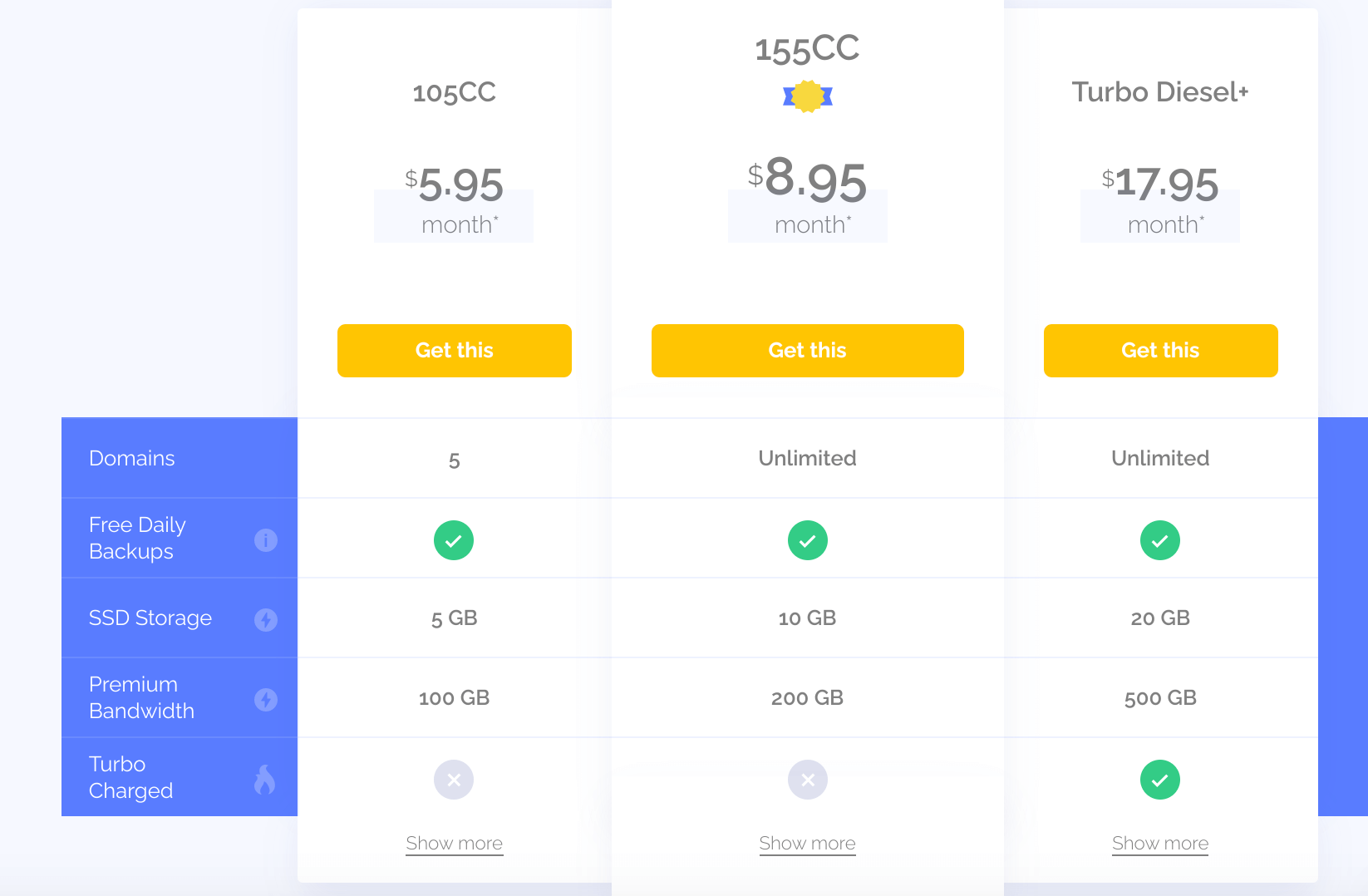 Let me tell you something about the good people over at BigScoots – they do not treat you like the lowest tier customer. They treated me like my blog was the most important blog they managed from the very beginning. That is no easy task – because I have done a lot of stupid things since starting this blog. I deleted my site on accident – twice. I cloned my site with another blog. I've started and stopped multiple blogs. I've forgotten to do updates and had my site hacked. I've written them emails in the middle of the night with titles like, "SOS!" "SITE CRASHED!" and "GOOGLE HATES ME!". I get a response lightning fast to every single one and they take it all very, very seriously – sticking with me until it is resolved. And, since they are WordPress geniuses – it always is – unless the problem really isn't with the hosting (I'm looking at you, MailerLite!). Sometimes I actually get a little embarrassed about how ridiculous it must be to work with me – but then I remember that I never actually have to see them in person and I feel better. Let's check out some of their features:
I feel like they could add a lot more to this list. This feels too modest, in my opinion. These guys are WordPress wizards, blog saviors, hosting experts and just good people. You'll start a little bit more expensive at the beginning – but you get what you pay for.
When I started site for my brother, I decided to use Siteground, for no other reason than just curiosity and wanting his site to be separate from the others. I find their pricing to be very competitive: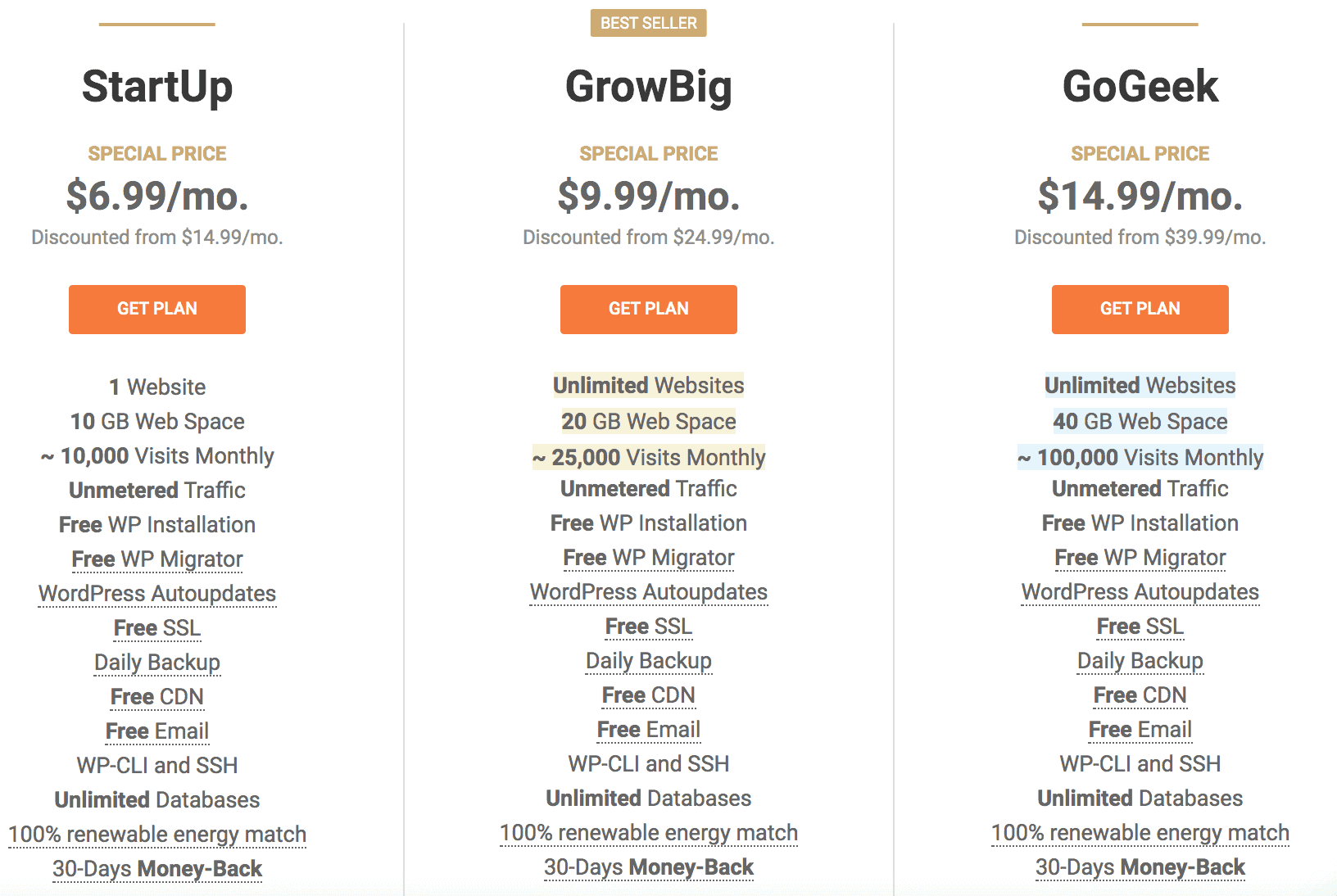 Plus, was incredibly easy and quick. I found their SST process to be the absolute fastest and most pain-free of any other site I built. SST is what turns your site from "http" to "https". The added "s" basically says your site has an additional layer of security. This is why some sites will have a pop-up warning saying the site may not be secure and asks you if you still want to go. The site is probably fine, they just didn't update their SST certificate. Anyway, Siteground has been great. Tons of features, too: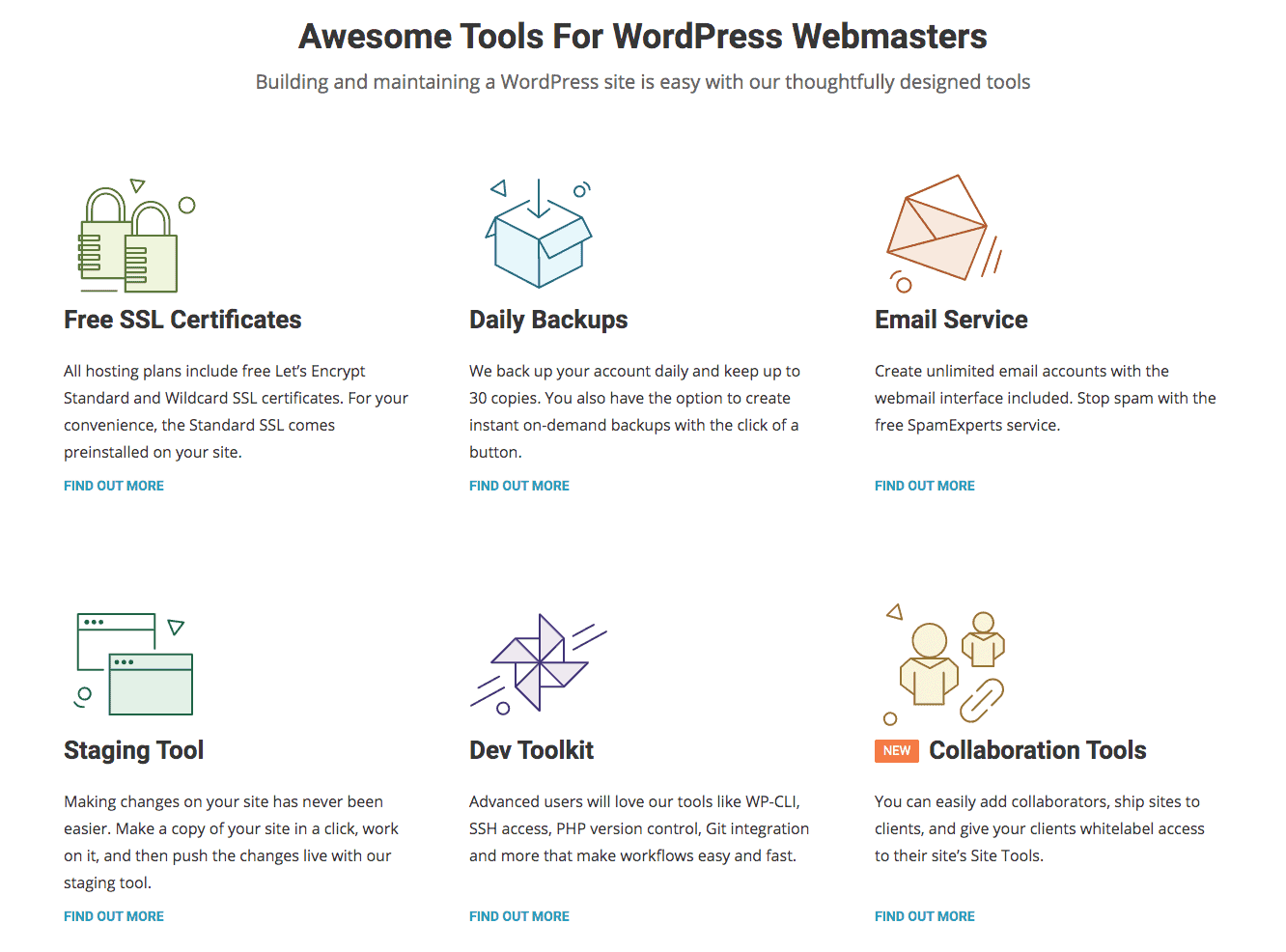 Another thing to know about Siteground is that their dashboard is also very sleek and when I needed customer service, I found their customer service chat to be very good.
*****
I hope this helps you as you start the process of researching hosting services. There is definitely more than one great option, so don't feel like you have to go in any one direction.
Have you tried any of these? I'd love to know your thoughts.
Also, while I do not talk about blogging very often, I do have a number of posts that might help on your journey:
Thanks for reading. Have a fabulous day,
E