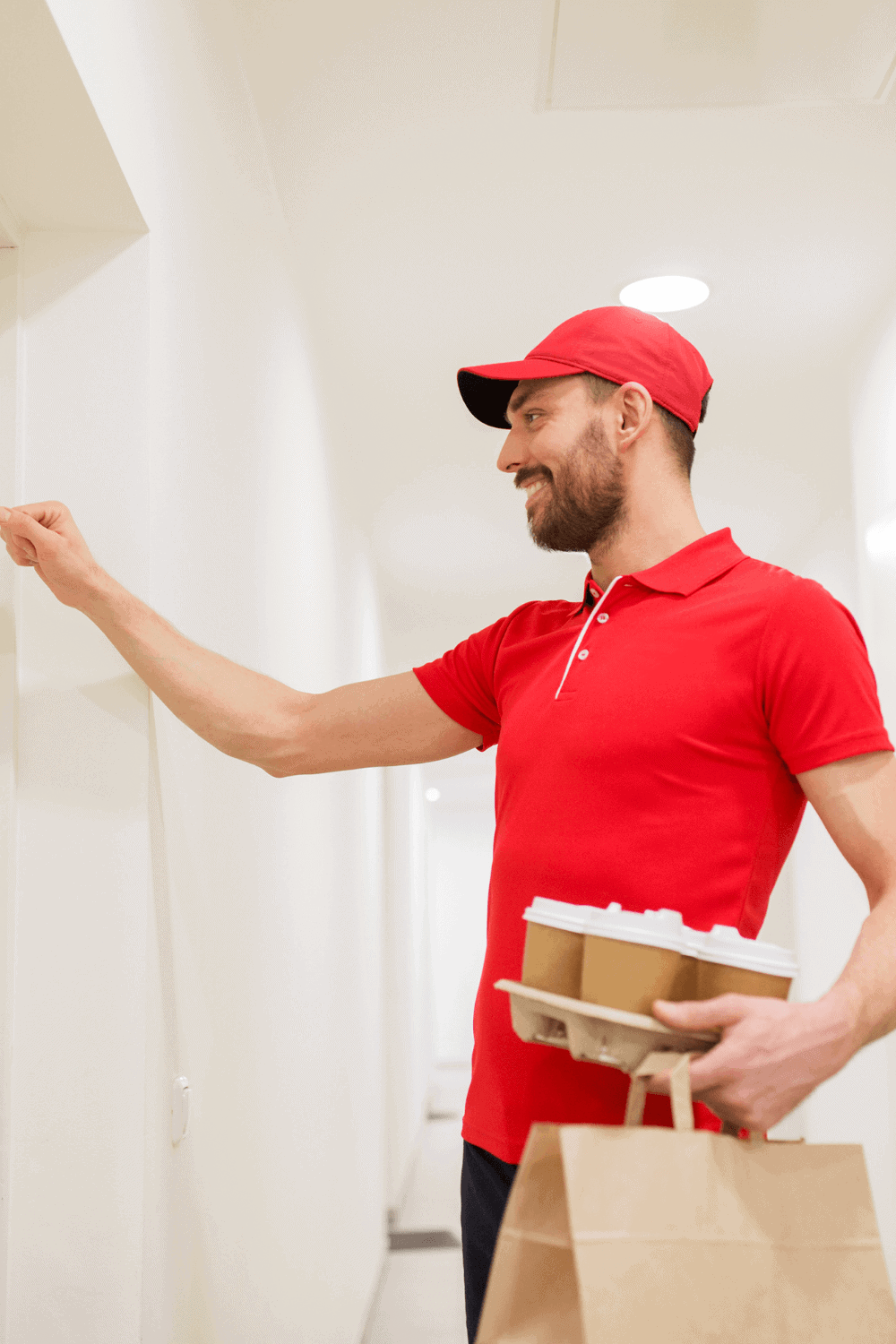 I don't know anyone that couldn't benefit from an extra $500, $1000, or more a month in cash right now. With everything going on in the world, you might just feel better having a bit more in the bank than usual.
Or, maybe you're one of many families that has experienced a recent job loss or loss in income due to schools being shutdown. (Holla!)
I've been making money from home for 7 years now, through a variety of methods, such as blogging, freelance writing, Etsy shops, and using things like cashback apps and survey sites. While I'll be sharing more about other ways to make money from home soon, today we are entirely focusing on the best way to make money with delivery apps!
Why Deliver for Cash?
Regardless of why you might want a little extra in your wallet, delivery apps are all the rage when it comes to getting money fast. In fact, I've been listening to several close friends of mine as they have shared their experiences with all the popular delivery apps. One friend made over $800 her first month driving deliveries, on her own time, with her teenage son in the car! He loved helping her run deliveries and share in the tips! Another friend survived by driving for all of these apps when she lost her job unexpectedly.
So, don't discount this easy way to get up and running and making money fast! Here are a few reasons why my friends are raving about delivery apps as a quick way to make cash:
All you need is a car and a cell phone that can download the app and you are ready to go.
Low barrier to entry – they don't need to see a resume, call a million references, or ask for 15 interviews before offering you a job. Oftentimes, you can apply in minutes and get a response within a day or two if you've been accepted.
Flexible – Pick your shifts, pick your area, be your own boss.
Paid quickly – You will get paid quickly for shifts and tips. Yup, you heard me – TIPS!
TIPS! If you've ever worked in restaurants, you know the value of tips. These apps make it almost impossible not to tip – in fact, everyone does. So, get your money, honey.
Stack them – you can apply to ALL of them and pick which one you want to drive for that day based on what works for you!
Stop anytime – since you decide when you work, you also decide when you don't. Take weeks off or just stop entirely whenever you want.
Talk about an easy way to get moving and making some money. Plus, with some easy tips, you can maximize your earnings. So, keep reading to get tried and true advice for how to make the most money with delivery apps.
The delivery apps I suggest below are the ones that I have first-hand experience with or have close personal friends who have used them regularly with good experiences. In fact, there are more I haven't recommended, simply because I don't have any first-hand experience or friends who use them and I absolutely do not want to steer you the wrong way.
So, if you're looking to deliver things as a way to make cash fast – these are the apps for you! Some affiliate links are used.
The 3 Best Delivery Apps: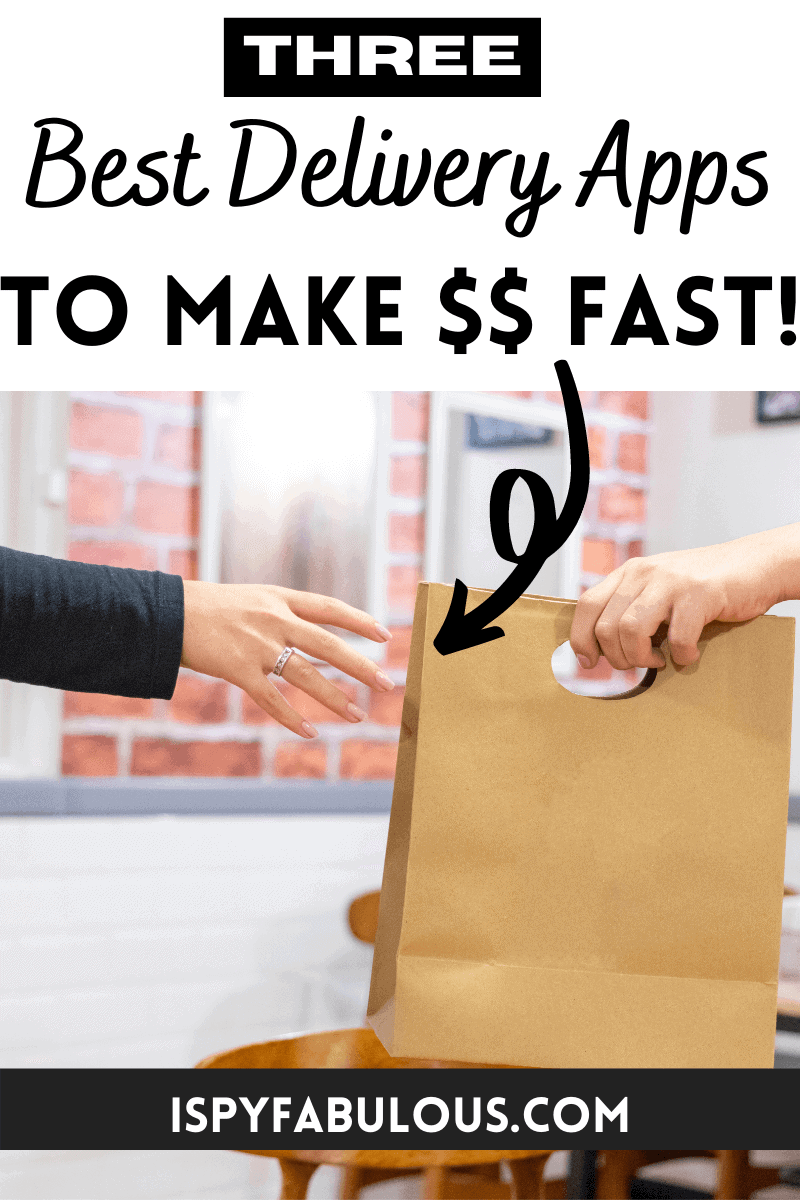 With all three of these delivery apps, you have a lot of freedom to pick your shifts, pick your orders, and make some cash! You'll even get tips, too!
1. InstaCart: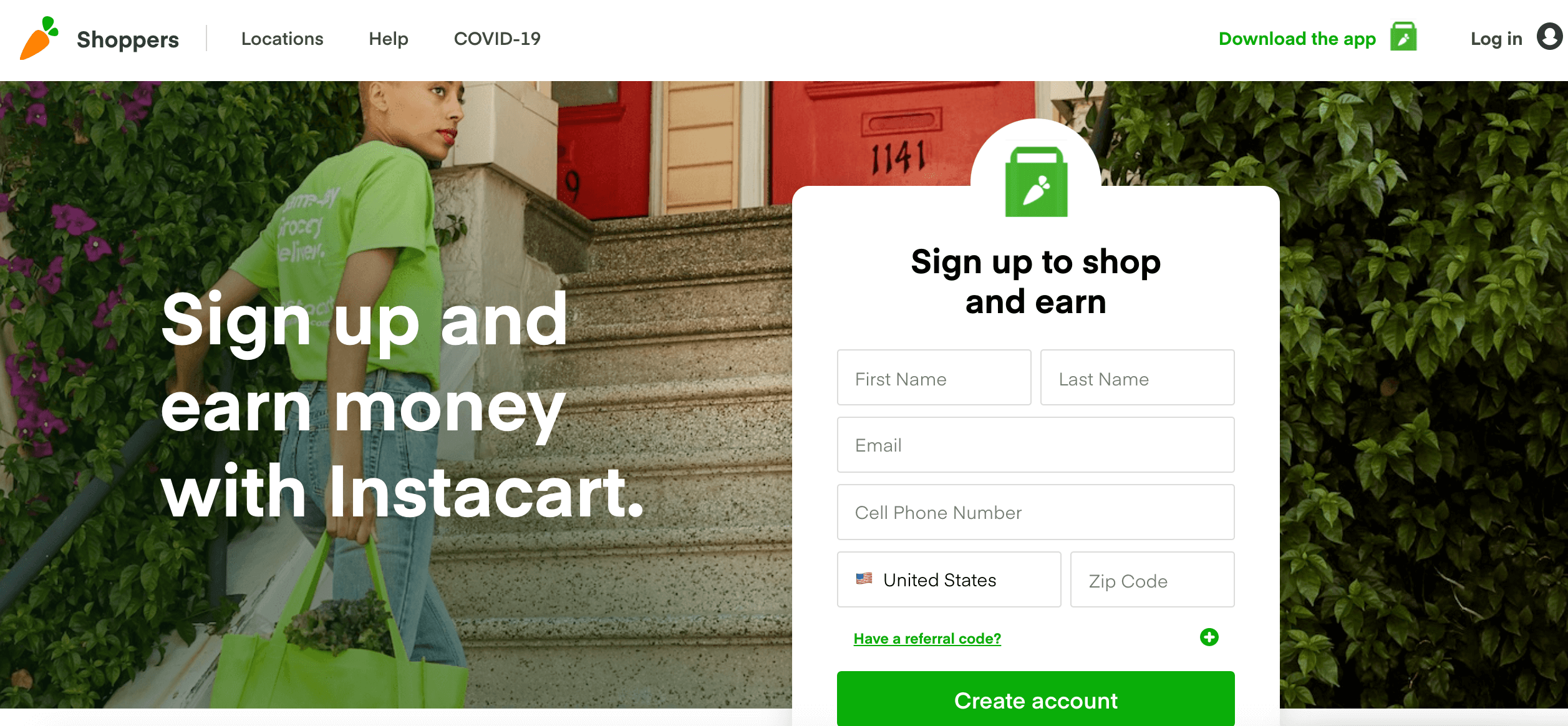 With InstaCart you actually go to the store and pick out the things they have ordered and then deliver them. Imagine what a big help this is to a mom with young kids or an elderly person who doesn't want to leave the house. InstaCart is a great resource and you can make money while knowing you are easing that burden for someone else. My cousin loves InstaCart, because she gets paid more per gig to be someone's personal shopper. She made $40 on just one Costco run the other day in between other things she was doing. That would pay my coffee budget for a month!
I hear only good things from InstaCart Shoppers and users. It's free to sign-up, so there's not risk!
Become an InstaCart Shopper here.
2. Postmates: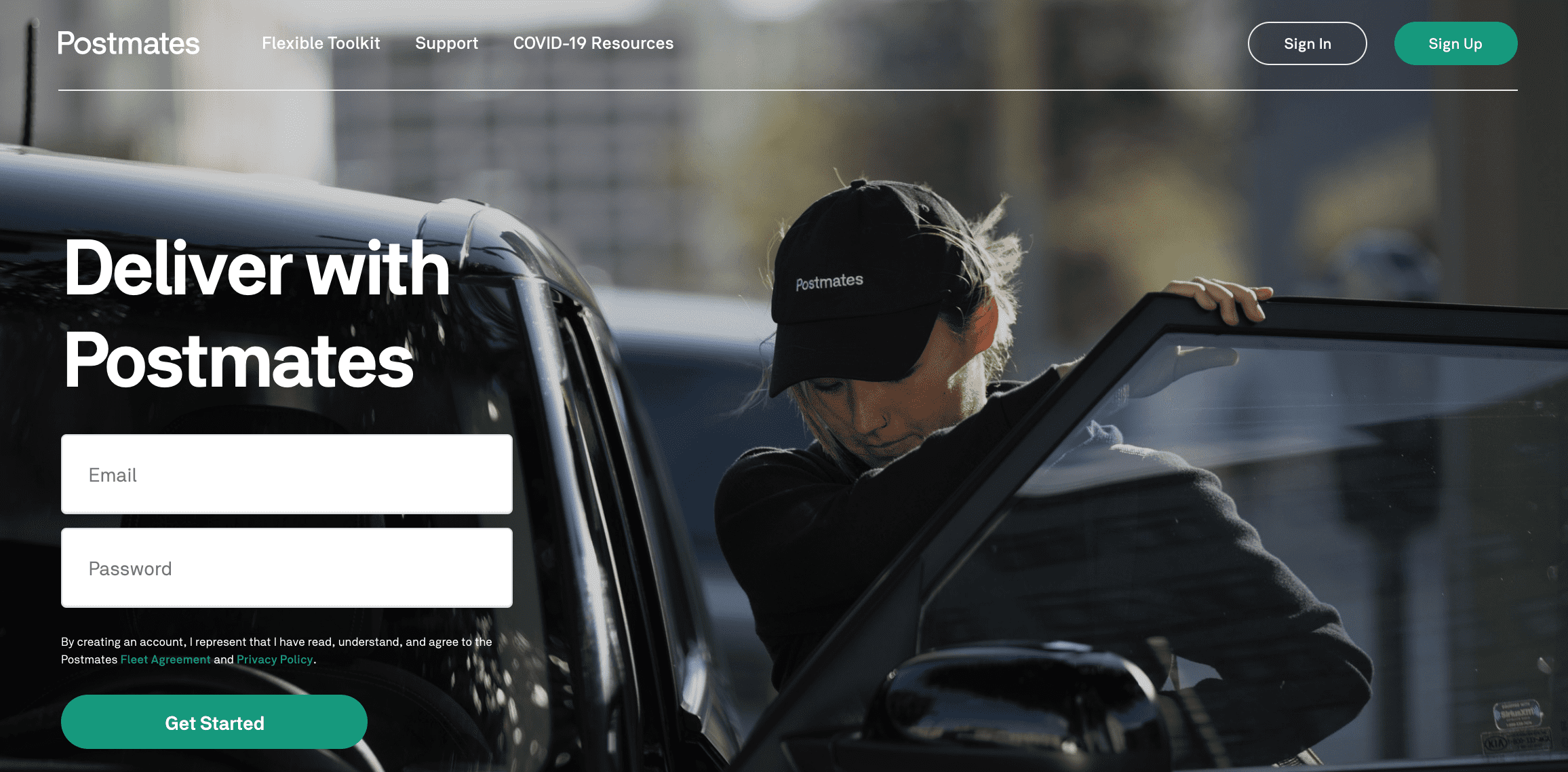 Postmates has one of the most diverse delivery options of any app out there. Imagine you're in the middle of a party and you run out of something – drinks, food, anything – you can order it on Postmates and have it delivered straight to your door. Postmates will pick up and deliver from so many different types of stores, you could have pretty much anything delivered.
The beauty of this if you are part of their Fleet is the amount of options people will have – which should mean more opportunities for you to pick up and drop off for cash. They also are not as well-known as Uber and DoorDash, which means more opportunities for you. Plus, I'm partial to their super chic black branding. Yass.
Join the Postmates Fleet here.
3. DoorDash: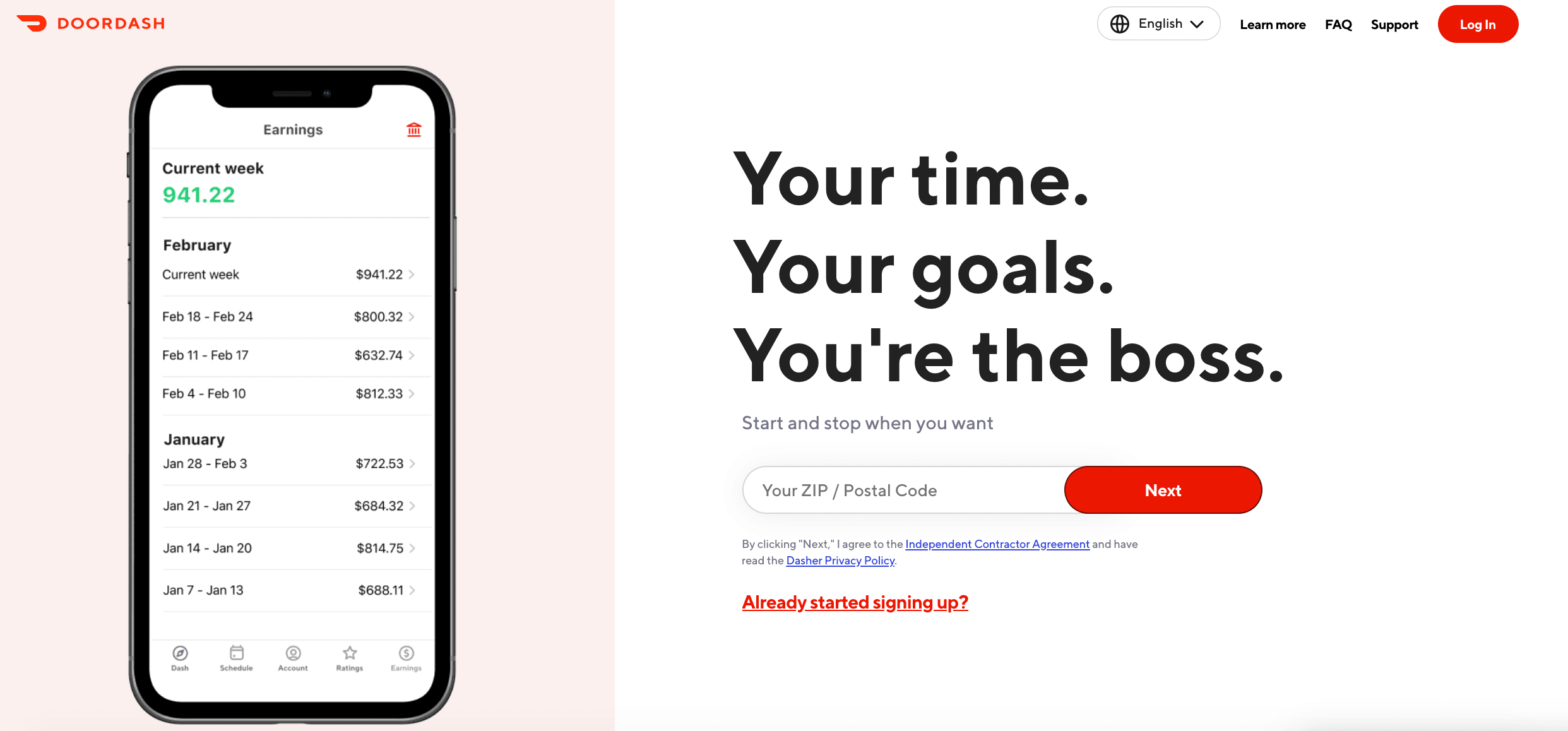 For DoorDash, you just pick up food and deliver it. No shopping required. I've used DoorDash so many times and it's been such a nice pick-me-up on days when I don't want to cook, but we can't leave the house. As a Dasher, you have the freedom to pick your shifts, pick your gigs within that shift and see exactly what you'll make. So, if there are certain areas or places you prefer to dash, you can choose that. They also provide a handy kit once you get started. Two of my friends run DoorDash and one made $800 in her first month in her spare time. Who couldn't use an extra $800?
Only downside to DoorDash is how popular it has become, so grabbing the best shifts in the high-traffic/high-paying areas might be a challenge. Still, you can sign up for all three and grab shifts for whichever is busiest when you have time.
Become a DoorDasher here.
10 Tips for Maximizing Earnings: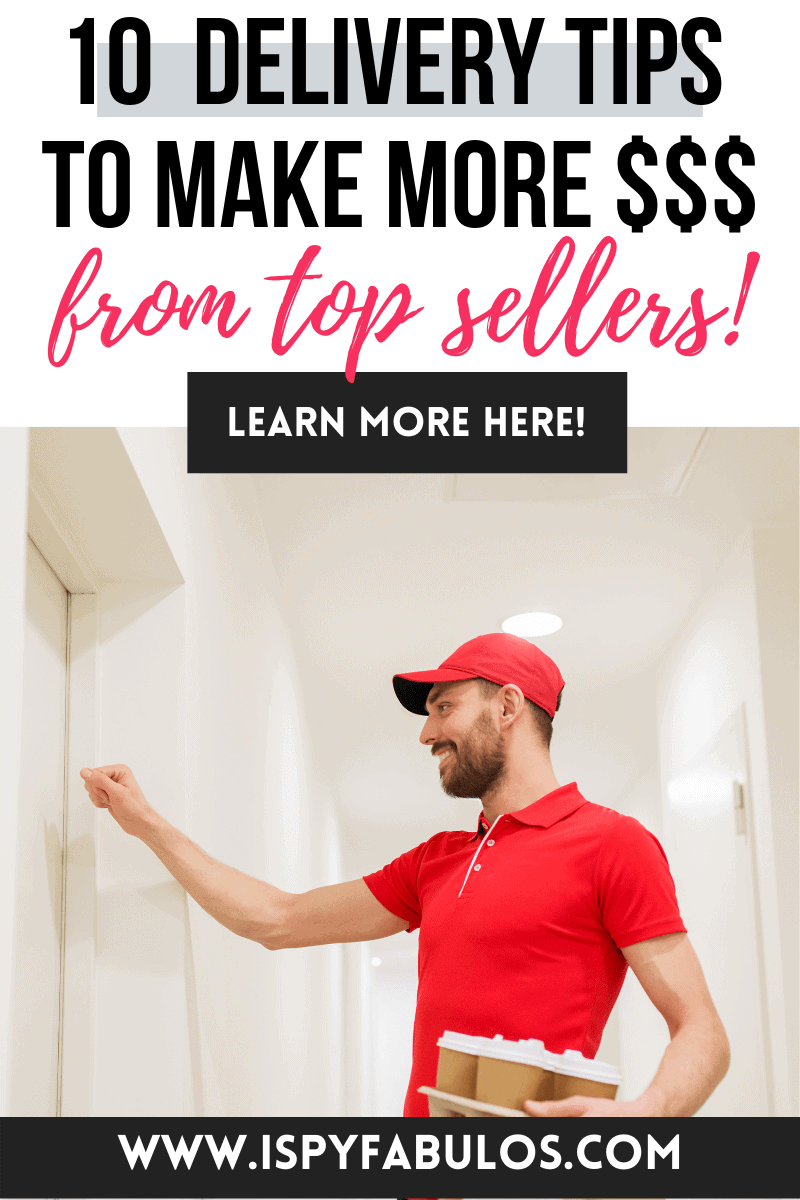 Now that you've applied for all three and you're waiting for approval, it's time to think about how you're going to maximize those earnings.
A lot of these tips are just common sense, but it never hurts to get reminders, right?
Smile – Nobody wants a stranger on their doorstep who looks angry – you know what I mean?
Be Polite – Even if you get lost, even if their gate code doesn't work, be polite.
Be Punctual – Be as close to the projected drop-off time, or early, as possible.
Follow Instructions – If they wrote not to ring the doorbell, it could be because they have a loud dog or a sleeping baby. Be considerate of their notes.
Don't touch the straw – Here's a big one for food. Please don't take the paper off the straw. Not even the bottom half.
Use Insulated Bags – You might get some from the delivery company, but consider adding more of your own to really insulate that food.
Look Professional – No, you don't need to show up in a tuxedo, but make sure you and your clothes are clean and appropriate. If possible, wear branded clothing or hats, like Postmates black uniform, so neighbors also know that you're supposed to be there.
Grab Condiments – Get any dips, sauces, or condiments that they might want with their food.
Be Ready – Have a full tank of gas and use the bathroom before you start running deliveries!
Check Distance – You'll make more money running multiple deliveries that pay less in a closer radius than one long delivery that looks like it pays more. This is SUCH A GOOD TIP!
These are seriously great tips that we have learned from making many deliveries for over a year! Use this to look like a pro and maximize your reviews and tips from DAY ONE!
*****
Boom! So easy! Have you driven for any of these apps before? Do you use one you think I should mention? Share it in the comments below!
If you are looking for more great apps, check out these awesome posts:
Come back for upcoming posts on cashback apps I use to make hundreds of dollars back each month and 10 easy ways to make money quickly.
Have a fabulous day,
E