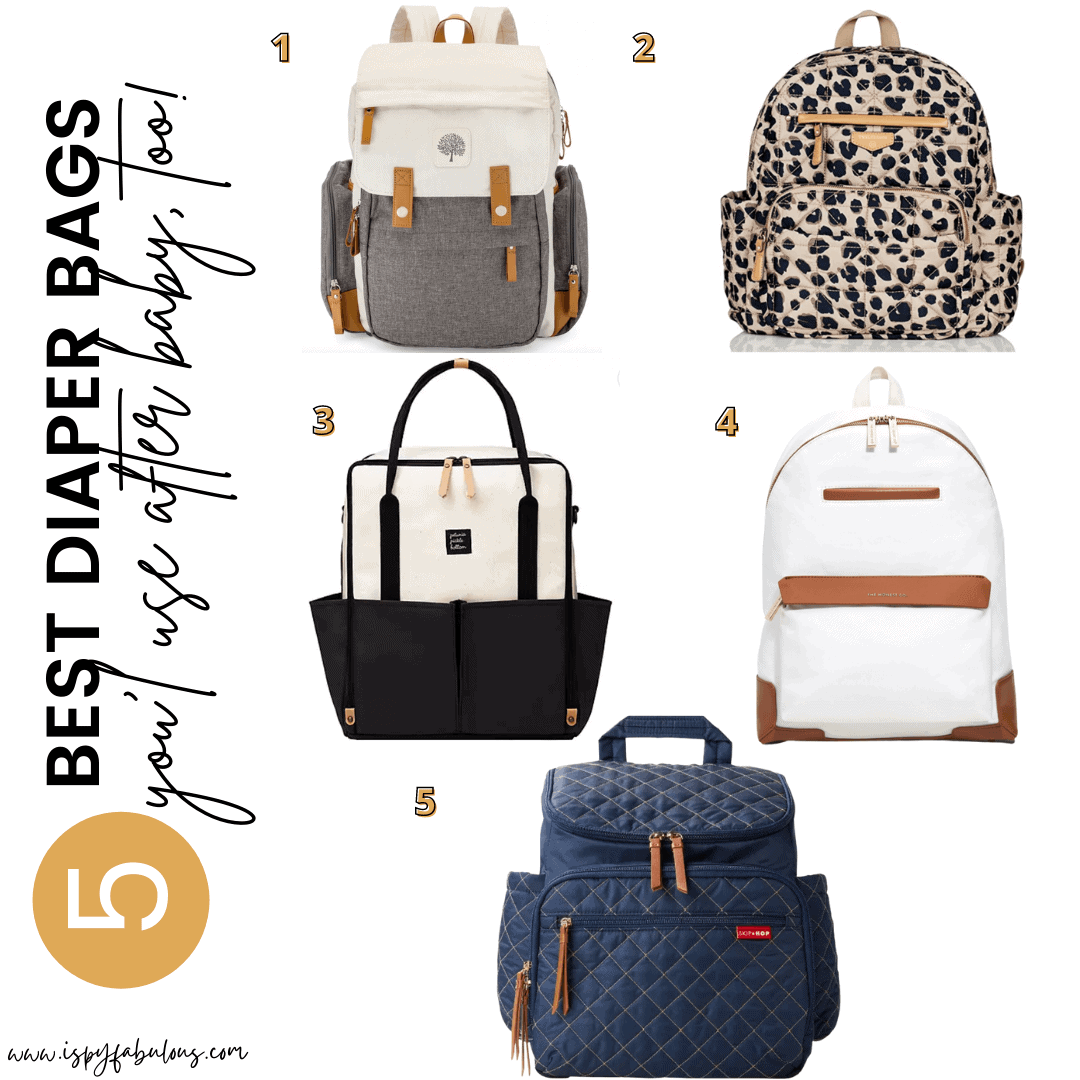 Everyone we know is having babies right now and since I'm a veteran mom of 3, I get asked a lot what my favorite products are, such as diaper bags. This is a fair questions, since I have a bit of a diaper bag obsession and have had many of them over the years.
But, not all diaper bags are created equal (not even close). I have fallen prey to beautiful bags that ended up killing my shoulders and paid too much for bags that were more comfortable, but impossible to clean.
Luckily, I have found a few that I do recommend, especially if you are looking for that unicorn bag that will keep up with you when you have babies, but also be something you'll actually use when they're grown.
So, today I'm sharing my top 5 diaper bags and backpacks with you, in case you're shopping for that perfect bag.
What To Look For In a Diaper Bag/Backpack:
This list might be a little difference for each of us, but for me, these are the things that I am looking for:
Comfy straps – I cannot deal with sore shoulders, no matter how cute the bag.
Holds a lot of things – Yup, this should be a no-brainer, except I bought one popular bag years ago that was like a sinkhole at the bottom. You couldn't see anything down there and it became a mess. So, simply having space is not enough here. The bag has to be designed to hold a lot of things that you can see and easily access.
Insulated pockets – Gotta feed those littles, y'all!
Lots of interior pockets – Not just pockets, but thoughtful pockets in the right places that are designed with certain items in mind.
Good-sized, padded diaper changer pad – I find it shocking how small some of the included diaper changing pads are. That is just not sanitary in public bathrooms. Or, the design will have buttons or zippers right on the part where the baby lays. Nope, no thanks.
Easy to clean!!!!! Not sure why any company would make a baby bag that is not cleanable. Do you have kids? This one is so confusing to me.
Converts to laptop bag – Being a freelance writer, I need a solid laptop bag for all my things and it seems silly to buy something brand new when I have a great baby bag that could convert to a work bag, too.
Cute – Yeah, it's the last one for me. Luckily, there are lots of options these days that make this one really easy to achieve.
So, if you're new to diaper bag shopping, feel free to borrow my list. Or, come up with your own and add what's important to you.
Initially, as a new mom, my list was shorter. It took lugging around a bad bag for awhile before I started figuring it out. One thing you might not see here is the ability to attach it to the stroller. I stopped caring about that, because there is no bag that did not pull the stroller backwards as soon as you took your kid out of it, or worse, started tipping the stroller WITH the baby in.
A fully packed diaper bag has no place strapped to the stroller. It either goes underneath the baby in the stroller storage or it's on your back.
*While we are talking about this – new moms: please don't put your baby in the car seat in the front of a shopping cart. I've seen those things flip over. Put the full car seat inside the main compartment of the shopping cart. Yes, you'll have less room for groceries. But, your baby won't get smashed in the face when the cart flips over.
5 Best Diaper Bags:
Let's take a look at my top 5 diaper bags and backpacks from brands I have and use and love and highly recommend. Know that affiliate links are used below, which means at no cost to you, I may receive a commission if you purchase through my links. Thank you!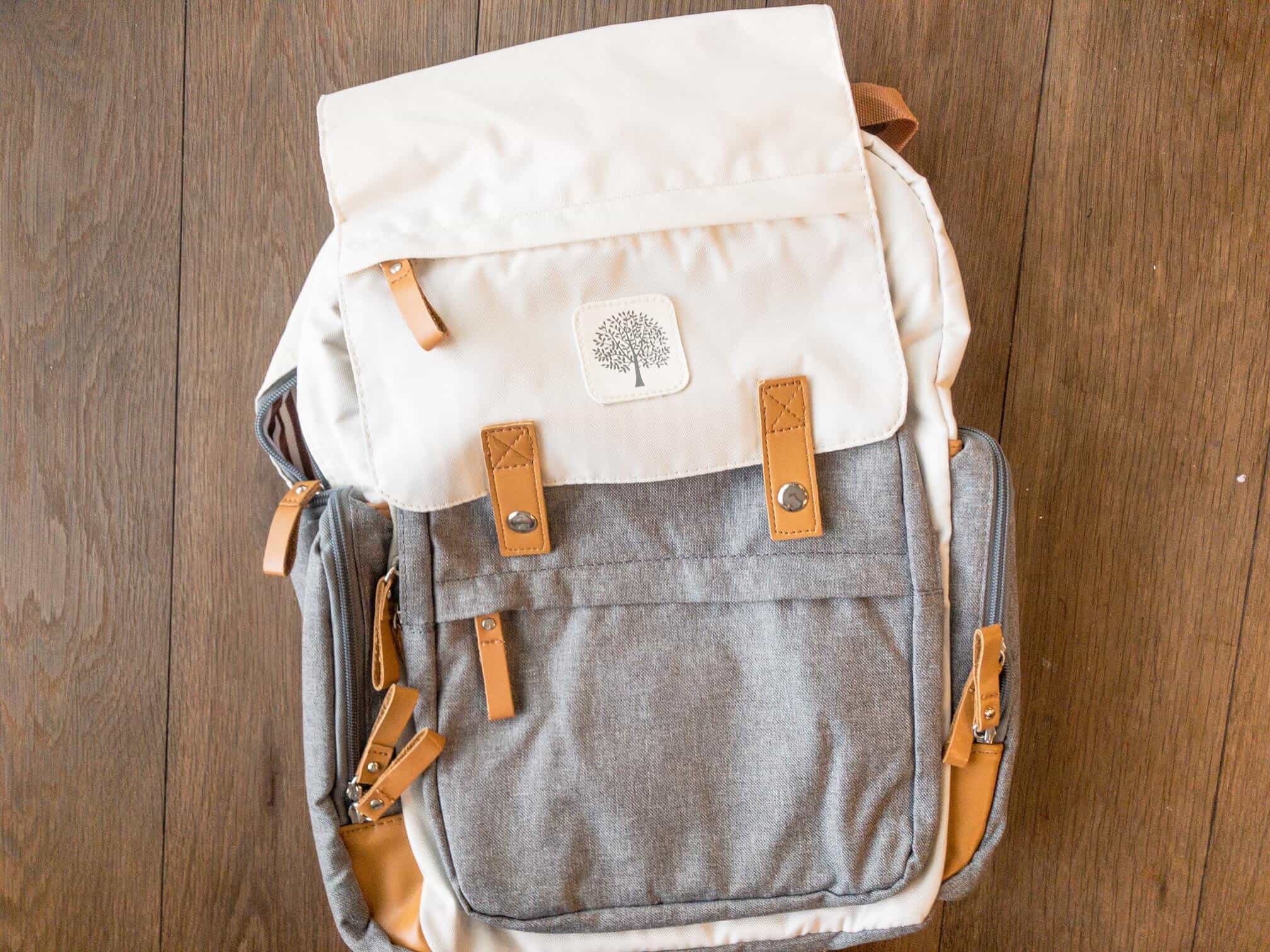 This is my new favorite and I'm a big fan. Not only does it hold all the things when I have the kids, but it doesn't look like a baby bag when I need to slip my laptop into it and go work at a coffee shop. The design is thoughtful and attractive, without screaming, "I'M A DIAPER BAG!" at everyone who passes by.
While I love the two-tone beige and grey with the tan vegan leather details, you can also get it in an all grey, too. There's also a really nice striped lining inside, which adds to the overall design.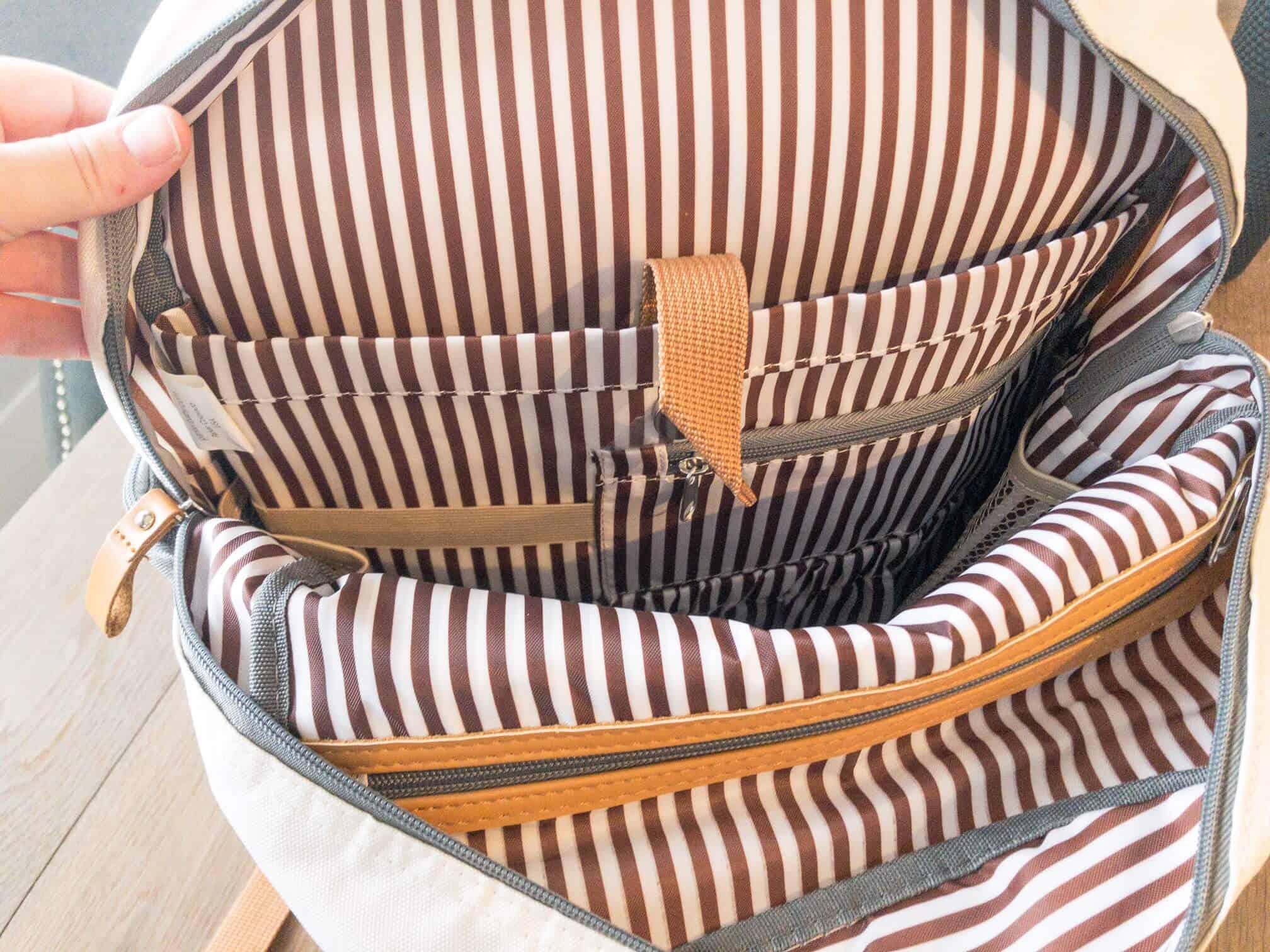 As far as features, this one has them all: insulated bottle pockets, mesh organizer pockets for diapers and wipes to make it easy to see what you've got, a mommy pocket with a key ring, a padded laptop/tablet sleeve, an included changing pad, padded straps and stroller hooks that tuck away when you're not in mom mode.
Done and done.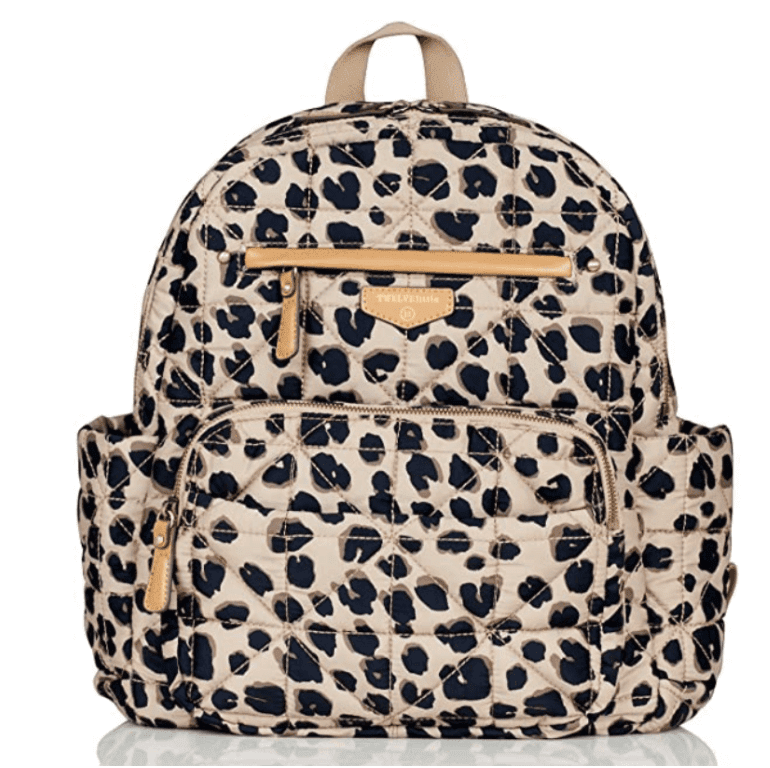 This is my second favorite bag and the one I was using the longest before the Birch. First of all, big fan of anything leopard print (love), but they have lots of other colors and designs, too.
You'll love that this diaper backpack is made from durable, water-resistant quilted fabric and detailed with an array of pockets to help keep you organized on the go. I will say, though, that a leaking bottle did drench the fabric and it discolored it forever. It never stopped looking "wet" even after the fabric had dried, so I would say it it's definitely water resistant, but not fully cleanable.
It has really nice padded straps, insulated bottle pockets, interior zip pockets, a nice changing pad and a flat base that won't fall over when you put it down (so good).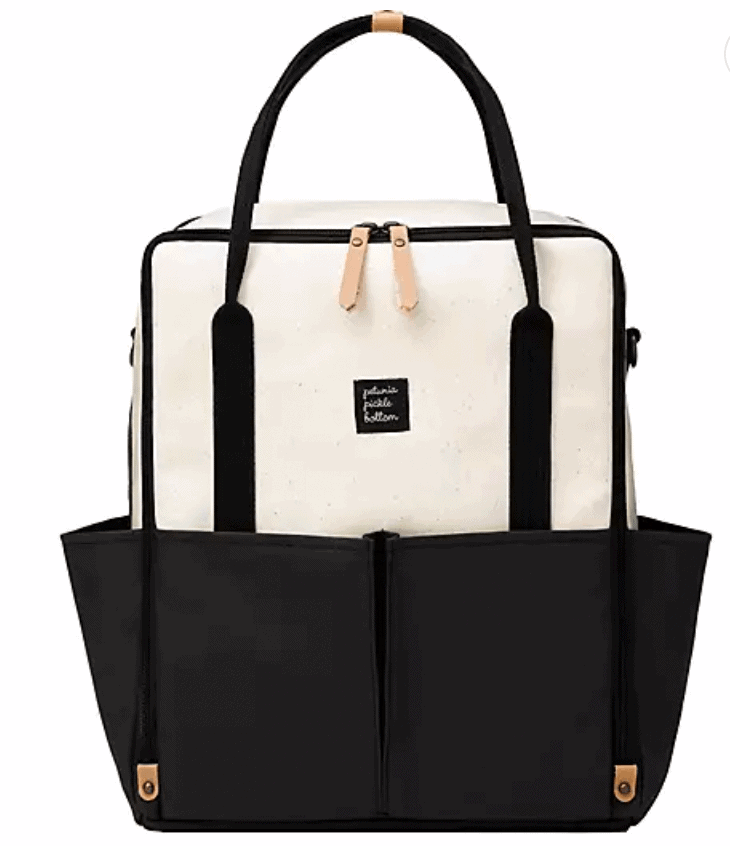 My very first diaper bag was PPB. At the time, they were one of the first companies to reinvent the diaper bag. Back then, there were still some design flaws, but they've continued to innovate over time and I am loving their new line of bags. This one is so chic, would be so cool as a work bag, but is still highly functional as a baby bag.
Features include spacious interior with 3 pockets, two exterior pockets and 2 front open pockets, wide zip for easy access to the entire bag (so key), genuine leather handles and trim, removable, washable and padded baby changing pad, easy-to-clean interior, rings on side for valet clips (sold separately).
This is number three because even though the straps are wide and adjustable, they are not padded and are similar to seat belts. The width is going to save some of the pressure and pain, but over time, they will still start to hurt. This bag is not ideal if you're wearing it as a backpack for long periods of time, but if you are able to slide it under the baby seat in your stroller, it's a great bag.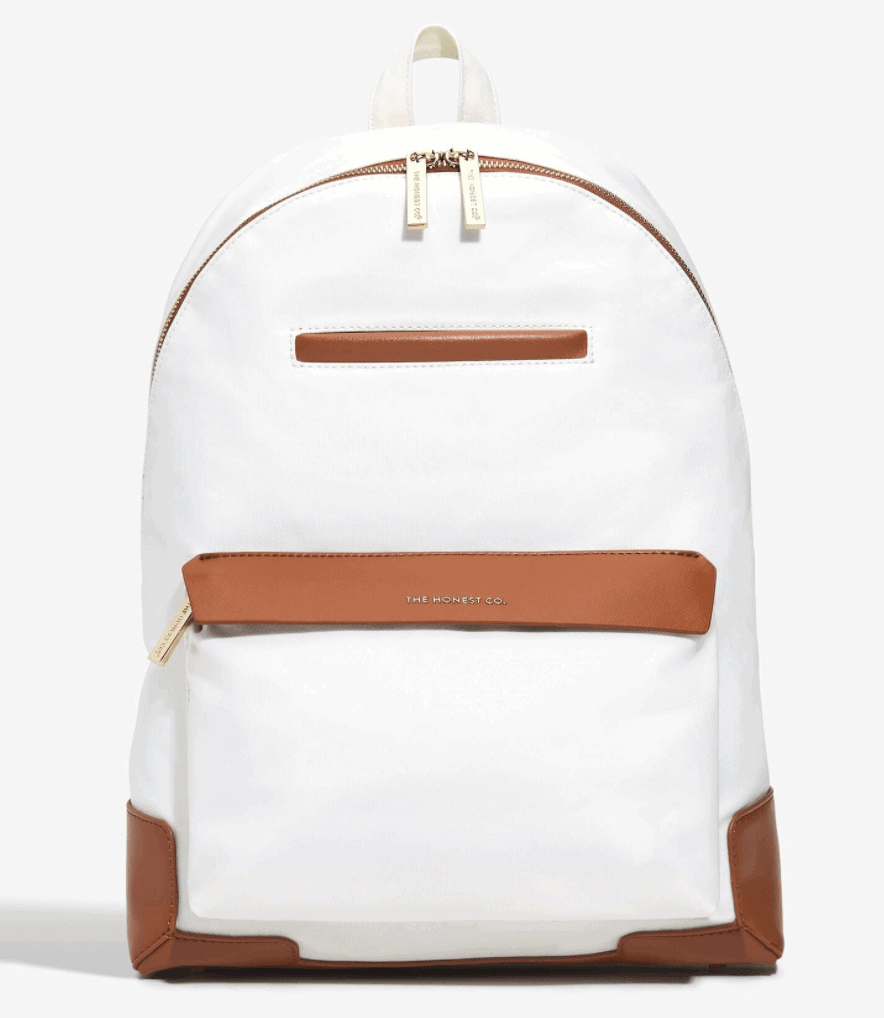 I love, love, love this chic two-tone backpack by Honest. I have an earlier iteration of this bag, which was all vegan leather, but this canvas one is such a cool look and a similar great design.
The way they design the zipper is really helpful for being able to see and access everything in the bag without having sinkhole syndrome. Plus, the backpack look keeps it timeless and usable after you are done with needing a baby bag.
Features include coated cotton canvas, gold hardware and cognac trim. 7 roomy interior pockets, a large insulated pocket for bottles/food, luggage loops on the back for traveling, a changing pad, a zippered pocket for diaper stuff, a gender neutral design that works for any person and soft, padded straps that will protect your shoulders.
I love this bag and the only reason it's #4 is that is is not as big as other bags and when you have multiple kids, that room is important. Other than that, big Honest fan here and we have used a lot of their products over the years and continue to exclusively use their baby shampoo/body wash and detangler spray, which is the best.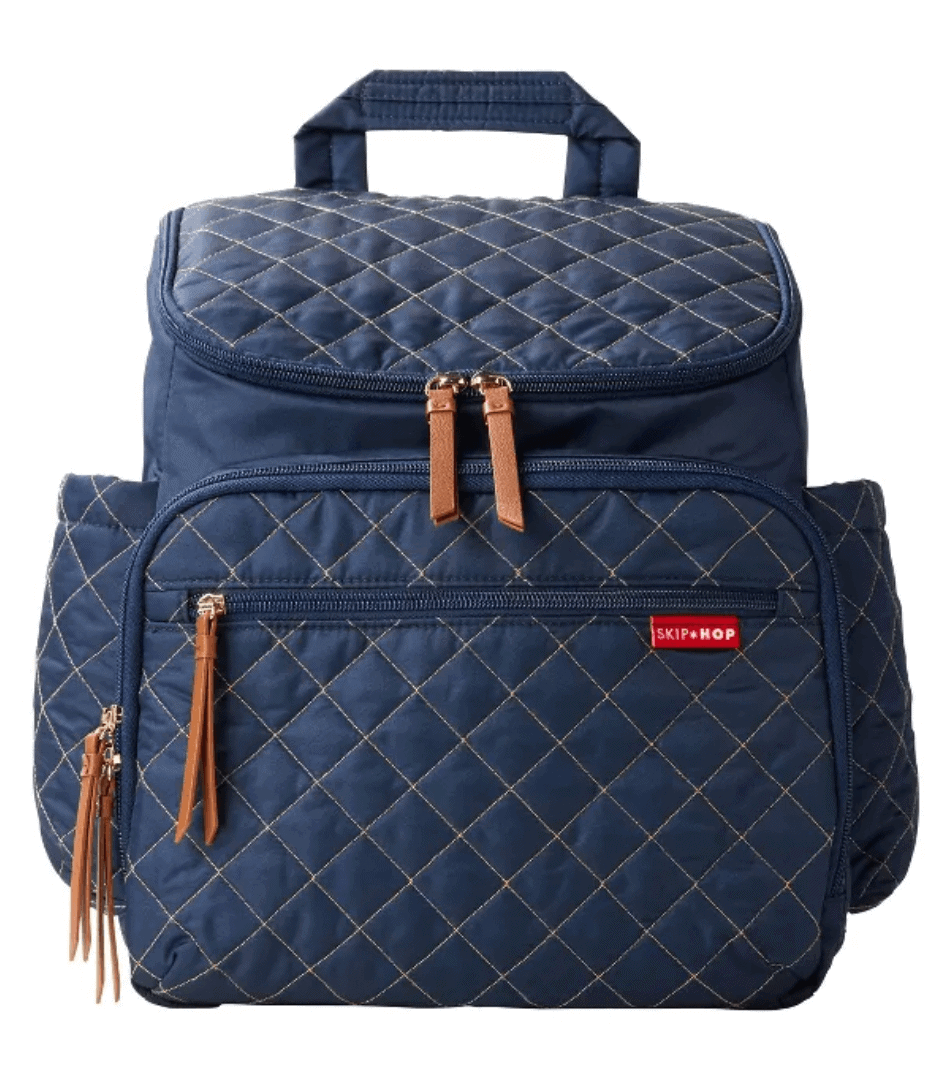 Big fan of the Skip Hop Forma here and I'm not alone, this is one of the most popular baby bags ever. It's now available in this adorable navy blue with cognac colored zipper pulls and contrast stitching. It's a very high-end look for a super affordable price.
Skip Hop has so many great products and they definitely understand what moms are looking for when they're shopping for their babies. This bag is feature rich, with extra wide openings and two-way zippers, a changing pad pocket that also holds a full-size laptop, padded straps, two insulated bottle pockets, elasticized interior pockets and a cell phone pocket (SMART!), two included storage cubes and more.
A seriously great bag with almost perfect reviews for just $75. Yes. The downside? The Skip Hop branding is noticeable and it does look more like a baby bag than others.
More Baby Gear Recommendations:
Looking for more baby gear recs? I got you, booboo. Here are just a few of the baby and mama posts on the blog:
*****
Hope this helps you find the best diaper bag/backpack and baby gear for you! It's so much fun to look at all the cool stuff out there for moms and babies now.
Have a fabulous day,
E