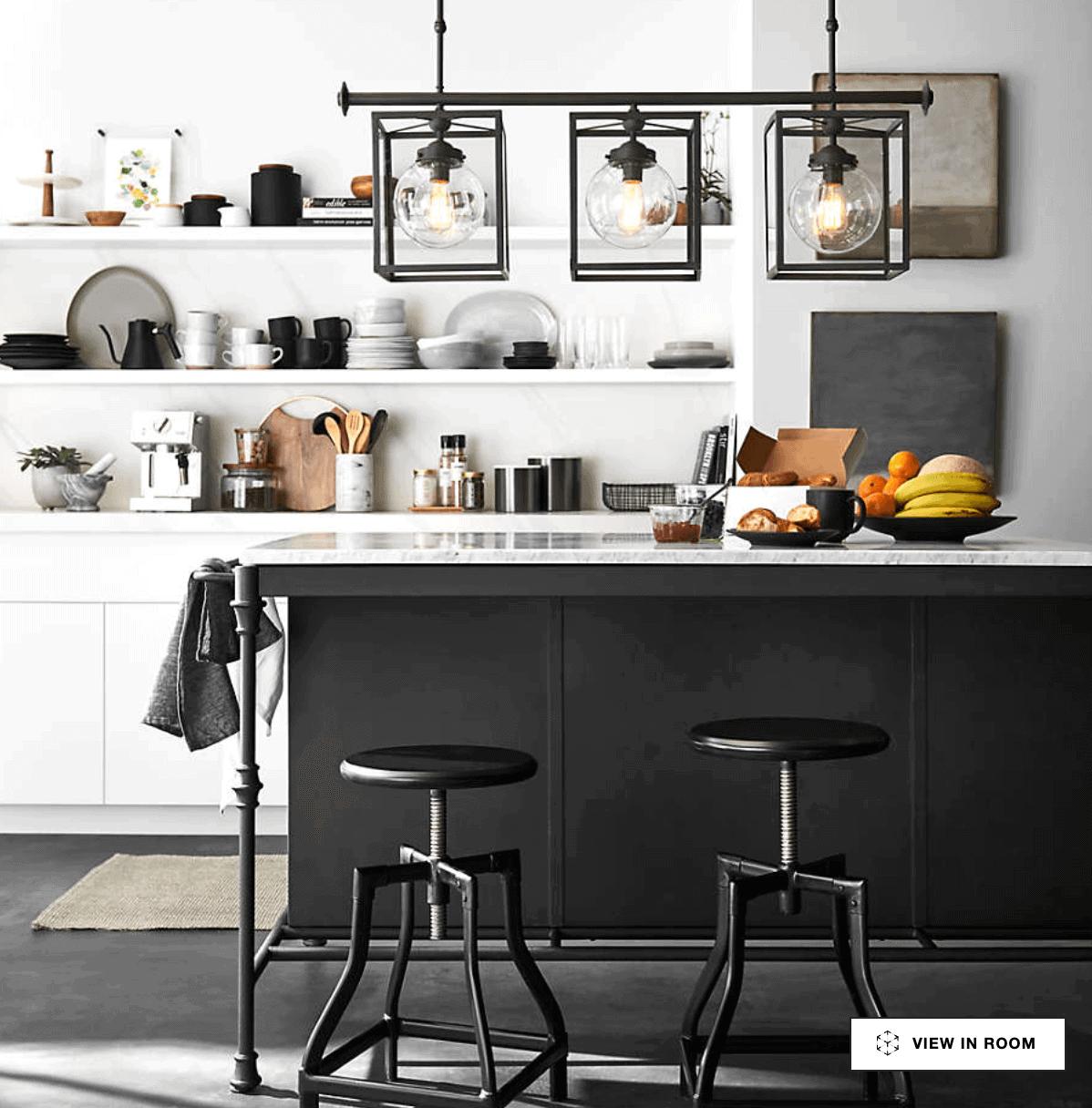 I absolutely love marble-topped tables and Crate & Barrel has some of the best designs I've seen. Years ago, I picked up their marble topped console table and it has the cleanest, most streamlined look of any console I've found, which is exactly what I was going for.
I also really love their French Kitchen line, from the island to the kitchen table, they are just so, so good. They give a very French bistro feeling and add so much character to any space. Their designed photos show you how they can really transform any style for a really unique look.
But, marble topped tables can be expensive. While I've found very good deals on marble topped side tables at places like World Market, it has been difficult to find alternatives to the islands and full size tables.
Until now. If you've been eyeing the Crate & Barren French Kitchen island – I've got 2 incredible dupes that you will just go gaga over. But first, the original…. *affiliate links are used below, which means at no cost to you, I may receive a commission if you make a purchase through my links.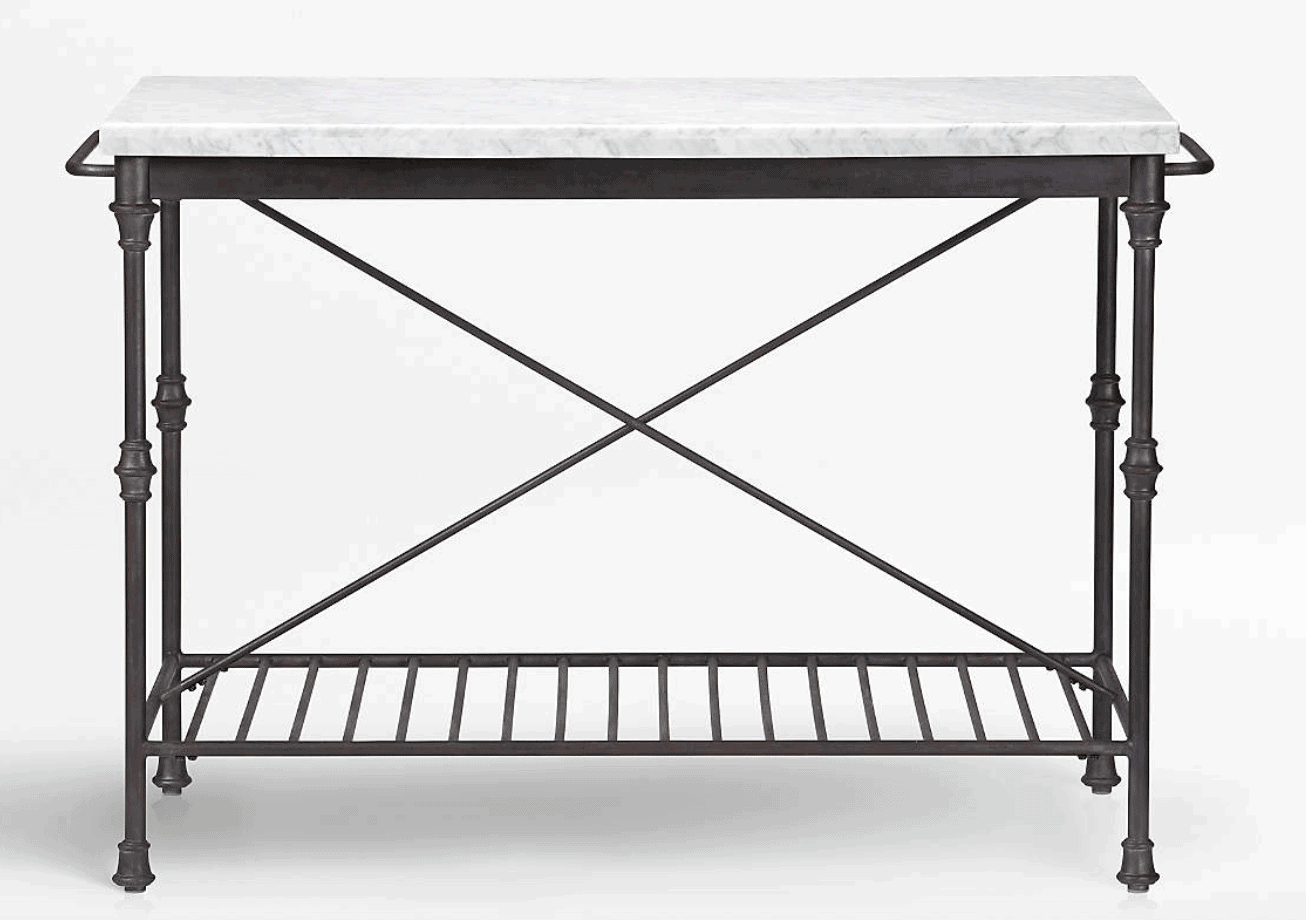 This elegant marble-top island brings classic French style into any space. The white marble top is complimented with a classically inspired metal base, reminiscent of a French pastry shop.
The Carrara marble top is beautiful, with a white and grey design that is the perfect surface for prepping dishes, serving, and even flat-lay photography. The solid metal base is secure, but still beautiful. A shelf, styled like a baker's rack, can be used to stow pots, cookbooks or baking supplies. Towel racks on either end provide a convenient place for dishtowels.
Having the Crate & Barrel marble-topped console – I can absolutely vouch for the beauty and craftmanship of their designs. Our first shipment did have a strange discoloration on the top, though, and they made it right with no problems at all.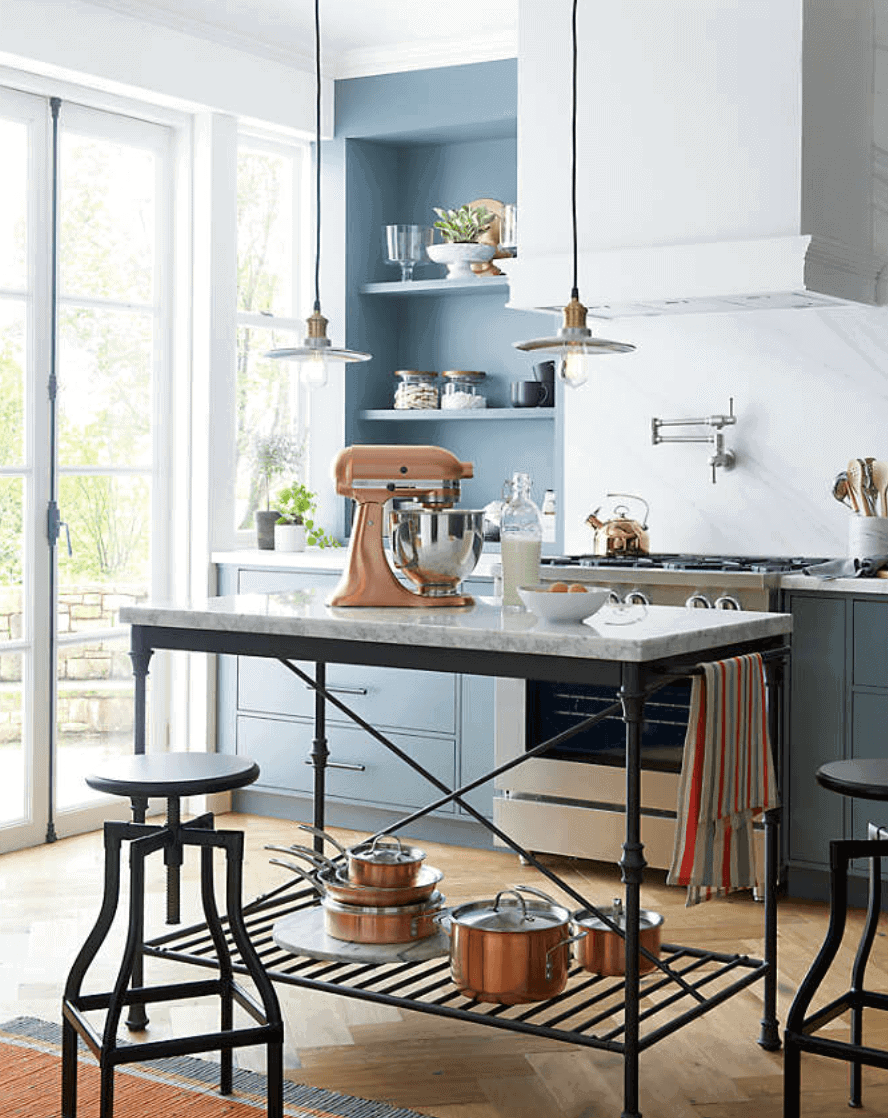 Dimensions for the original are 54.5″Wx28″Dx36.5″H.
Priced at $1299, it's a splurge – but one you won't regret it if it's in your budget. Want the style for less? You can have it all, booboo.
Here you go!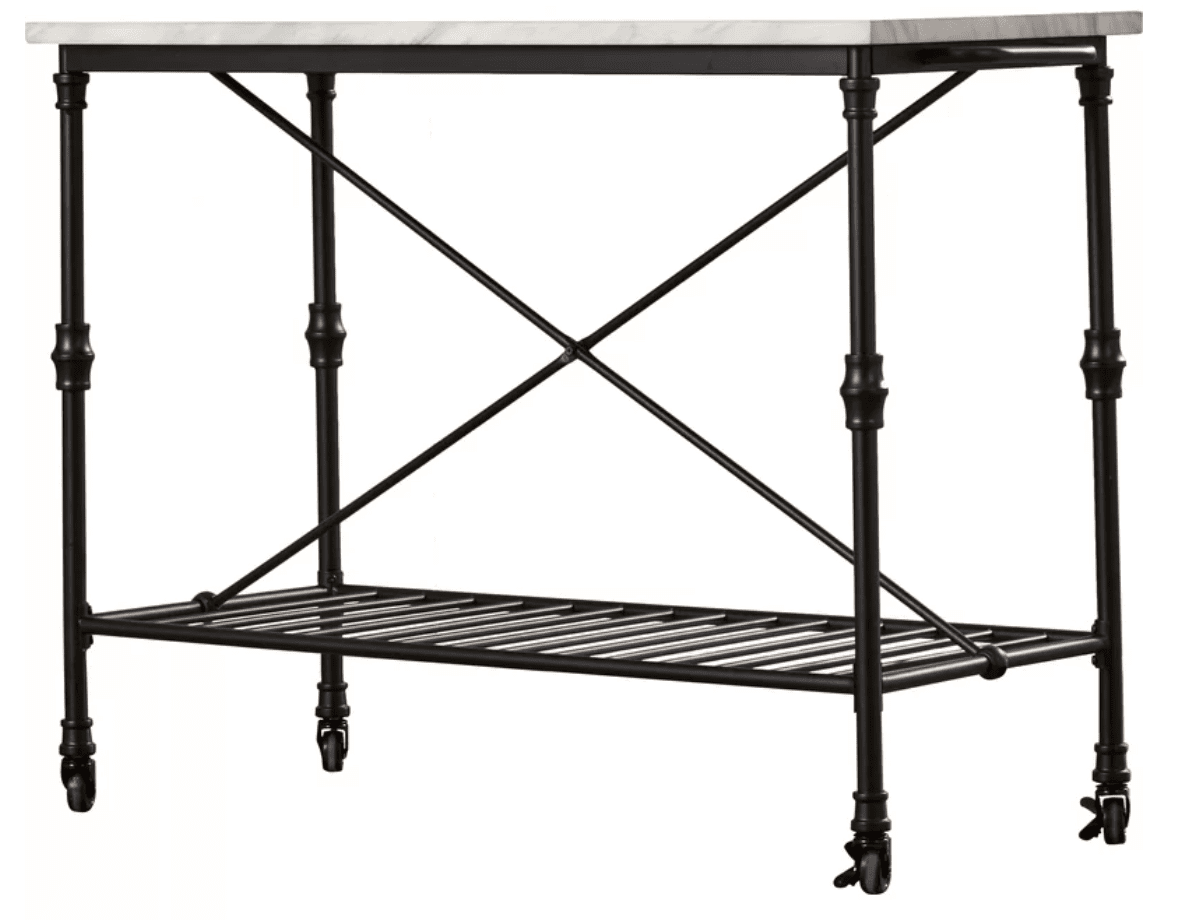 Okay? Okay! Now we're talking! A similar size and design – it would be difficult to spot the original if these were side by side.
I mean, it really is so, so close!
Size-wise, you are looking at a smaller piece though – so make sure to measure. This one could easily be placed on a side wall or under a window, too, for a gorgeous console design.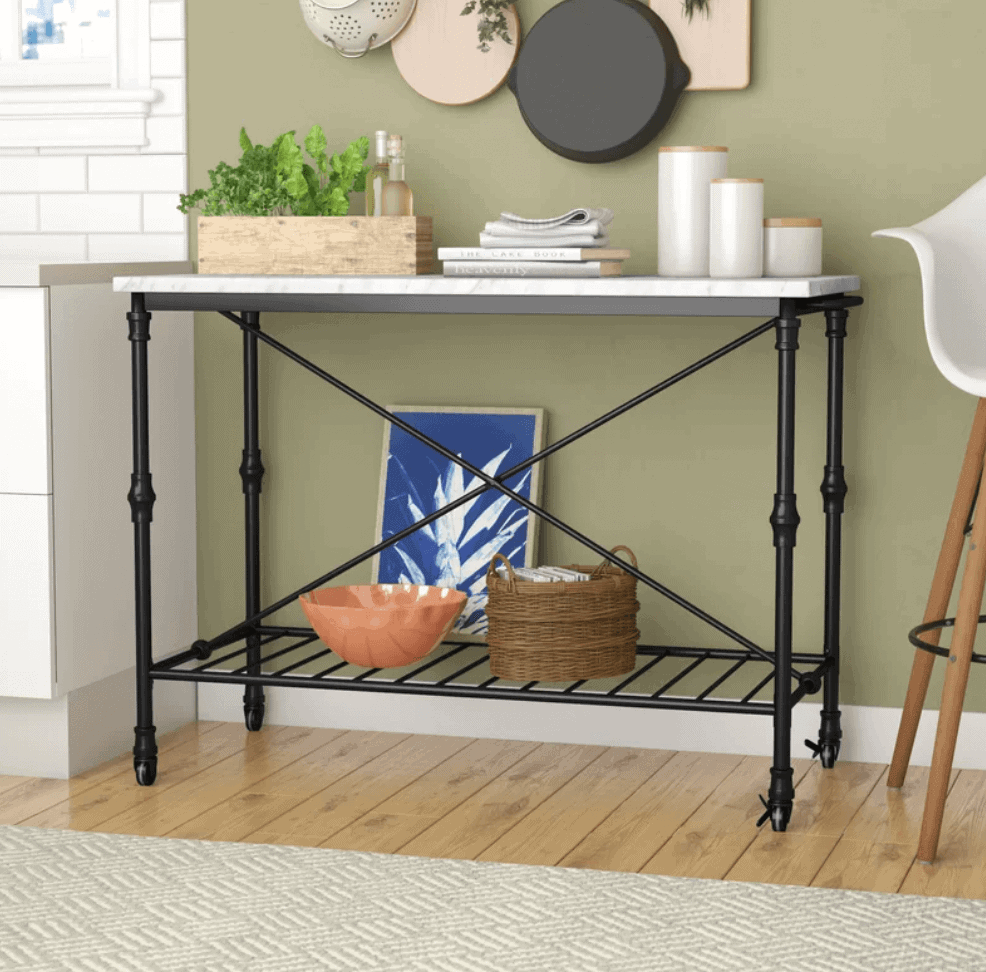 Priced at just $245, it's a much easier check to write, without sacrificing on look or style.
Need a bigger one, closer to the original size?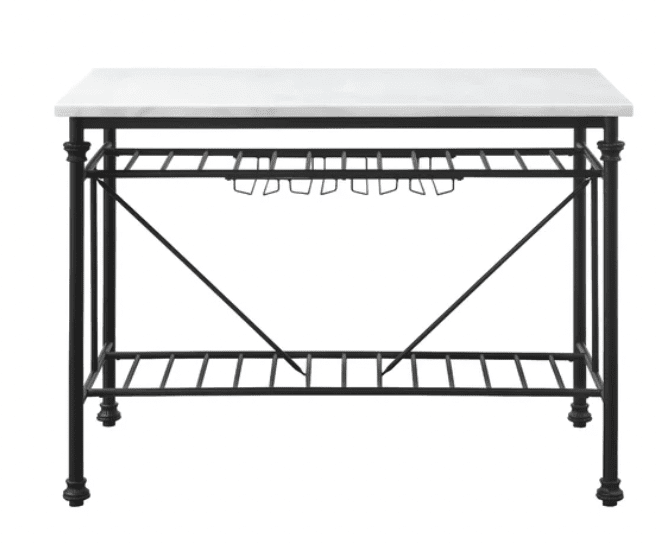 This one is priced a bit higher, but it's a couple inches bigger and has some additional features that can be really nice for an island, like the built-in glass storage. This would really eliminate questions like, "Where can I find your glasses?" when you're hosting a party.
I'm not sure that I would want my glasses hanging out at the moment, with small kids running around, but I can definitely see how fun it would be in an apartment or kitchen for a big-time host/hostess.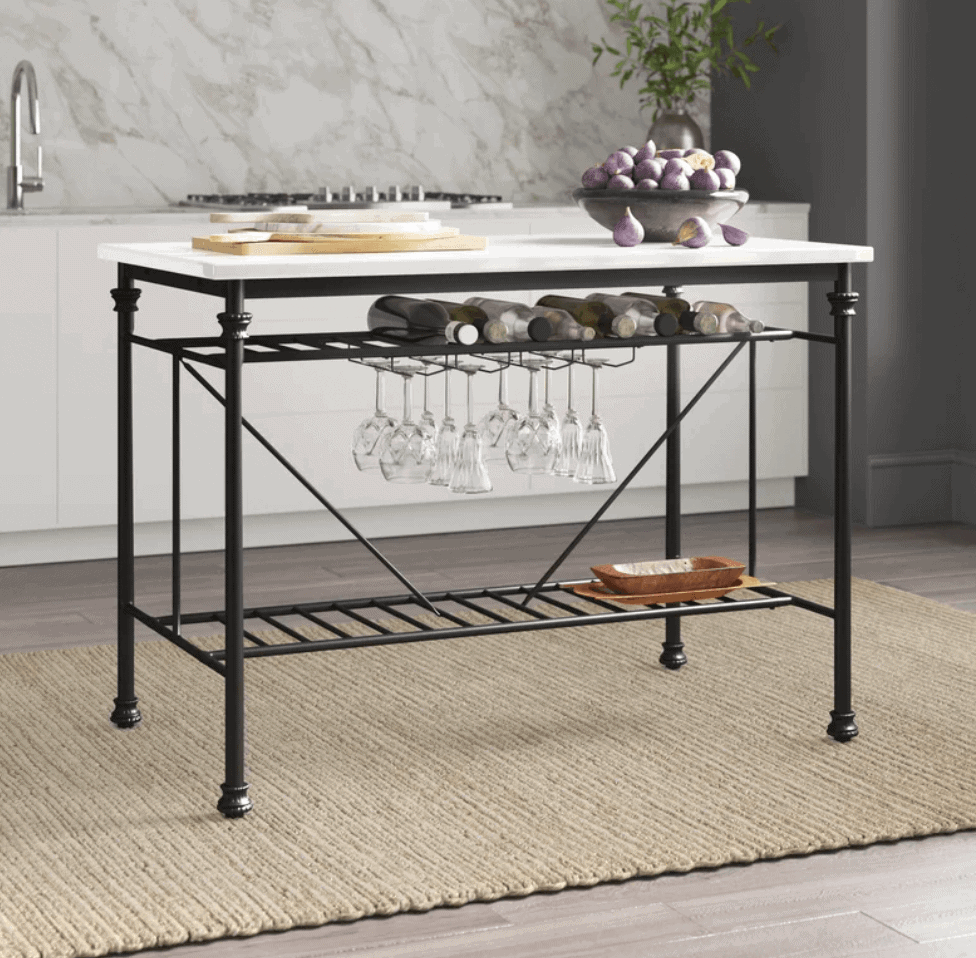 Priced at
$559.99, it's still super affordable and scores that French bistro look for much less.
More Fab Deal$:
Looking for more great deals? Check these posts out!
*****
Thanks for reading! I hope you found something you love!
Have a fabulous day,
E