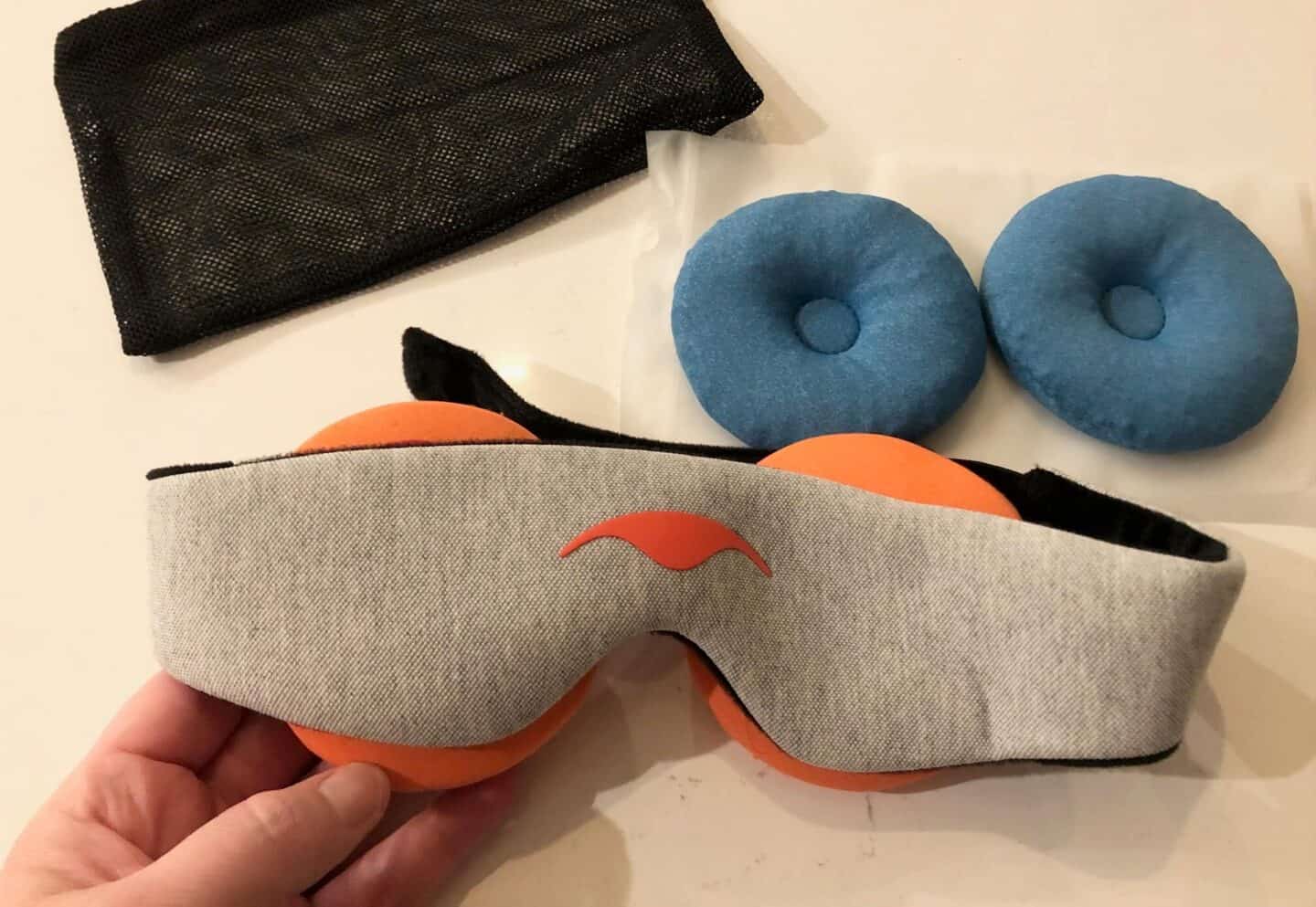 I am so jealous of people who can just lay down and fall asleep. I have a carefully curated bedtime routine and still toss and turn for awhile before I can finally fall asleep. Then, once I am asleep, I am a super light sleeper and pop awake at the slightest sound. Ahh, the life of an insomniac!
Great sleep has been a bit of a mystery to me. That's why I've tried it all over the years, from bedtime tea to sleep meditations that drown out the racing thoughts in my head. They all have their place and I definitely use several of them every night, but I recently added something new to my sleep arsenal that has really made a difference: a sleep mask.
In the past, I never liked sleep masks because I don't like the room completely dark. But, I picked up a new mask for something totally separate: headaches and inflammation, and was surprised that it also had me napping like a baby.
So, today, I'm sharing the most versatile sleep mask ever in the hopes that it might help you, too, get some relief.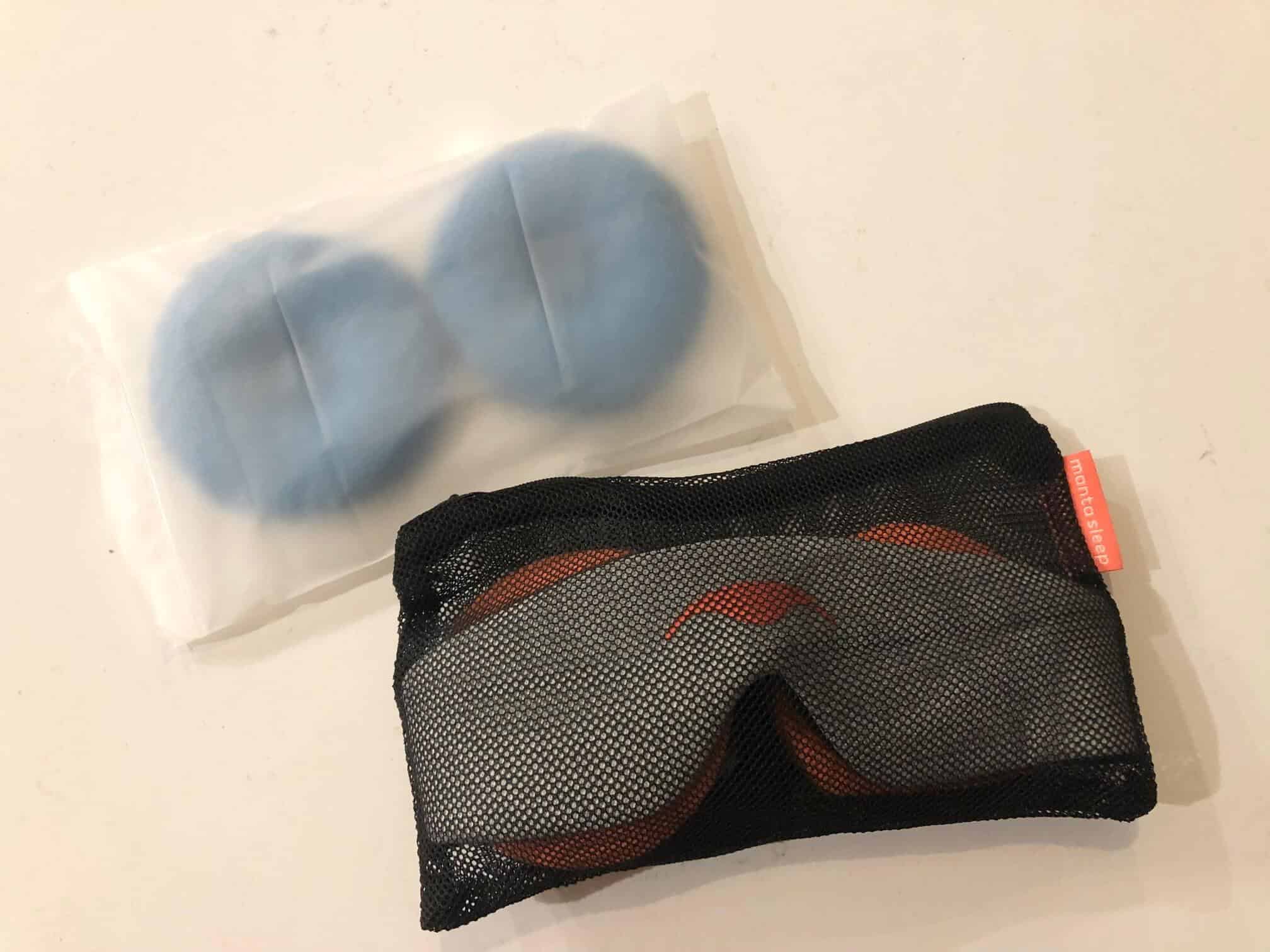 As soon as I saw the Manta sleep mask – probably on a social media ad #sucker – with it's velcro inserts that you can switch out in seconds to match whatever is ailing you, my interest was peeked.
The more I researched what it was all about – the more I loved the idea of one super soft, customizable sleep mask that I could use for all the things. Now that I have had it for a few months, I can definitely say that it's the best sleep mask, eye mask, anything mask, that I have ever tried. I love it. That's why I joined the affiliate program and wanted to share it with you on the blog. Here's the three ways that I use mine:
Cold Therapy Sleep Mask:
One of the options is cold therapy discs that you can leave in the freezer until you're ready to use them. This was the first one that stood out to me, because I use cold therapy all the time for inflammation in my eyes and sinuses from Sjogren's and allergies. Plus, cold therapy is incredibly effective for headaches and most of mine start behind my eyes (the worst!), so I loved the idea of adding cold therapy to my eyes.
Cold therapy is incredibly effective for any type of inflammation, which is why we are seeing a lot of cryotherapy places popping in where you can go freeze yourself and people taking ice baths on social media.
Cold therapy works by reducing blood flow to a particular area, which can significantly reduce inflammation and swelling that causes pain, especially around a joint or a tendon. It can temporarily reduce nerve activity, which can also relieve pain (source).
Heat Therapy Sleep Mask: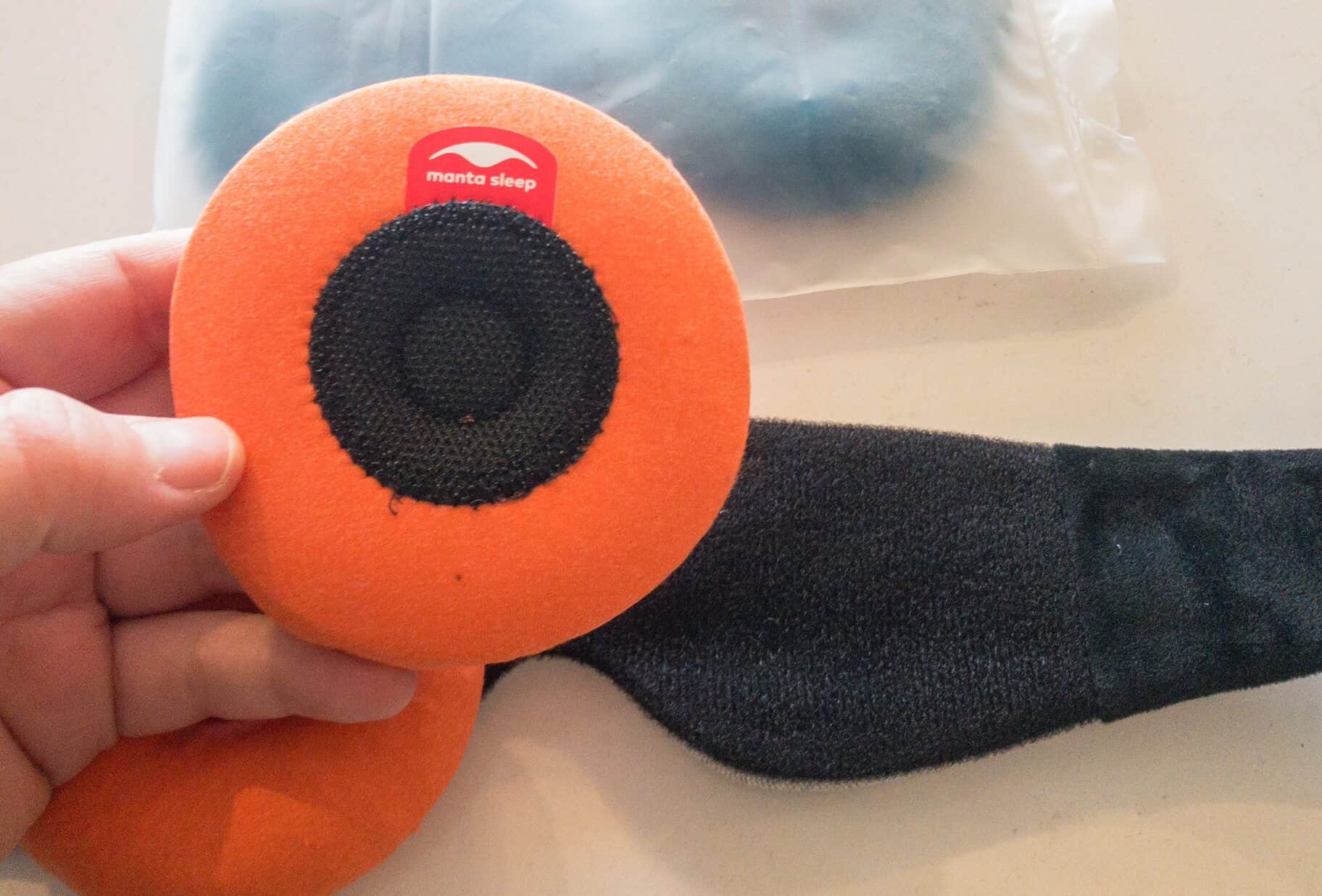 Then, I saw that there was also heatable inserts. Well, I've been using a microwaveable heat mask for dry eyes for years, so I was all in on that one.
Heat therapy is such a soothing way to deal with pain. I love using heating pads with castor oil packs, too. The reason heat therapy works is it improves circulation and blood flow to a particular area due to increased temperature. Increasing the temperature of the afflicted area even slightly can soothe discomfort and increase muscle flexibility. Heat therapy can relax and soothe muscles and heal damaged tissue (source).
Weighted Sleep Mask:
And, as if that isn't enough, it also has a weighted mask option for a weighted sleep mask experience. I've seen weighted sleep masks popping up for awhile and thought about trying them, especially after experiencing the positive benefits of using a weighted blanket.
Or, if you don't want a fully weighted masks, the discs do have a little bit of weight to them, for a gentle weighted experience without needed a separate mask.
While these are the ones that I use and like, there are even more options, including:
Aromatherapy masks
Silk masks (great for reducing wrinkles and kinks in your hair)
Sleep Mask Pro – the most advanced sleep mask ever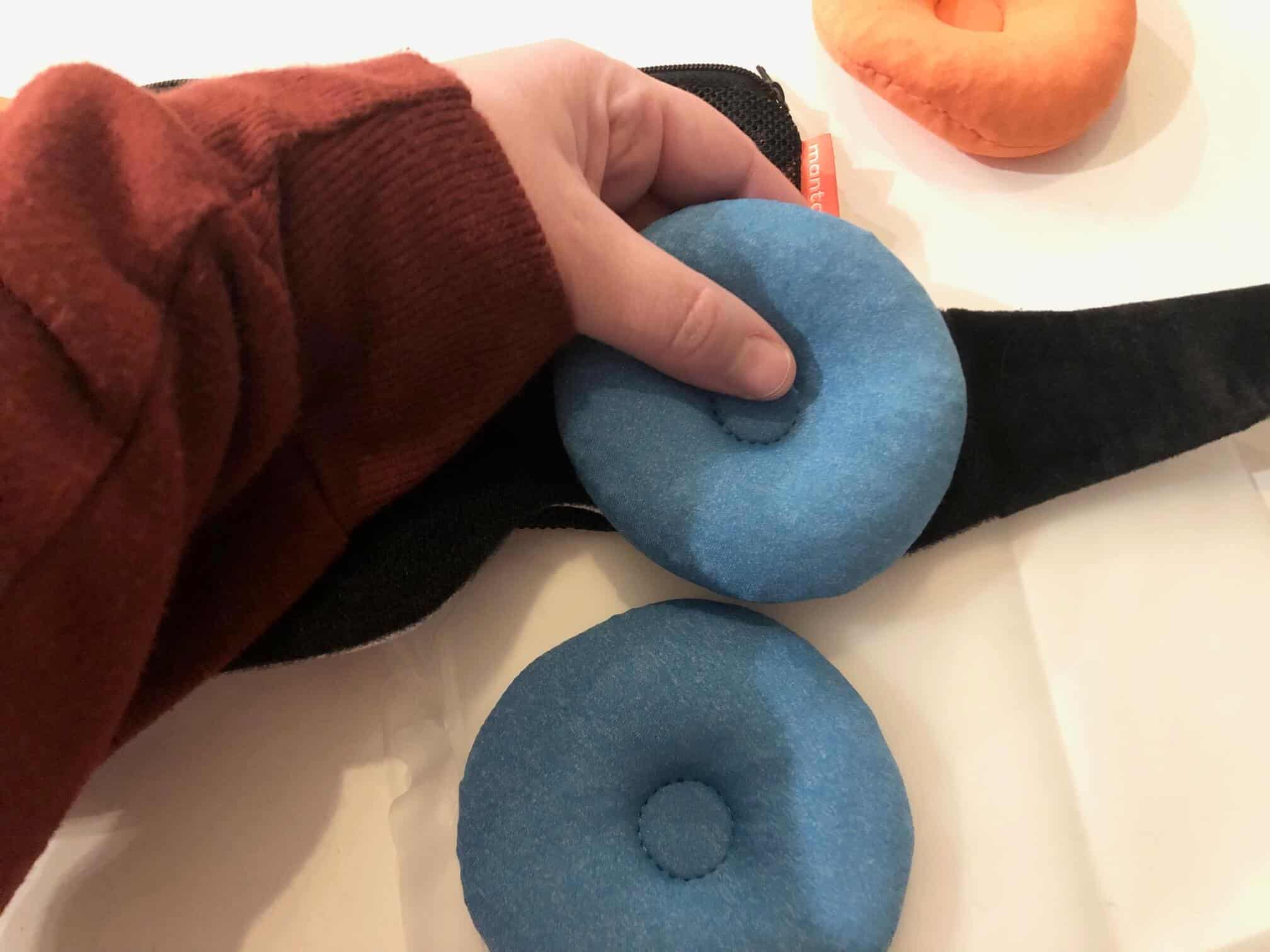 I love how easy this thing is to use. I leave the cold discs in the freezer until I need them and the rest I keep in the little pouch it comes with.
Depending on what I am looking for, I either grab my cold discs or microwave the steam ones, attach them to the mask, and then just put on the mask, which customizes to your head size, kick back and relax.
Benefits of the Manta Sleep Mask: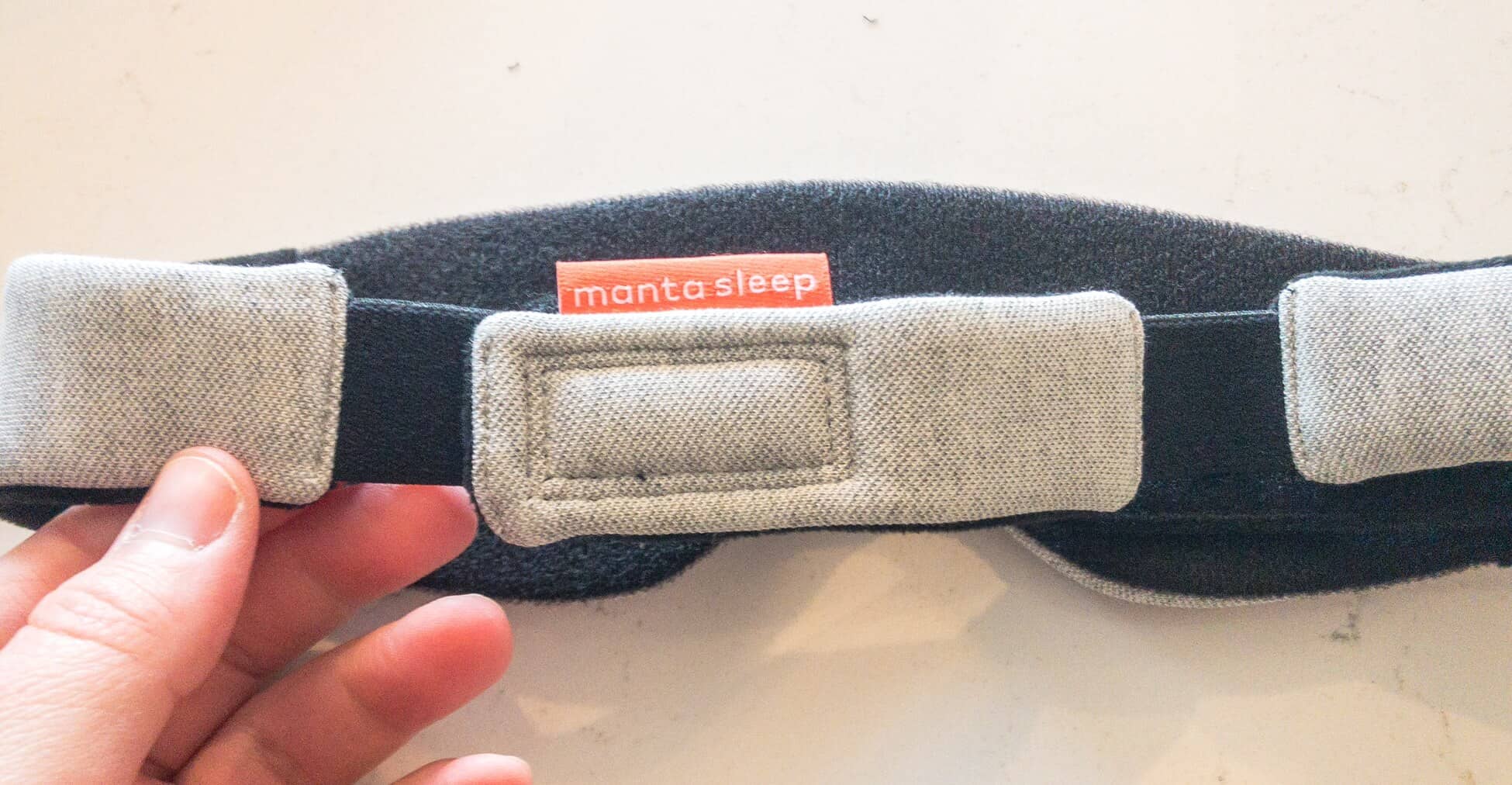 This is one smartly designed mask. Here are some of my favorite benefits of using. it:
The material is super soft
The mask size is easily customizable
The discs are designed for zero pressure on the eyes
Discs can be changed out in seconds
Easily stored in included pouch and cold therapy discs have a pouch for the freezer
100% blackout for deeper sleep (great for midday naps)
Free shipping in the US
You can try it risk free for 60 days!
Because of the shape of the discs, you can even use them if you have eyelash extensions, too. Big win.
Manta Sleep Mask: Final Thoughts:
This one mask has replaced three separate masks for me and my family. We use it for all the things: cooling inflammation down, heat therapy for dry eyes and discomfort and weighted discs for sleep.
You can buy sets of them or just customize with exactly what you want. This also makes an incredible gift for the person in your life who has headaches, struggles with sleep, has allergies or dry eyes, too. I gifted it to a family member this Christmas and they love it as much as I do.
*****
I'm super glad I found the Manta Sleep Mask and have loved using it. I've never been a big fan of sleep masks before, but the Manta has converted me.
I combine mine with this bedtime tea and a great magnesium supplement that is so good for reducing anxiety, joint pain and spasms and promoting deep sleep.
I hope some of these ideas help you get better sleep! After all, like Betty White said, "You should always get 8 hours of beauty sleep. 9 if you're ugly."
Have a fabulous day,
E