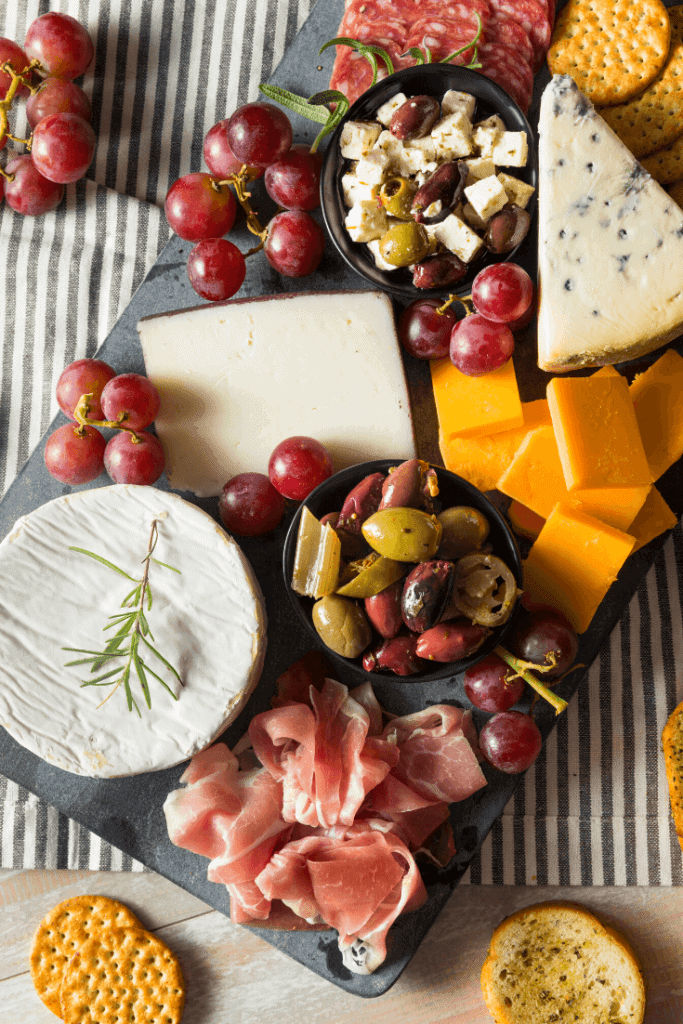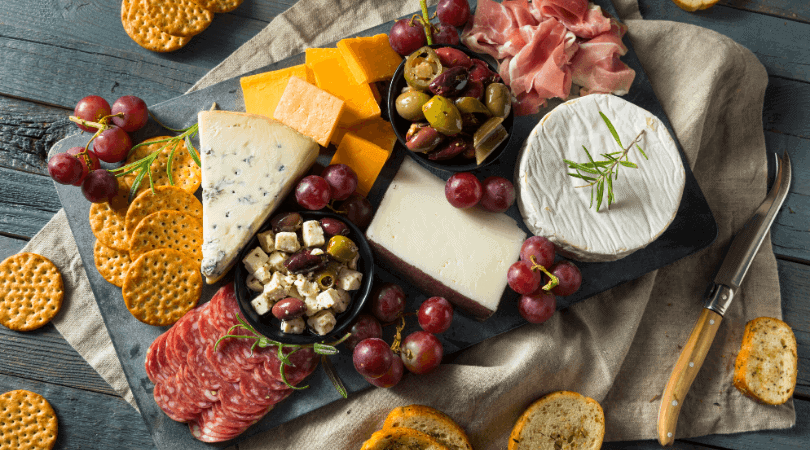 I truly believe every person should have one incredible appetizer they can whip together in a flash for a get together or party.
You know what I'm talking about – the kind of dish people stand around, staring in awe, and taking pictures they'll post on social media with little icons like, "Yum!" and "Get in mah belly!"
These charcuterie boards are those dishes, people.
And charcuterie boards are just so, so easy… once you know what to do.
So, let's take a look at some totally inspirational, majorly gorgeous, mouth-wateringly delicious charcuterie boards you will want to immediately make for your next gathering.
Plus, since no charcuterie board is complete without the perfect serving tray – I've given a few suggestions at the end of this post for cutting boards, serving trays and more that will give your charcuterie board that extra panache that will make it the appetizer legends are made of.
1. Best Ever Charcuterie Board | Mom on Time Out
I am OBSESSED. WITH. THIS. ONE.
If this delectable charcuterie board doesn't make you immediately hungry – are you even human?
So much going on, all real food that people like to eat, displayed in a totally delicious, visually appealing way.
#YUM
I would really like a time out with this charcuterie board.
2. The Charcuterie/Cheese Board | The Skinnytaste
I've been following Skinnytaste for a long time. Her recipes always turn out and she takes delicious comfort foods and makes swaps to make them lighter and healthier, without sacrificing taste.
This charcuterie doesn't look an ounce less divine, but you'll notice it lightened with additions like nuts, fresh fruits, etc.
A must make charcuterie perfect for a meal replacement.
Picnic anyone?
I understand this person. I am also a very reluctant entertainer – and yet, you wouldn't know it, because you'll show up and I'll have a charcuterie board the size of Texas and decorations plastered on every available surface.
What can I say – if I'm going to do it, I'm going to do it right.
This charcuterie board is everything that is right in the world.
For me, it's the bread dips – multiple – placed around the board, that allow you to all dip away without having to share the same one that puts this board over the top.
Muy delicioso!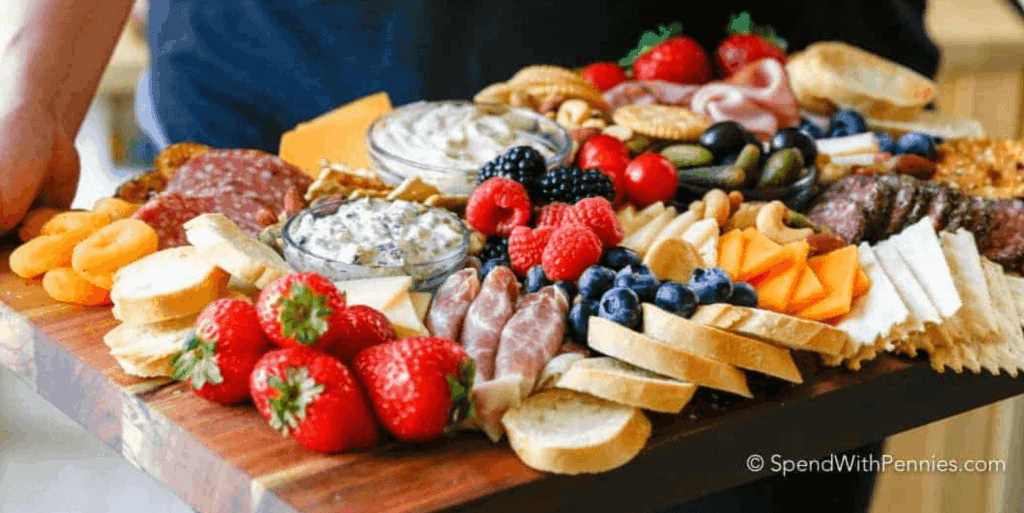 I really love Spend With Pennies. She makes beautiful, easy meals using fresh, easy-to-find ingredients that won't break the bank.
This charcuterie board is a wonderful example of a board that would have something for everybody.
In fact, I even think my young kids would be majorly excited about this one!
The dried fruits are a fantastic idea, particularly in colder months when some fresh fruit may not be at its peak, and the pretzel chips are a fantastic idea I wouldn't have thought of on my own!
Plus, the selection of dips are just a major party pleaser.
Are you hungry yet?
5. Antipasto Appetizer Board | Damn Delicious
I love this one by Damn Delicious. Her blog is genius and this antipasto appetizer board is proof of her culinary talent.
First of all – this one uses focaccia bread.
#GENIUS
Second of all – there's sliced and cut cheeses for easy serving.
#GENIUS
Third of all – there's a healthy selection of olives, which pleases the big guy in the house who likes that sort of thing.
#GENIUS
I know the idea of sliced and cubed cheese on a cheese board is a little bit controversial.
Personally, I like it because with little kids around, it keeps things easier and a bit cleaner.
Plus, a lot of people eat more when the food is easier to put together.
But, if you like your cheese in the original form – feel free to make this recipe your own.
It'll still be Damn Delicious.
More Charcuterie Board Info:
Wow – suddenly I need a charcuterie board in my life – STAT.
If you're a major foodie and want a serious breakdown of what makes a world class charcuterie board, check out this post from Food & Wine magazine. They give you the major deets on all things cheese boards, so you can be a total pro at your next extravaganza.
Or, grab this fantastic book Beautiful Boards with near perfect reviews to up your charcuterie game for good. With 50 boards, for everything from gluten-free to taco boards – you'll be the platter and board queen for life.
Just remember to invite me.
Pretty please.
The Perfect Board for your Cheese Plate:
You'll need to put that tray of perfection on something.
Here are some divine serving boards and trays in different price points and materials – so you can find the right one for you.
Note there are affiliate links used here. None of these brands sponsored this post, I just love charcuterie boards and I love any of these as a way to display your creation: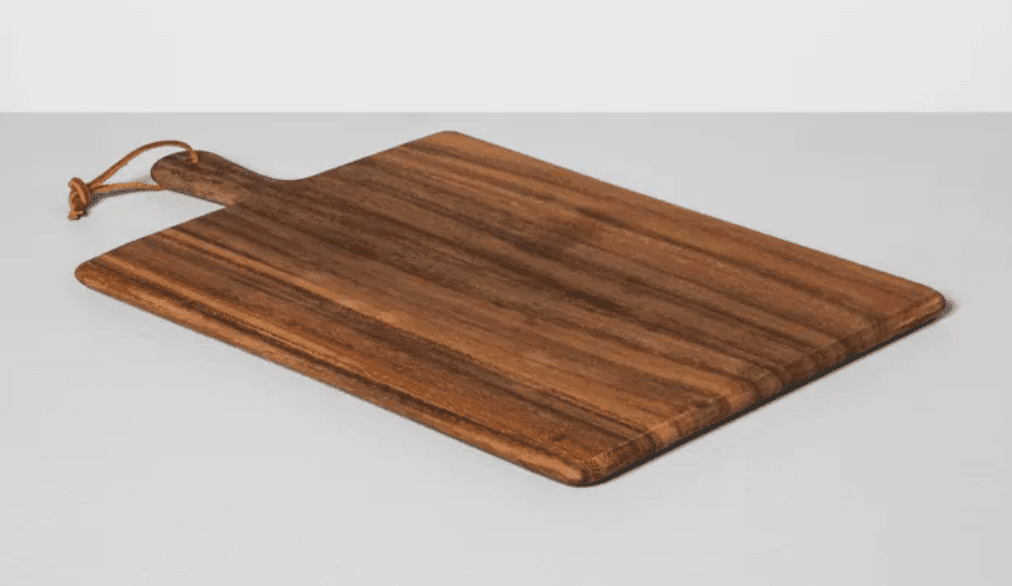 I'm in love with the Hearth & Hand collection at Target. This acacia board, sized at 17 x 11 would be perfect for a cheese board.
Plus, it'll be a great cutting board after, making it super versatile.
Priced under $20 – it's just a no-brainer.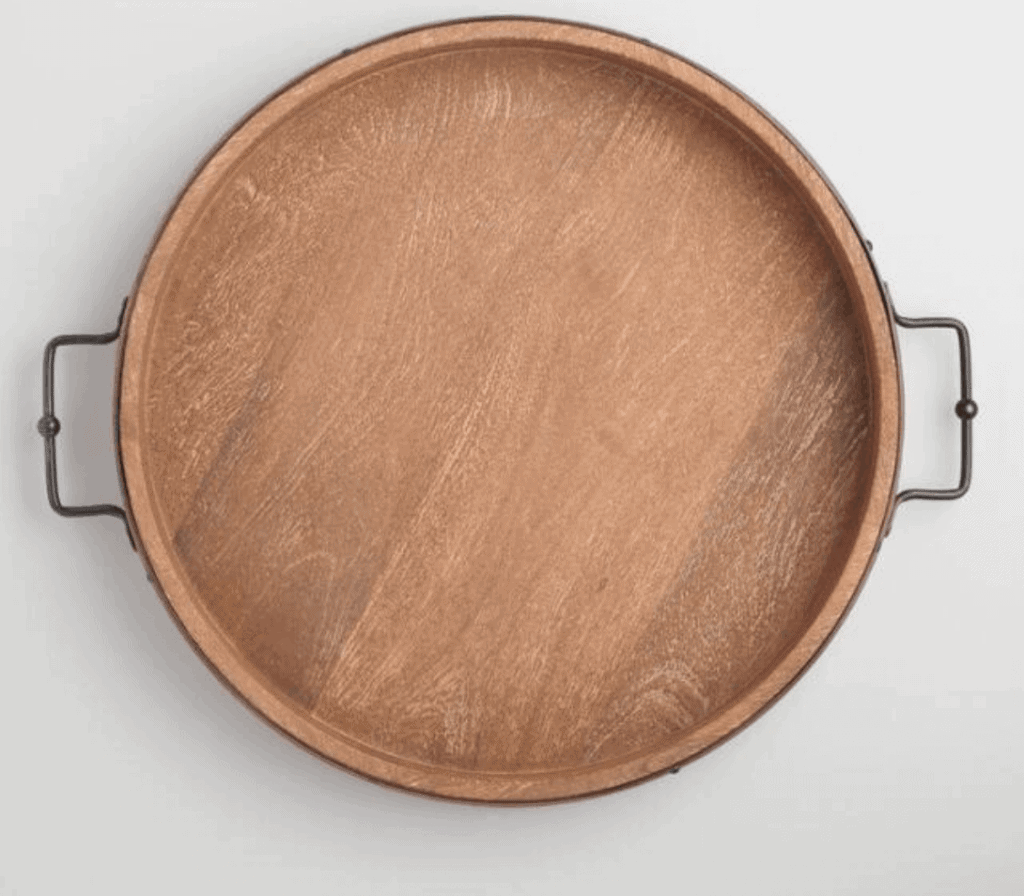 This gorgeous piece is actually very similar to the one used in recipe 5 above by Damn Delicious.
It's available at Cost Plus World Market. I absolutely love the warm wood with the iron handles for that hard/soft balance.
Plus, having handles allows people to turn the tray to grab that last perfect bite.
17 inches is a great size and the sides will keep food from rolling away or falling off.
Priced under $40 and you know WM always has deals.
How much do you love this bamboo charcuterie board set from Amazon?
Bamboo board with utensils, a little area just for crackers, and plenty of room for all the goodies.
You won't believe the price, either.
What a fantastic gift idea for a couple or someone who just bought a home, too!
I always love a good chalkboard style anything. This slate board can be written on with chalk, so you can let people know what they're eating.
Handles make it easy to carry, too.
Just a brilliant deal idea to elevate your next cheese plate!
Find it on Amazon here.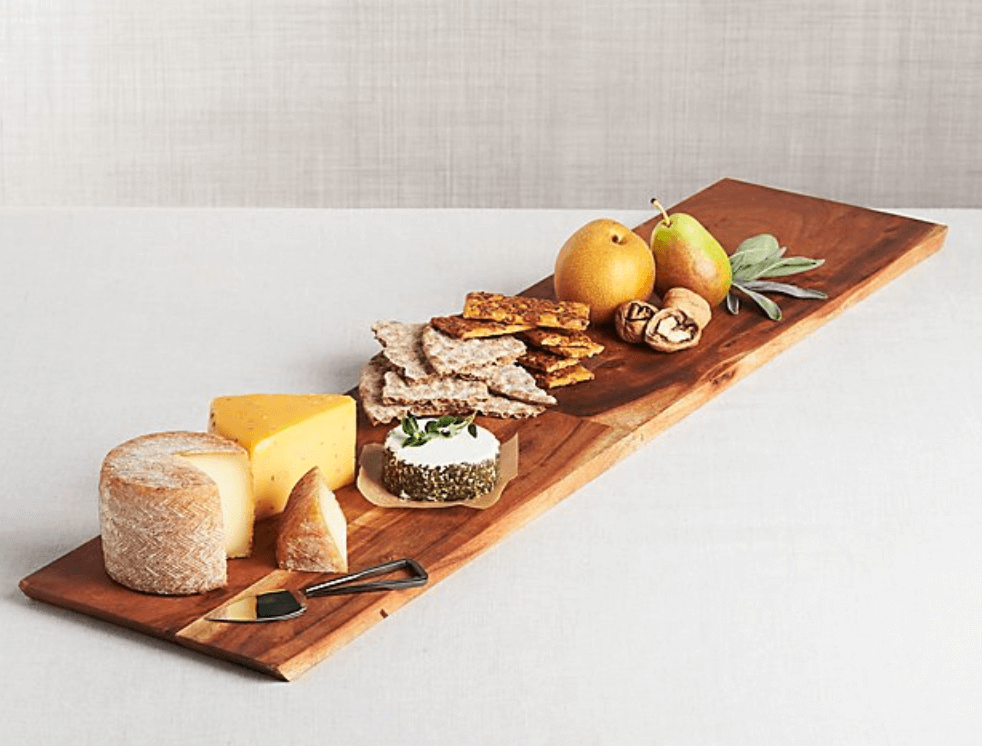 This dramatic 3-foot long cheese be stunning on a long island or displayed down the center of a long table.
Plus, you know this baby is made well and will come packaged beautifully.
Paired with a delectable charcuterie selection – this would be a showstopper.
Grab one at Crate & Barrel here.
*****
I could this all day, but now I'm hungry.
So, let's all grab a board, a recipe, maybe the charcuterie book and get to work.
Just comment below with pics of your masterpieces.
Have a fabulous day,
E