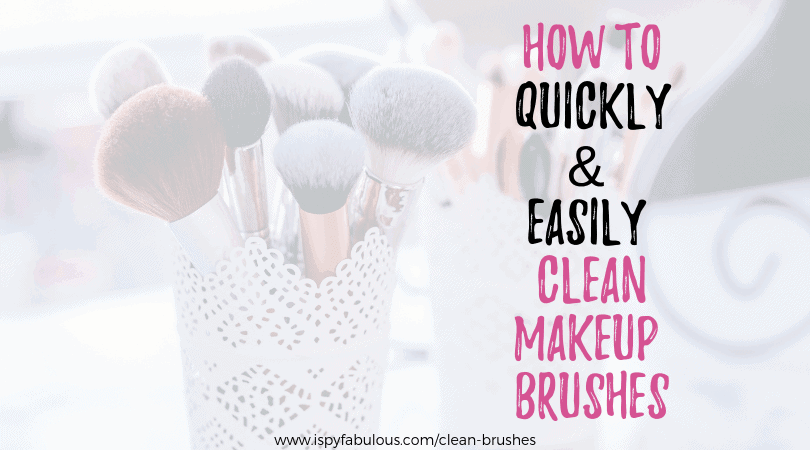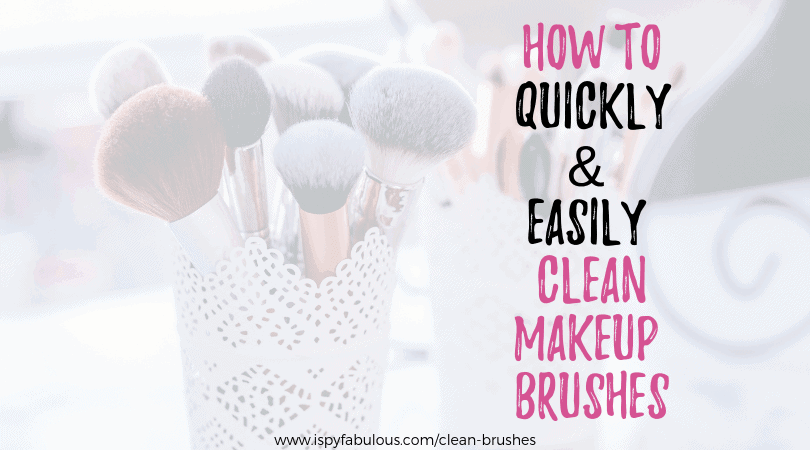 Happy Monday, friends! Are you getting bushwacked with rain and wind where you live? Here in California (aka the Land of Perpetual Sun), we are simply NOT prepared for alternate weather patterns. You would think we were 15 feet under snow the way people are acting and driving, ha!
So, since we are all stuck indoors these days, this is a perfect time to talk about how to easily and quickly clean your makeup brushes!
Because if you're anything like me, then you KNOW you should be cleaning your makeup brushes at least every couple of weeks, but the process of doing so is so annoying and lengthy, you keep pushing it off for an embarrassing amount of time. Then, when you DO finally clean them, it takes forever!
#GUILTY
How Often Should You Clean Your Makeup Brushes?
Makeup brushes really should be cleaned at least 2x a month if you're using them regularly! There are quite a few reason to do so, such as:
Improve makeup application
Extend the life of your brushes
Reduce transfer of bacteria to eyes or face
Reduce risk of acne, breakouts, etc.
That's why I was so excited to find a simple, quick, affordable makeup brush cleaning HACK that made it significantly easier and more effective for me to clean my brushes – which also means I will hopefully do it more often.
And, I should, since my daughter regularly uses my brushes for all sorts of things. God only knows what's really on those brushes…hmm….
What You Need to Clean Your Brushes: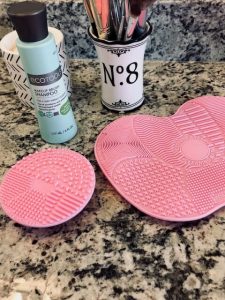 I would say to gather all your supplies and brushes, give yourself about 10 minutes or less to focus, and get ready to go to town. They'll be clean in a flash!
It's a simple and short list, but here are my top recommendations: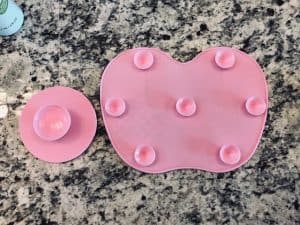 This makes it so quick and easy to get all the gunk out of your brushes. The suction cups hold it in place while you work and the silicone rinses clean and dries fast. It's under $10 and comes with two sizes. Score.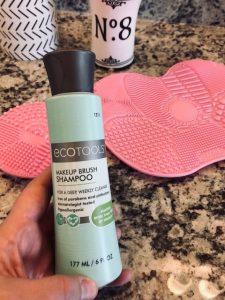 Highly recommend a gentle, non-toxic cleaner here, because a harsh cleaner will make your brushes rougher and even cause hairs to fall out. Plus, it's really hard to get every trace of cleaner and since these are going back on your eyes – you see where I'm going here. #GentleIsBest
C. Clean Towel for Drying:
You don't want to lay clean brushes on a used towel.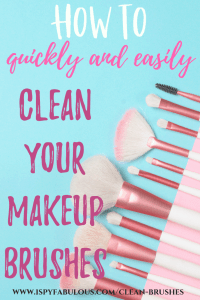 The 6-Step Process to Clean Your Makeup Brushes:
Rinse brushes in lukewarm water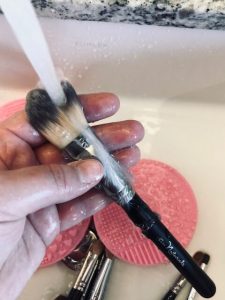 Apply a small amount of the cleaner and gently rub into the brush hair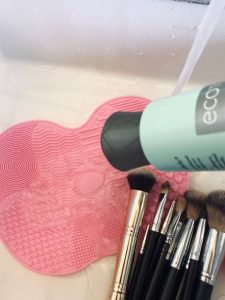 Gently rub brush on different areas of the silicone cleaning mat to get a deeper clean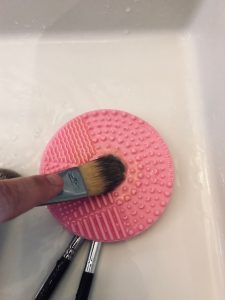 When the water starts to run clear, rinse the brush of the soap. Take your time here.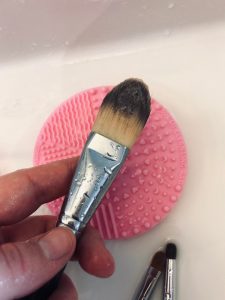 Shape the brush head so it's all smooth and in the correct shape for use and lay flat on drying towel.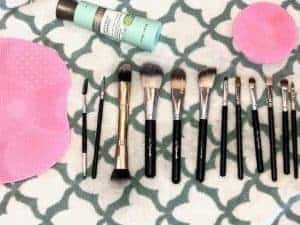 When you're finished, use a little bit of cleaner to clean the silicone cleaning mats and rinse.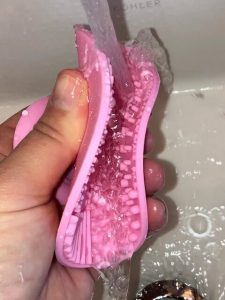 Voila! Gross brushes be gone!

Let's wrap it up…
It's really that simple, friends. Now, just give them about 24-hours to fully dry before storing them again. I store mine upright in a cup I grabbed at Homegoods. I always find they are easier to use this way, but I've seen makeup artists who always store their brushes flat in a brush carrier, too. To each their own.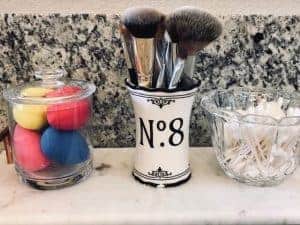 You'll really appreciate this when you go to use them again. The makeup will go on so much smoother and be more true to the intended color.
How often do you clean your makeup brushes? Be honest! Or, share your favorite beauty hack in the comments below.
Have a fabulous day,
E