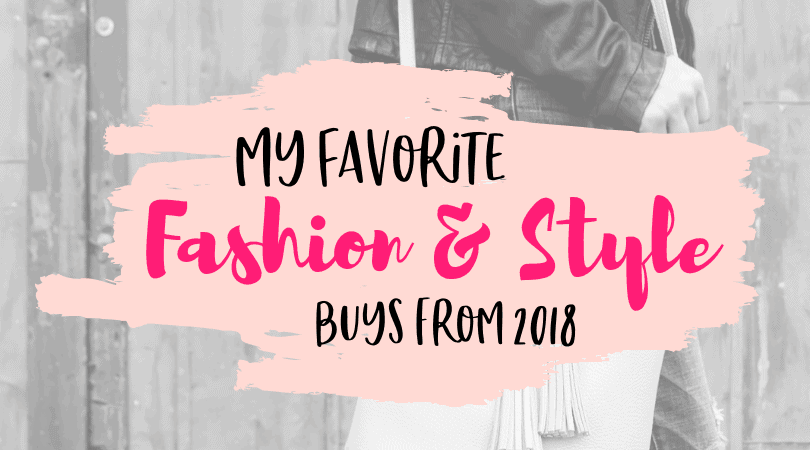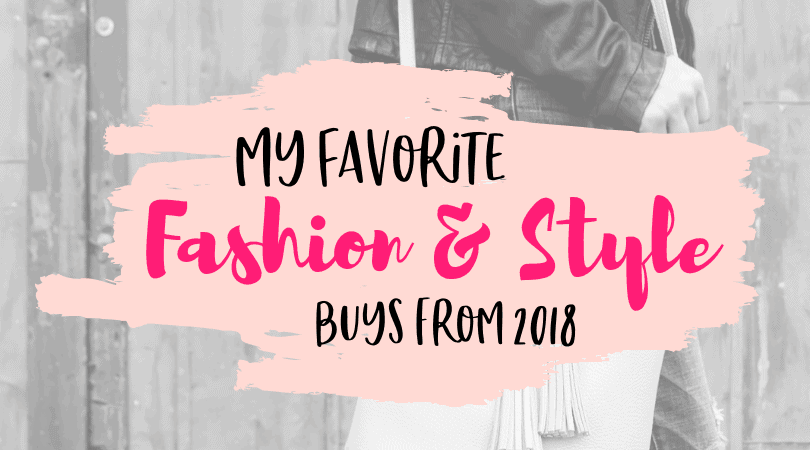 Welcome back! This is Part 3 of a 4-part series on my favorite purchases of 2018! I talked about Beauty in part 1 and Home Decor in part 2, and now here we are, recapping my favorite fashion and style purchases of last year.
I'd like to preface this by saying that I bought all of these with my own money. I predominantly shop online because trying things on with two little kids is a #NoGo and I run about a 90% return rate on things that I order. I try to go with the philosophy that I only keep what I love and will actually wear.
Also, I work from home and stay at home with my kids, so my wardrobe choices are a far cry from the tailored, dry cleaned pieces of my past. Comfort is key. Clothing also must be resilient and hold up well to #Kids.
So, with that in mind, let's commence to start! (3 Cheers if you know what movie that line is from 😉
Shoes:
Let's start with an easy one, shall we? I love shoes. Sure, my feet grew when I had my son. Then, they grew again when I had my daughter. #TheRumorsAreTrue
But, I just took this as an excuse to get to buy all new shoes. Hurrah.
Here are my favorites shoe purchases last year:
These were an early Christmas gift from my husband. And, by early, I mean that they arrived before Christmas and he wasn't home and I opened them.
#SorryNotSorry
They're amazing. Comfortable. A nice tread on bottom to handle all the terrain. All the moms at school pick-up ask me where I got them. They're good, people. They're good.
And, TOMS gives a pair of shoes to someone in need with each purchase – you know – if you're into that sort of thing.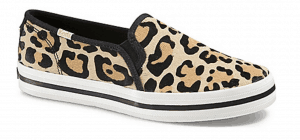 I use to laugh at those super white Keds. They just looked so… sterile. Now, I love things to be all-white. I also try to avoid it. Because, well, #kids.
When I saw these in the leopard print – I died.
Then, I came back to life and – would you believe it? – I'd bought them while passed out.
At least, that's what I told my husband 😉
If you haven't rediscovered Keds in your adult years – you're missing out. I mean: Leopard + Kate Spade + Keds? #GIMME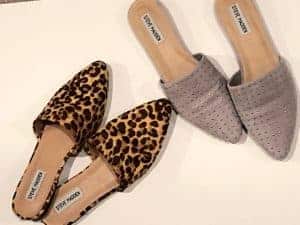 Love these. Love, love, love these. Also appeared in my post on my favorite mules. Yes, I wrote a whole post on mules.
What do you want from me? I love mules! Half-shoe, half-sandal, half-slipper? I mean, seriously, why aren't YOU obsessed with mules?
(If you are, let's be friends.)
The grey are sold out, but the leopard and a ton of other colors aren't. Get it, girl.
4. Birdies Slippers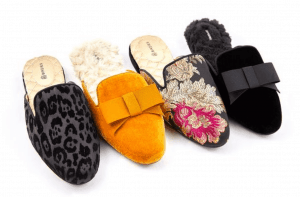 Yes. This happened. Another Christmas gift from the hubs. I know, the guy is good! He also cooks.
Sorry, ladies, he's taken!
Anyway, I lusted after these for so, so long. I was completely swayed by the gorgeous Instagram marketing. Plus, Meghan Markle. Always, Meghan Markle (isn't she just fabulous?).
And, I'm here to tell you, they are as good as you imagine they might be. I have the black leopard and they are extremely chic, sexy house shoes with a strong enough sole to be worn outside.
The top of the slipper is stiffer than a typical slipper, so it will hold it's shape. This also makes it a bit less soft than other slippers, but it's a price I'm willing to pay for the delicious memory foam footbed.
#HoldMe
Jackets, Sweaters & Cardigans:
I'm not going to lie to you – I have a little problem. It's an obsession, really. A love affair with cardigans.
I would guess at least 50% of my closet space is devoted to jackets and cardigans.
There were actually a few more I really wanted to write about, but they have since sold-out. #SadFace
So, here are the favorites from this year – that are still available: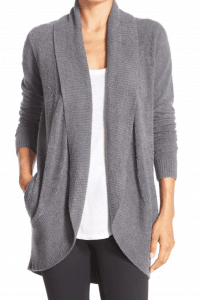 These cardigans are like a dream. They feel like a blanket, but wear like something much more intentional and fashionable. It's really that happy place we are all looking for of feeling cozy, but looking pulled together.
I have a few styles now, and love them all, even though this circle style is my favorite. Several people have gone and ordered them just from asking me where I got it. They are just one of those things that everybody loves. Make great gifts, too.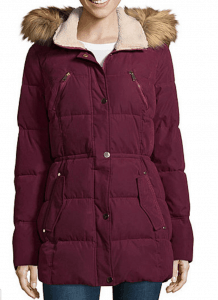 I live just a couple hours from snow country and looooooove the snow and skiing. We plan to start taking the kids now that they are getting older. So, I needed an adorable, waterproof, warm coat.
I got mine in black and it is just perfect.
The length, the cut, the material, the extra warmth around the neck, the detachable faux fur hood…and the price. Originally $200 and on sale for $60!!
Grab it, girls, this is a must-have.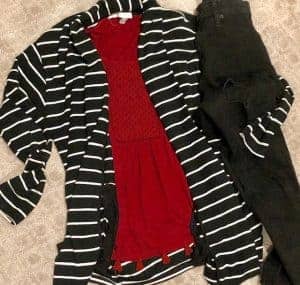 This was a random grab on a Target run because: cardigan, stripes, soft, affordable.
It has turned into one of my absolute favorite cardigans. I have to actually make myself wear other things, it's that good.
Plus, I have thrown it in the washer and it handles that well, too.
And, currently on sale for under $15??? How can you not? I mean – this is a no-risk situation.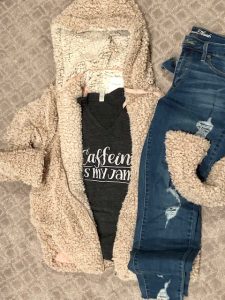 I recently wrote an entire post on my love for faux fur. In that post, I talk about some popular teddy coats and fleece jackets that have been selling out everywhere.
While writing that post, I found this Thread & Supply Brandon Fleece Jacket on sale in a gorgeous blush pink and, um, yeah – that was coming home with me #STAT
It is, by far, one of my favorite things this year. Plus, it comes with the added bonus of everyone smiling when they look at you, because you look like some cozy, puffy, adorable sheep. I'll take it.
Honestly, if you haven't jumped on the teddy coat bandwagon, I'm here to tell you, friends, it's a good one.
Bottoms: Pants, Leggings, Jeans
This is a notoriously challenging area for me to shop. My body has changed a lot with pregnancy, postpartum, weight gain, weight loss, and now pilates. I need bottoms that are stretchy, have room for some curves, stay in place all day without making me feel restricted, and wash well.
I really, really hate it when pants lose their shape and end up all droopy in the knees or hips, too.
These are some all-star picks here, people, and I bet some of them surprise you: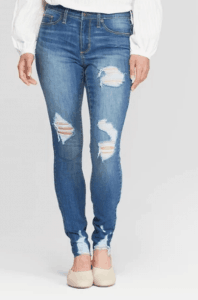 I have not been able to buy jeans this inexpensive since I was probably in college, maybe even high school. So, when I saw this brand go up at Target, I just kept walking.
Then, they went on sale for around $20 and I thought – well, why not. After all, Target's return policy is great anyway.
But, these absolutely were not going back. In fact, they went with me to Disneyland a week after. And, have been worn countless times since.
I loved them so much I ordered them in black and grey. Although, I will say the material is less stretchy in those colors and fits a bit tighter.
Even still, for the price – the quality, the feel of the fabric, and the fit is pretty awesome. When I reach for them more than my Hudsons – you know they're good.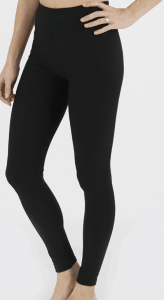 I've written before about these. I'm not really a legging person. I have just always felt like I wasn't dressed and would at least put on a pair of jeans.
Until I met these. They are amazing. I wash and wear and wash and wear … on repeat. In fact, I'm considering ordering more just to have a few pair in rotation.
Of course, then, I might actually never wear anything else.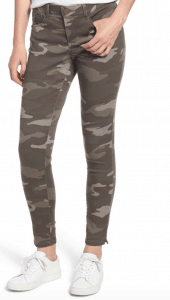 This is the year I discovered Wit & Wisdom. They were being written about on blogs all over the place, but I was weary. Pants are hard to shop for. I've been wearing my Kut From the Kloth's for years – and am still happy with them.
But, then I saw these adorable camo pants and had to try them. That led to buying some of the jeans. They're all so, so good. The ab support helps with the mommy muffin and help you feel nice and pulled in.
During the anniversary sale, I grabbed these adorable distressed, raw hem jeans and love, love them.
Overall, a really great product. I will say that the different pieces in the collection can fit quite differently, so from one pair to the next, you may want to grab a couple sizes to find what works.
Oh, and the camo pants are currently on sale for $44.90 and some jeans are under $40! Yes!
For a long time, I really loved Zella. I had some older Gaiams I liked, but didn't wear as much. Then, I picked up a few pairs when I started up pilates a few months ago and – wow – they are so, so good.
You can get them for great deals on Kohls.com. In fact, they're having a big sale right now and I just stocked up a few more pairs!
These just fit so well, always stay up, don't make you sweat (anymore than normal) and look cute, too.
#Winning!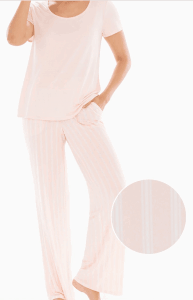 If you're anything like me, you love pajamas. This year, I discovered Soma Intimates and I am a total convert now.
Their pajamas, in particular, are extremely soft and comfortable, while also being really well-made and hold up wash after wash.
They have regular sales that make them much more affordable, but even full price they are worth it. Once you start wearing these, it becomes difficult to wear any other brand of pajamas.
Right now, they're having their stock up and save sale, plus free shipping on orders over $100! #WOOT
****
Wow, this little walk down fashion and style memory lane has been fun! It's always a challenge to reflect on a year's worth of purchases and boil it down to the best, but all of these are big winners.
Do you have a favorite purchase of the year?
Share it in the comments below!
Have a fabulous day,
E