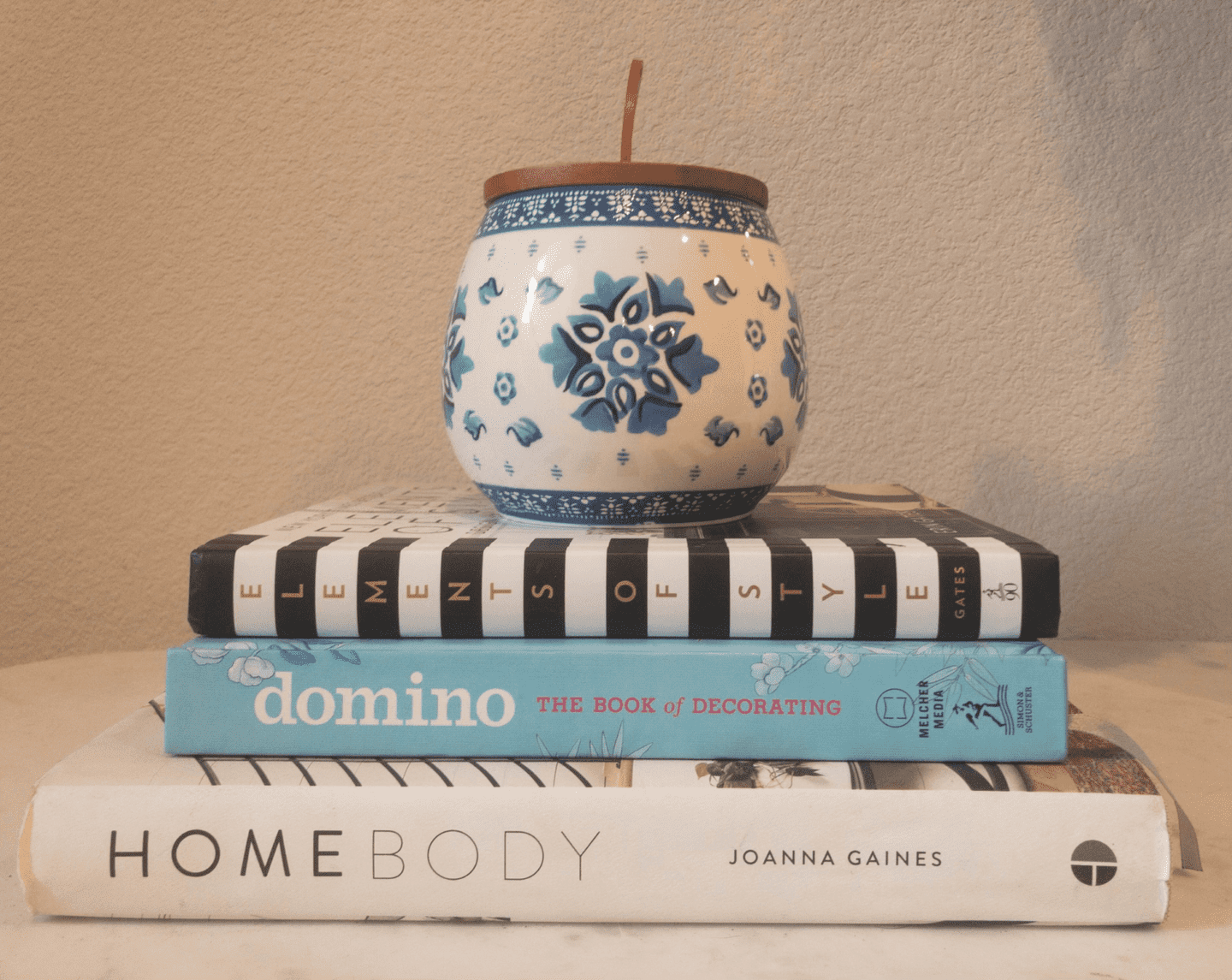 As an avid book lover (and former English Teacher), I'm a huge fan of decorating with books and I find myself slowly adding to my collection of beautiful coffee table books.
But, I have this pet peeve with coffee table books. I get really annoyed when people put out books that they don't actually want anyone to touch – or when I see a coffee table book with a beautiful cover, but nothing of substance inside.
A book should be read, even when it's being used for decoration.
So, for me, I only put out books that I find interesting and attractive. Bonus points if they match my home decor. That's probably why a good deal of my coffee table books are about design. I love looking at how designers and architects have curated spaces that are functional art.
Of course, they're not all about design, but they all reflect something that I am passionate about.
If you're looking for perfect coffee table books that double as decor, I highly recommend these 9 books to get you started. But, don't be afraid to go off the beaten path and find coffee table books about something that you actually want to read about, too.
9 Favorite Coffee Table Books: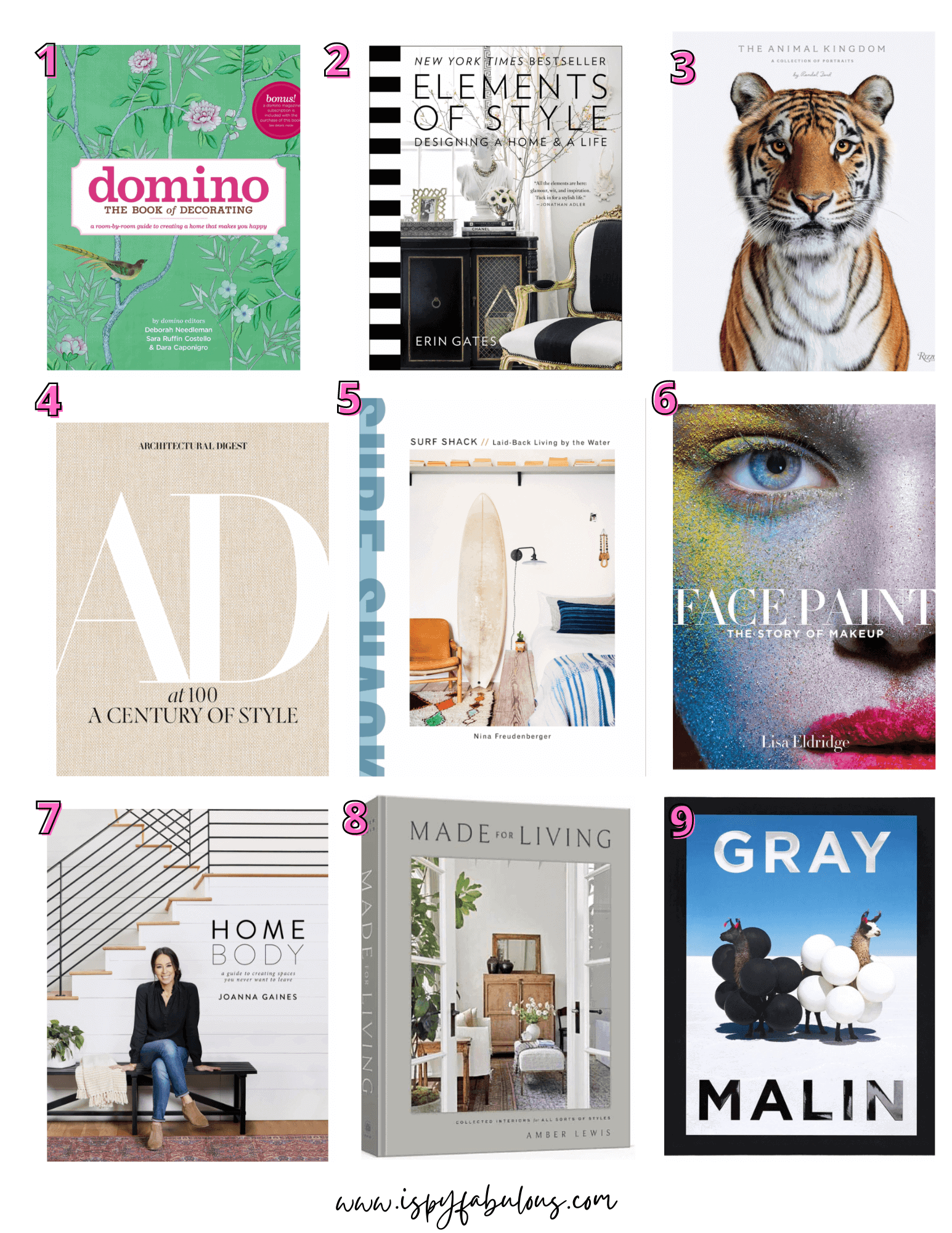 *Affiliate links are used, which means at no cost to you, I may receive a commission if you make a purchase through my links. Thank you!
I've had this one for so long, I can't even remember where or how I got it. But, I've read it so many times, I have many of the pictures committed to memory.
I love this happy, colorful book of design. Unlike so much of the monochromatic and farmhouse styles that are taking over design lately, this book really dives in to how to make a space come together to be a reflection of you and what makes you happy, and not adhering to a trendy style.
The cover is beautiful, too, and really beckons you to pick it up, which is probably why it's also the most read coffee table book I have.
Erin Gates is a writer and designer and her book is a reflection of both skills. I love that this book is just as entertaining to read, with her real life tidbits, as it is to look at. I found myself actually reading it page-by-page, like a book, as opposed to just looking at the beautiful pictures.
But, if it's just great design you're after, you'll still love this book and find plenty of inspiration in its pages.
The striped spine is also design perfection and icing on the cake.
This is one of the coolest books on animals I have ever seen. The photographer and author goes out of his way to capture the animals honestly and candidly, without any manipulation of scenery or their personalities. He shares some of the experiences of being behind the lens to photograph some of the most powerful creatures on the planet. His risk is our reward; this is a beautiful, moving book.
It also makes an extraordinary gift for the animal lover in your life, who will pour over its pages in awe.
Of course I had to buy this book – and some to give as gifts – as soon as it was released. It's a mammoth book and will be the bottom of any stack, but it won't stay there for long. The beautiful exterior beckons you and the interior will captivate you.
I absolutely love seeing the work of designers and architects who create spaces that are livable art and who better to curate the best than Architectural Digest?
I grew up 30 minutes from the beach and I believe that when you're raised breathing in that salty ocean water, it becomes part of your soul. Nobody warned me that moving hours away was going to create this yearning for the ocean that would stay with me forever.
This book brings me back for a short while with images of the coast and coastal design. Someday, I'll have my own little bungalow on the coast, but until then – I rely on Surf Shack to transport me there whenever the craving strikes.
Long before I was a writer, I spent time as a makeup artist. I've amassed quite a collection of makeup and beauty books, which I share in one of my most popular posts ever here, but this is one that serves as both inspiration and coffee table decor.
This book shares how makeup has been used over the last 100 years since its creation, from Egyptian and Classical times up through the Victorian age and the golden era of Hollywood, and also surveys the cutting-edge makeup science of today and tomorrow. A fascinating book for any person, but particularly makeup enthusiasts.
Yup, I was just as obsessed as the rest of the world with Fixer Upper and Joanna Gaines' gift for giving new life to old homes, buildings and castaway objects. Her work has helped me to look at scratches and blemishes as signs of use and the presence of memories, rather than always wanting everything to be pristine and perfect.
Her books showcases so many inspiring spaces, but also shares her tips for how to create a space that you truly want to come home to.
My style may not conform to any one particular motif, but it is all one thing: livable. That's why I love Amber Lewis' effortless, layered style and how her new book showcases 250 of her enviable interiors. She has made a name for herself with her inviting and comfortable spaces that are still very visually interesting. Her attention to detail is so good and this book is a reflection of that..
I love Gray Malin and his aerial photography. I may never own any of his fine art, but I can have his gorgeous coffee table books. Just the cover of this one screams, "OPEN ME!" Then, once you start flipping the pages, you'll have a difficult time stopping. This makes such a fantastic gift, too, for anyone interested in art, photography, books, decor, travel, beaches and much more.
With vibrant imagery from all seven continents and stories of how each collection was made, this stunning volume will invite you into the colorful world of Gray Malin and help make every day a getaway (source).
******
I hope you found your new favorite coffee table book! If you have one that you think should be on this list – share it in the comments below!
Have a fabulous day,
E