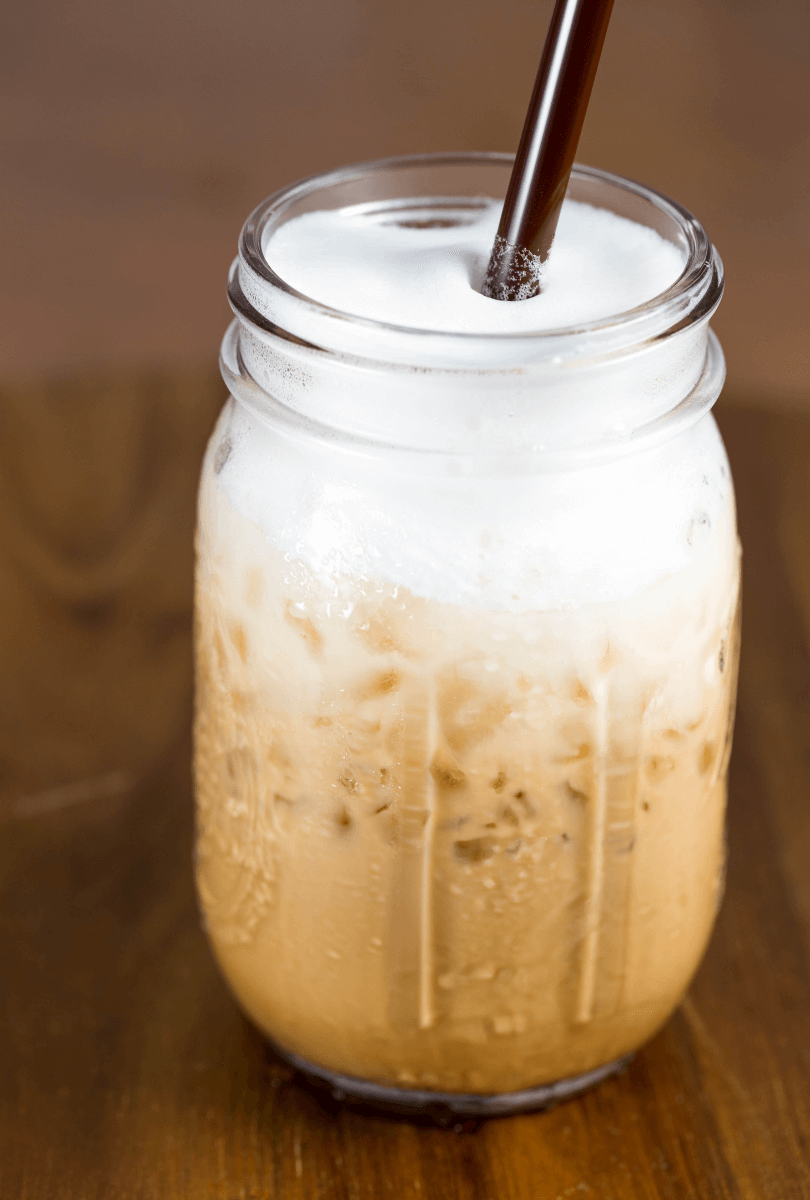 Cold foam is everywhere! I couldn't be happier – I drink iced coffee year round and am a big fan of this cold brew cold foam movement. But, with fancy cold foam cold brew coffees running a cool five dollars or more – it can be an expensive daily habit.
Ready for the good news? You can make your own cold foam for your cold brew at home in seconds. If you'd like to add flavors, extracts, sea salt, sugar or caramel, you can even do that, too.
All you need is a cold milk frother – or a milk frother that has hot or cold options – and you're in business, baby!
It's literally as simple as pouring in whatever milk you use, touching the button until it shows the cold setting – which usually means the button turns blue – and then let that frother do it's great work.
When it's done, bam! Cold foam. Pour over or spoon over your iced cold brew and voila! Muy delicioso! Yup, I love it so much, I start speaking in Spanish.
The Best Cold Milk Frothers: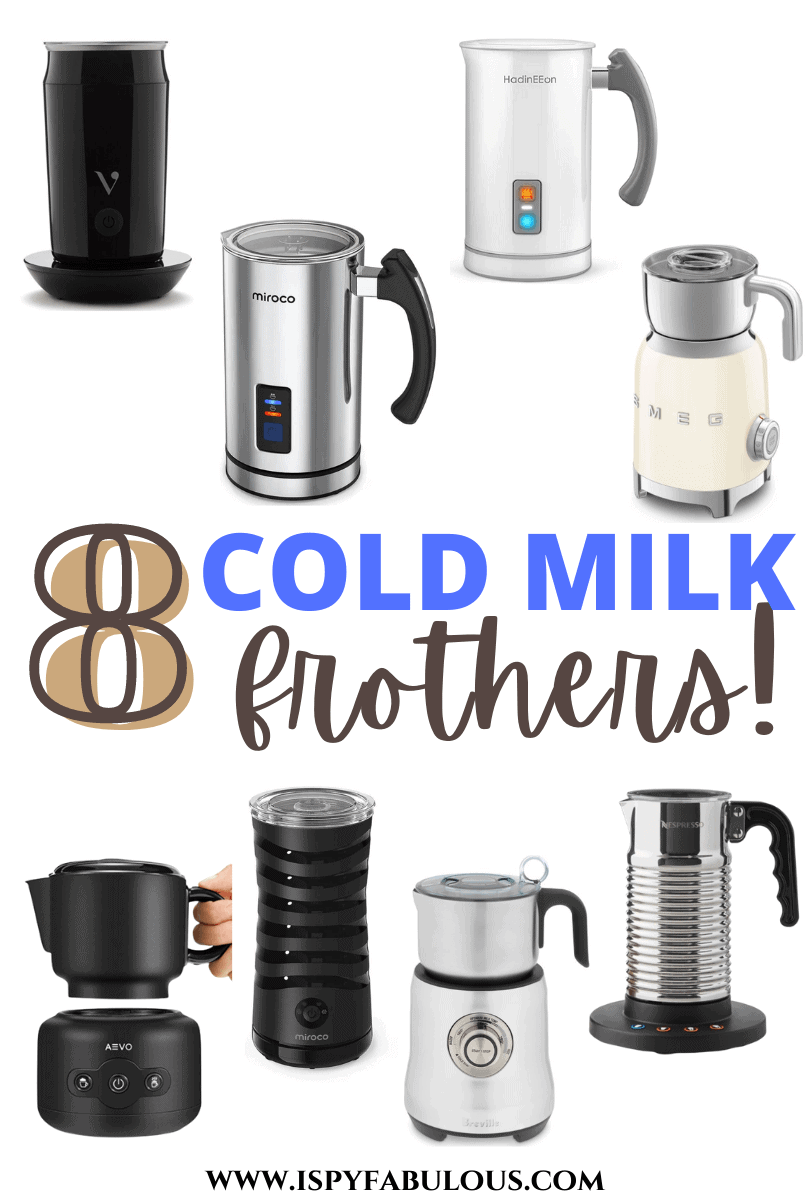 There are a ton of frothers on the market. But, after seeing how much y'all loved my post on how to make cold foam for cold brew coffee – I decided I would dedicate an entire post to the cold milk frother I have and the others with the best reviews.
These are easy to use, easy to clean, and most importantly, create the absolute perfect foam.
Let's check out the one that I have and use all the time:
*Affiliate links are used below, which just means that at no cost to you, I may receive a small commission if you make a purchase through these links.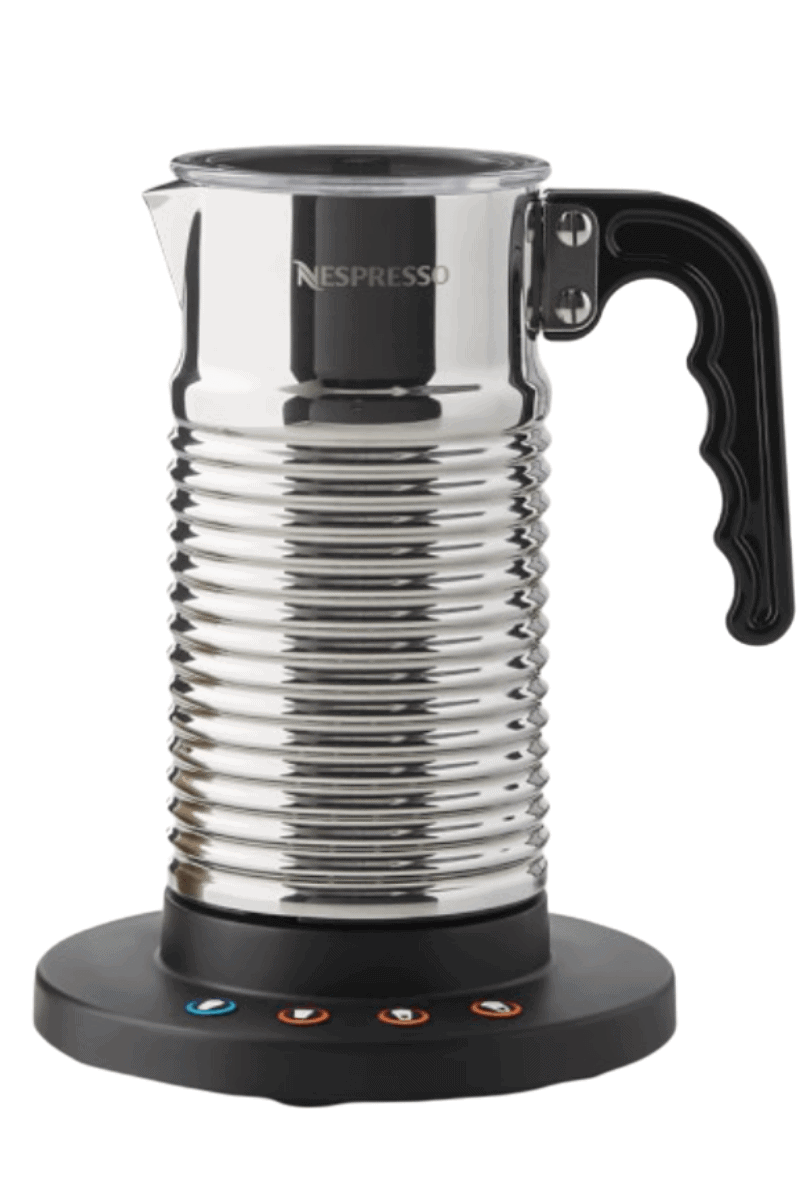 Years ago, I finally plunked down the change for the Nespresso Vertuoline machine of my dreams. It was bundled with the Nespresso Aeroccino and I loved using it to make foam for my hot coffees. It never occurred to me that it had a cold setting.
I know, such a loss. Luckily, I was trying to figure out how to foam cold milk for my iced coffee and looked up frothers online only to realize that I had a cold milk frother right in my kitchen.
That was a good day. So, I got that bad boy out and start whirring up some perfect cold foam. I couldn't believe how easy and perfect it was.
They've made some upgrades to the one I have since I bought it and it looks cooler than ever. I may be partial to this frother, simply because it's the one I have, but don't fret – there are 7 more great frothers coming your way.
Or, check out this more affordable version of the Nespresso Aeroccino available here.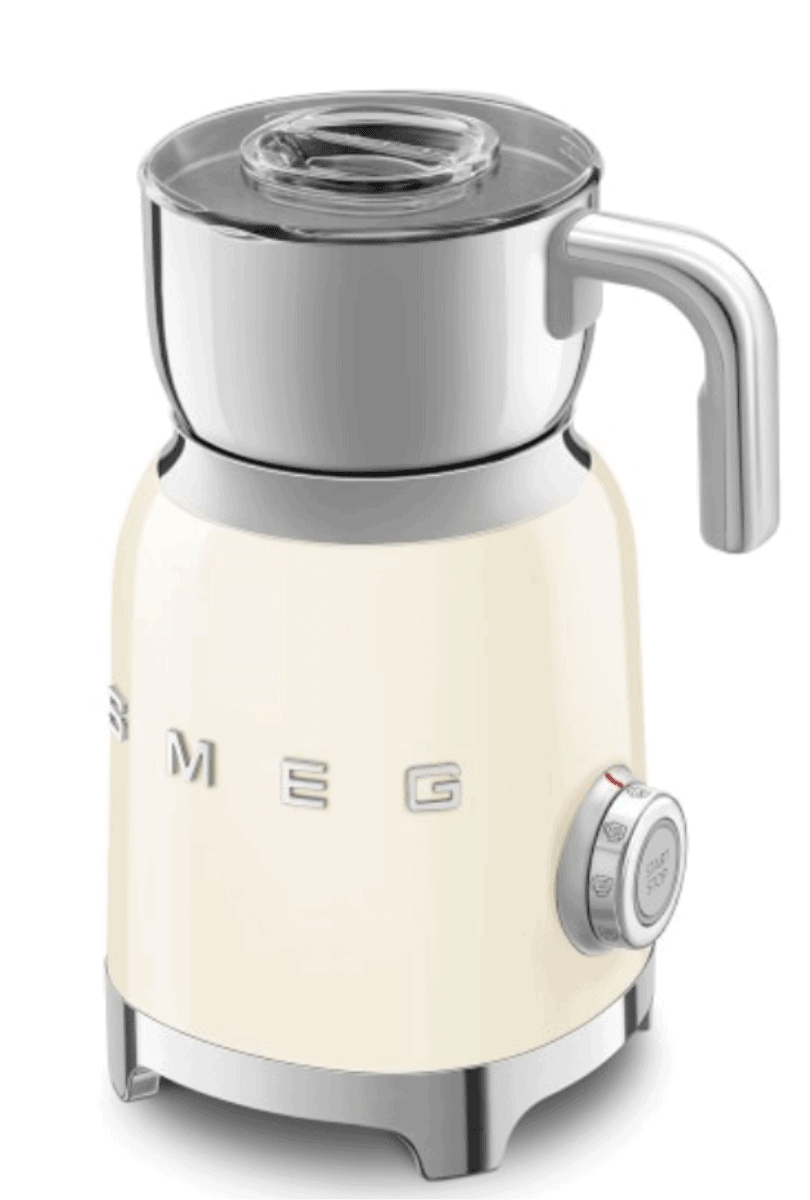 Smeg always wins for cutest kitchen appliances. They take a retro approach to all of their high tech gadgets for a combination that is total counter candy.
I absolutely adore the look and design of this milk frother. It's one you could proudly display all the time and not feel like you needed to tuck it away.
This makes me think of my Fellow electric kettle. It is so beautiful that people actually comment on it all the time. It's like a piece of art in the kitchen.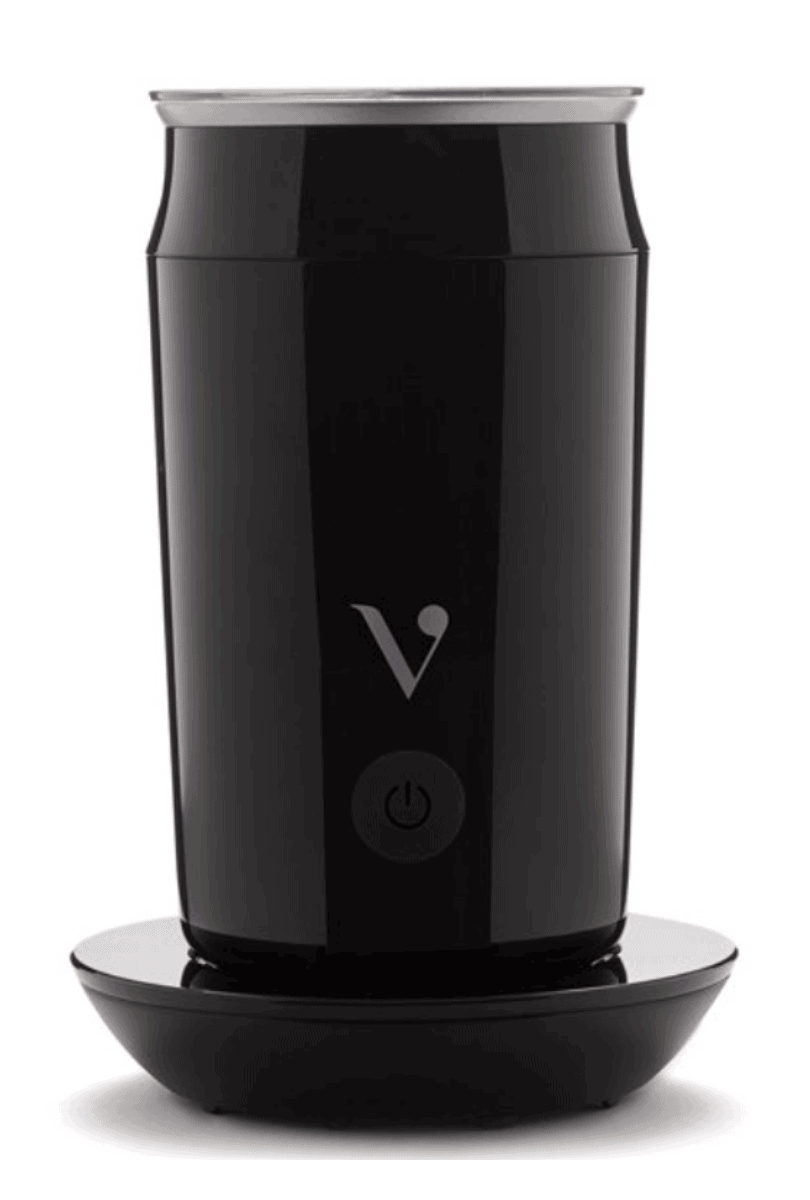 When Starbucks makes thing, I pay attention. Their Verismo machine came out after I got my Nepresso, otherwise that would've been a really difficult decision for me.
While I've just recently heard that they are phasing out the machines and other accessories, they haven't phased out the milk frother yet, so you can still grab this super affordable, ultra chic milk frother from the coffee gods themselves.
4. Breville Milk Frother: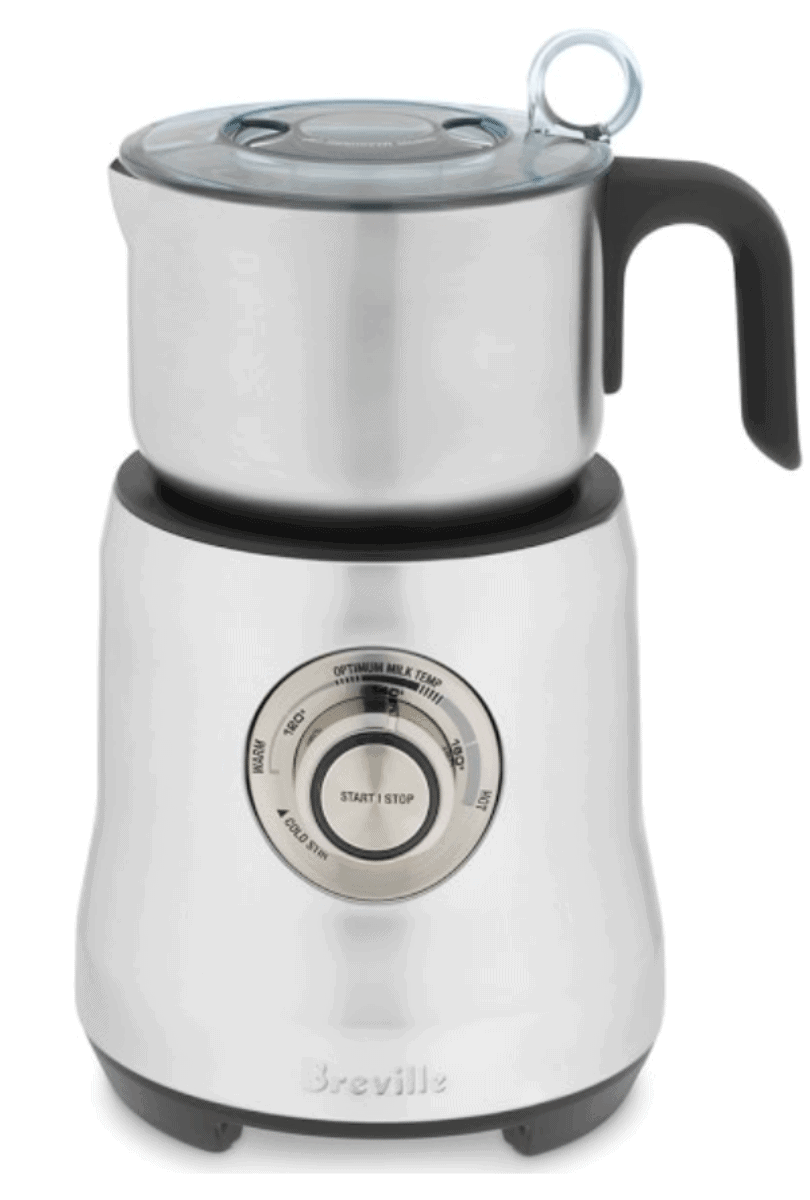 Breville is another boss of the kitchen appliance world. I have a Breville juicer and it's held up beautifully for about 7 years or more now. Everything we have picked up that is a Breville performs well and really lasts.
This milk frother has a cool new look and great reviews. The cold stir setting froths milk without heating it – which is exactly what you want for cold brew and the dial makes it easy to select exactly what you want. And, if you hate cords all over the place – you'll love that the cord stashes under the machine and accessories store in the side. A very thoughtful design, Breville. Well done.
Click on the link to read even more cool features of this frother. It's best in class, really.
Best Milk Frothers on Amazon:
While I love the customer service and quality of shopping for coffee gadgets I'll use for a long time at places like Williams Sonoma, Crate & Barrel and Sur La Table, there also comes a time when you need a product that works, shipped fast, for the absolute best price.
These are the highest rated milk frothers on Amazon right now!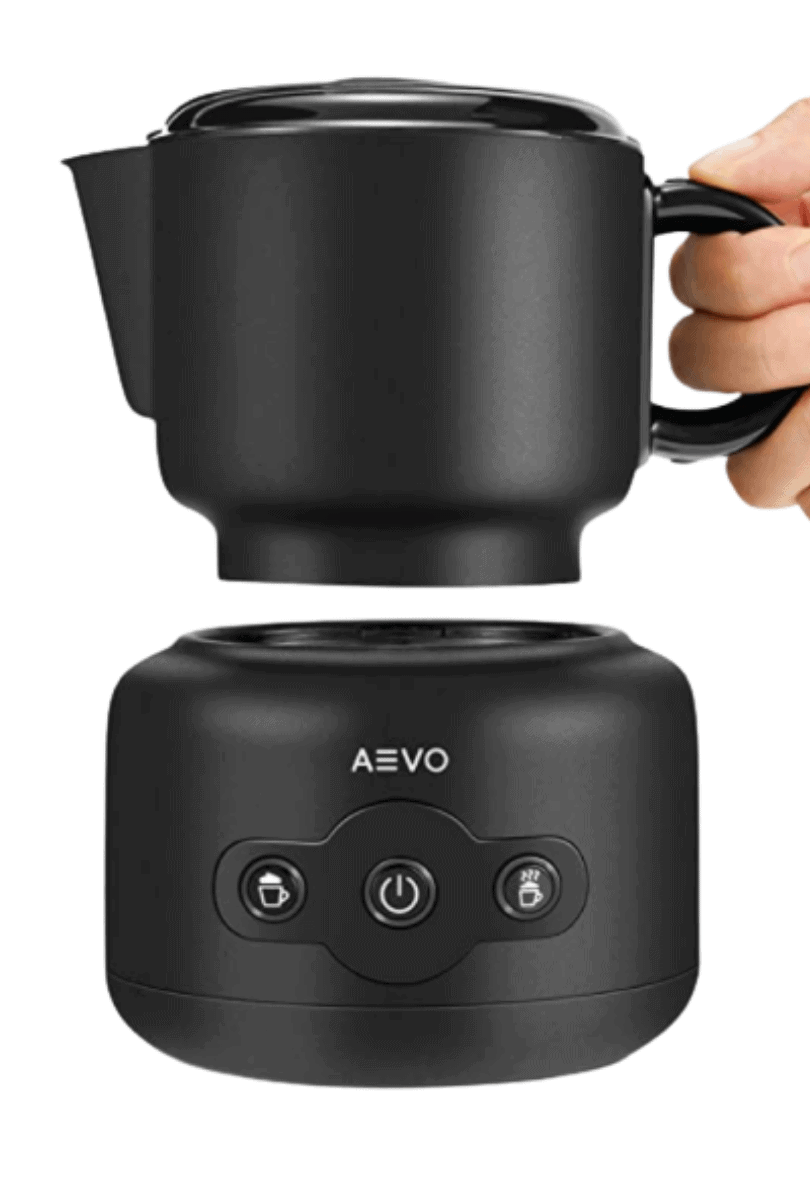 Okay, this is a newer one to hit the market and something I was SO EXCITED TO SEE! An absolutely BRILLIANT design! You froth the milk and then the pot lifts off the base for easy pouring!
if you've ever tried to pour the frothed milk from milk frothers into your cup – you know how frustrating it can be when it all comes splashing down and creates a big mess.
This little teapot shaped detachable pod makes it so easy to get that frothed milk right where you want it!
Brilliant!
Check out the genius Aevo Detachable Milk Frother here.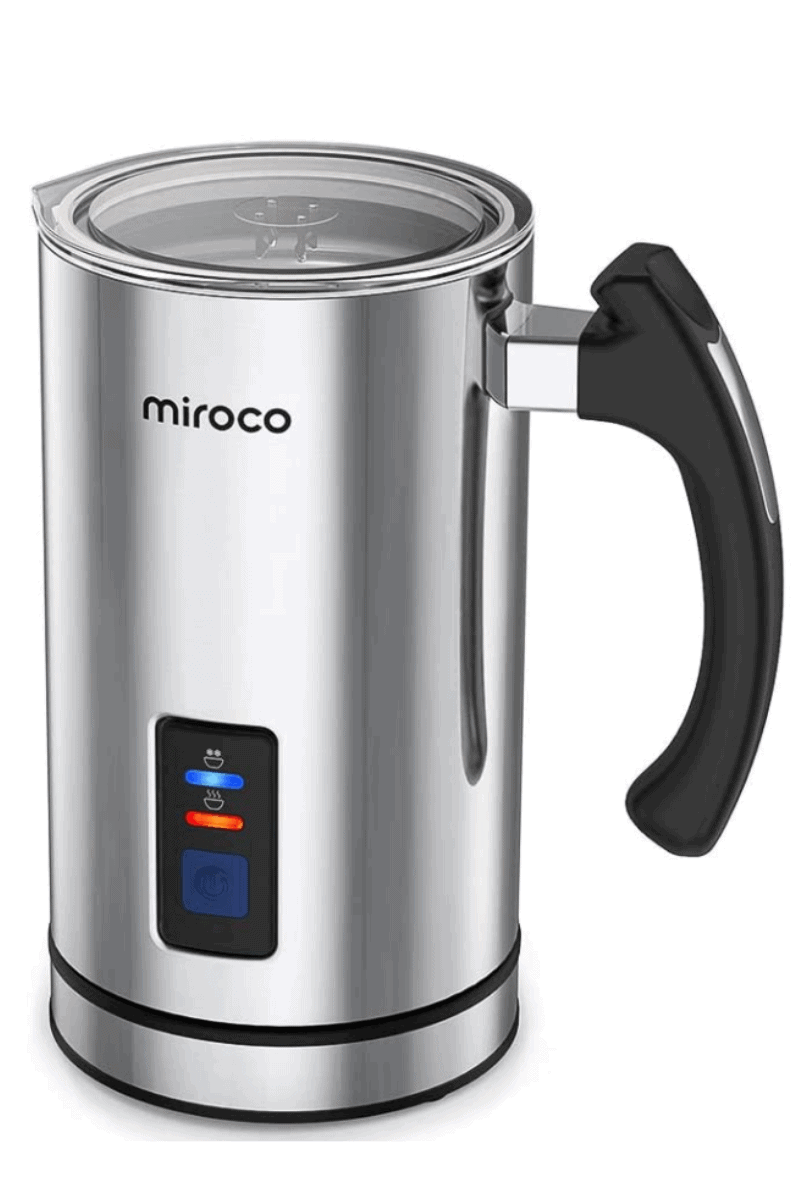 This milk frother is so easy to use, with a hot and cold milk frother button and is surprisingly affordable!
You'll love the simple design that is foolproof to use. Seriously – the machine shuts off when the foam is ready, so if you step away for something, you don't have to start all over.
Coffee lovers everywhere say – hurray!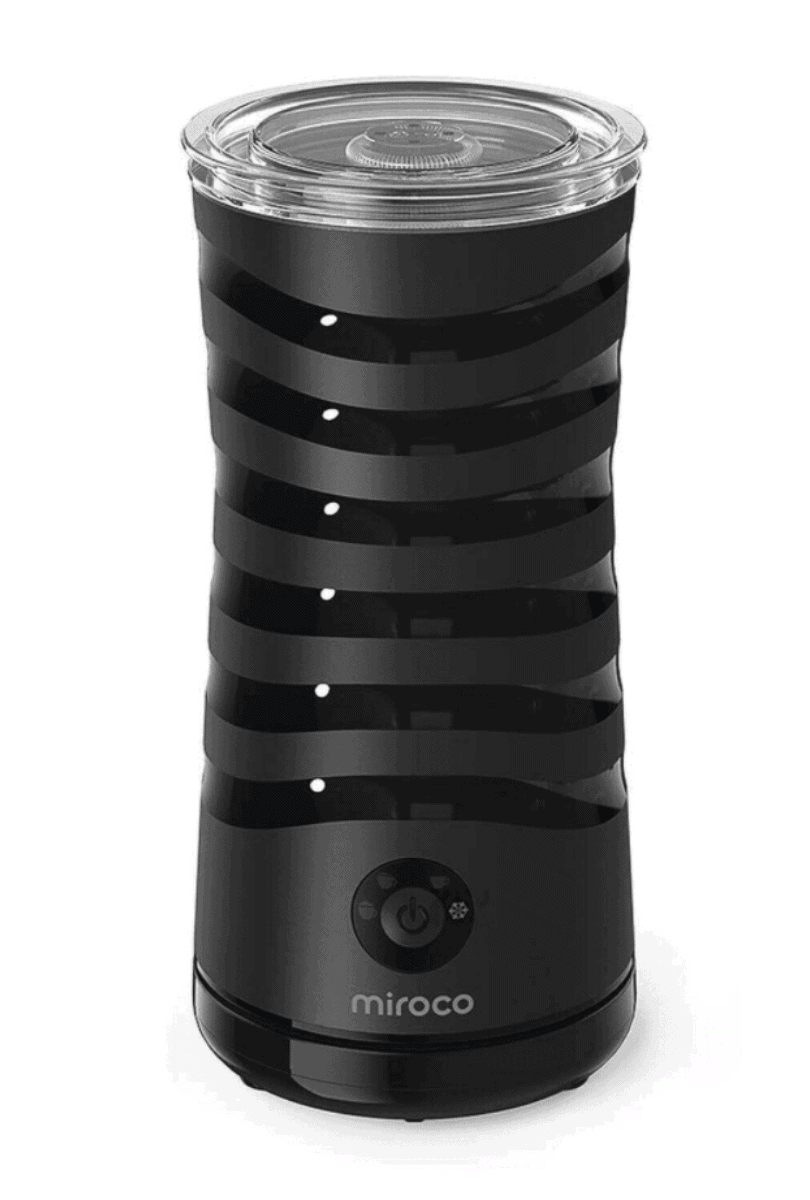 Mirocco is sort of owning the milk frother game on Amazon right now. I love this cool black design. It is a bit more minimalistic than the other option, but still offers three foam options that are easy to choose.
Plus, it's easy to clean, easy to hold and also switches off automatically when foam is ready!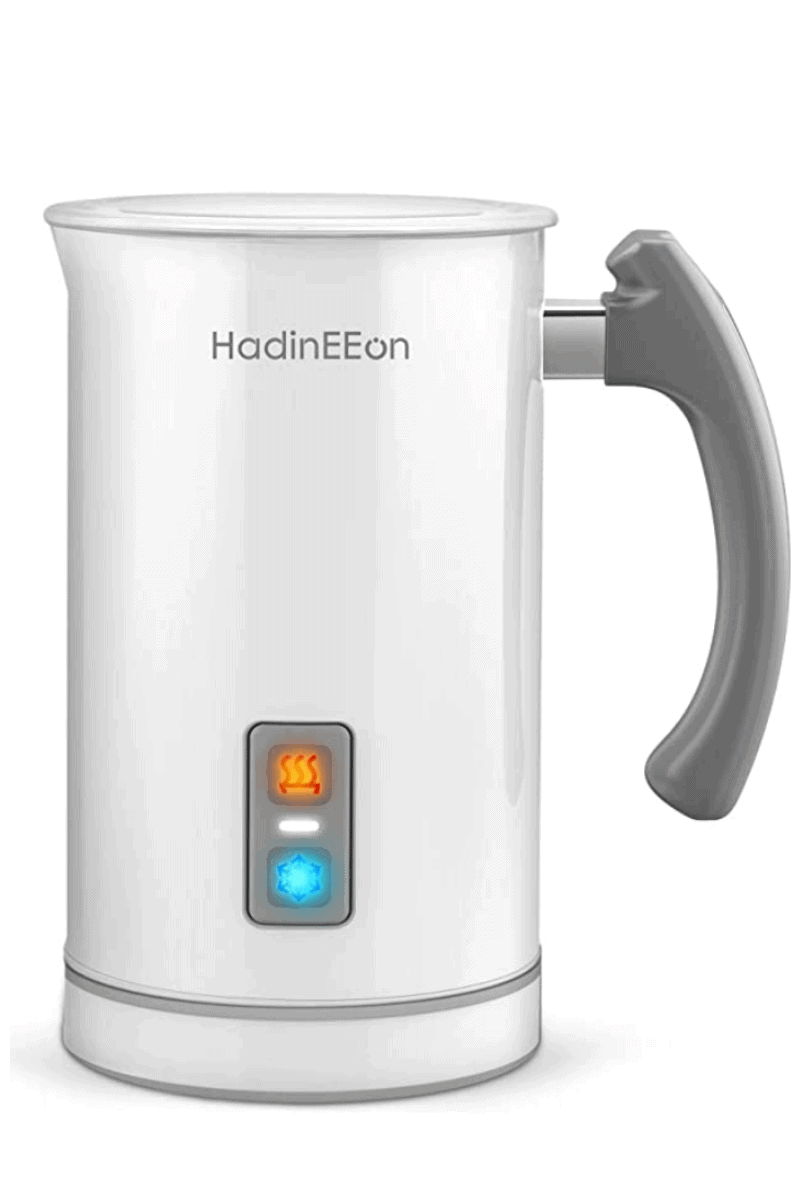 HadinEEon is another big name in the milk frother game on Amazon. I love the white ones myself and this one looks more expensive than it actually is.
This one is fully stainless steel with a white painted exterior with a large capacity jug that will make more foam! You'll appreciate this if you're trying to make more than one at a time.
Plus, it has a super quiet design with a fast motor, which just means less noise in the kitchen.
*****
Bam baby! Are you ready for some perfect cold foam now? Have you tried making it at home?
Don't forget to check out my posts 15 iced coffee recipes you can make at home and the perfect gifts for the coffee lover (even if that's you!).
Stay tuned for more coffee themed posts soon.
Have a fabulous day,
E