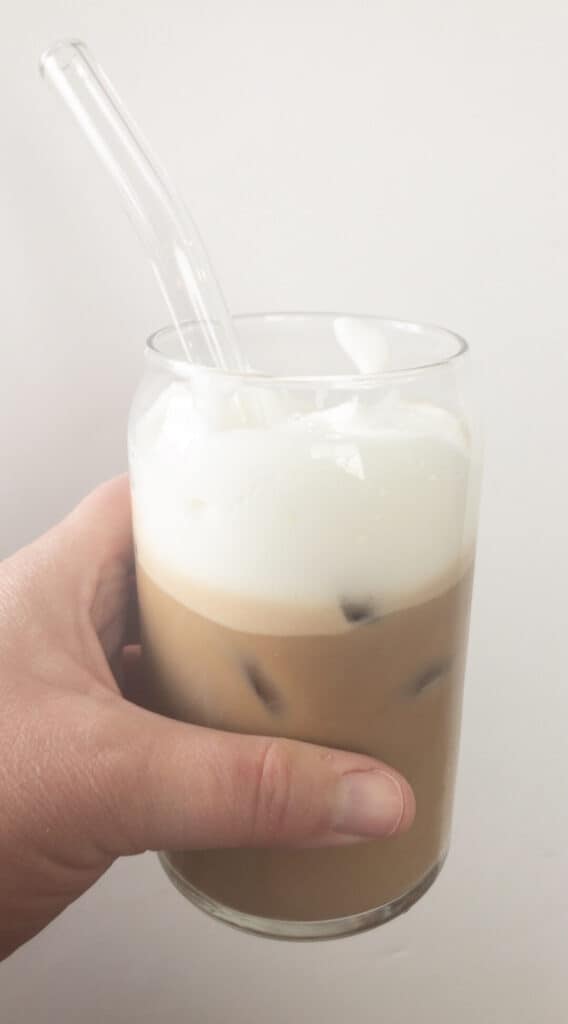 Staying home a lot more hasn't been all bad. I've learned a few valuable lessons – such as, my kids will be just fine if they're not chauffeured to fantastic activities and play dates all the time, I can dye my hair at home if needed and – I can even make my own cold foam cold brew that is so good, I don't even miss my $4 a day coffee habit.
Okay, I do miss it a little bit.
I feel like the coffee break is the non-smoker's cigarette break. It's that time of the day when you get to just zone out, get some fresh air, not have to chase kids for half an hour, and you get a little kick in the energy department.
But, learning to make my own cold foam to rival the cold brew fog latte from Peet's and the cold foam cold brew collection from Starbucks was much easier than I thought.
And, it made staying home that much more enjoyable.
How To Make Perfect Cold Foam:
Making cold foam is so simple if you have a milk frother. Most of them have hot and cold options now, so they'll froth cold milk to perfection in a matter of seconds. It's as easy as putting in your milk of choice and pushing a button.
I didn't even realize my Nespresso Aeroccino milk frother would froth cold milk, but I got desperate one day when all my local Starbucks were closed.
I needed a cold foam cold brew coffee in my life and I needed it immediately.
I dusted off my milk frother and thought it was worth a shot. I didn't even know it had a cold milk setting. It was literally the equivalent to finding a buried treasure in my backyard.
So, I put in some cold milk, held down the button so it turned blue instead of red and then watched it go. It turned up this perfect cold foam. Where has this been all my life?
I mean, just look at it – I even took a spoonful out to see if it would collapse and there it is – just showing off.
That's sexy foam right there.
#ComeToMama
After I saw the gorgeous clouds of cold foam frothed to perfection, it was time to up my game. Coffeehouses will often add a little dash of vanilla extract, or a little dusting of sugar, to give the cold foam a little somethin' somethin'.
To mimic this sweet foamy goodness at home, just add a little dash of whatever you want before you froth and it's ready to go. I love this homemade vanilla syrup recipe. It's the most delicious thing ever and it's so fast to make. Just add a tablespoon to your milk before frothing and it'll be glorious vanilla sweet cream.
That's it. Add your fixings to the milk, froth, enjoy. It's really that simple.
If you're looking for the perfect milk frother – check out my post with 8 of the best milk frothers that make cold and hot foam. For the Cliff's Notes, here are some of the highly rated milk frothers below. Affiliate links used:
The Perfect Cold Foam Cold Brew:
Once you've perfected the cold foam, all you need is some cold brew coffee and you're ready to rock 'n roll. Cold brew coffee is also deceptively easy. I wrote a whole post on how you can use drop in cold brew coffee packs to simplify it. Or, why not make life even easier and buy pre-made cold brew coffee?
I'll admit that's what we do more times than not. But, if you're a real coffee snob (I support you), just coarse grind your favorite beans and use a cold brew pitcher with grounds and water and let it sit overnight.
Voila. Cold brew.
Then, when the coffee mood strikes – just fill a glass with ice and cold brew coffee. Then, you can pour in some of the milk or just dollop the cold foam right on top. We also use the vanilla simple syrup recipe above mixed in to the coffee and milk. If you want the full recipe we use, this iced vanilla latte is the best thing we've ever had.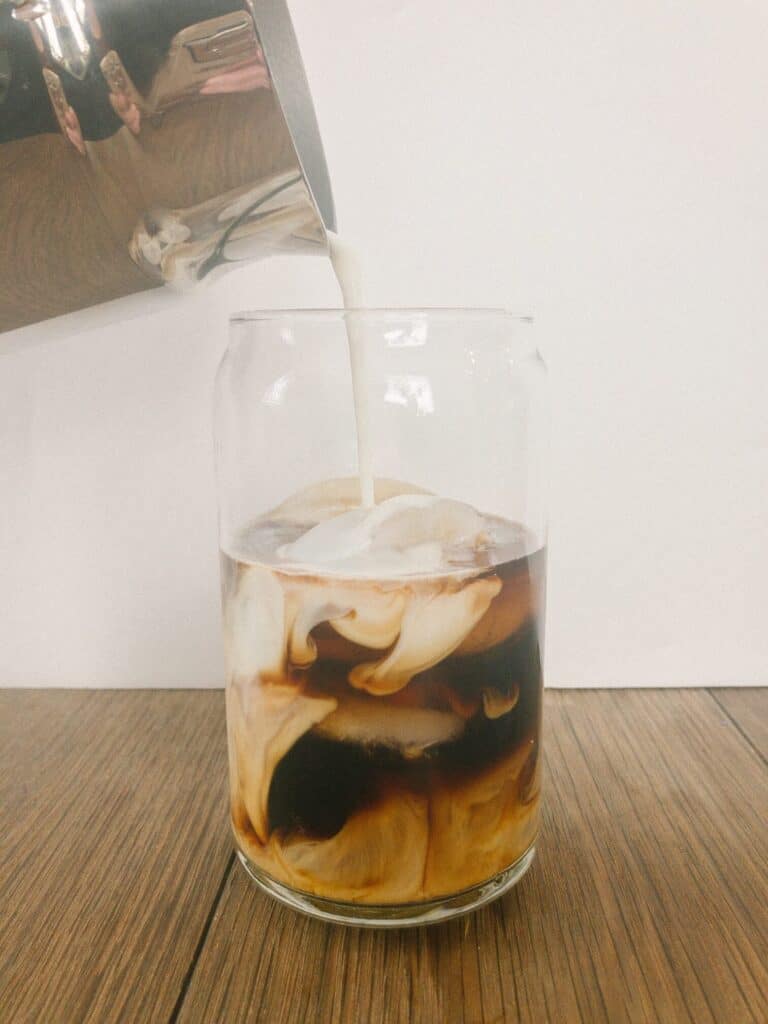 #YAS
That's the good stuff, friends.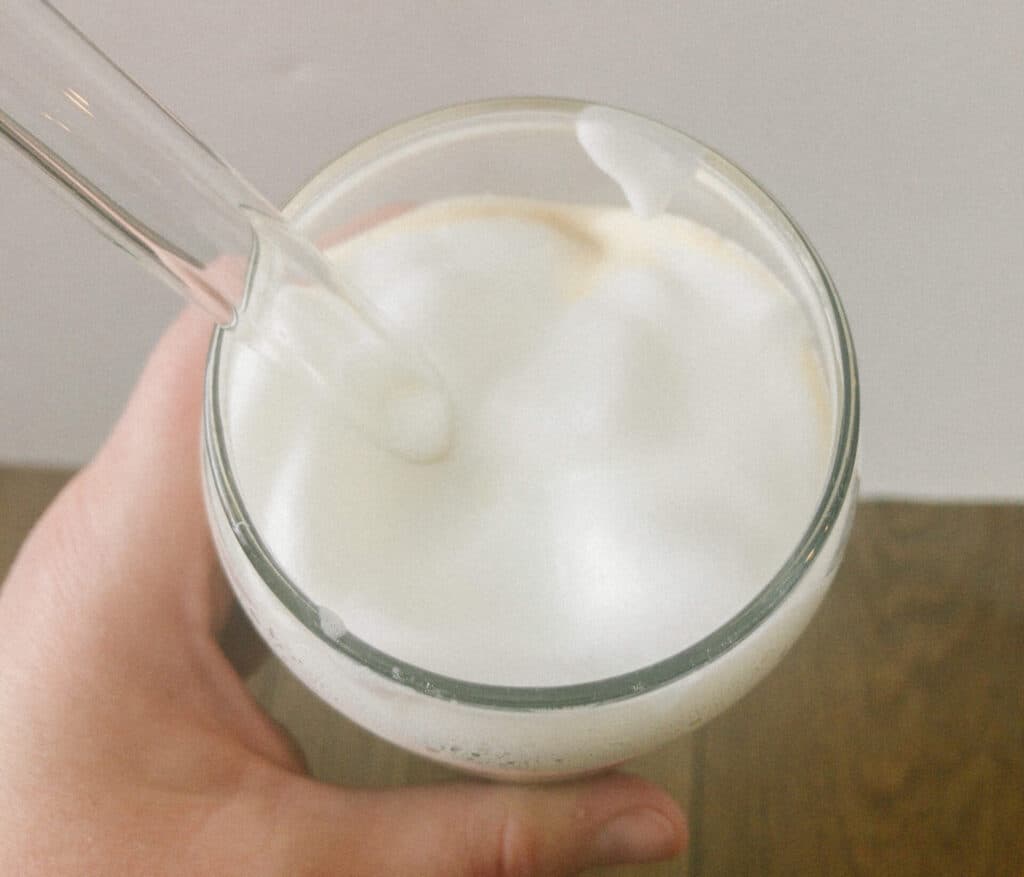 If you like to sweeten your coffee, try mixing up your simple syrup recipe a little. You can infuse things like lavender or make a cinnamon simple syrup that will change your life. I am a huge, huge cinnamon fan – so I love my cinnamon simple syrup.
I'm serious. Try it.
****
I know it may seem silly to write about something like perfect cold foam, but I think I'm not the only one really feeling like the little things are the big things right now.
Life has been heavy and hard for awhile and it's not going to let up anytime soon. We all have to find ways to give ourselves small moments of joy and carve out time for self-care, so we can stay strong and keep moving forward.
We can't solve every problem in the world over night and we are facing some really, really big issues as a nation that are going to take a lot of time, heart, investment, engagement and creative problem solving to bring the changes we need.
But, if we have perfect cold foam cold brew coffee in one hand, maybe we can save the world with the other.
Whatever it takes.
Have a fabulous day,
E
PS. If you're feeling stressed these days, too, you might love my posts on practicing mindfulness, easy breathing exercises for anxiety and the best meditation apps!