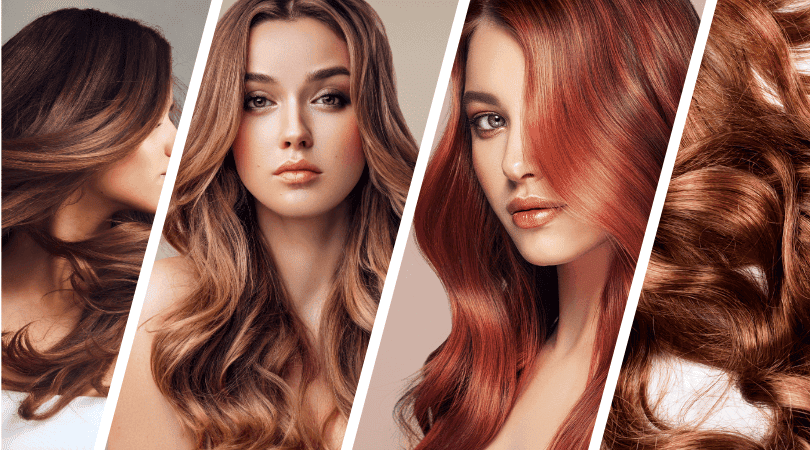 Ever since I walked through Homegoods and they had all their Halloween decor out, I've been super excited for fall, cooler temps, and all of the coming holidays. It's always been my favorite time of year anyway, so it never takes much for me to get in the mood.
In the spirit of the season, I'm already planning to give my hair color a refresh for autumn next time I see my colorist and I've been on the hunt for that perfect fall hair color. When I think of fall hair color, I think of warm, shimmery, dimensional colors with inspiration from food: chocolate, caramel, champagne, brownies, creme brulee, and more. If you are looking for fall hair color inspo, too, I hope this list inspires you to try something new or make a subtle change to your current color that'll get you in the mood for all the upcoming fall fun. I've organized the pictures from blonde, to red, and then brunette. Enjoy!
Warm Blonde and Bronde Fall Hair Colors: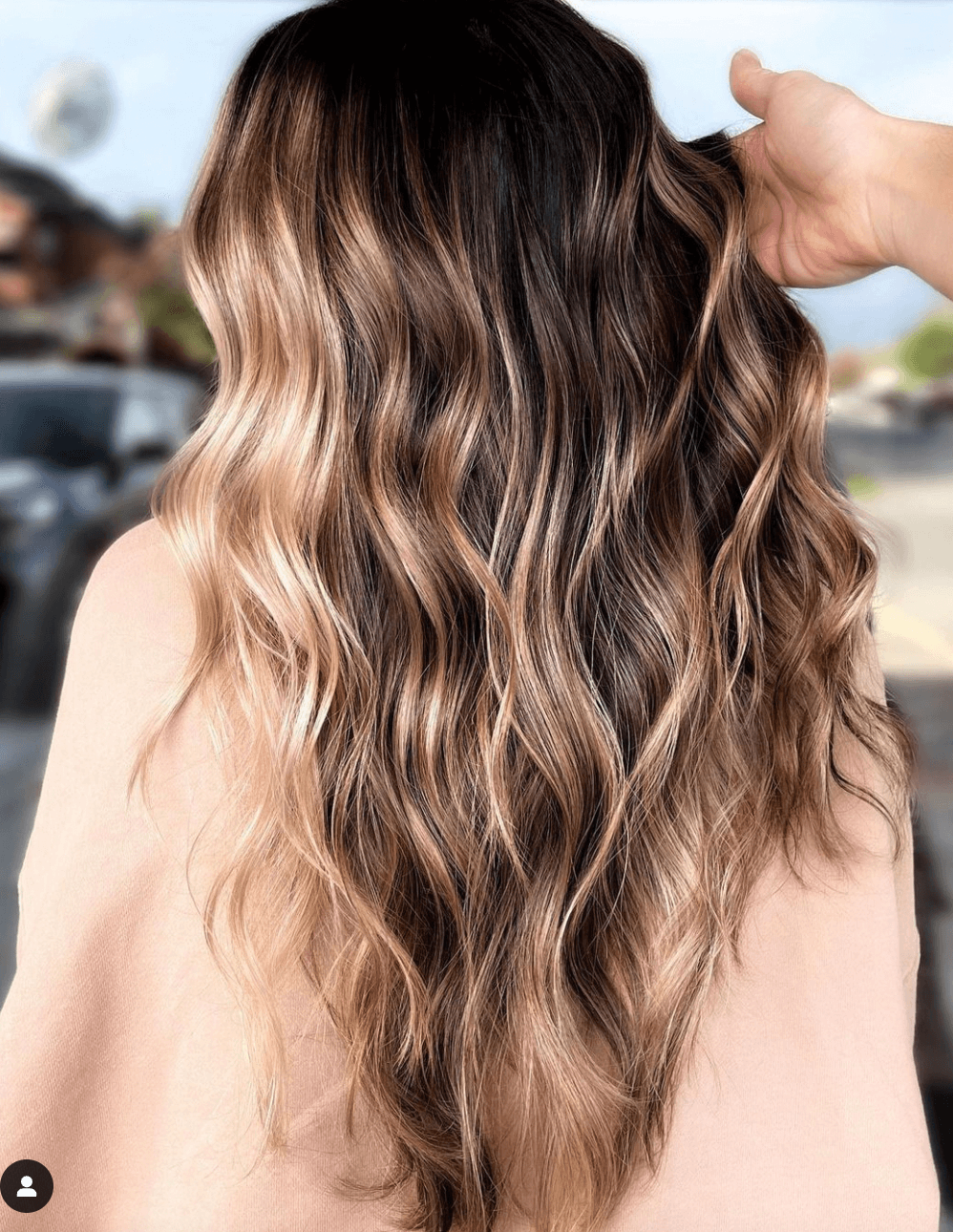 Love the warmer blonde and light brown tones here and how they contrast beautifully with the pops of blonde highlights. Dropping some warmer color in between your blonde will not only give hair a break from lighteners, but it will add depth and warmth for fall.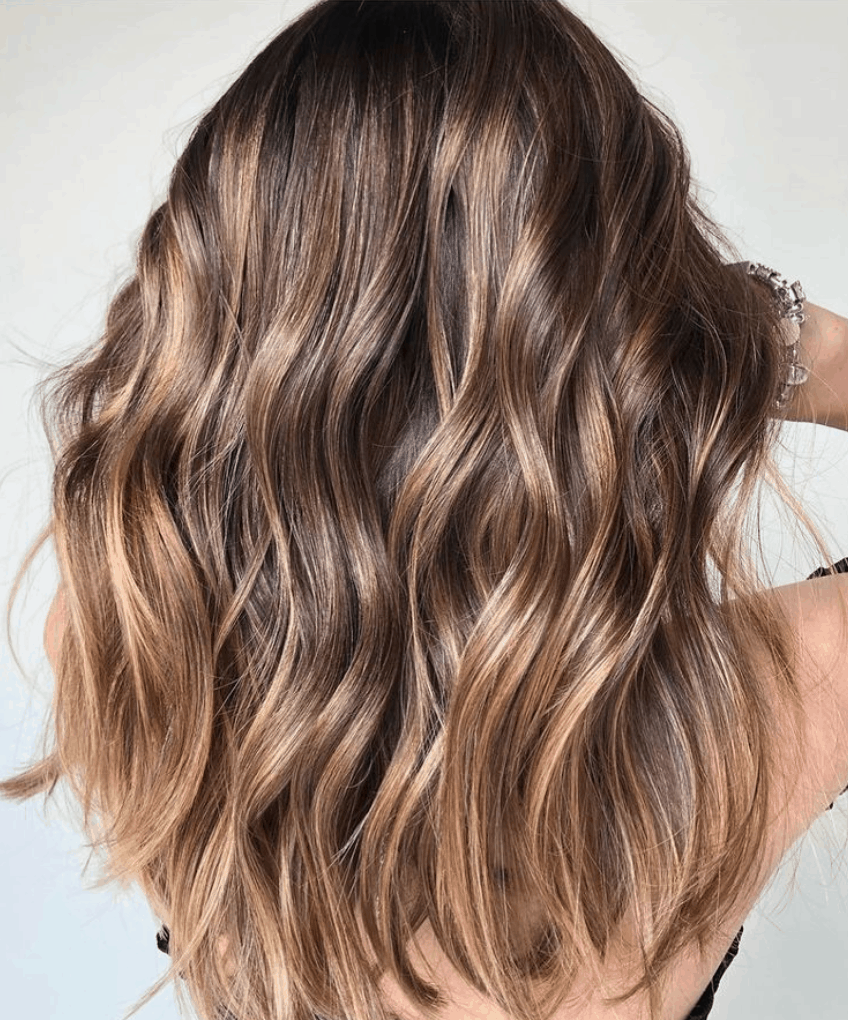 Another beautiful example of adding depth into shimmery blonde for a richer, warmer tone that will be beautiful as the temps cool.

This is a gorgeous medium and light brown look that is beautifully blended. This is similar to what I have right now and I really love it. I just want to drop a bit more depth into it.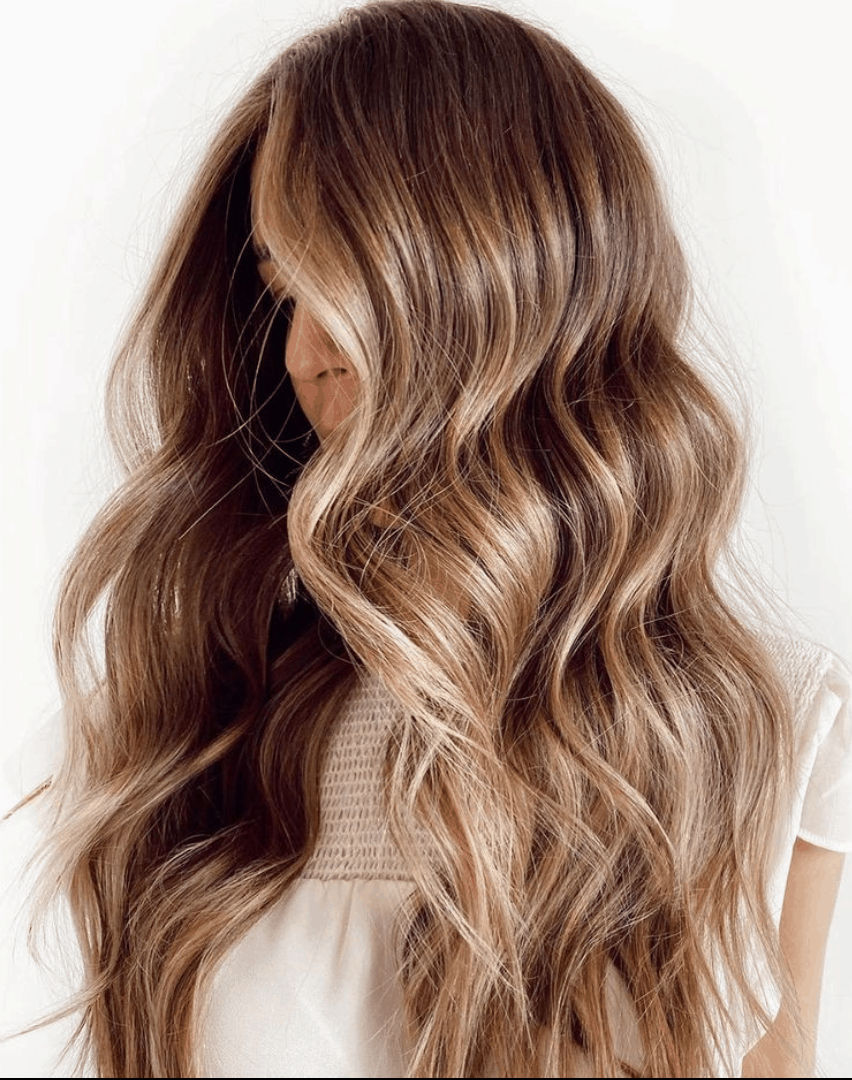 Shimmery and beautiful color here. The warmer blonde colors make the money pieces really stand out.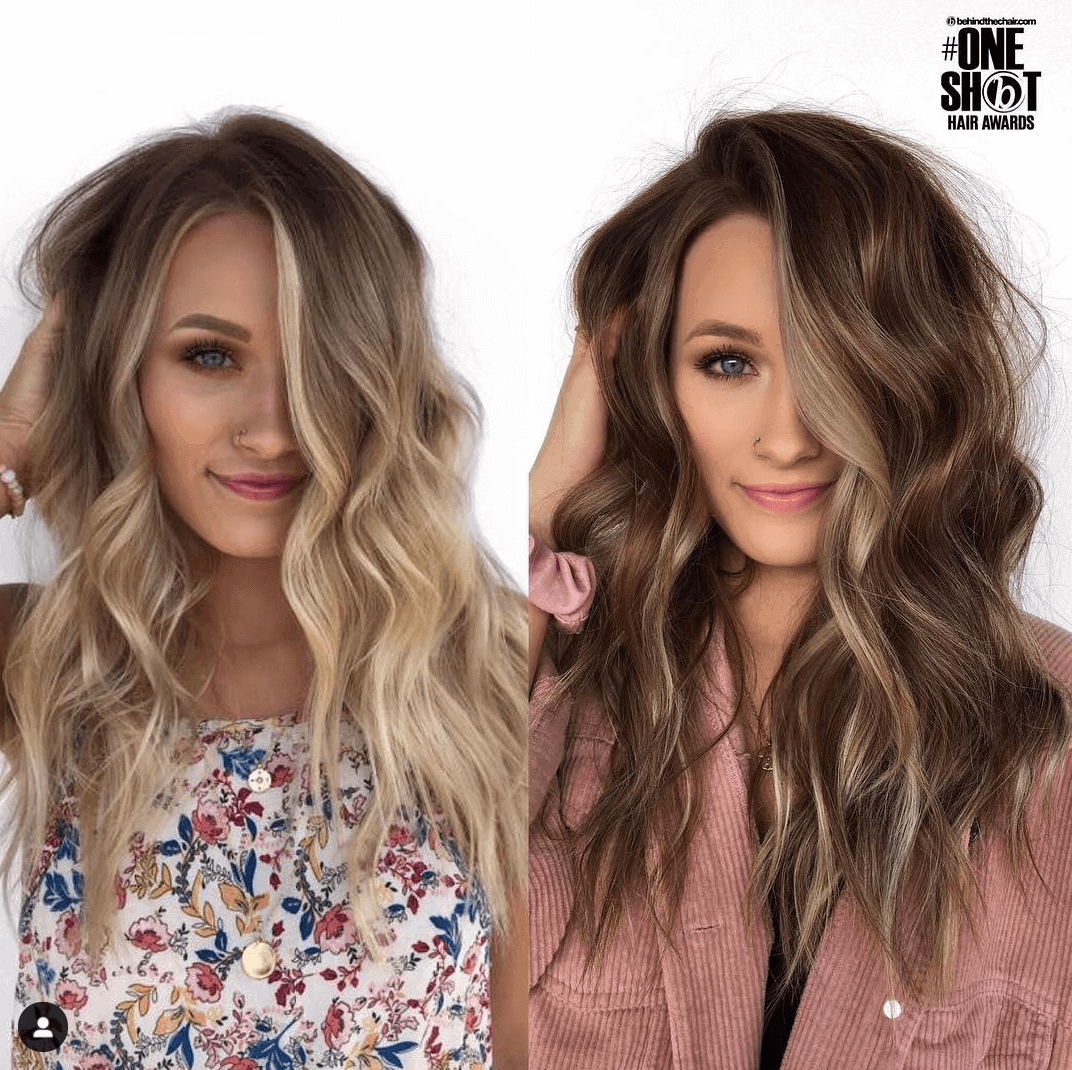 If you're playing with the idea of going from blonde to brown, let this picture inspire you! Look at the depth of this gorgeous brown and how it makes her skin glow and her beautiful blue eyes pop!
6. Warm Brown to Strawberry Blonde by @capellibymegs: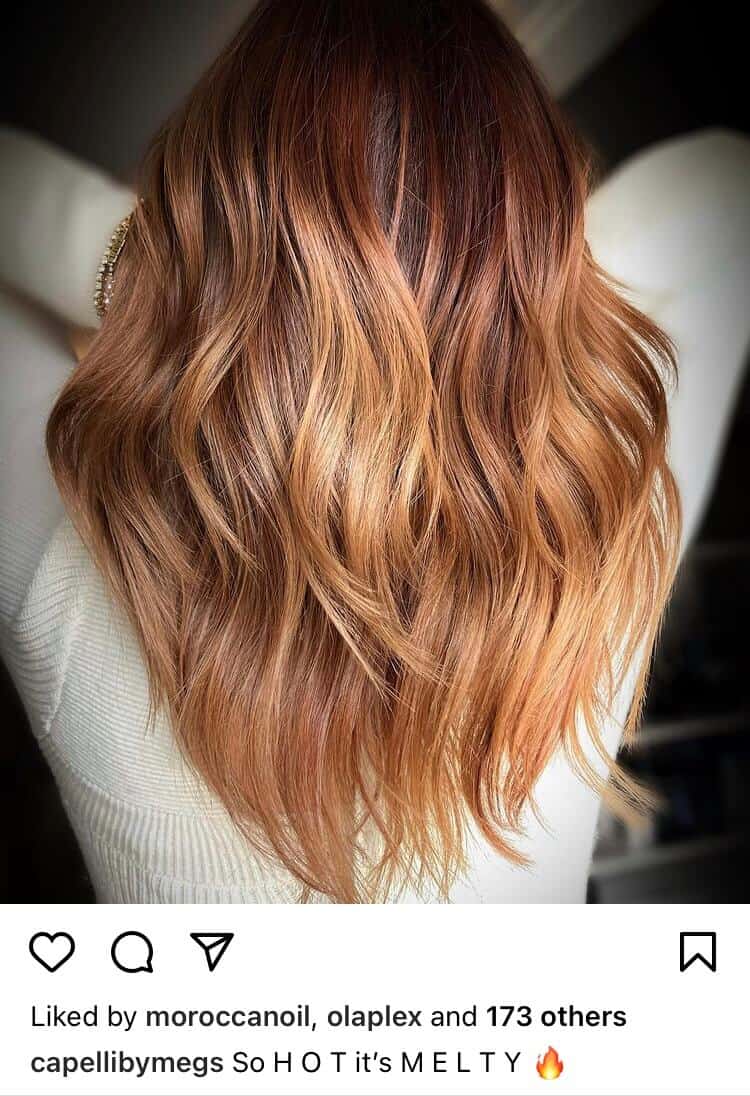 Let's transition a bit towards red with this stunning strawberry blonde that is on fire. If you have brown hair and want to do something different for fall or you're a dark blonde and want to add some warmth, strawberry blonde could be exactly what your hair needs!
Warm Red Hair Color Perfect for Fall:
7. Brown To Red Balayage Transformation by @sammiejones_hair: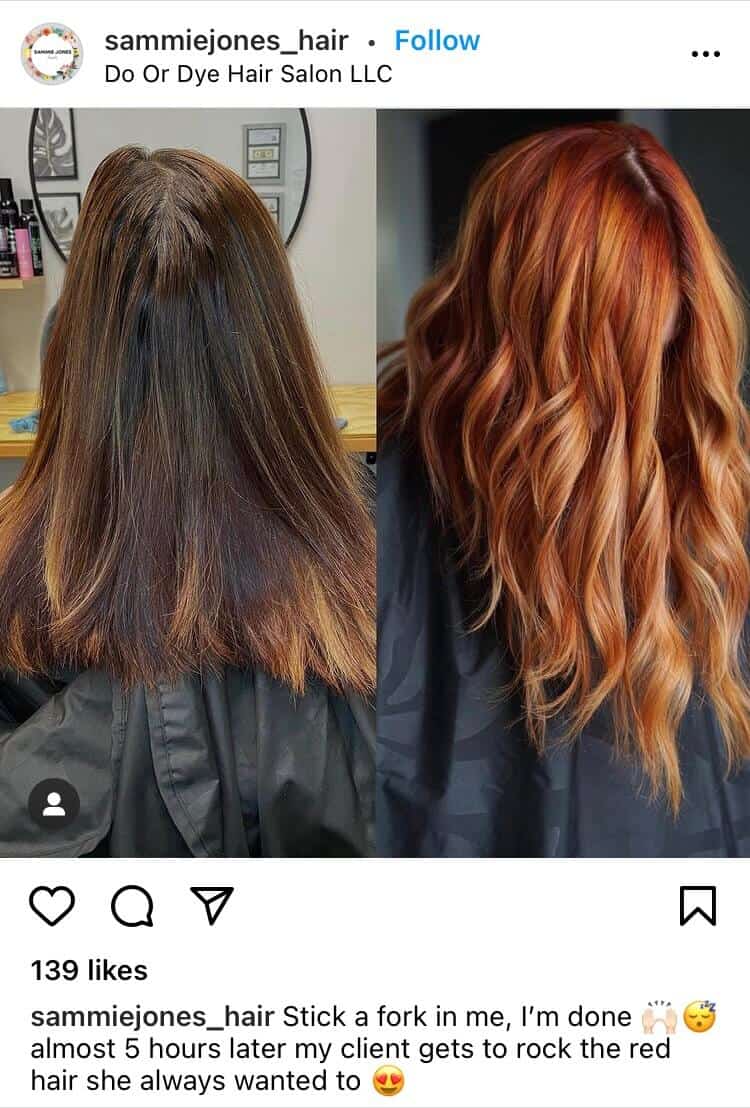 This is a major color correction, but the payoff is really worth it. The dark, uneven brown is transformed into this showstopping copper masterpiece. I always appreciate when the stylist shares a little behind the scenes on the process and this look took 5 hours.
8. High Contrast Auburn Balayage by @live_love_dohair:
Love the contrast between the darker auburn and the strawberry blonde in this less subtle, still stunning balayage color. I've had auburn hair and I am seriously considering going back to it.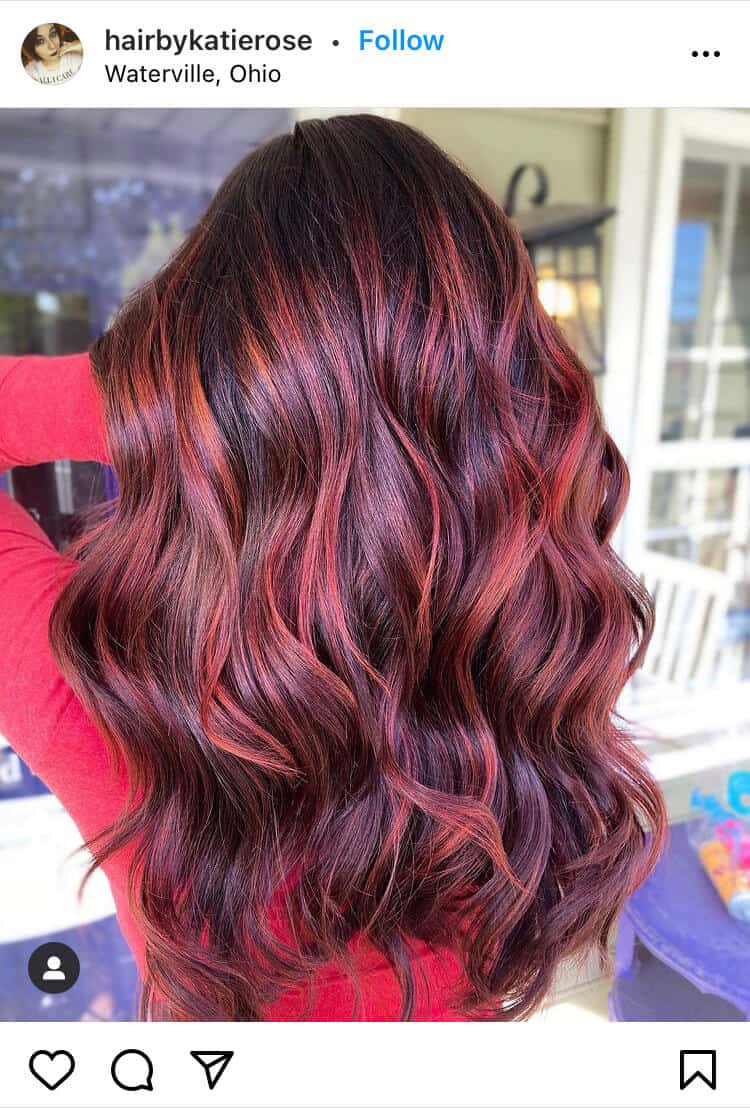 Deep red and claret collide in this ultra-red, beyond beautiful look that is sure to turn heads and break hearts. Not a look if you don't like attention, though, because this hair color is going to turn heads.
10. Warm Auburn Red Balayage by @tabetha_and_co: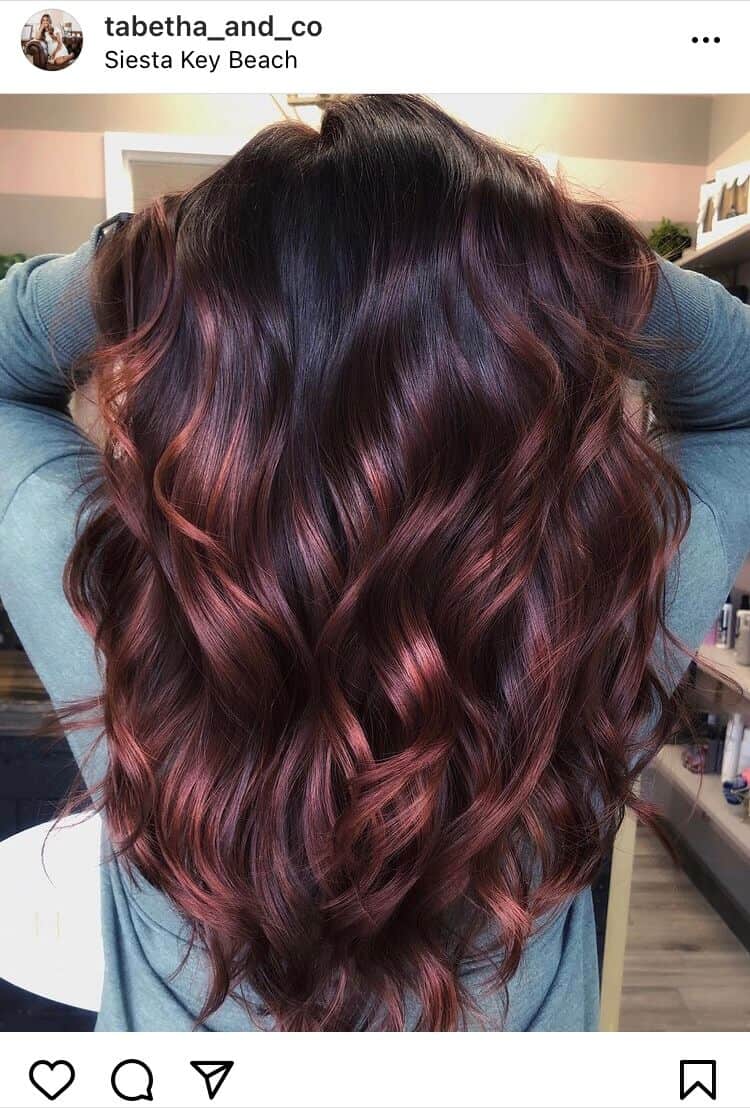 WOW! Dark, deep reds contrasted with warm auburn ribbons for an absolutely gorgeous look! I am a huge fan of Tabetha's work and absolutely love sharing it in my hair posts.
If you're a hair stylist, she's a must follow on Instagram! She shares a ton of tips, even shares her formulas for color, plus she actually does teach classes, too, that I can only assume are the bomb.
11. Brown with Copper Balayage by @hair.bykimberly: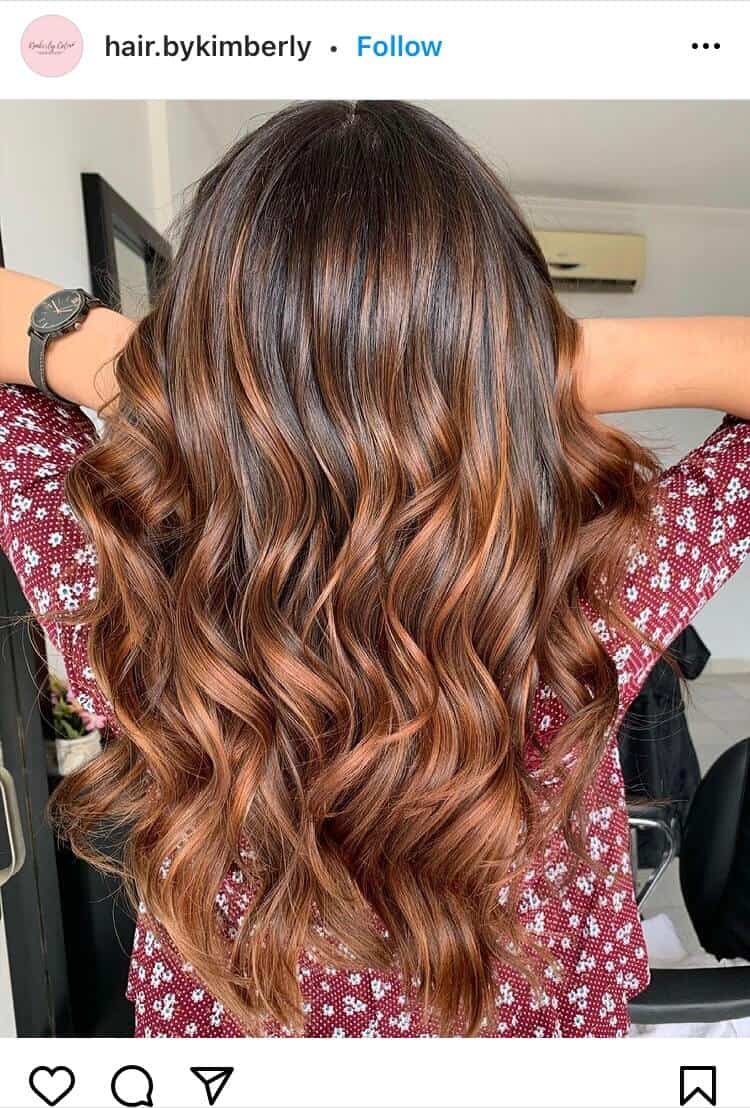 This is a very realistic color option for people with dark brown hair and highlights and it'll be less harsh on your hair than blonde highlights. The color melt on this one is stunning! I absolutely love how the dark brown roots fade down to a shimmery copper for the perfect cinnamon spice color!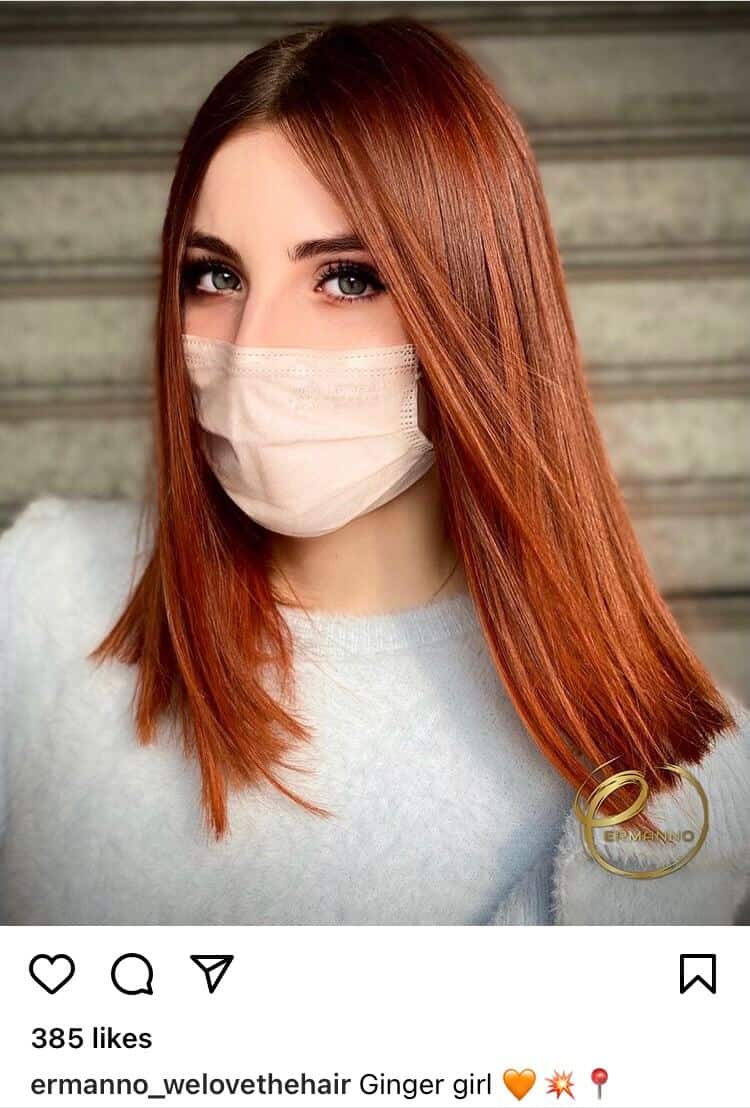 Okay, hold the phone. WHAT?! From the all over spicy ginger to the deep blue eyes, put a fork in me – I'm done. Reds are easier to do than you might think and there's a red for every skin tone.
13. Deep Red with Copper Balayage by @hailtothehair:
Yup, I'll hail to the hair with this killer combo. The deep red fades to a fiery copper on the tips. If you are feeling a change, this is definitely a gorgeous revamp for brown hair.
14. Auburn Red Balayage by @hairbyamybee: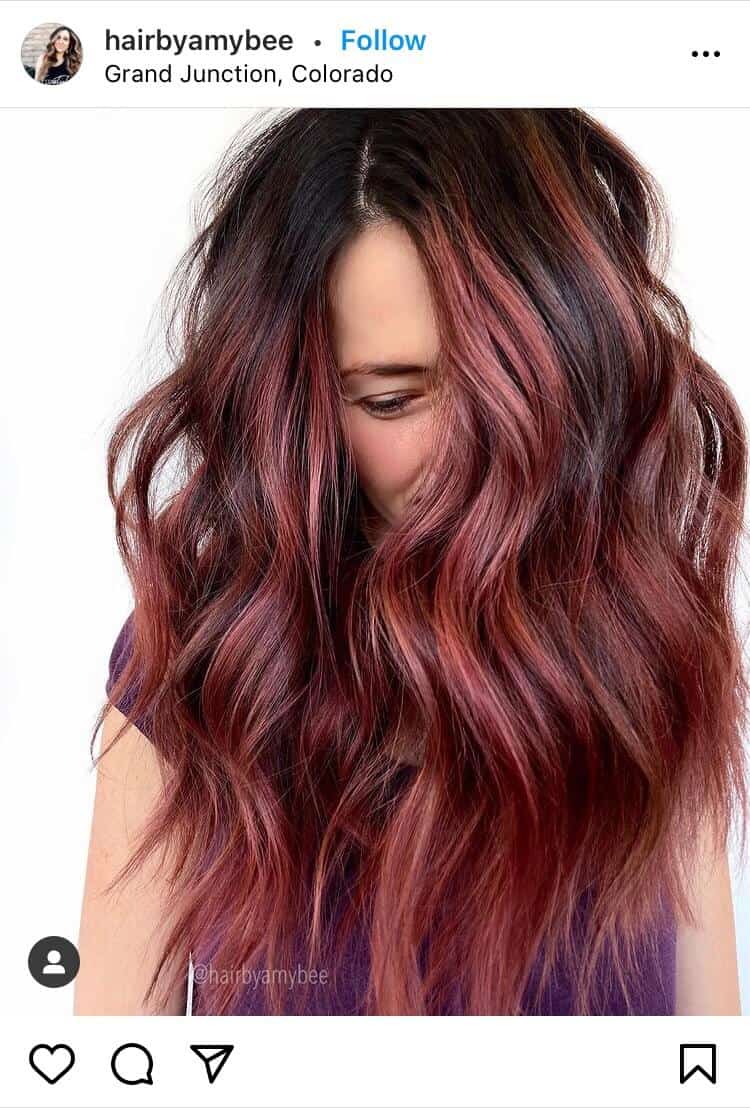 I would be laughing, too, if these gorgeous hairs were on my head. The way the color melts from a dark brown to a rich red is really fun and perfect for the holidays.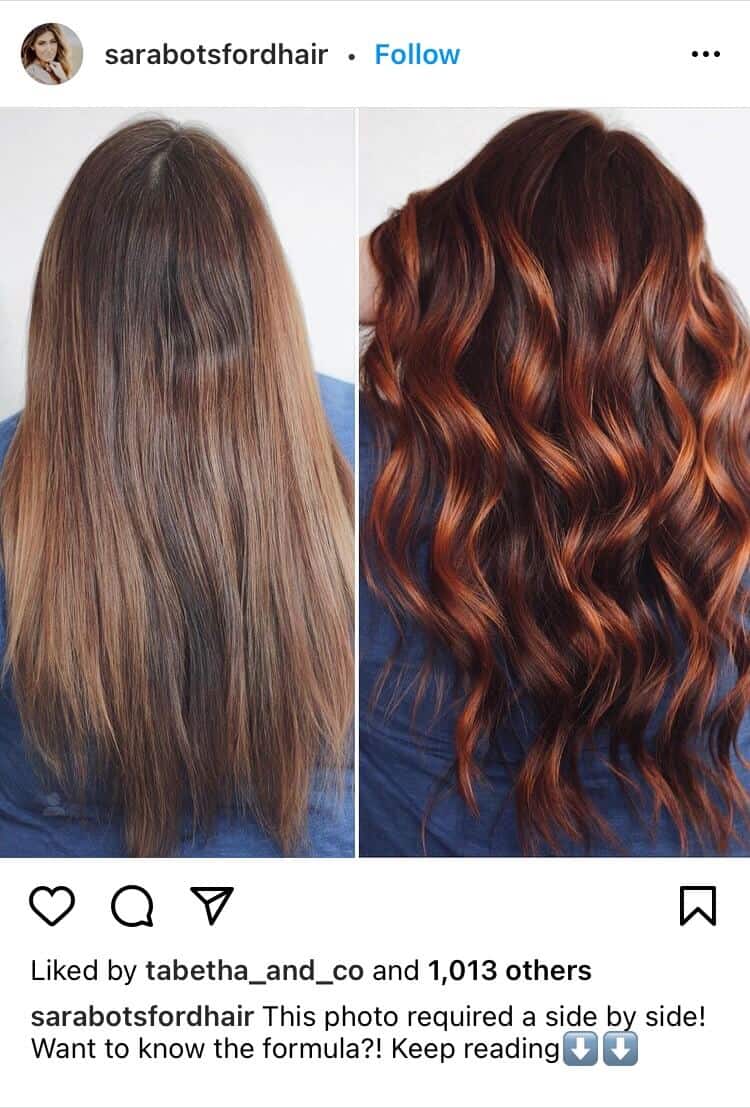 Oh, how I love a good before and after. Plus, if you wanted to recreate this look, she's kind enough to give you the formula! Sharing is caring! Race on over to her Instagram post to get all the deets on this smokin' hot red transformation!
16. Warm Red with Copper Tendrils by @capellibymegs: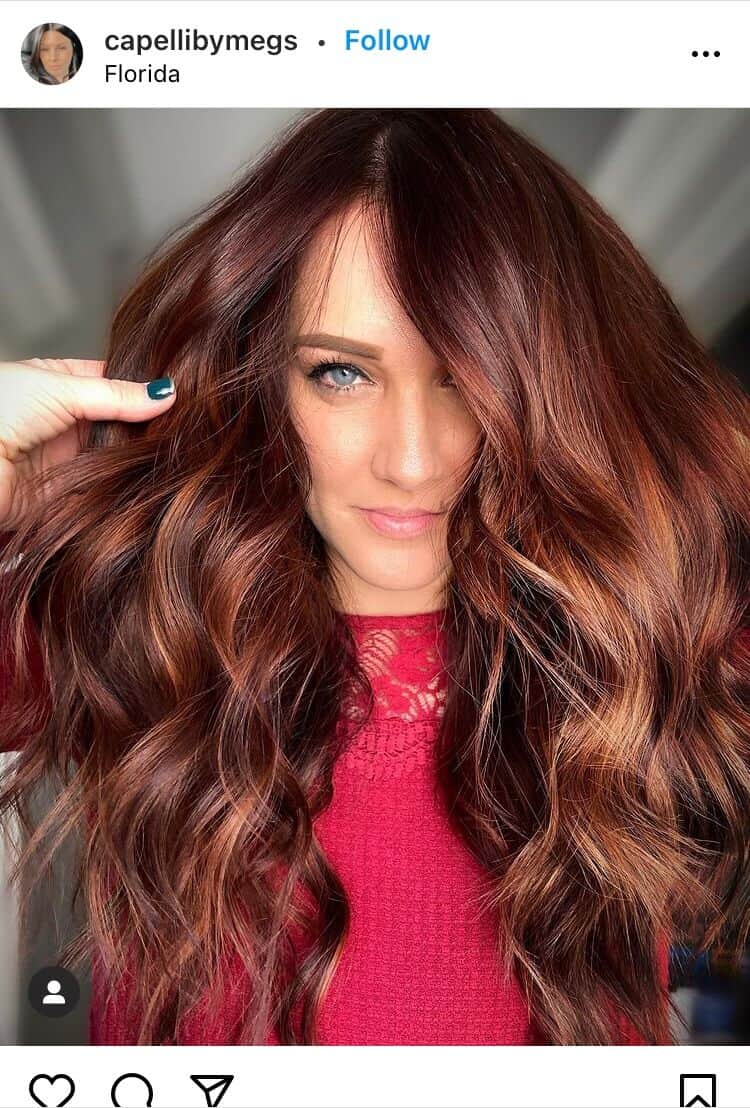 I really want to do this to my hair, if not this time, than sometime in the future. This girl looks like a movie character who is ready to take the world by storm and her fiery red hair will clear the way.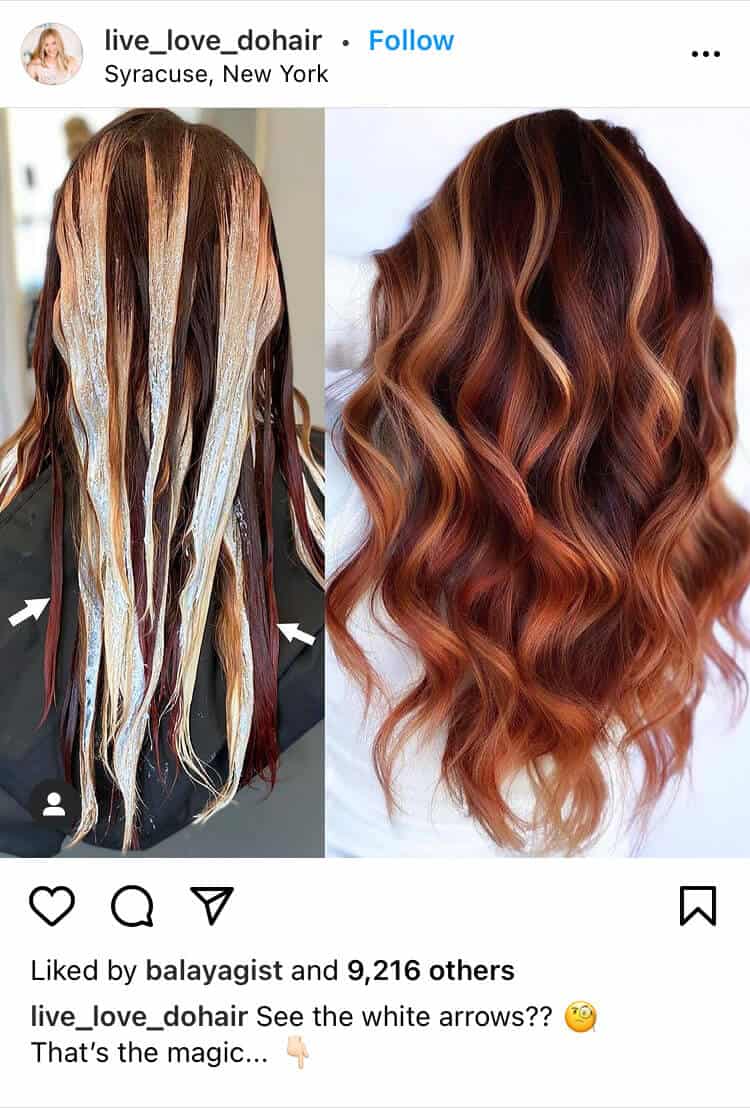 Another one from @live_love_dohair, because this is beautiful! Plus, as someone sitting in the chair who doesn't get to see all the details of what's happening – I love seeing the placement and learning more about the "magic".
Warm Brunette Fall Hair Colors:

Nothing boring here, yet this is a very achievable look for a lot of brunettes. I love it.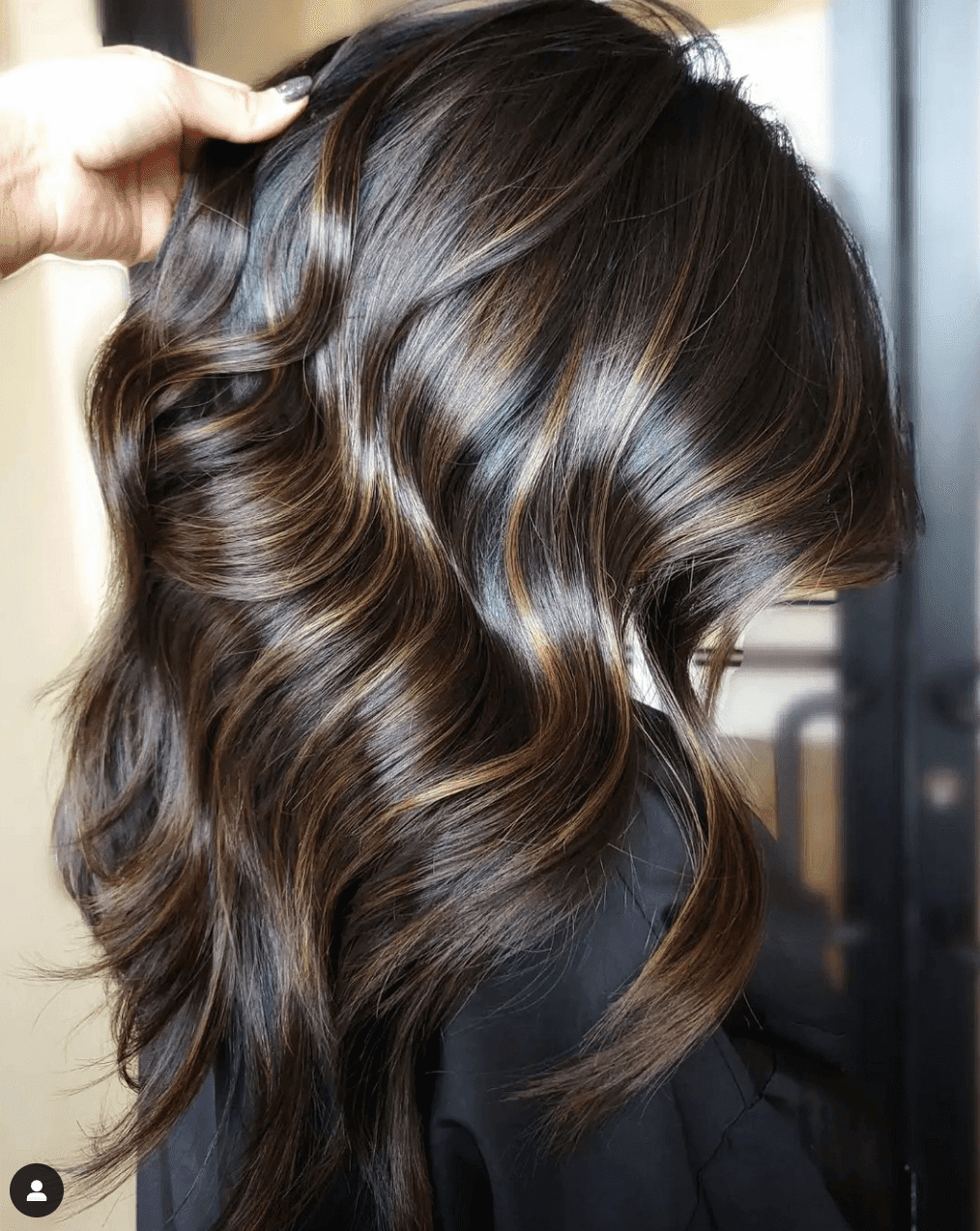 This dark chocolate brown is shimmering with caramel highlights. If you want to recreate this, the stylist shares exactly what she used, so head to her post to get all the juicy info!
20. Dimensional Fall Brunette by @colorbymarina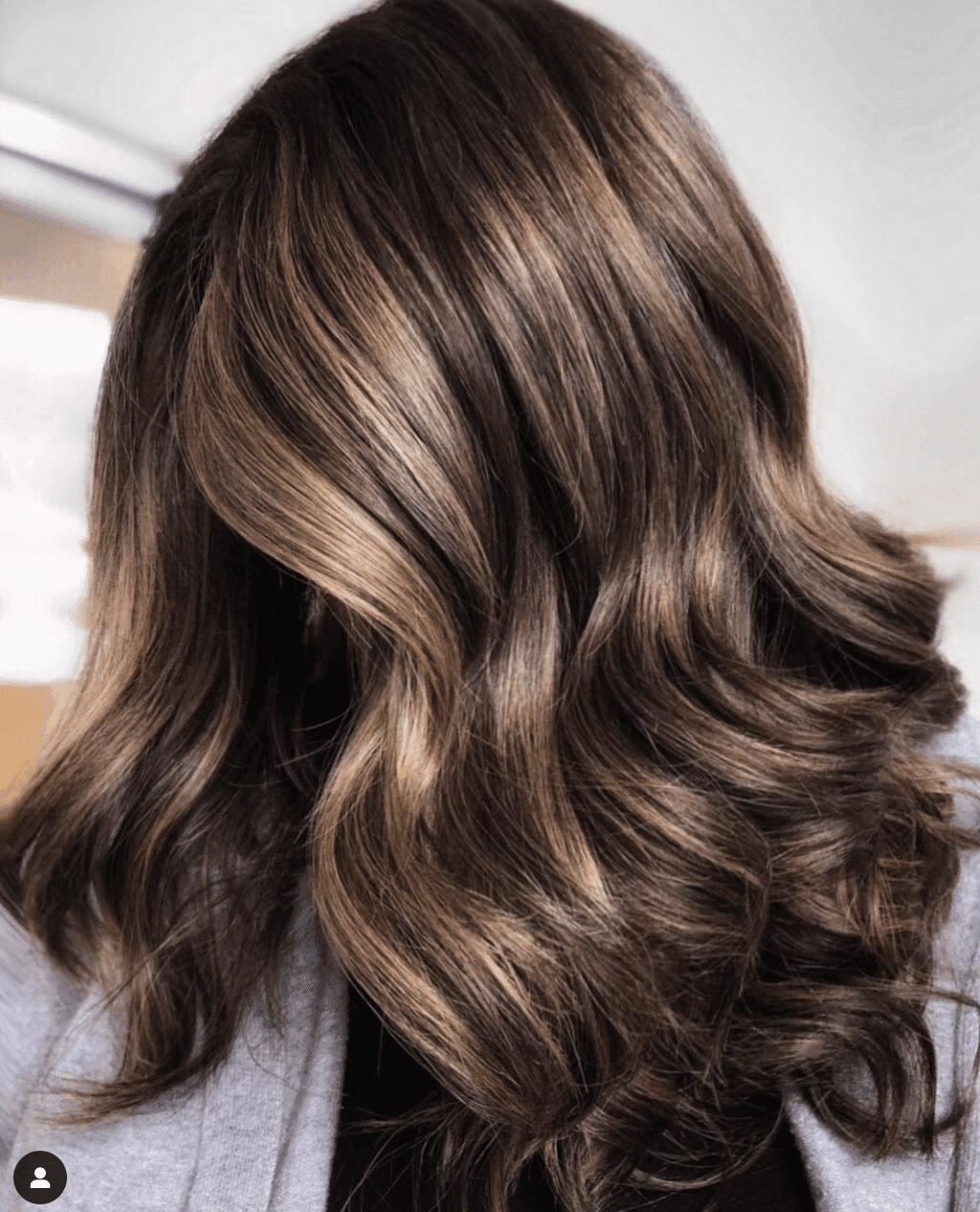 Blown away by this shimmering, stunning, layered brunette look. Pops of caramel bring lightness to the overall look. This is one of so many looks by Marina that are absolutely gorgeous.
If you're in Pennsylvania, check out this lived-in color specialist. Find her here.
21. Caramel Brownie Brown Balayage by @mertayyildizogl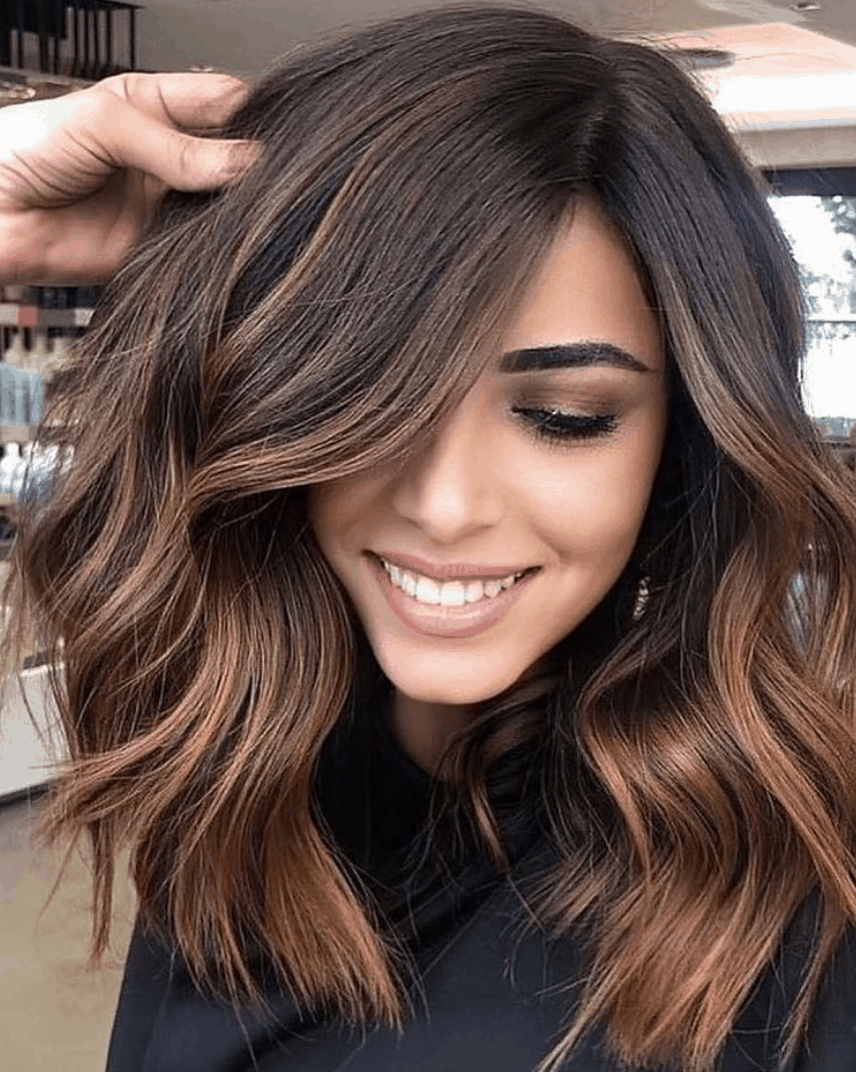 This photo has been going viral on Pinterest. The length really gives me the itch to cut my hair, but mine isn't as thick as hers, so I know the result would be different. The placement of the caramel color combined with the dark brownie chocolate makes this one delicious final result.
22.
Salted Caramel Brown Balayage by
@mikaatbhc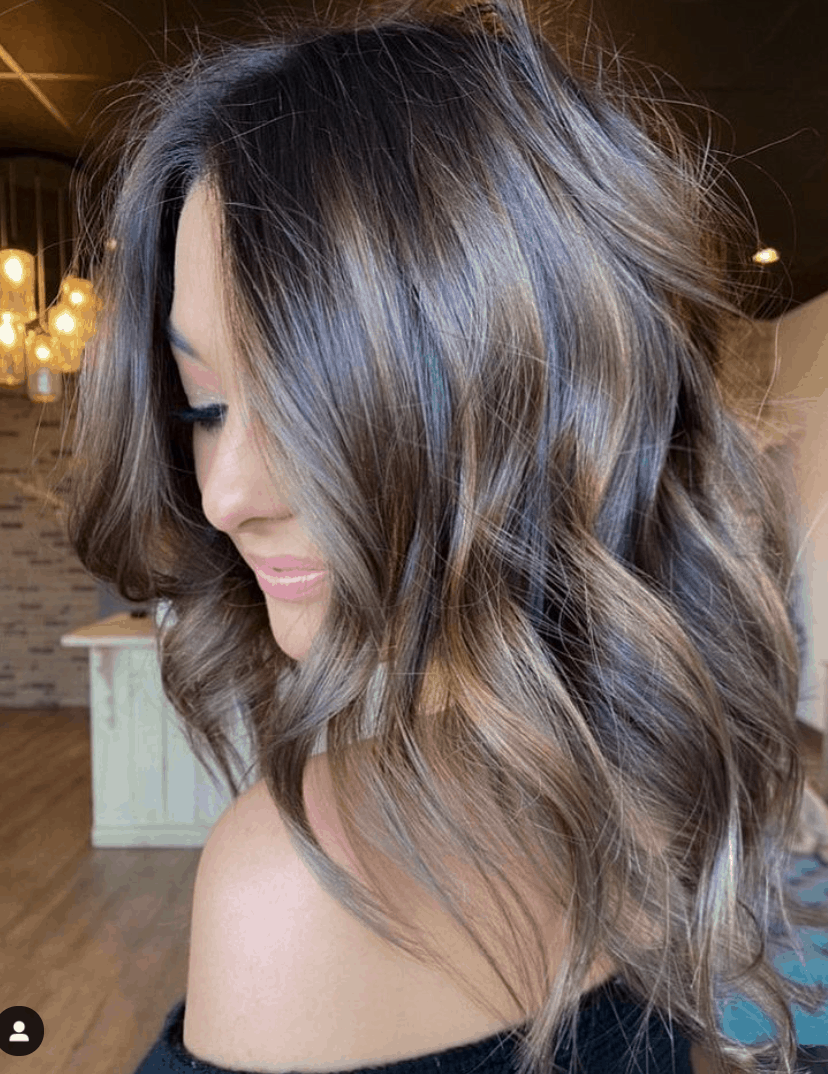 Love the contrast between the depth and the lighter caramel pieces. So good and not an overwhelming shift if you're hesitant to make a big change.
23. Warm Brown with Pops of Champagne:

Pop the bubbly, because this hair color is ready to party.

Question: would you rather have chocolate cake with caramel glaze or this hair color? What if I want both? At the same time? Or as Joey would say, "Put those hands together!"
25. Chocolate Cinnamon Roll Balayage by @thathairmagic

This is lived in color at its finest. It would grow out so well. This is very close to the direction I think I'm going to go, because it would cause the least damage to my hair that is already lightened.
26. Caramel Brownie Batter by @hairbyamybee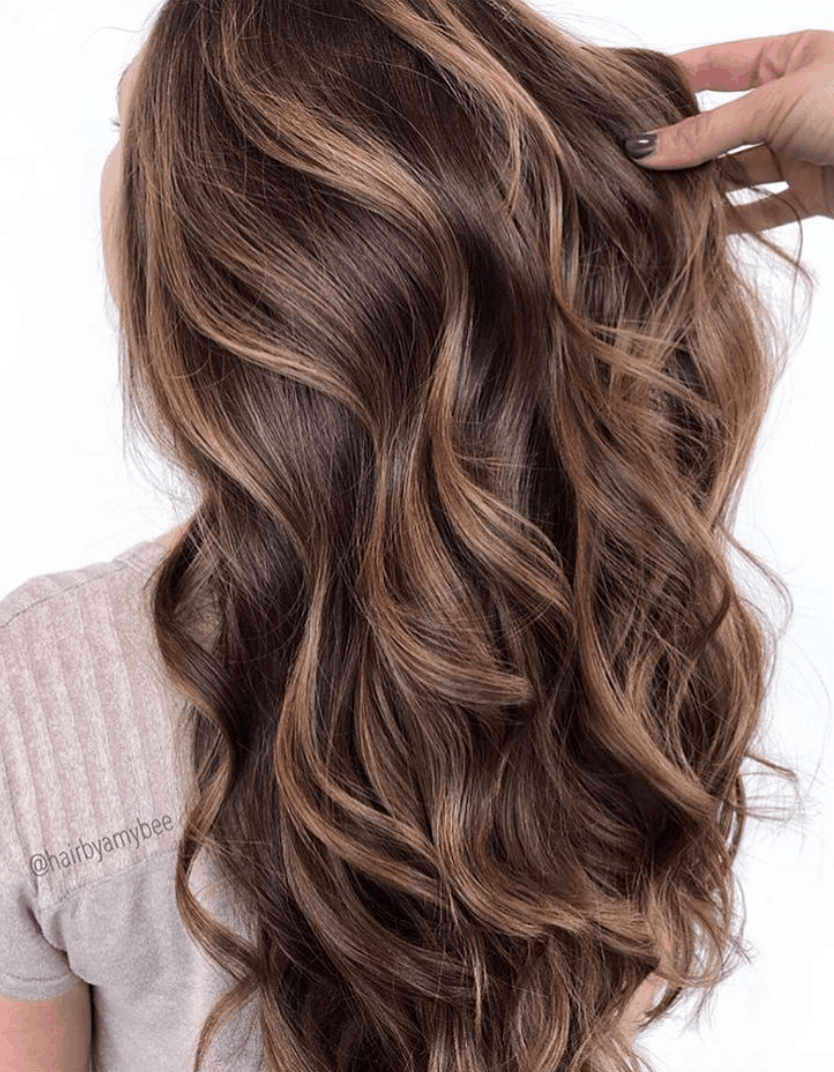 I wish I had long, luscious hair like this – as well as the hair color.
27. Caramel Brownie Color Melt Balayage by @lindsay.magyar

This is a great hybrid between ombre and balayage. This would be such low maintenance hair with an easy grow-out. If you don't want to update your highlights every 12 weeks, consider a color melt like this.
28. Chocolate Swirl Brown Balayage by @hairrbyemily

The fade here from rich brown to caramel and honey tones is really beautiful. I find the hair around my face shows hair color damage first and this would really preserve that hair.
29. Warm Chestnut Chocolate Brown by @tabetha_and_co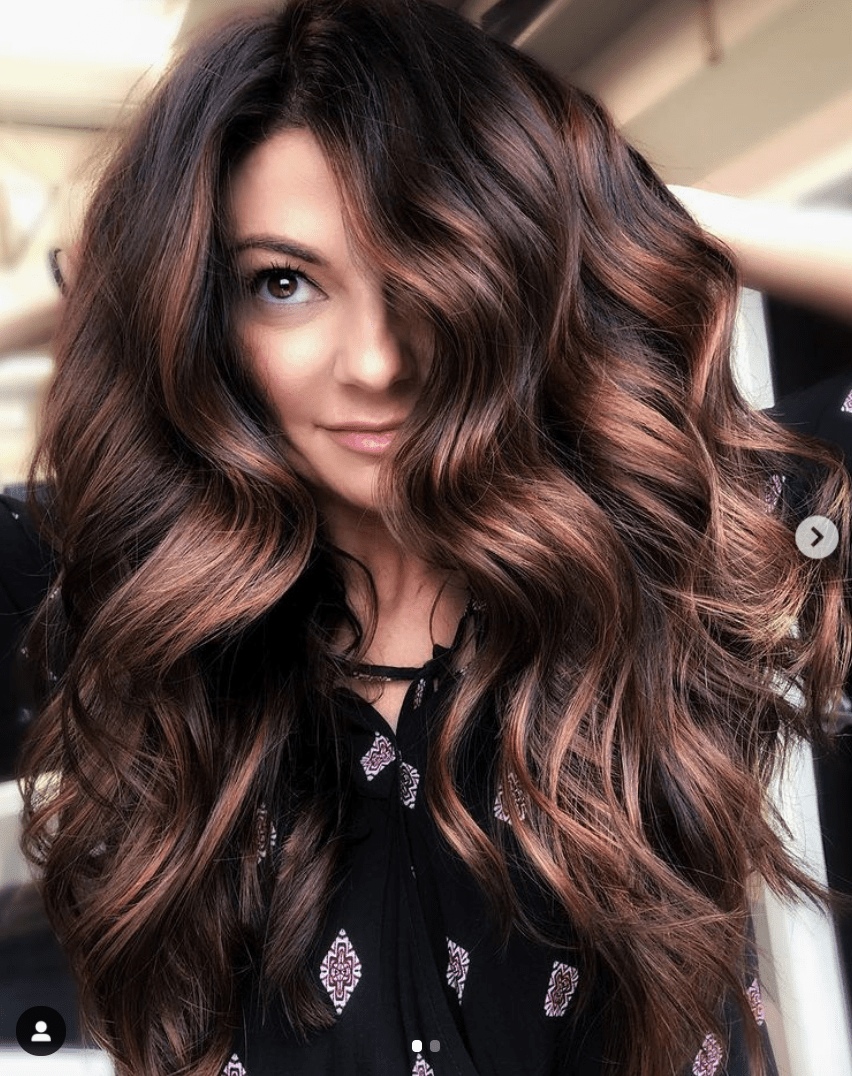 If you love hair, you will just soak up Tabetha's Instagram page. She also shares her formulas for how she achieves her looks – like this one here: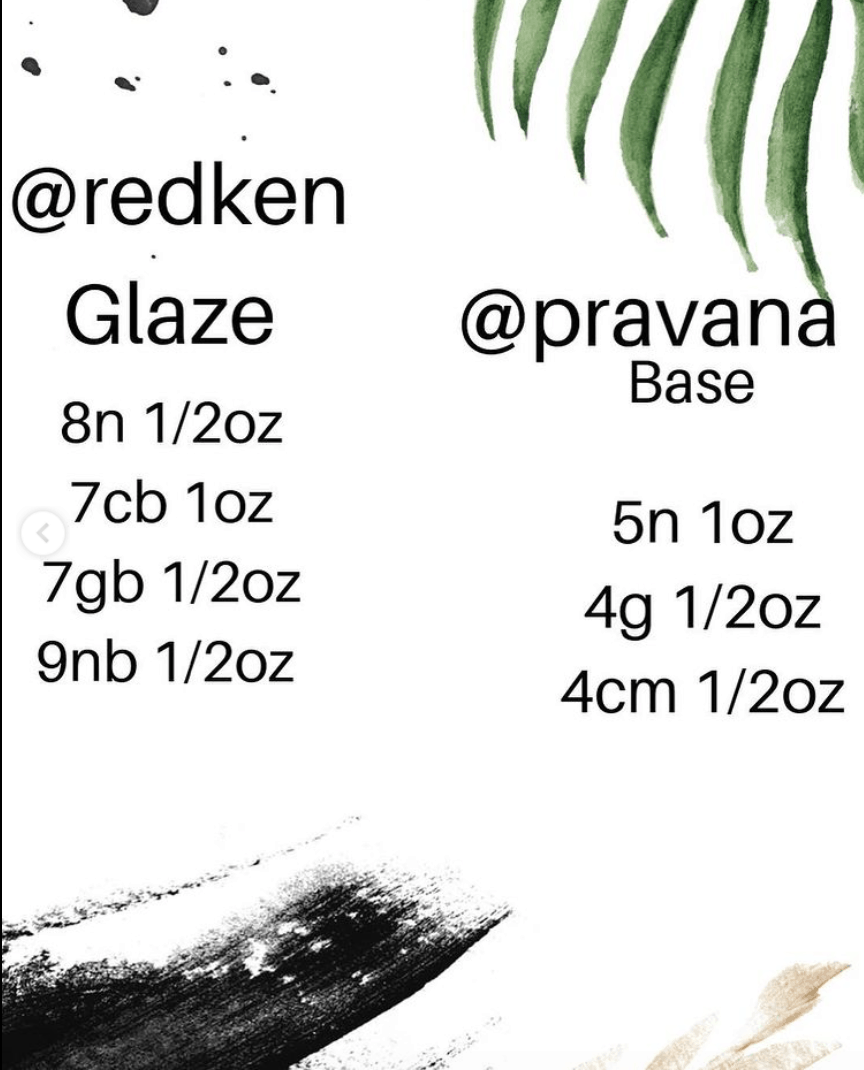 30. Drop Top Brown Foiyalage by @tabetha_and_co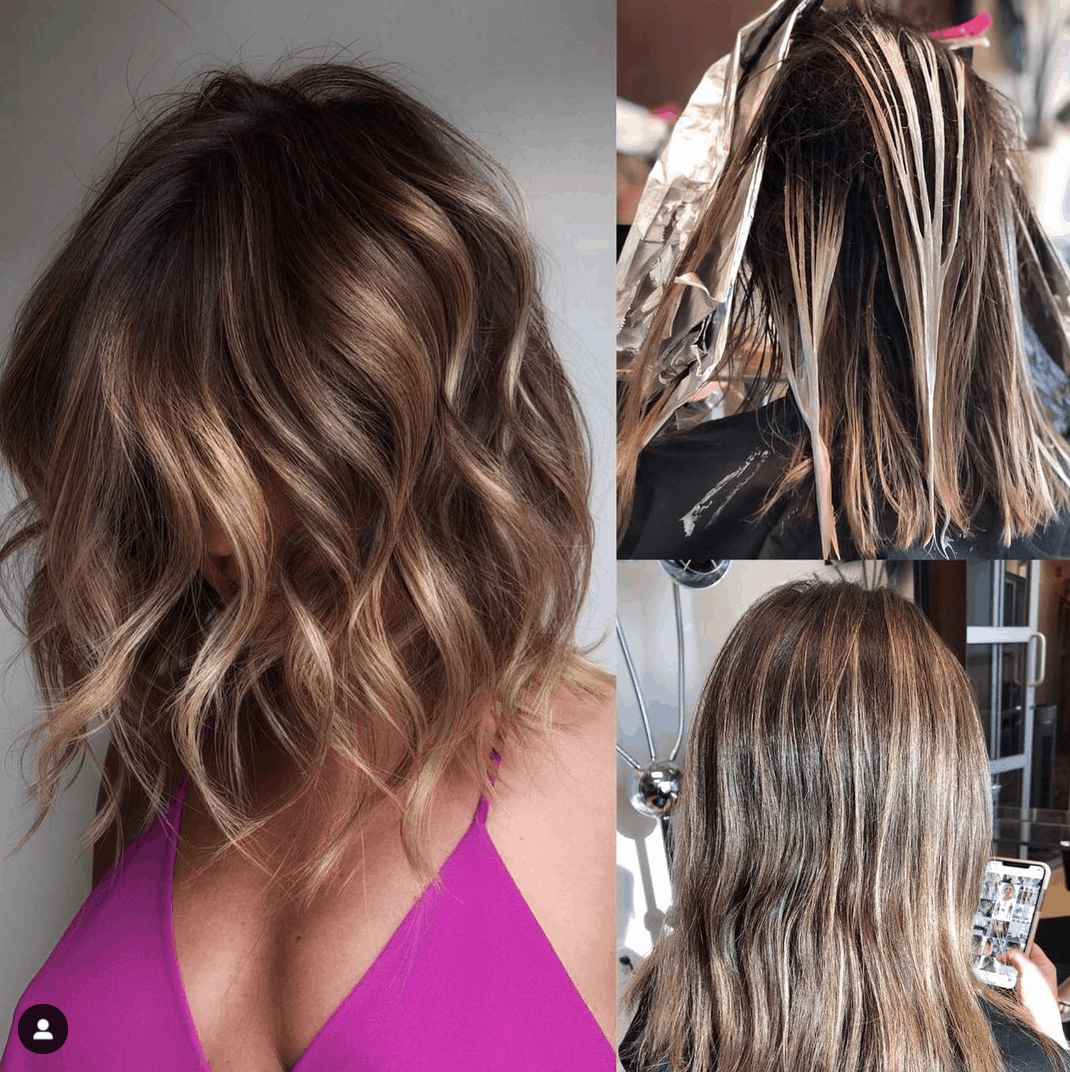 Another beautiful transformation where she adds warmth and a fresh cut to create a whole new look.
31. Milky Way Brown Balayage by @hairbyydani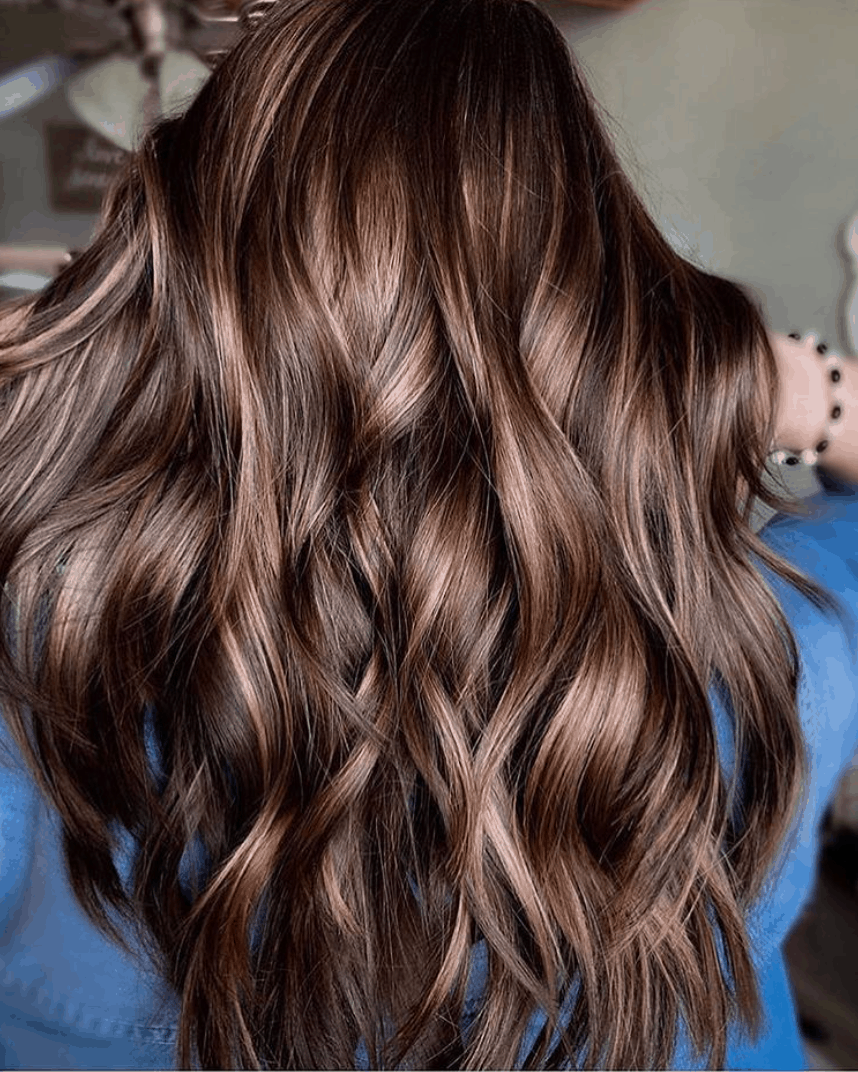 What I love about this one is how the highlights don't jump out at you. They are so well blended that the hair looks like it just grew out this way. It's truly beautiful and very well done. A great choice for chicas who don't want a huge change, but want to add that dimension and shine to their hair.
Caring for Colored Hair:
The beauty of fall hair color is that it's going to be less damaging to your hair. However, any coloring, especially if you're lightening, is going to toll on the look and feel of your hair over time. Hydration is the name of the game, as well as ensuring hair stays as healthy as possible.
Start from the inside out. Consider putting collagen in your water or tea. I like Vital Proteins. It dissolves quickly and is tasteless. I drink a scoop a day in a cup of tea. It really helps with healthier, thicker hair growth that can withstand styling and coloring. This collagen helps my hair and nails grow faster and I do see a difference with wrinkles, too. See my full review of it here.
As for products, it's really important to use hydrating hair products, as well as products that will repair the condition of your hair and protect it against heat damage. Here are some of my favorites:
I love a good hair mask and I've tried a lot of them. Here is a post with some of my favorites, but use whatever works for you.
Always use a heat protectant when heat styling. I rotate through which one I use and there are a lot of good ones in different price points.
Let your hair air dry when possible. I wrote a whole post on how to air style hair so it's not frizzy.
You can also use a hair oil through the middle and ends of your hair before you go to sleep and you'll wake up with much happier hair. If you are close to a Trader Joe's, they have a hair oil that is under $10 and I really love it. It works very well. Just don't put it on your scalp or it'll make your hair really oily.
Regular use of great products, drinking lots of water and collagen, and letting hair air dry when possible will help your color stay shiny and your hair stay healthier longer.
MORE HAIR COLOR POSTS:
Looking for even more stunning hair color inspo? You might like these posts:
I hope you find something you love!
Have a fabulous day,
E