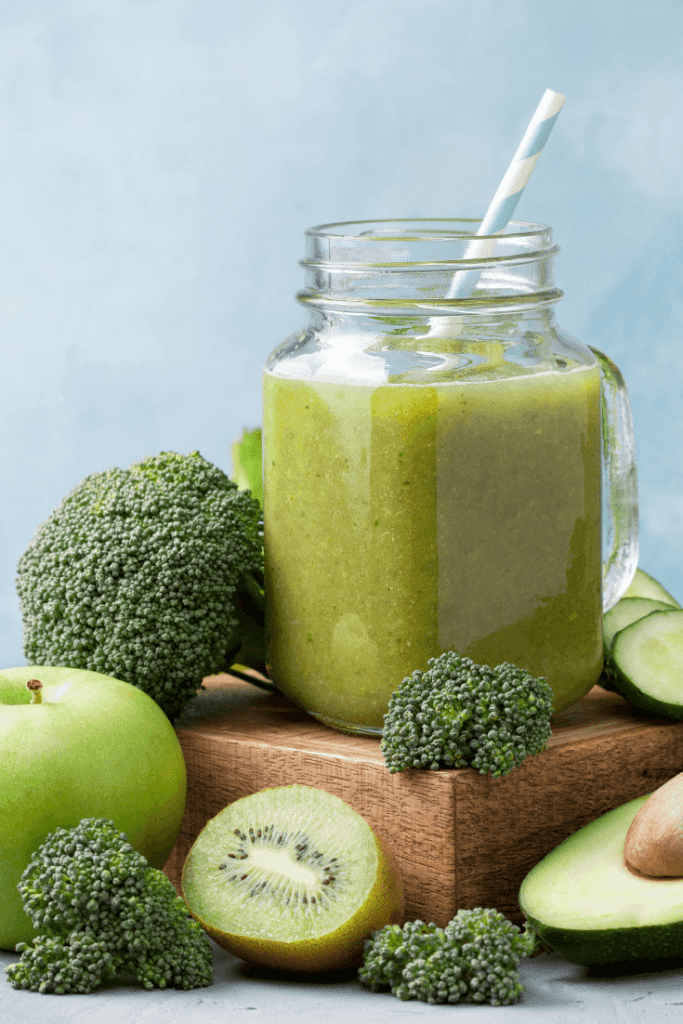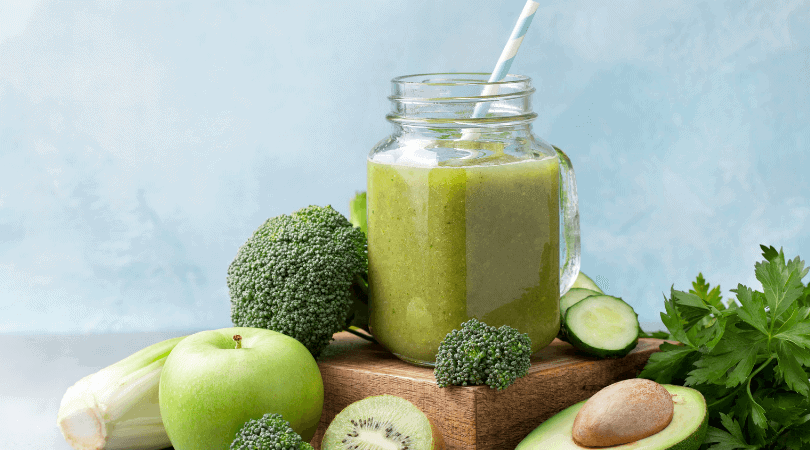 One of the easiest ways to eat healthy, gain energy and even lose weight is by drinking green smoothies!
But, if you've ever taken a sip of a green smoothie that tasted like feet – you may not be convinced that you could actually enjoy a green smoothie.
You're not alone. We've all drank that.
Luckily, I have lots of experience making green smoothies and I'm going to share the most delicious green smoothie recipes on the internet!
Health Benefits of Green Smoothies:
Green smoothies are motherloaded with all types of vitamins and nutrients are bodies need for important processes – but few people actually eat enough of these foods every single day.
Green smoothies make it easy to slurp up what your body needs to stay strong, fight off infections, and process fat easily.
In fact, green smoothies are a powerful way that I maintain my health with two autoimmune diseases.
Green Smoothies for Weight Loss:
A good green smoothie will be filling enough to replace a meal, making your breakfast, lunch or dinner much lighter and healthier.
I've noticed weight loss with just one shake replacement a day – but if I am able to do two? Oh baby. Now we're talkin'.
I won't drink two green smoothies in a day, so if you're looking for two – check out my other post on delicious anti-inflammatory smoothie recipes, too.
The Tastiest Green Smoothie Recipes:
Let's start drinkin'!
This delicious green smoothie has a secret ingredient I haven't seen in many recipes – and it might surprise you, too.
The secret to this super creamy, delightful green smoothie is… peaches!
So, if you've never tried a green smoothie that you like, I really encourage you to try this one from Beauty Bites. It might just turn things around for you.
These ladies made a business out of green smoothies, so it should come as no surprise that their famous green smoothie makes the list of best green smoothies on the internet.
This recipe is a true classic. It tastes great, doesn't require a ton of fancy ingredients, or even any cooking skills at all, and will fill you up for hours.
You'll love that this one is dairy and nut milk free, using water as the base, and nice and creamy from the banana. Yum.
I've been following Ali over at Gimme Some Oven for a long time – way before she got married and moved to Spain.
Her recipes never disappoint, and that goes for this meal-replacement green smoothie.
Her secret? Coconut water! Delish.
Another food blogger I've been following for a long time. Probably far too long for someone that doesn't cook much. #oops.
But, that's okay, because I like to drink my meals anyway and this green smoothie recipe is an excellent choice.
She also uses peaches, but also adds in mangoes AND honey and cinnamon. I looooove honey and cinnamon, which is what drew me to try this green smoothie recipe in the first place.
I bet you'll love it, too.
I Heart Naptime is the queen of easy, delicious recipes that can be made during a naptime.
But, you won't need that long for this one – because it's a breeze to throw together, leaving you some precious naptime left to do something else – like, take a nap, too.
Don't worry, I won't tell.
Just make sure you add the greek yogurt to this bad boy for the ultra-creamy results that'll keep you coming back for more.
What I love about this one is how she teaches you to customize your green smoothie to taste. She gives you options on what kind of milks or mix-ins you can use to get the right consistency and taste for you.
Once you've made a few of the recipes above, you'll start to refine your personal preference and that's where this recipe takes it up a notch.
Plus, she uses flax seeds, which are so great for digestion and overall health.
This one is so kid friendly – not only because of the name, which my kids love, but because this one uses another ingredient that makes it unique: strawberries!
I don't know about you, but me and my kids love strawberries. The second they saw me add in those delicious red berries, they were clamoring for their own cup of green monster.
It's amazing how one ingredient changed can give the smoothie a different flavor.
If a smoothie called The Hulk doesn't make you immediately bust out your blender – I don't know what will.
And, once you try it, you'll be hooked – because this one is delicious.
Sweet pears and kiwi add flavor while avocado makes it creamy like a milkshake.
This one is so good, you won't even notice you're eating healthy.
Blend It Up, Baby!
If you're like me, you like your smoothies super creamy. I don't like drinking chunks. Gross.
I've tried quite a few blenders over the years, and these are the top 3 picks from experience, in three price points. Affiliate links are used here, so if you choose to try out one of my recommended blenders, I Spy will get a small comish at no cost to you. #WinWin
*****
There you have it! The most delicious green smoothie recipes on the internet and the blender you'll need to make them perfectly every time.
Sure, I could've loaded this with even more green smoothie recipes – but these are the ones I actually make and like. Just the good stuff. No fluff.
Do you have a favorite smoothie recipe? Share it with all of us in the comments below!
Have a fabulous day,
E