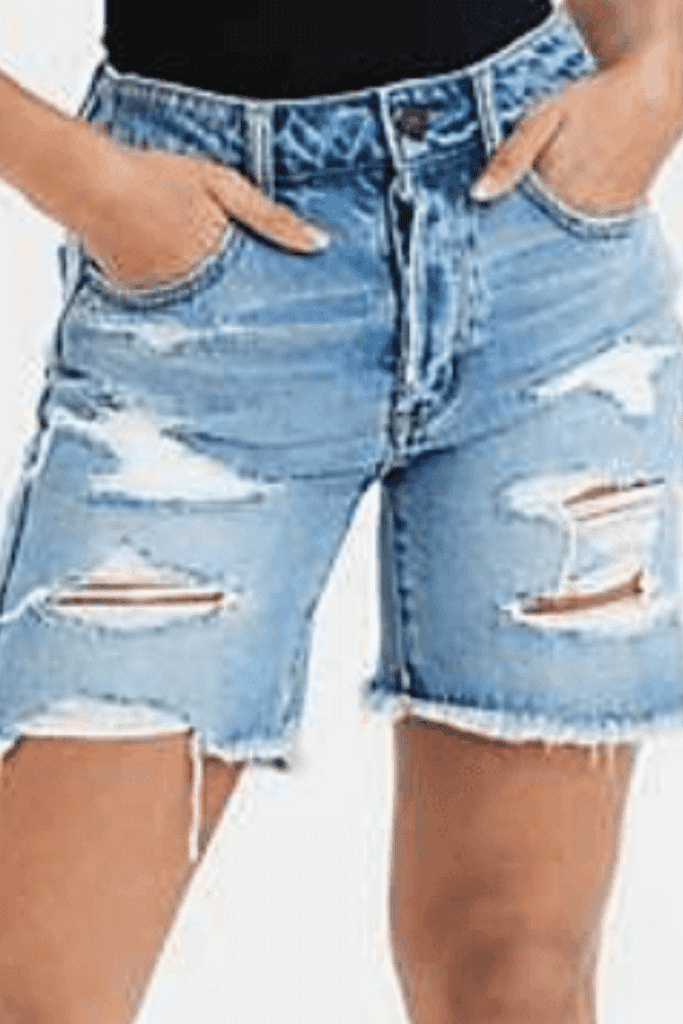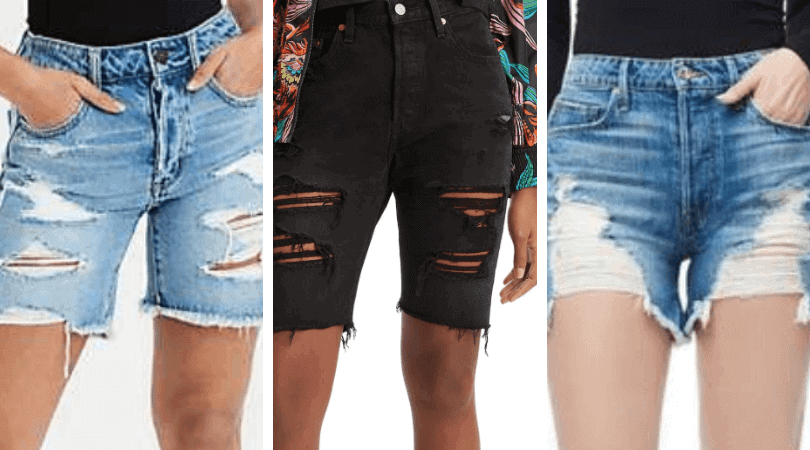 What is it about shorts that makes them fit so differently than jeans? Am I the only one that has had to size up one or two sizes just to get a pair of shorts to fit?
Luckily, there are tons of new short styles on the market this year that are perfect for curvy girls. The high-waisted look, for example, is super comfortable and flattering – especially when the style has a bit of stretch.
High-Waisted Shorts for Curvy Girls:
Some high-waisted styles are not a good fit if you've got a booty. I can personally vouch for each of these brands and styles and am only recommending pairs I have personally tried.
Not tryin' to waste your time here! We've got shorts to buy and summer fun to be had – #amiright?
So, let's get to it – the best high-waisted shorts for curvy gals. And, some of these are affiliate links, which helps offset the cost of running the blog. Muchas Gracias!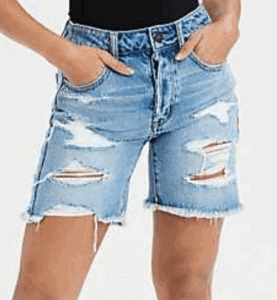 100% obsessed with these. The softest material, comes in a variety of colors, fits true to size (HALLELUJAH!) and is super affordable.
I got the light distressed and I am pretty sure I'm going to wear them all summer.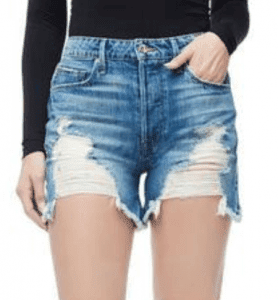 The line created by the bootylicious and gorgeous Khloe Kardashian. God bless these women for what they've done for curves and body positivity. Khloe created this line exactly for girls who struggle to find jeans that fit.
Well, now they will and these super highly rated high-waisted shorts are absolutely killer. On trend, comfortable, and fit well.
Take a closer look at these here.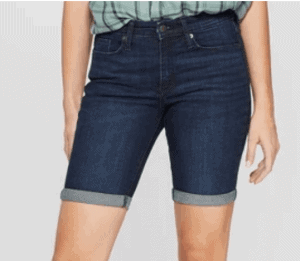 All hail the new jeans line at Target! These puppies are under $20, often go on sale for less, and have enough stretch to work with any body type – but not so much that they blow out in two hours and are falling off your body.
The Universal Threads line is one my absolute go-to lines for skinny jeans and now shorts. Huge fan.
I will say that the sizing can vary based on the style – so you may be a 12 in one and a 10 or 14 in another. So order multiple sizes if possible and y'all know Target has a great return policy.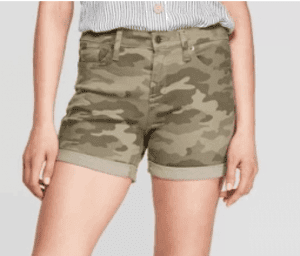 Yup, I'm still talking about this brand. It's that good. These camo shorts are so this season and still give you that great cut that UT is making themselves known for.
I'm a huge fan of the camo trend and was looking for a pair of camo shorts that wouldn't break the bank, and these are under $20. Seriously.
#BINGO
Consider sizing up one if you don't like your shorts tight.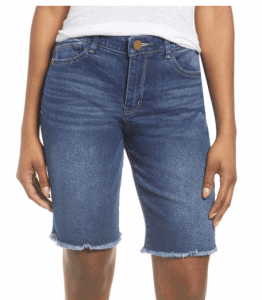 The brand that made the famed high-waisted skinny jeans made famous for the "ab-solution" – or "muffin top holder" built-in to the waistband.
Now, you can get the same technology in their shorts. Thank you Jesus.
I just got these bermudas and I am in love. They fit perfect and are so soft and comfortable. There's a number of different styles, lengths and colors, so shop around to find what works best for you.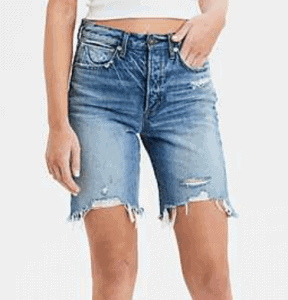 A classic, made even more cool with some destruction detailing.
Levi's has always fit women's bodies well, which is what made them famous in the first place. They are the ultimate "mom jean" – that perfect combo between classic and cool.
They also come in a cool black color.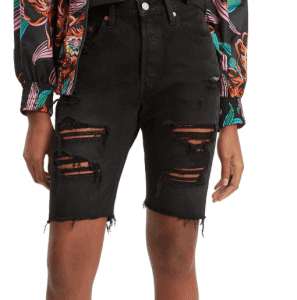 Love Levi's? Grab some shorts here.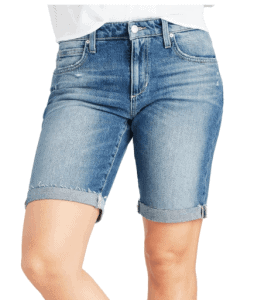 I love Joe's Jeans. They really cut for a woman's body.
They have some great short styles out this year and they are fab.
Some of them are getting short on sizes (pardon the pun), but you can always check back for restocks or look for them elsewhere.
Personally, I love Nordy's because of free ship and free return. Find Joe's shorts here.
Can always count on Old Navy for some affordable, comfortable styles. Their Rawkstar jeans are #everything.
These high-rise distressed shorts are fantastic, too.
And the price? Yes.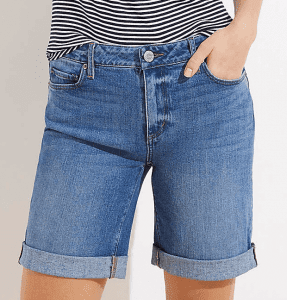 Loft's game is strong. Plus, their periodic deals can't be beat. Like these bermuda shorts designed with the curvy girl in mind – they are currently $20 at time of posting.
Yup. $20.
Loft has been killing it lately, in all categories, and these curvy bermuda shorts are one example.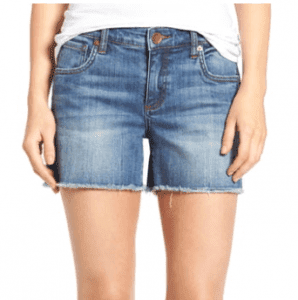 These are becoming a cult favorite pair of shorts. They sold out last year due to a few bloggers posting about them and then they released a new version this summer.
I had to grab these to see what the fuss is about – and also because I am a huge fan of Kut's line in general. I have been wearing their jeans for years.
They're good, people. True to size. Not as high waisted as other options on the list, but will definitely give a little coverage. I also really like their longer shorts, too. Some of my favorites.
****
Boom. There it is. 10 awesome pairs of high-waisted, adorable shorts that will fit any body type, curvy girls included.
Personally, I gravitate towards longer shorts – so the plethora of longer options had nothing to do with being curvy and just is my preference. But, all of these brands have shorter and midi options if that's your preference and they're just as good.
Do you have a favorite line of jean shorts? Share it with us in the comments below!
Have a fabulous day,
E
P.S. Was this post helpful? Help keep me caffeinated so I can write more!
[kofi]