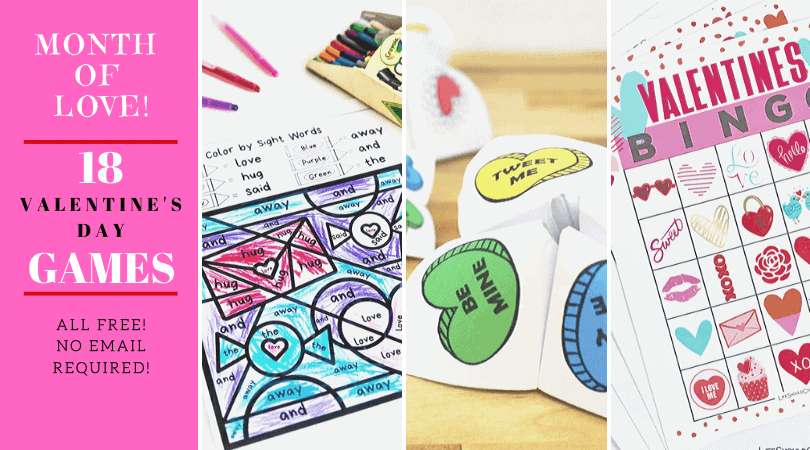 I love Valentine's Day. Any holiday that encourages kindness, love, gifts, and celebration is my jam.
That doesn't mean I spend a fortune enjoying them.
In fact, I am always looking for ways to enjoy holidays with our kids without spending a dime.
That's why today's post is dedicated to the best Valentine's Day games, worksheets, coloring pages, activities and more that can be downloaded today for absolutely nothing.
Not even an email. That's right.
Get ready to celebrate people.
The Best Free Valentine's Day Activities for Kids: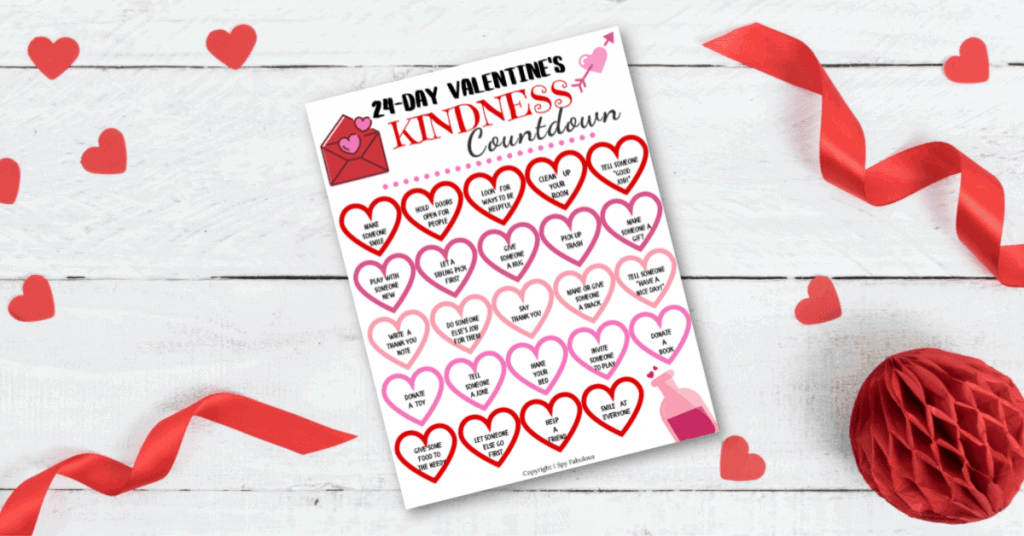 This 24-day Valentine's Day Kindness Countdown was inspired by my years as a middle-school English teacher. I was deeply saddened when I saw how Valentine's Day created so much insecurity, pain and heartbreak for tweens. It shouldn't be that way; Valentine's Day is for everyone.
I did everything I could during my years teaching to make Valentine's Day a memorable, fun day for everyone and now that I have my own kids, I designed this printable to take the focus off romance and put it on showing love and kindness to others.
Each heart has an act of kindness that kids of even young ages are able to do for others. As they do the activities, they can color in the hearts. By the end of the month, they have hopefully colored in all the hearts!
A great activity for a classroom to do together, too.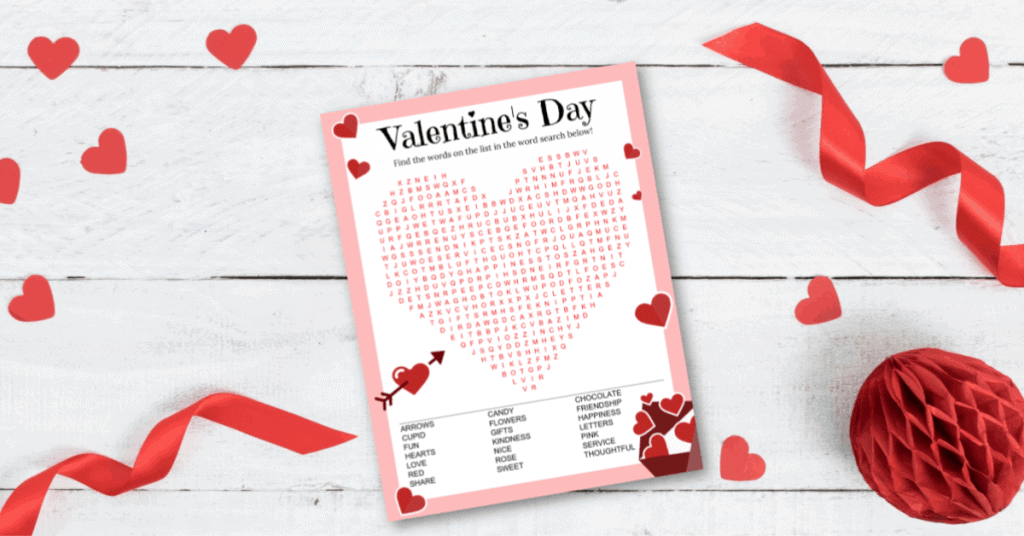 I promise these all won't be from me, but I also designed this adorable love and kindness themed word search for kids to do at home on a rainy day or even in the classroom as a filler activity.
So easy. Just print and use.
I'm not the only one with awesome, free Valentine's Day printables for kids. Check out the rest of these posts full of amazing ideas for Valentine's Day games, worksheets, coloring pages and more.
All free. No email required.
Let's do this! Affiliate links may be used below. You know by now I only recommend products and companies I use and trust.
Such a cute, easy game that kids of all ages enjoy. I feel like kids as young as 4 and up really love the challenge of Tic-Tac-Toe.
You can choose a candy to mark the spot or something like red and pink puffs if you're using it in a non-candy situation.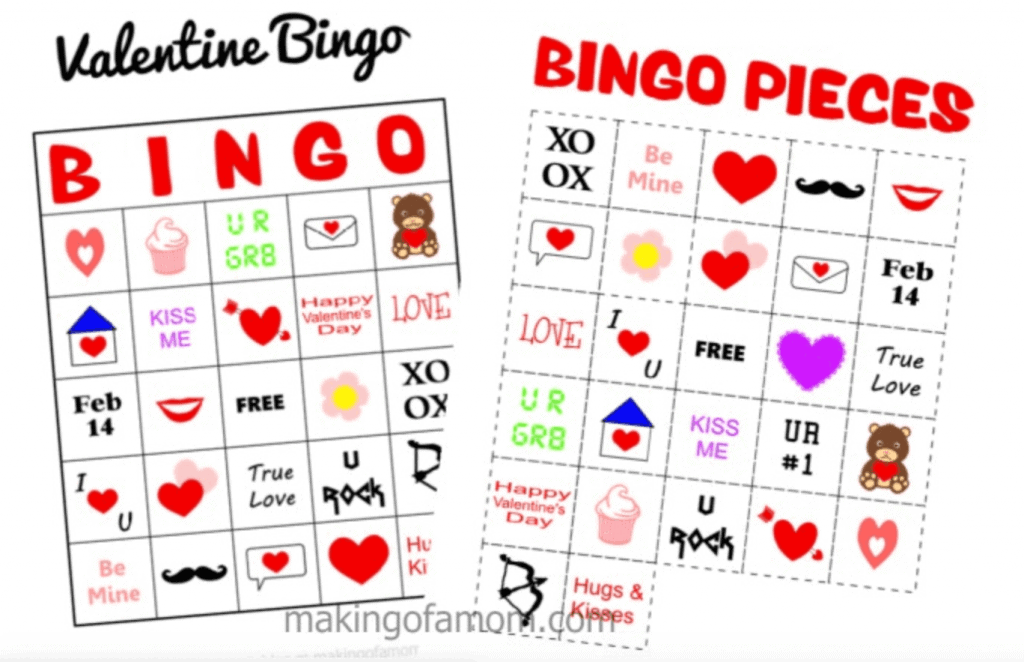 This super cute Valentine' Day Bingo has the cards and the pieces that you can just print and use.
With adorable pictures of cupcakes, hearts and lots of other things kids love, this game is a sure hit.
Mark the spot with a fun treat and you'll be the favorite.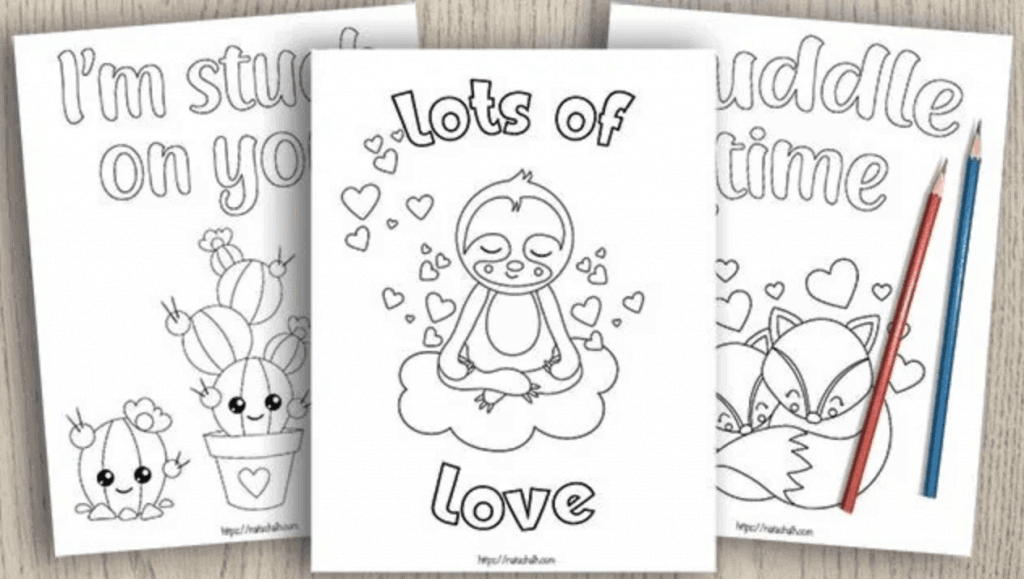 My kids love to color. I bet yours do, too. Having free coloring pages makes coloring instantly more fun for some reason.
This post offers 15 super cute coloring pages with whimsical prints and fun phrases like, "You guac my word" and "You're o-fish-ally awesome!"
And, bonus, you can download any of them for free!
Up your game with sparkly crayons or these twist up crayons.
#SUPERMOM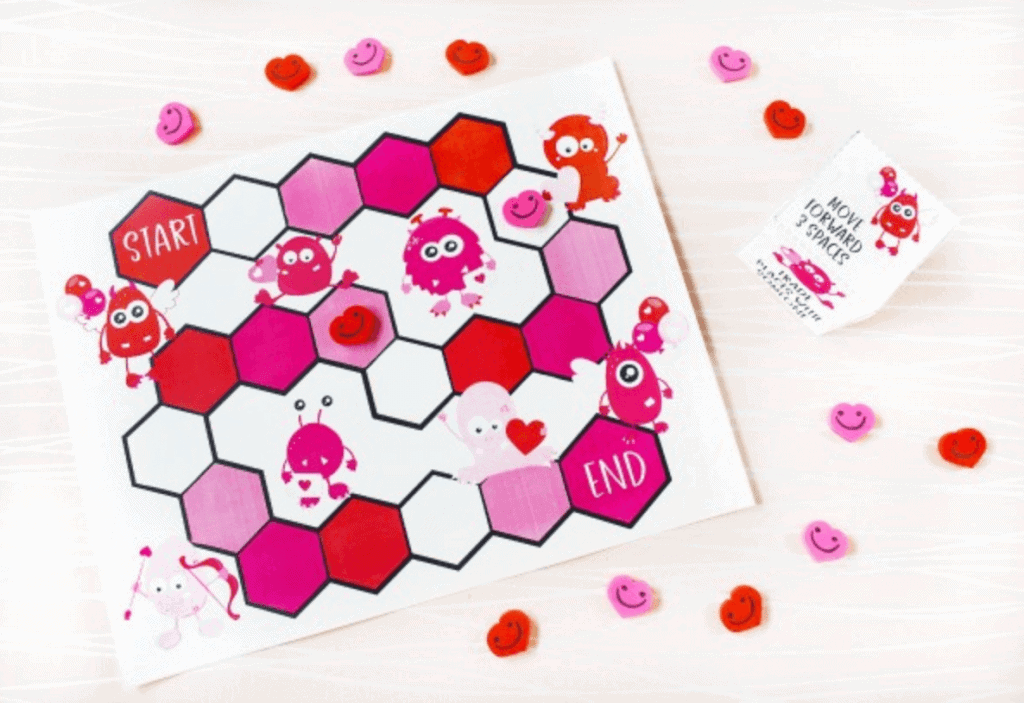 I am so in love with this vibrant, creative Valentines game. The game board uses traditional Valentine's Day colors with the surprise of fun little monsters kids will love.
This would be such a perfect filler activity to do with the kids. Or, you could even print out one per table in a classroom setting.
Pick up a bag of affordable Valentine's themed items to use as the game pieces and you're ready to go!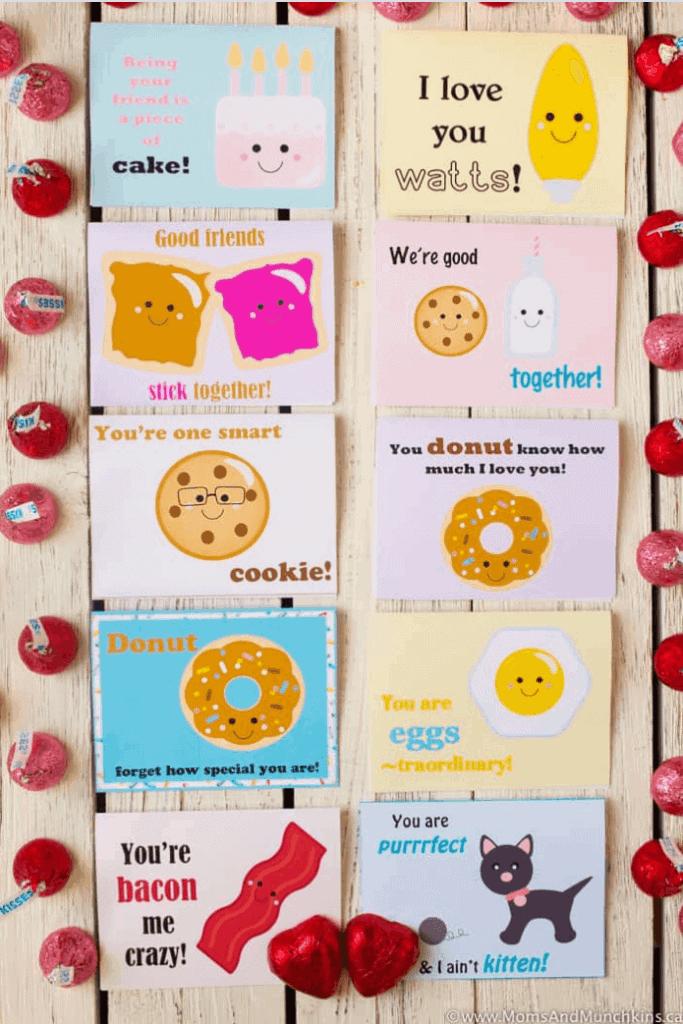 My 3-year-old has become obsessed with jokes. At all hours of the day, I hear her sweet voice asking, "Mama, wanna hear a joke?" It's the cutest thing in the world.
So, when I saw these cute pun cards, I knew I had to print them out for her right away.
These would also make adorable cards to put in lunch boxes in February.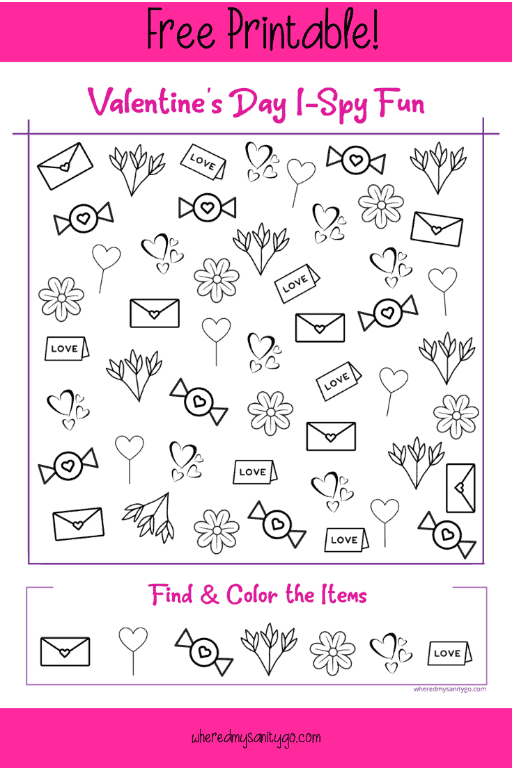 Love these great counting and coloring pages.
This one uses Valentine's themed images that kids can find and color.
Add in glitter crayons and suddenly – it's the most exciting thing ever.
You can check out my brand new Valentine's Day I Spy printable, too!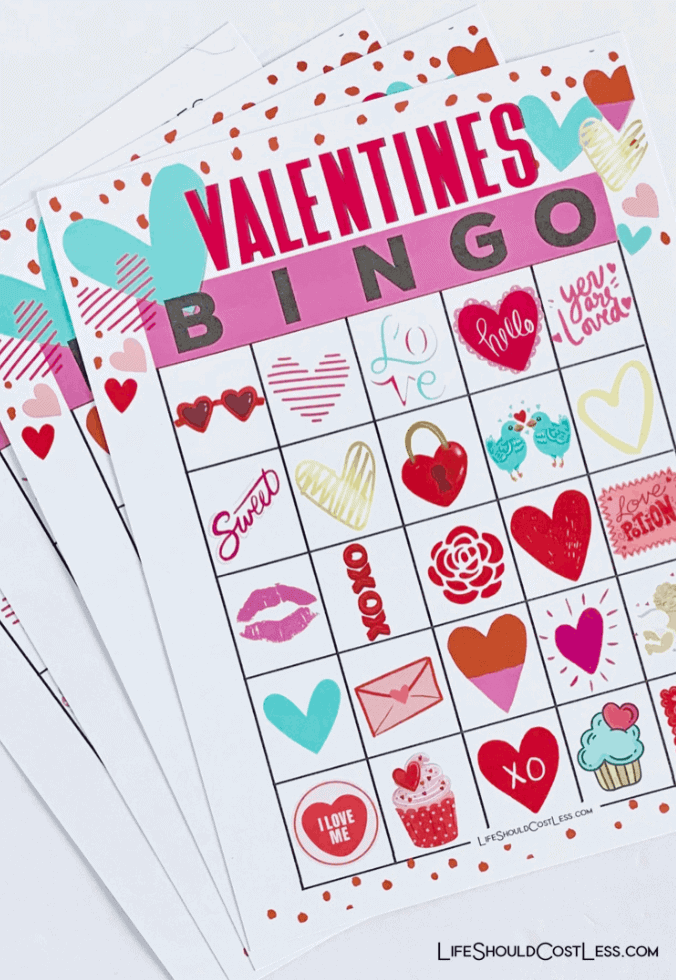 Another Valentine's bingo option, because kids love bingo! I printed one version for Christmas and we ended up playing it so much, I downloaded a different one just to mix it up.
So, I figure I'll probably need a few bingo options for Valentine's Day, too. It's just such a fun, simple game that kids of all ages can enjoy together.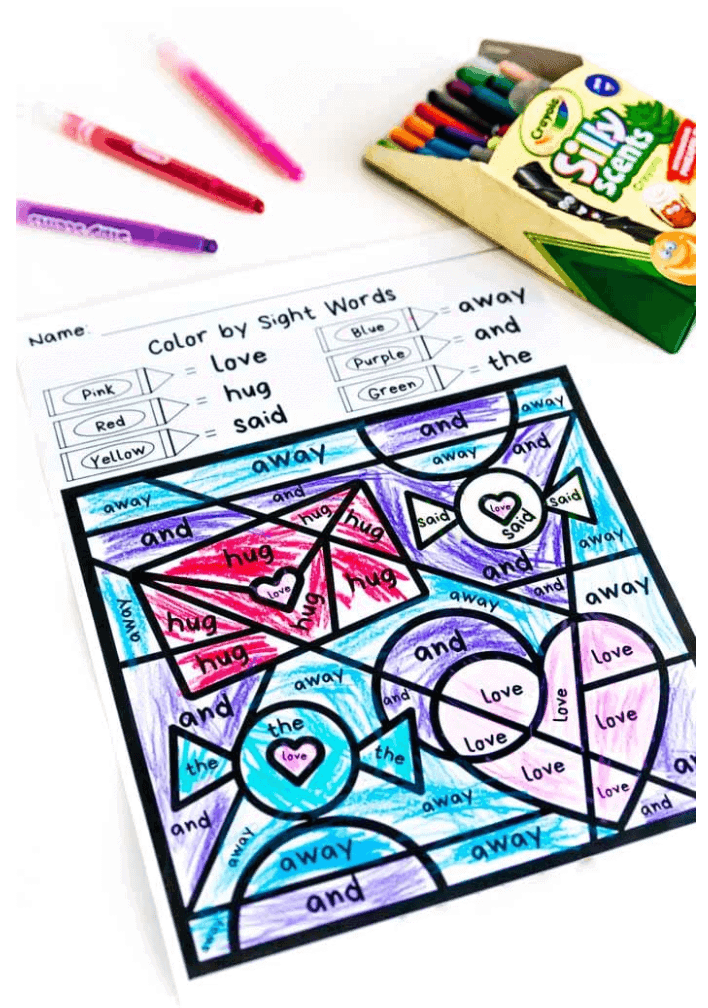 This sight words coloring page is the cutest thing ever. With Valentine's Day themed words like love and hug and fun images to color, it'll be a win for young kids.
I love that she also uses the Silly Scents crayons – they're the best!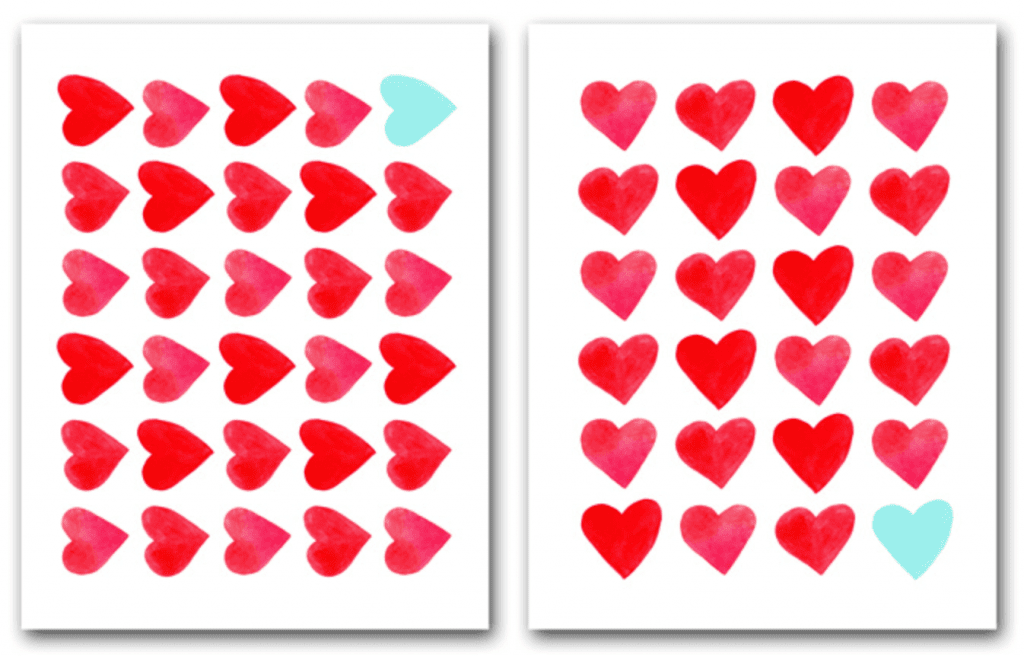 Looking for super easy (and free) Valentine's Day decor? You can print out this heart art vertical or landscape, frame it, and be ready to go!
Use it to add some love to a themed tablescape or as a backdrop to a dessert table.
Frame it in a crisp white frame or a shimmery gold and you're done.
#SCORE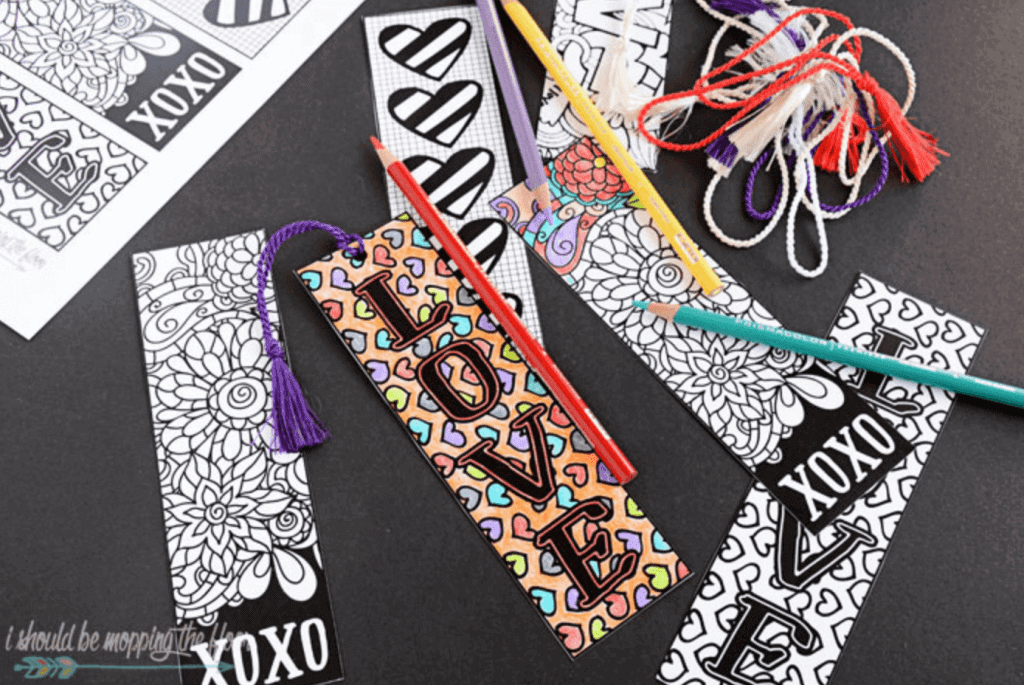 What a great idea for a classroom table activity!
These Valentine's themed bookmarks are ready to go. Just print and cut.
You can take it up a notch and punch some holes at the top for yarn or a tassel.
Seriously, how cute – right?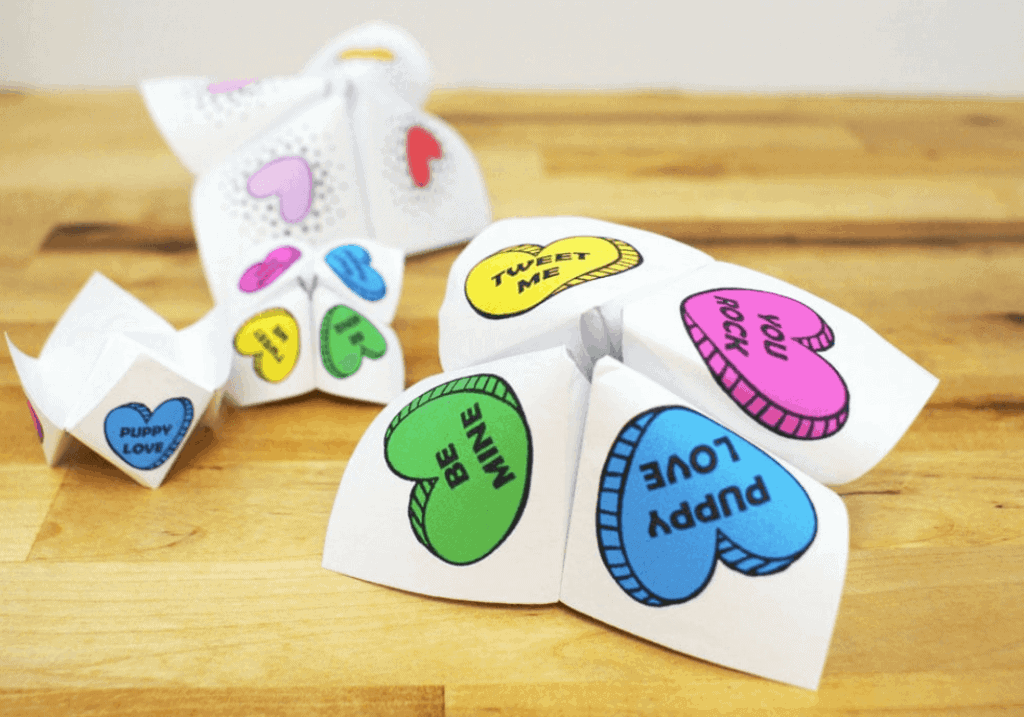 Okay, I have such vivid memories of making these little fortune tellers in school – don't you?
I absolutely love this Valentine's Day themed one and can't wait to make it with my son for his first fortune teller experience.
This tutorial has step-by-step folding instructions with pictures, so if this is your first experience with fortune tellers – have no fear – you'll have this ready in no time.
Such a great activity for kids and excellent fine motor skill practice, too.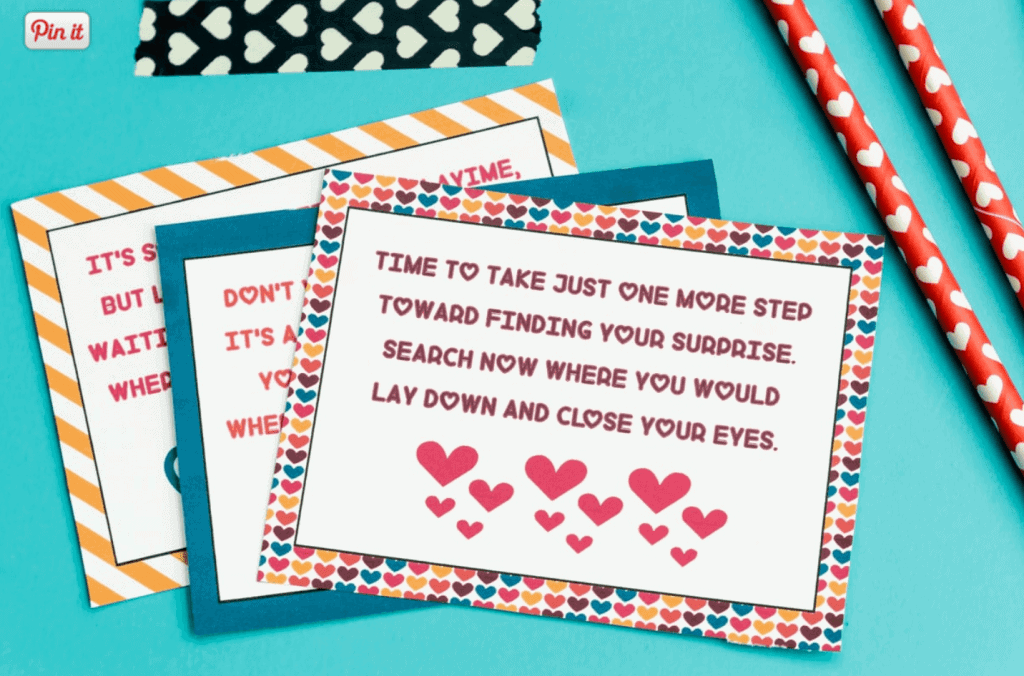 My kids love a good scavenger hunt. My round-up of the best Easter scavenger hunts are always a fan favorite, so I bet your kids love one, too.
This is a fun take on the scavenger hunt, with Valentine's Day colors and themes.
Just print and go. Easiest activity ever.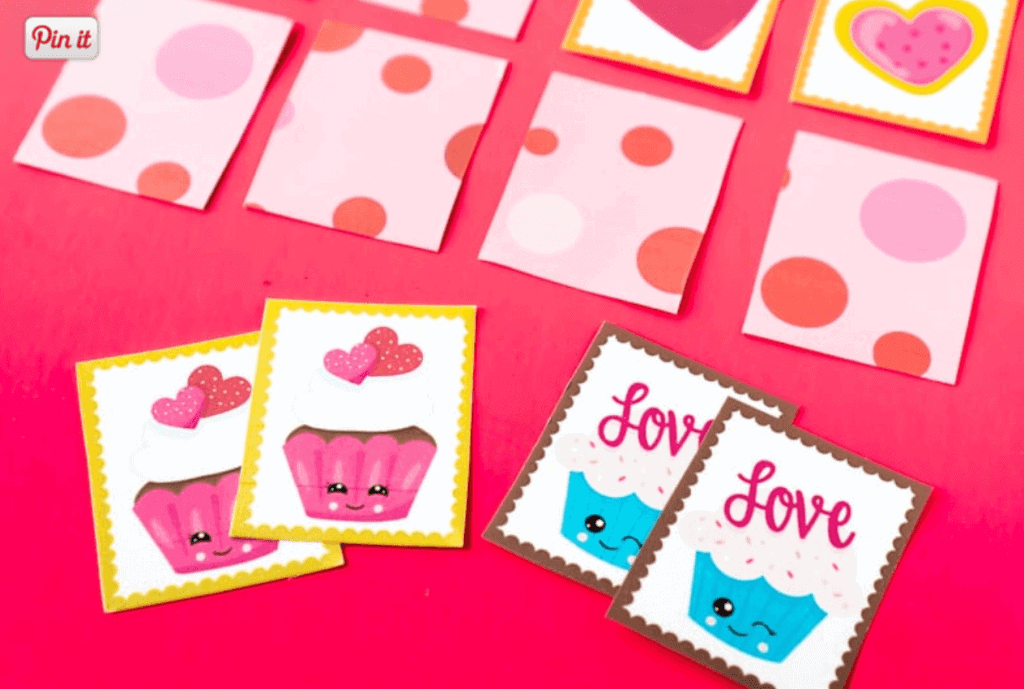 I love the vibrant colors and designs that Britni uses, so I'm sharing another one of her awesome printables.
This Valentine's Day memory game is just perfect for my daughter, who has been super obsessed with these lately.
Memory games are excellent for building pattern recognition and focus, plus – kids love them!
Print on thicker cardstock to make the game last longer and just play!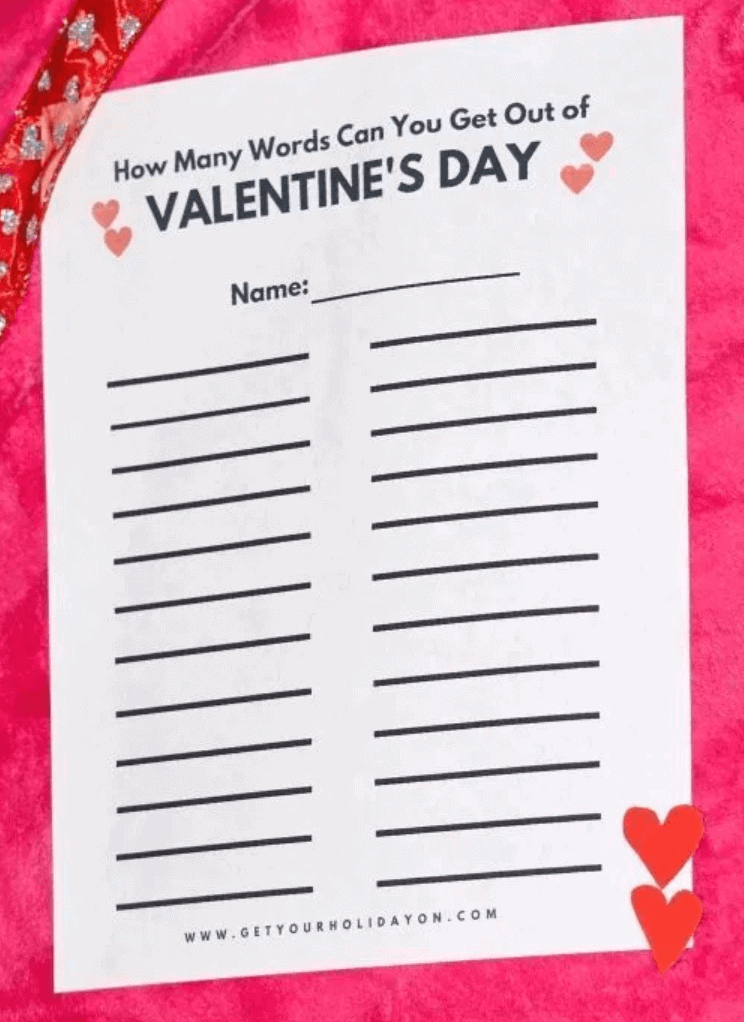 What an easy activity for school-aged kids. I would have totally used this as a filler in February in my English class.
For this game, kids try to make as many words as they can.
If using in the classroom, set the timer and let them go. Or have them work in groups to add brain power. Setting a timer and making it a game instantly makes it 1000% more fun.
Trust.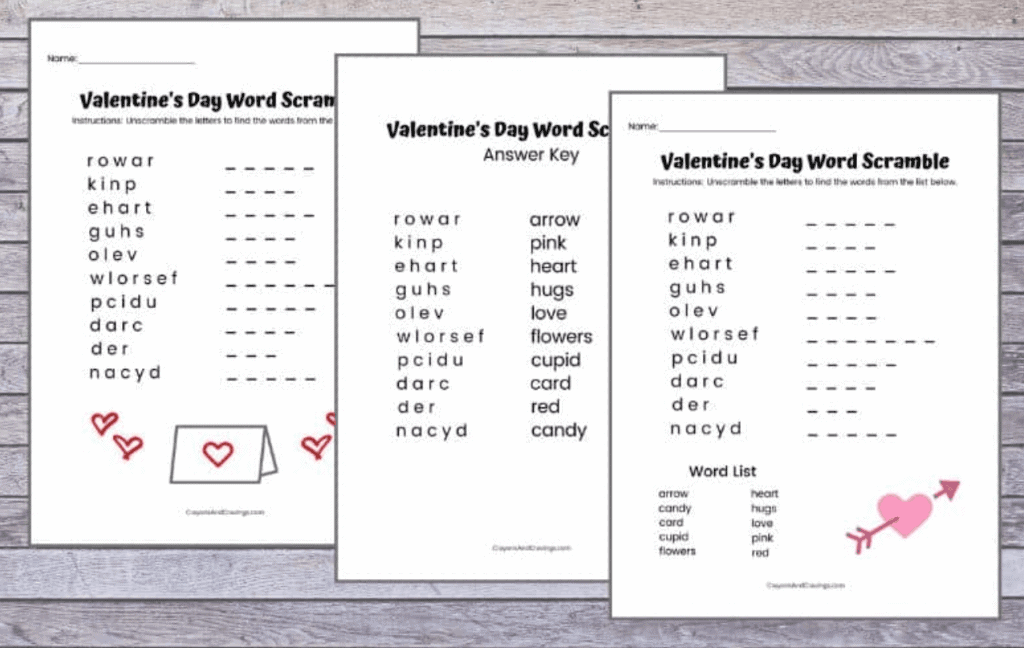 Another easy and fun activity for older kids.
My kids might be too young for this one now, but it'll be perfect when they are a bit older.
I love that this one also comes with the answer key.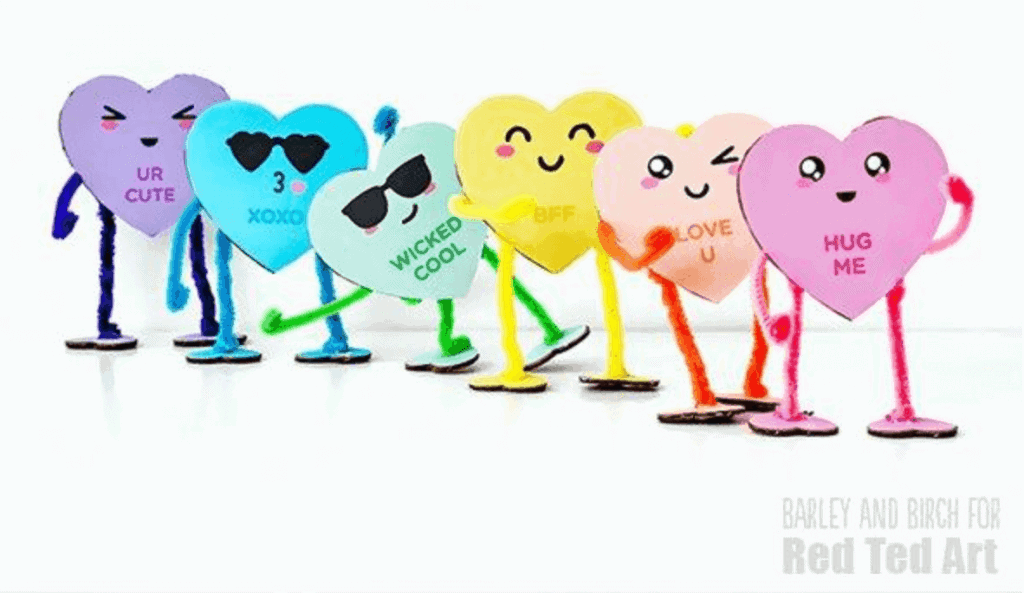 Okay, this isn't technology a game or worksheet and I tried not to fill this post with crafts.
But this one was just so cute I had to include it.
Little conversation heart people?
Come on.
#ADORABLE
****
Wow, that was fun. So many creative ways to celebrate Valentine's Day – for free.
Just goes to show you don't have to spend a fortune on decor and activities to enjoy the holiday.
That reminds me, you might also like the adorable egg-themed Valentines for kids I drummed up for my son – with a free printable.
Did you find a new favorite Valentine's Day activity here?
Tell us in the comments below!
Have a fabulous day,
E