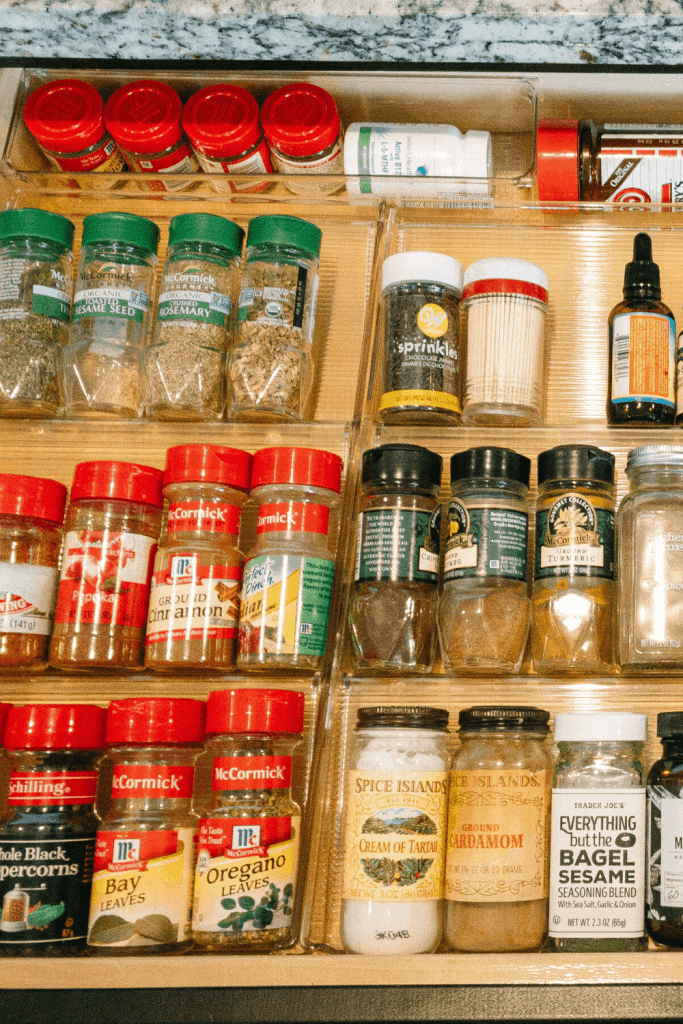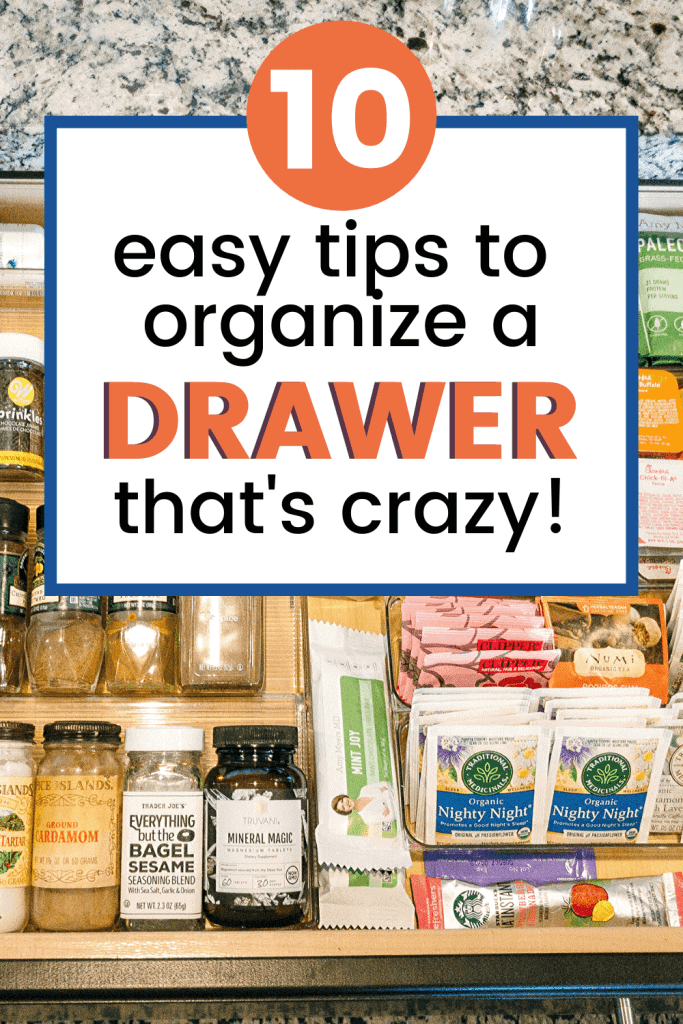 When we moved into our new home, the open kitchen that had originally won me over immediately became a struggle to organize.
The kitchen layout had no upper cabinets or shelves above the cooktop area, which quickly made me realize that I had to get creative with things like spices and oils that usually go right above the stove.
While some drawers were easy to organize, one drawer continued to be the bane of my organization existence – the spice drawer.
The Organization Problem:
This drawer was too wide to just be our spices, not to mention, we also needed a place to grab things like tea, sauces, and other things we also had no room for now.
But, it was also not deep enough to use a lot of organizers on the market.
So, this is what happened over time: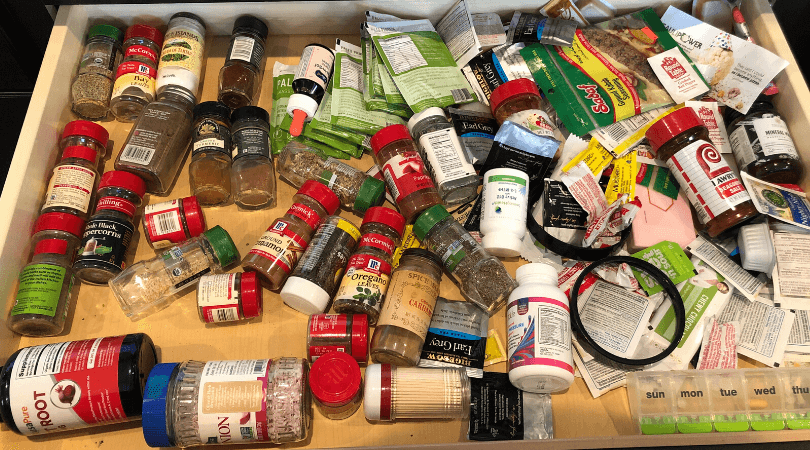 Wow. That's not cute.
That's why I decided to figure out how exactly to turn this spice drawer around and make this kitchen nightmare an organizer's dream.
Here's the steps I took or you can just watch this snazzy video that shows the process, too:
10 Steps To Organizing a Kitchen Drawer: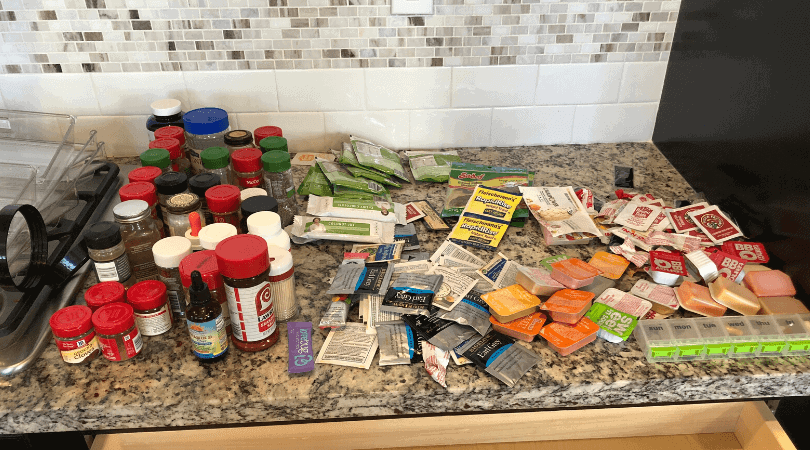 1. Take Everything Out:
Don't even bother doing anything until you've gotten everything out of that drawer. While you do this, you'll automatically start grouping things by type and also doing the next thing:
2. Throw Things Away:
If you're hoarding sauce packets (like we were), old spices that have expired, or other things you're never going to use, don't organize them – just toss.
3. Consider What You Need:
Also, take a few minutes to figure out what really should be in that drawer. If there's things you aren't using often, put them somewhere else to make room for only what needs to be there.
For us, we had a bunch of sauce and ketchup packets that we don't use often. I put them in a ziploc bag and stored them elsewhere.
Now it's time to get to work:
4. Clean The Drawer:
We've only lived here a couple years, so cleaning was easy. I've definitely worked on spaces where more serious cleaning needs to happen.
In some cases, the bottom of the drawer may be in such a state that you want to take the time to put a drawer liner down. The bonus to this is you can have a fun pop of color of pattern peeking out and also get a non-slip liner that will hold things in place.
5. Measure The Space:
Have you ever heard the phrase – "Measure twice, buy once"? I feel like whenever I ignore that phrase, I buy and return, buy and return, with much aggravation in between!
I measured the drawer multiple times and then sat down online to design a collection of storage that matched what I needed:
Spice rack
Tea bag holders
Larger storage for sauces
Larger storage for bigger packets
I looked on a few sites, but ended up liking these little acrylic storage containers at the Container Store! Affiliate links used.
6. Arrange Organizers: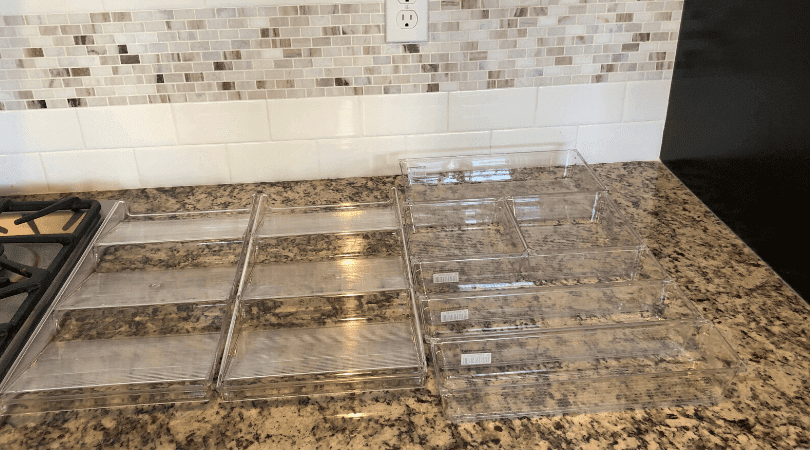 Once all your organizers arrive, it's time to start putting them in place. Of course, even though I measured multiple times, the organizers were slightly off the sizes online, so they didn't fit in the configuration exactly how I had planned.
It's time to get creative and make it work.

7. Start Organizing!
It's time to load them up. Group and arrange as you go.
8. Arrange As You Go:
Things may not always fit exactly where you thought, so just move things around like puzzle pieces until you like it.
9. Open and Close the Drawer:
Try opening and closing the door. Are things moving around? Are some things blocking the drawer from closing?
You're going to open and close it a lot, so take the time to make sure that it works.
In my case, I ended up having a few things that just didn't fit anymore. We'll need to decant them into smaller sized bottles or just store them in the pantry.
While some people opt to get uniform spice bottles with labels, a look I really love, I didn't want to spend the money and time on that just for aesthetics. This was a budget job, y'all!
10. Relax! Job Well Done: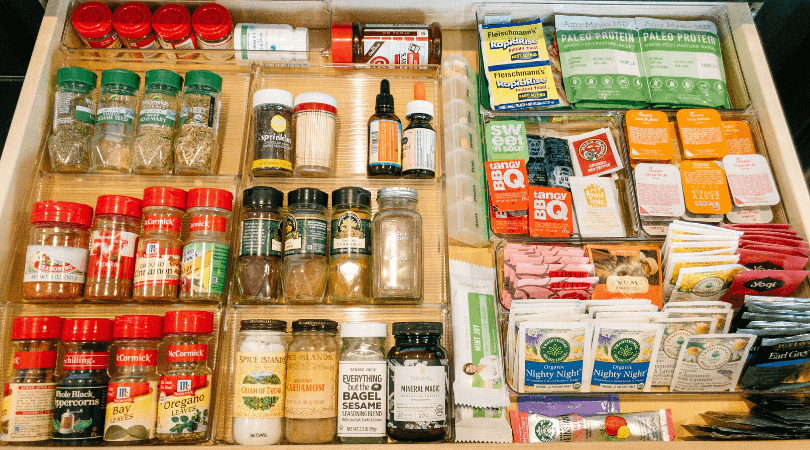 You did it. Now it's gorgeous.
Relish in a job well done.
*****
It's the little things like organizing a drawer you use multiple times a day that can improve quality of life a little.
And, hey, whenever you can move that needle in a positive direction – I say, go for it.
Have you started getting into organization at all?
You might love some other decor related posts on the blog:
Have a fabulous day,
E