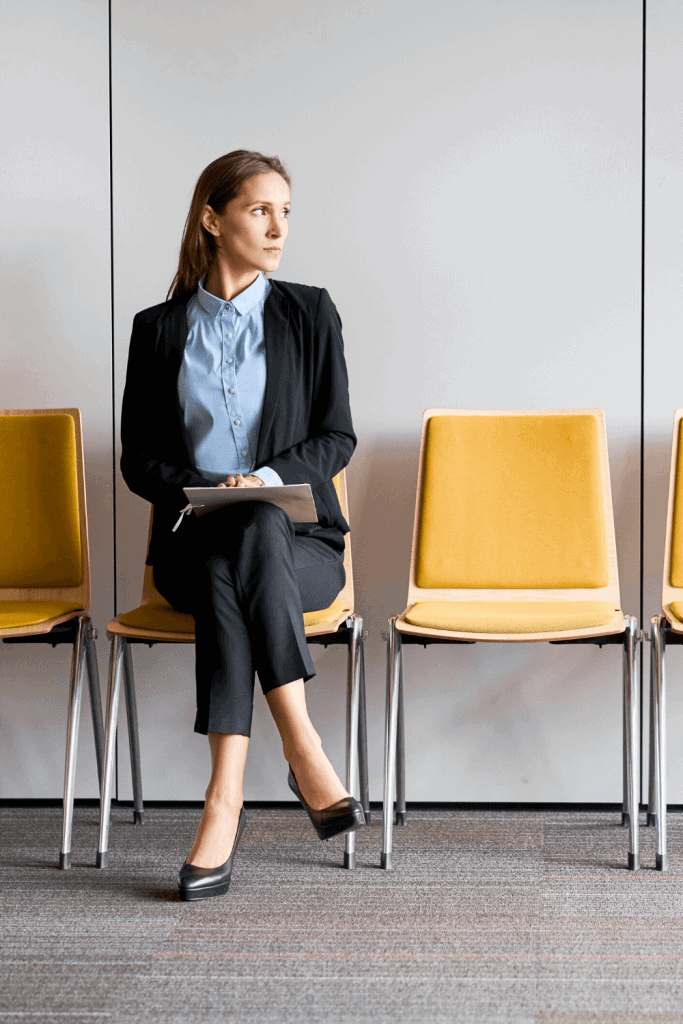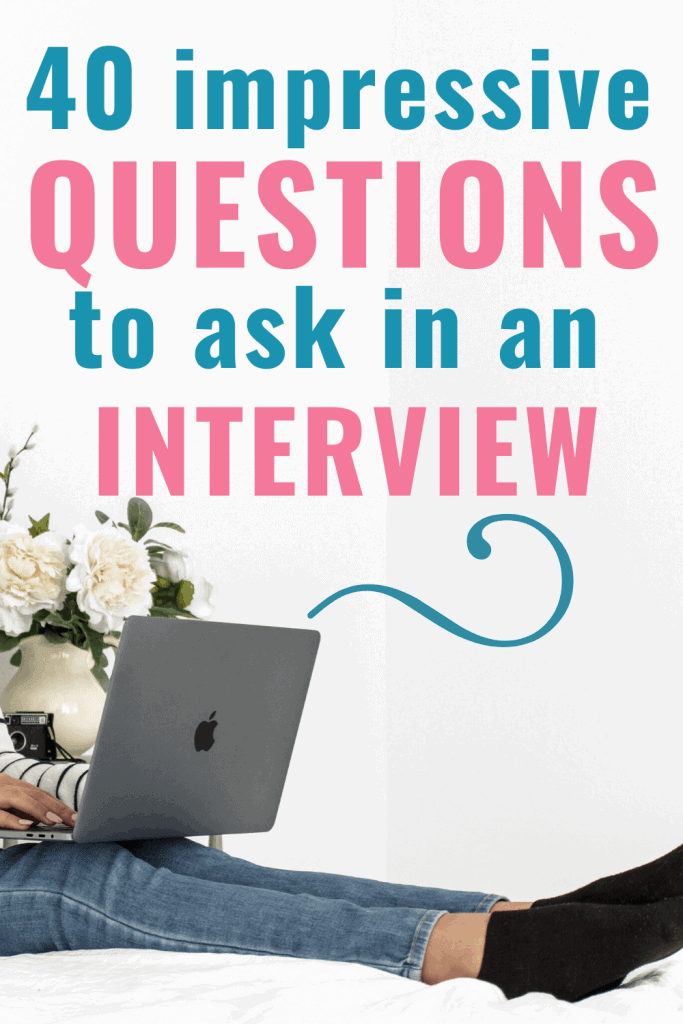 Over the years, I've done more than my fair share of interviews. My very first interview, right after I turned 15 and got a worker's permit from my school office, was at Baskin Robbins.
I didn't get the job.
When I told my dad what happened, he sat me down and practiced interviews with me until I was ready to go back and let the manager know I'd like to be interviewed again.
That time, I got the job.
Clearly it was the start of great things.
Since then, I've learned a thing or two about how to ace an interview – and a big part of that is the questions that you ask the person interviewing you.
Now that I have slowly started the process of interviewing and hiring staff writers for the blog, I am sitting on the other side of the table for the first time – and it's been very illuminating!
Now, I have an even better understanding of why it's important to ask questions in order to ace an interview.
Why Do You Need to Ask Questions in an Interview?
While preparing for this post and for interviewing potential staff writers, I reached out to two people with far more expertise on this than I have, a successful recruiter for tech companies and a manager who has built and trained successful teams for several top companies.
Both of them emphatically agreed that any person who does not ask any questions in an interview, even when asked, "Do you have any questions?" is a big red flag.
But, what do you do if you really don't have any questions? What if the person explains everything in such detail that you really don't need any more clarity?
It's simple, friends, you pull up this list and you find a question to ask – and here's why:
3 Reasons To Ask Questions in an Interview:
Having a few well-thought questions that you ask, either during or at the end of the interview show a few very important things to the person who is taking the time to interview you:
1. Shows Your Interest:
The questions you ask show that you are truly interested in the position and/or company and not just looking for a paycheck.
Sure, we all want to get paid, but no company wants to hire someone that is only motivated by the desire to make money.
2. Shows Your Experience:
The more experienced the candidate, the more likely they are to have questions. Asking questions, even if you are applying for something new, will make you seem more researched and better prepared to take on the role.
3. Shows Your Effort:
If they hire you, they want you to do a great job – if not exceed their expectations. If you are asking the right questions in the interview, this will make the interviewer more confident that you will be able to do that.
Nobody wants a revolving door of talent (or at least not anyone I know). Hiring is stressful, time intensive and expensive.
The questions the person asks in an interview tells you a lot of important things you need to know about them.
The Right Questions to Ask an Interviewer: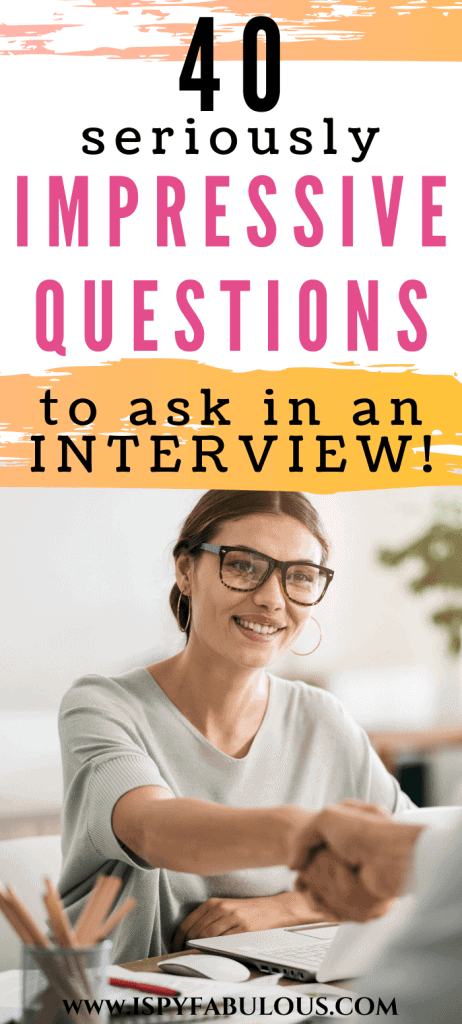 Here is a list of thought-provoking questions. Go through it or print it out and use it when you are in an interview.
Eliminate any questions that are already answered in the natural course of discussion and make sure you have about 2-3 questions you can ask at the end that will show the interviewer that you are the right candidate for the job.
Interview Questions for an On-Site Job:
Can you describe a typical day in this position?
What is the first week of work like?
How would you describe the work environment?
What type of people really thrive here? What type of employees do not do as well?
What types of career opportunities may be open down the road for someone in this position, assuming they do well?
What are some of the company's initiatives regarding learning, skill development and growth?
Do you offer any telecommuting options and how do they work?
How often are there after hours events, meet-ups, or other requirements?
How often is travel required, where to and what kind (i.e., international, same day, etc.)?
Interview Questions for any Job – Remote, On-Site, Etc.:
What do you hope I will accomplish in this role?
What kind of hours are expected for this position? (Or, if you know it's a full-time position, ask if the hours are set or are flexible.)
Can you tell me about the team I'll be working with?
How competitive are the employees here?
What kind of team building opportunities an activities are offered?
What do you enjoy most about working here (or running this company)?
How do I ask questions when needed? Who do I go to?
How will I get feedback on how I am doing, how I can do my job better and how often?
How will you measure my success in this position?
What does it take to be a top performer in this company?
What are some of the challenges you expect someone in this position to face?
Why are you working in this industry?
What goals does the company have over the next five years?
How long is the average employee's time here?
What are the company's biggest struggles at the moment and how can I help in overcoming them?
What are the next steps and when can I expect to hear back?
For Telecommuting Options:
What tools are provided for me to use as I work from home or am I providing all needed supplies?
What technology or platforms do we use to communicate and work on projects?
How often are we asked to provide status reports and what kind? (Note: Sometimes, extra busy work for telecommuters to show that they are working can negate any time saved working from home. Be clear on any telecommuting policies before getting excited about working in your yoga pants.)
How often are you in contact with remote employees or freelancers?
Specific Interview Questions for Freelance Positions:
How do you communicate the need for changes, edits, or additional drafts?
Do you communicate during typical work hours? (If not, go to the next question)
If emails, requests or changes are communicated in the evenings or weekends, do you expect a response off hours or is it acceptable to respond during the next business day?
Are there any required meetings or calls?
How are calls scheduled? What kind of notice is given for any calls?
Are any in-person meet-ups required? If so, how often?
How often are payments made? (Note: Typical payment options for freelance work include weekly, bi-monthly, monthly, or in rare cases, net 45 or net 60. Personally, I turn down work that is longer than monthly and only accept monthly when it's frequent, regular work.)
How are payments made? (Note: Options include via electronic payment, such as direct deposit, using invoicing systems like PayPal, sending paper check or you may be asked to invoice using your own software – in which case, fees may apply. See my post on tools every freelancer needs which discusses invoicing options.)
How are things like sick days, work delays or other unforeseen events handled?
How do you see this company growing over time and what growth opportunities is available for my position?
Are there any incentive programs available for employees who consistently perform well over time?
****
While each interview is unique, these questions should ensure that you look passionate, prepared, and ready to go for whatever job you are applying for.
Remember that every interview is a two-way street. You both need to find the right fit, so be authentic while also representing yourself in the best light.
Pushing for a job that isn't a good fit for you, either, will only result in you having to hit the pavement again before too long.
No fun.
Good luck out there. It's a jungle. Luckily, the cream usually rises to the top.
Here are some more career focused posts you might like, too:
Have a fabulous day,
E