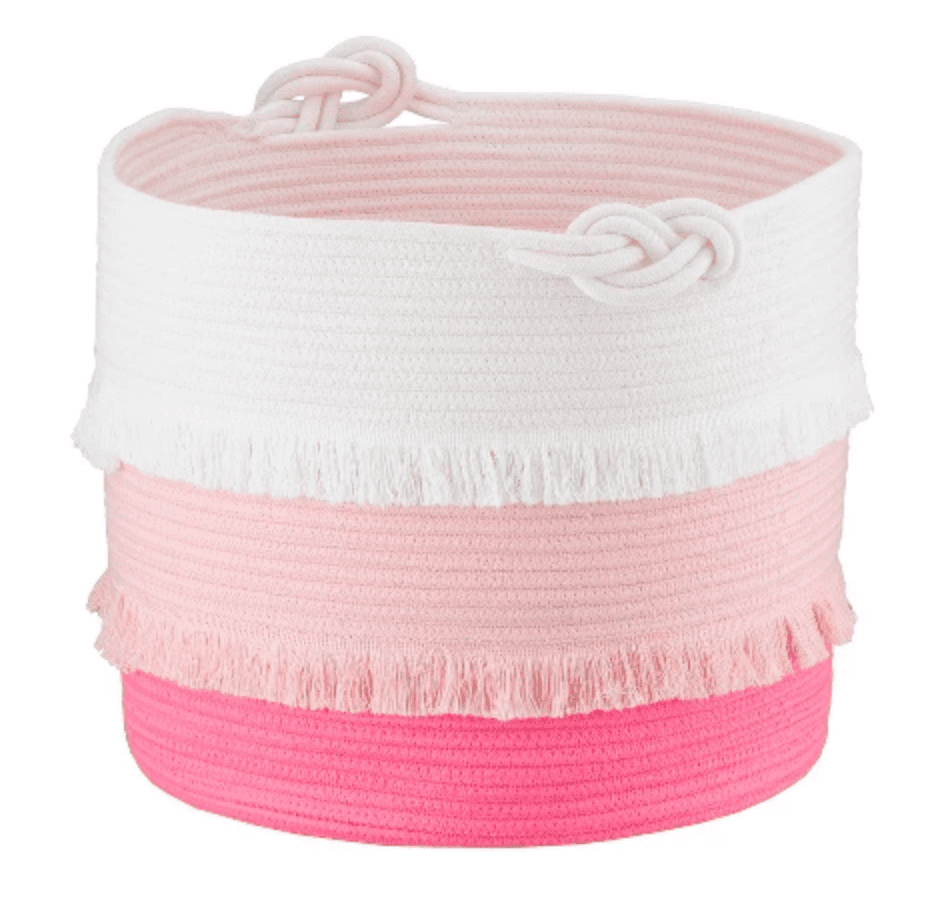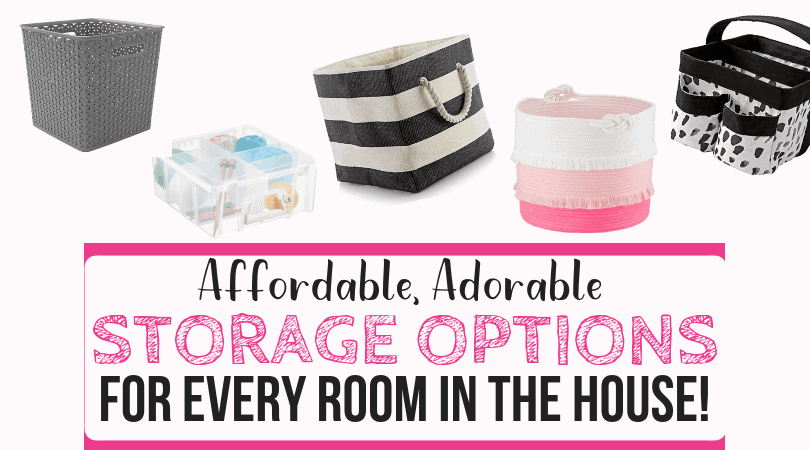 I'm such a sucker for adorable organization. Keeping things organized has a way of relieving a little bit of pressure on your mind – which is why so many people go down the rabbithole of minimalism.
Less things, more white space, lets you relax and breathe a little deeper.
But, with kids and jobs and life comes – stuff.
Lots of stuff.
You just need a place to put it so it stays organized and looks attractive.
I mean, you can't Marie Kondo everything away.
Sometimes, more is more. Especially if you have a great storage basket for it.
I've amassed a fairly admirable collection of storage bins, organizers, baskets, tubs, and more, over the years. I'm also a fan of adhesive labels.
I know, I know. #GagMe
I'm, like, old or something.
But, if you're reading this – then you feel me and you want all the storage.
So, here you go baby. Here's the good stuff: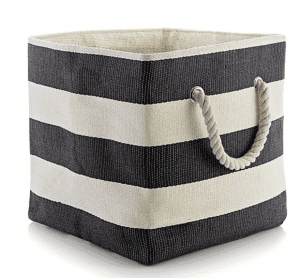 We have these all over our house. Priced at just $14 and incredibly well-made, they fit in everywhere.
Cubby storage in playroom? Check.
Storage for shoes in pantry? Check.
Backseat storage in my car? Check.
Upstairs storage in the loft? Check.
Clothes storage in my son's closet? Check.
You might call that overkill – but they come in a ton of colors and hold up so well over time.
Plus, I can never get enough stripes. Can you?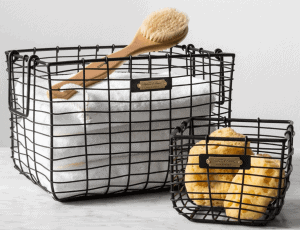 Just perfect in an open bathroom cupboard, or a pantry, or anywhere for that matter.
I'm obsessed with the super chic, affordable Hearth & Hand decor line at Target by Magnolia.
Was I the crazy lady who was at Target at 8am on the opening day of the Hearth & Hand collection with a giant shopping cart?
Yes, yes I was.
And I was far from alone. There were so many of us, Target brought out a coffee and snack cart.
God bless 'em.
With baskets like this – can you blame us?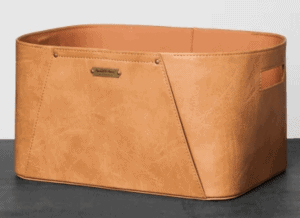 Winner, winner, chicken dinner. Mrs. Gaines knows what's up.
Leather can warm up a space #STAT
Literally – goes with everything, won't buckle under the pressure of #stuff and #kids.
Wipes clean.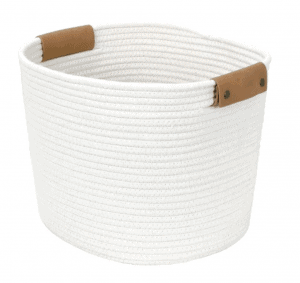 Yes. ALL THE YES.
#GIMME
Is there anything else?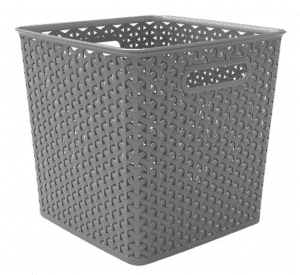 I have a bunch of these in different sizes all over my house.
I use them to organize our sheets in the laundry room.
I use the smaller ones to organize our medicine cabinet.
I use the rectangle ones to store DVDs.
They. are. everywhere.
I love them.
Affordable, adorable, and look great with little adhesive bookplate labels.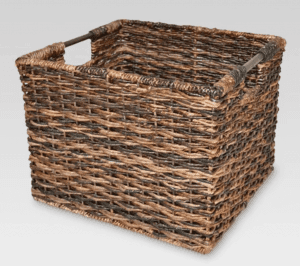 Wicker. Milk Crate. BOOM.
Wicker baskets are a classic touch that can go with almost any decor.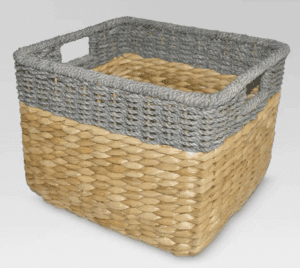 I have four of these sexy beasts lined up in a pretty little row in our master bedroom built-ins.
They cleverly hide all of our old DVD boxed sets we are too sentimental to get rid of.
Just don't ask my husband which one of us had Gilmore Girls when we got together.
#ItWasHim
These look so much more expensive than they actually are – which is exactly the kind of home decor I like.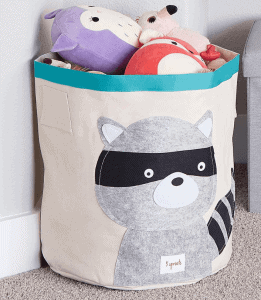 This company has these gloriously adorable and fun prints on really sturdy, well-made bins and cubes.
In our old house, we used these to organize their toys.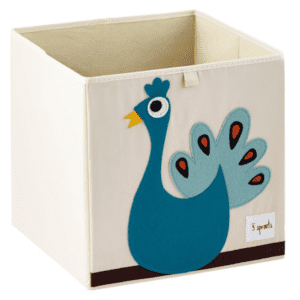 These are just adorable – and they fit perfectly in the Ikea Kallax storage cubes, which we also had setup in the playroom.
Another great thing about these cubes is that if you organize certain toys into different cubes, your kids will learn what toys go where and it's an easy way to start teaching them how to clean-up.
For example, legos are in the owl, but dolls are in the zebra. They'll start to remember where they found that toy and automatically store it there when it's clean-up time.
#Brilliant
Thank me later.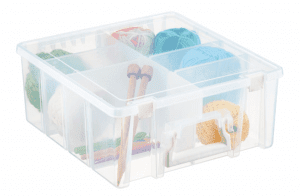 I love storing their art sets and paints in these types of ArtBins. I can easily see which sets are where, but I can also close them and stack them up out of reach.
Nobody needs paint on the wall – you know what I'm sayin'?
With so many different configurations and options, you can easily find the right ArtBin for your stuff.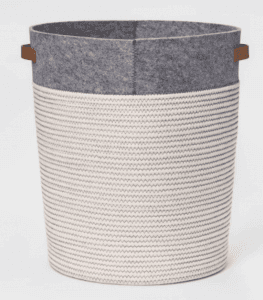 I love a rope bin. So chic. Such great texture.
The Pillowfort line at Target is just #GOALS. Everything is affordable, attractive and durable.
#WINNING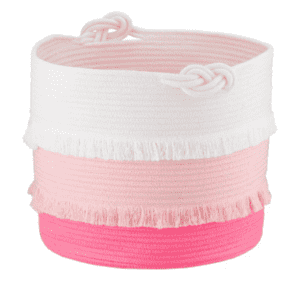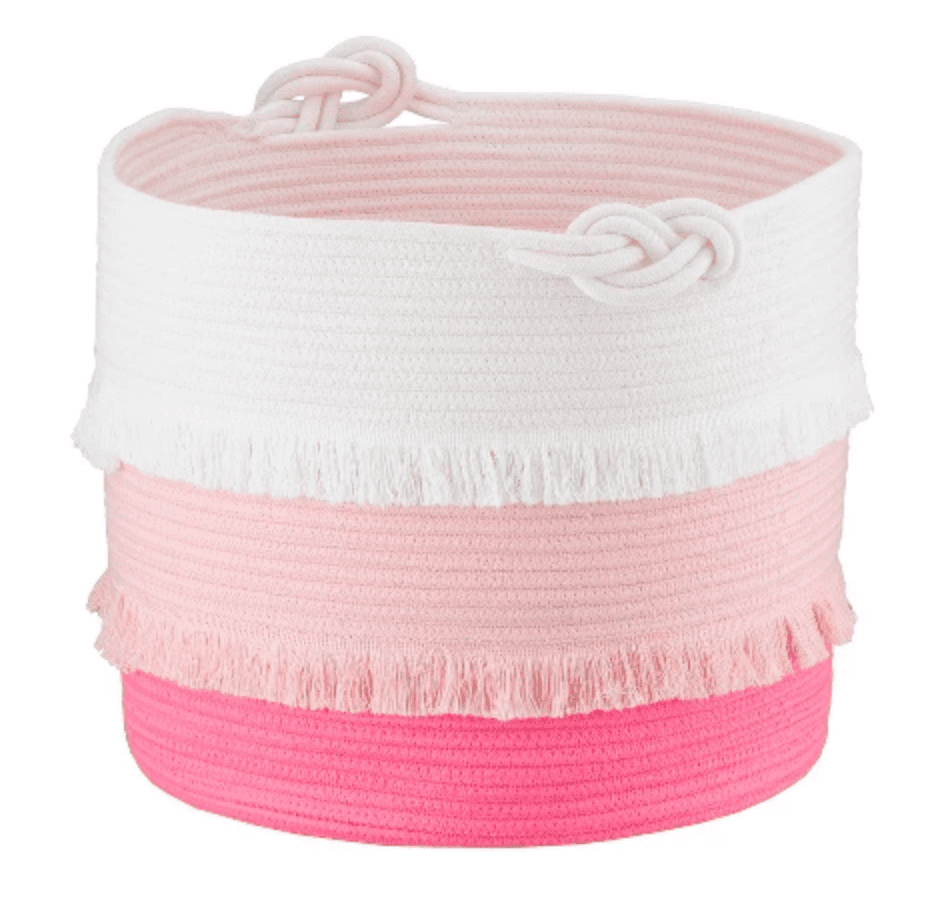 I have this in my daughter's room. The fringe and rope detail looks much more expensive than it is.
It's also a great size and holds a lot of toys, while still being easily accessible for little ones. It's not so high that they can't get to the bottom, but not so shallow that everything falls out.
Plus, the design gives it great structure and shape.
All in all – a big win.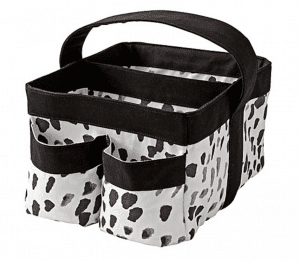 I like to keep this diaper caddy right by the couch, where I have a changing pad ready to go.
Because we now have 2 kiddos in diapers, I can organize by size of diaper and have room for our wipes and our absolute favorite, can't live without it, miracle diaper balm. It's magic, I'm telling you. There is no rash it cannot take down. Fast.
Plus, the black and white print is so cute, you can use it for other things when your kids are done with diapers (cannot wait for that day!).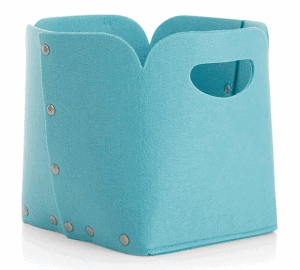 Here's what I love about these super soft bins in saturated colors – when you're done using them, you can unsnap them and lay them flat in a nice little stack until you need them again.
I mean, come on.
#GENIUS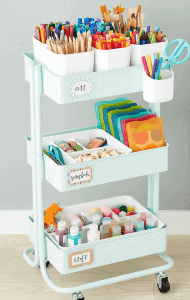 WANT.
If you have kids who are old enough to be left alone with craft supplies without eating them or spreading them on the furniture (#JEALOUS), then please buy this and rub it in my face how glorious it is.
Because it looks damn glorious, my friends.
Bamboo Charging Station:
I grabbed this for the hubs for Christmas, because he was always complaining about the electronic devices everywhere.
It wasn't just him – they were making me crazy, too.
This is a lifesaver. It adds warmth in the kitchen and looks cool while stashing away all of our devices for a little rest and charge.
You can get super cool and buy the little chargers to reduce cordage, if you are into that sort of thing.
****
Boom, there it is. Affordable, adorable storage bins, baskets, charging stations and more – so you can Marie Kondo your life to your heart's content.
Okay, maybe it's not quite Marie Kondo – but it's going to be great, anyway.
Oh, and if you like to label things, too, I highly recommend these stick-on, bookplate labels from Staples.
And, if you have no idea who Marie Kondo is, her book – "The Life-Changing Magic of Tidying Up" is really motivating. Highly recommend.
Are you an organization lover? What's your favorite organization tool? Tell us in the comments below!
Have a fabulous day,
E