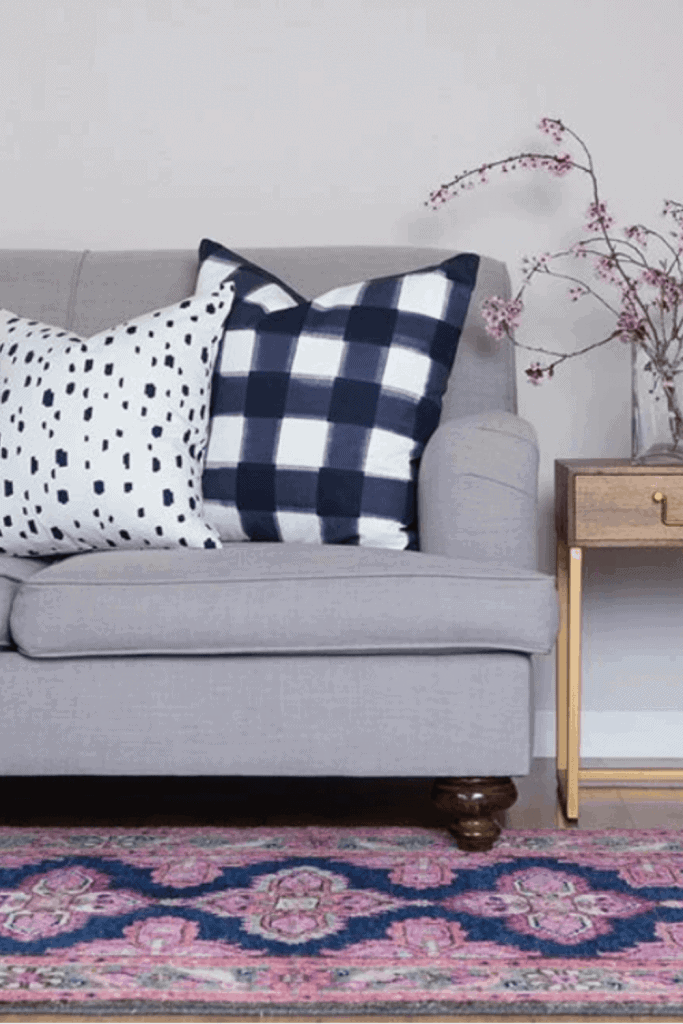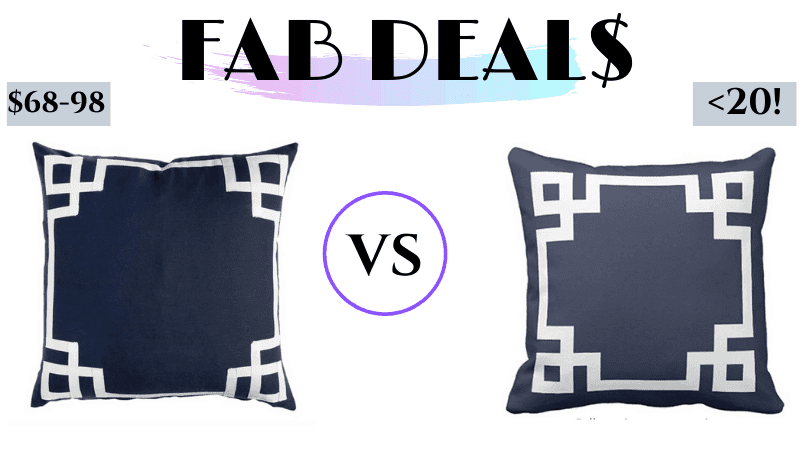 I love a good deal. It might have something to do with being the daughter of a car salesman, but I almost never pay full price for anything if I can avoid it.
That's why when I started this blog awhile back, I thought it would be a deal blog.
But, the short lifespan of deals made it difficult to keep up and I got a little bored of only writing about shopping, so I expanded the subjects organically over time.
I still love a good deal, though, and that's why this is the first post in a new column I'll be running regularly on fab deals.
This is where I'll get to share all the awesome dupes I find in home decor, fashion, beauty and more.
And, today, we are taking on one of my favorite home decor designers ever: Caitlin Wilson.
This would be me meeting Caitlin Wilson:
Who Is Caitlin Wilson?
I am a huge Caitlin Wilson fan. Her cheery take on traditional patterns like Greek key designs, buffalo plaid and chinoiserie are close to my design heart.
While her super feminine pastel decor is just a touch too sweet for me, I have absolutely saved up for and purchased several pieces from her line, such as pillow covers and the infamous Kismet rug. *Read my full review of the rug in this post.
They are very well-made and extraordinarily beautiful – the kind of thing that makes you smile every time you look at it. But, it is not always in my budget to buy the originals and that's when it's time to get creative.
How To Get the Caitlin Wilson Look for Less:
Caitlin Wilson's hallmark is the mix of soft and sweet patterns, such as florals, with more structured and geometric patterns.
She does this effortlessly while matching slightly uncommon colors, like pinks and blues together, or her most recent pairing of pink and red.
Her own home and shops serve up style and inspiration in a serious way, making it easy to fall in love with the look and want to immediately replicate it in your own home.
Lookalike Caitlin Wilson Pillow Covers: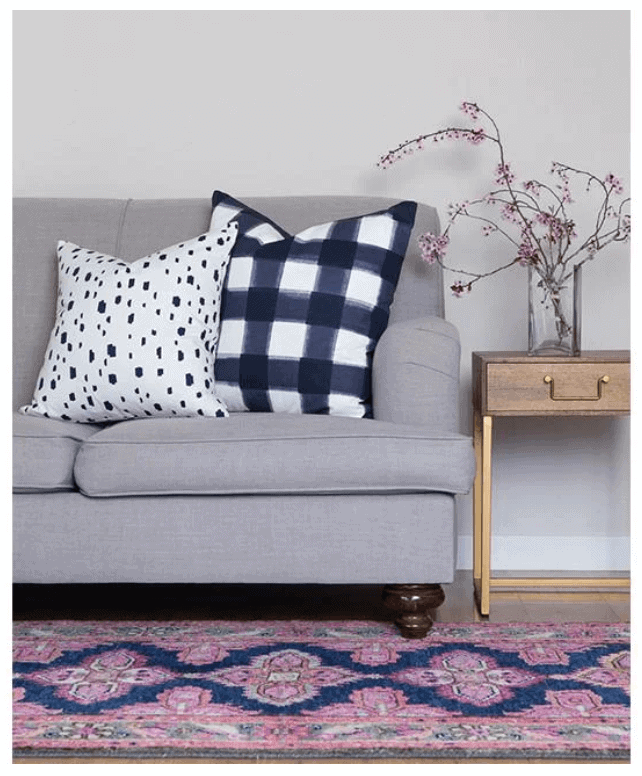 For today's lookalike lesson, we are focusing on three pillow cover designs that you can dupe for much less than the CW originals.
Of course, the originals are gorgeous and probably superior in quality – but sometimes, you don't or can't spend that price, so a lookalike is going to be perfect.
Note that none of these pillow covers come with the inserts, so you'll want to scroll to the bottom for tips on how to get deals on the best pillow inserts. Affiliate links are used below.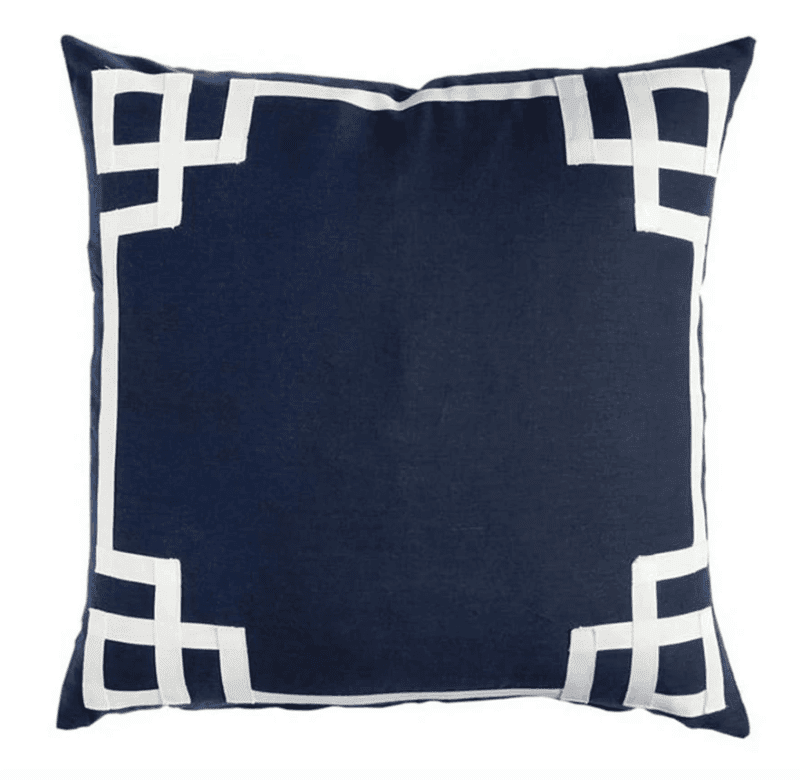 I originally splurged on these gorgeous, well-made pillow covers for our main sofa in the living room.
Made of a heavyweight linen cotton with the white ribbon stitched on, these are gorgeous and have beautiful texture. Offered in 5 sizes ranging in price from $68 to $98, these are spot clean only.
While these are beautiful, I have small kids and a dog. Sure, these pillows have held up well so far, but I've often wondered if it was the right thing to splurge on when I found these incredible lookalike for a fraction of the price:


The Greek key is printed on the material, making it impossible to get the stitching ripped or the edges frayed.
Also made from a cotton linen material and available in 3 sizes. Print is on both sides, so you can flip it over if something gets on one side.
Talk about an incredible dupe on the original for a great price!
Check out the affordable Greek key pillow covers here.
2. Caitlin Wilson Velvet Pillow Covers: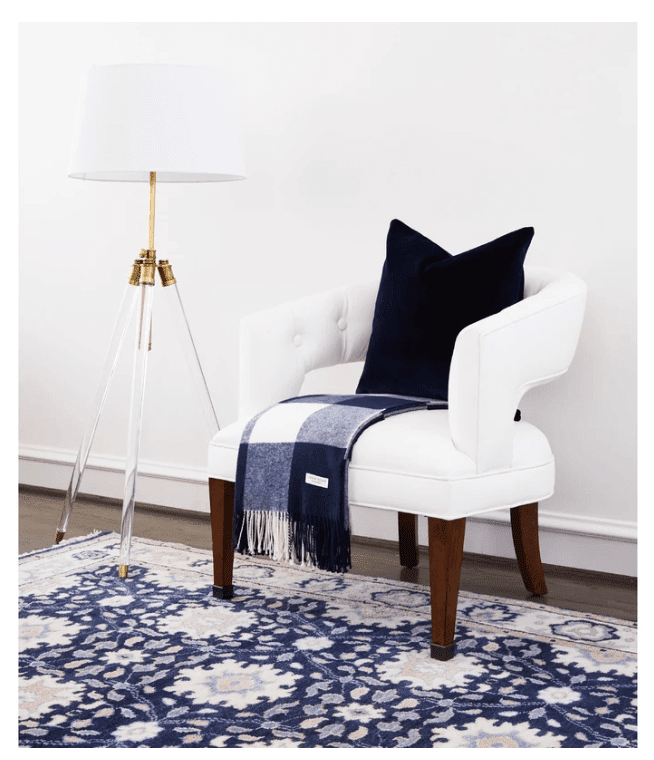 I'm obsessed with velvet. Touches of velvet here and there can add so much beauty and depth to design.
I have added in touches of velvet in everything from velvet curtains to velvet pillow covers and you bet I wanted these stunning navy blue velvet pillow covers: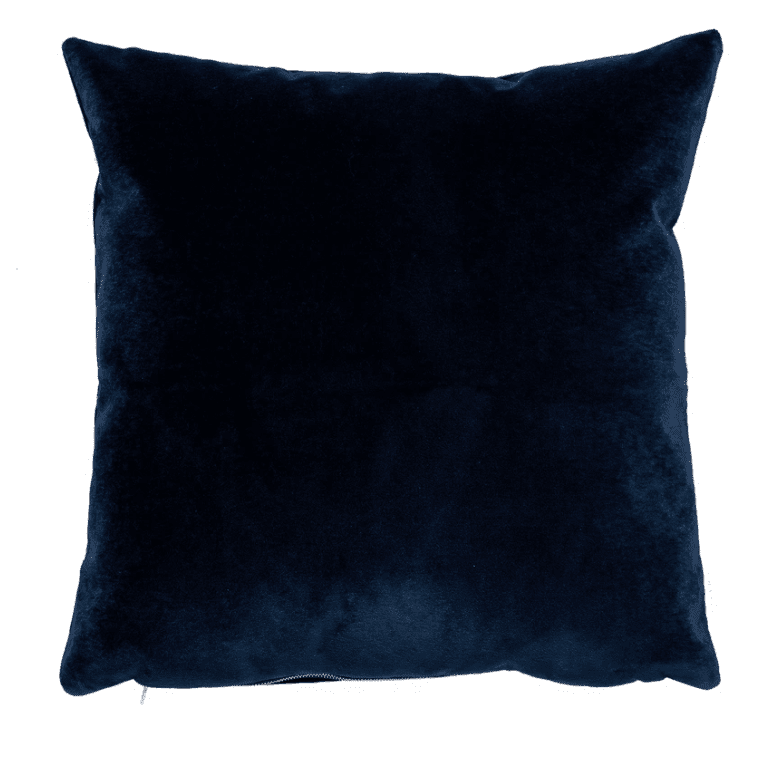 They also come in a beautiful french blue, the signature color of the CW line.
But, you can save a fortune by grabbing these dead-on velvet pillow copycats from the Amazon retailer Miulee: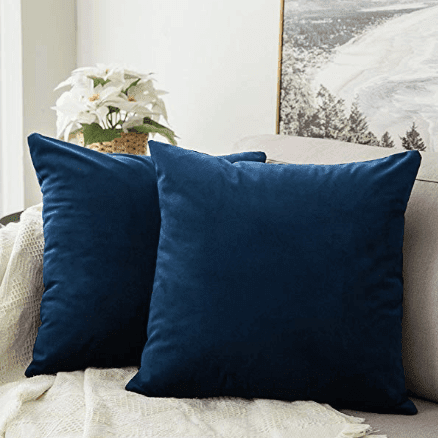 This pack of two will run you less than $15. Wow.
And, they have a whole line of velvet pillows in lots of colors, including several geometric embossed velvet designs for added detail.
Check out the Miulee velvet pillow covers here.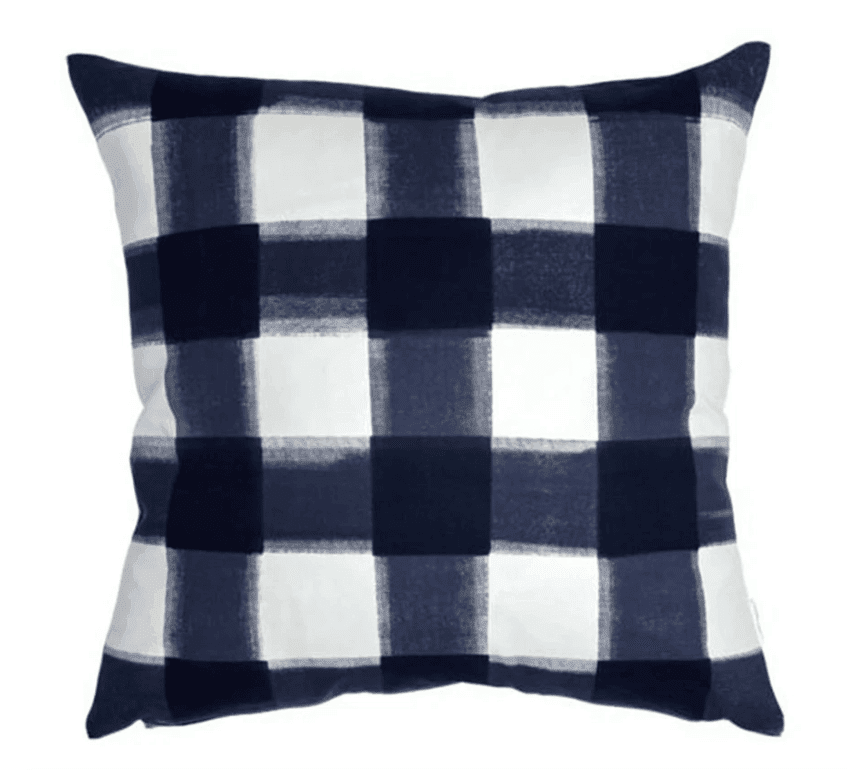 The navy burnside buffalo check pattern that started my love for Caitlin Wilson, her version of buffalo check is one of my favorites.
And, if I were upholstering barstools or buying one of her gorgeous upholstered settees – you bet I'd save up to have this exact pattern.
But, when I was picking buffalo check pillows for our loft, I didn't want to spend hundreds of dollars on just these pillows, so I found these dupes:

And, I was able to get two for less than the price of one CW pillow cover. In fact, I think I got all 5 pillow covers and pillow inserts for less than one large buffalo check pillow cover.
They come in 7 sizes and 13 colors at time of posting.
Score.
Check out the buffalo check pillow covers here.
On that note, let's have a brief lesson pillow inserts:
How To Pick Pillow Inserts:
The most important thing to remember is to buy a pillow insert 2 inches bigger than your pillow cover size. So, if you an 18×18 pillow cover, buy at least a 20×20 pillow insert or you can even go bigger to 22×22 for more fluff.
There are a lot of pillow insert types out there, but there are two main decisions you need to make:
These are going to be a variety of synthetic, down or real feather inserts.
Synthetic will be more affordable
Will give you that perfect staged pillow look
Gives a great karate chop
Can start to peek through the pillow cushions
Can go flat often if feather/down mix isn't right
More affordable
Need less re-stuffing
Have hypoallergenic options
Look a little less glamorous
At the end of the day, pick the pillow inserts in your budget. Just get them 2 inches bigger than your pillow covers or you'll wonder why they don't fit.
****
Are you a deal seeker or do you prefer to safe and buy the brand name?
I can definitely appreciate both and it depends on where the item is going and how we are going to use it!
I love sharing design, decor and great deals. If you like blog posts like this, you might also like these:
Have a fabulous day,
E