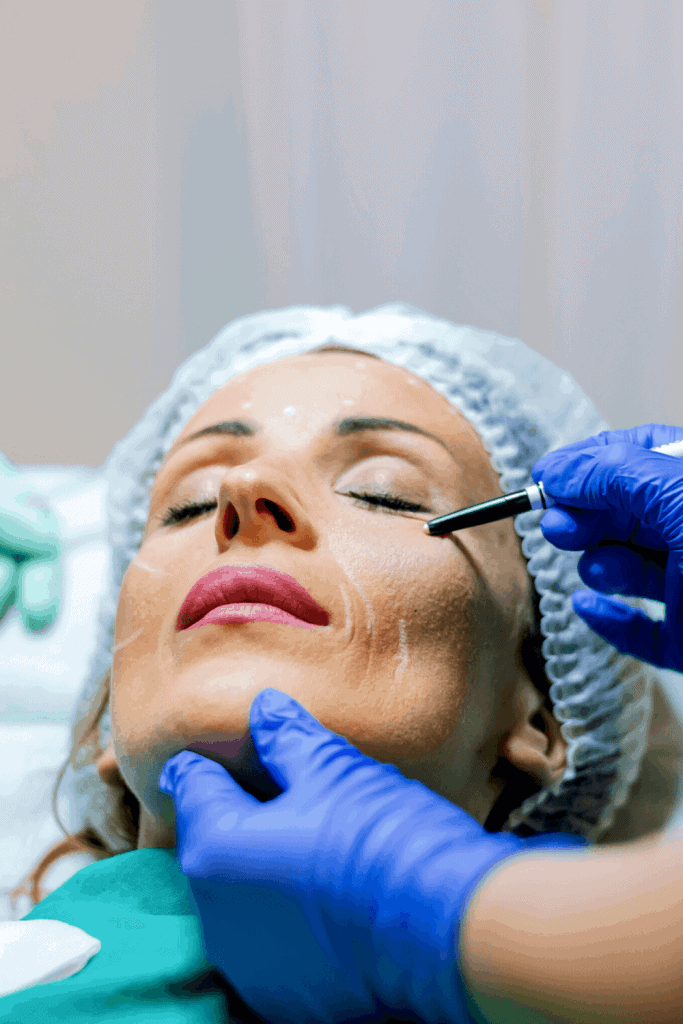 Welcome back to Part 3 of Erin's facelift journey! If you've stumbled on this post first, you're welcome to go back and read Part 1 and Part 2 to get caught up.
At this point, Erin has now been healing from her facelift for two full weeks.
In this update, she'll be sharing what it's been like to heal slowly (is healing ever fast enough, though?) and we have more pictures to show you how all those bruises and face wraps are doing, too.
By now, Erin's emails and texts to me were sounding a lot more like her normal self and she even told me one day that she was braving the public to go to the store!
Let's dive in to the story in Erin's own words:
Facelift Recovery: Two Weeks Later
Day 8:
I must admit to being spooked by the doctor's mention that a band might form under my neck if I don't keep my chin up. My focus has shifted to keeping my head aligned while walking or sitting. When your neck feels like it's strangling you, it's easy to let your mind get away from you and think the worst.
A girlfriend, who had a facelift, said her swelling didn't go down until week four. I'm only at Day 8, so I must trust the process and keep my fears at bay.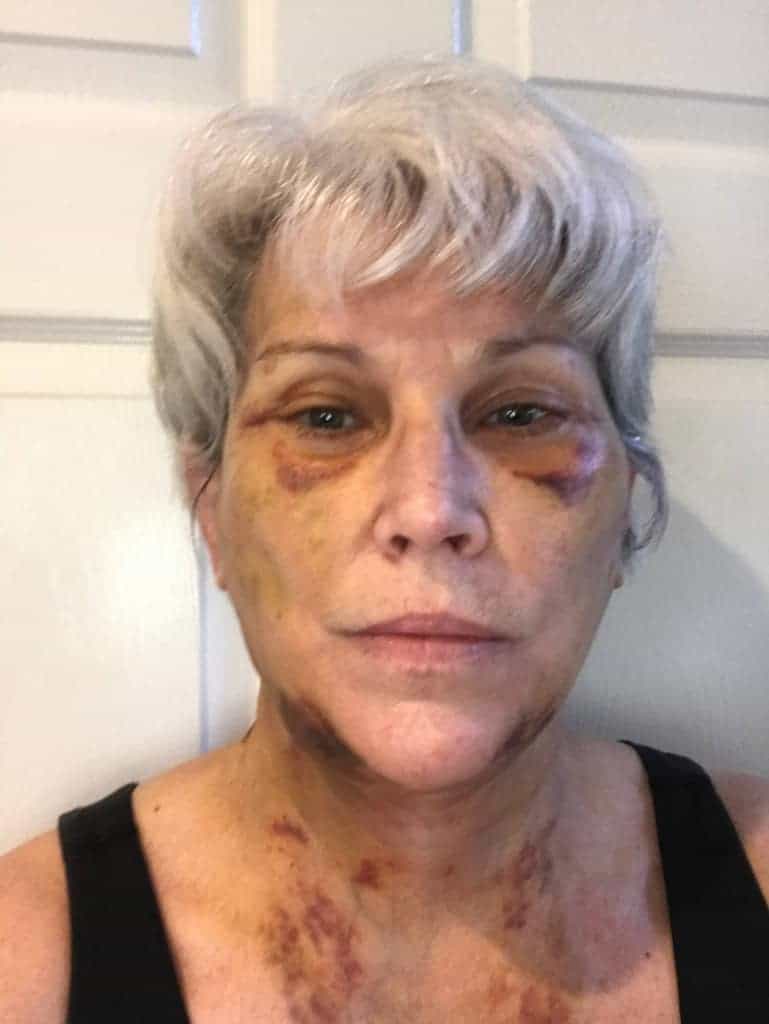 Day 9:
Today, Wednesday, marked the first time I was able to sleep in my bed the entire night. I didn't wake frequently or move to a chair or sofa. Progress.
The bruising has dissipated in several spots, but it's still darkest under my chin.
I noticed a couple areas of concern. One is around my right eye, and another is under my chin, right-side also. I'm going in tomorrow to be checked out. Maybe it's nothing, but I'll feel better having a professional look at it.
Day 10:
Just got home from the surgery center. I was seen by the doctor's assistant, as he was in surgery. I showed her my first area of concern by my eye. She took a couple of pictures and then pulled in another doctor that was available. He explained there was nothing to do at this time, but massage the area and allow the swelling to resolve. In the future, a small area may need to be cut with one or two stitches around my eye. It would be a very small procedure and I could drive myself.
I did read in my information packet that sometimes additional small procedures are necessary. No one wants to hear this, but at the same time, I knew it could happen and am grateful the area can be fixed, and that I can drive myself.
I was also given a head-strap to help reduce the swelling under my chin. It applies pressure to the chin area and it attached by Velcro at the top of my head. I've not seen this look on Project Runway. As I stared into a mirror, it felt like my desire to improve my looks was getting further away.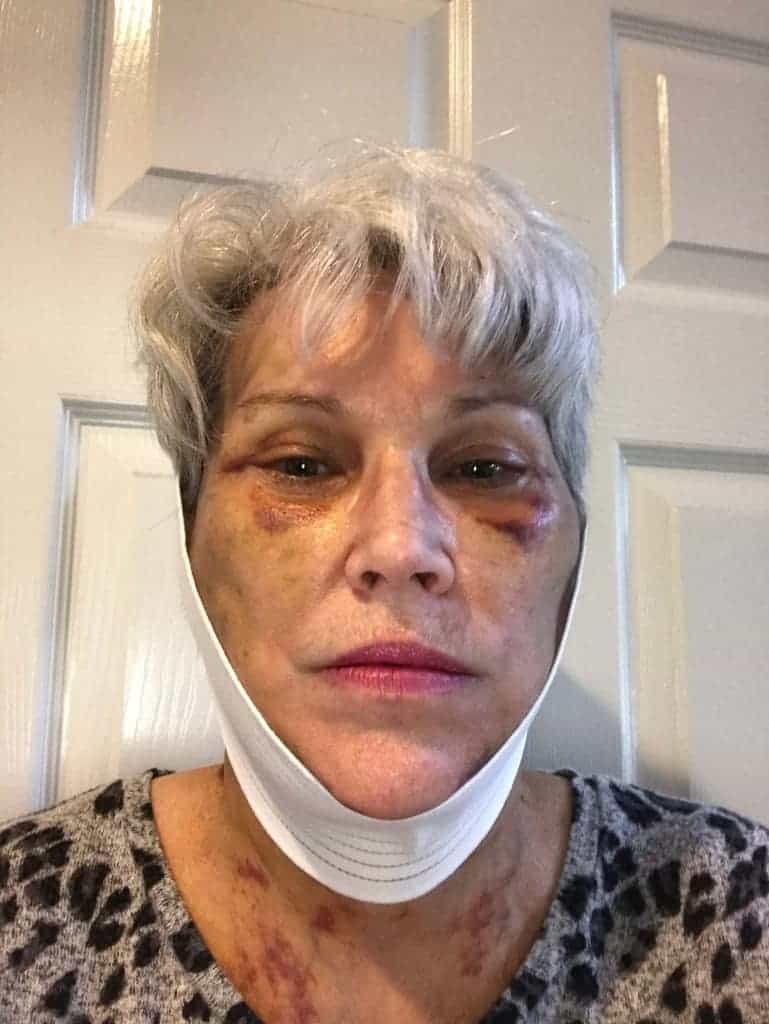 I drove for the first time today and that was my positive. It felt fantastic to do something so normal. I don't have the neck movement I'd like, but I do have all the safety features on my car.
(Just received a call from my doctor's office, he wants me in at 10:00 a.m. tomorrow so he can personally look at my right eye.)
Day 11:
Happy Friday. The good news – all my stitches and staples are out! A few stung when pulled, but most I didn't feel. I'm hoping I will sleep a little better now.
The disappointing news. I will need to wear the chin-strap full-time for the next two weeks. I have extensive swelling under the right side of my chin and the strap is supposed to alleviate it. The doctor advised there was nothing to drain.
My doctor agreed with yesterday's doctor, that I'm to massage the skin on the right corner eye-bone, in hopes that the skin loosens up on its own. The doctor doesn't want to cut today as he feels there may not be enough skin to stitch. He'll make another determination on February 19th.
I set myself up for disappointment by thinking I'd be totally healed by the end of week two. My healing is going to take longer due to the amount of bruising incurred.
Day 14:
I've diagnosed myself with Cabin Fever. I feel physically good enough to travel about town, but the bruising and the chin-strap prevent me from taking action. Consecutive bad hair-days are guaranteed when one must wear this contraption wrapped around one's head.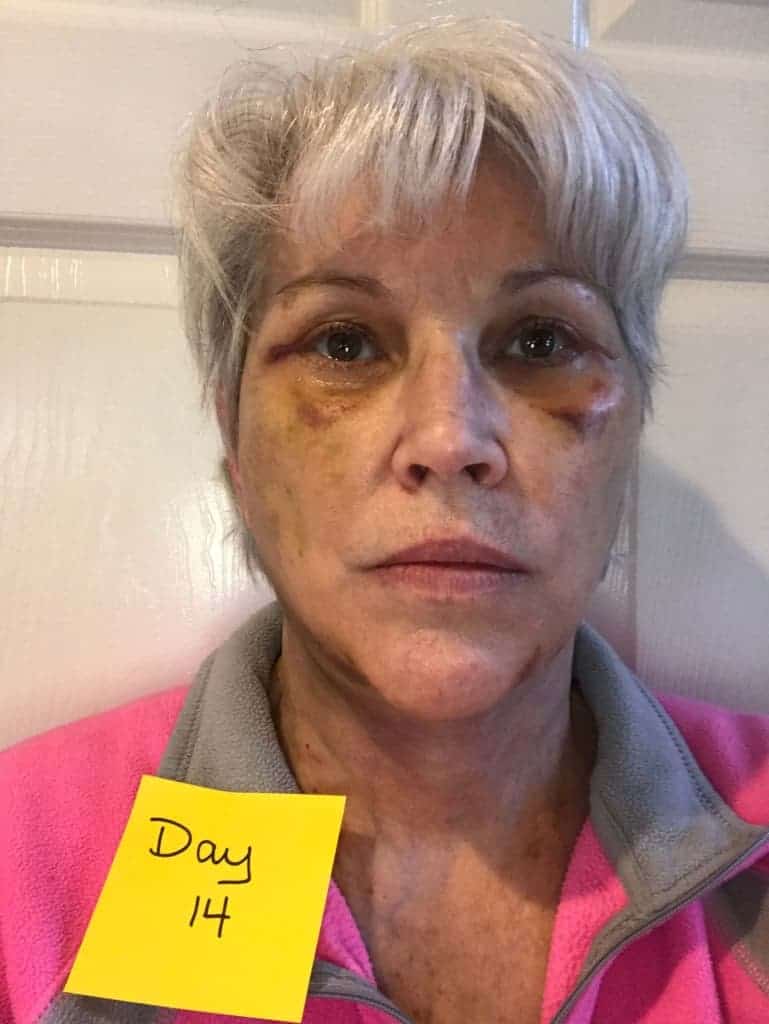 Facelift Recovery: Lessons Learned
I discussed with my friend, Andi, what we could have done differently, within the first 24 hours, that might have improved my recovery time. We talked about the drive home. That could have gone smoother if I had previously set the car seat in a reclined position. In doing this, the seat would have been readied for the return of my senseless body, and my head would have rested in a better position for the drive home. As it was, Andi said I kept dropping my chin down which was not the desired position.
The second thing I wish I'd done was gone straight to bed once we'd returned home. I didn't understand, before surgery, how out of it I'd be when released. When Andi and I entered my home she helped me to the recliner, as was my plan. What we didn't count on was my inability to set the chair back in the appropriate position. So the chair remained upright and my head fell forward. The skill-set to recline the chair didn't return to me until about 8:00 p.m. that evening.
I don't know if these actions would have lessened the swelling and bruising, but my neck and head would have stayed in a better healing position within the first crucial 24 hours. I just had no concept on how loopy and helpless I be during that time period.
****
The recovery from last week is demonstrative! Already there is such improvement and the incredible results of the surgery are noticeable, even with the bruising and headgear.
The next part of her story will be when she and I can meet again after the shelter-in-place is lifted, so we can take after photos in the same place we did before her surgery. Update: The finale post is now live here!
And, to see her two-year surgery update – read this post!
I think those side by side pictures are going to show a significant difference!
As always, feel free to reach out to Erin if you have questions regarding her personal journey.
If you want more info on Erin, here's a little more about her:
Erin G. Burrell is an author and a Tarot card reader. Her book, That's Why You're Here, is available on iTunes, Audible, and Amazon. You can connect with Erin through her website or email.
Have a fabulous day,
E