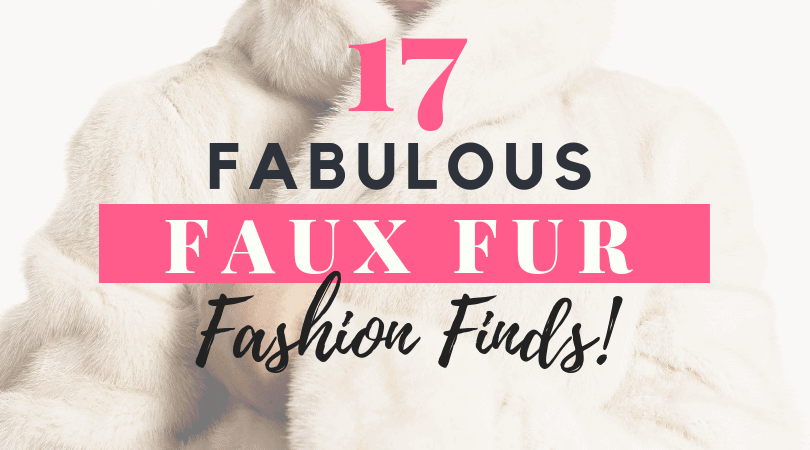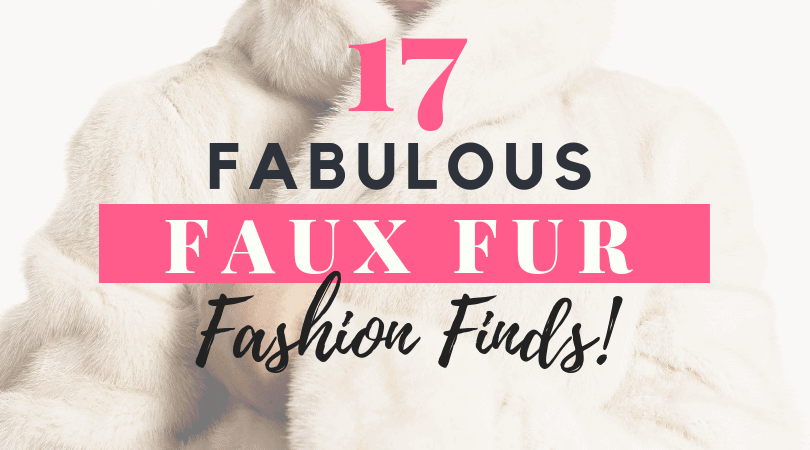 Get ready for a major faux fur moment. Because, like most women right now – I just cannot get enough.
There's something so luxurious and, yet, effortlessly chic about faux fur – in any capacity. From faux fur rugs to blankets, faux fur coats to vests, you name it – I want faux fur ON. IT.
Somehow it feels a bit frivolous, too, even though it's also highly functional and stands up to wear and tear very well. I should know – my toddlers have put my faux fur items to the test #TrueStory
But, I won't give up my faux fur without a fight. They add such delicious texture to a room or chic volume and alluring softness to any outfit.
In fact, I'm cozied up with a faux fur blanket right now. #Jealous?
Don't be. I'm about to share all my faux fur secrets.
But, first, let's do a quick vocabulary lesson on three words that are popping up a lot right now in the fashion world and can be confusing – Faux Fur, Teddy, and Sherpa:
Faux Fur:
Faux fur is engineered to feel soft and have the appearance of fur, but without using animal hair. But, a lot of products say it's faux fur – when it actually looks more like Sherpa.
Teddy:
This word is everywhere right now, thanks to all the cool bloggers and designers who can't get enough of their teddy coats! Teddy is also an engineered fabric, very similar – and sometimes interchangeable with- faux fur. But, teddy is supposed to be even fluffier and bigger and softer – like a teddy bear.
Sherpa:
Sherpa has been big for awhile and is another synthetic fabric, this one designed to look like a soft sheep's wool. It's typically a bit more subdued than the look of faux fur or teddy and used as lining.
Sherpa is also sometimes called faux-shearling or just shearling (although authentic shearling IS made from sheep's wool).
The Best Faux Fur/Teddy Coats:
We saw a HUGE avalanche of teddy coats and faux fur coats this winter.
And THEY. ARE. GOOD.
Let's take a look at some of the most fabulous, yet affordable, faux fur finds: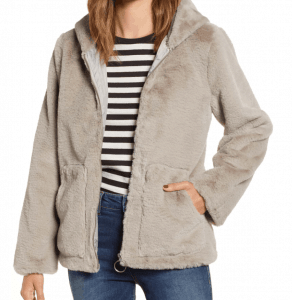 1. Vigoss Faux Fur Jacket with Hood
Doesn't this look so cozy? Plus, I'm a huge fan of a hood. With two small kids, mama ain't got no time to mess with an umbrella.
Plus, 40% off brings this lovely girl down to $53.40 at the time of posting. I mean, come on. #AddToCart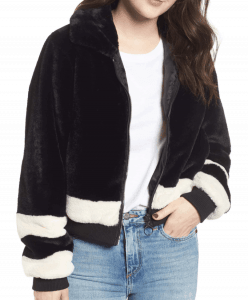 2. Ten Sixty Sherman Faux Fur Bomber
This girl is chiiiiiiic. And what a killer gift for the fashionable lady in your life.
And, on sale for just $41.40 – it's a gift for your budget, too.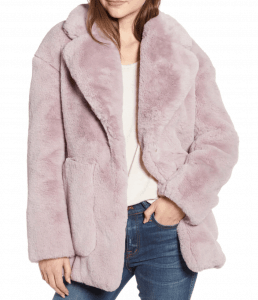 3. Madewell Faux Fur Coat
Madewell just nails it. Time after time. Their lines are clean, the cuts are flattering, the designs are solid. Fabrics are always high quality. #BAM
They just have their finger on the pulse. And this furry little lilac number is both classic and unexpected. Expect to save some money, though, since it's 25% off.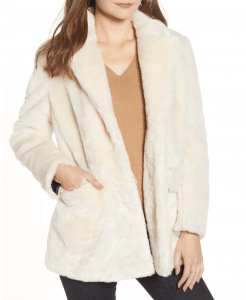 4. J.Crew Yuna Teddy Faux Fur Jacket
Even J. Crew is getting in on the teddy/faux fur jacket game. This is more subdued than a lot of the popular teddy coats – but I like it. This one will stay wearable long after the neon, puffy teddy coats have finished their day in the limelight.
I also really like the softer collar design and the pockets.
I mean, there has to be pockets, or is it just me? Oh, and it's 50% off, bringing this beauty down to $123.90. #RUN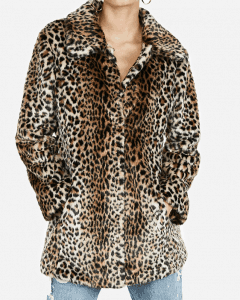 5. Express Leopard Faux Fur Jacket
I mean, how could I not? Seriously?
Just give me all the leopard and nobody gets hurt.
Are you as obsessed with leopard as I am? I actually think leopard and cheetah prints are timeless. So, feel free to splurge on this baby – or should I say – save, because she's on sale for just $99.
Are you thinking what I'm thinking?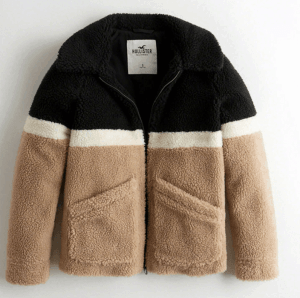 6. Hollister Colorblock Faux Fur Jacket
Totally obsessed with this. Love the color blocking and the bomber style. Love the teddy/faux fur look. Love it. Love it. Love it all.
I find Hollister fits a size small for the women. But, read the reviews and figure out what works for you, because at $79.95, you won't want to leave this one in your bag for long.
Or, what a great gift for the lovely lady you're shopping for. #Lucky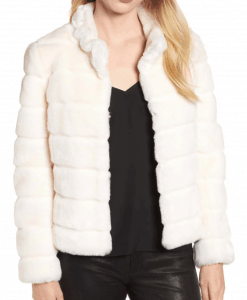 7. Kristen Blake Quilted Faux Fur Jacket
And then they went and quilted the faux fur? I mean #YAAAASSSSS
This is a sexy, furry little number! Especially paired with some faux leather leggings and some booties.
Gimme this jacket and a strong coffee and I could rule the world.
****
Now, because inventory is changing all the time, here's the link to the general faux fur, faux shearling, teddy category on Nordstrom.com, so you can see what's available.
Or, don't forget about Nordstrom's stepsister, Nordstrom Rack, their online store gets so many great deals you won't find in the stores. Shop their faux fur collections here.
I also think Express, Hollister, Abercrombie, J. Crew and H&M get really great faux fur collections, too. And, of course, Amazon will always deliver – you just take the risk on unknown shops. Click on the name to be taken to their faux fur category!
Faux Fur Vests:
Don't limit yourself, friends. Faux fur has so much more to offer you than just coats.
And if you live in the land of perpetual sunshine, like we do, then investing in a lot of outerwear just ends up heartbreaking. You'll wait all year to dust off those gorgeous threads, only to wear them for just a few short weeks before bagging them right back up.
But, if you go for a vest, you can really lengthen the season. By pairing with a long sleeve you can add warmth or a short sleeve brings it right into spring. See, this is how I rationalize these additional purchases.
#You'reWelcome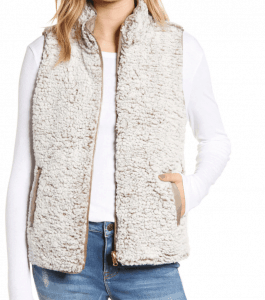 8. Thread & Supply Reversible Faux Fur Vest
So cute. It comes in a beige and a blush color. One side is this soft, cuddly faux fur and the other is a chic, quilted jacket. Retails for $68 and is not on sale – but it probably will be soon, since other items from them are on sale already.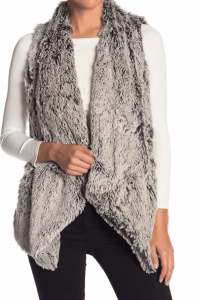 9. Wit & Wisdom Faux Fur Vest
GORG. This brand is so good. They are the designers of the infamous mommy-panel jeans.
They hold in the little muffin top you get after having kids #Cheers
This vest is at the Rack for just $44.97! #SOLD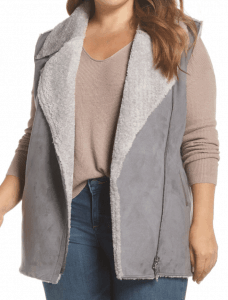 10. Love Token Faux Fur Suede Vest
Love the different textures in this vest. The creamy gray is such a great neutral, too.
And at 50% off, you won't feel neutral about the price. What a steal.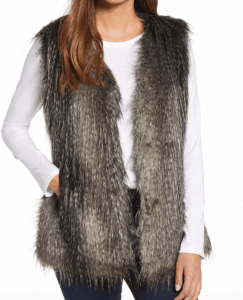 11. Via Spiga Faux Fur Vest
Hello showstopper. Get ready to own the room. This one certainly has the more faux fur look.
Dress it up. Dress it down. Just get dressed in it.
33% off and under $150? Make it happen, Capt'n.
#MATCHERS!
Who doesn't love matching with their mini-me? I totally thought I would never do this.
Then I had a daughter. And she's the cutest thing on earth. And she loves her mama. And when we match, she gets so damn excited.
So, guess what? We match. We match hard.
I think we need these vests.
Oh, and you can get BOTH of them right now for under $50?!
Take it – just take my money and run!
Find so many more adorable, affordable vests on Nordstrom Rack: Faux Fur Vests For Mommy & Me
Faux Fur For Your Toddler:
Why should you have all the fun? Kid clothes are cuter than ever! Now that bigtime designers like Juicy Couture, Betsey Johnson, and more are jumping in the game with the all-stars like Little Me, Pippa & Julie, Tea Collection – it's a whole new world of toddler fashion.
My kids definitely dress better than me and I am DOWN. WITH. THAT.
Here are some absolutely adorable sets with faux fur vests to outfit your kid:
These are all Nordstrom Rack!
16. I also found this set on H&M and was just #FLOORED: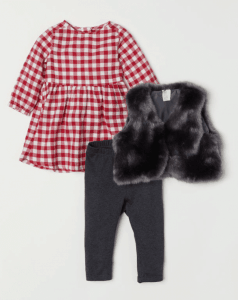 17. This Nicole Miller 3-piece set is holiday party #GOALS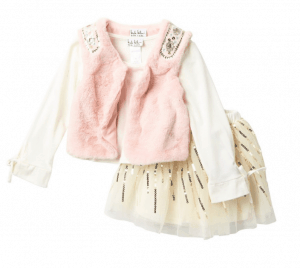 ****
Can I just have one of everything? Pretty please?
Don't forget – faux fur makes for incredible blankets, too. I write about them in my Blanket Gift Guide.
And, faux fur rugs are my favorite. I find great deals on sites like Overstock.com, Wayfair, Target, and Cost Plus.
BAM! That was a lot of faux fur talk up in here! Are you a fan of the fur? Tell me your favorite piece in the comments below!
Have a fabulous day,
E