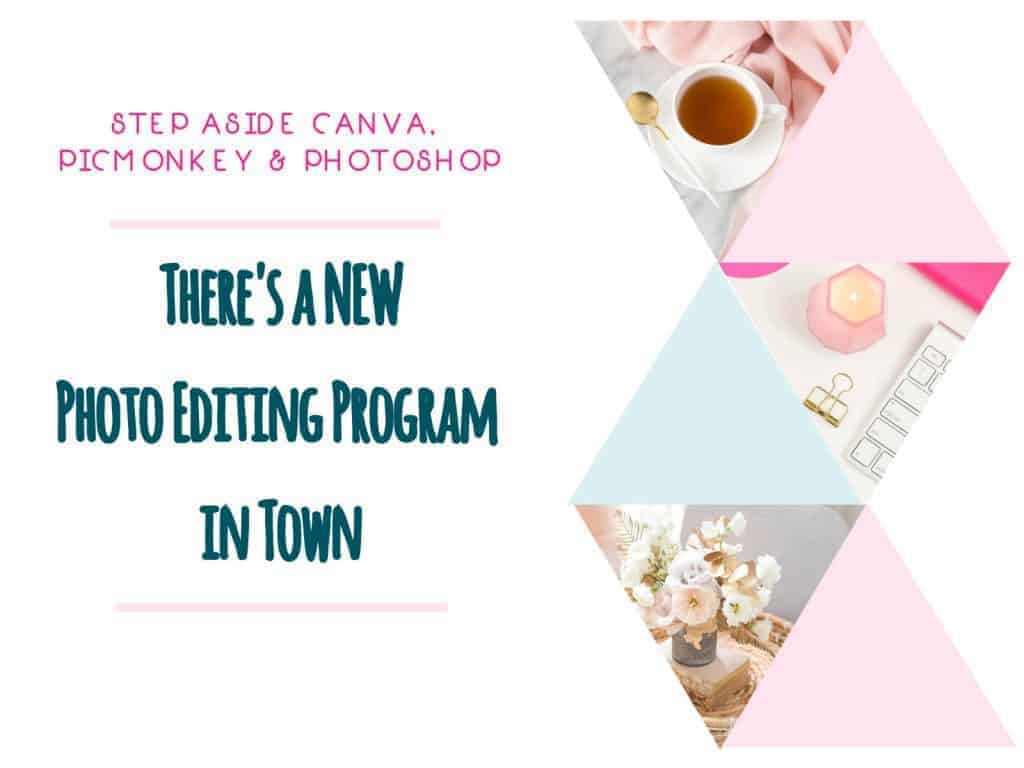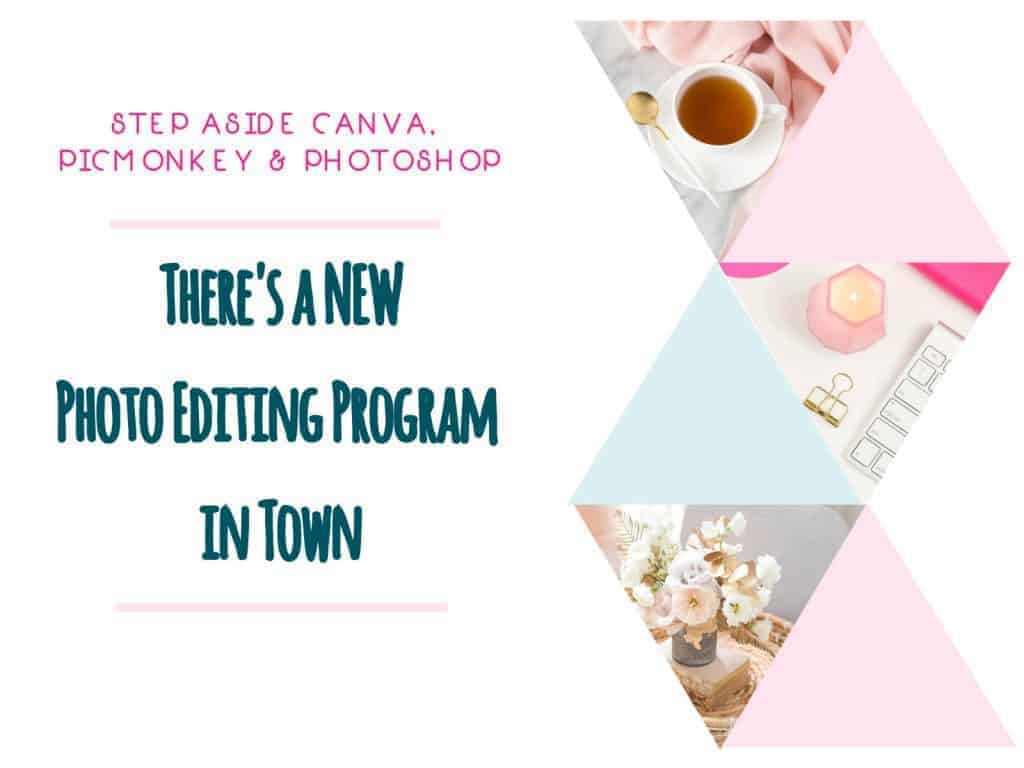 Do you like Canva? Picmonkey? Photoshop? Then, you're gonna love Fotor, The Online Photo Editor & Design Maker.
When I first started blogging, I read all the things about where to get free, high quality stock images and how to create those clickable Pinterest images and gorgeous social media squares.
I would spend so long hunting for that perfect picture for that perfect pin or Instagram post and pat myself for a job well done after posting – fully expecting to see it go viral.
Turns out, it's much harder to get a viral pin that I thought.
Much harder.
But, I digress. My point is, as the weeks and months went by, I started noticing that I wasn't the only person using that free stock photo site. I wasn't the only person using that exact same free template from Canva. I wasn't the only person who downloaded that pack of social media templates.
And, when you see 10 different versions of the same pin you lovingly chose – many of them even better than your own – you realize – you gotta get more skin in the game if you're going to stand out.
So, then you start looking for new design tools. You start throwing down some cash for beautiful stock images. You spend longer creating cool collages so yours stand out.
That's why when I found Fotor – I sort of felt like I'd stumbled on this little treasure trove of new ideas, new photos, new templates – and it had more options and functionality than I was getting in any one of the other photo editing tools I was using.
I've been playing around with Fotor a bit – cheating on my other photo editing tools – and I don't feel guilty about it one bit.
And now, I'm going to share everything I've learned with you.
Fotor is a unique online photo editing and design maker tool that has loads of options and functionality for a fraction of the price of other design tools.
Their tools fall under three suites:
Make a Design – think Pinterest, Social Media, brochures, etc.
Edit a Photo – advanced photo editing suite with tons of presets
Make a Collage – super easy collage maker that you can size however you need
There are loads of other features, too. Here's a screenshot of their main page where you can see the dropdown menu of options: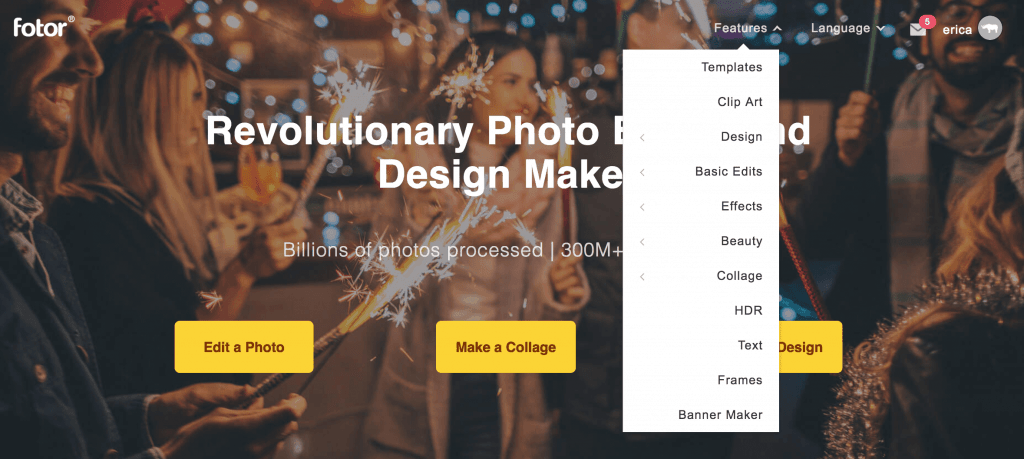 To give you an idea of cost, here's a breakdown of the three most popular design tools used by bloggers:
CANVA: Free with limited tools, $12.95/mo for all tools
PICMONKEY: Basic is $5.99/mo; Pro is $7.99/mo
PHOTOSHOP: $10/mo
FOTOR: $3.33/mo with annual membership of $39.99/yr; $8.99/mo on the monthly plan
Plus, Fotor offers the photo editing and template design maker in one.
Now, full disclosure, I have 3/4 of these, with Photoshop the only one I DON'T have. But, I am phasing out PicMonkey, because I just prefer Fotor and Canva.
Let's take a look at the three main functions of Fotor and how I've used them for blogging and social media use.
2. Make a Design
The #1 way I use a photo design tool is for making images for my blog, social media, and now my shop (oops, did I just let the cat out of the bag on my super secret project? I think i did!).
Now, you should know I am very un-techy and learning new programs is something I dread and usually involves a lot of coffee, a few fits of rage, some definite snacking, and usually results in a nap.
I was pleasantly surprised to find that the way the features and options work on Fotor are sort of a mash-up of Picmonkey and Canva together – so the learning curve was pretty low.
The tools were intuitive and the things I needed were pretty easy to find.
I started by going over to the templates, where they have broken down their options by type: Twitter Post, Facebook Header, etc., and then also by subject.
For example, I was able to select Pinterest templates that were geared towards the lifestyle niche. This image shows how it's organized and which template I chose to work with: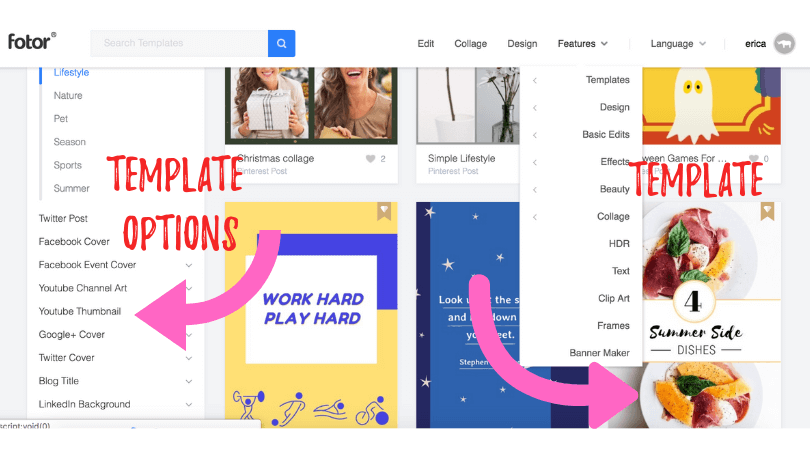 Then, I got to work layering my images in. With other design tools, I usually have to click multiple times to layer images on top or bottom, which can be annoying since usually, that's exactly what I need. I liked that Fotor offered all the layering options upfront, so it was a one-button click to getting my image on the bottom.
Then, I changed the coloring and lettering to match my image. In literally seconds, I had created this image for my post: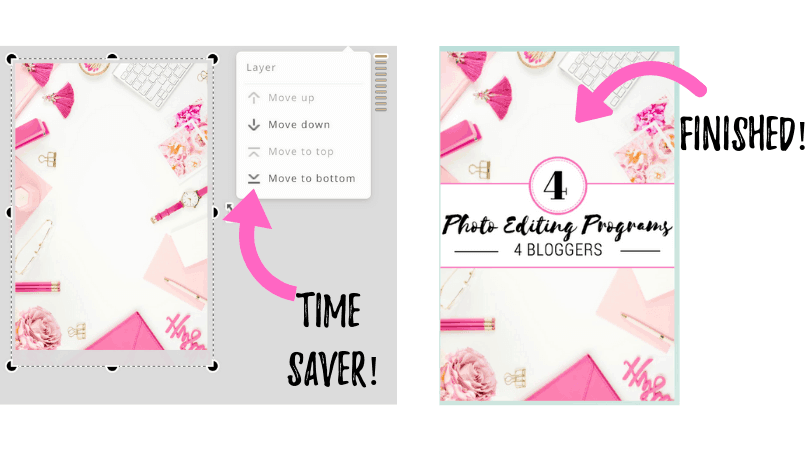 May seem trivial to pay attention to these details, but any blogger can attest to the fact that whenever you can shave time off your repetitive tasks – it's a win.
2. Photo Editing Tool
I'm gonna get real real with you for a sec.
I shoot all my blog pics and social media pics with my iPhone.
#SHHHH
Seriously, though. I shoot them on my iPhone using the Lightroom CC Mobile App.
Just recently, I invested in a pack of Lightroom Mobile presets for editing a bit faster. At $27 I feel like it was a steal – except now I want more. So, #OOPS
The reason I have always done this, even though I have a really nice, high-end camera, is because photo editing tools REALLY OVERWHELM ME.
Like, a lot.
But, the Fotor Photo Editing Tool is legit one that I can get behind. It is the easiest online photo editing tool I have tried yet.
Here's a simple screenshot of the layout: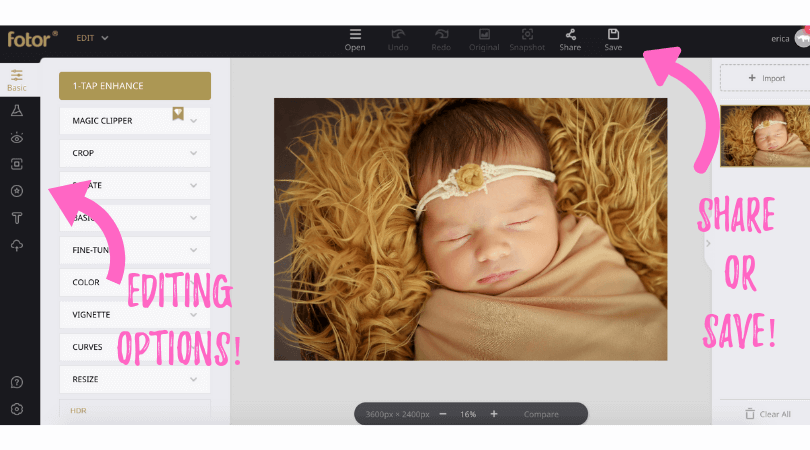 The menu on the left is full of tons of easy-to-use, one-click improvements, including:
Basic: Options like crop, colors, resize, etc.
Effect: Tons of presets and options for adjusting grain, lens flare, and more
Beauty: An AMAZING list of options, such as: wrinkle remover, blemish fix, weight loss, eye shadow, adjusting makeup, and whitening teeth. WOW!
Frames: Great options for how to frame the image.
Stickers: The Fotor sticker gallery is crazy cool.
Text: Layover text to really customize
Cloud: Add some of your own uploaded images
For the first time ever, I feel inspired to bust out my good camera and start playing with photo editing tools.
Because based on this list of options, it seems totally plausible that I can finally accomplish my dream of looking like Jessica Biel in photos.
#SCORE
3. Make a Collage
When I saw this, I was so excited. I mess around with layouts so much trying to get that gift guide to look just right or now to showcase my store products in a Pinterest-worthy way.
It's not easy, friends. It's not easy.
This collage tool really elevates and fast-tracks collage image creation.
For example, here's a screenshot of the Fotor collage page with the collage template that I selected to mess around with.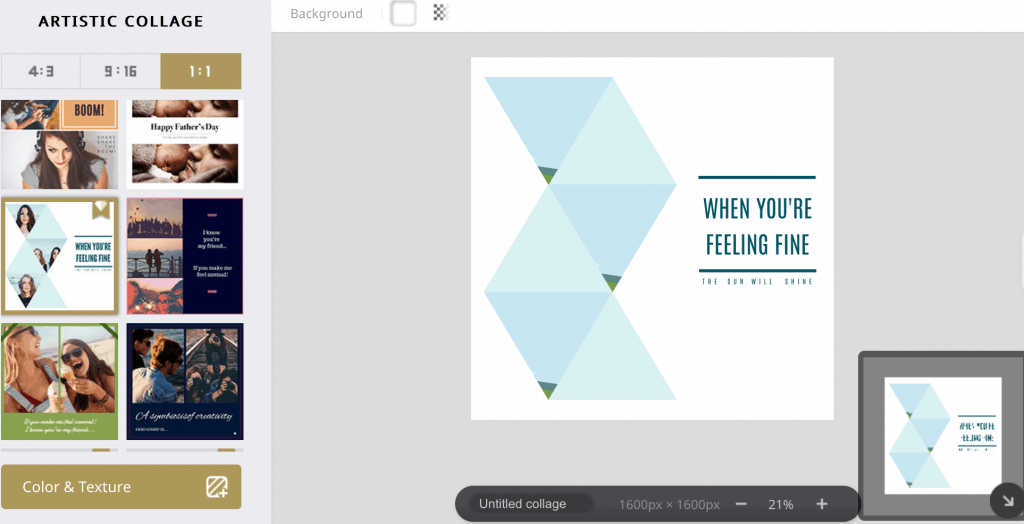 My goal was to create something unique for my social media. I predominantly use Word Swag for cool images, as well as my own photography and some stock photos.
But, like I mentioned earlier, after awhile – everyone's posts start to look alike, because we are all using the same platforms.
I wanted to test out what the reaction would be if I did something totally new.
Here's what the finished post looked like: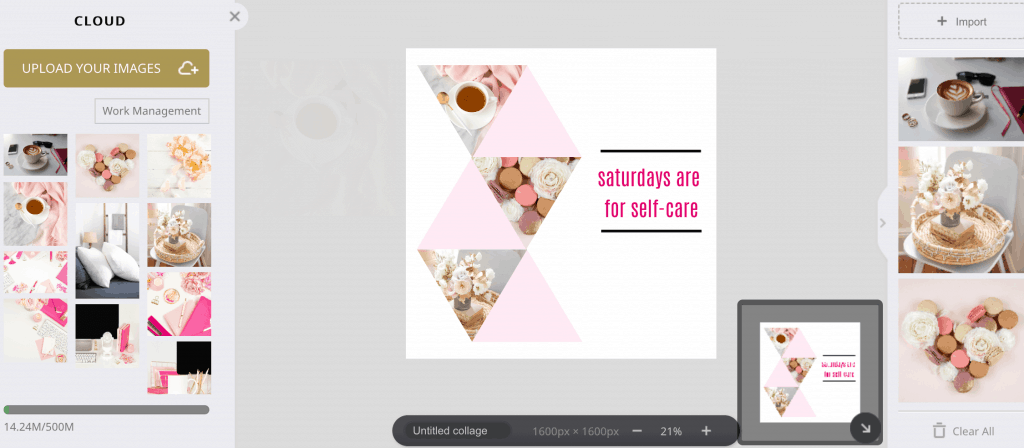 Almost immediately after posting, I began getting not just likes – but comments. We all know that the comments are the gold standard of social media engagement, particularly if they're organic.
Here are some of the cool comments this photo received: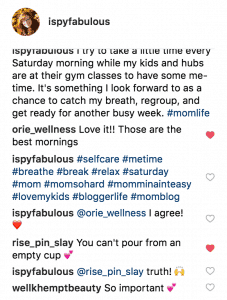 What's really neat about this collage is that it really pops on my page, too.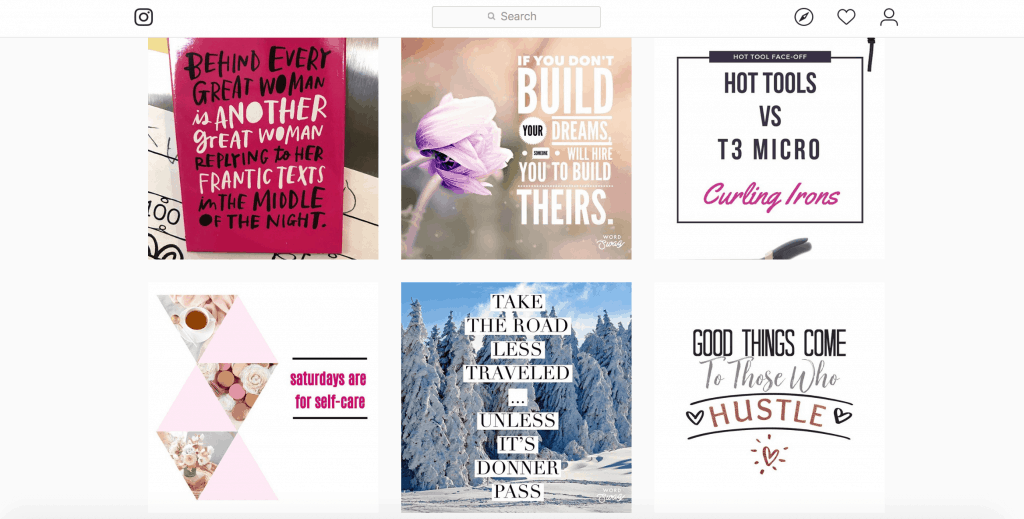 I have to tell you – posting can start to get so mundane, especially when you're not really receiving any genuine reactions from people. I really enjoyed having something new to post and seeing the energy it created on social media.
**EXTRA: STICKER GALLERY!**
I know I've already kept you here for a really long time today, but I wanted to take a minute to share one of the other cool features.
The extensive sticker gallery – and I mean extensive – allows for really easy customizations and overlays.
For me, the stickers that really stood out were the ones for various social media tools and emojis. This can sort of turn any picture into a text message or Instagram story type feel, which can bring a lot of life to other platforms with less options.
For example, here are some snapshots of just a few of the sticker galleries:
Such a fun way to quickly add interest to your images.
****
Truth is, blogging is hard. Trying to create something new and refreshing in a saturated market is never easy.
Finding new tools with fresh templates and cool features is one way we can differentiate our product and stand out from the pack.
Have you tried Fotor yet? What's your opinion?
Or, share your favorite photo editing tool in the comments below.
Have a fabulous day,
E