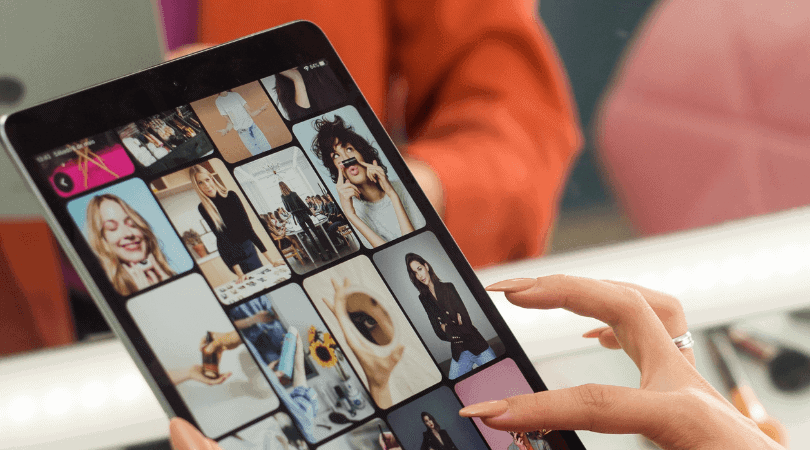 I've been using Pinterest to drive traffic to my blogs and online businesses for years now. Over that time, I've paid for lots of courses, read ebooks and even studied under one of the top Pinterest VAs for bloggers. I once grew my account from just a few hundred thousand page views to over 6 million monthly views in just 6 months. Wowza!
Then, eventually I grew it up to over 10 million monthly views. Along the way, there's been a few Pinterest algorithm shifts that have sank my views – and one massive Pinterest glitch that deleted a ton of accounts in one day (yup, people FREAKED out) and each time I've watched millions of views evaporate over night. Still, I've just kept at it, pivoted when needed, tried new things and continued to keep things afloat.
5 Free Pinterest Templates: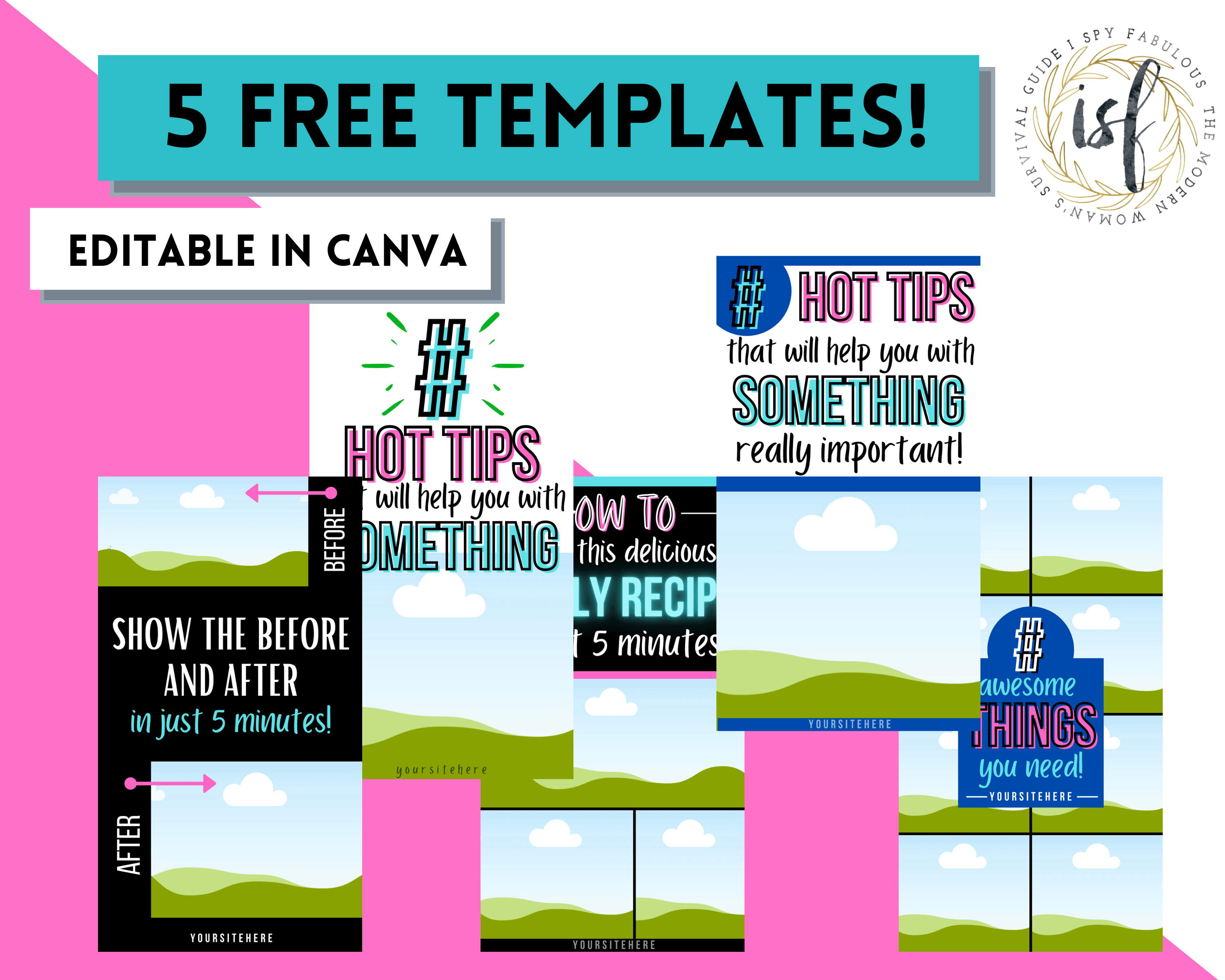 Safe to say, I feel like I know a lot about Pinterest at this point. In fact, I get asked often by other bloggers and business owners how I've done it – which is why I even wrote an ebook about it that shares tons of Pinterest tips – including things I never saw in any of the courses I took.
But, I want to help you out – without you having to pay a dime, which is why I'm going to give you 5 free Pinterest pin templates that you can use for your blog or business – as well as some pinning tips that should work for you.
I say "should" – because every account, blog, business and product are different. The fact is, you'll need to try lots of things and then stick with what works. Then, be prepared to throw that out the window and try something new when an algorithm wipes you out over night. Pinterest is evolving and changing – so you need to as well.
5 Pinterest Tips:
Before I give you the templates, let's go over some Pinterest tips that I think might really help you.
1. Stay Consistent:
Pinterest is a long game. You won't see results right away. Stay consistent, keep posting every day, your own content and other people's content, and growing your account.
You really won't know what is going to take off for a few months, maybe longer, and what goes viral might surprise you. I had no idea my post on celery juice would go crazy on Pinterest.
So, watch your analytics and do more of what is working for you – not the other blogger you're spying on.
2. Pin A Lot:
Yup, common sense? Maybe not. For each new product or post, start with at least 5 new pin designs pinned to relevant boards. Then, loop them in Tailwind if you use it. That's just a starting point. Over time, keep adding new pins for hot products or blog posts. Some bloggers say they have upwards of 50 or more pins out there for popular blog posts.
3. Set Boards Correctly:
Have you ever googled something only to see someone's Pinterest board show up in search results? Exactly. You want to be that person! Set up your boards correctly so you can grab those searchers.
I used to get paid a handsome fee to go through and write board descriptions for big bloggers who never did it. Don't pay someone if you don't have to – add those board descriptions as you go. It's not hard and only takes a few minutes. But, it'll take hours and hours if you wait until you have 200 boards to do it.
4. Try Different Titles:
When making those initial pins, mix up your titles. Try different things to get the click. Then, watch analytics to see what types of titles perform better. Use more titles like that.
And, as you scroll and add other pins to your boards, see what attracts you to click and consider how you can try a similar approach to your own pins.
5. Use Great Pictures:
Try different pictures – your own pictures and stock photos – to mix it up and grab different viewers. Some people are really adverse to clicking on things that look too staged, like click bait. They don't want spammy accounts with a million ads. Other people are looking for a more polished user experience and are drawn to staged photos. So, try different things. See what draws people best to your content.
There are some theories that your own photos will always perform better than stock photography, because they are unique and the Pinterest algorithm will elevate them in search results. I've had some experience with this and can say it does help.
It's Pinterest Template Time!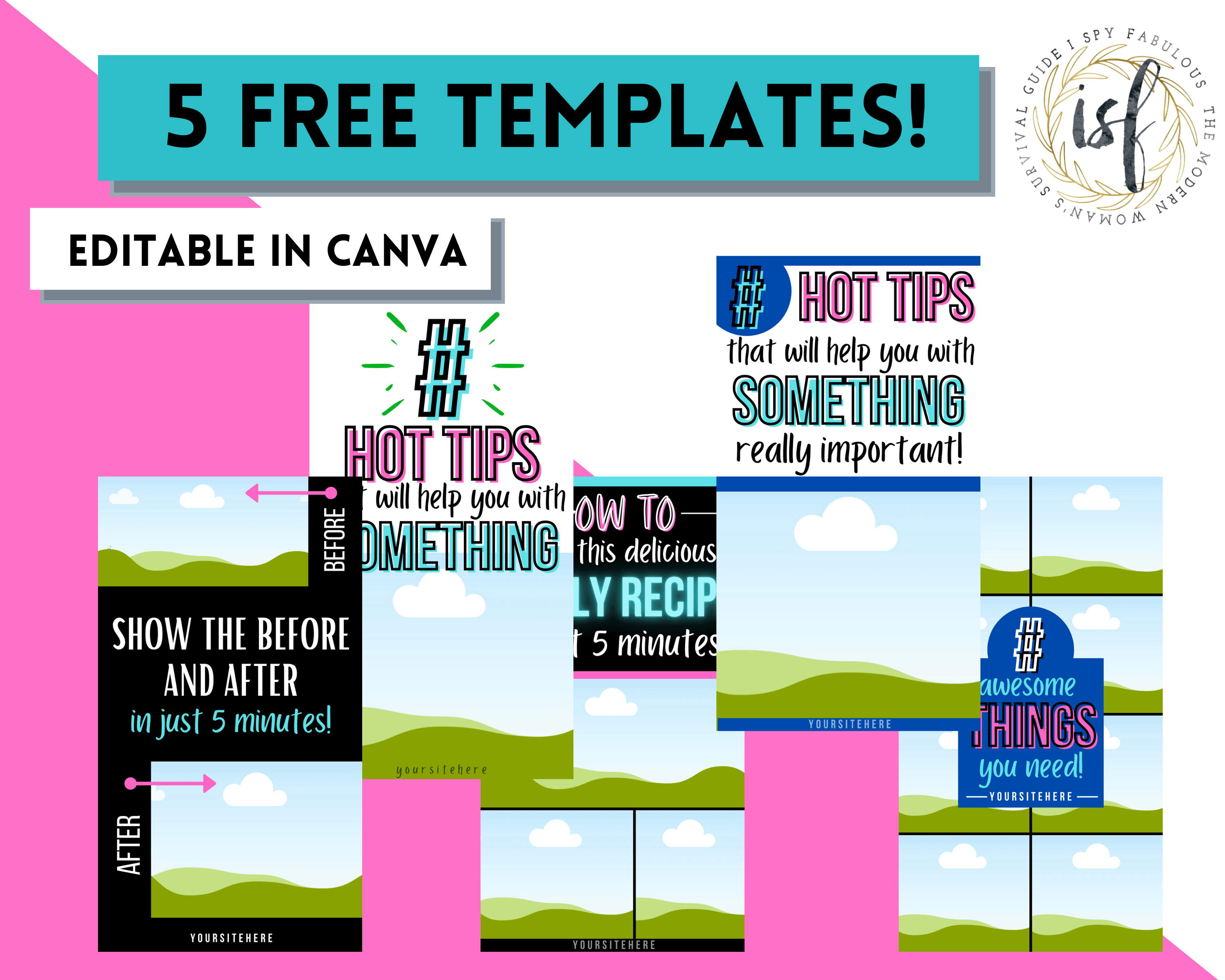 Okay, now that you've read some tips and you're feeling super pumped to make some pins and get them out there, here's how these templates work.
Click on the picture or this link
You'll need a Canva account to use them
Open in Canva, edit and download
Upload to Pinterest
If any features are not working for you – just switch them out. Sometimes, one person's Canva account won't like a certain font that doesn't cause issues for anyone else. So, move things around and swap them out as needed to customize them to your taste and get them to work for you.
To try out Canva using my referral link, go here.
Want More Templates?
If you love these, you might also love my Pinterest packs on Etsy. There are different styles and – you'll get my Pinterest Masters ebook for FREE with any template pack purchase.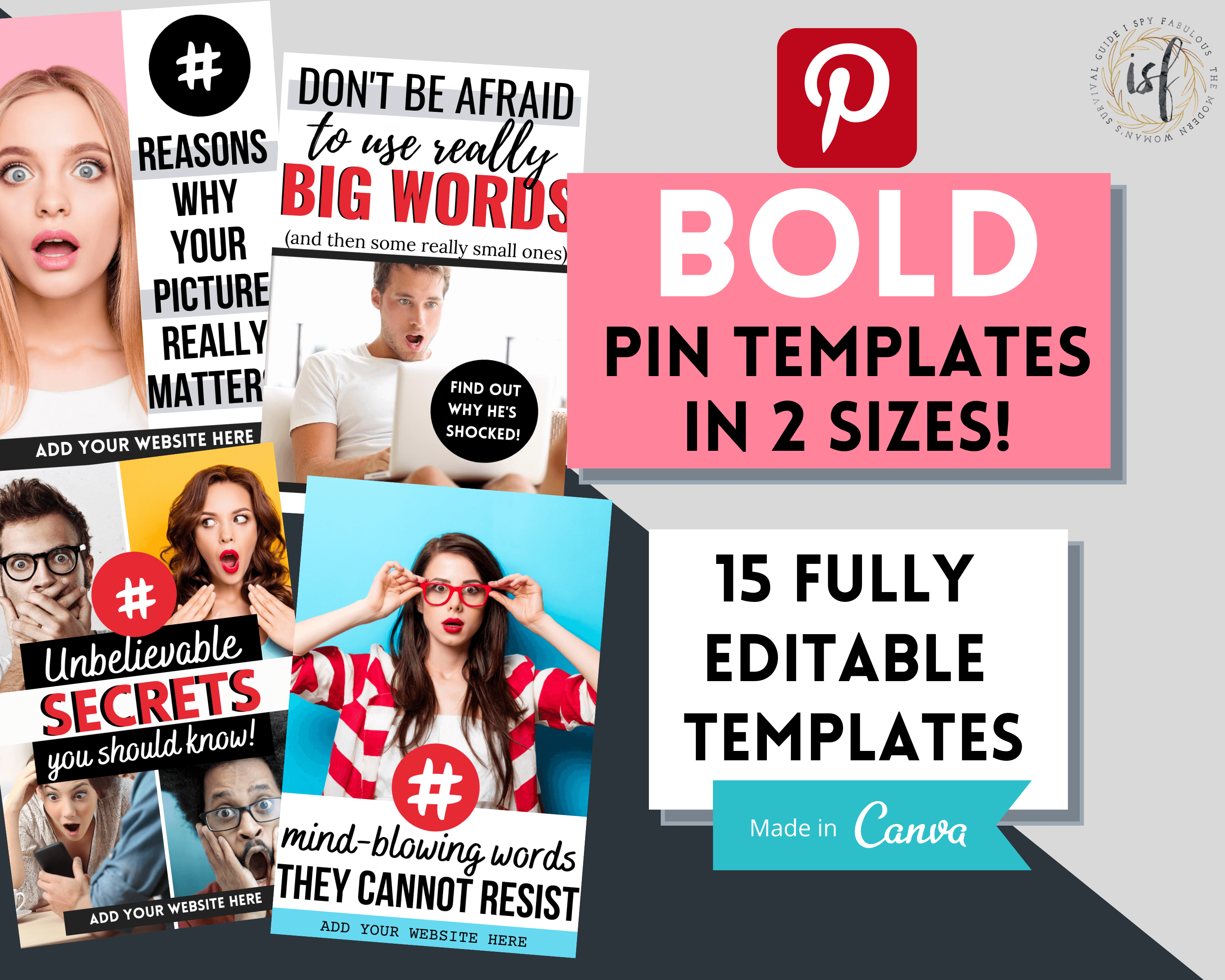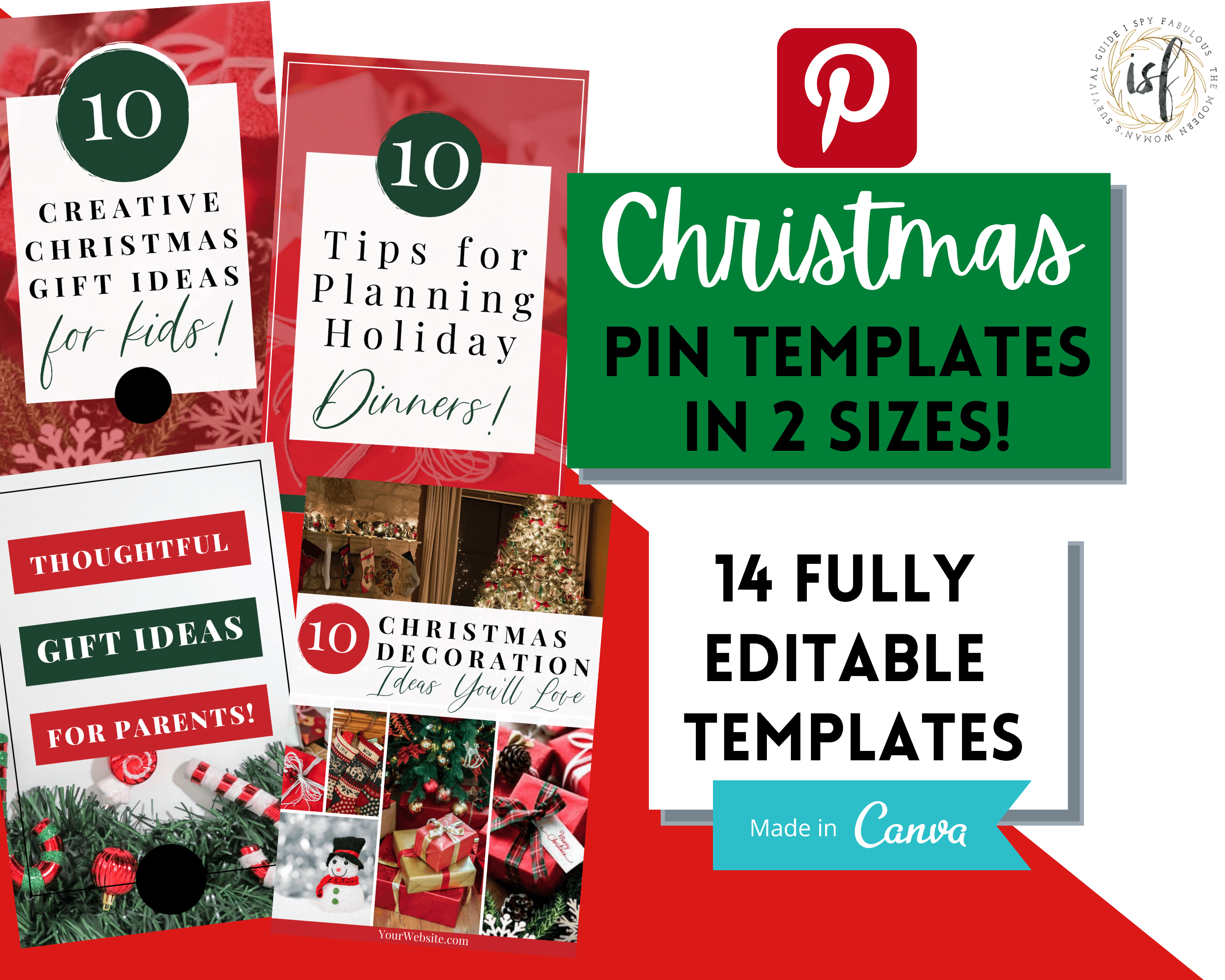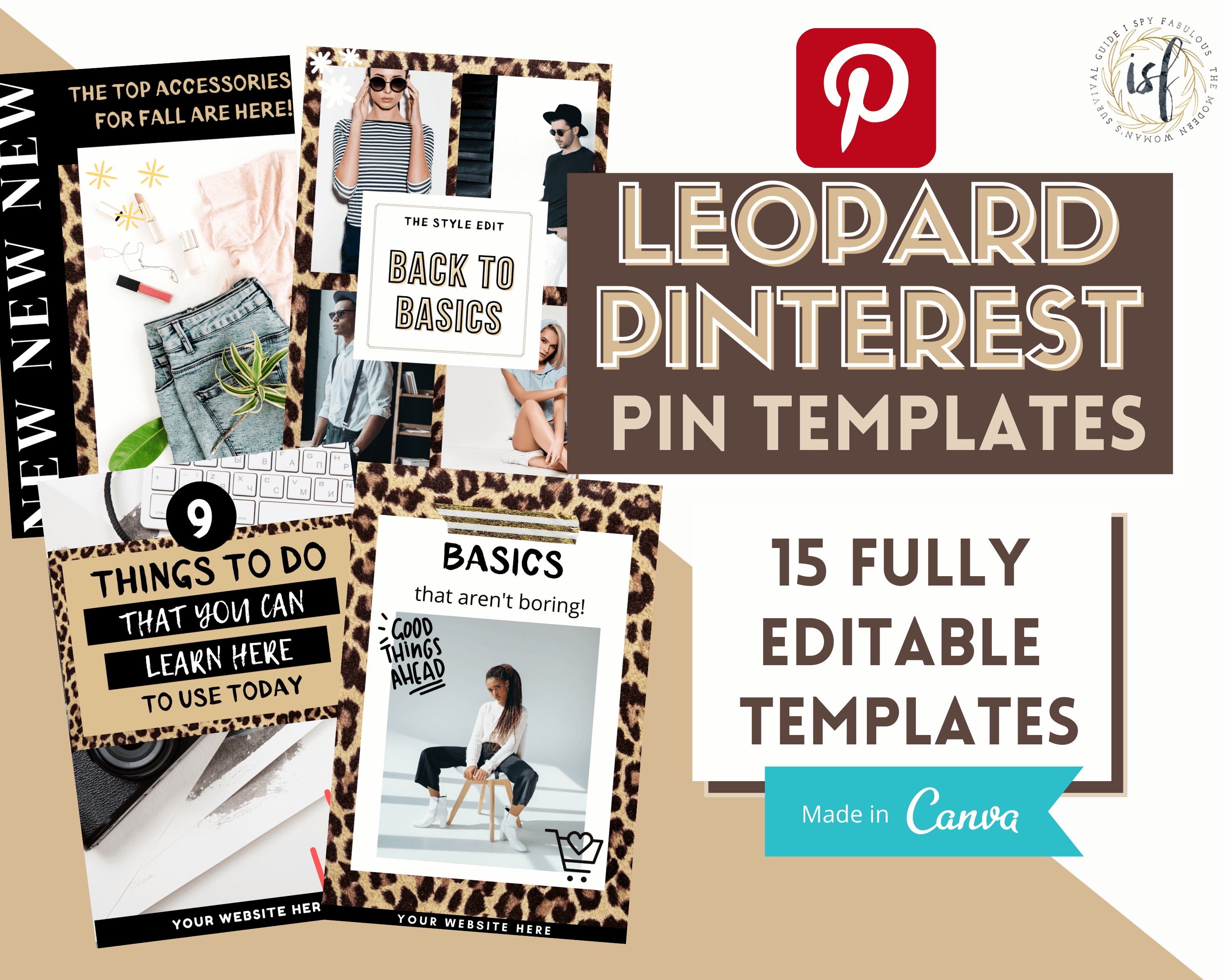 With over 25 pages of tips, tricks and hacks – you'll be a Pinterest pro in no time.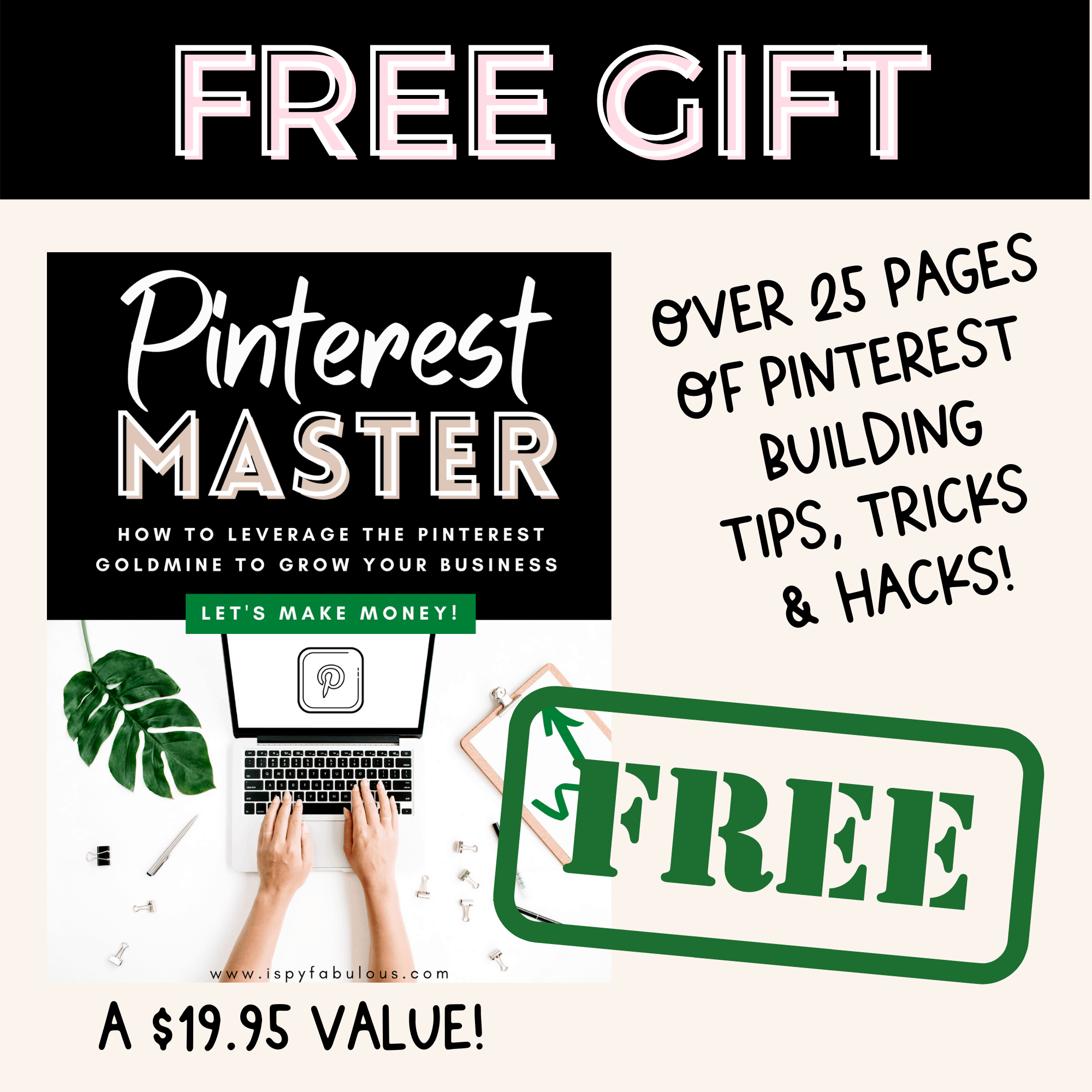 Also, check out these posts with more hot tips:
Check out the shop here and let me know if you have questions!
Have a fabulous day,
E