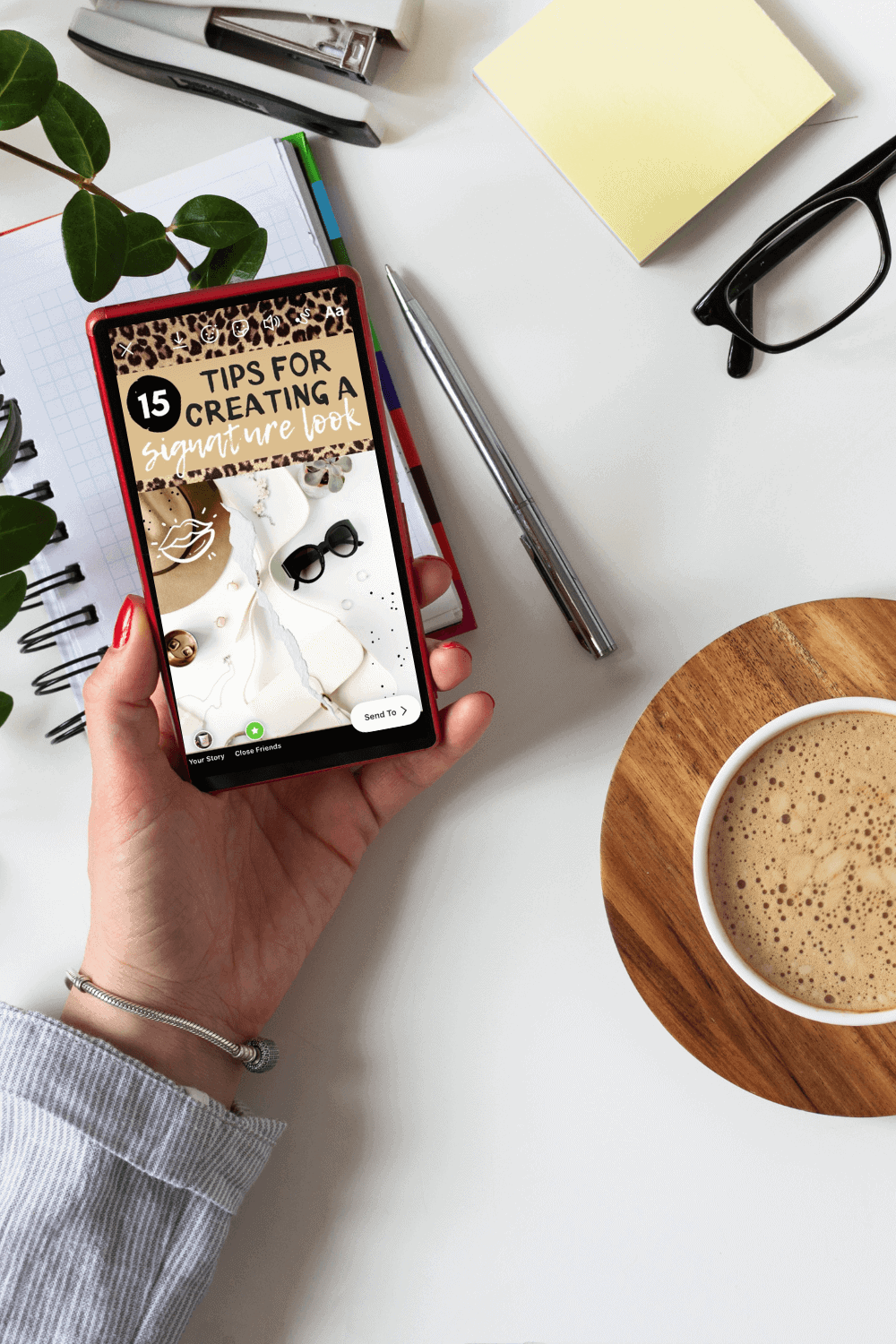 When I started my blog and online business, it didn't take me long to learn that I couldn't continue doing everything from scratch if I wanted it to grow. I was spending hours and hours designing Pinterest pins and Instagram posts for my blog posts – and this was drowning out the time I actually needed to spend on content creation.
I absolutely love (and use) design programs like Canva and PicMonkey, which do offer a good amount of templates that can be customized for your own social media, but I'll never forget the feeling I had one day when I was scrolling my Pinterest and saw several posts from other bloggers with the exact same template and stock photo.
How was my content ever going to stand out in such an over-saturated digital landscape?
Spoiler alert: it's not.
Why Should You Use Instagram Templates:
That's when I started hunting down social media templates that not everyone was using. There are so many great choices out there that you can find to fit your particular brand and business.
Once I started using different templates as the base of my Instagram posts and Pinterest pins, I started to see more lift in my pins and posts. Engagement was up, likes was up, shares was up. My Pinterest traffic started taking off – thanks in part to my templates, but also from my new Pinterest strategy.
Starting with templates is also much faster than starting from scratch and the result is better. Unless you're a trained graphic designer and you can whip up a gorgeous Instagram post template or Pinterest pin in mere seconds, you'll also save a lot of time by starting with a base that gets you as close to done as possible.
Plus, because you'll be using templates that not everybody has access to, you'll see more response from viewers. We all want to see something fresh and new – so your viewers and audience are the same. And, just like a beautifully wrapped gift is more attractive than a gift handed to you in a plastic bag, your content is also going to perform better if you're sharing it with a beautifully designed template.
Fresh & Feminine Instagram Templates:
Let's check out some super easy to use, feminine Instagram post templates!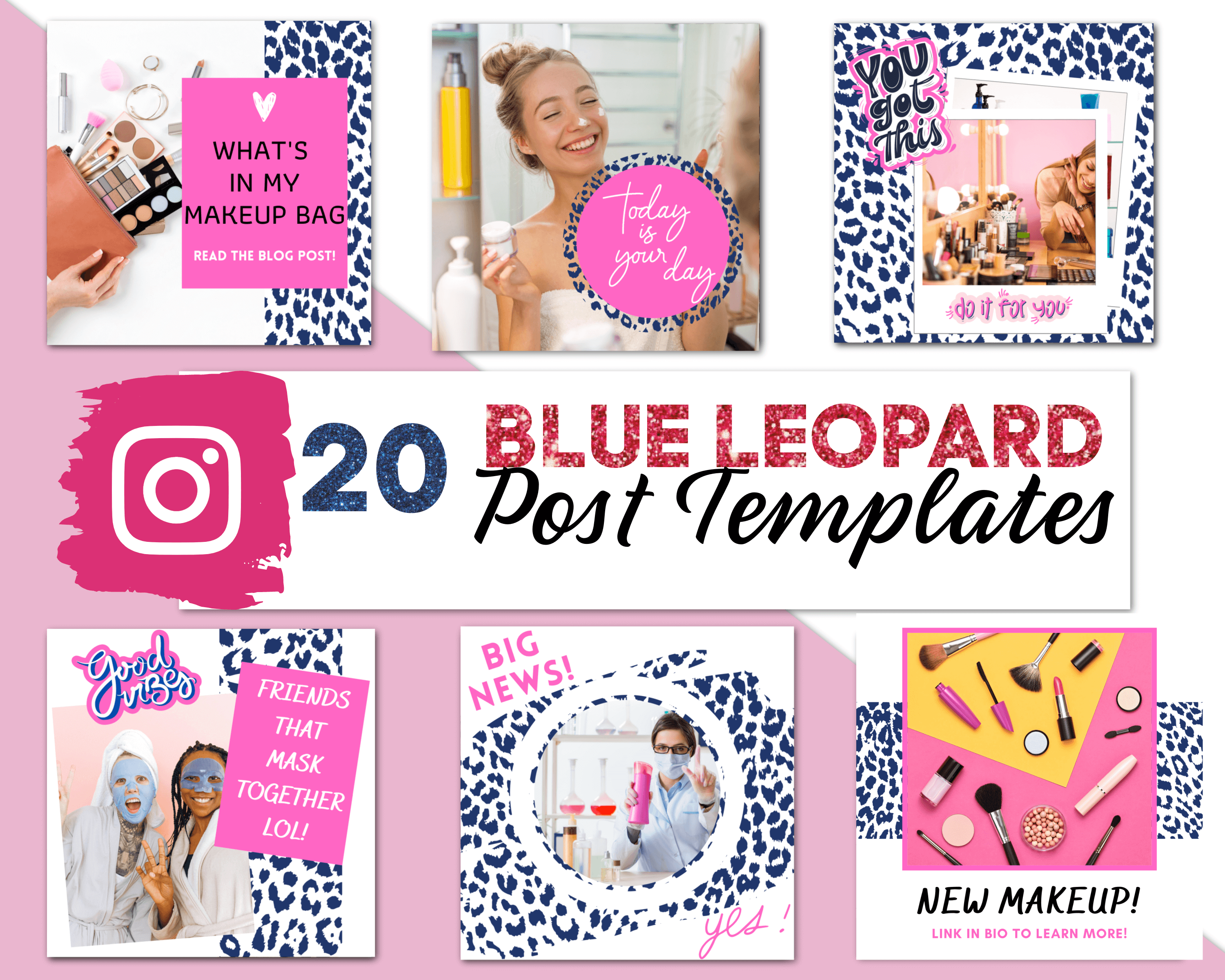 After buying template packs for awhile and seeing the results, I started designing my own when I had the time. I wanted something really fresh and fun – that showcased my unique brand. I Spy Fabulous is all about fun female empowerment and I love using bold colors, scroll-stopping pictures and animal prints.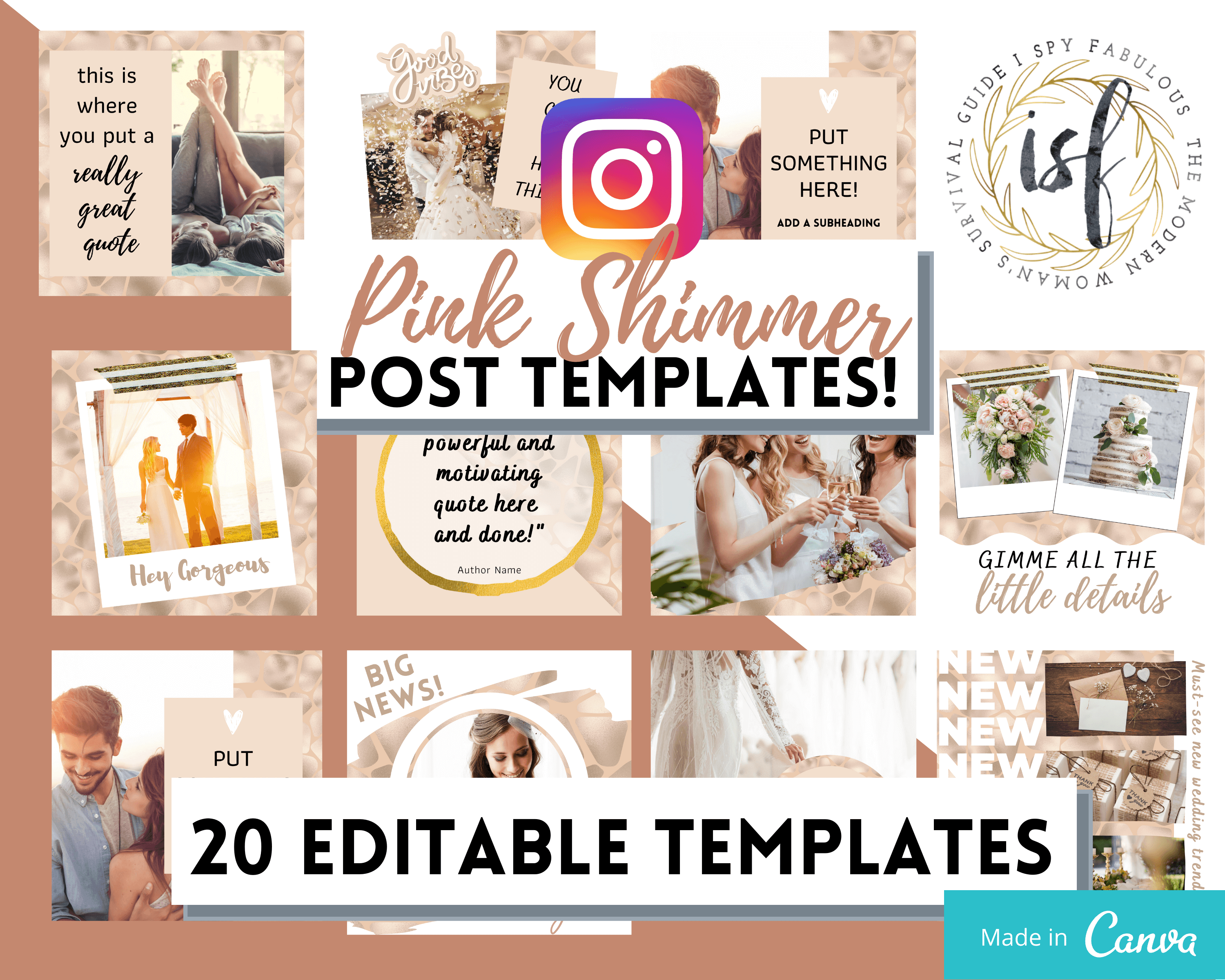 So, I started creating templates that I could reuse that had these qualities. After seeing how many people responded to them, I decided to start offering them for sale in my Etsy shop. When other bloggers and business owners would message me and say how much they loved my leopard print designs and fun social media templates, it motivated me to keep creating more and more!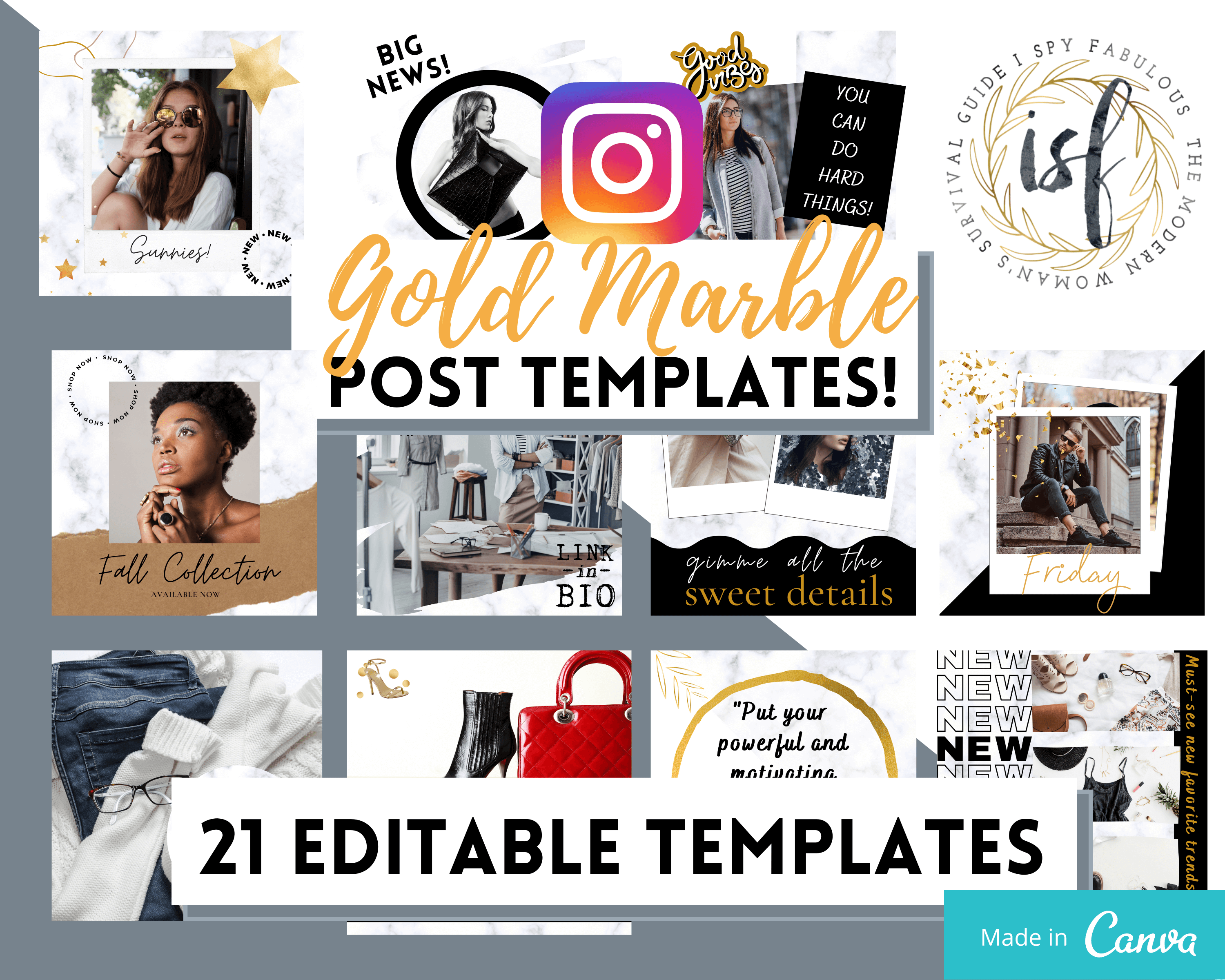 These templates are unique, affordable, and easy to customize. If you have Canva or Canva Pro, you'll be able to use these Instagram story templates and Instagram post templates over and over again.
Instagram Story Game Templates:
In addition to posts, you want to use your Instagram stories to increase engagement! You'll often see people checking out your stories that don't engage with your posts at all. Grab this traffic with engagement boosters and games that can be used over and over again!
Template packs make it a breeze to post fun games. Just edit in Canva, download and post.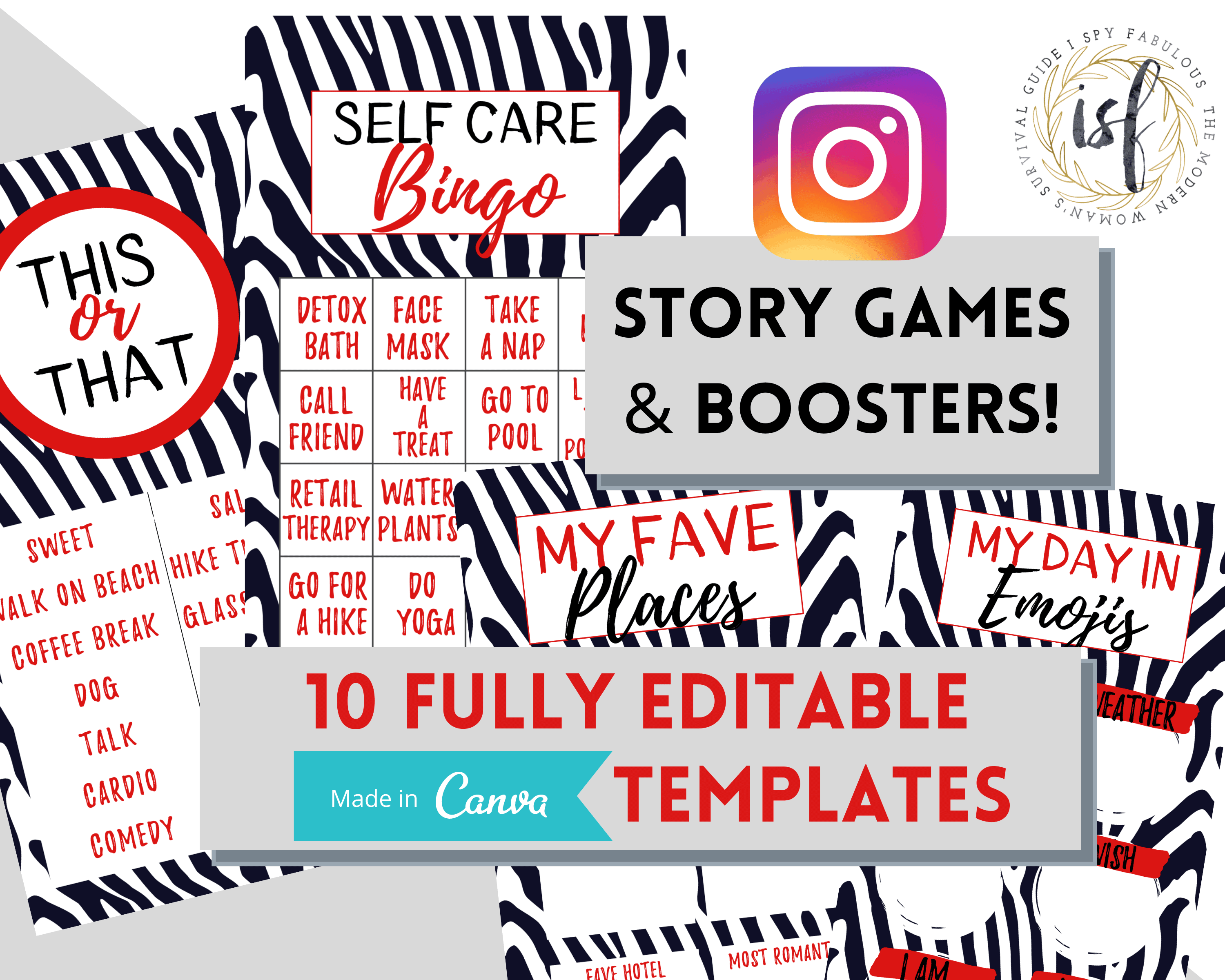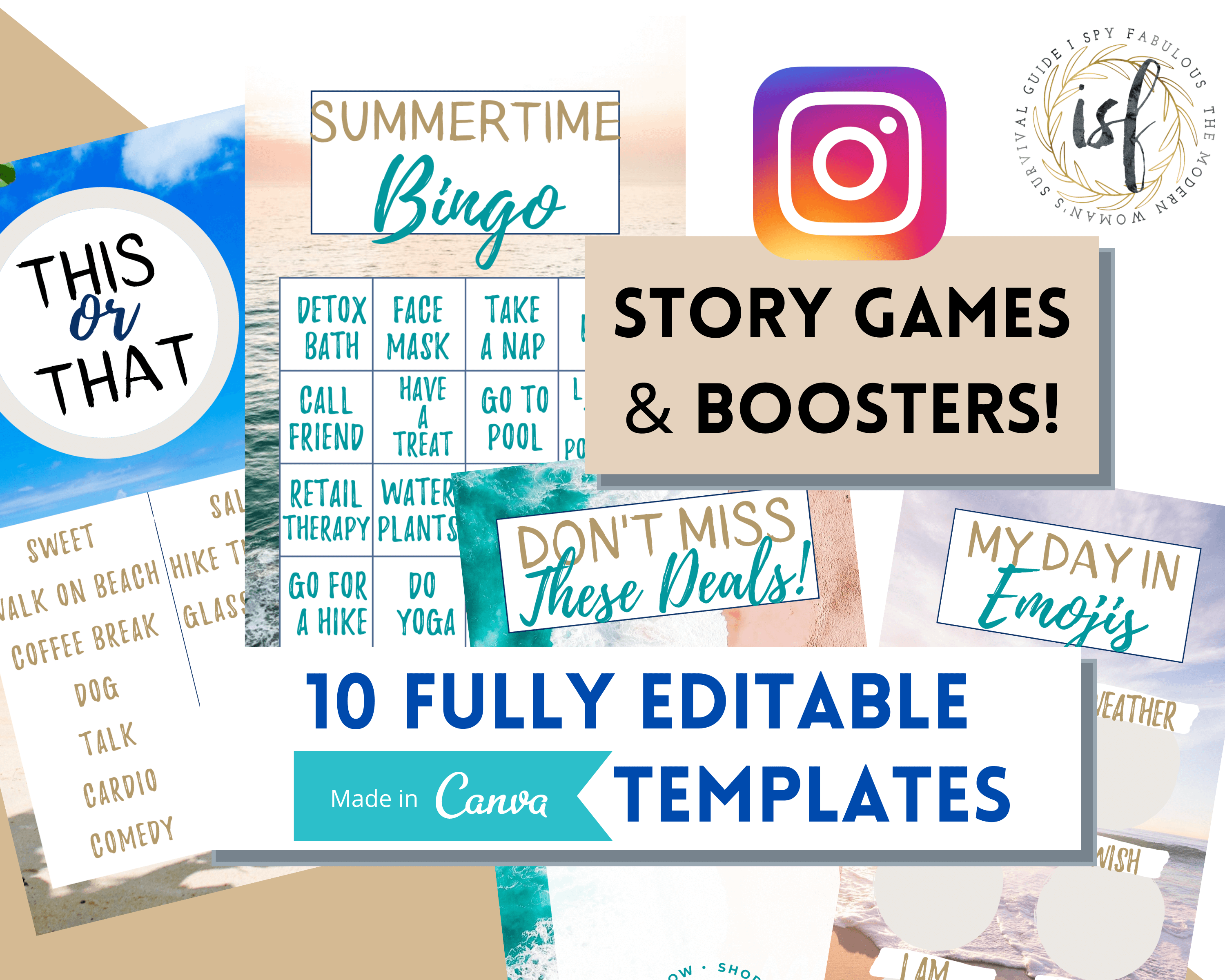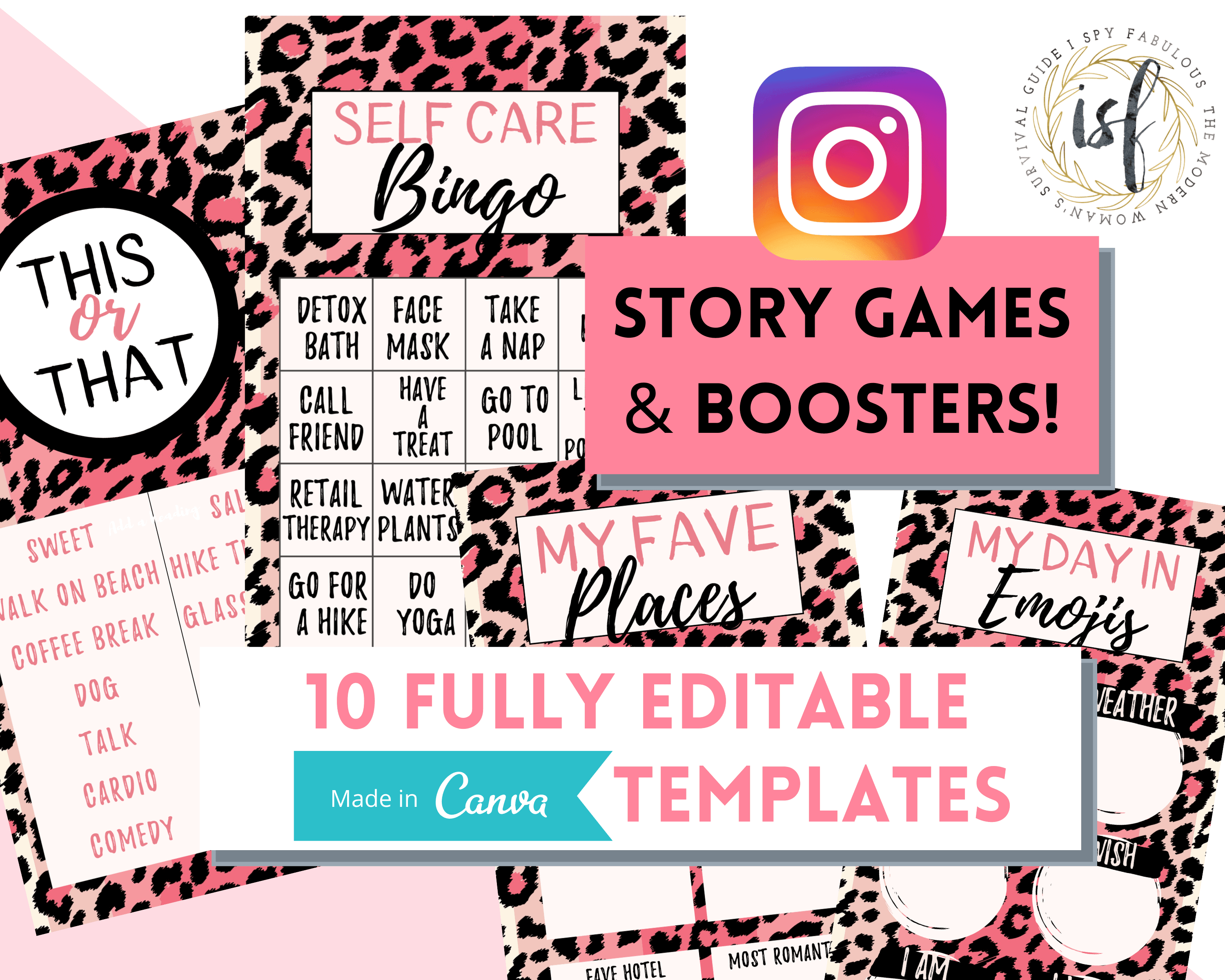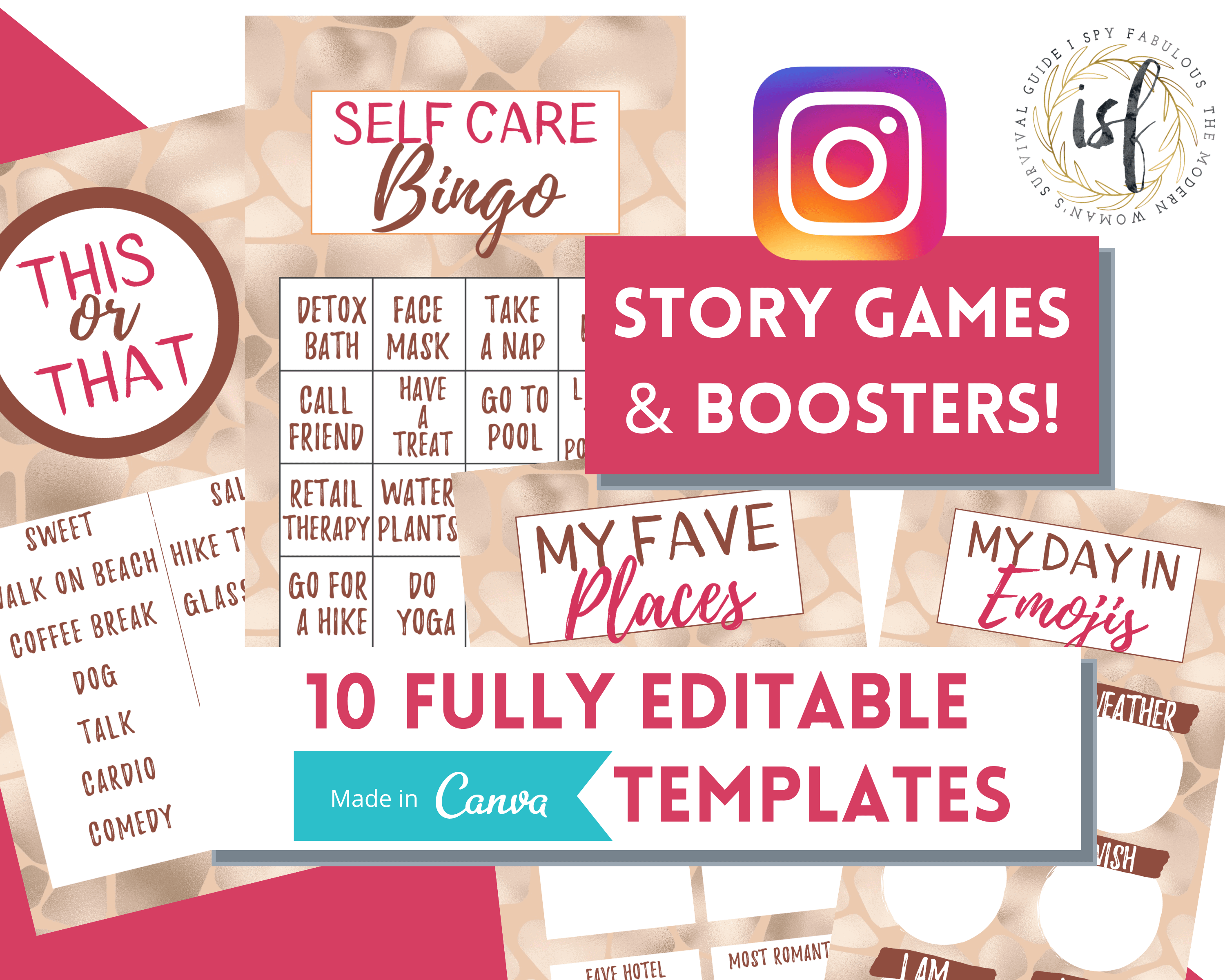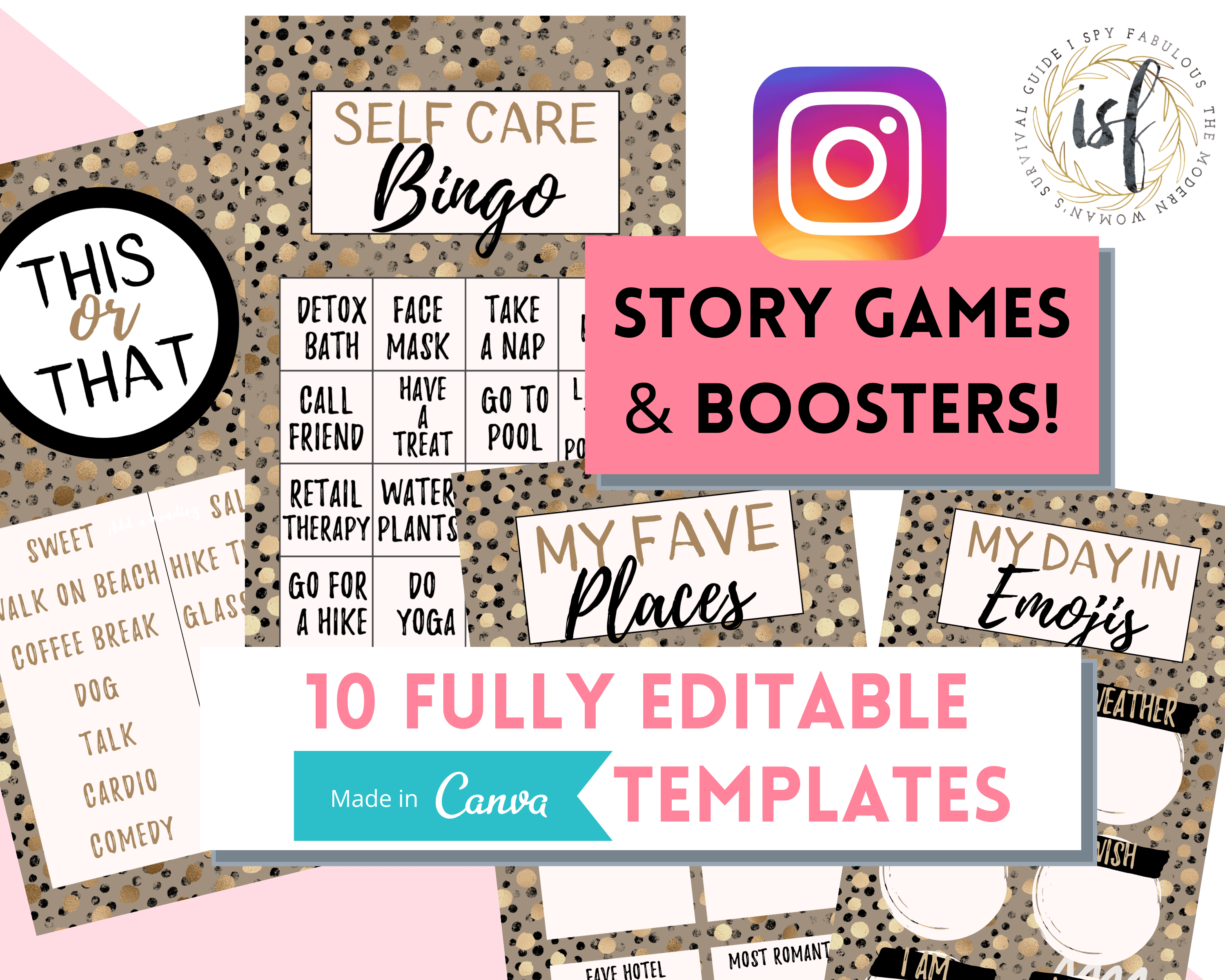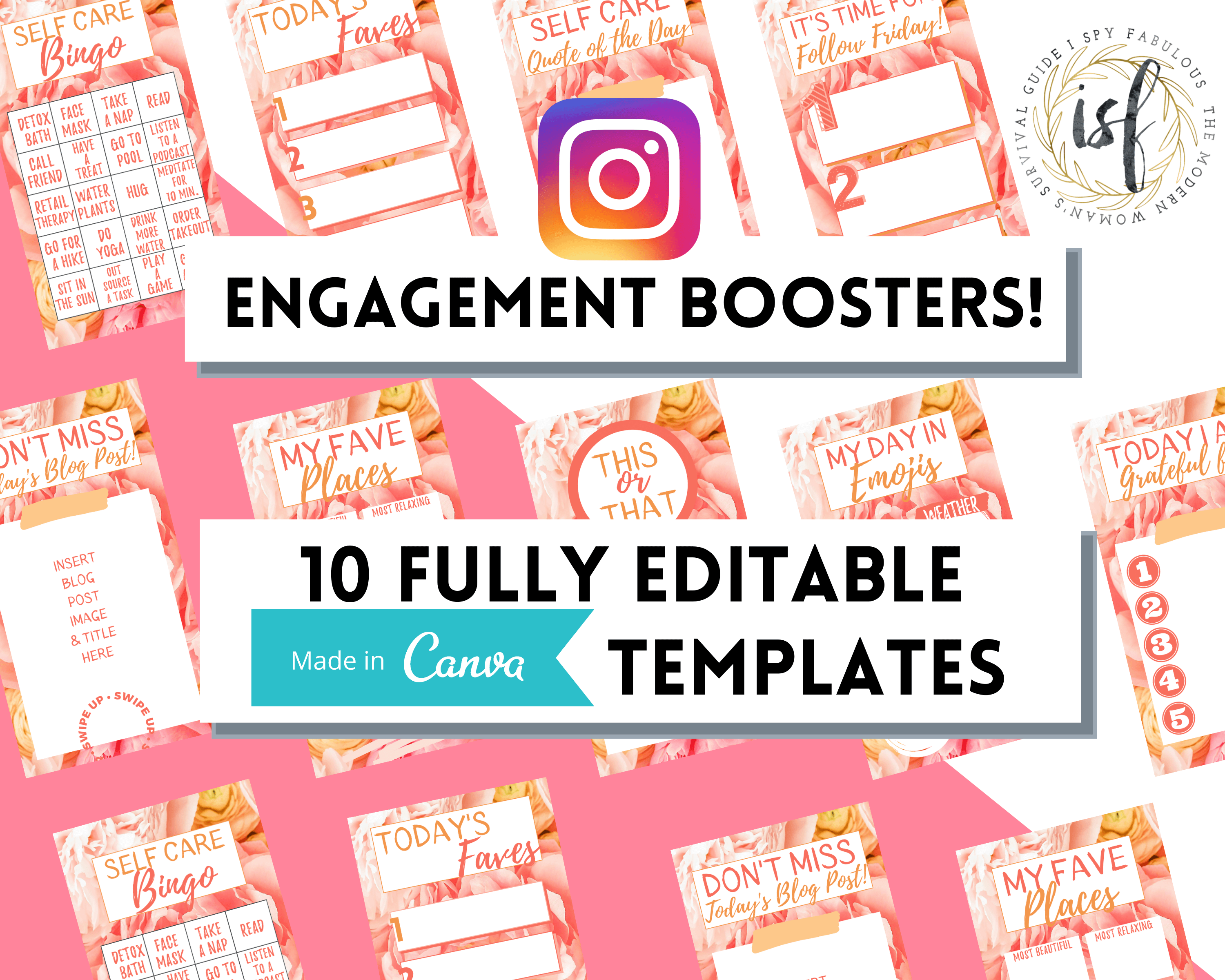 Picking Perfect Instagram Templates:
If you are new to using Instagram templates, you'll want to think about a few things before you buy.
First, make sure they are editable in a program you're familiar with or one that is easy to use, such as Canva. Second, they should be on brand for your business. Third, make sure they fit the type of templates you need, such as post templates, story templates or story game templates.
Or, if you need all three – find a complete suite that matches, such as my leopard Instagram template suite, with Instagram posts, Instagram story templates and Instagram game templates.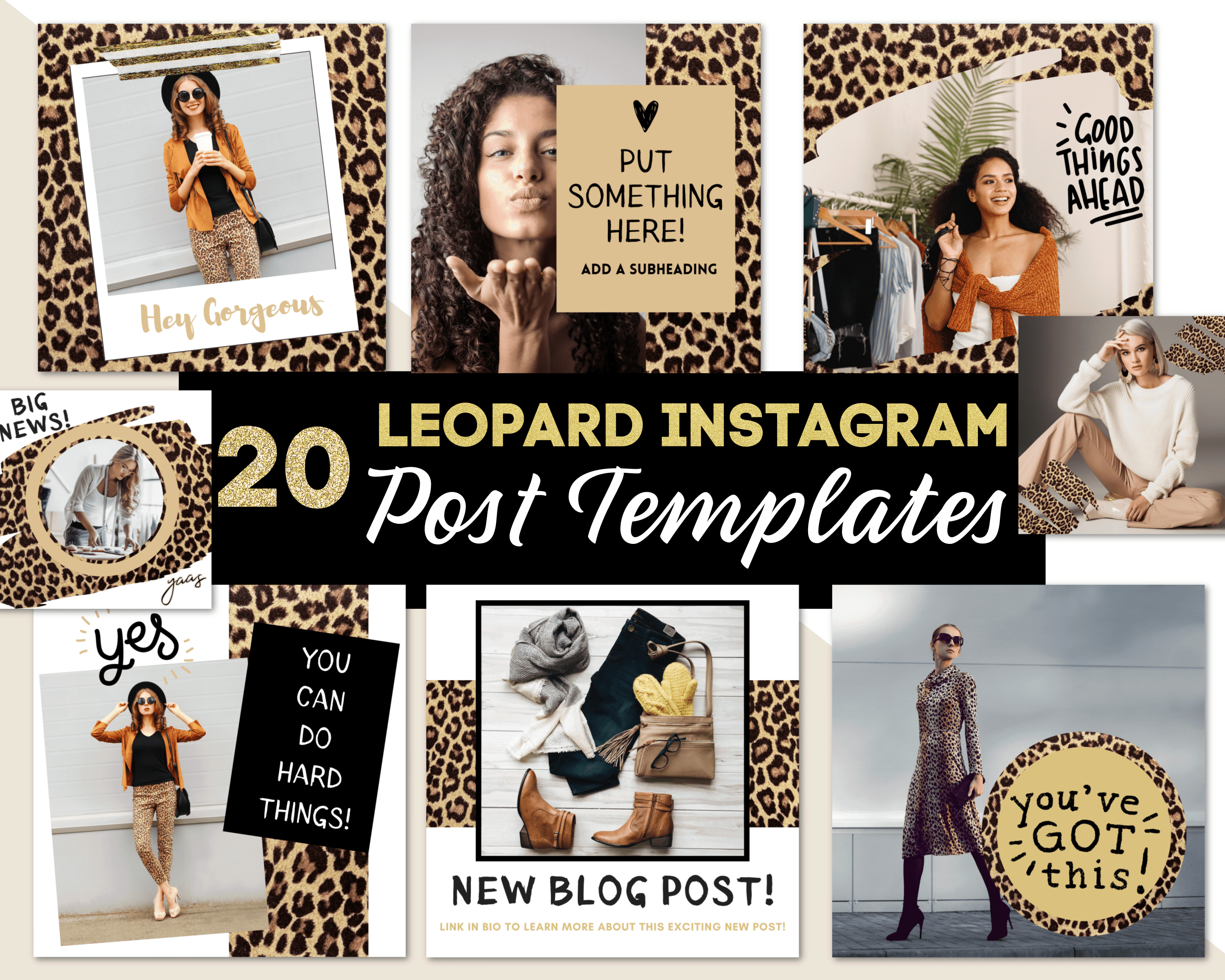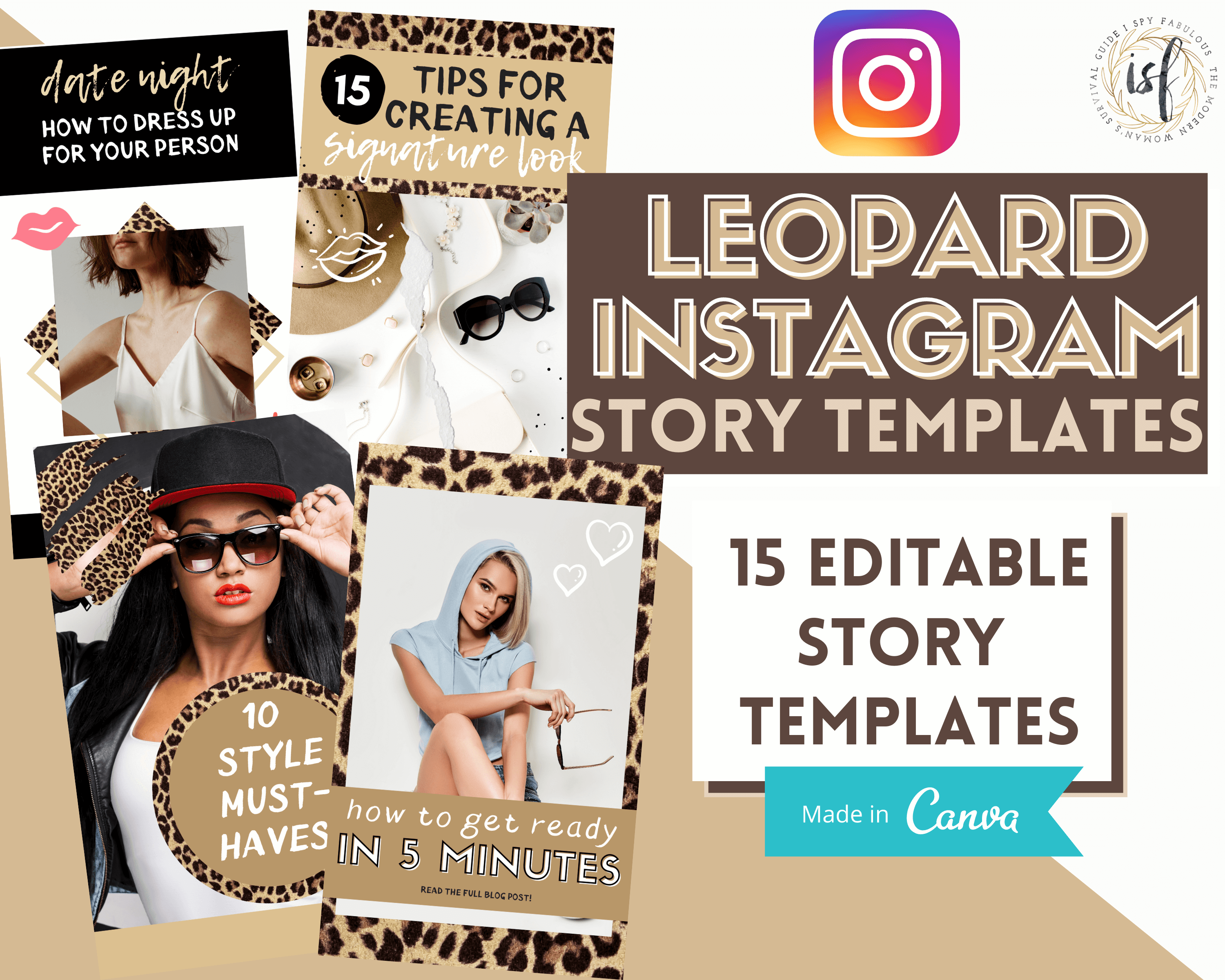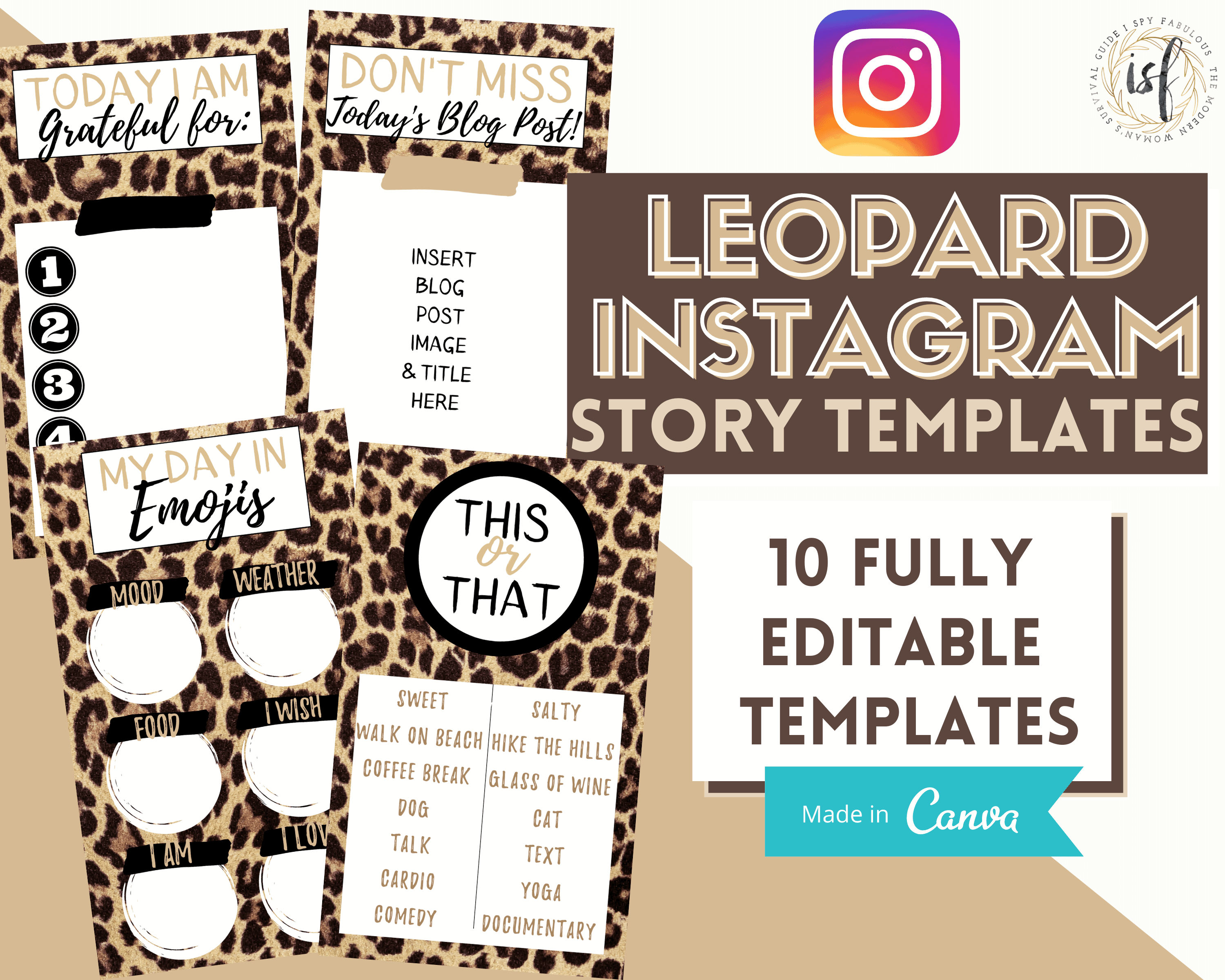 *****
Whether you're looking for feminine Instagram templates or something different – find the ones that work for you and watch as you're able to create new content much faster.
Looking for more social media and productivity tips? Check out these posts:
Have a fabulous day,
E