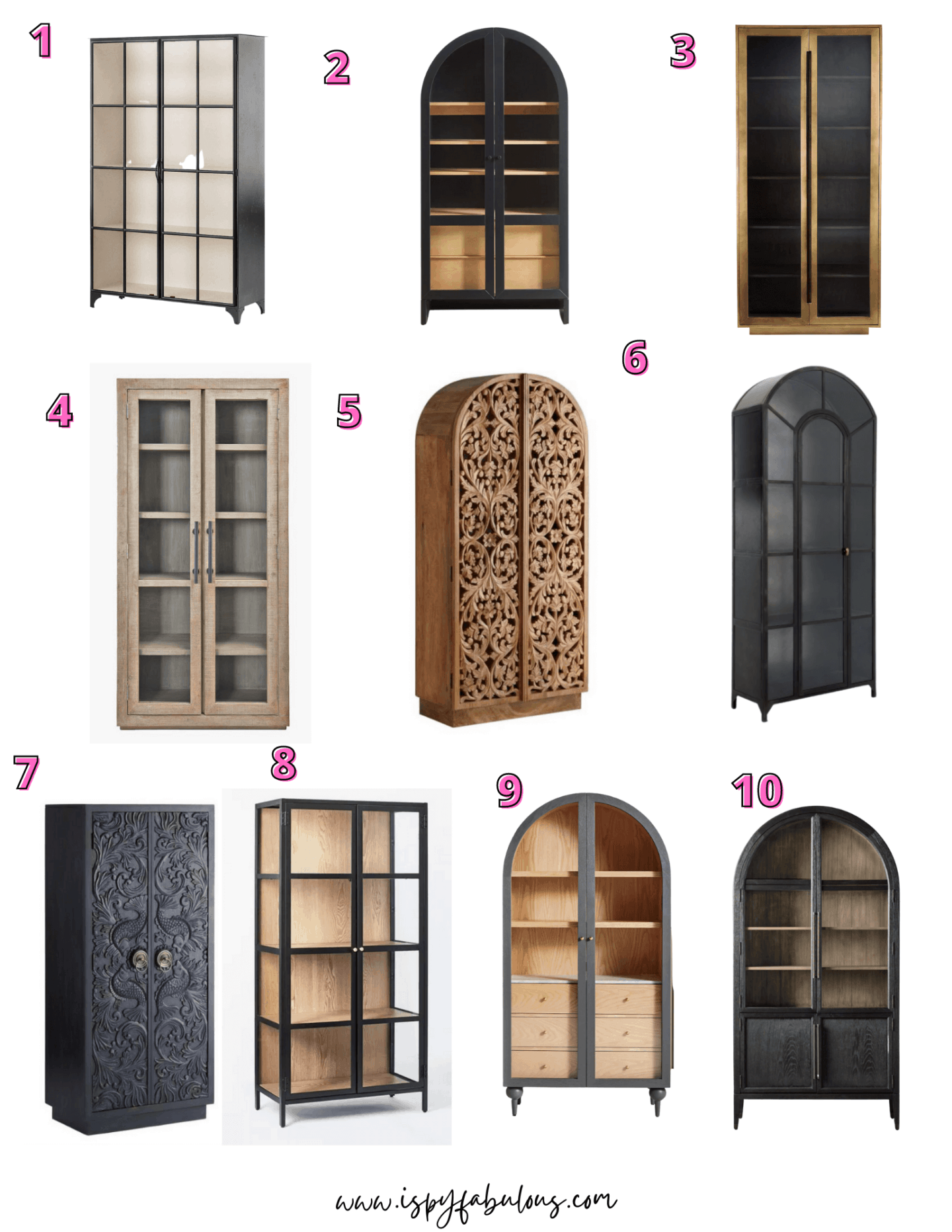 I love the look of a gorgeous cabinet. From arched glass cabinets to the carved wood designs that will stop you in your tracks, there's a storage cabinet for every home style here.
As a major book hoarder myself, I find that cabinets and bookshelves are an attractive way to corral all the things – whether that's lovely dishware or family heirlooms. Plus, an attractive cabinet can add to your design aesthetic, camouflaging a collection of pieces that would otherwise just look like clutter.
So, I combed the internet to find the 10 most gorgeous storage cabinets for you – ranging in price from $500 to thousands. These are pieces that will be statements – room makers – and family heirlooms of their own.
10 Gorgeous Storage Cabinets for Your Home:
Please know that affiliate links are used below. None of these brands sponsored this post, but if you do make a purchase through one of my links, I may receive a small commission at no cost to you.
CB has such high quality pieces. Love.
Great, more affordable, lookalike for the popular Anthropologie Fern Cabinet below!
Stunning! High style with this one. We have been very happy with our CB purchases.
A gorgeous, more affordable alternative to the RH style cabinets!
Love the carved wood and arched shape of this one! So beautiful!
Trending with home decor bloggers!
Another affordable, gorgeous option.
Most affordable on the list – but bound to sell out!
Available in 3 colors and so gorgeous. Check out the dupes for this cabinet in this post.
Arhaus can do no wrong.
Want to save $3o on your cabinet?
One way I save money on almost every purchase I make is by using Rakuten. I've gotten over $500 cash back in just the last year on purchases I was going to make anyway. So, don't forget to use Rakuten if you're making purchases online. They also run deals for new referrals where you can get $30 cash back after making your first purchase of $30 or more, so you can save even more if you're new to using them. Sign up here.
More Fab Deal$:
If you home decor as much as I do, there's a ton of posts on the blog you might love. Here are just a few to get you started!
Have a fabulous day!
E