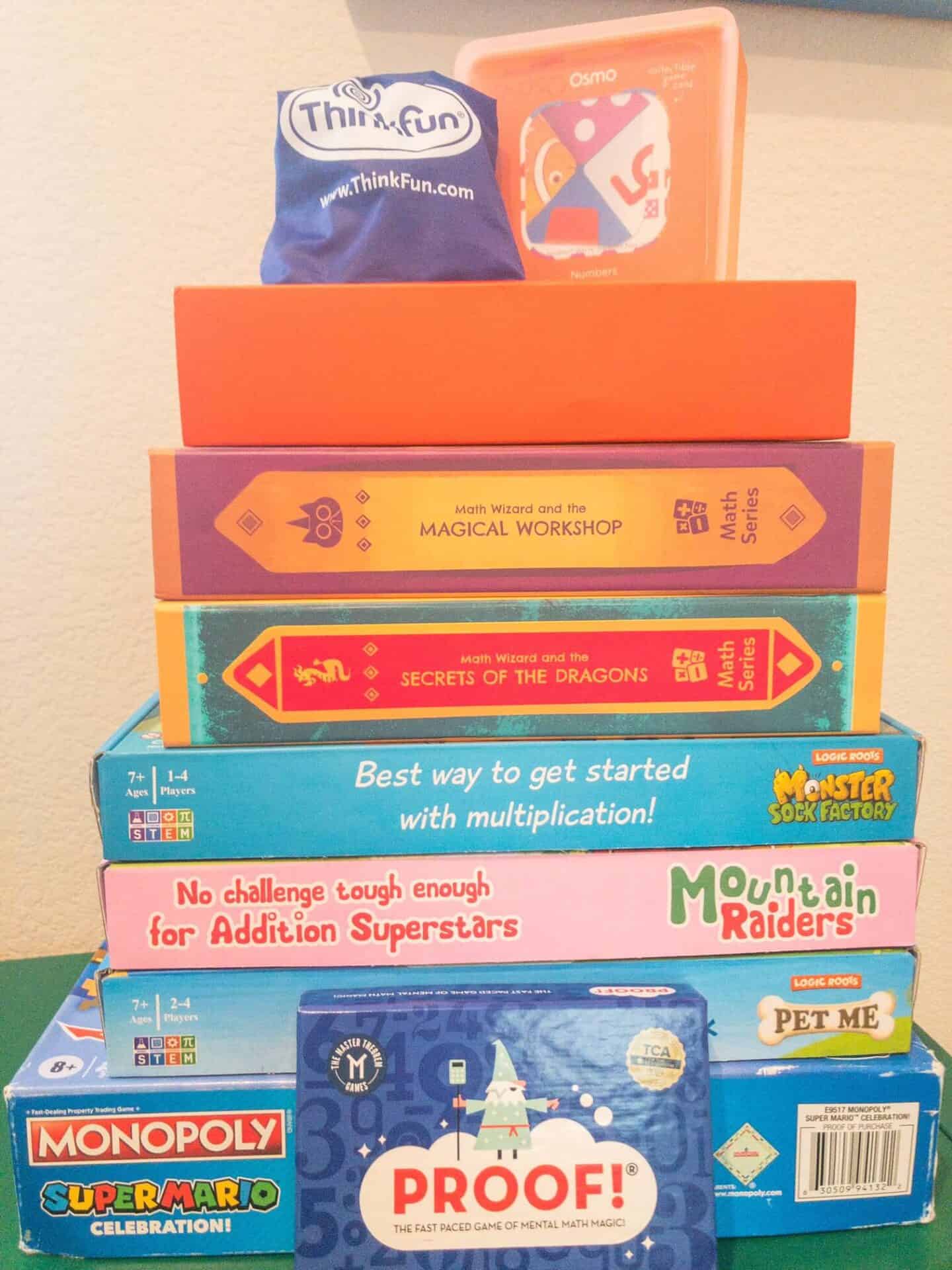 And just like that – summer is over and school is back in session! I couldn't believe the carmaggedon at my kids' new school.
But, then I came back and realized that maybe it's time to write more of the posts I had planned to share last year, when we were homeschooling. That was a really awesome experience (for the most part). It certainly wasn't without it's challenges, but I tried to remind myself on the hard days that I may never get this kind of concentrated time with them again, so make the most of it.
One way that I really mixed up the curriculum and got away from the dreaded worksheets is by incorporating games. I ended up finding a lot of great math games and other activities that worked out really well for teaching concepts in a fun way, while making memories.
So, I thought I'd share some of our favorites for the elementary age group.
10 Best Math Games for Elementary Students:
I feel like these games could work in a lot of different settings. Not only could a classroom use many of them, either on days when you want to mix up the curriculum or have to keep kids inside because of weather.
They definitely are great choices for the home or home classroom, too. In fact, they are so fun, we play some of these even now that we aren't homeschooling this year. Just solid, fun games to have in your game cabinet. Know that we bought these with our own money, but these are affiliate links, which means that at no cost to you, I'll receive a small commission if you choose to purchase through my links. Thank you 🙂
1. Monopoly Super Mario Celebration: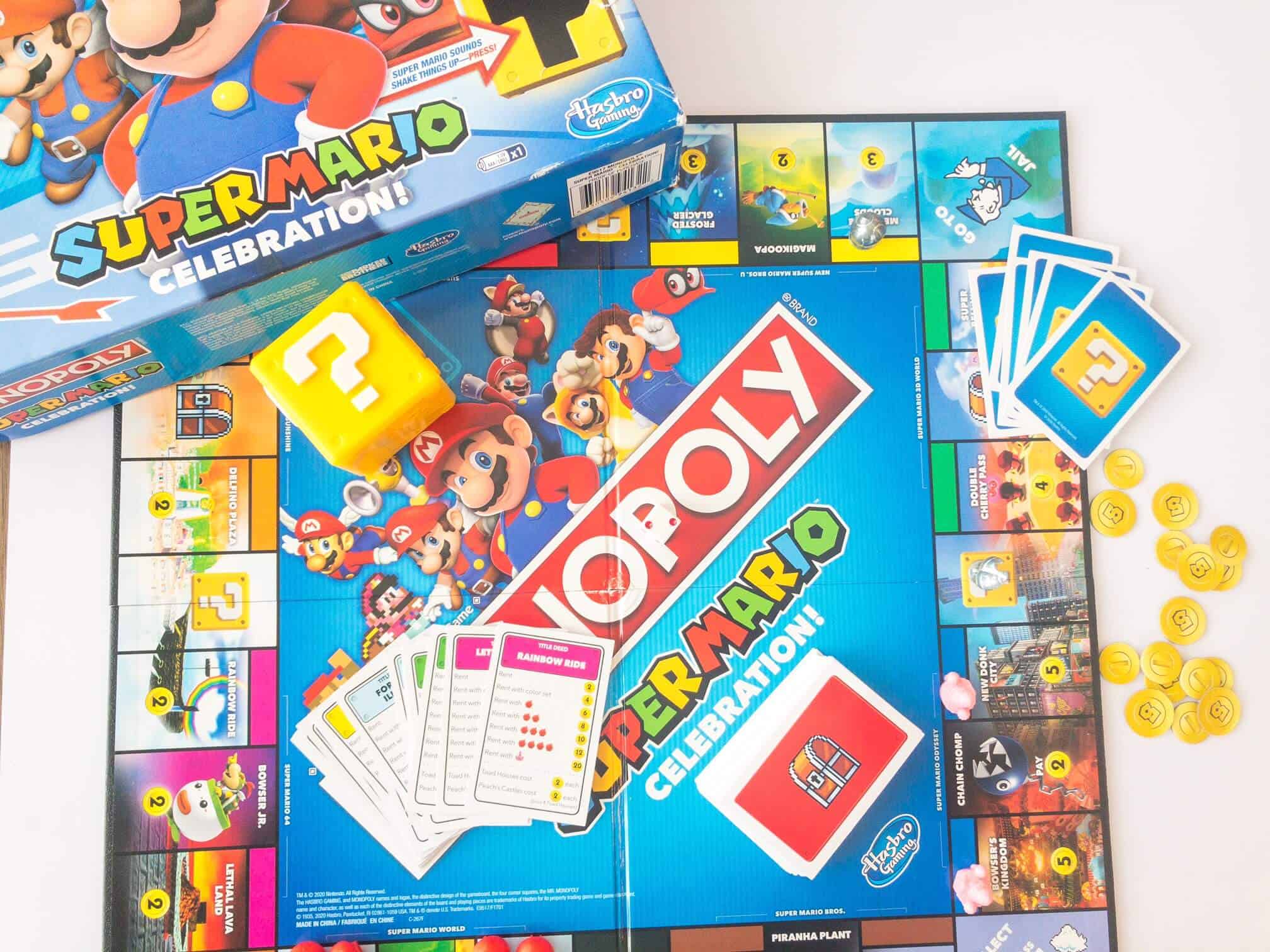 This is the game we played the most times. It's a really great simplified version of Monopoly that allows younger kids to be fully autonomous with handling the banking.
The game uses coins instead of paper money, which is also more resilient and easier to manage for little hands.
The game is also shorter and has a smaller board, so they are able to learn the concepts of the game without being overwhelmed. Plus, there's some fun extras, like a cube that they press when they get certain cards and it has the coin sound from the video game.
We bought a couple other versions of kid's Monopoly games and this was definitely the best one across the board (pardon the pun).
2. Logic Roots Monster Sock Factory: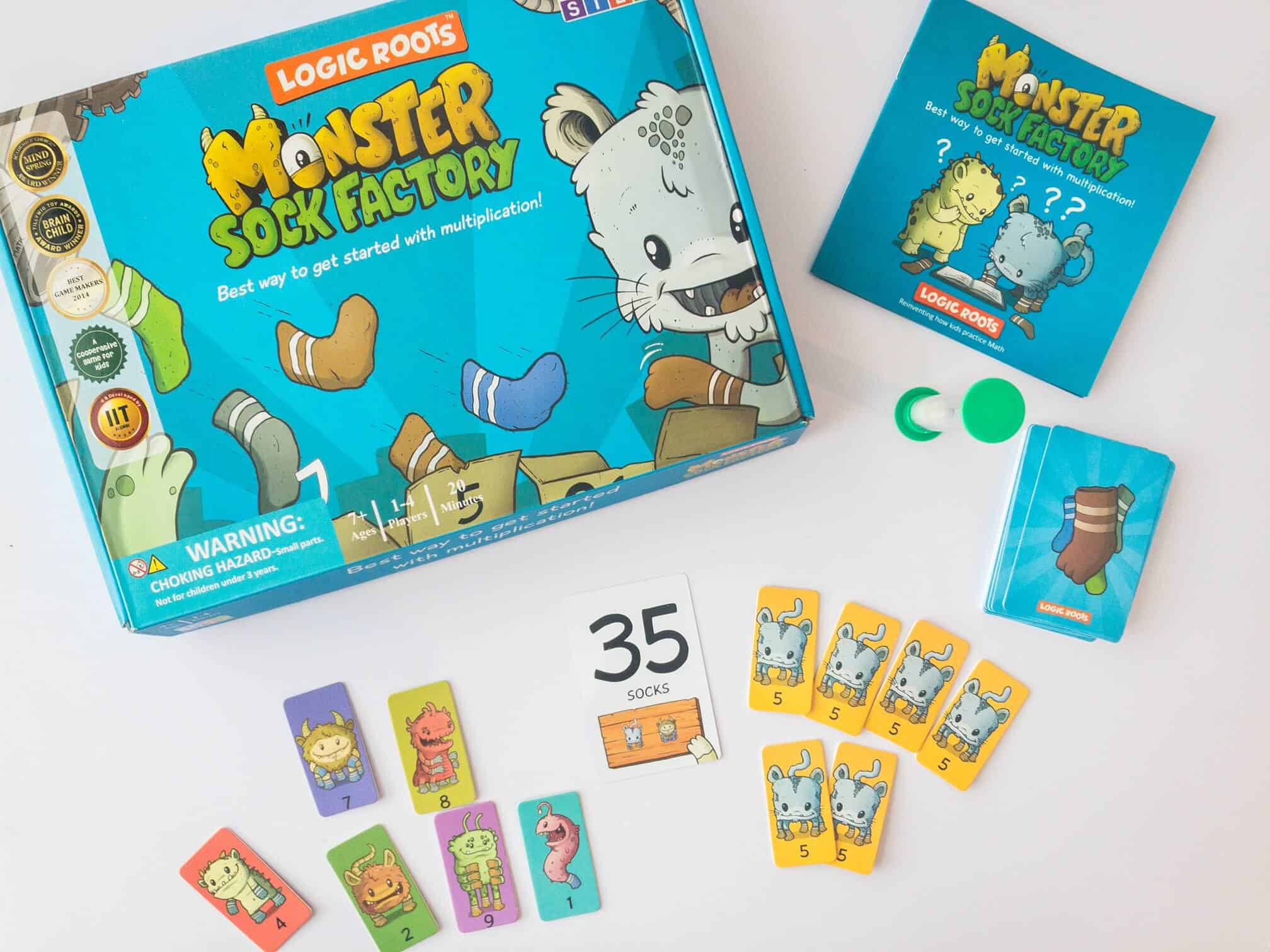 I can't believe how fun this silly little game is. We used this to start building the blocks for understanding multiplication.
The premise is really easy for kids to understand. Your goal is to match monster socks to the cards, using just one type of monster (number) for each card. So, if you have a card with a 6, you can use two 3 monsters or three 2 monsters. The cards have some guidance for which monsters might match, but it doesn't tell you the value of those monsters.
You have a timer and you try to match as many socks as you can. It's definitely a race and we started tracking how many pairs we matched to see if we could beat our time.
I love games that you can just jump right in and play for some easy, learning fun.
3. Logic Roots Mountain Raiders: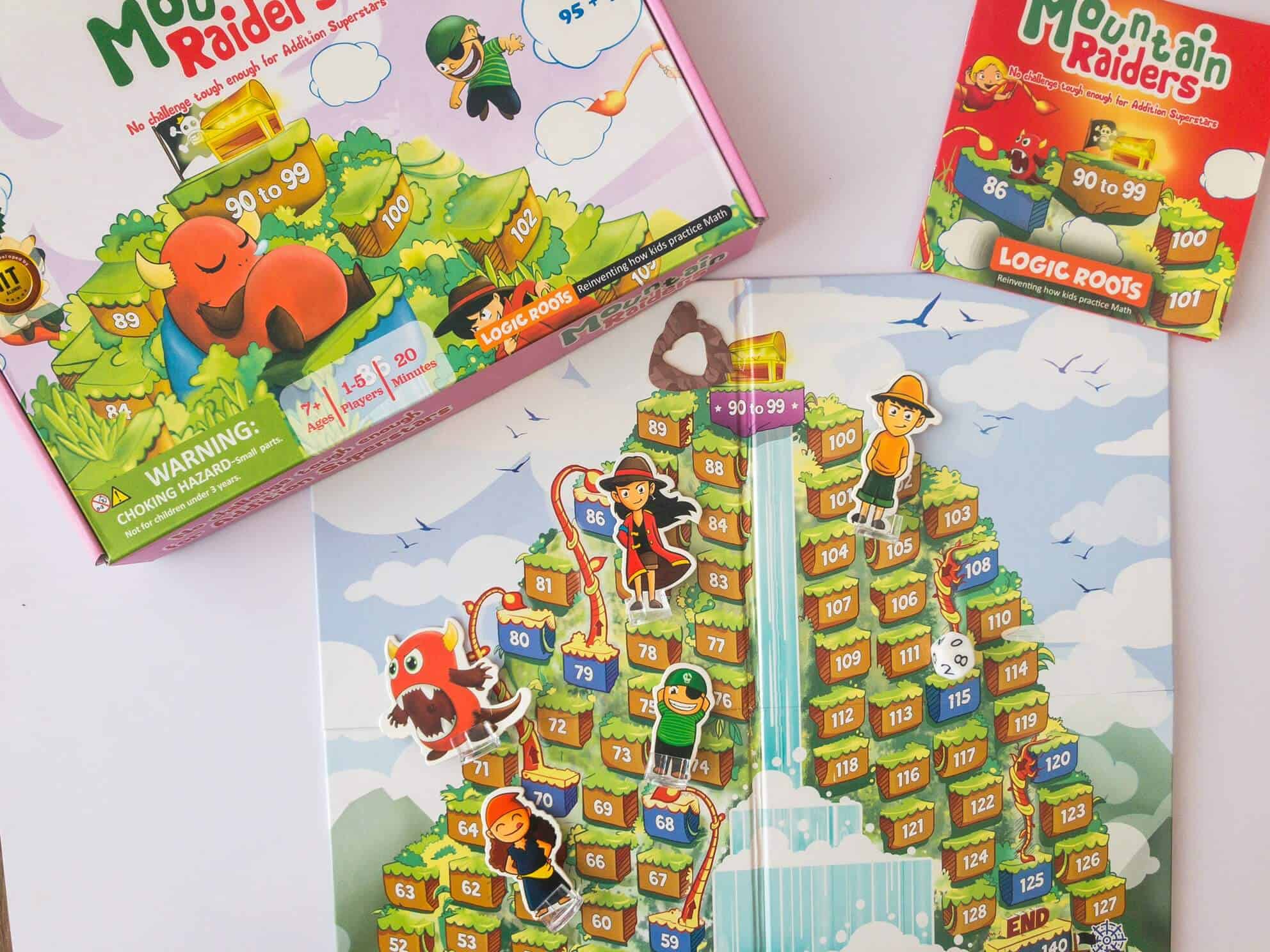 The same company that made Monster Sock Factory made this one. Another just big win in our book. This game you are doing addition and it becomes progressively more challenging as you go, adding 2 and 3 digit numbers.
Your goal is to get up the hill, and get the treasure, before the monster catches you, but be careful coming down, because now a rock is released at the top and falling down after you. Get to the boat with the treasure before you get squished!
It's a cooperative game, so you're working together to get the treasure to the boat. Another game you can set up, figure out and play within minutes.
4. Osmo Magical Workshop: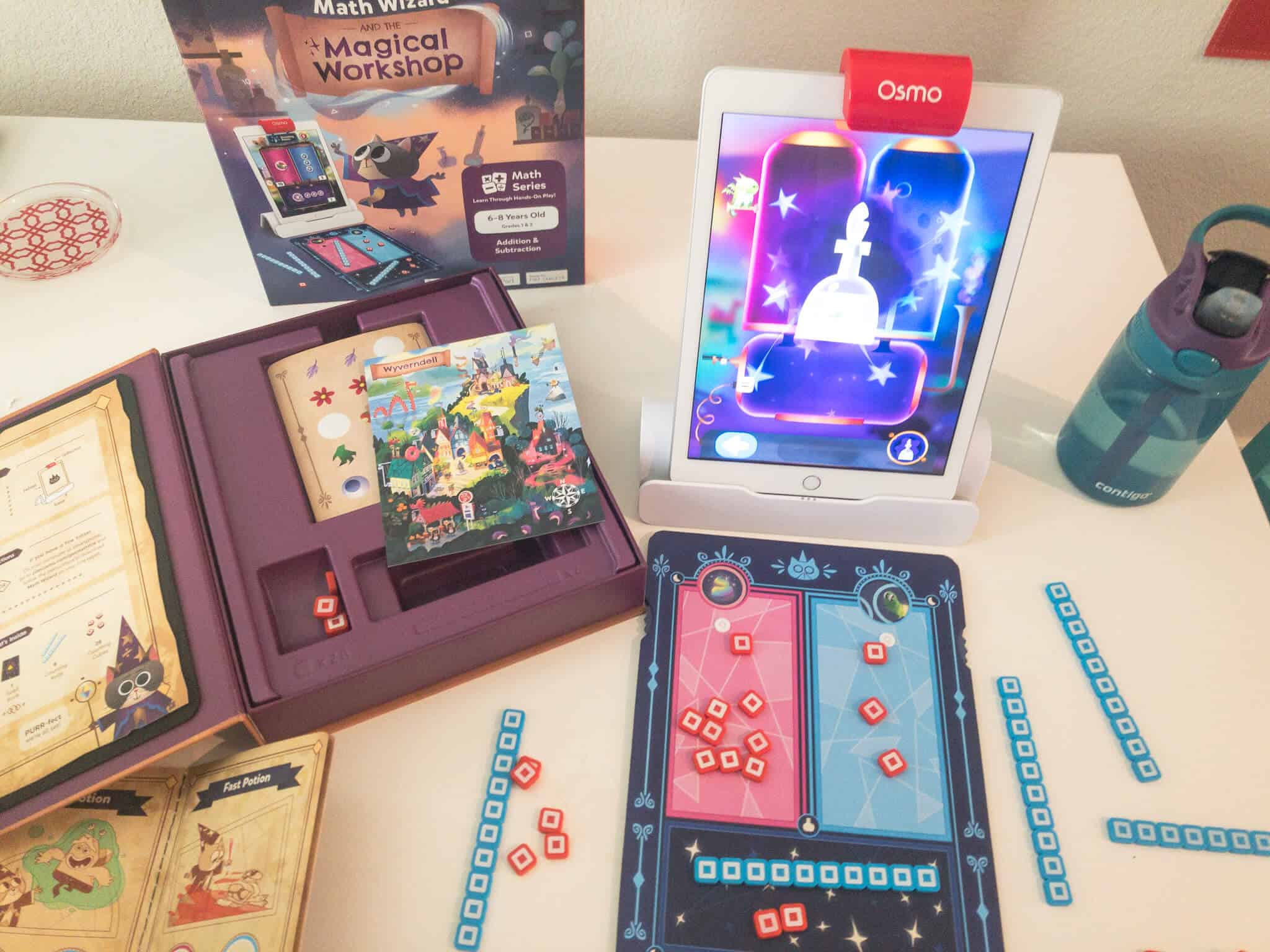 We are big fans of Osmo here and this Magical Workshop game came at the perfect time. I was just starting to think about how I could creatively teach some of the math concepts like place value and then POOF, like magic, Osmo Magical Workshop appeared.
If you haven't tried Osmo, I've reviewed a lot of their games on here. You'll need a tablet that is compatible and one of their universal bases and then you can just add whatever games you want. Super easy.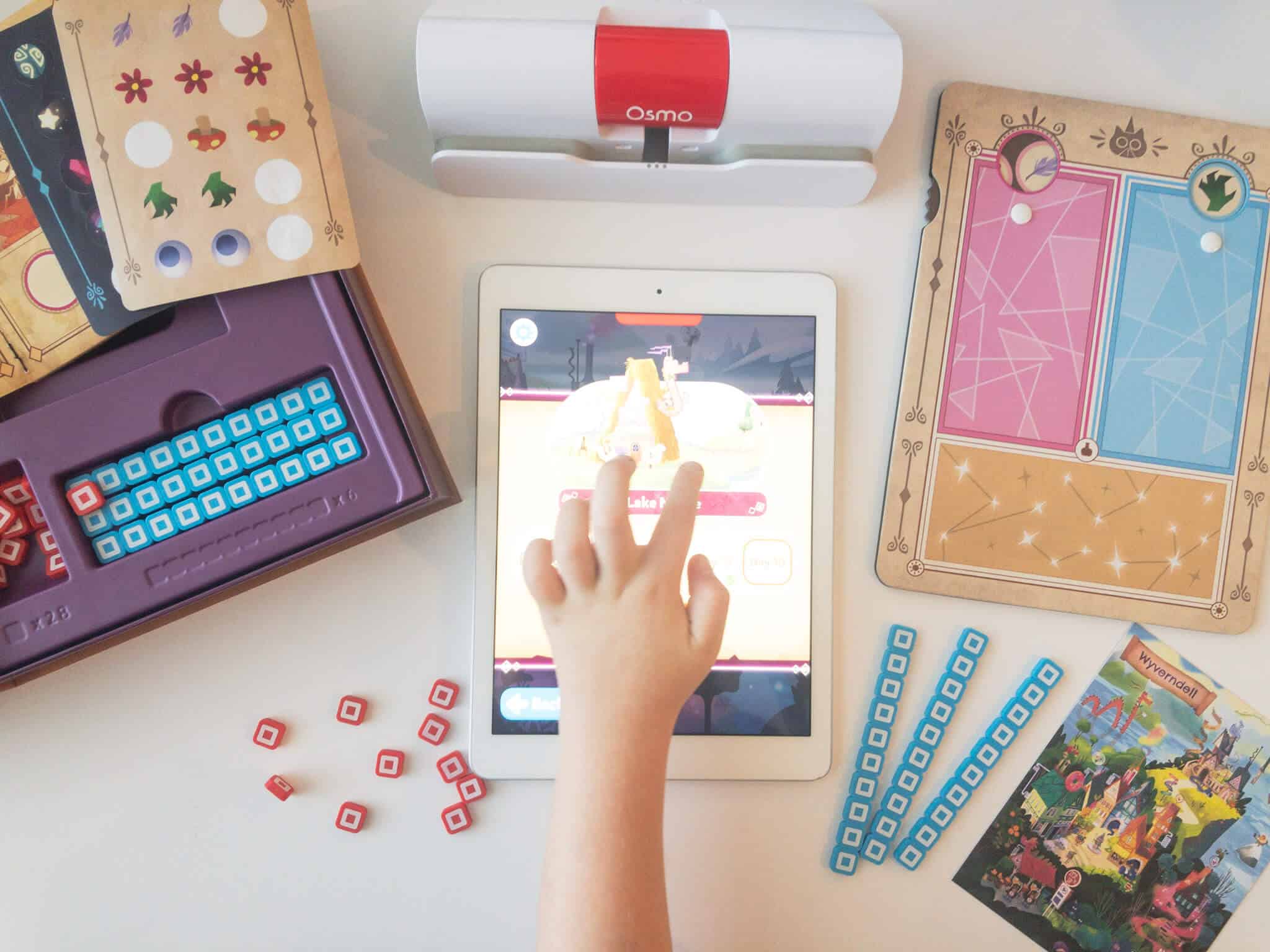 The Magical Workshop game is an incredible way to teach and learn math concepts for 1st and 2nd grade. Read my full review of this game here.
5. Osmo Secrets of the Dragons: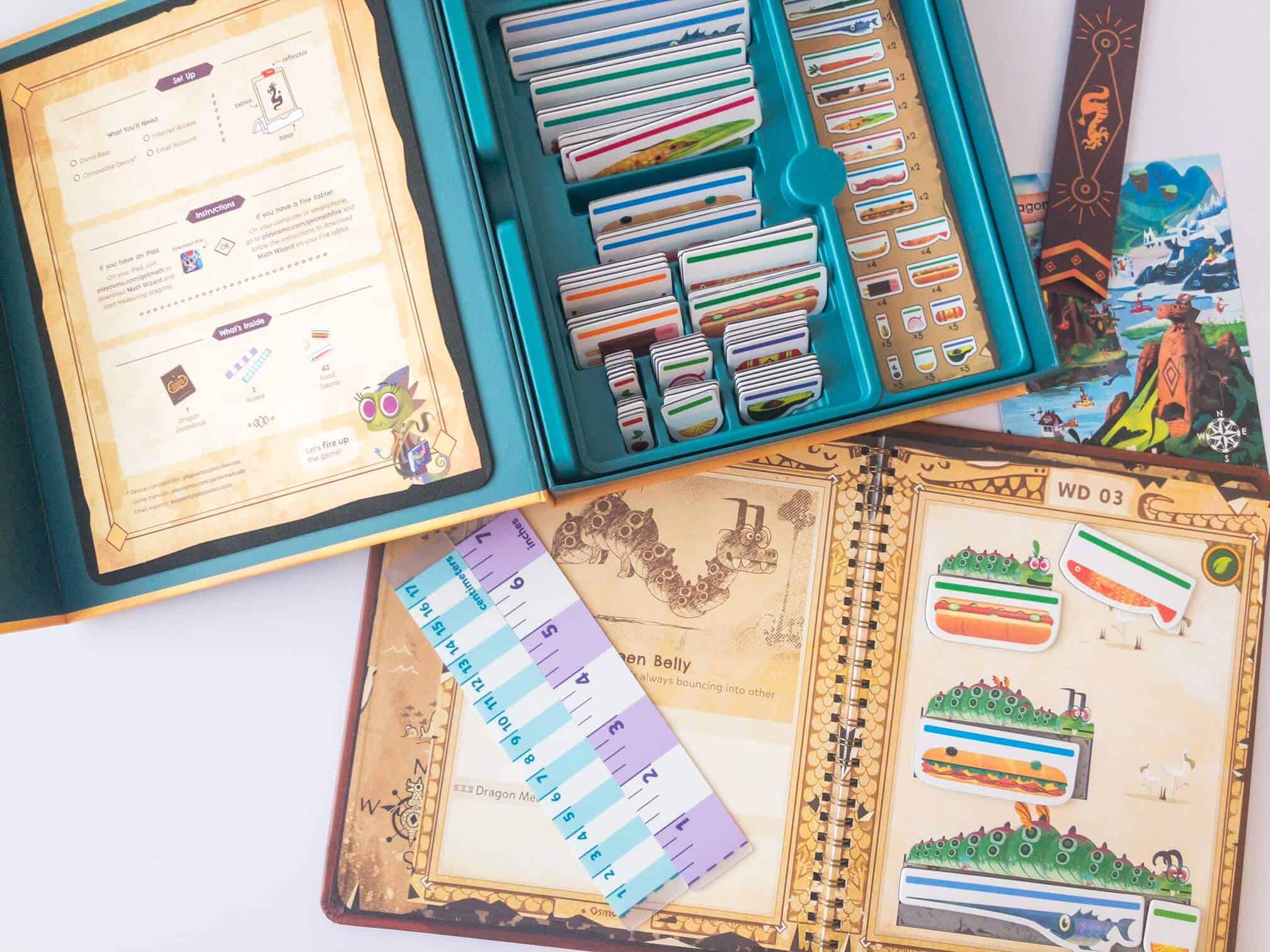 Yup, another perfect timing situation here. Secrets of the Dragons came out right when I was thinking about teaching measurement and other math concepts.
In this game, kids learn to feed the dragons what they'll like to eat, while matching the food to the needed measurement for each dragon.
I find that interactive, creative games like this are powerful ways to teach these challenging concepts and then when you switch back to doing the skills on paper, they are quickly able to adapt what they know.
Highly recommend this Osmo game and all Osmo games.
6. Osmo Pizza Co.: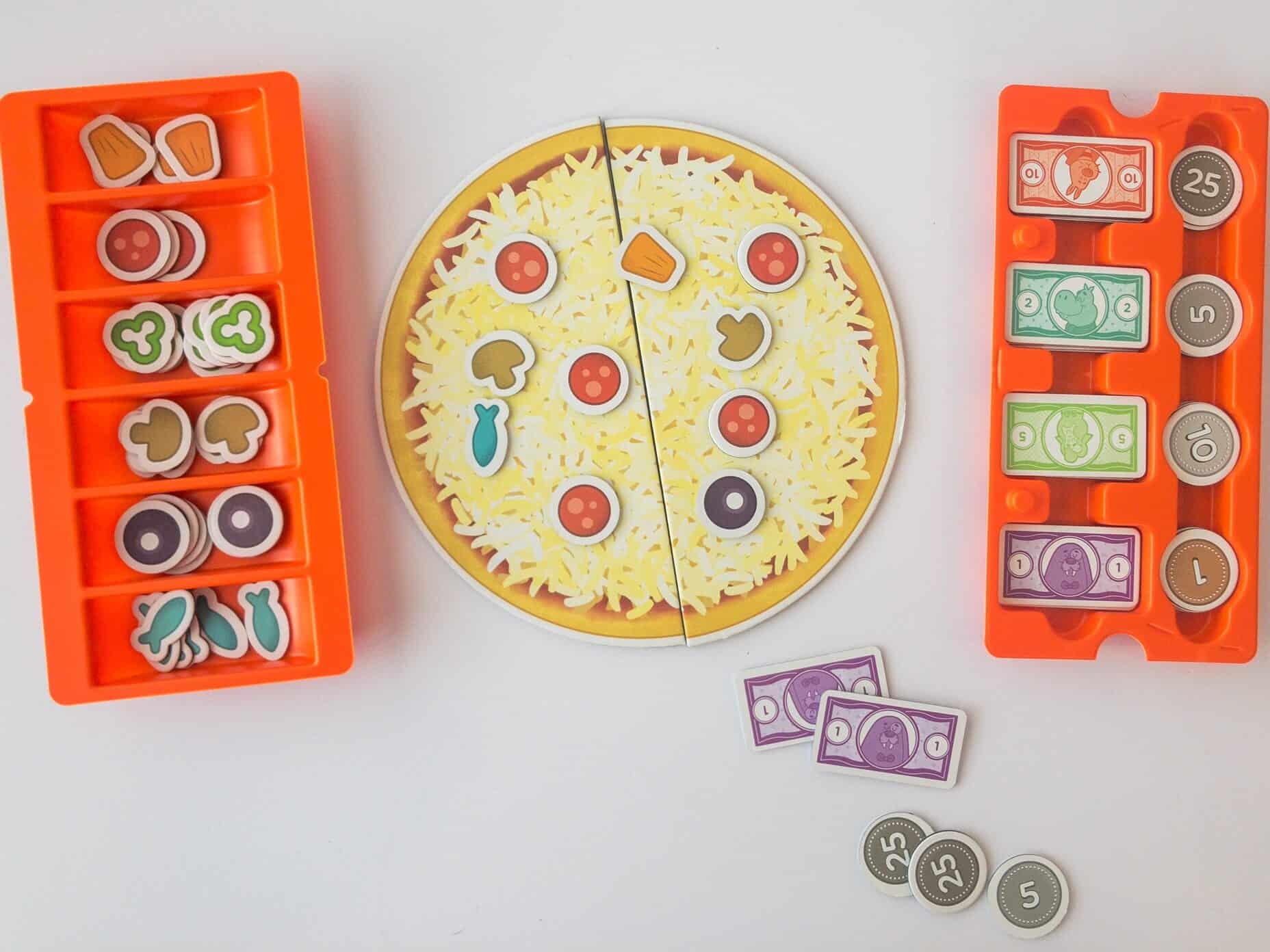 Ready to teach about money? This is absolute best. After you've covered some money counting basics, your kid will be ready to play Osmo Pizza Factory!
In this game, they run both sides of a pizza restaurant – they make the pizzas according to the requests and then they flip the pizza to a money board and serve the change to the customer. The game has a junior setting that keeps it a little easier and brings in the orders slower, but if they crank it up to full notch, they'll really be cooking, both in making pizzas and counting money.
I've seen this one really transform my child's understanding of money, counting, and following directions carefully. They receive reviews from their customers and tips, which they can use to upgrade their restaurant, which are great incentives to focus and do their best work. For more info, read my in-depth review of Osmo Pizza Factory here.
7. Osmo Numbers: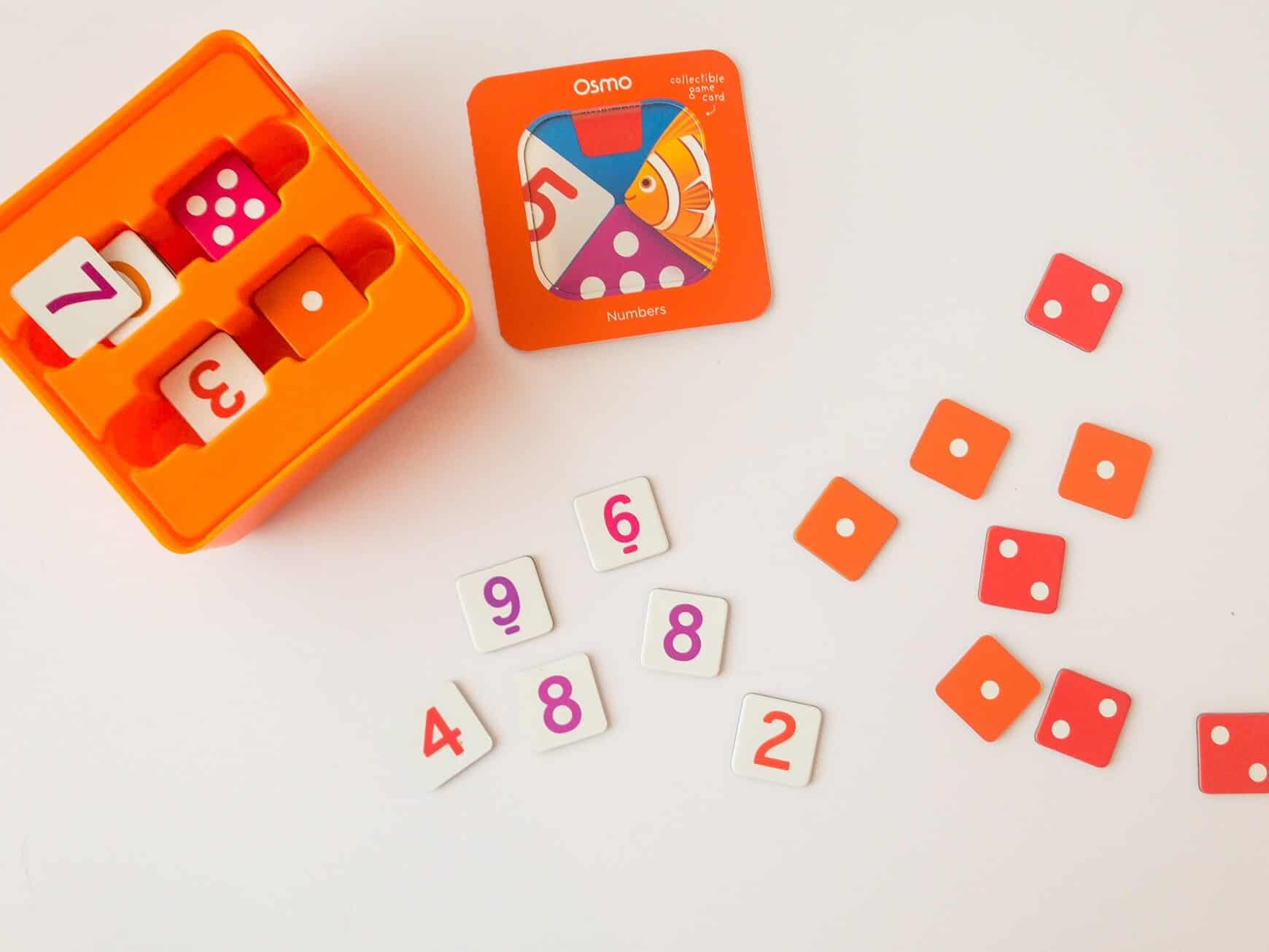 Need to work on the basics, like addition and subtraction? Osmo Numbers is the easiest way to do this. Because, let's be honest, without a strong foundation in the basics, all of the other math building blocks are much harder.
I liked using Osmo Numbers as a quick activity to refresh math skills before jumping in to something new or more advanced. You can use Numbers to cover addition, subtraction, counting and multiplication. Like all Osmo games, this one needs the Osmo base and the game that you download on a compatible table. It's touch screen and very interactive.
8. Pet Me: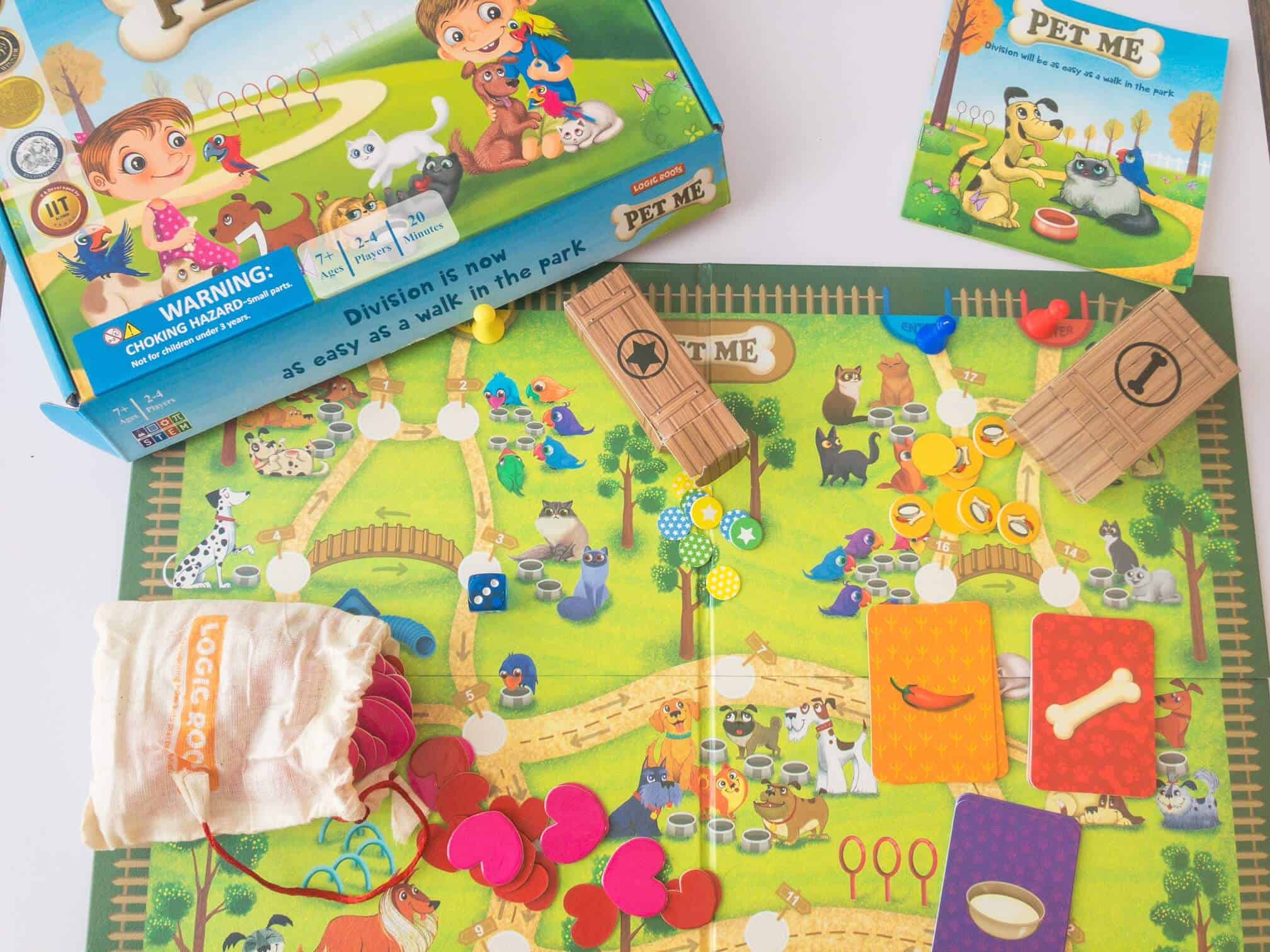 Another game by the creators of Monster Sock Factory, Pet Me incorporates animals and math for a fun time. If your kid is an animal lover, they will really enjoy being able to feed the different animals, while also learning math skills.
Pet Me has a park-themed board game where kids practice multiplication and division while feeding animals, winning hearts and adopting pets.
Pet Me is designed for ages 5-9, around 1st grade and up, and you can adapt the levels to suit the math ability of your players.
9. ThinkFun Math Dice: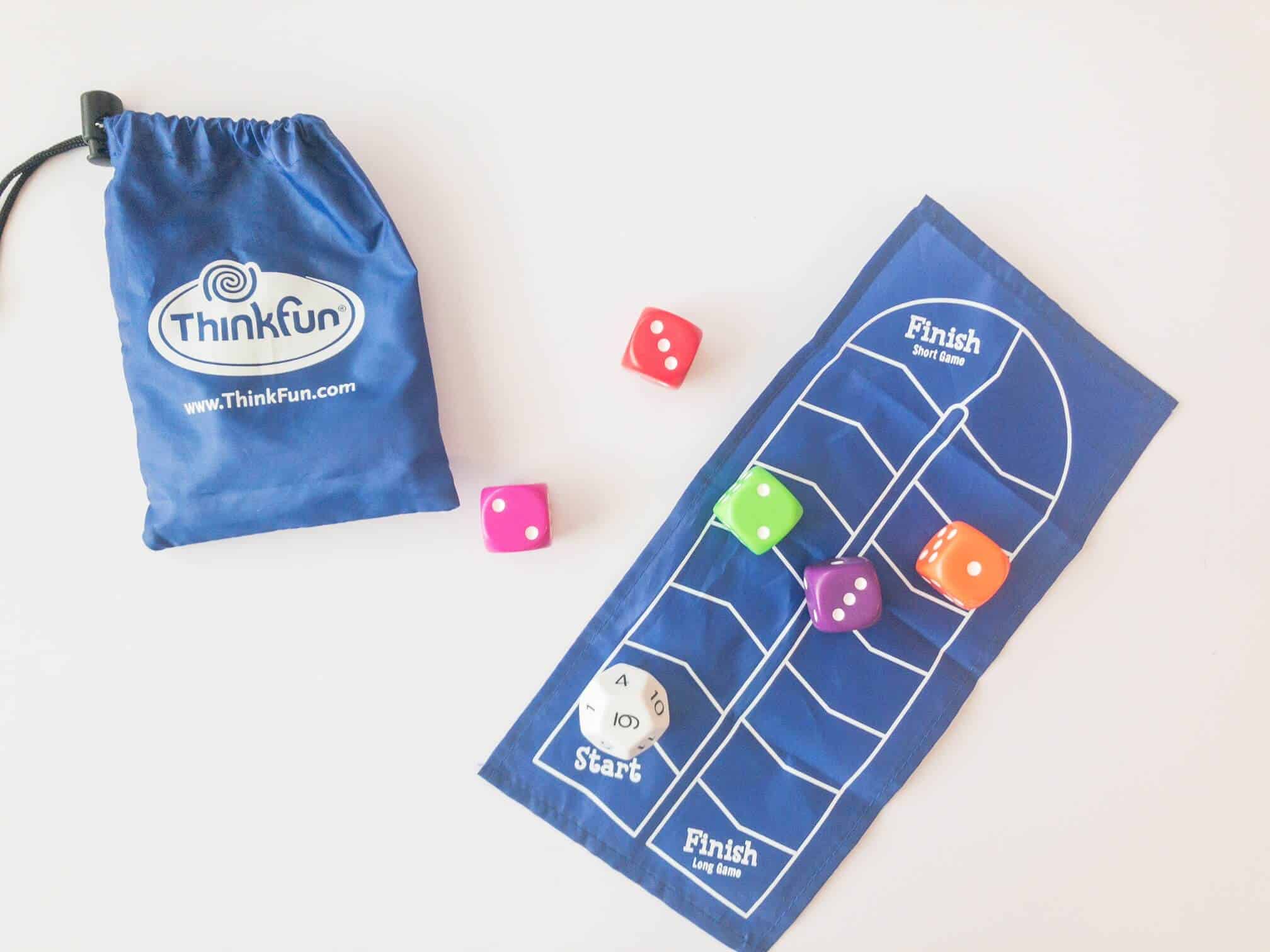 Love this easy and fun math dice game. We ended up using the big colorful dice for other activities, too, such as the sight word roll and color worksheets that we used all the time.
Incredibly easy to play, you just roll the dice and move your piece, trying to get around the board first. You don't want to make a mistake and potentially skip a move or two that could get you the win, so it gives incentive to be accurate.
Plus, it's really portable, so you can grab it and use it in a lot of different places. But, really, it's incredible how many things you can use colored dice like this for and so even if you don't play the specific game much, you'll reach for the dice over and over again.
10. Proof: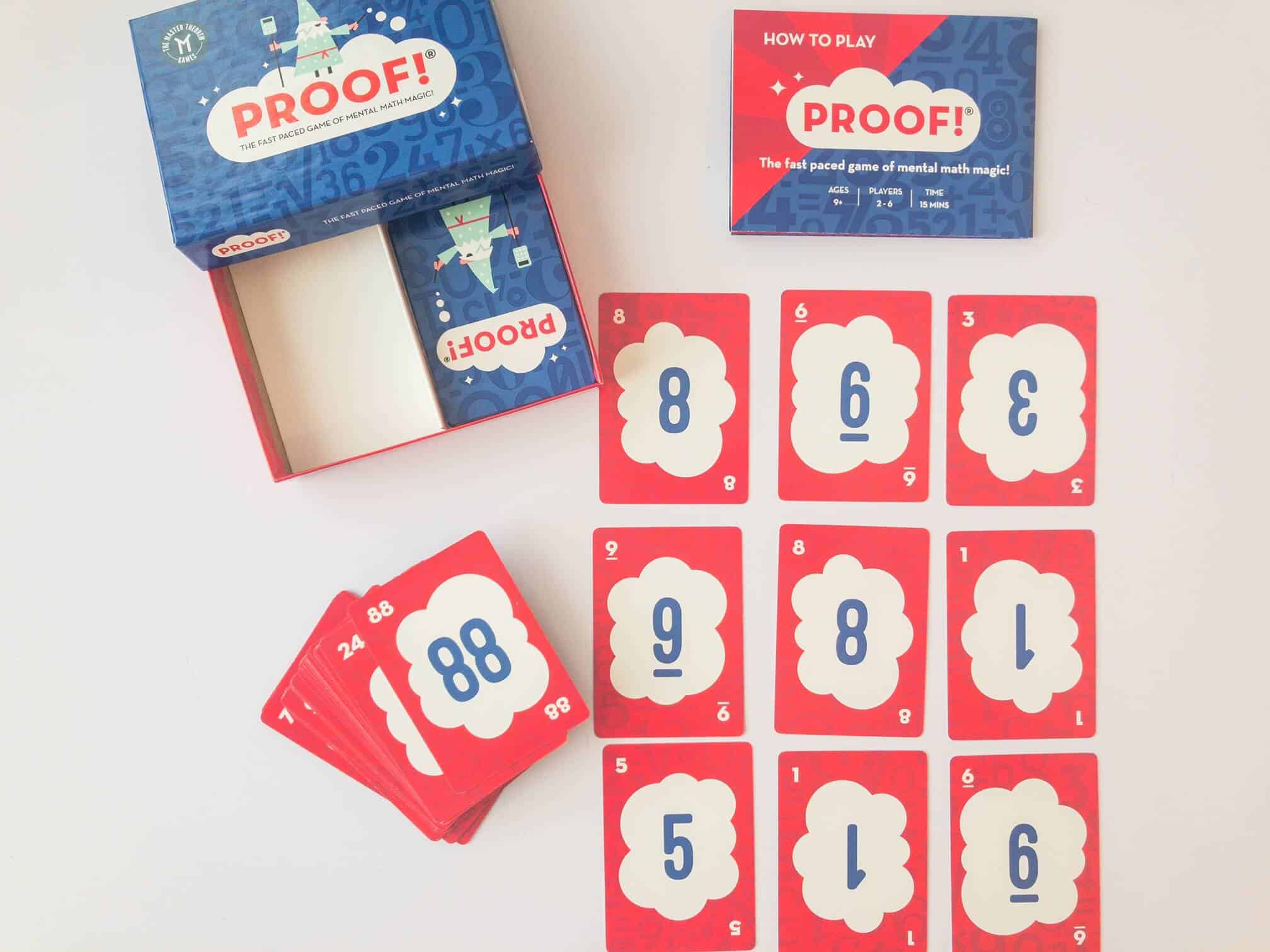 Proof is another fun game that really encourage critical thinking. You get a series of cards and you just look for any type of math association. For example, do two cards you have equal another card you have when added, subtracted or multiplied? Great, you can keep those cards.
It's fast and fun and I like that it really stretches you to think outside of typical equations. I found that this game helped my son start to see associations between numbers in different ways.
The more we can make numbers fun and less scary, the easier it is to get kids to embrace math and want to advance.
Check out Proof here.
****
Whew, that was fun! I love sharing all of these great find with you in the hopes that it might make it easier for you to put together a game cabinet or a math games list that will create a fun and exciting environment for learning math.
I'll share more soon about how we tackled other subject matters in a hands-on, creative way with less worksheets.
For more easy, fun lesson ideas, check out these posts:
Have a fabulous day,
E